Best Car Insurance Companies
Different auto insurance companies cater to different demographics, which is what makes shopping for auto insurance such a personalized experience. Consumers should buy more than just the state minimum coverage to ensure they are fully covered in the event of a major collision.
Some things to consider when shopping for auto insurance are relevant discounts, exclusions, coverage limits, optional coverage and the claims process. *The ConsumerAffairs insurance program is powered by InsuraMatch.
Compare Reviews for Top Car Insurance Companies

GEICO
Read 4078 Reviews

When people think of GEICO, they think of their mascot. However, it's also an insurance company that offers comprehensive insurance at relatively low prices. GEICO offers a variety of insurance in addition to auto insurance.

Progressive Auto Insurance
Read 3951 Reviews

Progressive has been providing consumers with auto insurance since 1937 and is known for its insurance rate comparison tool. This company offers several types of auto insurance, and focuses only on this type of insurance.

State Farm Auto Insurance
Read 3504 Reviews

State Farm is the biggest auto insurer in the U.S. and is a top 50 Fortune 500 company. It was founded in 1922 by a farmer, and for nearly a century has tried to bring a sense of neighborliness into the insurance business.

Allstate Auto Insurance
Read 1935 Reviews

AllState became a publicly held insurance company in 1993, though it's been around since the 1930s. It is dedicated to hiring women and minorities in addition to providing appropriate insurance for people from all walks of life.

Nationwide Insurance - Auto
Read 1011 Reviews

Nationwide first came onto the insurance scene in 1925. Its early funding came from nine farm bureaus, and it continues to receive agricultural support today. It has grown from a local to national company in the last 100 years.

AAA Auto Insurance
Read 1070 Reviews

The Automobile Club Association, or AAA, is one of the best-known insurance providers in the U.S. It offers a roadside assistance program as well as a variety of insurance plans and policies for drivers and vehicle owners.

USAA Auto Insurance
Read 1744 Reviews

USAA offers insurance to veterans and current military personnel. It has been in business since 1922 and strives to give military personnel and families coverage to meet their special needs, including auto insurance coverage.

Liberty Mutual - Auto
Read 1317 Reviews

Liberty Mutual is one of the oldest insurers in the U.S. Today, it is the third largest publicly held U.S. insurance company. They offer a variety of comprehensive insurance packages, including auto and homeowners insurance.

Travelers Auto Insurance
Read 319 Reviews

Travelers Insurance has been in business for over 150 years. In 2009, it founded a political advocacy group to get the fairest coverage laws for American drivers in addition to its auto insurance options for various drivers.

The General Auto Insurance
Read 517 Reviews

The General specializes in providing insurance coverage for high risk drivers, including those who need an SR-22 following a DUI. It is a subsidiary of PCG Holdings, which has been underwriting insurance for 50 years.
Thank you, you have successfully subscribed to our newsletter!
Enjoy reading our tips and recommendations.
We value your privacy. Unsubscribe easily.
Important questions to ask about auto insurance
What's covered?
The amount of coverage required by law varies from state to state. If you are a cautious person, you might opt for a more expensive policy with better coverage. If you have a lot of assets, experts recommend that you get enough liability coverage to protect them; otherwise, the other party involved in an accident could sue and attempt to collect on those assets.
Read the policy: Carefully examine your auto insurance policy to understand exactly what is covered, and work with your agent and insurance company to make the right adjustments to suit your unique situation.
Limits: Pay attention to the limits and deductibles set by the insurance policy. In some cases, there will be a maximum payout, which may not be as high as you're looking for. Or in others, the deductible could be higher than you're willing to pay out of pocket in the event of a claim.
Are there exclusions?
Sometimes insurance policies will have exclusions, and you'll end up paying out of pocket for an accident or repair that you thought would be covered.
Other drivers don't have insurance: If you get into a collision with an uninsured driver, you'll have to pay for repairs out of your own pocket and sue for damages unless you have the proper auto insurance policy.
Car theft: Basic insurance policies don't always cover car theft.
Damage from natural accidents: Some insurers don't cover collisions with animals, tornados, earthquakes, damage from falling objects, etc., unless you specifically pay for these coverages.
Mechanics and replacement parts
Be wary during a claim. Some insurers will push you to use shops in a direct-repair program or use cheaper replacement parts rather than the original equipment manufacturer.
Can you choose a service provider?: Choosing your own mechanic is the best-case scenario, but they aren't always covered by insurance policies. Check the fine print of the policy to see if the insurer has control over which service providers and parts are used for repairs.
Are service providers reputable?: If the insurer has the authority to pick your mechanic, investigate them. Look for service reviews online from past claims and from former policyholders.
What if the replacement part breaks?: Find out how the insurer handles faulty repairs and how quickly they will take care of it.
Cost
The cost of auto insurance is a big factor in most people's decision about which policy to choose. If you want to find cheap car insurance with a lower premium, you'll have to pay a higher deductible to get your car fixed if you get in an accident and need repairs.
Premium: The premium is the monthly, semi-annual or yearly price that you pay for your insurance plan.
Deductible: Deductibles are the amount of money you are required to pay for a claim before your insurance company starts to pay out. The lower your deductible, the higher your premium tends to be.
Coverage factors: Depending on much coverage you opt for (i.e., the limits), the cost of your insurance will vary. Your past driving record, credit rating, distance you drive and even drivers' education will all affect how much your policy costs.
Optional coverage
In addition to basic auto insurance, there are optional coverages available for drivers with different needs.
Collision coverage: Collision coverage pays for the expenses to repair your car after you've been in an accident, whether you're at fault or not. If you drive an older car that isn't worth much money, it may not be worth it to pay for collision insurance.
Comprehensive coverage: This covers things that could happen to your car not related to an accident that might not be covered by standard insurance, such as weather damage, running into an animal or other factors. It's a good idea to opt for comprehensive coverage if you can afford it, but it can get costly and might not be worth it if you drive an old or inexpensive car.
Uninsured motorist protection: This protects drivers in the event that they get into an accident with a person who isn't insured but is to blame for the accident or in a hit-and-run. It will cover damages to the car and injury in the event that another driver is unable to pay out.
Insurance company ratings
An insurance company's reputation is important. Good companies should have a quick response time, be adept at handling claims and have excellent customer service.
Reviews and complaints: Check the reviews and ratings on an insurance company before purchasing a policy. Be aware of any complaints that have been filed.
Handling claims: How long does it take for the company to handle a claim? Do you have to pay out of pocket first or do they cover the expenses immediately?
Types of auto insurance coverage options
Liability insurance
Liability insurance covers you if you're in an accident deemed to be your fault. It will cover repairs to damaged property, as well as medical bills resulting from injury to the other driver and his or her passengers. Most states require at least a minimum amount of liability insurance, but it's a good idea to purchase extra protection if you can afford it.
Collision coverage
If you are involved in an accident, collision coverage will pay for the repairs to your car whether or not you're at fault. If your car is damaged beyond repair, good collision coverage will pay for the value of your car.
Comprehensive coverage
If something happens to your car that isn't related to a vehicular accident, such as weather damage, hitting an animal or theft, comprehensive coverage will pay for the damage to the car.
Personal injury protection
Personal injury protection is imperative for all drivers. Medical bills following an accident can be devastating, and good personal injury coverage will cover medical expenses for you and your passengers, as well as missed work expenses.
Uninsured motorist protection
About one in six drivers is uninsured, even though it is illegal to be in most states. Uninsured motorist protection offers payment when you are in a collision with another driver who is at fault and does not have insurance or after a hit-and-run. It is usually relatively inexpensive to add uninsured motorist protection to a car insurance policy.
Auto insurance for different types of drivers
Drivers who own a car
Auto Insurance is required by law for drivers in most states. Drivers who own a car and drive it often should definitely have auto insurance to cover the risk of damages to their car and personal injury and the liability of harm to other people and property. Otherwise, repairs and medical costs, particularly when you're liable for an accident, can be very expensive.
Drivers who occasionally drive cars not their own
If you don't own a car but occasionally drive rental cars or cars that belong to other people, you should still have auto insurance. The car owner's insurance typically doesn't cover other drivers unless that is stipulated in the policy.
Car owners who have other people drive their car
If you own a car that other people drive, such as a hired car, you should have auto insurance that covers the additional driver as he or she may not have insurance.
Student drivers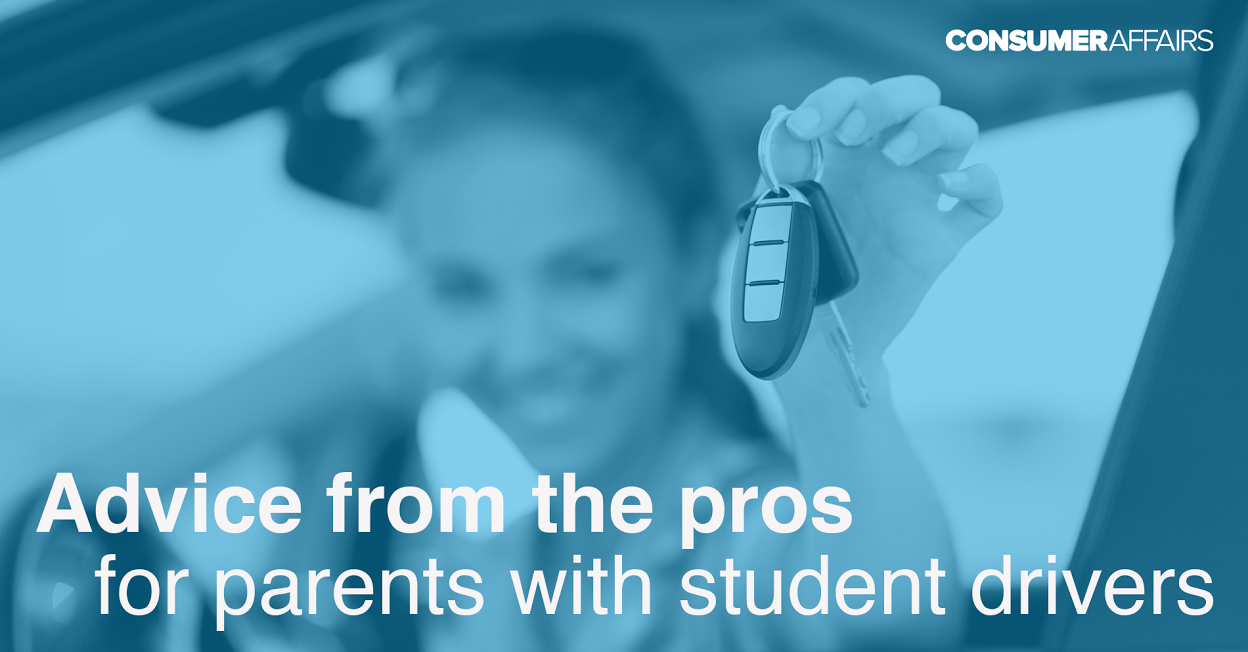 The day all parents dread is finally upon you; your teenage child is old enough to drive. But before they pop in a mix-tape (those are still a thing, right?) and step on the gas, they need to learn the rules of the road. ConsumerAffairs asked dozens of driving schools across the country for advice to make the process more enjoyable and educational for you and your student driver.
1. Give them as much experience as possible
As parents, there are many ways we enjoy spending time with our children. Spending dozens, if not hundreds, of hours sitting white-knuckled in the passenger seat while your student driver practices merging onto a major highway isn't even on the list. Trust us, we understand.
But according to the National Center for Biotechnology Information, newly licensed drivers are about eight times more likely to be involved in fatal crashes in their first six months than more experienced drivers. The takeaway? Experience counts. The Center for Disease Control suggests that increased education programs and parental involvement in instruction are associated with reductions of as many as 40% of fatal and injury crashes among 16-year-olds.
2. And, make sure part of that experience is in bad conditions
Most people (and even some dogs), are pretty excellent drivers with nothing but sunshine and open roads. Inclement weather causes more than 1.5 million reported traffic accidents per year, resulting in 673,000 injuries and 7,400 fatalities.
"Before they take their driver's test, make sure your student drivers have experience in all different types of weather and non-weather conditions," says Monica Savioz of Edward Savioz DTS Inc. "That includes everything from heavy traffic to rain, ice, snow and extreme heat."
3. Get them professional instruction
Although we're sure that you're probably an excellent driver (you would never speed or cut someone off, would you?), and an even better parent, how are you as a teacher? Many driving school instructors have been teaching student drivers for decades, and we all know teenagers are more likely to listen to literally anyone else than take instruction from their parents.
"Take a six hour behind-the-wheel course," says Dave Urbanek of Urbanek's Driving School. "The skills provided for young drivers will, hopefully, stay with them all of their lives. We still have former students that we come across that say they are always using tidbits of their driver's education in their everyday driving experiences."
4. Teach by doing
We don't have to tell you that teens are impressionable; first Rihanna and Ellie Goulding, now every teenage girl has half of her head shaved. While you can't control which fashion trends they embrace, you can influence the way they drive.
"Teens are very likely to pick up the habits of their parents," says J.C. Fawcett of the Defensive Driving School. "A parent should think about. Do I cuss at other drivers while driving? Do I speed? Do I tailgate? The training that comes from students observing their parents is very powerful. If a parent attempts to change their habits only when their teen is learning to drive, it's probably 10 years too late."
5. Relax and enjoy the moment
Teaching someone to drive can be a stressful experience for both student and teacher. When your life flashes in front of you every few minutes, it can be hard to keep your cool. But even though all of your instincts may tell you to raise your voice and grab the wheel, try to relax.
"Take this time as an opportunity to learn from one another," says Monica Savioz of Edward Savioz DTS Inc. "Parents and teens should show restraint and try to restrain from screaming at each other."
Think of it this way, when else are you going to have your teen in a position where it's actually against the law for them to ignore you in favor of their smart phone?
6. When you're buying insurance, shop the discounts
Finally, teenage drivers can be expensive to insure, but all the time you put into preparing them for the open road can have unexpected benefits.
"Ask insurance companies what discounts are available to them to help reduce the high cost of adding a teen driver," said Ryan MacMartin of Affordable Driving School.
"Many companies offer discounts for good grades and for completion of an approved driver's education or defensive driving course," continued Doreen Haughton-James of 123 Drive! Driving Academy. "Some also have their own discount programs. State Farm, for example, has a program called 'Steer Clear' where students receive discounts for logging driving hours and completing a program."
Start your engines!
Watching your teenage driver get behind the wheel for the first time can be nerve-wracking. But with the proper instruction and lots of practice, they'll be able to safely navigate the road for decades to come.
Compare Reviews for Top Car Insurance Companies

Dairyland auto

Based in Wisconsin, Dairlyand Insurance sells auto and motorcycle insurance nationwide. They offer immediate coverage for all types of drivers, including SR-22 insurance, non-owner insurance and insurance for teen drivers.

Erie Auto Insurance

Erie Auto Insurance offers more than just auto accident protection; they also have home and life policies along with some great package deals. Customers can receive a quote quickly and easily on their website.

MetLife Auto

MetLife is best known as the insurance company that uses "Peanuts" characters in its marketing campaigns. It offers auto, home and health insurance; automobile owners can choose from a variety of plans to meet their needs.

SAFECO Auto Insurance

SAFECO Auto Insurance, in business since 1923, offers car insurance policies that meet the needs of people with diverse incomes and coverage needs. The company offers support services through its website and toll-free number.

Farmers Auto Insurance

In 1959, Farmers Insurance received thanks for quickly replacing a customer's stolen car battery. Today, it serves over 10 million households throughout the U.S., offering coverage against accidents as well as repair services.

Alfa Auto Insurance

The Assisted Living Federation of America advocates for better living conditions for senior citizens that preserve as much independence as possible. It offers auto insurance to members as a benefit for supporting its mission.

Amica Auto Insurance

Amica specializes in providing insurance for people with good driving records. It offers a variety of discounts based on driving record and works directly with customers rather than having them to go through an agent or broker.

Esurance

Esurance is an online auto insurance company that is backed by AllState. It provides consumers with tools for claim resolution as well as the ability to sign up for, renew or change insurance policies through the Internet.

Wawanesa Auto Insurance

Founded in 1896 in Wawanesa, Manitoba, Canada, Wawanesa insurance is one of Canada's largest insurers. Consumers can buy their insurance products through an independent insurance broker or, in Quebec, a company agent.

Bristol West Insurance

Bristol West originally provided insurance to Florida drivers back in the 1970s. Today, it is a national auto insurance company that offers online services, including mobile payment, and uses technology to enhance service.

Hartford - Auto

The Hartford has offered insurance for over 200 years and was one of the first companies to offer auto insurance. They offer special insurance packages to assist seniors who can still drive in remaining as independent as possible.

American Family Insurance - Auto

American Family Insurance offers other types of insurance to cover people's needs in all areas of their lives. It has been offering auto insurance protection for over 80 years and serves customers in all 50 states.

Farm Bureau Auto Insurance

The Farm Bureau is a national organization dedicated to political and other advocacy for farmers. Its insurance policies take the agricultural sector's needs into account, covering vehicles used on the farm and automobiles.

Mercury Auto Insurance

Mercury Insurance has been offering a variety of insurances to drivers and homeowners since 1962. They offer users the chance to sit down one-on-one with an agent so that they can get the best insurance for their needs.

AARP/Hartford Auto Insurance

The Hartford has offered insurance for over 200 years and was one of the first companies to offer auto insurance. They offer special insurance packages to assist seniors who can still drive and remain as independent as possible.

Auto Owners Insurance

Auto Owners Insurance is an independent mutual insurance company that focuses on providing in-person support through a vast network of localized offices. They have a long track history of market stability.

Kemper - Auto

Kemper Corporation offers consumers a variety of insurance products nationwide. They offer discounts on auto insurance along with unique features, including pet protection, enhanced car seat replacement and dependent protection.

Grange Auto Insurance

Grange Auto Insurance focuses on customized coverage options through personal interaction with the client. They leverage their 80 years of expertise toward finding the perfect match for each new customer.

Safe Auto Insurance

Safe Auto offers affordable insurance options to high-risk drivers, including those who have to carry SR22 or other court-mandated insurance in order to retain their licenses. It serves all 50 states from its Ohio headquarters.

NJM Auto Insurance

Since 1913, New Jersey Manufacturers Insurance Company has been protecting clients from financial liabilities. The company carefully underwrites each policy to safeguard consumers while working to control costs.

Freeway Auto Insurance

Freeway Insurance belongs to Confie Seguros, the largest private insurance company in the U.S. It offers affordable auto insurance plans, including high-risk insurance, to help every consumer be able to afford auto insurance.

Shelter Auto Insurance

As one of the largest regional auto insurance providers in the U.S., Shelter Auto Insurance offers a range of both commercial and consumer policies. They cover all types of vehicles, from golf carts to cars.

Plymouth Rock Auto Insurance

Plymouth Rock Assurance was founded on the principles of putting its customers first. With sharp focus on customer satisfaction, Plymouth Rock helps people in the northeast United States find the right policy to fit their lives.

Fred Loya

Fred Loya considers itself a leader in low-cost insurance. It offers insurance across the Southwestern and Southeastern United States, with over 525 office locations that consumers can contact or visit.

21st Century Insurance

21st Century has been providing drivers with coverage since 1958. It is a member of the Farmers Insurance Group, which currently provides over 20,000,000 policies to individuals in all 50 states.

American Access Casualty

American Access Casualty's mission is to provide affordable insurance to members of the Hispanic community. It accepts Mexican and international driver's licenses as well as United States licenses for insurance purposes.

Cost-U-Less Insurance

Cost-U-Less offers inexpensive insurance options for drivers across California. It offers over 100 types of insurance to California drivers from 80 different locations as well as 24- hour availability of online quotes.

Hanover Auto Insurance

The Hanover Insurance Group, Inc., is a holding company for multiple insurance companies. Their auto insurance can be customized, and consumers can buy their auto insurance through an independent insurance agent.

Mendota Auto Insurance

Mendota offers specialty auto insurance throughout the United States. Both brokers and consumers sign up with this service online so that they can find each other. Mendota helps match consumers with agents that meet their needs.

Automobile Club of Southern California

The Automobile Club of Southern California is the California branch AAA. It offers specific insurance benefits to consumers living in California, allowing these customers to get coverage for needs unique to the area.

AIG Auto Insurance

American Insurance Group is one of the biggest insurers in the U.S. It offers insurance worldwide to consumers in over 130 countries and offers homeowners, renters and commercial business insurance in addition to auto insurance.

Chubb Auto Insurance

Chubb started as a small marine underwriting business in 1882. Since their beginning they have expanded and now they ensure everything from homes to collectable cars. They are a global company that is found in 28 countries.

American Freedom Insurance

Founded in 1998, American Freedom Insurance specializes in providing auto insurance for customers who live in Illinois, Indiana and Pennsylvania. They have auto insurance options for all types of drivers.

NetQuote.com

NetQuote is an online insurance shopping service that offers rate comparisons and the ability to sign up for auto insurance. It has been offering rate comparison services and access to top insurance companies since the 1980s.

Fiesta Auto Insurance

Founded in 1999, Fiesta Auto Insurance Center has locations around the country and work with over 40 top insurance carriers. They have Spanish fluency for consumers who speak Spanish, and consumers can request a free quote online.

Allied Auto Insurance

Allied Insurance is best for anyone that is looking for several types of insurance including auto, home, and life insurance. Consumers can receive increased discounts by purchasing various types of insurance policies.

Hagerty

Founded in 1984 and headquartered in Michigan, Hagerty started as a small family owned insurance company for boats. They now offer a wide variety of classic cars, boats, trucks, motorcycles and motorsports insurance.

Grundy

Grundy has been in the auto insurance industry since its inception in 1947. The company is widely known for specializing in collectible car insurance and invented the Agreed Value Insurance policy.

J.C. Taylor

J.C. Taylor, founded in the mid- 1950's, has become one of the biggest insurance companies for antique and specialty automobiles. They are known nationally because of their support for local and national antique automobile clubs.
Disclaimer
Information in this guide is general in nature and is intended for informational purposes only; it is not legal, health, investment or tax advice. ConsumerAffairs.com makes no representation as to the accuracy of the information provided and assumes no liability for any damages or loss arising from its use.
*Verified companies are in good standing with regulatory authorities, have been vetted and approved by InsuraMatch, our trusted partner, and are represented by Insuramatch or it's affiliates.