Consumer Complaints and Reviews

Last fall I was in a car accident with a Farmers Insurance driver. She was elderly, she sped up and blew through a stop sign and essentially t-boned me. She was solely responsible for the accident -- and the police took her car at the scene. Incidentally she had struck another car 8 blocks before, the police had written up a report --- and let her go!
My car was totaled -- no problem with recovery on that. My rotator cuff was torn in the accident and required surgery. The total medical bills including surgery and physical therapy were $19,000. I gained complete mobility in my shoulder and only have pain now -- which is fine, I am 68. I work only part-time so I did not claim any lost wages, I just went to work on pain meds with my arm in a sling.
All the bills were submitted to Farmer's Claim Bureau here in Indianapolis, Indiana. When the claims adjuster contacted me she explained that Farmers does not treat my medical bill as a "real" bill if insurance covers it. Instead, they deducted $15,000 from my medicals -- which were actually $4,000 --- because my insurance company had contracted with my health care provider for set amounts (Medicare). The result was that they used the $4,000 number as medical damages instead of the $19,000. The first settlement offer was for $7,500 WITH additional funds subordinated to my supplemental carrier -- even though they had made no demand. So in other words, the at fault driver, and her insurance company Farmers -- ultimately paid LESS than I did!
Call it "bad faith", call it negligence, call it unlawful, call it unconscionable... call it what you like but Farmers Insurance does the best it can to devalue the injury and the injured party. I questioned the "fairness", even the "logic" of their approach and was told "that is how they do it". When I suggested to the Farmers claims adjuster that my own insurance company and other adjusters I knew personally had said that was not a "common" method of calculation, she insisted that "she had been doing this for 20 years and that is the way it had always been done". I made repeated requests to speak to her supervisor or "someone further up the food chain", and those requests were ignored.
In the grand scheme of life the bill was not huge in the first place and is certainly too small to make hiring an attorney cost effective. But what sticks with me now is the overall attitude of Farmers Insurance that they are doing you a favor to settle for as much as they did -- in spite of the fact their client was 100% at fault. My only recourse now is to tell my story to try to help others in the same situation. Ugly and very, very stressful.

A Farmers insurance customer backed into my parked car. Police report states Farmers customer completely at fault. I was told Farmers would call me. Two weeks go by, nothing. As a favor, my insurance lady called Farmers agent. They said they will call me next week. Two weeks go by, nothing. I call this Farmers agent, he's there, but can't talk to me right now. I get annoyed and the lady on the phone refers me to a Farmers adjuster. The adjuster tells me my claim with Farmers was opened & closed due lack of my phone information. Funny, when I got the same police report, it was on there with both parties.
I took my damaged car to the closest Farmers suggested body shop. Estimate of $1,800.00. I call adjuster with this information. She sends me to another Farmers body shop much further away. Now this appointment is scheduled via email directly to the body shop from Farmers. Funny again, this body shop low balls an estimate of $1200.00. I'm not stupid. I compared the estimates and the latter body shop is just going to mask off & paint (which is a poor repair style) vs removing weather strips & glass for optimum paint adhesion (without paint peeling later). I have 40 years of paint experience. The Farmers adjuster with no phone call or contact, has a cohort issue a check for $1200.00. Done, no contact, take it or leave it, suck it up.
I left message, 3 weeks go by, nothing. I made numerous phone calls. Finally get a response. The response, this is a Farmers insurance company, it's my job to pay out the minimal amount, that's the way it's done. End of call, done. Farmers insurance company is seriously lacking ethical behavior and what's called in the insurance sector as lack of good faith. God bless anybody who has to deal with Farmers. I have an all woman run Allstate in Grafton OH. They are the best. I didn't want to file a claim, so I dealt with Farmers on my own.

On 7/29/16 at 5:00pm I was rear ended in my car by an elderly man going 50 miles per hour and the impact turned my car sideways on 101 Freeway. The rear end of my car was destroyed and amazingly did not start on fire. The office at the scene ticketed the other driver and made recommendation to DMV that this drivers license be revoked. We were transported to Stanford Medical Center Trauma Center in the same ambulance. I was examined and eventually released miraculously without injury. The Farmers representative called me several days later and took my statement and was willing to offer me a settlement in the amount of $7700 as my car was totaled. The representative was willing to release the money however I was not ready to settle the claim as I wanted to be sure I did not have any additional injuries that might show up a month later.
A month later another rep from Farmers contacted me to tell me that the former rep was no longer working for Farmers and she would be handling my claim. It has been 6 months and Farmers is still refusing to reimburse me for ambulance charges, the lost day of work and my co pay to MY insurance for the medical bill at Stanford Medical Center. Farmers Insurance is indifferent to the fact that my car was totaled by their client, I had to buy a different car to get to my job 22 miles away. I have threatened to hire an attorney but still no response from this pathetic company. I don't know what my recourse is. None of this would have happened if their client hadn't rear ended my car. If anyone has any advice please let me know. Thanks.

I was waiting to turn left into a driveway, the other driver swung wide and hit me. Then she fled the scene. I chased her to try and get her license number. She stopped in the middle of the street, jumped out and said she panicked. She gave me her insurance information. The inter-arbitration between her State Farm Insurance and mine made it my fault. Then she claimed this little fender bender exacerbated her arthritis so they paid her $15,000 for medical bills. Now my driving record is screwed. I thought insurance was supposed to work to defend you. Not pay out thousands of dollars to scammers.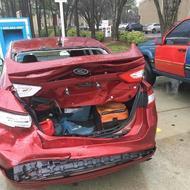 My son was in an accident, where someone Farmers insures hit him at full speed (40 mph) while he was stopped. Farmers immediately assumed liability for the accident. Then they proceeded to try to cheat us at every turn. They determined our car to be totaled. We had purchased the car (certified pre-owned) exactly 5 months ago to the day of the accident for $17,400. We had put about 3,000 miles on it, for just over 31,000 miles total. Not only was it low mileage it was loaded, even had a moonroof.
Farmers' first "offer" for our totaled car was $14,200. They eventually came up to $15,200. So in five months my car had depreciated in their opinion by more than $2,000. I understand this was "cash value" not "retail value"--at the end of the day I'm still the one paying the difference. ALSO... before their check was even in my account they wanted back the rental. So how do you buy a car in less than 24 hours? Most of us mere mortals need that check as a down payment. I asked for an extension and was told they couldn't approve it. Also, they NEVER asked if my son was okay after the accident. They tried to cut corners everywhere they could. It was an awful experience dealing with this company. No concern for people, just money money money.
How do I know I can trust these reviews about Farmers?
720,415 reviews on ConsumerAffairs are verified.
We require contact information to ensure our reviewers are real.
We use intelligent software that helps us maintain the integrity of reviews.
Our moderators read all reviews to verify quality and helpfulness.
For more information about reviews on ConsumerAffairs.com please visit our FAQ.

I have been a client of Farmers Insurance, Kevin Brown Agent office in Las Vegas, NV, for two-plus years. I am dropping them "like a hot rock" due to their lousy and pathetic customer service, as well as the constant increases in insurance premiums. Customer service with this agent office is absolutely pathetic. I have tried over the two-plus years to contact my agent and had to continually call until I finally got hold of him to discuss issues. I finally had enough and decided to change insurance companies before my next renewal in March 2017. I talked with Jessica, a customer service representative at the office, and told her she was on a recorded line (I wanted to ensure I had proof of cancellation before they did an automatic billing for a renewal). She told me what I needed to send them, including a copy of the home and auto declaration page from the new insurance company.
I checked with the new company and asked if the new insurance declaration pages were required and was told no; most likely Farmers wanted it to see the new rate I would be paying to try to match it to keep me as a client. I called Jessica back and asked if she received the other information required and that I would not be sending the new declaration pages. She then sent me an email, by accident, in which she made snide remarks about me thinking she had sent the email to the agent, Kevin Brown. This example should give anyone thinking about becoming a client with the Kevin Brown Agent office in Las Vegas an idea of what to expect in customer service and how they are regarded as a Farmers Insurance client.
As for the constant rate increases, I drive a 17-year old car and have not had any accidents, claims, or incidents, yet my insurance keeps going up. I live in the Las Vegas, NV area where we do not have tornadoes, hurricanes, floods, earthquakes, volcanoes, forest fires, etc., and yet my homeowners insurance keeps going up. It took only a couple of telephone calls to find matching insurance at a lower premium. I do not know how good the other Farmers Insurance agency offices are with customer service, but I would strongly advise anyone considering becoming a client of the Farmers Insurance Kevin Brown Agent office in Las Vegas, NV, to look anywhere else.

When we bought this house on contract the precious owner recommended the local Farmers agent Janet **. We promptly called her and bought a policy thinking that she knew the property well. In 6 years of paying premiums, she never once visited the property or did a review but was happy to take our monthly premiums. When we made a claim for a heating oil tank leaking in the basement, we were told that the policy did not cover that by the adjuster who called us. Calls to her office told us she was having family problems and could not be reached. Calls to the local Regional Director told us he was never available to talk with us. Stay away from this company at all costs. Go anywhere else.

My bad experience with Farmers insurance. I was hit by Farmers insurance insured driver who seemed to be very experienced with car accidents. The claim process has been a huge JOKE. At first I was given the worst customer service ever. The claim adjuster and his coworker looked very lazy, irresponsible, dishonest and untrustworthy. They keep changing stories and playing games. After investigating the accident and talking to the witness, they denied their insured total fault and refused to pay for fixing my car. If you want to avoid having trouble and hassles, do not insure your vehicles or properties with Farmers.

I initially bought farmers because they ended up being cheaper than my ins company. They slowly upped my rates thinking I wouldn't notice. Maybe I'm not sure why they did but I researched the company and found it is called "price optimization" and farmers is one of the worst for it. I even ran a new quote thru farmers own website and got a cheaper rate than what my bill was. I'll explain what price optimization is later down this post. Anyway I found insurance about 100 dollars cheaper for the same amount of coverage with a better company and bought it.
Canceling my Farmers policy was another matter. I have had Farmers for 3 yrs and never once have been able to talk to my agent - no answer on the phone - no return call... Most of the time I would get frustrated and just call the 800 number - but this time I was told [two times in fact because I tried again] that I had to talk to my agent - you cannot cancel off the 800 number. Well I never could and still never have been able to contact my agent... they called me when they thought I was overdue on my payment and wanted their money... a collection agency I'm not quite sure who it was [wasn't the agency]. But Farmers billed me for the time - 49 dollars in fact - for 23 days over that I could not get a hold of them...
Price optimization is what companies do to pad their corporate coffers - they use algorithms and formulas to calculate who and by how much they can raise your rate without you figuring it out and going to another company. So review your rates EVERY pay period... GEICO optimized me but I caught it... Farmers optimized me and my guess is I paid about a year before catching it. So ok Farmers you got a few extra bucks outta me - and in return gave me lousy customer service -- I'm at least gonna let everyone know I can about my Farmers experience - was it worth it????

I've been with Farmers for quite a few years. Was rear-ended in December, 2016 by an uninsured motorist. I had my car towed to a body shop recommended by Farmers. It took over 5 weeks to get it fixed. Obviously, Farmers did a poor job monitoring the repairs. Today I found out that the rental car agency I used (at Farmers' recommendation) charged my credit card over $1,000 because Farmers failed to set up the direct billing account - despite repeated assurance from Farmers that it was being taken care of (over a 5 week period). Avoid Farmers unless you want this type of negative experience and much wasted time on phone calls with them.

I hit a deer on the way to work, called when I got at work and they gave me the name of a place to take it to get it fixed. Got a free loaner car even though it's not on my policy. Car fixed and like new in a couple of days... easy peasy. From one call all was handled. I didn't have to do anything else.

I filed a claim where I was at fault and damage was covered without hassle; unlike a situation in which we were not at all at fault, and Farmers defended us vigorously from the minor but frivolous claim. My insurance over the last 12 years had a moderately priced premium, very good coverage but also 99% excellent, incident free driving record. I would prefer USAA but their premiums are so much higher, and even though I have heard others with Farmers who had to fight tooth and nail to receive due payment, Farmers so far has been reliable, especially on the burning coverage vs. receiving coverage, and they have an excellent online, user friendly website for reviewing coverage and paying premiums.

No willingness to discuss options and/or provide helpful guidance... everything defaults to what the computer screen states. No personalized service or recommendations... always pushes corporate policies with little helpful recommendations. Our agent also does not provide any helpful suggestions... always pushes any issue back to a call center CSR! Farmers is in the business of collecting monthly escalating premiums with no offer of decreasing premiums for long term loyal customers. Bye-bye Farmers as soon as possible!

Our 2nd bad experience with Farmers. This time we were hit by a Farmers insured driver. Damage to our car and back injuries. The claims process has been a colossal joke. The claims agent is lazy, disrespectful and untrustworthy. They are trying to cheap their way out. It's been five weeks with no resolution. However, they did offer us a rental car... which we don't want or need! Helps me understand why insurance rates are through the roof because they try to take advantage of people which forces consulting with an attorney. Had they just settled fairly, it would have cost them $5,000. Now, we will demand much, much more. Farmers – yeah, they've seen a thing or two, but don't know jack squat.

We trusted our agent by telling him we bought a new Mercedes S550 and needed to add it to our coverage. 2 years later a rock crashed the windshield and the agent we trusted saved us a couple of dollars by making our comprehensive coverage deductible $1,250.00. WOW! Then on top of that they tell us if we don't take it to an aftermarket repair shop they select they may not pay the complete cost after we pay our deductible. They take incompetence and greed to a whole new level. Too bad there is not a 0 Star rating.

I just wanted a basic policy for myself and my 2000 Subaru. I had been paying for my 20 year old son while he was in school. I did not put him on my policy because he has graduated from school, lives on his own, owns his own car, it is registered in his name and he carries his own insurance through Progressive. After providing Farmers with a copy of his auto registration and proof of address they kept insisting that he had to be on my policy (just in case he should come to visit and needed to drive my car). I had asked about putting him on my insurance but they said that because he does not live with me, & was no longer a student he may not even be covered anyway. After paying my policy for 3 months they increased my premium $359.00 per month, insisting that my son be added. I cancelled the policy before the due date and have refused to pay the premium.
They have not even sent me an explanation. I only know what they did because of the run around they already put me through. They then sent my account to collections even though I cancelled the policy before it was due… Stay away. They are a ripoff. I had thought it would be good to have a local insurance agent but that was obviously a mistake as the agent was not capable of straightening anything out. I am now once again dealing with the collection agency and taking my son's insurance policy to another office to see if anyone else can fix this. I don't have very high hopes of anyone with Farmers being capable of accomplishing anything. I can't imagine what it would be like to make a claim! Totally useless organization.
I am 56 years old. My car is a 2000 Subaru and they want me to pay over $420.00 per month, just in case my son visits and drives me to the store. Had they been willing to actually put him on my policy and cover him and his car I might have done that. It would still have been cheaper than what he pays for his own policy. They couldn't guarantee that they would cover a claim because he doesn't live with me and isn't a student. Go figure! They are a joke.

I will never ever get an insurance through Farmers or recommend it to any one else for that matter. What a lousy business. I got in an car accident earlier this year, car was total loss and I sold it to a junk yard. I notified the agent but somehow she didn't cancel my insurance and I was paying it for months. When I noticed it I contacted the agent and to get my money reimbursed. After months of asking me for all kind of evidence that I really don't own the vehicle anymore (they saw the pictures and knew that the car was total loss) now they simply refuse to refund. I provided them the name of the junk yard AND more importantly hard evidence: the notice of transfer and reliability of the DMV (that states I don't own the car any more and from which date). That's not enough for Farmers. What a despicable way of doing business and customer service!

Recently totaled my 2003 Z71 Tahoe. The mileage on my vehicle with just 190K, it was in immaculate condition with no issues. Insurance came back and told me they were willing to give me $4500 for it. This is absolutely ludicrous as of this particular vehicle will cost about $9500. For what they are offering me, I cannot even replace my vehicle with the same exact vehicle in the same condition. Their offer will not even cover half of what they're going for. They say they are going based off blue book value but would consider upping it if I can show them proof that these vehicles go for more in this area.
I have sent them countless examples of what they go for in this area but they will not consider them because they are either one your new were one year older. Apparently 2003 Z71 Tahoes are rare in this area. I guess it doesn't matter that 2002 models just like it are going for well over what they are even offering me for mine and those are in bad condition. This is absolutely ridiculous. I pay to be covered and I get nothing in return.

Great agent and fast claims service. Have had Farmers since 1978. No complaints. Life insurance, homeowners, umbrella, cars, investments. Everyone in extended, family and friends. Not the cheapest but have had claims and been well taken care of.

My mom is a customer, and I was at one point in time. They're real good about following up on a claim. The short time that I was a customer, I had no problems with their service. My mom's been a customer of theirs for years, and they've always met her needs with quick, conscientious service. Just recently, she had to talk to them because she hit a deer. It took a little longer than usual to get the claim through the entire process, but they were really nice about it, and she was happy with their service once the car got into the dealership to be fixed.

I had someone rear end my 2012 Jeep Grand Cherokee over a year ago. Farmers paid for the repair with no problem. However, under Oregon law you are also entitled to receive compensation for "Diminished Value". An accident will lower the resale value of your vehicle no matter how beautifully the repair was made. That's diminished value (or DV) and you are entitled to compensation for that additional loss. I had two DV estimates done by reputable companies and they both estimated that loss at over $5,000. You pay these companies to do this estimate and you have no idea what they value your loss at until you pay them and see the report. They get paid the same either way so there is no incentive for them to lie or inflate the value of the loss. It's an honest assessment. Farmers came back and said their expert valued the same loss at no more than $2,000. I refused the $2,000 and they came back with $2,250.
I complained that my vehicle suffered structural damage and that $2,250 is ridiculous. They came back with $2,500. This has been dragging on for over a year now and their offer is still less than half of the estimated loss. I chose Farmers because I believed they were a reputable company. This is not what I would have expected from them at all. Their adjuster even had the audacity to tell me my accident wasn't showing on CarFax and suggested I not mention the accident during a sale. I'm required by law to tell the buyer about this accident, especially since it involved structural damage! In fact, if I sold it to a dealership, I'd be required to sign a document of disclosure. Are these the actions of a reputable company? Is this the kind of service you would want to experience? Be your own judge. What good is paying for insurance if they treat you like this when you need them? Do yourself a favor and steer clear off Farmers.

Question? When you have the same auto insurance for 30 plus years at a local office shouldn't they provide the best service and value for your dollar? Here is the issue, I'm retired, I drive maybe 500 miles a year, my record is clean, I have an old Dodge pickup, my policy is for liability and uninsured motorist, with towing. I don't want to pay my premiums 6 months or a year in advance. My budget is done monthly. Why does Farmers penalize people for paying by the month? There isn't any justification for their trumped $5.00 handling fee! Ludicrous! My payments are made by me online with a card. Farmers doesn't do anything. All of my banks have gotten rid of these stupid fees because I do my business paperless. This is nothing but a ripoff of honest, safe drivers. Farmers collects millions of dollars using this bogus charge.
Went down to the local Farmers Ins office in town for a review and to do my updates, asked about this nagging charge and the agent couldn't give me a real explanation. I told the agent, "I do the transaction." There was nothing but a sly smile on their face. Then they asked me about paperless billing and I reminded them that I have been doing paperless billing from the very beginning! Yet they have been sending me all this crap in the mail regardless, then try to use that as an excuse to slap on a fee. And on top of all this the company tries to keep putting me on the Paper statements, as if this will justify the fees they keep imposing on all of us. Ridiculous, the auto insurance have put our elected officials in their pockets to force all of the law abiding citizens to carry auto insurance, but in my area the accidents involving uninsured motorists has skyrocketed.
We all pay for this. You read our local news and the police pull some dude over, they'll have warrants and no insurance, no license. Same person that you see driving around town the next week. So for protection against that I'll pay more, but getting charged these fake fees, let's get on the companies, let them know, we're fed up with paying for their vacations.

Very poor insurance policy. I talked to their agent every week regarding my policy. Their agent and Farmers insurance didn't know what is going. Every month new amount comes up. Sometime 96, sometime 49 and sometime 57. Don't go for Farmers.

Today (11/2/16) I found that I have an overdraft in my bank account. The reason was that Farmers Insurance had billed my account (they have direct withdrawal) $152 instead of the monthly $31 that I was expecting. I called the billing department and was then put on hold (approximately 2-3 minutes) so that I could be connected to a billing representative.
The first person I talked to said they were with billing but then transferred me to another person. I asked why I was being billed the $152 instead of my usual $31 and the person (she called herself "Lou") said that it was because I had previously added another vehicle to my policy in September. I told her that there was a mistake because I had only "considered" adding another vehicle to my policy and I had cancelled that vehicle from my policy the "next day" (my local representatives have a record of the transaction) and the confusion started when I asked the Farmers agent in September "how much it would cost to add another vehicle to my policy" (I was only doing research to see if I wanted to add another vehicle to my policy).
I was never given an answer to why I was billed $152 instead of $31 and the girl (she said her name was Lou - and wouldn't give me a last name) said that she didn't have to listen to the way I was talking to her when I said I was pissed because of Farmers Insurance charging my checking account $152 for a "monthly bill" so she hung up on me. I called my representatives in Washington and was told that they called Farmers Billing and were working to resolve the matter for me. Right now I have an overdraft of $94 on my account and my bank said that I would be charged an extra $30 plus the $94 if my account wasn't repaired in 24 hours.

My auto insurance comes up for renewal November 30. I received a new quote with an increase of over 28%. Zero accidents in my entire life, and no tickets. My agent told me "there's nothing I can do". I phoned another agent who couldn't get into my account, but gave me a customer service number. After being transferred I spoke with Todd who told me that the state of Indiana had an across the board increase of over 28% for ALL Farmers auto customers. I'll be searching for others with Farmers Auto ins to see what their increases are. I'm obviously going elsewhere. Already have 3 quotes under Farmers.

I requested to cancel my insurance on September. I contacted my agent and was told to send a written email and I did but was still billed for two more months. I was told that my bill was to be prorated since it was in the middle of the month and nothing happened and I was still billed the full amount. I then called back to ask why, she then told me I never gave her a specific date so she never cancelled my insurance and told me I had to pay for the two months. I proceeded to ask why she never called back to tell me anything and was told "I assumed you changed your mind" after I called her and emailed that I wanted to cancel my insurance. That was such bs. I would never recommend Farmers. All they want is your money. They don't care about customers.

I originally got my insurance in 2005 through AIG which was offered through my employer, Wells Fargo, at a discounted rate. Eventually it became 21st Century, which was later bought by Farmers. I had an accident in May of this year. While I understand that an at fault accident can affect my premiums, they tried to double it at renewal. In over 11 years, I have only had one claim which was a windshield chip repair. I've paid more money into Farmers than the accident even cost them. I will say that they handled my claim very quickly and efficiently, but I still don't feel like I deserved to have my insurance doubled.

So I guess Farmers Insurance doesn't like making contact with the people their customers hit. I had been trying to reach Todd ** leaving voicemails and never received any sort of response. I was in a hit and run with one of their clients, I was able to get their license, a description of how they looked and even the model of truck. I filed a police report. And took all necessary steps. Then all of a sudden without hearing from Todd my claim was closed out because their client's vehicle didn't have any damage... Well no ** Sherlock he has a big truck compared to my small car.
Then Todd finally answers and has the nerve to tell me if I got video of the hit? Ummm... First I'm in my car, second it was a hit out of nowhere, third he took off asap. Todd do you have any brains at all? He was so disrespectful but makes sense after reading all these reviews. Sadly when you work for a company like this you should be more trained on how to handle claims and speaking to not only your customers but the victims of the accidents. I guess Farmers just hires people who need a job and don't give them the appropriate training on how to handle these kinds of situations. If you're a customer they're only looking to take your money and if you're a victim of an accident be ready to pay for your own losses. Beware if you ever get into an accident, it's pointless speaking to that no good for nothing company. Lol. Remember don't deal with Todd **. He's an ** just waiting for a check at the end of the day.

Farmers Insurance has been the worst experience of my life. I was sideswiped by one of their client who was ticketed for the accident. I was traveling eastbound in the curb lane at the posted speed limit. The Farmers client made an illegal left turn into the center lane of the same street as me and then abruptly made a lane change into my rear driver's side door. The Farmer's customer raced through an expired left turn arrow and lost control of his vehicle due to excessive speed. Farmers lied and said I turned right on red which is patently false. What happened was their client made an illegal left turn AFTER the left turn arrow expired and then about 5-6 car lengths down the road struck my vehicle. Suffice it to say, Farmers Insurance are liars, cheats and swindlers.
I would NEVER recommend Farmers Insurance to anyone. Lies lead to more lies. Small lies become big lies. If Farmers is so willing to tell lies then they will lie to their victims and ultimately their customers. Farmers Insurance company cannot be trusted and pray that you never have to deal with them. They are crooked and some of the most dishonest and untrustworthy people on earth. BUYER BEWARE!!

I was hit in my brand new Tesla Model X by a Farmers insured, who admitted complete fault. I sent my claim through Farmers. It took over 9 days (and counting) for them to send an adjustor out. They initially told me I would be entitled by law to rent an equal vehicle, but since there are no available Model X for rent, they stated on multiple occasions I would get a Tesla Model S. After days of going back and forth with Farmers and Enterprise, I was told I could not get a Tesla after all, and they offered a "comparable" SUV.
There is no comparable car to a Tesla, and to give me an SUV defeats the purpose of owning an electric car in the first place. The Santa Fe they promised is a gas guzzler and a pollution machine. Both reasons why I drive a Tesla and not a car like that. After 9 days I still do not have the rental, and the adjustor had not showed up. Farmers is run by lying, incompetent people that do not care about their customers nor the people their customers hit on the road. This story is not over... I will be back for more.

Matthew BrodskyInsurance Contributing Editor
Matthew Brodsky is an established expert on insurance, having written hundreds of articles and other pieces of content on the subject, interviewed countless practitioners, and attended dozens of conferences and events. He served as an editor at industry magazine Risk & Insurance for six years. More about Matthew→

Farmers Auto Insurance is one of the oldest operating auto insurance company in America. The company is based in Los Angeles, CA, but it offers insurance across the U.S.
Free fast quote: Farmers offers customers the ability to enter their information and get a free quote online, so they can know how much they would expect to pay for coverage.
24-hour customer service: The company provides 24-hour customer service, so customers can receive help any time of day that they need it.
Additional coverage options: Farmers offers policyholders unique additions to their policies, like Incident Forgiveness, which allows you to have small infractions and incidents that don't raise your premium unless a claim is filed.
Convenience options: Customers have access to convenient automated and online functions from the company, like automated bill pay, paperless billing and a mobile app.
Homeowner discounts: Farmers offers homeowners discounts on their auto insurance policies.
Best for New drivers, parents who drive children, drivers who just purchased a new car and homeowners who drive.
Farmers Auto Insurance Company Profile
Company Name:

Farmers

Website:

https://www.farmers.com/