Consumer Complaints and Reviews

Just got our auto policy for 2017-2018. It's an increase of $700--for no reason! No tickets, accidents, my wife and I are both older, we have older cars. Two of them we barely drive. If they don't lower my rates when I go over there today, it's bye-bye.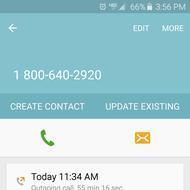 I've had Wawanesa for 3 years - I joined because my family member had great experiences with them and talked wonders about them so I gave them a try. First year was great - competitive quotes, easy to contact online and quickly called me to finish up the policy. In less than 3 hours I was all setup. I had no issues and filed no claims my first year. Second year my rate went down for the full year premium by about 400 dollars so I was happy. Great company that rewarded its customer for not crashing or getting tickets. Now it's my third year and I get a renewal that is almost the same price as my 1-year policy except now for only 6 months. Not once have I ever crashed, nor had tickets, nor I filed a claim, AND I'm an experienced driver.
I decided to log on to my account to see if I could get a better price - the website was down for 2 days until I decided to call. 2 days later I call them and I'm placed on hold for AN HOUR before I can finally talk to a human. Customer service rep was nice but of no help. She said I qualified for the loyalty discount, the experienced driver discount, and she checked my profile and said I haven't had any tickets/accidents - which is all true. SO WHY ARE YOU GUYS RAISING MY PREMIUM BY ALMOST 50%?!? The rep said she couldn't do anything so I asked to speak to a supervisor and she said I would have to be put on hold and I agreed. Five minutes into being put on hold I realize that they should be begging me for my money not the other way around. I'm done with Wawanesa - poor rates, poor customer service, poor management. They don't care about their customers. NO THANKS. I'm taking my hard-earned money elsewhere.

Been a customer for few years and never had a claim until now. They put me on hold for long min. till I decided to have on call back. The representative was so rude and sounds like she's not happy with her job!!!

This would be my 17th year insured with W.I.C. I liked that my coverage was yearly, instead of 6 months. I got my notice and it's for 6 months. It is almost the same dollar amount as it was for 1 year. I think that an increase of such proportions should be illegal. I was always under the impression that what you were paying was based on your driving record. I can understand changing to 6 months, but not the increase. I called and was on hold for a short bit, used the callback option, and 75 minutes later received my call back. Said the changes were to be more competitive. I found coverage from another major insurance company and will save 30%. BUH BYE!!

I have been a customer with Wawanesa Insurance for about six years. During that time they always offered great prices and prompt service. However they recently overhauled their system so their policies would be for a six month term instead of a 12 month term the way they have been for years. With the six month term came an increase. The new pricing was double, what I paid for 12 months of coverage in the past was now offered for a 6 month policy. Something has gone wrong and the customer service person at Wawanesa could not explain the reason for the increase.
My driving record has not changed, it's still clean with no citations and no accidents and I am still insuring the same two vehicles and I have not moved so why did my rates double. I think they (Wawanesa) made some serious mistakes when they set their pricing with their new 6 month policies. I have moved to AAA insurance and I am saving about $500.00 from what Wawanesa quoted me.
How do I know I can trust these reviews about Wawanesa Auto Insurance?
790,221 reviews on ConsumerAffairs are verified.
We require contact information to ensure our reviewers are real.
We use intelligent software that helps us maintain the integrity of reviews.
Our moderators read all reviews to verify quality and helpfulness.
For more information about reviews on ConsumerAffairs.com please visit our FAQ.

I have tried numerous times to contact Wawanesa but you remain on hold until you just give up. There have ben several occasions when I stayed on the phone for 20+ minutes. After you try so many times to call them I utilized the call back option. Wawanesa did not call back. Left several messages and to call me back. They finally called but I was on the freeway. They asked me what time they could call me back and I gave them a time.
Stupid me, I thought they would call me back. Had to call back again several times and they don't return your call!! I swapped a car with my granddaughter. My granddaughter has Geico. She was able to change the car on her insurance in a few minutes. I have been trying for 4 days. In the 4 days I have called 15 times and NOTHING. I have been a very loyal customer of Wawanesa and have been a long term customer. I called three or four times today around noon. Still no call. I think Geico is starting to look really good!! If you are considering this insurance company, don't do it.

I have been a customer for over 10 years and have not had to use any of the services for my vehicles. I recently sold a car and purchased a new one. I have been trying for 3 days to add my new vehicle to the policy. I have been on hold for over 45 minutes at least 3 times. I have left my number but have not received a call back. I can't even drive my new car because it is not insured. I contacted my homeowners insurance agent and she was able to get me a quote from AllState which is less money for the same coverage. How can Wawanesa expect to stay in business when they cannot service their existing customers?

17 year policy holder. Zero claims. Zero citations. Premiums competitive until now. New premium is 50% increase over previous year. I spent an entire afternoon trying to get through to a policy rep, using callback feature twice. No callback received. One call to a carrier I found through my big box store membership, I now have a policy with a highly rated carrier at a lot less than LAST year's premium. Moving my homeowner's today.

Been trying to get a live person so I can add roadside coverage to my policy. Been on hold over 2 hours. Left my phone number so they could call me back but still no call. THIS IS THE WORST CUSTOMER NONE service I have ever seen. Maybe it's best I don't get roadside coverage from them if it takes this long for them to answer the phone. I could die if I was in a hot desert waiting for service!!

The customer service from this company is terrible. The SHORTEST wait time I've ever experienced when calling customer service is 25-minutes. I'd say an average wait time is about 45-50 minutes. I'm sitting on hold now and it's been 1 hour and 30 minutes. I have a simple change to make that's going to take about 5-minutes. It's ridiculous. Do not use this company.

I have been a loyal Wawanesa customer for over 25 years. When I received my last auto insurance renewal, it was like they were dealing with a complete stranger. My rates almost doubled with no accidents or tickets. I was also informed that they were no longer writing 1 year policies, the main reason I went with them. I FINALLY got ahold of an agent, and with being on the phone for over an hour, got them to recalculate my rate to an almost a reasonable rate similar to what I had.
NOW I get my new Homeowners policy and it goes up $625.00 from it was last year! I have never filed a claim, I have remodeled my entire home a few years with updated electrical and plumbing, including fire sprinklers. The policy info had my entire home back to the original 1948 construction levels. I have now been on hold for the 3rd time for over an hour and I will be shopping other companies. I left call back info in their queue and never received a call back. I'm not sure what happened to this once fantastic company, but they are going to lose a once loyal customer. Bye bye Wawanesa. It was fun while it lasted...

Unable to get through the phone for an agent to help adding a new car into existing policy. It's been week trying to call them, wait for very very long hold, even left for call back number but still have no success!! Not sure what's going on with this company?? Make me nervous! How are we going to get help if there's an accident??

We've had our auto insurance with them for over 17 years. Last renewal they changed us to a 6-month policy which is set to expire 5/1/17. We received a letter mid-March stating we needed to call them. I've been trying consistently and never get an answer. It is now 4/6/17 and with four vehicles and drivers on the policy we are left hanging. We have always paid in full up front but haven't even been given a quote, just a "Brace for Impact" toned letter telling us we better call 877-929-2637 Ext. 5400 and look at our options. I would love to. Why send a letter telling your policy holders to call a number when there is no one there to take your call?

This is about the worst company when you try to reach them to do anything except get a new quote. I have been calling for the last two days now. After holding for almost an hour 1/2 I get a person p/u just to tell me that they will have to call back due to the high call volume. This is so bad. Oh and the rates are low when you jump on board with them but then they start to increase every year and not small amounts. When they send you the rate increase letter in the mail it does not explain the reason other than the monthly payment amount.

I've been with this company for 15 years and sadly it is going downhill. I paid 6 months of insurance from Oct 28 to April 28, 2017 so why did they cancel my insurance in March!!? It took me a few hours to get someone from customer service only for her to tell me she didn't know why it was cancelled but I needed to pay $510 to reinstate it and make another payment the following month. What??? I'm done!!! This is my first review on a company ever! I'm not one to complain but I wouldn't wish this kind of customer service on anyone.

This company is horrible with customer service. I just bought a new car and wanted to add it to my existing policy. Been trying to reach them for almost 3 weeks now and each time, I have been waiting from 20 to 45 minutes without an answer on the other end. Gonna check out Costco insurance this week.

After being a policy holder with Wawanesa for about 25 years I received my current renewal with a 100% increase. Policy was from $1400 for 6 mo., to $2800. We had one very small accident recently, no tickets, no points, no other accidents. We never had any problems with them before. This is outrageous!! Definitely will not be renewing! Another customer lost, good job Wawanesa!!

I am a current auto policy holder for over 10 years. Never had an accident or tickets. Always multi-car and very low mileage. A few days ago I got renewal offer which is only for 6 month and my premium is more than doubled. I called and wait for 1 hour to be able to talk to customer service rep. I've been told that I have a loyalty discount, multi car, good driver and very low driving mileage. After all this my premium went up to 67%. She had no explanation whatsoever. I asked to speak to someone who can give me reasonable explanation. She said someone from customer relations will call me back within 24 hours. When I got the call, again I was not given any reasonable explanation. She kept giving me a lots of BS answers and saying all rates were going up in CA and we are taking under considerations some other factors that we were not taking it before, like the number of claims (which, BTW had nothing to do with me policy) and bah blah blah.
Again, NO specific reason. We are talking here premium difference of $2982 and I can't get any reasonable explanation? Seems like they are making fun of me. I am very confused and I actually believed that Wawanesa was the best insurance company so far. I am very disappointed. They lost a loyal customer and by reading other reviews there are many of them.

My recent experience required a phone call as I wanted to speak to a live agent. Calling on a Saturday afternoon wasn't such a great idea... My holding time was about 5 minutes. At that point in time I was given a choice to continue to wait or have them call me when a rep was available. I choose the latter and within a half hour they called me back! I have been with them for 17 years.

I am a current auto policy holder for 14 years. Never had an accident or tickets. Always multi car and very low mileage. A few days ago I got renewal offer which is only for 6 month and my premium is $ 500 up. I call and wait 45 min to be able to talk to customer service rep. I been told that I have a loyalty discount, multi car, good driver and very low driving mileage. After all this I have to pay $500 more. Seems like they are making fun of me, I feel that way, he was careless and told me to go shop around if I don't like the price. I complained to manager, was same careless respond. I am going to make an official complaint to CEO of this company in Canada and BBB.

Every single time I call Wawanesa you hold longer that the IRS... ridiculous. I left my name a number in the callback queue and didn't get a callback until the next day. And When the callback feature worked it still took them 2-3 hrs to call back. So frustrated when I hear their recording saying Wawanesa has been voted #1 in any category. They total suck... but as for their service when acting on a policy it's okay.

I have been a member with Wawanesa for 3 years. The rate was cheap and I haven't had any problems with them until this year. All of a sudden, they rose my rate by 49% (a Whopping $400 + increase). I called and the representative could not give me a clear cut explanation as to why my rate increased so high. He kept giving me BS answers and saying all rates were going up in CA. I spoke with my boyfriend (who also has Wawanesa) and a supervisor told him the rates were only increasing by $36 bucks. So how did mine jump by $400? Complete mystery... If they can't fix this, I'm forever done with this company.

I am very frustrated with Wawanesa insurance. We have not received reimbursement check. Our car was declared total loss. They asked us to return the rental vehicle 2 weeks ago and they were very quick to pick up the crashed vehicle but they keep saying they overnight the check and I haven't received it. They don't care that we have been without a car and struggling to get around. Now they are not returning my call. Terrible insurance company. Had a bad experience. Very unsatisfied. I do not recommend this company.

You can file claim online or by phone. Representatives are responsive and adequately efficient. The claim process is easy and provide good support. The website is friendly and easy to use. My personal experiences with the services so far have been good. The claims were processed efficiently and refund within a reasonable time without hassle. The pricing with the value of the same coverage in comparison so far is the lowest as long as you have good driving record. No more than one accident.
I have been with Wawanesa for over 10 years. All our cars are covered with Wawanesa. Their insurance rate for 1st time driver or new driver license are very competitive, so far is the lowest. Their insurance quote process is fast. The customer service and claim representatives has good professionalism and courtesy. They will come to your location of your convenience to review the damage and claim. They are punctual with the appointment. You can use any automotive repair shop. Their response to your claim is fast and keep you informed of the progress. The claim representatives are patience to explain any questions.
Their coverage offered are the same with other insurance companies, i.e. roadside assistance, good driver discounts etc. Their website is friendly to use and if all fails, the customer service by phone works just as good. They offer multiple car discounts and payment plans options just as other insurance companies. With my experience, most insurance agent would not be able to offer a better rate once they discover Wawanesa is the insurance carrier. I have recommended this to my friends, and those have switched confirmed with my experience.

I've been with Wawanesa for 3 years. I signed on with them when I bought a new used car at the beginning of 2013. Just received my renewal policy for 2017 with a front page that said Exciting news for our policy holders!! Uh... I would disagree with that given they raised my insurance rate by over 40% from last year. I get costs go up but 40%!!! No accidents or claims in the three years I was with them. Always paid on time. No excuse for that type of increase. Just a heads up for people considering to get insurance with them. Part of what makes dealing with the pain of insurance bearable, is knowing when you're a good driver they aren't going to gauge you for no reason.
I've already done some research and found a new policy that will only increase what I'm paying for the year by $80. That I can live with. My suggestion: Shop around and if you find a reputable company that is offering a comparable price go with them so you aren't screwed in the future and have to waste time shopping around.

Quick response. Co. Was very quick. I'm very very fair. My claim was processed and taken care of within a few days. The company cares about their policy holders. They have a quick response time. The adjuster comes within 2 days and your car is taken care of immediately.

I have been with Wawanesa for over 20 years. I've had two claims in the past ten years and was treated with respect. I had to take the time to respond to silly comments about not paying insurance payments on time, and engine starts leaking after their car gets hit while parked. Hum, these agents are trained for false claims like that. It's people like that, that cause insurance to go up. TIP # 1 make your payments on time and # 2 tell the truth. PS make your life insurance (with any broker) payment late and see what happens. I will continue to recommend my family and friends.

Another person sideswiped me on 7/22/2016 so I took a picture of his license plate, insurance card and registration and promptly reported the claim. Mind you, I have been with Wawanesa Insurance for around 30 years and have never had a negative experience. The claims department called me and took down all the accident particulars. The adjuster called me a couple of days later and asked when it would be convenient for her to obtain my recorded statement (ahem, more like an interrogation).
Well, I had prior trouble and current trouble making payments online ever since they changed the policy numbers because all of the numbers do not fit into the box for online payments and the support team was unable to rectify my situation for online bill pay. And, you cannot use a debit card even though it says so at the bottom until you read the fine print that indicates you can only use a credit card. I paid my premium by credit card on 7/12; however, the adjuster supposedly had a coverage question because they allegedly received my payment late.
This makes zero sense because the payment cleared thru my credit card the same night. So she interrogates me... Do you usually pay your payments every 2-3 months, have you ever had a lapse in coverage, this kind of nonsense. I told her I was starting a new job on August 1st and could I take the car to the body shop prior to that and she said no. I then said what would have happened if my car wasn't driveable but she didn't care. I complained to the claims manager about the interrogation and told her it seemed like the adjuster was trying to catch me in a lie and she said that's exactly what she was trying to do.
I said really after almost 30 years? Unreal! The adjuster kept calling me about non-sensical things so I told her to quit calling me. I went ahead and took my car to the body shop and dropped it off and went to get a rental car. Come to find out, when I deleted and added a car more than a year ago (nothing to do with MY car), they accidentally deleted the rental coverage. Sooo... I ended up paying about $700 for the rental and they refused to pay me back more than $300!
Also, they had to pull the recording of my conversation to prove I didn't delete the coverage! Also, the guy that hit me has some sub-standard policy so I had to pay the deductible and may have to take him to small claims court to recover it... Even if I get a judgement, good luck with that! Lastly, whenever you call, they hardly ever answer and if you ask for a call back not to lose your place in line, they don't call back. I'm very disappointed that I would be treated like this and to have to put all this money out of my pocket was really annoying. Yes, they may have great rates, but is it really worth it? I'm beginning to think NOT.
Updated 10/7/2016: I have been with Wawanesa for almost 30 years; I just posted a review earlier this week about a claims issue. I was just informed yesterday that all their policies are going to a 6-month in lieu of a full year and it won't be possible to make monthly payments any longer. I was shocked to learn that my premium will be going up over $2,000 a year, more than double and nothing has changed with my vehicles. The woman I spoke to says it was a 'rate increase'... I'm sorry, but a simple rate increase would not be this high... going elsewhere for my car insurance after almost 30 years. It appears this company got popular and then VERY GREEDY!

I called Cord ** an accident investigator for Wawanesa at 1:37 p.m. to discuss my claim. We began to disagree on an issue in regards to getting my car fixed. He was mad we were arguing, so he blurts out, "I can't wait to deny your medical claim"! I then asked him if he's serious. I've never dealt with someone so disrespectful. He said he would deny my medical claim because I was arguing with him in regards to my car being fixed!!! LUCKILY, I had an attorney sitting next to me the entire conversation so they heard the entire call. We were on our way to an event and I was driving with my speaker phone on. Thanks Cord for saying that. The attorney is going to write a letter not only to Wawanesa, but also to the "Dept. of Insurance" for your unethical remarks.

On Wednesday September 14, 2016 I was waiting to get road assistance for two hours although I was in the center of Downey City at 8:00 PM.
Wawanesa Auto Insurance Company Profile
Company Name:

Wawanesa Auto Insurance

Website:

http://www.wawanesa.com/