American Access Casualty
Oakbrook Terrace, IL
Consumer Complaints and Reviews

It has taken over three months and 12 hours of time on hold to finally get an estimate to repair my vehicle. Their insured hit my parked car. They ridiculously expected me to take photos of their insured to prove they were in the car and photos of her driver's license. I had a photo of her liability card and she admitted fault to me and later to them. As of this date I am still driving a wrecked car. I have never been able to talk to a representative without a minimum hour long wait. They pay half the going rate for body labor in Texas and refused to even respond to my 26 calls until I filed a complaint with the Texas Department of Insurance. This is by far the worst insurance company with the worst customer service I have ever seen. And I AM A Property Casualty Agent with over 18 years in the field. My company would never be so incompetent.

I've had this insurance company for years and never actually filed any claim until recently and I'm sure everyone knows what happened. They dropped me and said they won't pay, it was a couple thousand dollar bill for a pole my daughter hit. I wish I would have read the reviews before going to them! I get they are cheap but there's a difference between being cheap and just being a fraud! Hopefully a lawyer will be able to do something and I hope enough people complaining will put this dirt bag company out of business!! Worst insurance.

Attempted to find out why monthly premium was increasing from approximately $390 to $575.87. Was initially informed by the rep who answered that was due to a discount being withdrawn for prior insurance. That needed a letter of experience. I explained that this had not been previously requested by anyone - either their agent nor the underwriter that we had spoken with during the application process. Explained that due to travel, would not be back to residence to get any such information for the next two weeks and did not believe that a less than 48-hour notice was reasonable. The rep said that she could not do anything and I asked to speak to a supervisor.
Luis, a supervisor, came onto the call. He repeated the same story and I also explained that neither their agent nor their underwriter raised the need for the letter. While happy to provide it, it would be in mid-June as Mark **, the other insured, was currently traveling and I was (am) in Nicaragua until the last half of June due to a member of my family being sick. Then Luis raised the point that Mark ** did not live full-time in Houston and that the Underwriting Section (the section that he previously stated he did not manage and could not direct to take action) had yesterday (i.e. 25 May) decided to cancel the policy for this reason.
I explained that Mark only drives while in Houston as it is cheaper to pay for the policy than for him to have to rent a car when in Houston. This had been explained to their underwriter in April during the insurance application and the policy had been approved. Luis committed to, as soon as he finished the call, to send an email containing a copy of the notice from "yesterday" showing this decision to cancel.
After waiting approximately 30 minutes and approximately 15 minutes before the insurance office closed, I called back to state that the letter had not been received. I also asked the person who answered, Mike, if he could tell me the status of my policy. After a minute or two (maybe longer) he stated that based on the notes, that an email "had been sent by a supervisor to underwriting" to cancel the policy. I asked if the note said that underwriting had cancelled or of the supervisor (presumably Luis) had sent an email TO underwriting to cancel. Mike hung up the phone on me.
Based on the statement by Mike, it appears that Luis was not honest when, in the middle of the first call, apparently learned that the policy had been cancelled. I believe that Luis was not truthful and he effort to cancel the policy is retaliatory for questioning the increase. I suspect that many other customer of American Access Casualty have had similar experiences.

I was rear-ended by someone insured by American Access and suffered some bumper damage that required a rear bumper replacement. It took several weeks and phone calls to get an estimate when an estimate was promised originally in a 24 hour timeframe. I was only reimbursed 1/2 the cost of the replacement and eventually gave up pursuing this issue as it was a drain on my time and energy. Avoid any interactions with this company if at all possible. Unfortunately, this option wasn't available to me.

American Access Insurance Company in IL is the worst insurance company known to man. They should be shut down by the Better Business Bureau. My agent/claims advisor was horrible. Her attitude sucks and I even had to get a lawyer and he stated that her attitude was horrible as well as advised her that she had a attitude problem. The young lady Stephanie was very unprofessional when I took my car in to the car collision place. They said that they have dealt with the company and do not like dealing with this complex at all due to the fact that they have a hassle getting issues appraised. PLEASE IF YOU ARE THINKING TO GO TO THIS INSURANCE COMPANY DO NOT I REPEAT DO NOT!!! I had to give them one star and they didn't even deserve that. Horrible just plain old horrible service. Stick to State Farm, Geico, American Family Insurance, companies that stick behind their name.
How do I know I can trust these reviews about American Access Casualty?
849,102 reviews on ConsumerAffairs are verified.
We require contact information to ensure our reviewers are real.
We use intelligent software that helps us maintain the integrity of reviews.
Our moderators read all reviews to verify quality and helpfulness.
For more information about reviews on ConsumerAffairs.com please visit our FAQ.

I was hit by one of their insure April 7th and still have not got a hold of the adjuster for this damn company. Now I am having to put everything from my insurance and pay out of my pocket when it not even my fault. Piece of crap company. I don't understand how they are "in business".

Do not trust this company! I have full coverage insurance with them, and was struck by someone who was also insured by them. I was not at fault. They would not fix my vehicle on my coverage or the other person either. Stay away from them! I will be switching insurance companies!!!! I'm so upset!

They don't even deserve one star. The WORST company to deal with. First they make you submit your damage in pictures, don't even send anyone out to look at your vehicle to create an estimate. I got rear ended by one of their insured so there is damage underneath that they do not account for. My claim adjusted never called me, I had to call him twice to even hear back from someone. They give you a 24 hour window where your adjuster should call, clearly didn't happen. This company will only pay MINIMUM on labor, so you know that you will not have your car fixed at a good facility. I have only taken my car to the dealership for any work done on it since it is still under warranty and they will only cover 1/2 of what the estimate actually is.
One lady said I had to take it to one of their "preferred" dealerships, but then the next said I didn't. They also said that if I take it somewhere that charges more than what they are willing to pay I am responsible. The company should not operate as an insurance company. I hope NO ONE gets hit by one of their insured. You will not have your car fixed for a long time if you even get it fixed, or you will have to take it to some BS shop that probably won't even use real parts. I am submitting a claim with the BBB which it looks like I will not be the first or the last. Absolute joke of a company.

American Access is a horrible company. They are full of excuses and they try to cheat you. My adjuster never answers. She is rude and doesn't explain anything. I advise you not to have this insurance. They try to make money off you instead of helping your situation.

I was hit (in the rear bumper) in a Home Depot parking lot, I was not in my truck. I watched him hit me, so it was a slam dunk on who was at fault. The problem began when I tried to contact his insurance company. After a month and a half I got my insurance company involved, then they responded and sent me a check for 1/2 of what it would cost to put an oem bumper back on my truck.
After several attempts to contact the adjuster I finally got her and she told me that they would pay for an aftermarket bumper only and 40.00 dollars for labor. She told me my truck was not new enough to pay for oem and their labor price is fixed. I don't care how old my truck is. There was nothing wrong with my bumper. I asked what shop she got 40.00 dollars from. I wanted the phone # so I could call them and she wanted my zip code and I told no. I want to know where she came up with that price (no answer). If there was less than 1 star I would have chosen that. If you are an individual trying to contact them it's a joke. I spent almost an hour in the parking lot with the guy that hit me with success.

On Jan 20, 2017 one of American Access Casualty insureds backed in to my 2017 vehicle and was very nice and polite and told me he was so sorry and admitted it was his fault. We exchanged insurance and I immediately called in to notify American Access Casualty and they said that I needed to send pictures which I did the same day. A few days later I received a call from an adjuster that told me that they received my pictures and an estimate was already done but just like in the reviews before me, they said they would need to speak with their insured and that he had 30 days to respond. It is now past the 30 days and I have left numerous messages for the adjuster and her supervisor but no one will call me back. Something needs to be done about this insurance company. This is just not right. I spoke with my insurance and I can file the claim with them but the claim will go against me and cost me my deductible and the wreck was in no way my fault.

After reading all the negative reviews of AAC online from current and years prior. I was very fearful of how this process was going to be! I was honestly dreading before even speaking with my adjuster Mark ** at AAC. At first I was extremely on edge. However, that was not the case! Mark was a pleasure to work with and never made me feel as if I was going to have any issues with my claim or even need to contact an attorney. He was great at answering his phone and making sure I knew the company policies on rental car reimbursements. He also made sure I got reimbursement for the medical cost for my daughter. He has really made me at ease after reading those reviews. He was a great pleasure to work with during this claim!!
And the recommend body shop he sent me to was amazing, very nice and understanding people! They made the repair process smooth. I was very impressed by the body shop work and staff. I dropped my vehicle off on the 02/14/2017 and had it returned to me on 2/23/2017. Great service! I would recommend the body shop to others in the area! Overall I had a much better experience than I lead myself to believe I would have!

I was T-boned by a driver with this insurance. American Access Casualty customer service is horrible. The adjuster never contacted me, and the person that I was involved in a wreck actually tried to file a claim on my insurance after running a stop sign and hitting me with my 20 month old in the car. My car was totalled and she drove away in her car. She might have been 16 years old. I have been told that they aren't responsible for any towing/storage fees, so I had to pay $300 for towing. My car has been sitting undriveable for almost two weeks. I have called a million times, and even left messages with my adjuster's supervisor, and no call back.
Finally got a hold of my adjuster and he tells me that the person involved in the accident was not a driver on the policy, and they were doing an "investigation" at this time. They also told me that they would have to "decide" whether or not to reimburse me for a rental car, and only up to $20 per day! I have two jobs and take/pick up my kids from school/childcare. I have had to borrow a family member's car!
Also, they informed me that they are unable to get in touch with their own client!!! So now after reading these reviews, I do not believe that she wasn't covered or that they aren't able to get them on the phone. The most ridiculous thing about this company is that if you go to their website, it specifically states that they give insurance to: MEXICANS, INTERNATIONAL DRIVERS, AND THOSE WITH NO LICENSES!!! WTF??? Are we in a third world country??? So this explains a whole lot! I asked them how a person that isn't supposed to be driving, is able to obtain auto insurance, needless to say silence!!!
I have reported this company to the Texas Department of Insurance, and I beg each of you to do the same and shut this company DOWN!!! They are criminals and promote illegal driving at the expense of those that follow the law. So now, I have to file my a claim on my insurance, and will not be able to get another car until after my house is closed on, since I am in the process of building a house. My car was all of 11 months old. I will be taking the person that hit me to court. This company should be closed immediately.

My son was hit by one of American Access insured, she was texting and rear ended him from the back. It totaled his car but by the grace of God my son was not hurt bad. It took 2 months for them to settle and get my son a check. I had to pay for the rental car which cost me 2000.00. It has been 4 months now and nobody has called me about the receipts sent in 2 months ago. Nobody has called me. I have called and left messages for the supervisor and the supervisor's supervisor. Worst company ever. We were not at fault and it takes an act of God to make anything happen with this company!!

If you're in the same position I was a month ago--researching this horrible insurance company because someone who has it hit you and they're at fault--and you're wondering whether or not you should subrogate through your own insurance company, let me save you a lot of hassle and headaches. Call your insurance company NOW and tell them you want to subrogate the claim through them.
I was hit by a woman who has AAC over a month ago, and called to create a claim within an hour of the accident. I had some initial concerns because when I looked at the picture I took of the woman's driver's license and realized that it had expired three years ago, and after having read reviews on this very website, I had begun creating a claim through my own insurance company (Allstate). I was also told by AAC that they would not be able to approve my claim until they had heard from the woman who hit me. They had tried calling her several times, but had not heard back, and they told me the only thing they could do was to threaten to cancel her insurance.
But after two business days, I got a call back from the claim adjuster informing me that they finally heard back from her and they had created an estimate of record. I took my car into a nationwide body shop the very next day (January 3rd). After a few days, they tell me they had found additional damage and would need to file a supplemental claim and that's when the problems began. First, the body shop is telling me that AAC is refusing to pay their negotiated hourly rate of $48/hour and that they had only approved half of the additional damage. During this time the claim adjuster at AAC apparently went on a one week vacation and the body shop said they weren't able to speak with anyone else at AAC regarding the claim. The claim adjuster finally gets back and tells me they want to send out someone local to examine my vehicle and that this could take one-to-five days.
Let me tell you, I heard this excuse multiple times and EVERY TIME it was at least five days until anything happened. The local adjuster makes it out and I'm told that they have up to 72 hours to submit their revised estimate. Four days later, the body shop still hasn't heard anything, so again I'm calling the claim adjuster to find out what is going on and yelling at the body shop as to why they apparently are content to just sit around and WAIT for everything without showing any initiative to actually call themselves for an update. One day later, the body shop calls me (today) around 4:00 pm saying they finally received the revised estimate, that AAC is still refusing to pay the negotiated hourly labor rate and now instead of repairing my tailgate, they want it replaced which would add time since they have to order it, plus additional painting to get everything to match.
They want me to speak with their general manager to discuss me paying OUT OF POCKET for the difference in the labor rate charge and I tell them that's BS. I'm not at fault. Why should I have to pay for it? They've had my car now going on a month and NOTHING has been done yet. Long story short, I call Allstate back and beg them to proceed with the claim I had initiated a month ago. There was some going back and forth on whether or not repairs had actually begun and whether or not they could be able to file a claim, but in the end they said they could and are sending out their own adjuster on Monday to see my vehicle. Thank God they're able to respond quickly and no more "one-to-five business days" BS that AAC gives you.

For those who have had problems with American Access and disgusting and childish games. I looked up involving Fair Market Value and the settlement that one is entitled to is the value of their car before an accident. What the car was worth before the accident, what it would sell for, etc. Look up The Law office of Lyndon R. Helton that there is very little leeway from the "Blue Book Price" or Fair Market Value.
My car got totaled involving someone who had their disgusting insurance. They feel they can subtract mega bucks and leave you without a vehicle when the accident was not even your fault, etc. They feel they can go from Plan A to Plan B and spin. They feel they can make false accusations and cheat people out of the money they are entitled to under the law. They feel they can refuse to reimburse people for the damages caused by drivers that have violated the rights of those individuals whom they have damaged their vehicles. The makeup illegal excuses as to not pay the Blue Book or Fair Market Value. There should be a class-action lawsuit involving their disgusting, psychological warfare, and corrupt business practices.

On 11/15/2016 I was hit by someone driving a truck insured with this company. The lady driving the truck was not the owner. I called the police, filed a report and also did so in person. I called the insurance company and left a message and did not receive a call. I called back the next day and received no response. I called on the 16th 8 times and every time someone disconnected the line when I called. When I finally reached someone they said they were having "phone issues". I filed the claim and no callback ever. The adjuster Magdalena and she was of NO help whatsoever. She was extremely rude. I called the manager and he NEVER returned my call. The estimate was processed and I still have not received an update or phone call.
I have called over 30 times and have no update or returned call. They said they were not able to confirm with their insured the accident occurred even though all information was provided and police report was obtained. Here it is 12/6/2016 and I have called NOTHING done and my car has a hole in the side of my car from the truck that is now RUSTING. They will not provide a rental car unless it is on my credit card in which they will reimburse, which I find hard to believe seeing as how I have no phone calls. This company is ** and should not be operating or selling insurance to anyone.

My daughter's car was hit by a student at her college who carries this insurance. She submitted everything that she was asked to quickly and now when we call and wait an hour to get someone but are told that the policy holder has not been able to be contacted. They told her that if he did not contact them in 60 days there would be no payment on the claim. I will wait the 60 days and if I do not get a call back I will take action with the Illinois Attorney General. I am sure I will find that there have been many complaints there as well.
Part 919.80(b)(3) of the Illinois Administrative Code requires an insurer to provide a reasonable written explanation of the delay for any property damage liability claim unresolved in excess of 60 days from the date it was reported to the company. Luckily ours is just property damage around $500 and my insurance company, State Farm, can pay for uninsured or under insured damages. Hopefully the person that hit my daughter's car will just pay the repair and bypass this horrible excuse for a company altogether.

My car got badly rear-ended by a person with this insurance. They still have not sent the estimator and won't pay up front for a rental car. Very rude employees with a bad attitude. They don't answer any question completely and leave the customer hanging. I have called them several times with no final answer and they act like they are trying to help you.

I was hit by a driver who has this insurance on 9/26/16 that same day I called the company to submit a claim. They took my information and what happened. The driver backed into my car at my daughters school and took responsibility. I also had 3 witnesses as I was inside the school when this happened. I gave the insurance the names and contact info of the witnesses. They told me they would submit the info and that within 24 hrs a adjuster would call me to go over with me what I had to do and where to take my car for an estimate. I waited 2 days and did not get a call from anyone. I call the insurance. After waiting on hold for over 30 minutes a representative gave me the info on where to go to get the estimate. I went to get the estimate on 10/01/16. The person at the shop said it usually takes about a week for the insurance to review the estimate and they would call me to let me know what to do next.
Let's keep in mind this whole time I never got a call from the adjuster. I let a week pass by and I hear nothing so the week of 10/10/16 I call again, wait for another 30 minutes on hold, then the representative tells me I need to fill out some paperwork regarding the claim in order to proceed with the claim. I asked why the adjuster hasn't been in contact with me to discuss all of this as it is taking so long and I do not have the time to keeps calling and being on hold. They stated they would send a message for the adjuster to call me. I submitted my paperwork that same week and called again, then they tell me they're waiting for the paperwork from the person that hit me. Flash forward to 10/28/16 after calling a millions times, the adjuster never called me so I called to see what the holdup is now since it's been over a month since the accident. They tell me that they're waiting for the estimate from the body shop.
At this point I lost it because that was done at the beginning of the month. It blows my mind that 1st the adjuster not once called me, didn't bother to call the shop to see if I had gone to get the estimate. I told them I had went on 10/01/16 and even told them it was at approximately 10am. The representative states he was going to send an email to the shop to get the estimate and then the adjuster would call me to review the estimate (which I knew wasn't going to happen as the adjuster never bothered to call me before then). Today is 11/3/16 and I had still not heard anything from the adjuster or anyone at this insurance. I called and they told me they mailed a check yesterday for the amount on the estimate. So basically I did not speak to the adjuster at all. A lot of time could of been saved and a lot of calls could of been avoided. This insurance is HORRIBLE. WORST EXPERIENCE when dealing with a claim.

Vehicle rear ended by non licensed driver. They wont pay. They will give you the runaround. I am filing with texas insurance board and want everyone else to file in your state to shut these con artist down. Dont get mad, get even. Shut them down. Flood your state with complaints. My car was 2 months ago and not a dime have I seen. But the checks on the mail. Lets hit them where it hurts. Take the time to file with your board of regulators. I had my bmw 3 weeks before it was hit.

It should be illegal for a company like this to operate. I was struck by a driver with this insurance on September 25th, 2016. He almost hit me head on, but I was able to swerve at the last second, and he badly side swiped me. Causing major damage to the driver side of the vehicle I was driving. The driver who hit me, didn't have a driver's license. The police came out, and made a crash report detailing what had happened, and noting that the American Access driver came into my lane and struck me.
I contacted American Access, told them what happened. They told me to submit any medical bills and lost wages because of the accident. Then a couple of days later, I get a call from American Access. They then told me that they did not have an insurance policy with the person who struck me, nor the person who the insurance was under. They also said that the Vin number of the vehicle that had struck me was not a vehicle insured by them. So at that point, I'm thinking that the person had fake insurance. I then called the Dallas police Department telling them about the fake insurance on my accident report. The police department then ran the vehicle information through their system, and it did in fact have insurance and all of the information on the accident report was correct with all the vehicle information registered into the system.
So American Access lied to me. They have nothing but "horror story" reviews, so my situation is nothing unusual when dealing with this company. I called back to American Access to confront them on lying, and waited on hold for over 30 minutes before someone picked up just to say nothing and hang up in my face after repeatedly saying "Hello? Hello? Hello?". I'm currently still seeking to speak with someone from American Access. As I have been on hold for another 30 minutes as of writing this. Good luck if you ever get hit by someone with this awful, disgraceful, illegitimate, deceitful insurance company.

My car was struck by lightning 10 weeks ago. Unfortunately, I did not have car rental ins. American Access never asked where I wanted the car to go. Never calls me with updates. The shop working on my Lacrosse has said, "it'll be done in a couple days," for the past 5 weeks. My claims rep is very short with me and has even hung up on my husband. The shop said come and get it because they don't want to work on it any more. I have asked for a manager to call, with no response.

I am a lien holder and have a customer that was in a car accident and has American Access as their insurance company. Back on September 14th, my office received a call from an adjuster requesting our email address and physical address to send us a letter of guarantee for us to sign and therefore, send us a check to pay off our customer's. My associate gave the adjuster the information. My associate even informed the adjuster that after a certain date, the account would've incurred late charges. The adjuster went so far as to tell my associate that we will have the payoff funds before that date.
Well needless to say, that IS A LIE!!! Once the date that was given came upon us, I called the adjuster and left her a voicemail message requesting a status. Well, it is now going on 8 days later and I have NOT received a callback from said adjuster. Both my associate and I have called every day, at least twice a day and no one ever answers. We leave message on top of message and still we never receive a callback. The adjuster doesn't even return the call to their policyholder.
I've tried going up the ladder and to no avail. I left a message to the adjuster's supervisor and I have the same result. NO RETURN CALL!! I have never dealt with such unprofessionalism and lack professional courtesy. I guess that American Access Casualty teaches and trains that to all of their employees. I feel sorry for all of their policy holders.

I was rear-ended by a car insured by American Access on August 25, 2016. I was parked at a stoplight when she rear ended me. American Access is denying liability, despite the fact that their insured was driving without a driver's license and despite the fact that there was a police report documenting she was at fault. If there is a class action suit, I want in.

I run a body shop and have had the worst experience ever in 35 years with this insurance company. They do not return phone calls, they want to lie and say it's the adjuster's fault, and could care less about the truth. I have a customer's car that has been ready for delivery for 11 days and can not get them to pay a supplement that is documented with photos and invoices. If I was in the market for affordable insurance you can bet, it would not be this group of incompetent bumbling fools.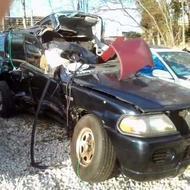 I was in a horrible accident with a driver who had Access American insurance. The driver T-boned me in the right rear passenger side of my daughter's SUV in 2014, Saturday before Thanksgiving. I was flipped and ended up under the vehicle rescued and hospitalized the other driver passed away at the scene. I had to get a lawyer because I didn't hear from GEICO or the driver's insurance, Access American. When the lawyer heard from the insurance company they stated he wasn't covered and I ended up having to get paid by my daughter's insurance and my insurance State Farm. It was only $30,000, I have a $207000 hospital bill.
When I try to get a better rate for my insurance all the other insurance companies know about the payoff from State Farm. I have never had an at fault accident or a ticket for anything since living here in Texas 9 years at that time. I don't believe that driver was not covered but the insurance company sent a letter stating he wasn't covered. Why was he driving with that insurance card and they didn't say the insurance was no good? I know I was cheated and no one can help me get what I should have received for my injuries. I was 65 years old at the time and have been suffering ever since the accident. I thank God I am alive and able to walk (hip replacement), fractured skull, 7 broken ribs and a broken neck. What can I do to make sure the driver wasn't covered?

I just got this insurance company a month ago and already I hate it. On the 12 they had to deduct the payment from my bank account. Since they didn't all day, I called and they said my policy was going to be cancelled because I was missing the driver exclusion form, which I signed and sent when I opened my policy. So they checked their un-updated system and said they did have the form and that they will take my payment.
So now today I open a letter from them and it was a letter stating the cancellation of my policy because I did not provide a driver exclusion form. So I call them and of course they take forever to check their system and tell me to disregard this letter. So my point is if this "company" is giving me so much grief in just one month, I will cancel my policy and go with another more reliable company. I should have done research on this low-budget, horrible, no good company. After reading the other reviews I think I am better off without this company insuring me and mine. Beware of this problematic company and stay away!!!

I was struck by a car that ran a red light. The driver ripped off my front bumper, and did some other front end damages to my vehicle. Police report was made, I had 2 witnesses stating the other driver ran a red light. The other driver did not speak english/or have proof of insurance on him. It's been 16 days since the accident, still nothing has been done to fix my car. I have sent numerous claim report files to American Access claims dept., and have spoken to them about the accident. And now I get something in the mail asking me to pay for the police report and fill out ANOTHER claim report and mail back to them (unpaid self addressed envelope).
Now I have to pay for a rental car out of my pocket, and hope they even pay for my car to be fixed. 16 days driving my car with my bumper tied down to the front of my vehicle, and no end in sight. Why should I have to suffer when I was a victim of this negligent driver who ran a red light. This has caused me a lot of stress, driving my car the way it is. And I keep getting the runaround from American Access Casualty Ins.

My daughter was rear-ended 2 months ago. Access was the insurance company for the guy who fell asleep and rear-ended her at a stoplight. They NEVER answer phone calls or emails. They have a high turnover rate and keep passing the claim to someone else. For 2 months they claim they can't contact the driver. They sent an appraiser out and agreed to pay $1400 as soon as we sign a waiver, but they never sent a waiver and claim no knowledge of it despite the fact I have emails from them promising to pay. This company should be shut down immediately. Their YELP reviews are 99% 1 star- HORRIBLE. Does the California Insurance Commission do their job???
American Access Casualty Company Profile
Company Name:

American Access Casualty

Website:

https://www.aains.com/