Consumer Complaints and Reviews

So I bought a car in October and almost immediately tried to start my car insurance through Progressive. I got the first quote and everything looked fine, so I called in to pay and get everything started. They couldn't find the damn quote!!! So after starting yet another quote the same thing happened... Twice. Every time I got a quote and went to approve it, they couldn't find it and had to start another, which takes some time. Five months later they finally figure it out and get the insurance finalized. Mind you this is FIVE MONTHS later. Obviously the credit union I go through won't just allow you to go without insurance, so they piled on their insurance too, doubling the monthly payments of the car. So I called my credit union, the forced insurance company, and Progressive to straighten this mess out, and basically all eyes fall on Progressive.
So after spending what felt like days on the phone going back and forth about their mistake, the supervisor tells me for the twentieth time that they have no clue what they are doing and can't help me even a little. So here I am, stuck with double the car payments I was making, and still paying for insurance on top of the forced insurance price. So would I ever recommend Progressive Insurance to anyone? Only if I had a death wish upon them.

My parked car was hit by a driver who was charged with DUI while driving an Avis rental car with Avis insurance. The Progressive field staff who works with the auto body shop was excellent in getting the estimate done quickly. My primary contact regarding my claim contacted me within a day of filing, he indicated he was waiting for additional information and the police report. I offered him a copy of the police report, the following day, he never responded. I then sent a copy of the report to the Progressive field claims adjuster along with pictures of my car at the time of the incident. I have sent over 18 emails along with numerous phone messages asking for progress status as to the claim and getting my deductible reimbursed.
After 18 days I was told Progressive does not have a copy of the police report and has requested one from my local police department. Obviously this is incorrect and forwarded another copy to them for the pertinent information on the driver and driver's insurance company. I'm out my $1000 deductible and have no idea when or if I will be reimbursed for something that I did not have any part in whatsoever. I find this lack of customer service inconceivable. Progressive wants my monthly payment on time then I should expect the same from them.

I was traveling home from a business meeting. During the drive home, I drove right into an ice storm. My car slid into a full spin and then off the interstate. After checking everything & assessing that there was no visible damage, I called Progressive to arrange a tow truck to get the car out of the ditch. From the onset, the Progressive rep was looking for reasons not to assist. Telling me that if I was more than 100 feet from the road side I would have to pay for the service myself. After 10 mins of assuring her that I was in a reachable position, they dispatched a wrecker to assist.
Once the car was on the road, I decided to take the next exit just to get a better look at everything. It was then that I realized I had busted my radiator. I contacted Progressive again to see what needed to be done. The claims rep was not helpful. Again, we went back to all of the reasons my car wouldn't be covered. I was told that if I hadn't "hit" anything my policy would not cover the repair. After stressing to him that I was more than 400 mile from home and on a Friday evening, he decided to look into the option of just towing the car home. He said he would get the estimates and would call me back. He never called me at all.
I called to check out the status and was told by another rep that the tow would cost $900. I informed this second rep that the previous one had indicated that they may be able to pay for the tow or, at best, part of the cost. Once again, I was told that they would review the costs against my coverage and let me know what percentage they would be able or willing to cover. Two days later, I networked with locals in that town, found a radiator and a shop to install it on a Sunday. I am now home and my car is fine. No Thanks to Progressive. You may be able to "Name You Price" but you won't be able to name your service. I will be shopping for another company.

I have a claim with Progressive and they advised me that they can see my truck only in 2 weeks or I pay out of pocket. It's outrageous. I didn't expect that kind of service from Progressive Insurance. I advised them if I need to wait 2 weeks for the adjuster I will lose my job. The answer was, "Unfortunately is nothing we can do." I'm very disappointed with Progressive Insurance. I was expecting for more from Progressive.

My renewal was an annual payment upfront to save on the cost, but after one year later on the anniversary of the policy, the cost of renewal is beyond reasonable! My initial policy was $511. 06/03/2017 Payment -$3,245.92 (NOT THIS TIME YOU THIEVES!!!) Refund please! 06/03/2017 Renewal Offer Premium $3,245.92. 25/01/2017 Policy Change $22.48. 07/03/2016 Payment -$2,200.49. 07/03/2016 Renewal Offer Premium $2,200.49 (SCAMMED!!!! - My fault for not checking!!).
29/02/2016 Policy Change $2.41. 02/01/2016 Policy Change -$6.22. 02/01/2016 Refund $6.22. 24/09/2015 Policy Change $279.92. 07/08/2015 Policy Change $415.46. 06/03/2015 Payment -$459.32. 06/03/2015 Renewal Offer Premium $459.32. 06/03/2014 Payment -$491.56. 06/03/2014 Renewal Offer Premium $491.56. 09/03/2013 Payment -$550.52. 06/03/2013 Renewal Offer Premium $550.52. 06/12/2012 Policy Change -$6.36. 06/12/2012 Refund $6.36. 06/03/2012 Payment -$536.75. 06/03/2012 New Policy Premium $536.75.
How do I know I can trust these reviews about Progressive?
720,415 reviews on ConsumerAffairs are verified.
We require contact information to ensure our reviewers are real.
We use intelligent software that helps us maintain the integrity of reviews.
Our moderators read all reviews to verify quality and helpfulness.
For more information about reviews on ConsumerAffairs.com please visit our FAQ.

Had an "ok" quoted rate and kind of settled with it, will never do that again. After the first month they jacked up my rates, when I called they said that I needed to send in proof of residency and health insurance, the customer service representative said to send a picture of my lease and insurance card through email and I'd get an answer in 5-7 business days. I did, and waited two and a half weeks. Today, I decided to call and check on the disposition. They said that a lease is not valid proof of residency and that I could send in (2) utility bills from WITHIN THE LAST 60 DAYS!!!
So not only did they alter my policy without my permission, they also lied and disregarded their promise of getting back to me with that information. And how exactly is a utility bill from within 60 days more proof for 1+ year residency than my lease with my move in date. I can tell dte I live somewhere and they need 0 proof of that so forging documentation for their needs is a lot harder than what I sent.
After telling them to cancel my policy the lady tells me that I can be penalized from the state for doing so. I said the state of Michigan does not have penalties for cancelling car insurance. She said they would penalize me for every car in my possession without insurance, which is more a threat than any type of warning because if I know the state laws on auto policies then Im sure I know that the vehicle needs it. After asking her again to cancel the account, she goes on telling me that I shouldve known to send in the documentation without being asked to and that it wasnt their job to inform me that my previous sent documents were invalid, when they said they would in the first place. This company is flawed from top to bottom and I would strongly suggest steering clear of their lies.

Bought a commercial policy with these moronic scumbag, paid the annual premium in full and cancelled my previous policy. Received a letter a week later stating my DOT number was under a year old and they were cancelling my policy!!! Hey Progressive, hey FLO!!! SCREW YOU... Scumbaggery and vile ineptness at its finest. Filthy cretinous scum.

I had an accident in my car. Everything was easy at first to check in the car and get a rental. The car was left with a repair facility. However, when I started dealing with the claims department that's when things got really get difficult. The customer service was pretty bad with clear-cut request not being given. The claims representatives did not seem to want to do the work and required me to do everything.
I drive for Uber and Lyft and the request that they wanted to show that I was not driving during that time for the companies were outside of the norm. After sending screenshots and logs and Excel files from the company showing that I was not driving during that time the supervisor made the request more and more difficult. Then wanted me to get the driving times of all the other drivers in the area. I keep thinking that they do not want to pay out the claim and are looking for excuses not to. Horrible claim experience. I would not get insurance with this company again. I had insurance with Geico before and they're much easier to deal with during a claim which I had to do once.

I have been with progressive insurance for 10 years, never once caused an accident or involved in one, until 2 weeks ago I hit a pot hole and my car broke down. I towed my car to Honda and notified progressive about it, at first they were very nice and promised to look into my case which they did. They send one of their experts to honda and was shown and told exactly what I said before, progressive said they needed more proof and Honda told them they couldn't tell or give any more information as to what was wrong with the car and had to tear down the car to see what really happened when I hit the hole. Progressive told me that I had to sign a form saying I will have to cover the tearing down cost which was 1100 and if Honda's diagnosis doesn't show any connection with hitting a pothole which to them need to be something specific, then they would not cover my car.
Later on a Rep from progressive called Honda and said they were not going to cover any costs since they don't see any proof? Disappointed at the different information I called progressive and spoke to a supervisor who said it me then that there is a very high likelihood that they will not cover my damages since apparently there is no visible evidence like bent rims, busted tires or scratches at the bottom of my car which would be hard to get as my car is high anyway. I asked if they would at least rent me a car for the time being and his response was NO because they don't have proof again that I really hit a pothole. All this years I thought I was covered by progressive until I needed them and they weren't there. Very, very disappointing for a good, loyal customer. Worst experience ever.

I do not have Progressive Insurance and have never dealt with Progressive prior to this incident. A third car hit the car behind me and pushed the car behind me up under my GMC Acadia. Since my deductible was $1k and the cost to replace my bumper was only $501, I had to go thru Progressive myself. Per my USAA insurance, Progressive is taking responsibility for the repair and rental car. Even though I had an estimate done, a claim adjuster from Progressive needed to see my car at the body shop. The car was able to be driven.
Problem: since Jan 2017 I have been in contact with Progressive insurance, specifically Chelsea. I leave messages for Chelsea and she does not call back. One late Friday around 5 p.m. she called about my claim and said she would call me back around 9 a.m. the next day, which was Saturday and we would get the auto body shop on the phone on a 3 way call and set everything up. Guess what!? She never called me! Again, I left messages for her and for a Dustin. No calls returned!
Eventually, I got another customer service person on the phone by pressing 0 when Chelsea's recording came on. I was all set up with Fix Auto in El Mirage, AZ. Took my car in around 8:30 a.m. on Tuesday, 3/07/17 and got a rental car. Called later in day Tuesday and no Progressive person had shown up. Called Progressive, got a customer svc rep and they told me someone is scheduled to go out in the morning - Wednesday 3/08/17. Called Fix Auto later on Wednesday, 3/08/17 - NO Progressive person showed up. Called Progressive office again, was told someone will be there in the morning, Thursday, 3/09/17. Called Thursday - NO Progressive person showed up.
Now called Progressive again, spoke to another customer svc rep and this one said a Leslie is going out Friday, 3/10/17 AND I was given Leslie's cell phone #. Left Leslie a message with my claim #, etc today and am waiting on a callback from her. I left on her voicemail that I MUST have my Acadia back for the weekend. I am going to leave a message on her phone every 2 hours until I get a returned call.
I am VERY frustrated with this whole experience. All that is getting replaced is my rear bumper. I realize that the bumper will need to be removed to see if any other damage is done plus, different adjusters are assigned different claims. This is unacceptable service for a simple fix to my car. I will NEVER recommend Progressive insurance to anyone and I will tell everyone I know about my experience with Progressive and how I was lied to numerous times about my car being checked out by an adjuster. IF my issue is resolved and I am satisfied I will follow up with another review.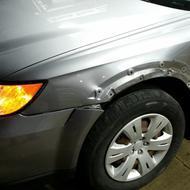 Over the weekend, I hit a deer while driving across the state. A minute after I hit the deer, an officer happened upon me and wrote up a report that it was, in fact, a deer (he saw it stumble off the road). I reported the claim right away, assuming that, having had no accidents, my case would be taken seriously. Once my car was at the collision repair shop, I was told that they believe I hit a deer with my bumper and a post with my fender. Not only were there no posts in the area, but the damage is far from consistent with a post! They paid (or I did, through my deductible) for a repair on the bumper and headlight, but left my dented fender for me. Buyer beware: get better insurance. The only silver lining is that it was not a serious accident I needed them for. I am taking this to court if the yellow "paint transfer" chemically matches his yellow marker he used to outline the damage.

I pay my insurance. Happens that my car broke down. I called for a tow at 8:30 pm, on a 42 degree night. It's 12:30 am, and several calls later! No help! And when I requested a supervisor, they told me someone would get back to me within 48 hours! So I'm left, no help, late at night, in the cold - FOR A SERVICE THAT I PAID FOR! Insurance is a scam! A fraud! Wrong!

Progressive is a terrible company to insure with. I would not deal with this company again. They gave me a quote which looks good in the beginning. But only in a couple of months, they jacked up the price without any communication. When I tried to cancel the insurance, they just kept on charging, ignored all complaints I forward to them. Pretending as a deaf and blind old man. I don't know how this company can still stand and keep on cheating.

Whenever a moron hits your car, and their insurance company is Progressive - expect to file a lawsuit in small claims court. The moment you see Progressive (or what I call Recessive), get as much information about the driver and owner of the car as possible - you'll need that if you expect to get your money back. I was found to be 0% at fault (100% Progressive customer's fault). They actually said they had a limit for the coverage, and we were only speaking about $3000 worth of damage. I asked what the limit of the coverage was - and they wouldn't say, but I got the distinct feeling from the Progressive rep that we must have been above or at the limit of the moron's coverage.
So just remember PROGRESSIVE = loser driver, get as much information. Hopefully the moron paid for his car - so I can take that away from him in small claims court. He is long on the ass, but short on the ET's. Claims adjuster was rude, insensitive, and talked over me when I gave my expectations (fix car, cover rental). I don't think I was being unreasonable. He then led in on a tirade of "state law only requires". Yes, I suppose state law lets all of the people that shouldn't be on the road - be on the road. You and I have to pay the difference. So way to go Progressive, I get to bad mouth your company regardless of how stupid your Flo commercials get.

We were with Progressive for 6 months. Started out paying 398.22 a month which wasn't bad. When auto policy was up for renewal we were told it would be 544 a month so I talked to customer service. Was told first that it was the cost of doing business. The 2nd time customer service rep said it was because of all the claims that were put in from everybody in the state of Louisiana. Shouldn't that be illegal?

Was paying $85 a month for a year, no accidents, tickets or anything that would affect my insurance. Bought same exact car as the one I had, no difference, went to get it insured with "trusty" progressive, guess what. They say now I have to pay $130 a month... Talking to a representative they tell me "Well, since more people this year had accidents we have to charge you more." So let me get this straight. I have to pay for other people's mistakes even though I've been an excellent driver. BOO. Never again. I'll go somewhere else, and I did and found a better deal, so because of their crap policy they lost me as a customer forever. Wonder how many other people did the same.

I was recently stopped at a red light when I was hit from behind by another vehicle. The person who hit me had Progressive insurance (which is who I filed through since I was not at fault in anyway). My overall experience with Progressive was amazing. Everyone I talked to from Progressive was super helpful and willing and wanting to help me with my problem. I took my car to their Altamonte location in Orlando about a week later for them to do a damage inspection and estimate. They called me back within three days and told me my car was totaled. From this point on I was thinking all hell was going to break loose, and now I was going to be in a battle to try get them to pay the actual value of my car and not low ball me. Much to my surprise they gave just about $200 less that what I paid for it. They also pay you for the dealership fees and taxes you paid on the car.
The reimbursement process was smooth and simple. They instantly put me in a rental car from Enterprise, also allowing me to pick the rental car I wanted (which was a plus). They called me and told me I could swing by to pick up the cheque they had wrote me. The only thing that I had to bring in was the title of my car along with an ID. I was super surprised how easy it was; I was in and out in less than 30 minutes at anytime I was there. They don't hold you up. One of the service guys named Kenny was super helpful; he is located at their Altamonte Claims Centre. He was a straightforward person who told you exactly what was happening and what to expect. Overall would highly recommend Progressive Auto Insurance. Their customer service is outstanding. Keep up the good work!

This company SUCKS. I have been with them for 6 mths. When I got my renew rate it went from 24.99 a mth to 41.00 a mth. I have no accidents and no tickets and I drive less than 2000 miles a year. I had the snapshot thing and they sent me a card that I made it to gold member and that I would get a discount. Well if they call a higher mth payment then they are AH now. I would not insure a matchbox car with them. I got a good rate from Liberty Mutual. Progressive go screw yourself.

I got an estimate, but when I actually signed up it was $185 higher than the estimate, which they did not warn me about. Since my mom had a fender bender and we live in the same house they just added it on without confirming the new estimate.

Called for a auto quote and got a good one on Sat am called back and it went up from 428 to 790 in less time than you can take a breath, the agent is as far as I am concerned as lowlife as they come, she made every excuse in the book and even sent me 5 emails confirming the first price, would not recommend them to anyone.

On Jan. 25 I was involved in a major car accident while on way to work as teacher. A truck carrying wrecked cars forced me off the road and my car vaulted 61 ft in the air and rolled over 6 times. The driver of the truck kept going. I was cut from my car and taken to the ICU Trauma Unit of a local hospital. I was later transferred to a rehab hospital and released after almost a month. I have no disability insurance and will not receive a paycheck while on medical leave. I COUNTED ON PROGRESSIVE TO BE FAIR. I received a call from Progressive rep Emily ** while in the hospital. The wreck left me with a brain hemorrhage, 5 broken ribs, broken sternum, 3 broken vertebrae. Ms. ** was aggressive and insensitive when speaking to me. I was treated like a criminal and told I would be charged with the accident. Progressive acted as if my version of the accident was meaningless.
I informed Ms. ** that the officer who filed my report failed to speak with other witnesses on the scene who told me they saw what happened. She was only interested in closing out her file on me. The details of the accident read by her caused me a major panic attack in the hospital in part brought on by my heretofore belief that as a 20 year customer with Progressive and a clear driving record, my insurance company would be on my side or at the very least treat me with compassion. Neither of which happened. I have since spoken with supervisor Brad ** who intimated that I could not give a reliable account of the accident due to my head injury.
Though I have requested a copy of the police report so that I may personally contact the officer and pray he amends his findings after giving him the names of witnesses and my account of the accident, I am being pressured by Progressive to accept a settlement that robs me of my policy benefits for uninsured motorist coverage. Their position relies solely on an incomplete police report and they are taking the position that I am entitled to nothing more than monetary damages for the loss of my car (2014 Nissan Juke). Instead of calling themselves Progressive, they should rename themselves, Aggressively in Pursuit of Screwing Loyal Customers. They should be ashamed of the heartless treatment I have received due to their greed.

I was with Progressive for two years. Had two issues regarding a car that hit my parked car and Progressive helped me. Now I decide to cancel and when I say cancel I mean cancel the policy period. The previous month of my policy was paid and I called to cancel before the next month payment was automatic taken out of my bank account. The customer service guy told me that I would not have my discounts but I would receive the emails based on the change and should not pay attention to that because my insurance would stop. Now the month is over I don't have their coverage and they sent me an email that I have an overdue statement balance. No, I was told this is what I had to do to void next month payment and I had already paid last month payment in full. Ridiculous!!! Glad I am not with them anymore.

If I could give negative stars I would! Their website is atrocious! I set up to have my son's payment for his car insurance to come out of his checking account yesterday. They still took it out of mine today, which kind of screwed me up. Then I went in again to change the account information to his checking account information instead of mine and it charged my checking account another time!
When I called Progressive to have this payment cancelled they told me that there was nothing that they could do about it and advised me to contact my bank to stop payment! How kind of them that I would need to call my bank and be charged $25-$50 to put a stop payment on this draft all because their website is screwed up! I know how to navigate websites and make payments online. I do all of my bill pay, etc. online. This was not customer error! Needless to say, they got a cancellation fax today! I will NEVER do business with them and honestly knew better this time but my son has a few speeding tickets! I personally would have never signed up with them in the first place! BEWARE of them! They SUCK!

I have had Progressive insurance for over 7 years, never filed a claim (sure I have had a ticket or two but until last year - NO CLAIM). My truck got hit and the other driver drove off, I called and reported it. No the police was not called. This happen on personal property and I knew from past experience the police would tell me they could do nothing. But I called my insurance company, they did not pay out a dime on this. But it went on my record. When it came time to renew my policy they wanted $250 down and over $100 a month for basic insurance. When I asked why their representative got short with me... I was just trying to understand, there was NO REASON FOR THEIR PERSON TO BE THAT WAY WITH ME. I went to another company - my advice do not do business with Progressive and pray you do not have an incident with someone who uses their insurance.

WE were not-at-fault party in a minor (~$2000) accident. The Regressive rep proceeded to tell us we will hear from someone within 24 hrs. We of course did not, so I called, and called and called only to be notified that the adjuster only works certain days of the week. I called again to be told they still have not heard from their insured driver and we need to take it through our own insurance to get anything done. They have no ETA, and we have no car. Now that's PROGRESSIVE!!!

Customer for 15 years. 2015 my son had at fault accident. They never raised rates and I have road side assistance on my policy which they have it as a premium service which I pay for it and they cancelled my insurance due to us calling them too many times. We have 4 cars and in 3 years have called them 10 times. I don't think that is a lot. Shame on Progressive.

I have had a few issues with Progressive. First was the double bill that they told me was a "reinstatement fee" which actually turned into my monthly bill even though I had no accidents or ticks (Yep, my bill went UP after the first 6 months, even though there were NO changes)... Then the bigger problem began after I had a fraudulent charge to my bank account which caused a payment to bounce. This caused me to have to contact them several times to get that whole mess taken care of.
I thought everything was okay. I have in writing that I was to have a double bill in February and no bill in January due to the mess that had occurred... However, Progressive's computers get the last say and even though an employee went in and cancelled, then reinstated my policy to have the double payment in feb, I still received a bill for January (or so they claim) and because I didn't pay (again, I didn't know about it and had agreed to the double payment in feb) my policy got cancelled. I then called and had to explain EVERYTHING over again because they do not put notes in the files and was basically told "give us money or go screw yourself." I chose to NOT give them any more of my money and I am looking elsewhere for Car insurance. I DO NOT RECOMMEND THIS COMPANY TO ANYONE!

They will not honor recorded communications. It took 6 weeks to get Progressive to remove a family member's accident from the underwriting decision. Underwriting Departments and Customer Service do NOT communicate with each other. First underwriting person admits that Progressive made a mistake and accidentally canceled the policy because Customer Service and Underwriting Departments did not communicate with each other about changes made to the policy. I have the Customer Service communication confirming this in print format from online chat feature on Progressive website.
Call back to Underwriting Department and now 2nd underwriting person will not take responsibility for what they claim is incorrect information communicated by Customer Service Department. They said the customer should know that the "Customer Service" Department and the "Underwriting" Department are separate and that information communicated to one department is not necessarily given to the other department. You cannot trust any information communicated by this company because they will not honor what another department says to you even if you have recorded proof of it.
Also, all my communications are set to be delivered electronically. Interesting to note that the ONLY document that was not delivered electronically was the cancellation notice. The refund post-cancellation was magically delivered electronically again. If you are relying on electronic communications and have opted out of the mailings, beware. They will not honor that either. Per Underwriting Department.

I think it is unfair that Progressive Insurance does not give a clear understanding as to what their policies mean. After being given the runaround by a number of agents, I was notified (today) that anything on your policy is considered a claim. Now being new to driving and insurance policies, that should have been something that was explained at the time I received the policy, but it wasn't. As a matter of fact, it doesn't state any of this in the current policy that I have. However, the only answer they were willing to give was, anything on your policy that is used is considered a claim.
When you call Progressive Insurance company phone number, claims and roadside assistance are 2 different options, yet after being with this company since 2012 and used the coverage that THEY told me was a good option to add to the full coverage, I am just now being told that roadside assistance is was considered a claim. Being new to driving, this was information that should have been included when explaining the benefits of being with the company, but they didn't. Not once when calling for assistance was I told it was considered a claim.
I have questions that they refuse to answer like, why wasn't the information offered before now? Or, why doesn't this statement show anywhere in your policy? Or, why after all this time, I am being dropped because of flat tires? Why after all this time, I am now being told that a flat tire will be the cause of losing your policy with an insurance company that told me this is something I should add to my coverage? I believe this very important to know as I would have used other options to fix my tires. Also, there wasn't 1 person who was willing to explain to me why this information wasn't made clear in the beginning.
My fear in all of this is the thought of how often are people mislead regarding coverage offered by insurance companies and how do you know you can trust them? This makes me not want to trust insurance companies at all. I feel completely mislead with no explanation as to why I was mislead or misinformed. They act as if this was a question I should have asked when being a new driver should have been something that I was informed of as they were aware I was a new driver.
Things like claims and how your coverage works should be explained at the beginning of the policy but instead when they decided they have enough of your money and they don't want to help you anymore then they tell you things you should have been told in the beginning! Thumbs down to Progressive Insurance and I hope others can see this and at least get the understanding I wasn't given before they purchase a policy from themselves. Flo is only in the commercials, the agents doesn't care about you or honesty about their policy, they only want you to buy it so they can take your money and dismiss you for them not giving you information you needed to know.

If I could give zero stars, I would. Let me begin by saying I am not a customer of Progressive, and will never be. My boyfriend was driving my car while I was at work (with my permission), and was hit from behind in what ended up being a four car accident back in December 24, 2015. At the time I had AAA for my car insurance, and the woman who was at fault had Progressive. I had a conversation with someone from AAA to give my statement. The lady originally told me it was going to be fine, even though he wasn't covered on my policy, because I gave my permission. Long story short, AAA rescinded my policy for saying I was being dishonest when I took out the policy, even though my boyfriend ALMOST NEVER drives my car.
I figured, hey didn't matter because he didn't cause it anyway. Boy, was I wrong. Progressive took a look at my vehicle and assessed the damage, putting me in a rental while it was to be fixed. Little did I know they decided to take apart my vehicle and not put it back together, then tell me they were only going to cover for a week in the rental. Once they disassembled my car, they tried to tell me it was a total loss, which I vehemently argued against because it was simply trunk damage and nothing more. But I got a runaround about how the woman who hit my car only had $10,000 on her policy and my car was at least $5,000 in damages. What does Progressive do? Fix every single car in the accident (all had very minor damages) and left my car taken apart and refused to fix it.
At this point I was beyond words. I was a mother who worked 40 hours a week without a car, so forced to pay for a rental. They were nice enough to let me keep the rate at which Progressive originally gave, but ended up paying about $2,000 for a rental overall. I was very angry. The agent handling the case was extremely clueless and lacked any kind of help whatsoever. I couldn't get help from AAA because they rescinded my policy. Progressive tried to bully me into giving them my car and for them to take it to an insurance auto auction to be sold. I didn't want to because I still had a car loan that needed to be paid off, my car had a Kelley Blue Book market value of about $10,000, and there was no guarantee for any kind of real reimbursement.
After a lot of back and forth I finally caved and agreed, much to my dismay. In May I signed the paperwork, and was told it would take 3-4 for the car to be processed and sold, and I would get the money. It is now February 2017, over a year after the accident, and NOTHING. I was just told today they were going to start on getting my car taken off next week. I blew a gasket. Weeks went by prior to this with me calling the rep, his boss, and his bosses boss and NO ONE GOT BACK TO ME. I am SO LIVID. Their customer service is beyond horrible, clueless reps, and absolutely no compassion whatsoever. I beg everyone to stay away from them, THEY are AWFUL. I've lost thousands on an accident that wasn't my fault and I won't rest until I get my reimbursement. Screw you, Progressive!!!
Progressive Insurance Company Profile
Company Name:

Progressive

Website:

https://www.progressive.com/