Consumer Complaints and Reviews

When I took out this policy the agent assured me rental cars would be covered if I needed one. Well one of my insured driver's car broke down. I rented him a car to keep our business going. He had a wreck. I filed a claim only to be denied. Reason. Since my insured driver's car broke down and it wasn't my car listed on the insurance no coverage. He needs to turn claim over to his personal insurance. Well my driver only has liability so now he's facing 2k in damage costs. I was lied to from the beginning giving me the false assumption that everything would be covered under my plan. Switching very soon.

They have been giving me the runaround on my refund that was never suppose to be taken off my card and of 460.00 and called two times in one week and was told I was suppose to receive it back within two day then was told I wouldn't receive it until ten days later which was suppose to be April 29th. Still have not received any refund so I called and when I was explaining it to the lady she didn't let me finish and didn't ask to put me on hold and just placed me on hold (BAD CUSTOMER SERVICE). Put a supervisor on the phone and he was being disrespectful and told me I need to be quiet (NEVER SUPPOSE TO SPEAK TO A CUSTOMER LIKE THAT). Then he starts explaining that my refund won't be in my bank until the 3rd of May which is now 15 days until I have to wait for my refund that was never suppose to be taken in the first place.
Now I have to wait until May 3rd to see what my next runaround is going to be and the excuse they will have next. IF YOU ARE A CURRENT CUSTOMER I'LL SUGGEST TO GET NEW INSURANCE. They have very bad customer service and the representatives don't have no idea of their job and the way they're suppose to speak to a customer.

The only reason I gave this company one star was because you had to in order to leave a review. They have the worst customer service and will treat you well only if you never have to call them. The rates are extremely high and if I would have read any of these reviews before becoming a customer, I would of never been a customer of Progressive. They are definitely not creating customers for life. Before choosing an insurance company read their reviews and base it off of reputation. Progressive only wants your money, they care NOTHING about their customers. I filed a hail damage claim over a week ago. The adjuster left and said she would send me an estimate. Of course I never heard back from her, I called in and spoke to an agent who said he'd send me an estimate via email, and a check should arrive within 5-7 days, of course neither ever happened.
I called back a third time and got a different story, of course, from someone saying that they needed proof that there was no previous hail damage from the previous owner, which has absolutely NOTHING to do with me or the owner of the car now. Going into week 2, I've spoken to rude supervisors, customer service agents who hang up and act like if they lose one customer they are not hurting. If you have the option to deal with another insurance company, DO THAT, and run from Progressive. THEY DO NOT PAY CLAIMS, they give you the run around and that is what insurance is for.

I made contact with the customer service dept. a week ago and obtained a quote and all that I would need to start a new policy, as I just moved from CA to WA. I received a quote via email. Today I called to start this policy and was told about Progressive's "stringent" proof of garaging policy, meaning I have to provide a utility bill, pay stub, homeowner bank statement, W2, tax doc, social security doc, or WA drivers license or they cannot start a policy. I provided a drivers license but that is only a secondary form of identification (although I can establish or obtain damn near everything else in the country with it). To Progressive I still need one of the other items specifically.
Well I moved 3 weeks ago! I am not employed, and I am boarding with friends until I get employed so none of those other documents exist or have not been updated yet! A WA drivers license with a USPS change of address doc, vehicle registration, voter's reg card, mail from healthcare provider, is suitable documentation to prove my residence... Not to mention the customer service employee neglected to tell me of this "necessity/policy" when the policy was quoted... This is absolute ignorance that I am being punished by these idiots over a policy of complete ignorance. Even talking with someone that is a "supervisor". The only thing they do is ignore what you're telling them and reiterate their requirement... Epic idiocy.

This company charged me for several months for a vehicle I did not have and although I was paying every month my actual vehicle was not covered. This company is the most incompetent group of individuals I have ever experienced.
How do I know I can trust these reviews about Progressive?
762,011 reviews on ConsumerAffairs are verified.
We require contact information to ensure our reviewers are real.
We use intelligent software that helps us maintain the integrity of reviews.
Our moderators read all reviews to verify quality and helpfulness.
For more information about reviews on ConsumerAffairs.com please visit our FAQ.

Progressive is the worst auto insurance. I change from a really good companies and went with Progressive. That was the biggest mistake I made. Customer, if you been with your auto insurance company years whatever do please don't change to Progressive. The reps are so disrespectful. When I was I called and had a question on my insurance and was called a ** from a Progressive rep. What type of employees do Progressive have working for them that says a whole lot for. I would like to know if some can give me the name of the person who owns Progressive.

I decided to look into changing Auto insurance & maybe bundling it with homeowners. I have had 2 accidents in the past 12 years, both not my fault, and the 2 at-fault drivers had Progressive. I had a very positive experience with Progressive both times so I thought maybe I'd check on it and get a lower rate in the process. I went to Statewide about 2:00 this afternoon & the door was locked. I looked at the hours sign & they should have been open. Then I noticed a sign that said "back in 10 minutes" so I decided to wait. Then I noticed someone inside so I just figured they forgot to remove the sign. I tried the door again and this man got up and came to the door. He just stuck his head out the door and said, "May I help you?" I did a double-take. I hadn't really wanted to stand out on the sidewalk and negotiate my insurance. I told him I wanted to inquire about insurance.
He said "We're in a meeting right now. Come back in an hour." So what should I do? I could go home 1/2 hour away thru the construction on John Young, then turn around & drive back, or I could drive around for an hour, or I could just stand outside their door for an hour, or I could sit in my car for an hour. I decided I didn't need Progressive after all. Apparently, they treat the "non-Progressive" accident victims better than they do their own insureds. Guess it's to keep us from suing them or hoping to win us over as future customers. If this is the way you treat possible future customers, I don't want anything to do with it. I'll stick to my current insurance company. Thanks but no thanks.

Progressive used to be straightforward. Even their website was simple, fast, easy, efficient. All of that has changed. The website is more convoluted. You cannot contact them by email because they do not want to hear from you. Not really. You can chat and get a different answer every time. Amazing. I want that job, where I don't have to be right ever.
I have been a customer for at least 10 years. They have always deducted my payment automatically. Now suddenly they are canceling my policy instead. They've "fixed" this with me twice by unaccountable chat people; but it is still this way every effing month. It should not be this hard or labor-intensive. I don't know why they have made their processes more difficult and less efficient. It seems to be a trend and as much as I used to like them, I'm looking at switching as my time really is valuable and Progressive is not honoring their end of the bargain.

On 3/6/2017, Progressive-insured Antje ** rear-ended me in Vancouver, WA. She told me at the scene that she was going to lie and say she didn't hit me. I provided photos to my insurance and Progressive to show the imprint of her license plate in my rear bumper. They acknowledge that the letters that are perfectly clear and in the right order are there, but since the others aren't as easy to see, they're claiming it must be someone else's license plate. I have filed complaints with the District Attorney's office in Oregon (where I'm insured), Washington (where the accident occurred) and Ohio (where Progressive is based). They are denying my claim based on the lie their insured told. Funny thing is that the Progressive-insured is a temp employee at my company, and now her boss knows about her lies.

Switched to progressive for low rates. Installed their Snapshot device in our cars, and the next day our Pathfinder started giving off the smell of burnt wires and smoke from dash. We had no electrical issues before this. Took the Snapshot device out and the next day the smell persisted and engine DIED without warning while driving on highway at rush hour. Had to get it towed. Shop said computer was fried due to a short caused by Snapshot. Called Progressive and they said, "Prove it." Took mechanics 3 weeks to repair all the several components that were melted in the electrical system, over $1000 in repair costs.
Progressive denied any fault and would not pay for a rental while car was in shop. Customer service was RUDE and suggested that I was making a false claim about damages. After paying out of pocket for damage caused by Snapshot, Progressive dropped our coverage for "filing a claim early in our coverage" which was a claim for damages caused BY THEIR PRODUCT. Looked online and found out that over 8,000 people filed class action lawsuit for same thing- Snapshot causing damage & car dying all of a sudden. Will be contacting a lawyer and filing suit. This company is beyond shady, they put my family's life in danger, did $1000 of damage to my car, denied the whole thing, then treated me like I was a criminal for asking them to admit responsibility. No one deserves that treatment. This company is criminal in my opinion and should be put out of business. DO NOT SIGN UP FOR PROGRESSIVE.

In December 20th 2016, I was rear ended while at a stoplight. The other person was distracted and driving between 35 & 45 MPH when she hit me. I was able to drive away from the accident after the police report. Her car's front end was completely destroyed. My trailer hitch went through her radiator and into her engine block. We both carried Progressive Insurance and within 2 days Progressive had lined up repair services for my car and rental. It was quick and easy with no aggravation on my end. 1 week later and $5000.00+ in repairs to my small SUV it was ready and looked great.
2 months later I started having Transmission issues that resulted in having my Transmission replaced. After having my Transmission replaced the repair facility said my drive shaft was bad and needed to be replaced. I took my car to a driveline specialist who repaired the driveshaft. They had asked if I was in a accident recently because the driveshaft had a slight bend and out of balance. I asked if my driveshaft and transmission could have been damaged in the accident and without hesitation they said most certainly it was. When I picked up my car after getting the driveshaft repaired I was told that my SUV Transfer Case (PTU Unit) needed repair and could hear a grinding noise. My car is a AWD and has a Transfer Case/PTU Unit.
All 3 issues are in the driveline and failed all at the same time after the accident. It did not even dawn on me when I had the transmission replaced that it could have been part of the accident. Even the driveshaft issue and now a Transfer Case. I called Progressive to see what could be done as I was already $3000.00 in the hole and another $1000.00 for a transfer case in the future. Progressive insurance called me back 2 days later and said my "Claims Representative" Would call me back within a day.
1 day later I received a call from someone other than my Progressive Claims Representative who immediately was on the defense of "Not being the problem" and started talking technical about why my accident did not cause the problems I was having. Going on about Uni-body designs and impacts, shockwaves running through my car.
He both started arguing and the phone call was getting heated. I told him I have 3 different repair shops who will state the damages I had are accident related. He said that I should arranging to have Progressive's Expert mechanics look at the damage in my driveline and they would make a decision. I told him I had the repairs done (but not the transfer case) so there is no damage anymore. He told me I broke my service contract by having my car serviced at a non Progressive repair facility. Even though I had no idea this was accident related. We started yelling back and forth and he said "You know what. Call me in my office when you cool down." That was 5 days ago and I still do not know who he was or even have a number for him.
I called a good personal friend of Mine who works in the IT department at Progressive to see if he could track down the person I spoke to. After explaining my issues he said "Good Luck! We (Progressive) won't cover the extra damage because the other person who hit you was also covered under Progressive" and they (Progressive) couldn't recover the money. It is consider lost profits. He also said Progressive's expert repair shops will not allow after the fact damages be covered because the repairs shops get good business from Progressive and they will always side with Progressive in fear of losing the business. In my region (Cleveland, Ohio) Insurance repair shops are in abundance and all fear insurance companies and will always side with them.

I got a quote for our new auto policy with Progressive. They quoted me at $766, swearing that my premium would not go up, as I told them all the driving records in details. And yet after paying in full, we got another bill for over $100. When I called them, the agent could not explain why they raised our premium. Took me few phone calls, and talking to a supervisor couple of times before they adjusted our premium back to $766. But five months later they sent me a renewal bill for $922.
Their explanation to that was "We went to a different system". It is the biggest premium jump we have ever experienced with insurance companies. It almost looks like they give you the best quote just to get you in. We will be looking for a different insurance provider.

I wish there was a zero star option in here but there isn't. This has been the worst insurance company I've had to deal with. They belittle their customers and go out of their way to make sure they don't pay a cent for claims by finding ridiculous excuses and delays just because they don't want to pay a cent for repairs. Their claims department is terrible, the adjusters are very difficult to deal with and very rude. They will go the extra mile to delay everything and make everything difficult for you.
I was a gold member for 3 years, never been in an accident, never even had a ticket and when I had to file a claim with them. I was treated like garbage and the claims adjuster made sure she went out of her way to make my claim difficult because they just didn't wanna pay. I had zero liability but yet they still wanted to hold my claim. They are a bunch of crooks, they should be out of business. Please spare the headache and do not deal with these people, go elsewhere. They will just suck your money dry and refuse to pay a dime should you ever file a claim with them.

I signed up with Progressive in Feb. after paying almost $200 to start up. I had not received anything since. No bills. No calls. Nothing. Last night I get an email stating they cancelled my policy and I owe them $17 and are threatening to turn me into collections. Their website is almost impossible to log into. Once I'm able to log in (after jumping thru hoops) I get a website going thru technical difficulties screen so now I have to call this stupid company and wait on hold to pay something I shouldn't have to. They won't reinstate my policy. They are thieves. I will never use this company again and will tell everyone not to use Progressive. I looked. Last message was on Feb. 21st thanking me for my new policy and included a receipt. Stay away from their e-bill... I never got a bill.

Paid for insurance in full and SR22 filing fee. Two weeks later no SR22; DMV wants to charge $500 because no SR22 was filed. Call Progressive - they refused to acknowledge and hung up when I asked for a supervisor. Terrible service; well they got my money for these six months.

Too expensive, and charged my account excessive funds when I cancelled. Terrible service, keeps overbilling me, and coming up with fraudulent charges to explain later. I Filed fraud charges with my Chase bank against Progressive.

I just became a new customer of Progressive. I had to switch from out of state since my previous company did not do policies in Florida. I had purchased a new vehicle in our previous state to make the move to Florida and I had to have a policy written in our new state. I had to get this new car off the lot and made a quick call to Progressive knowing that they offered policies in Florida. I called in to get insurance on the new vehicle to get it off the lot. I told Progressive that I had not had time to comparison shop and while I hoped that I was going to be able to keep my business with them I was going to check the competition. So they gave me a quote, I paid my first monthly payment in full as well as adding some renter's insurance for a new apartment.
Within a few days I did my comparison shopping. Found a company that was significantly cheaper and decided to go with them. I had only had 30 days of coverage with Progressive. Once I called and cancelled the Progressive policy switching to Geico which was a much more price effective company they did billed me an additional $50 because I had not completed my 6-month term with them. Once I receive this additional $50 bill I called in to find out what was going on hoping that a representative would be able to help me with this unexpected cost. That did not happen.
I additionally spoke with a supervising agent who told me that when you start with Progressive they automatically drop your first month's bill by $50 as essentially a bait and switch tactic to get new business. Then I asked for the name of the supervising agent I was on the phone with and the agent who had wrote my policy because of this $50 cost was never at any point disclosed to me. To then find out that Progressive is actively in the practice of these bait and switch policies that they will not even give you the last name of the agent who wrote your policy.
On a side note I work as an insurance agent in the state of Kansas when I first graduated college. All of my customers always had my business card and a direct number for me. Additionally as a customer of Country Insurance in the state of Illinois for the last 12 years I always knew the first and last name of my insurance agent Curt ** who is a wonderful man in Decatur Illinois and always had a direct number to him as well.
So as a piece of advice I strongly recommend against any business with Progressive seeing as the core structure of their company lacks transparency and professional Standards. The only information I was given were the 1st names of the 2 agents I spoke with the supervisor was Jonathan employee ID number ** and the woman who wrote my policy was Marissa employee number **. Miss Marissa withheld information but is just a puppet of the master puppeteer which is the overall company of Progressive who clearly uses bait-and-switch tactics to recruit new business. While $50 is an insignificant amount of money I am a true believer in businesses always being transparent and having integrity behind closed doors. Progressive does not meet that standard.

I have a small trucking company and was insured through progressive. There was only 2 of us. My dad and myself. Dad pulls a flatbed and runs long distance. He usually hauls rock from Oklahoma to Texas and post from Oklahoma to South Dakota then picks up hay to bring back to Oklahoma. Myself, I only run about 50 mile radius. I'm working a local job hauling gravel in a end dump. Anyway we had our policy for 1 year and 8 months. And now this is what I am looking at.
I turned in 1 claim. When I was working a job 30 miles from home I raised my end dump in the air, dumped the load of sand I had on and got it unloaded. Then about the time I just put my hand on the knob to set the trailer back down there was a big gust of wind that turned me over. It wasn't my fault. It was just a freak deal. Progressive paid $16,000 for the loss of the trailer.
My dad was in Texarkana hauling fertilizer. He stopped at a truck stop to go to bed and another driver who apparently wasn't paying attention drag his trailer across the front of my dads truck and tore the hood off. Turns out this guy was also insured through progressive so Progressive didn't want to cover it because they had nobody to fight with. Well they basically told us tough luck. That they weren't going to cover it. Dad got mad, threatened them with a lawsuit and they finally agreed to pay to fix the truck. But were going to count it against us as our fault. So we fought with them again and once again threatened a lawsuit. It was the other guys fault. He could have his insurance jack up. Finally after having the truck tore up for 3 months they finally fixed our truck and supposedly put the fault on the guy who drag his trailer across the hood.
I still don't know how this happened. So it was memorable day weekend my parents were going to the lake and taking the camper trailer. My dad blew a tire on his camper and it messed up the floor of the inside. So this is his personal camper trailer. It has absolutely nothing to do with my trucking company. He turned it into his personal insurance company which is a completely different company and somehow progressive picked it up and took it upon themselves to cover something that is not on their policy and said it was our fault and added points to our record. We never did get the camper fixed either. So fast forward to today.
Today: my commercial insurance policy was about $18,000 for the year which me and my dad split per month between the two of us. They are now wanting $47,000 for the year to renew the policy. There is no way anybody can afford a policy like that that would be over $3,000 a month for insurance. We have argued with them for the last 2 months and got progressive to send a statement admitting that the end dump was not my fault, and admitting that the old man dragging his trailer across the hood of dads truck was not dads fault, and they took the camper that should have never been on there off. However because they still paid out the best they can do is $43,000 for the year. So last night my insurance expired. I can't afford that high dollar crap so thanks to progressive I am out of business now.

My car was hit while I was parked at a Walgreens the driver had Progressive insurance. I filed a claim and everything seemed fine. I was told I could drop off car at Progressive office and I would get a 1-day rental. When I arrived a teenage-looking agent looked at car and informed me I would have to wait since no rental car would be provided. So I was forced to waste my entire day at Progressive. When he was done with estimate he said I would get a check for 30 dollars. I could not believe his arrogance. The repair for the rear bumpers was a few hundred dollars. He then informed me I could take car to one of their contracted repair shops. So I was forced to go to another location and wait 2 hours more. Disgraceful liars. Truly disgusting people. Stay away from Progressive!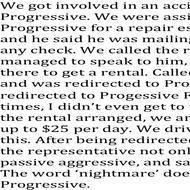 We got involved in an accident in our parking lot with a neighbor who is insured by Progressive (neighbor was at fault). We were assigned a Progressive Claim Rep and were told to take our car to the Progressive shop in FL for a repair estimate. Right after getting the estimate I called our rep and he said he was mailing the check right away. A week later there was no sign of any check. We called the rep an average of 15 times to no answer. When we finally managed to speak to him, he said he was going to mail the check that day. We said no and decided to drive the 20 something miles to the Progressive office to get the check in person.
We were also told to go to an auto body shop and call him from there to get a rental. Called quite a few times. No answer. Called the 1800 number and was redirected to Progressive MA since we have a MA phone numbers. We were redirected to Progressive Florida - straight to voicemail quite a few times. A couple of times we didn't even get to voicemail before the call was dropped. After finally getting through and getting the rental arranged, we arrived at Enterprise to be told Progressive was only paying up to $25 per day (wouldn't cover a compact SUV). We drive a mid-size SUV.
I called Progressive again to ask about this. After being redirected from MA to FL and managing to speak to someone in the Florida office, the representative not only indirectly accused me of lying, but was passive aggressive, and said there was nothing she could do. The word nightmare doesn't even begin to describe my experience with Progressive. Extremely unprofessional, at least with the Florida side. On the bright side, when I was directed to MA because of my MA phone number, the reps I spoke to were friendly, polite and seem to be trying to help.

Worst company ever. I'm not at fault, hit by Progressive driver (young girl on phone). She doesn't have the coverage to fix the new Lincoln she hit so my insurance fix it. (Over 10k). Progressive covers rental and towing. Done. Now comes diminished value. 5k. Progressive said two weeks. It's been a month. I've called, sent emails and not one return call. I'm taking these crooks to court. They can pay for everything plus interest. My advice, If you have to deal with Progressive get an attorney.

Was with Geico and began comparing rates online. Progressive quoted me a great rate. Made the switch and paid in full. Less than a week goes by and my rate went up 20%. They said an underwriting audit discovered a PIP claim from 2012. When I inquired, they said my wife went to the doctor after being rear ended while sitting at a light. They said the doctor was paid $47 dollars. They said my score went from 0 claims to 1 in less than 5 years. So... beware of the ole bait and switch. They will get you signed up, and then they will figure a way to up your premium. Be careful. I'm going back to GEICO.

On January 9, 2014 my automobile was struck by a person on a bike, or young lady at approximately 6:16 pm. It was a three-way intersection and I was behind the line. There were two buildings on the other side. She was riding her bicycle on the sidewalk on the wrong side of the street and failed to yield. I looked that way directly to my right-hand side and there was nobody in my site division. So I started to creep out before moving into the lane of traffic to my right. I stopped because I saw there was a girl on a bike headed towards my car at a disturbingly fast speed. She hit the side of my car with the bike but not hard enough for her to fly over the hood of the car. I quickly got out of the car to see if she was all right and she said she was fine and she was concerned about something she had in a bag attached to the bike. She kept saying to me "I thought you weren't going to move your car."
I told her I've barely moved it because there was so much traffic and there was a blind spot to my right side. She said that she saw me but didn't slow down or stop and walk or bike across the street because she thought I would and that I saw her. Needless to say I quickly called the police and they also contacted an ambulance to make sure everybody was ok. At that very moment I called the police two people in a car pulled over and said they saw the whole thing and then I bolted out of the intersection and deliberately hit her and that I blew the stop. The passenger in that car claimed it was my fault and he was a man. The driver of that car was a woman and she said it was not my fault and disagreed with her passenger. The male witness was clearly disturbed and impaired either by drugs and liquor and was extremely violent. The woman in the car drove away and pulled over.
There were cars behind me and they saw the whole thing and claimed it was her fault not mine all in front of the police. The police issued citation for tickets because in their opinion it was nobody at fault and if anybody was at fault it was her for not getting off her bike and not walking it across the street. They said it was illegal for her to ride on the sidewalk and she was on the wrong side of the street.
A few weeks later and investigator from Progressive came to see me. She began an investigation and seemed that things were definitely in my favor. She told me things were very strange and that apparently the male witness that claimed he saw the entire event had some kind of strange relationship with the girl that hit me with her bike. Apparently they had been roommates in the past and had a previous history of insurance claims but she wasn't being completely transparent for legal reasons. However she said something was very strange about the entire situation and that it was most likely fraudulent. Months passed and I was completely confident that it was a fraudulent claim and that Progressive would stand by their client that was clearly being set up.
I received a phone call one afternoon months later by a gentleman that was in charge of settling the claim and that he made determination that the investigation came to the conclusion that they could not determine who is at fault and that the investigation was becoming very expensive. Therefore to avoid any further liability they chose to pay out a settlement of $800 or so dollars hence making me at 80% at fault.
Needless to say I was curious and very angry because my premiums tripled. Not only that but it is on my permanent insurance record for five years subject me to extremely high premiums and destroying my reputation. I told him that I was very disappointed that they didn't stick by me as a client of six years with no history of accidents that I was at fault. I don't know why they just didn't drop me as a client and leave it at that. There should be a law against reporting an incident like this to an agency that makes it public knowledge to other insurance companies when they don't know the details! Progressive could have simply paid out the claim and reported there was no fault and that would've saved me thousands of dollars in premiums and my reputation.
I think it should be illegal for insurance companies can decide who is at fault and who's not. That should be for a court of law to decide based on the information that was discovered and the police report. Not by somebody in an insurance office sitting behind a cubicle deciding the financial fate of a loyal client. This girl apparently made no threat to sue the insurance company and said that she was fine according to her doctors. It is just another example how Progressive Insurance tries to rip off the clients and avoid any litigation regardless of who's at fault. Do yourself a favor and avoid doing business with Progressive!

I pay my insurance by the year. Their stupid automated system didn't understand I relocated and was in process of changing everything over Arizona. License, insurance, banking, social security, all of it. They didn't accept my Arizona driver's license or my voter id card or my bank statement or rental agreement or cable bill or phone bill... (all current Arizona) NOT ANY OF THESE ITEMS WERE GOOD ENOUGH TO VALIDATE WHERE I CURRENTLY LIVE. Or my RV... So they cancelled my insurance, truck, boat, motorcycle, RV, all of them. Progressive can kiss my ass. I'll stay with State Farm. Customer service with Progressive is terrible.

After several phone calls and writing this review Progressive responded stating that the incident was no fault of mine and set up the repair and rental car. Unfortunately it took daily persistence to get this issue resolved.
Original Review
I was parked at a gas station to get air, an SUV backed into my Vibe and severely dented the drivers door. I called the police. He filled out an accident report and told me he could not issue the girl (who had her license for 2 weeks) a citation because it was private property. The 2000 SUV was not damaged, and the mother filed a claim with Progressive. Since we both had Progressive coverage I was told by my agent things should move swiftly. Not so. I called the adjuster on a Friday. My call was not returned till Tuesday. I was then told they were not able to reach the other party on the phone and could not move forward until they heard back.
I pay my premium every month and have been a customer since 2015. I was told I could just pay the $500 deductible and get my vehicle repaired. My car was parked, this girl backed into a parked car, while I was frantically honking at her. Clearly I was not at fault, but I am expected to pay $500. I thought the reason I have insurance is that they not only protect my interests but pay for damages when I am not at fault. I cannot wait for my policy to expire. I will never return to Progressive, nor will I ever recommend it to others. They do not stand behind you as a customer. Very disappointed in such a large company that advertises as being number one.

Where do I even begin? I've had Progressive for about two years. Never had an accident, always paid on time my coverage is for two vehicles, Full Cover. One, a Mercedes-Benz C350 Sports 2009 and a 2003 Mini Cooper Original Edition. Here's where my dilemma began - I moved to Anaheim, CA after a trip to Texas. I noticed a lot of vagrants around the area but they never bothered me.
About two months ago, I wake up to my car being completely keyed, scratched and hit with an object. I was not the only one but I was unaware of that at the time. There were 4 vehicles this occurred to. I naturally called the insurance company, and for fear of this to re-occur I had the vehicle locked up since I had nowhere to store it. I locked it up at a Body Shop that was recommended to me after asking my brother in law who is a mechanic - which I had then planned to use for my repairs.
This occurred on Feb 18, 2017. The shop called me the following day and notified me of additional damage that was overlooked by myself initially. I called my rep to advise of the additional damage to amend my claim and start an Audit with a field adjuster. Here is where Progressive shows how they progressively screw you. I was told the scratches on my door (deep with a nail or something very sharp) would be painted but the dent from the blunt object would not be repaired. HOW DOES THAT MAKE ANY SENSE? Paint the car but not fix the dents? Progressive then advised I would have to open a SECOND claim. Now, I have proof they only provided me with ONE CLAIM number originally. I was forced to open a claim for Comprehensive and one for Collision, mind you the vehicle was parked and the damage was indeed covered by comprehensive but they fought me on it.
It's about 6 weeks later, I still don't have my car. I've been taking the train to work. I am out a few hundred due to travel expenses for work and have no vehicle to top it off. It took them 6 ridiculous long weeks to get my vehicle fixed. But wait there's more!!! Here's the real kicker!!! Grab some popcorn, cause this is a comedy in a horror setting.
The vehicle is now a week out from being completed on repairs (was told 2 weeks ago) and they denied repairing my clearly cracked bumper because it had a previous scratch which I made them aware of when I obtained their insurance and the car was reviewed for coverage. Their point of view, they are not liable to cover previous damage to a car they agreed to insure at the current state which I presented originally even though the vehicle reviewed additional damage now under their Policy? Wow, never heard of that, but let's move on. I get a call, I am told - "Hey, your vehicle is going to be done by this weekend" That was two weeks ago, didn't happen. I get another call last Friday, "Hey your vehicle is going to be done this weekend! But to make you feel better, we are waiving one deductible".
I was happy for a second. Then I am told, "So you only owe $1,000 dollars." "Excuse me, for what? For 1 deductible" I asked. And I'm told, "no. For two deductibles because we waived one of the 3 deductibles." This is where it gets confusing. Not only did the adjuster take every PENNY of the overlap the shop had and hoped to use towards repairing my bumper. They tacked on another deductible when I called to amend my initial comprehensive claim, but failed to advise or issue a new Claim number under Comprehensive. I was never given a letter, notified, advised or informed in any way or manner of a second deductible being put in place for comprehensive. It makes NO sense that I would want to pay double deductible for the same CLAIM!!!
This an absolute disaster and NEVER EVER RECOMMEND THIS INSURANCE TO ANYBODY!!! These guys are thieves! I am out a total of $1,560 dollars, also paid insurance for my car while it's locked up. Add another $440 to my tally for these two months of insurance while my vehicle is being repaired. I had to move from the property I was living at due to fear of my cars being messed with. I don't know anybody here. I work all day and come home at night. This was just people with nothing better to do messing with our property. I felt so protected and didn't have to worry about a thing. Well, my only worry now is to cancel this ASAP!
I am not done with them yet. I plan to pursue it with their Customer Service department. I want proof where I was told I was paying 3 deductibles. Freaking thieves!!! Can't stand to think they consider themselves top tier insurance company. If you want quality service, got to Farmers Insurance. I've had them in the past, never had an issue and plan to go back immediately. I WOULD LOVE for someone with Progressive to reach out to me. I'd love to hear their wonderful stories of how I should feel better by not asking for my money back or getting overcharged.

They'll try everything to screw you out of paying. I was the victim of a hit and run by one of their policy holders. Three months later and I still can't get my vehicle repaired. They keep telling me either "We can't reach our policy holder". Then it was "We can't get the police report". I have the police report showing it was a hit and run. They also won't return phone calls.

I have had one bad experience after another with Progressive auto insurance. They are absolute crooks including failure to pay me back my deductible when another driver hit me and was determined to be at fault. While in a car rental I was hit while my car was under repair for first accident again NOT at Fault. Progressive still hasn't paid Enterprise for the accident where I was absolutely not at fault. I am disgusted that there are not better regulations for these scam auto insurance companies. In addition they are stating they cannot insure my van because they believe I use it for business when in fact I have a futon in it and I travel and camp with it. The absolute worse insurance. Failure to pay claims. Failure to do anything correct. I am following with a complaint to the State of California.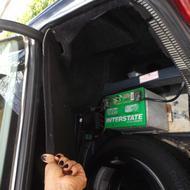 I am a Progressive Insurance customer. I had called for roadside assistance to Progressive as part of my contract allows. Progressive sent R&R towing out of El Cerrito CA #193171. The driver proceeded to damage my vehicle and attempt to steal my stereo, robbed me and stole my jack out of my trunk. Progressive now says it's not them it is their contractor Agero Roadside, a company I have no contract with and did not call for roadside. I had no ability to research Agero. I had no idea they were the contractor for Progressive or whether they dispatched scary felons routinely to roadside call such as they did with me.
My contract was through Progressive and it is Progressive that should pay out my claim to have my vehicle repaired from the damages caused by their AGENT. A little FYI - The driver threatened me and then told me to not tell anyone he had stolen from me or damaged my car because he knew where I lived from the tow paperwork so essentially he was provided an easy mark by Progressive Insurance; a woman on the side of the road alone. The picture shows my missing speaker he tore out and the empty area inside the spare tire where my Mercedes original brand jack and flares used to be located. I can't post the picture of the money but he took money too.

So I bought a car in October and almost immediately tried to start my car insurance through Progressive. I got the first quote and everything looked fine, so I called in to pay and get everything started. They couldn't find the damn quote!!! So after starting yet another quote the same thing happened... Twice. Every time I got a quote and went to approve it, they couldn't find it and had to start another, which takes some time. Five months later they finally figure it out and get the insurance finalized. Mind you this is FIVE MONTHS later. Obviously the credit union I go through won't just allow you to go without insurance, so they piled on their insurance too, doubling the monthly payments of the car. So I called my credit union, the forced insurance company, and Progressive to straighten this mess out, and basically all eyes fall on Progressive.
So after spending what felt like days on the phone going back and forth about their mistake, the supervisor tells me for the twentieth time that they have no clue what they are doing and can't help me even a little. So here I am, stuck with double the car payments I was making, and still paying for insurance on top of the forced insurance price. So would I ever recommend Progressive Insurance to anyone? Only if I had a death wish upon them.

Matthew BrodskyInsurance Contributing Editor
Matthew Brodsky is an established expert on insurance, having written hundreds of articles and other pieces of content on the subject, interviewed countless practitioners, and attended dozens of conferences and events. He served as an editor at industry magazine Risk & Insurance for six years. More about Matthew→

Progressive Insurance is one of the country's largest auto insurance companies and has been offering auto insurance since 1937. The company is headquartered just outside of Cleveland, OH.
Name your price: Progressive has a unique program for auto insurance that allows people to enter their budget and find a plan that matches closest with what they can afford.
Snapshot program: The company offers a device called Snapshot, which plugs into a car and reports stats about a driver's driving habits. This can help ensure that a driver is paying the right amount for their insurance.
Progressive app: Progressive has an app that allows its customers to access their information from their mobile devices, in case they need it while they are away from a PC.
Loyalty rewards: Progressive's Loyalty Rewards Program gives customers points for loyalty, and it offers benefits like Accident Forgiveness.
24-hour customer service: Representatives of Progressive are available 24 hours a day to help customers.
Best for New drivers, drivers who just purchased a car, and drivers who don't do much driving but own a car.
Progressive Insurance Company Profile
Company Name:

Progressive

Website:

https://www.progressive.com/