Find the Best Walk-In Tubs

Label
Accredited Partner
Company name
Logo
Contact
Summary

Accredited Partner

Get Started
Our Walk-in Tub Picks for Seniors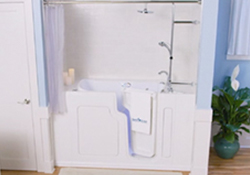 Safe Step Walk-in Tubs
The Hybrid Tub
Combines the safety of a walk-in tub with the convenience of a shower. Package comes with a rainfall showerhead and a hand-held shower wand. An inward-opening door can be right- or left-sided. Safe Step provides a lifetime warranty.
Get Started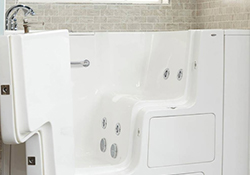 American Standard Walk-in Baths
Gelcoat Value Series
Upgrade with features like in-line heaters, massage jets, safety grab bars and neck rests. Available in various door, drain and faucet configurations. American Standard includes a 10-year warranty.
Get Started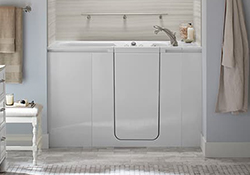 Kohler Walk-In Bath
Kohler Walk-in Bathtub
Customize your walk-in tub with hydrotherapy and air massage jets, heated backrests and the custom bath walls. Standard features include handrails, anti-slip surfaces and a multifunctional showerhead. All models come with a limited lifetime warranty.
Get Started
Compare Top Walk-In Bathtub Companies

Accredited Partner

Safe Step Walk-in Tubs
Read 1,870 Reviews

$1500 off your purchase of a new Walk-in Tub *

*Partner terms and conditions apply.

Manufactures walk-in tubs, walk-in showers and hybrid tubs. Prices start at around $9,000. Each purchase includes installation and a lifetime warranty on tub, parts and labor. Offers hydrotherapy, aromatherapy and chromotherapy.

Get Started

Call Now Toll Free

(800) 692-1935

Accredited Partner

American Standard Walk-in Baths
Read 1,221 Reviews

NO INTEREST & NO PAYMENTS FOR 12 MONTHS*

*Partner terms and conditions apply.

Offers a variety of walk-in tubs with quick drain, whirlpool massage and air jet features. Pricing starts between $3,200 and $7,900 and includes professional installation. Provides a 10- to 15-year warranty on the bathtub.

Get Started

Call Now Toll Free

(855) 858-5417

Accredited Partner

BOCA Walk-in Tubs
Read 166 Reviews

Offers custom-made walk-in tubs. Standard features include fast fill, bacteria-resistant finishes and leak-proof designs. Pricing starts around $4,000. Includes a limited lifetime warranty on all products.

Get Started

Accredited Partner

Independent Home
Read 1,067 Reviews

Manufactures compact and luxury tubs. Prices start at around $10,000. Each new customer receives a $1,500 installation coupon to help cover the cost of labor. Tubs include a full-coverage lifetime warranty.

Get Started

Accredited Partner

Jacuzzi Walk-in Tubs
Read 299 Reviews

Offers walk-in tubs are designed to be quiet. Features include hydromassage, electronic controls and serene lighting. Pricing starts around $6,000 to $12,000. Warranties vary by model.

Accredited Partner

Kohler Walk-In Bath
Read 410 Reviews

$1,000 OFF Your KOHLER® Walk-In Bath*

*Partner terms and conditions apply.

Offers walk-in tubs with low-threshold step entrances and wide doors. Options include massage jets and heated surfaces for comfort. Prices start at around $4,000 to $9,000. Limited lifetime warranty on all purchases.

Get Started

Call Now Toll Free

(800) 997-3146

Accredited Partner

Hydro Dimensions
Read 291 Reviews

Offers 16 walk-in tub models. Standard features include safety grab bars, nonslip floors and high-capacity faucets. Hydrotherapy and dual-massage jets available. Prices start around $5,000.

Get Started

Call Now Toll Free

(951) 259-0265

Ella's Bubbles
Read 181 Reviews

Offers two-seat tubs, wheelchair-accessible tubs and lay-down walk-in tubs. Features include heated seats, foot massagers and microbubble therapy. Pricing starts between $2,200 and $8,200.

Learn More
Elevate Bathtub
Read 6 Reviews

Manufactures walk-in tubs that feature seat-height entrances. Instead of a door that opens out, the door slides up for easier entrance and exit. Pricing starts around $10,000.

Learn More
Spirit Walk-In Tubs
Read 6 Reviews

These American-made walk-in tubs include a lifetime warranty and can be installed in one day. Choose from 14 walk-in styles and 26 tub options. Prices start at $6,000.

Learn More
What is a walk-in tub?
Stepping into a bathtub can be dangerous. A walk-in tub has a door so you can step into the bath without having to step over a threshold. A walk-in tub is a bathtub specifically designed for easy accessibility that has a low step threshold, a seat and other safety features.
Many bathroom injuries happen when people try to stabilize themselves on doors and fixtures that are not designed to support human body weight. A walk-in tub is constructed with sturdy grab bars and handrails to provide support.
The tubs are typically made with fiberglass and acrylic. Acrylic tubs are usually more expensive, but they're typically more durable than fiberglass tubs. Some tubs may be manufactured from a combination of both.
What is the average cost of a walk-in tub installed?

Overall, the average cost of a walk-in tub, including installation, is between $2,000 to $5,000. Models with more advanced features can cost up to $7,000 or more. The cost to install a walk-in tub ranges between $700 and $3,000.

How are walk-in tubs installed?

Walk-in tubs are installed in place of your existing bath and use the same plumbing and electrical lines. It doesn't usually require extensive construction or renovation. However, the installation requires a licensed plumber and electrician, so you shouldn't try to do it yourself unless you have experience. Many manufacturers have local technicians who can install your tub.

Some walk-in tub companies offer optional trim kits to ensure the tub correctly fits in the available bathroom space. Other manufacturers sell compact walk-in tubs specifically designed for smaller spaces. If a tub doesn't fit correctly in your bathroom, your installer can use a tub extender to eliminate gaps between the tub and the wall.

Extenders can also be used as shelves to store soap, shampoo or other bath materials. However, it may require you to move the shower curtain to ensure it covers the entire tub and prevents water from pooling on the floor, which creates a slipping hazard.

A tile flange is used to create a water-tight barrier and prevent leaking. A tile flange is a raised area around the edge of the tub deck between the wall and tile. Tile flanges also give your tub a more modern, organic look that helps it match your bathroom design.

How much water does it take to fill a walk-in tub?

A standard size walk-in tub uses around 50 to 55 gallons of water. Compact tubs may hold as few as 40 gallons, bariatric models hold an average of 100 gallons and double-seated tubs use about 120 gallons. You may need to get a larger water heater, depending on your current water heater size and size of the walk-in tub you choose.

How long does it take for a walk-in tub to drain?

Traditional walk-in tubs typically take six to 15 minutes to drain. Fast-draining tubs can take less than four minutes, and some drain in as quickly as 90 seconds.

How long does it take a walk-in tub to fill up?

Expect it to take between six and 15 minutes to fill most walk-in tubs. Tubs with fast-fill faucets might take just a few minutes. Because walk-in tubs are big, they're notorious for taking a long time to fill up and drain. Since most walk-in tubs come with a hand shower, you can use that to stay warm while the tub drains. A model with heated seating can also keep you comfortable.

How do you clean a walk-in tub?

Just like a standard bathtub, a walk-in tub requires routine cleaning. It's often easier because many walk-in tubs come with a built-in cleaning or sanitizing system, like an ozone generator or UV sterilizer. Here are some tips to keep your walk-in bathtub clean:

Wipe the interior surface with a towel after every use
Use mild dishwashing detergent and water on the interior surface once a week
Clean your drain with a mixture of vinegar and baking soda once a week

Overall, cleaning a walk-in tub isn't very different from cleaning a traditional tub. You can either keep a bath or shower cleaner in your tub and use it daily or perform routine, in-depth cleans of your walk-in tub. You should also consider rinsing your body off before entering a bathtub if you're particularly dirty. This can help remove bacteria before you sit in the water.

Can you have a shower with a walk-in tub?

Some walk-in tub manufacturers make shower/tub combinations. These models have the accessibility of a walk-in tub and the convenience of a shower. If you're interested in a walk-in tub but like the convenience of a shower, consider buying a walk-in shower. Walk-in showers often give you the option to shower sitting down or standing up and come with features like hand-held showerwands and easy-to-use controls. These showers don't require extensive remodeling, and they typically fit in your existing shower space.

Are walk-in tubs safe for seniors?

Yes. The main reason people install walk-in tubs is to reduce the risk of falls and other accidents. Walk-in tubs provide a safe bathing option for seniors who want to maintain their independence.

Getting in and out of the shower can be an enormous fall risk for anyone with balance issues or limited mobility. A fall from the bath or shower can be especially devastating for an older adult.

A traditional bathtub requires a big step to get in. There are slick surfaces and minimal places to find a stable grip. And then it can be challenging to get up once you've laid down. With a walk-in, you basically don't ever have to lay down in the tub.

There are lots of reasons why people buy a walk-in tub. Those with limited mobility benefit from easy access to a walk-in bathtub. Elderly individuals may want to switch to a walk-in tub to add safety and therapeutic features available in different models.

Does a walk-in tub add value to a house?

Depending on where you live, a walk-in tub could add value to your home. Walk-in tubs are a popular addition to houses in retirement, and a walk-in tub is more likely to increase the value of your home if you live in a community with a large senior population. In addition to older adults, anyone with limited mobility might have an easier time bathing in a walk-in tub than a traditional tub.

Can you use bubble bath in a walk-in tub?

While you can use bubble bath in a walk-in tub, we don't suggest it if your tub is jetted. Bubbles can be difficult to predict, and some formulas might overflow the tub. Similarly, you can occasionally put Epsom salts or bath oils in a walk-in bath as long as you thoroughly since the tub afterward.

How big is a walk-in tub?

Generally speaking, walk-in tubs are about the same size as a regular bathtub. The width and length vary among models and providers, but walk-in tubs are usually 28 to 32 inches wide and no more than 60 inches long. Most walk-in tubs are between 37 to 47 inches tall. Water in walk-in bathtubs can get up to about 2½ feet deep — standard bathtubs are typically just more than a foot deep.
Types of walk-in tubs
We suggest looking for the type of walk-in tub that makes your life easier, safer and more comfortable. Some walk-in tub therapy features are designed specifically for people with lower back pain or arthritis. Others are made with extra-wide doors to accommodate larger patients.
Soaker tub: A walk-in soaker tub is a basic model and does not have any air or water jets. It includes a leakproof door, a seat and a low-entry step-up. Most tubs also include grab bars and anti-slip floors and seats.
Wheelchair-accessible tub: Wheelchair-accessible tubs have outward-facing doors that let people transfer from the wheelchair into the bathtub more easily. The tub seat is generally lower than standard walk-in tub seats.
Bariatric tub: Bariatric tubs are specifically made with obese individuals in mind. They are walk-in tubs that are larger than standard models to ensure they're comfortable.
Lay-down: Lay-down walk-in tubs are as close to traditional bathtubs as you can get with a walk-in tub. You lie down while you bathe but can still take advantage of safety features like nonslip surfaces and safety bars.
Walk-in shower: A walk-in shower is a type of shower without doors or curtains. They're usually much bigger than traditional showers to ensure they don't need a door or barrier. Walk-in showers usually have a very low or nonexistent step threshold as well. Walk-in showers let you take a shower while experiencing the traditional benefits of a walk-in tub. Some companies offer step-in tub and shower combination packages.
How do walk-in tubs work?
Walk-in tubs are designed with a low step-in threshold that makes it easier for people at risk for falls to step directly into the tub rather than lift their legs over the side to enter. To bathe, you simply step in, sit down and turn the water on. All walk-in tubs have sealed doors to prevent leaks. The seats are typically covered with a textured surface to prevent slipping off the seat, which allows for a safer bathing experience.
The time it takes to fill or drain a walk-in tub varies based on several factors, including the size of the tub, your home's water pressure and the age and quality of the plumbing. A standard-size walk-in tub usually takes from six to 15 minutes to fill or drain. Tubs with quick-fill and quick-drain features often fill or drain in as few as two minutes.
Once the water drains, you can open the door and exit the tub. Rising from a seat is much easier than from a standard tub floor. You don't have to worry about getting up and down from the base of the tub again.
In some ways, walk-in bathtubs are similar to traditional tubs — they take up about the same amount of space and use your regular tub's plumbing. The main difference is that walk-in tubs have seats and a much lower step-in threshold than traditional bathtubs. For those with mobility issues, this means that you can bathe yourself with more independence. Caregivers like walk-in tubs because it reduces the physical strain helping their patients wash themselves.
Walk-in tub features to consider
Walk-in tubs have valuable safety features for seniors, people with disabilities and those with limited mobility. As you compare different models, here are the three big features that we suggest looking for:
Low step threshold: The lower the threshold, the safer the tub is to step into. The step-up is the height of the threshold that leads to the tub. The most common step-up height is 3 inches to 7 inches, though some models have step-ups as low as 2 inches for even safer access.
Easy-access doors: Walk-in tub doors usually swing either inward or outward. Inward-swinging doors require less bathroom space and are easier to close. Inward-swinging doors can help reduce leaks and also ensure the door doesn't bump into anything nearby. Some people prefer walk-in tubs with outward-swinging doors. For example, if you're in a wheelchair, it's easier to transfer to the seat if the door isn't in the way.
Quick drain and fill system: Choose a model with fast fill and drain technologies that work quickly to prevent you from getting cold. Newer models include drain and fill systems that can make it a much faster experience. In fact, some walk-in tubs can drain in less than 60 seconds. If you want your tub to fill faster, look for a rapid-fill faucet.
Walk-in tub safety features
The most common reason people purchase walk-in bathtubs is to prevent falls while entering or exiting standard tubs. High walls, nonslip floors, seats and grab bars make using these tubs safer for people with mobility problems. Most walk-in tubs include safety features like low-threshold entries, showerheads and anti-slip flooring that comply with the Americans with Disabilities Act.
Nonslip surfaces

Nearly all walk-in tub models include a textured floor surface to prevent slipping. Textured surfaces are a must if you're buying a walk-in tub for someone with mobility problems. We suggest looking for tubs with contoured seating, as well. Besides being comfortable, a contoured surface prevents you from slipping or sliding off the walk-in tub's seat.

Grab bars

Most tubs are equipped with at least two grab bars or handrails. You should consider the placement of these bars and install them where they're most convenient to use. Grab bars are optional for some walk-in tubs, but they should be purchased if the bather has a disability and would benefit from the additional support and safety grab bars provide.

Anti-scald valve

The anti-scald valve compensates for pressure changes in cold and hot water lines to keep your water temperature from changing suddenly. Because quick spikes or falls in temperature can cause the bather to jump and injure themselves, anti-scald valves are standard safety features in walk-in bathtubs.

Hand-held showerhead

Most walk-in bathtubs feature hand-held showerheads to make bathing easier for those who have trouble standing. Showerheads are often located near the faucets, but some tubs have raised showerheads with adjustable rods.
Walk-in tub comfort features
Therapy options such as hydrotherapy massage jets and heated backrests are popular. Some walk-in tub features are designed with problems like lower back pain and arthritis in mind.
Built-in neck, shoulder or back rest

Seats can be outfitted with additional features if you need more support than the standard seat provides. Seat cushion risers, bath pillows and other support accessories are also available.

Heated seats

A heated seat is helpful if you have a walk-in tub that takes a while to fill. An in-line heater helps keep the water at a consistent temperature when the jets are in use. This keeps the water warm, preventing discomfort and letting you use the tub for long, therapeutic soaks.

Aerotherapy features

Aerotherapy tubs are soaker tubs outfitted with air jets for water circulation. These tubs are designed to provide a therapeutic massage experience.

Chromotherapy features

Chromotherapy is the term given to color therapy used in conjunction with water. In chromotherapy walk-in tubs, different colored lights shine in the water. Manufacturers state this feature helps improve your energy and mood.

Aromatherapy features

Aromatherapy walk-in tubs let bathers try out essential oils to create an aromatic experience. Lavender, jasmine and green tea are common scents people enjoy using, but you can use any essential oil you like.
How to buy a walk-in bathtub
When you buy a walk-in tub, consider your needs and budget as well as your existing bathroom space and limitations. As you compare companies, look for ones that offer a free quote and no-obligation consultations. It could be a red flag if a company wants to charge you for an estimate or consultation. We also suggest finding a company that offers helpful customer service and has easy-to-understand warranty information.
Walk-in tub prices start around $2,000
1. Consider your needs and budget
Finding the right tub for your specific needs is easier if you come prepared. Whether it's for yourself or a loved one, decide what you want to get out of the tub before you start comparing companies.
Think about what features are most important to you, such as added safety options like handrails and comfort options like in-line water heaters. For example, if you have joint stiffness, you might consider a tub with hydrotherapy massage upgrades. For added convenience, consider a walk-in tub with a built-in towel bar so your towel is always within easy reach.
Knowing what features you want helps narrow down brands that fit into your budget. How much a walk-in tub will cost for you to install depends on a variety of factors. It can be difficult for a company to provide a starting cost or price range without knowing some basic information about your existing tub and bathroom.
Depending on your financial situation, there are different ways you could pay for a walk-in tub. Those on a fixed income might be able to use Medicaid benefits to pay for the purchase and installation of a walk-in tub. If you're a veteran, you may be able to get a grant from Veteran Affairs to subsidize a walk-in tub. Others take out a loan to pay for a walk-in tub. 
2. Compare a few quotes
Walk-in bathtubs are an investment, so compare a few cost estimates to ensure you purchase the best tub to fit your needs and budget.
Most companies are eager to help you research the right fit. Don't waste your time with a company that isn't helpful or doesn't answer your questions. Walk-in tubs are no small investment — find a manufacturer that stands by its product if you ever need repairs or replacements.
We suggest starting with the top-rated companies listed above. You can also check major retailers like Home Depot, but be sure to ask about installation services.
3. Request an in-home consultation
Most walk-in tub companies offer a complimentary home visit to assess your existing bathroom space. A technician measures the available space to get the correct tub dimensions and helps you choose the features you need, like handrail placements and safety options.
You should also confirm that your home's hot water capacity is compatible with the model you like during this time. After all, you don't want to spend money on a tub that you can't fill with hot water. Additional questions you should ask during your walk-in tub consultation include:
What is the door like? Walk-in tubs come with inward- and outward-facing doors, and doors can be situated on the left or right side. Occasionally, you find walk-in tubs with a rising wall instead of a swinging door. Ask about the width to ensure you can safely step in and comfortably sit down in the tub.
How low is the threshold? Generally, the lower the threshold, the safer the tub will be to step into.
Can I reach the controls? You want to be able to comfortably adjust the settings if you select a model with a heated seat or massage jet features.
Are the surfaces slip-resistant? Be sure the nonslip surfaces provide enough stability for you. Most walk-in tubs are made with slip-resistance surfaces. However, the placement varies by model and brand.
What is the warranty? Walk-in bathtubs are typically protected by a warranty on the entire package or individual components. Nearly all companies include some type of warranty with their system, ranging between two years and the lifetime of the product. Be sure you ask what the warranty covers and how long it lasts.
Will you remove my old tub? Ask if the installation service includes the removal and disposal of your existing bathtub. Many installers do this as part of a package deal.
4. Customize your walk-in tub
If the in-home consultation goes well, you can start customizing your order.  With all the manufacturers, models and features available on the market, there's almost no end to the customization opportunities when it comes to buying a walk-in tub.
In addition to standard safety and comfort features, most of the top walk-in tub companies also offer automatic cleaning systems, wall surrounds and custom finishes and colors so that the tub fits in seamlessly with your existing bathroom decor. 
Self-cleaning system: Hardly anyone enjoys cleaning the bathroom, and self-cleaning walk-in tubs make this task a little easier. Just add some bleach and dishwashing soap to your walk-in tub and let the automatic cleaning system take care of the rest.
Wall surround: An acrylic wall surround can be added to your tub if you want to create a taller shower. These surrounds often have shelf space, and they protect the walls from water damage.
Custom color or finish: Entry-level models of walk-in tubs usually come in shades of off-white. Some companies let you choose a wall design or select from different finishing options. Depending on your current bathroom design, you might want a stainless steel faucet color or marbled wall finish, for example.
5. Schedule the walk-in tub installation 
If you already have a standard bathtub, a walk-in tub can be easily installed in that opening in as little as one day. For projects that need a remodel, you'll need to hire a contractor to install your walk-in tub.
Most walk-in tubs are designed to fit in the space required for a standard tub (about 60 inches long and 30 inches wide). This can vary by tub, depending on the design and your needs. For example, a bariatric tub will be wider than a standard tub — possibly around 35 inches.
Pre-installation, the tub should be tested to inspect the plumbing and seals for leaks. Since electrical wiring is usually installed around the pump locations, it's crucial that the tub doesn't leak. Otherwise, you risk electrical shock. 
Although many walk-in tub manufacturers have technicians that install the tub, some require you to hire a licensed electrician and local plumber to perform the installation. In this case, you want to be sure your plumber is familiar with the tub and piping.
What are the best walk-in tub companies near me?
Local walk-in tub companies often have showrooms that let you see a tub before you make a purchase. We compared our favorite walk-in tub countries across the country to help you find trusted retailers.
Thank you, you have successfully subscribed to our newsletter!
Walk-in tub reviews
Accredited Partner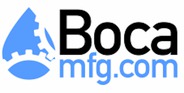 Boca walk-in tubs are best known for their safety features. The tubs have a 2.5-inch entry threshold. Boca's Diamond Elite walk-in tub is highly customizable in terms of color, design and comfort.
Read More
Accredited Partner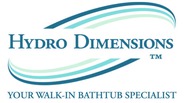 Hydro Dimensions has 16 different walk-in tub models that provide a solution for any space or mobility need. Each tub features an electronic control panel, and every product comes with a lifetime warranty.
Read More
Accredited Partner

From the Cube model to the Royal, Independent Home offers a wide variety of walk-in tub sizing. All Independent Home walk-in tubs include standard safety features, and many come with hydrotherapy and aromatherapy features.
Products: Independent Home sells nine different models in a vast range of sizes. Specific models come with a 2-inch drain system that empties the tub in 90 to 120 seconds. Independent Home offers specialty tubs, including bariatric models, wheelchair-accessible bathtubs, compact walk-in tubs, models with attached lifts and walk-in showers.
Safety features: All Independent Home walk-in tubs come with a 5-inch step-in, a built-in safety grab bar, and nonslip surfaces. The wheelchair-accessible tub also comes with an outward-swinging door.
Luxury features: Users can find comfort in the textured seats, air and water spa systems, dual massage jets and chromotherapy. Each of these options is available on specific models.
Installation: Independent Home uses trained technicians with plumbing and electrical skill to install all tubs. Installation typically takes just one day.
Warranties and financing: All Independent Home tubs are backed by a lifetime warranty, and financing is available to qualified buyers.
Read 1067 Reviews
Accredited Partner

A household name in whirlpool bathtubs, Jacuzzi designs some of the most luxurious walk-in tubs on the market. Consumers can choose between the Finestra models, designed for new construction, and the standard model, designed to fit in the space of your existing tub.
Products: Jacuzzi's line of Finestra tubs come in various models, including a soaker tub, a whirlpool model, an air jet model and a salon spa tub. You can purchase models in white, almond or oyster colors. Jacuzzi also sells fixtures, headrest pillows and handheld showerheads. Jacuzzi also sells a standard walk-in tub with ten jets and air massage functions.
Safety features: Every Jacuzzi tub comes with slip-resistant flooring and a grab bar for safe entrance and exit from the tub.
Luxury features: Jacuzzi uses top-of-the-line jets. Many Jacuzzi walk-in tub models include whirlpool and air jets, a foot massage system and an adjustable wave mode.
Installation: Jacuzzi Finestra tubs do not include installation in the price, but all other models do. Installation costs vary depending on the amount of work needed.
Warranties and financing: Every Jacuzzi walk-in tub comes with a limited lifetime warranty on the tub body and some parts as well as a two-year warranty on factory-installed labor.
Read 299 Reviews
Accredited Partner

Safe Step designs walk-in tubs with standard safety features as well as state-of-the-art cleaning systems and patented massage systems. With options for showers, tubs and a combination of both, Safe Step's products can fit in any space at any budget.
Products: Safe Step offers two models: a standard walk-in tub and a Safe Step Hybrid Tub, which includes a shower system. All Safe Step makes all products with lightweight aluminum frames for easy installation. Safe Step also sells walk-in showers and fixtures.
Safety features: Safe Step walk-in tubs come with low step entrances, two built-in grab bars, anti-slip flooring, anti-scald technology and a fast fill and draining system.
Luxury features: Safe Step offers hydrotherapy, chromotherapy and aromatherapy experiences with its patented luxury systems. These include the Dual Hydrotherapy Massage System and the MicroSoothe Air Therapy System. Customers can also purchase a bidet.
Installation: Safe Step includes installation with the purchase of a tub. Each installation is a custom job, so pricing is determined upon a consultation visit.
Warranties and financing: Safe Step offers a lifetime warranty on the entire walk-in tub, its components and installation labor. Safe Step also offers a two-year warranty on caulking. Qualified customers can receive financing from Safe Step.
Read 1870 Reviews
Accredited Partner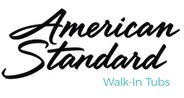 American Standard walk-in tubs are entirely customizable, letting customers choose massage features, fixtures and the drain type. Tubs can include up to 44 jets and a patented quick drain system.
Products: American Standard offers customizable models of soakers, whirlpool tubs, air baths and combination massage tubs. With each, you can install a Quick Drain system and customize your tub with different fixtures.
Safety features: All American Standard walk-in tubs come with 3-inch step entrances, a safety bar and nonslip textured floors. Users can keep the jet systems clean with the ozone self-cleaning sanitation system.
Luxury features: For a more luxurious experience, American Standard can customize its walk-in tubs to include air, whirlpool and combination massage options. A bath can include up to 44 massage jets. Aromatherapy and chromotherapy solutions are also available.
Installation: The installation cost for American Standard walk-in tubs is determined after an in-home consultation. Tubs are installed by factory-trained specialists who discard your old tub and test your new one. Installation typically takes one or two days.
Warranties and financing: American Standard walk-in tubs have a lifetime warranty on installation labor and the door seal. They also come with a 10- to 15-year warranty on the shell and a 5- to 10-year warranty on components, depending on which model you choose.
Read 1221 Reviews

Spirit Walk-in Tubs operates out of the Greater St. Louis area and sells and installs U.S.-made products. Its walk-in tubs can be customized to fit into any space and accommodate luxury features.
Read More
Accredited Partner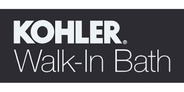 Let Kohler customize your entire bathroom, from a luxurious walk-in tub to the LuxStone Wall designs. Kohler offers a price promise that guarantees your quote if you buy within one year.
Products: You can completely customize your walk-in tub. Choose from six different options for your sidewall along with your bath color and fixture finishes.
Safety features: Kohler walk-in tubs have important safety features, including a low step-in threshold, grab bars, an extra-wide entry door, slip-resistant surfaces, easy-to-reach controls and a multifunctional showerhead.
Luxury features: Built-in comfort features give you a spa-like experience every time you take a bath. These include whirlpool jets, air jets, heated surfaces and fast draining. Kohler's air jet and heating technology are patented and one-of-a-kind.
Installation: An installation specialist can remove your current bathtub and replace it with a new walk-in tub in just one day. Full bathroom remodels — including LuxStone Walls — are also available but may take longer.
Warranties and financing: A limited lifetime warranty is available on the major systems of your Kohler walk-in tub, and Kohler covers manufacturing defects.
Read 410 Reviews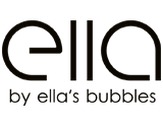 Ella's Bubbles designs and sells a wide variety of walk-in tubs. Each tub comes with dual drain technology for fast draining, and customers can change the look of their bathrooms with new fixtures and marble shower walls.
Read 181 Reviews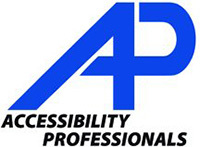 In addition to other accessibility products, Accessibility Professionals sells four models of walk-in tubs. Accessibility Professionals customizes each tub with heat and jet systems.
Products: The company sells the line of Freedom Bathtubs, which include a shower, a faucet and customizable jet options. Accessibility Professionals sells four models, each with a different door size.
Safety features: Every Accessibility Professionals walk-in tub includes a textured, nonslip floor, a safety grab bar and a 17-inch-high seat.
Luxury features: Any of the four models can be customized to include a heated shell, 16 heated air jets, 8 heated whirlpool jets or a combination of features. Seats are extra wide for plenty of space.
Installation: Accessibility Professionals provides an installation manual for Freedom Bathtubs but does not handle installation itself.
Warranties and financing: The company's walk-in tubs have a warranty on all components, including a lifetime warranty for the door seal and a one- to 10-year warranty on all other parts.

Ariel Bath sells a variety of bathroom fixtures, including showers, toilets, faucets, standard bathtubs and walk-in tubs. Free shipping is included with every product.
Products: Ariel Bath offers walk-in tubs from 59 to 70 inches long with left- or right-sided drains. Select from fast-drain soaker models starting around $2,000.
Safety features: Walk-in tubs come with options for ADA-compliant grab bars and anti-scald valve faucets.
Luxury features: Luxury feature options include Bluetooth speakers and adjustable-flow jets with remote controls.
Installation: A Hardware kit is included. Ariel Bath does not include installation services.
Warranties and financing: Bathtub products include a limited warranty. The company does not offer in-house financing programs.
Compare Top Walk-In Bathtub Companies

Bathing Solutions
Read 26 Reviews

Features include tile flange, built-in grab bar, in-line heater and a secondary door drain. Heated air jet hydrotherapy is also available for added comfort. Prices start around $3,500.

Learn More
Accessibility Professionals Inc.
Read Author Review

Manufacturers ADA-compliant Freedom Bathtubs with water and air jets for muscle and pain relief. Pricing starts between $1,500 and $4,200. Comes with 10-year limited warranty on structural components.

Ariel Bath
Read Author Review

Offers bath, shower, toilet and faucet products, including walk-in tubs models. Free shipping included with every product. Pricing starts around $1,999 to $4,620. Bathtubs and components come with warranty.
Disclaimer
Information in this guide is general in nature and is intended for informational purposes only; it is not legal, health, investment or tax advice. ConsumerAffairs.com makes no representation as to the accuracy of the information provided and assumes no liability for any damages or loss arising from its use.
You're signed up
We'll start sending you the news you need delivered straight to you. We value your privacy. Unsubscribe easily.