How much is car insurance?
The 6 factors that affect your car insurance rate

Written by

How much does car insurance cost?
The average cost of car insurance is a little over $1300 per year, making the average price per month hover around $100. While this gives you a good starting point, it's important to realize these are not hard-and-fast figures. A lot goes into determining your car insurance cost.
Car insurance prices vary from one provider to the next and from state to state. For instance, you can buy car insurance for as low as $865 in North Carolina because of the state's cheaper cost of living, fewer accidents and less crime. However, if you live in Michigan you may have to shell out some $2,610 because they're a no-fault insurance state and require unlimited medical benefits on your car insurance policy.
Factors that impact your car insurance rate
Car insurance cost is all about you, your ZIP code, your demographics, the type of vehicle to be insured, the coverage you need and the insurance provider you choose. Many providers also consider your driving history, profession and credit score when determining your final cost. To the provider, it's all about accessing risk. We've laid out the top six factors that affect how much you'll pay for car insurance and why they matter.
1. Your zip code
Your zip code or, more broadly, the state you live in will be a factor in your total cost of car insurance. When a company puts their car insurance rates together, they're looking for risk factors and those extend to your location. State-specific risk factors can include local crime rates, data on the number of uninsured drivers in your area and your state's insurance laws.
States with the highest average premiums include Michigan, Louisiana and Florida, which all rank more than $100 above the national average. On the other side of the scale, Maine, Wisconsin and Idaho all come in 30-40% below the national average for car insurance cost.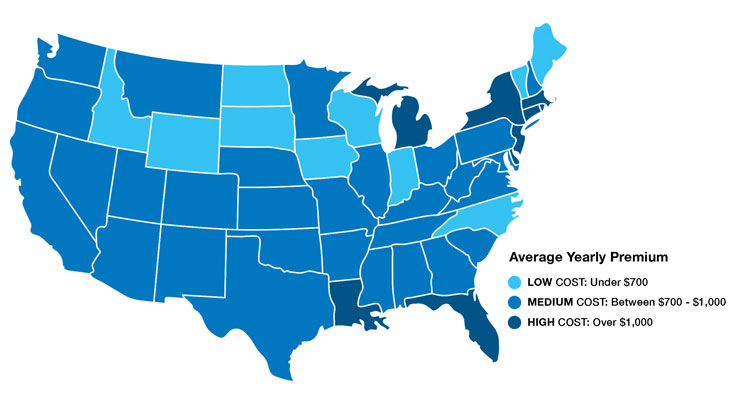 Average car insurance rates by state
The National Association of Insurance Commissioners (NAIC) compiled a list of insurance rates by state, the numbers below represent an average of premiums for liability, collision and comprehensive insurance.
| State | Average cost | Rank |
| --- | --- | --- |
| Alabama | $769.20 | Medium |
| Alaska | $859.15 | Medium |
| Arizona | $890.74 | Medium |
| Arkansas | $771.55 | Medium |
| California | $892.55 | Medium |
| Colorado | $935.39 | Medium |
| Connecticut | $1,086.17 | High |
| Delaware | $1,159.86 | High |
| District of Columbia | $1,246.80 | High |
| Florida | $1,259.55 | High |
| Georgia | $966.00 | Medium |
| Hawaii | $781.90 | Medium |
| Idaho | $599.77 | Low |
| Illinois | $836.67 | Medium |
| Indiana | $692.29 | Low |
| Iowa | $628.10 | Low |
| Kansas | $713.50 | Medium |
| Kentucky | $838.89 | Medium |
| Louisiana | $1,302.11 | High |
| Maine | $650.38 | Low |
| Maryland | $1,076.56 | Medium |
| Massachusetts | $1,096.53 | High |
| Michigan | $1,270.70 | High |
| Minnesota | $808.00 | Medium |
| Mississippi | $858.64 | Medium |
| Missouri | $791.03 | Medium |
| Montana | $706.88 | Medium |
| Nebraska | $708.36 | Medium |
| Nevada | $1,026.22 | Medium |
| New Hampshire | $801.52 | Medium |
| New Jersey | $1,309.29 | High |
| New Mexico | $780.79 | Medium |
| New York | $1,301.64 | High |
| North Carolina | $699.91 | Low |
| North Dakota | $639.10 | Low |
| Ohio | $726.95 | Medium |
| Oklahoma | $850.62 | Medium |
| Oregon | $877.09 | Medium |
| Pennsylvania | $918.11 | Medium |
| Rhode Island | $1,193.58 | High |
| South Carolina | $922.66 | Medium |
| South Dakota | $648.01 | Low |
| Tennessee | $759.99 | Medium |
| Texas | $1,008.91 | Medium |
| Utah | $824.46 | Medium |
| Vermont | $691.56 | Low |
| Virginia | $785.82 | Medium |
| Washington | $924.47 | Medium |
| West Virginia | $870.23 | Medium |
| Wisconsin | $688.32 | Low |
| Wyoming | $677.53 | Low |
2. Your demographics
Your age, gender, marital status and occupation can all impact how much your insurance costs. Generally, women between the ages of 25-65 will receive the best rates.
Age: Teen drivers and seniors over 65 pay more because they're considered a higher accident risk. You'll receive the best rates if you're between the ages of 25-65, but keep in mind insurance companies will take into consideration the ages of all the insured people in your household, including non-blood relatives like a roommate.
Gender: Female drivers tend to drive more safely than males. Men are statistically more likely to exhibit risky driving behavior than women, including speeding, driving under the influence, neglecting to wear a seatbelt and getting into accidents.
Relationship status: Statistically, married individuals are more responsible drivers than their single counterparts. Many states recognize domestic partnerships the same way as marriages when it comes to auto insurance rates.
Occupation: Professions that tend to include a lot of on-the-job driving, such as a delivery service, caterer or journalist, will be quoted at a higher rate than an office worker who has a short commute. Certain professions such as police officers, paramedics and nuns (yep, you read that right) may qualify for lower insurance premiums since these professionals are thought to be less risky drivers.
3. What vehicle you drive
Car insurers will want to know the type of vehicle you drive. The make and model of your car will play a factor in determining your premiums. For example, a foreign made car has a higher insurance rate than an American made sedan because their parts are harder to find and body shops have little experience with them.
On the flip side, insurance companies love safety features and anti-theft devices. They will likely offer insurance discounts on vehicles with airbags, head restraints, seatbelts, energy-absorbing steering systems and car alarms.
The age of your car is another important consideration. Newer cars are more expensive to insure than older or used cars because newer cars have a higher value and more expensive features. Thus, a 2018 Honda Civic needs more coverage than a 2013 Honda Civic. New cars may enjoy a new car discount depending on your car insurance carrier, but will likely still come at a higher cost to insure than an older model.
| Car type | Retail price | Avg. insurance cost per year |
| --- | --- | --- |
| Kia Forte | $18,715 | $828 |
| Toyota Camry | $24,865 | $850 |
| Audi A3 | $33,495 | $858 |
| BMW 5 Series | $54,395 | $1,079 |
| Mercedes-Benz S class | $92,245 | $1,301 |
4. Your driving habits
Tickets, citations, license suspensions and accident records can spike your car insurance rate. Insurance companies consider your daily driving routine, such as the distance and traffic from your home to your workplace.
Good driving habits that help reduce your car insurance premiums include following speed limits, avoiding tailgating or road rage, using blinkers, not beating the red light, and not talking/texting on the phone or eating while driving.
Speeding increases the probability of getting into an accident because it slows down your braking time. Most insurance companies are not willing to pay for intentional damage caused by road rage and tailgating. Beating the red light puts other drivers at risk. Any history of these driving habits tend to increase your insurance rate.
5. Your credit score
In most states, drivers with good credit can typically avail lower rates. The ability to repay loans, mortgages and credit card debts is a positive factor that insurers want to see. Numerous past due payments, multiple applications for credit and high use of available credit are red flags that can cause higher car insurance premiums.
Insurers will further go on to check your insurance score, a mechanism that predicts the likelihood of a car owner being involved in a future accident or insurance claim. If they find out that you have high incidences of tickets, accidents and past due insurance payments, they may increase your insurance rate or deny your application altogether.
6. The Type of Coverage You Choose
The more coverage you choose, the higher your insurance premiums will be. The main components of a policy are liability, uninsured/underinsured motorist and collision medical payments, but some states, such as Michigan, have insurance regulations that require no-fault coverage and medical benefits that make insurance cost more expensive.
While you may be able to opt for the minimum liability only insurance, if your car is under a loan, you'll likely be required by the lender to purchase full coverage for the vehicle.
Label
Company name
Logo
Contact
Summary
Get a Quote

Average cost: $137/month
Bundling: Available for auto and property

Label
Company name
Logo
Contact
Summary
Get a Quote

Average cost: $175/month
Bundling: Available for auto and property

Label
Company name
Logo
Contact
Summary
Get a Quote

Average cost: $154/month
Bundling: Not available
Bottom line
While you can't control your demographics, there are factors you can manage to your advantage. Buy a vehicle that's not too expensive, maintain a clean driving history, build good credit and choose the right coverages that fits your needs and budget.
Shop around to find the best car insurance company. Cheaper is not always better. Just make sure that you get your money's worth and the coverage that gives you the best benefits.
Did you find this article helpful?
|
You're signed up
We'll start sending you the news you need delivered straight to you. We value your privacy. Unsubscribe easily.