Consumer Complaints and Reviews

I was at a red light and was hit from behind. The teen driver stated she didn't see my car or the red light. She told me that she was looking at her phone. Dallas police came out, gave a ticket to the teen. She was driving with no license. The claims adjuster for GEICO auto (KALLON **) came out and look at my car on 07/06/17. I received a letter that said... "Dear Ms. ** (09/2012) Per Texas law, you have the right to choose where your vehicle is repaired and the parts used for repairs. However, an insurance company is not required to pay more than a reasonable amount for repairs and parts..." I started having pains in my lower back and neck. I went to my family doctor and paid out of pocket. This was on 06/20/17. He gave me a shot and muscle relaxer and told me to take OTC pain med and use heat and ice on my back and neck and if I still have pain then I might need to go see some who deals more with that and have x-rays and an MRI done.
The pain was getting worse so I went to North Dallas Pain & Wellness the following week and they took X-ray's and started working with me to help with the pain. I get a call today from the medical claims rep (Heather **) stating since it was not that much damage done to my car they will not pay for medical for me. She also stated that my age could be the problem for my back and neck pain. I ask her if she had an MD or Ph.D. if not she could not tell me what was wrong with me. Then she stated that any medical book would tell you after the age of 30 your body has problems, I advised her again until she becomes a doctor she could not tell me what is wrong with me. She said I could use my Insurance which is GEICO also or if I had a job I could use my health insurance. She said she would put all of that in writing and send it over to me.
I ended the call because at that time I was so mad I could have hurt her if she would have been near me. On 7.12.17 night I called back to customer service explain what went on, she email me (Heather **) supervisor name and number, I left a message for (Judy **). She called this morning say my age was the problem again and that her rep was correct. I need legal help my back/neck had no pain prior to this accident on 06.18.19... Why do I have to pay...

I had a automobile family policy with two cars for a year. I liked the GEICO rates, so I called to insure my aunt's car that came to live with us. GEICO launched a full investigation, mainly regarding whether I stole the car from my aunt, they interview me, my wife and my aunt. Finally, they asked me to return the car to my aunt??? Completely nonsense. They did not insure my aunt's car stating that I have to return the car. I was forced to drop my family coverage and found other insurance company - with no problems - all three cars insured. I have more to talk about CLAIMS. In short, they specialize in doing whatever it takes so you feel miserable. I was polite trying to make my case and they hang the phone on me.

There are quite a few glass shops with local area store front locations providing mobile windshield repair. Sgc network affiliates that use direct sales door to door marketing to get their name out. Also market online and social media. Never fixed a chip without the customer present for the entire process. Not involved in any fraudulent activities. But flagged for inspection with every Geico customer. I have talk to managers at geico and SGC they just repeat the word random over and over.
After reading up on it I see they are targeting door to door shops in an offensive accusation that anyone who passes out cards or flyers around the repairs they are doing for marketing and advertising. They must be doing something wrong. Thats not true. How long will it take before they see that and stop inconveniencing our mutual customers and back off. Our blood sweat and tears built our loyal customer base. We work very hard to gain new customers and we always keep their repeat business in mind. This inspection process is giving customers doubts and confusion. They see that the shop down the road does not have this problem. Geico lies saying it's random. Random is not every customer everyday. I need some help here. Can geico tell glass shops how to market their products? How many inspections do we need to clear our name with them. Or is there anything else that I can do?

GEICO uses unknown and undisclosed factors to charge exorbitant rates, then refuses to pay out on legitimate claims when an incident occurs. As of last year I was paying $3,800 a year for full coverage on a 2013 BMW 328i with $1,000 collision deductible and the minimum $15k/$30k liability. I have ONE point on my record and haven't had an accident in more than 25 years. Two months later—with NO new incidents or activity of any kind whatsoever—they raised my rate to $6,000 a year. Upon inquiry, their reason was that there was a "rate restructuring" and that I was considered a "risky insured." What the?!?
Fast forward to present time... My car was hit while parked and had a fair amount of damage to the front end. GEICO gave me a quote and I agreed to have the repairs done at their affiliated body shop. Upon completion of the repairs, which were $1,000+ more than the quote, I was informed they were denying the claim because their adjustor decided I must've been driving the car at the time the damage was incurred. My recourse was to spend a bunch of time and money going through an appeals process and/or to hire an attorney. GEICO is worthless and their conduct is egregious. There are plenty of other insurance companies out there and I strongly suggest that insureds seek them out and not fall for GEICO's cute commercials and introductory low rates.
Side note: I am not a habitual reviewer/complainer, this is the first time ever that I've publicly lodged a complaint against a company. My experience with them has just been unbelievably horrendous and I'm writing this in the hopes of saving someone else from making a terrible decision and giving GEICO thousands of dollars of their hard earned money only to find that GEICO's "coverage" is entirely arbitrary and there's little that can be done aside from spending more to fight a claim than the claim is worth. I would give them zero stars if I could.

Geico told the DMV I had an uninsured vehicle months ago. Nothing I could show them could convince DMV and the Driver License Office that I had Geico insurance until my vehicle title was changed over because Geico lied. It cost me $150. You will regret Geico! They deserve a negative 10!
How do I know I can trust these reviews about GEICO?
825,614 reviews on ConsumerAffairs are verified.
We require contact information to ensure our reviewers are real.
We use intelligent software that helps us maintain the integrity of reviews.
Our moderators read all reviews to verify quality and helpfulness.
For more information about reviews on ConsumerAffairs.com please visit our FAQ.

I recently had a vehicle that was covered by GEICO insurance co. I had full coverage, the vehicle was set on fire, steering column broken, the was running when vandalized. When the car was ready to start there was damage to the fuel system, they refused to look at the reason for this damage. They left me in a bad position, paying insurance and car note for a car that had unresolved issues. They didn't follow up on this matter, it is costing me. I returned the car to the financial institution, still paying for a car not repaired.

I went online using the GEICO app this morning to get a quote for my son who does not live with me. After filling out the information and seeing what it would cost I cancelled the quote. Shortly after I received an email stating he had been added to my policy and that my new policy was increased by $274 for the remaining time. I immediately called GEICO and was told that because he is my son and he is in the home he has to be added. The first thing I said was "He doesn't live with me. He lives with his mom in Tucson and visits occasionally." Second I was getting a quote and how could they use that information and just add someone. I was upset and asked to speak to a supervisor. I was told one would call me within 2 hours. This never happened.
After about 2.5 hours I called and spoke with another person and was told the same thing. I then told her he doesn't have a driver's license and she said it didn't matter. He has access to the vehicle and could get in an accident. And it was GEICO's responsibility to protect me. I then said, "So even if someone is not legally able to drive and they are 15 or older, they have to be on your insurance?" And she said yes. I told her that was wrong and I would contact the attorney general's office. I also told her that my car could be stolen and that would mean I would need to insure everyone in the world just in case they drove my car. I told her GEICO was committing FRAUD by using a quote system to gather information and then use it to up rates and also to increase rates and add people without the insurer's permission or authorization.

A while back, the year of 2016, specifically the month of April, I had a massive car accident where I was at fault. At the time, I was a 21 year old male with an extremely fast car who was doing something stupid, which I can admit now. The reason why this is important is that this particular event was one of the most traumatic events any relatively decent person (as I've never been in trouble with the law or had even been sent to the principals office back in high school) could possibly go through.
I'll try to make a long story short by eliminating the minor details, however, let's just say Geico said that I was never covered for the accident - which was obviously bad, as it was deemed my fault - and the damages on my car alone exceeded 20,000 dollars and that was *only* body damage, as they deemed it totaled before they ever even looked underneath the exterior components.
The confusion came in when, it turns out, that one of their sales representatives sent me through a random auditing process because I had never had been on a policy by myself, before. However, I *had* been on a Geico policy since I was 15 years old with my learners' permit, provisional operators' permit, as well as my operators' permit. The thing that changes was the person who owned the car - It was me, instead of my father.
But I digress some of the smaller details, we ended up actually having to hire a lawyer and have him contact Geico, essentially demanding coverage for this particular case. So, why 4 stars? Why not 1 star? Why not none? Because the entire situation was caused by a single employee, not the corporation. It was caused by a sales representative, who wrote up her own quote (even though I had gotten a quote a day before) and forgot to uncheck a box that sent me through some random auditing process which caused a massive delay in which my policy was actually active. Therefore, for the first 5 days of my policy, they thought I was not covered because she also neglected to take out payment at the time (even though I asked specifically what day it would be taken out on).
In the end, yes, it was extraordinarily time consuming, however things were made right by Geico. They not only covered the accident and didn't drop me as a customer (which we believed was a possibility after causing literally over 25k worth of damage total), but they paid my lawyer's fees, as well, because they admitted that one of their employees made a mistake.
Yes, this situation could have been handled differently, but really, in the end I can see exactly how something like this could and did happen. I docked them a star, however, because I've asked for roadside assistance twice and the first time the tow truck driver was well over an hour late, didn't bother to call, and then said he would and never did (which was a separate company entirely and they allowed me to lodge a formal complaint against them - I also just canceled the tow).
Then the second time I asked for a tow, I was in a particularly rough part of town and the operator did all she could to find someone in my area who would tow me, but none would accept Geico payment (however they would have reimbursed me whatever I spent), to which I said no, because I found an alternative. Other than those two things, it has been a simple, easy going relationship with Geico and, hopefully, after my car sustaining heavy hail damage 2 days ago, it will continue to be a nice relationship. I suppose this rating will reflect that in the future. :)

I was a customer with business insurance for my work truck and two cars for about 10 years. Never had a claim or any tickets. Then one day I scratched the bumper of a car and immediately they tried to deny the claim stating I was using my work truck for work and was not insured as a work vehicle, which it was and took three days for them to figure out it was properly insured. It was a small amount to pay to fix scratch so I paid it out of pocket and switched insurance companies. After all those years of paying insurance premiums with no accidents and no tickets the first thing they did was try to deny the claim. Screw that, I can only imagine what would have happen if it was a serious accident.

I already 3y w/ Geico, when I got accident. Somebody hit my car, and I think GEICO can make me easy to claim & not give me hard times, and I claim go through geico not from 3party. THAT'S I know I make big mistakes because from GEICO I gets hard time, they want me to buy car seat out of my pocket. After that take pictures the old car seat, cut the straps, after that they send money. I have 3 kids so 3 car seat. My kids' old car seat Britax advocate $450+ tax=$480 each. So how I can buy 3 car seat in the same time? I have to spend almost $1500, I already say to them I don't have money for that and they still can't help. They say I have to cut the olds car seat first.
I feel GEICO like abuse to us. Because if I cut the old car seat I can't bring the kids in my car to take them to my kids lesson, and I need wait until they send money to me? And I have go to Baby R Us where 1 hour 45 minutes from my place. And if I buy online I still have wait for shipping?? It's not make sense. And also I have to pay my deductible even not my fault.? Hopefully this company better just shut down. I'm sorry to say that. And I will say to people I know for never try this company again, so they not get what I get... Shame on you GEICO.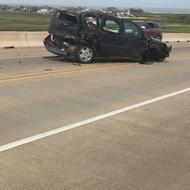 We have had full coverage for years! Home owner insurance and also pay for all the extras like identity theft! May 20,2017- We noticed payment not taken out of our account. (On autopay for years). May 20, 2017- I call. They said seems like autopay didn't work. We had theft on a debit card so I explained we must
have been using that account for auto pay. Cleared it up! No problem! June 17, 2017 - We get in an accident. Not at fault. Bad pile up! We logged on our account at the accident. Started taking pictures.. called Geico. On the phone for 30 minutes. Very helpful! Calmed my nerves if the guy who destroyed 4 cars at 60 mph didn't have insurance because we have the best there is with Geico!
I call back with the case #. Geico rep says she couldn't talk to me something was wrong with our account. I asked what and she said call back Monday!!! 2 toddlers, one hurt. I suffered a hit to the head... car smashed! I'm like "No I need help! I need a rental!! I'm 5 hrs from our house!!" "Sorry. Looks like his insurance has limited liability and we need to review your payments!" I logged online. Looked at my history. Nothing wrong?!? June was coming out within the day!!
Call back. A sweet girl said it was their mistake online basically. Cleared me up. Said no prob.. Fully covered.. Then offered me to set up account routing number to save money. I said sure. Just keep it coming out when my autopay was suppose to because my gosh!!! I don't want a mess being like 4 hrs late on a payment! Claims calls me the next week saying "We can't help you". It was like days of filing things, we saw nothing to show we missed payments online.. No emails. Nothing!!! On to legal help and praying Geico just provides us with what we pay for!! Heck, our payment did happen June 19th!!!
They have all our money just don't want to help us. Do NOT use Geico. I'm embarrassed I've referred so many people to this company of the years. Financially so unorganized and do NOT put their customers or the CHILDREN of the customers first. Shame on you Geico. Using all your money on Boys 2 Men Facebook videos instead of on your loyal, paying customers.

Tempe AZ Office- Worst customer service ever. Janet is the one who helps us (or doesn't in this case). We canceled our vehicle policy because it was so difficult to get in touch with anyone and we got the run around constantly. We now go through an independent agent who returns emails/calls promptly and makes changes for us with just an email from me requesting it. We kept our home policy with Geico's sister company because the cost was cheaper than changing then. So now we need to make a change to the policy. I've emailed Janet twice and called 4 times in the past 2 weeks to get this quote on a change that we need done ASAP. Want to know how many call backs or emails I've received? ZERO!
Who in their right mind would treat their customers this way and expect them to stay?! I'm now switching the home too just out of principle since what we have experienced with this company has been absolutely ridiculous and negligent. The agent is even there when I call and whoever answers the phone promises a call back right away. Never, ever will I use or recommend Geico insurance or this office and if I could give zero stars I would, just like the amount of calls and emails I got from Janet! A message to Geico, respect your customers' time! You have a job because of them!

I am tired of only seeing ** in their commercials being the bad person! Stop making one race look bad just for the reason of trying to get your point across due to the fact you may or may not lose customers because most ** people won't say anything. I am tired of feeling like I am the bad person because I don't march in the streets and yell about my rights! Not saying all ** people are good but you shouldn't make one race look bad!

Wow is customer service a thing of the past? If I had known signing up with Geico would have caused me so much of my time, effort, stress, and MONEY, I would have NEVER picked up the phone and spent "15 minutes to save 15% or more on car insurance". It is clear from my dozens of phone conversations with Geico, their staff lacks professionalism and basic documentation skills. I would like to reference Kylie in the Buffalo NY office and Rhonda ** in the underwriting as department, along with the many service agents and "supervisors" I spoke with.
This company is unable to keep their word and will charge an arm and a leg just to insure an international driver. It is sad to say, I would rather pay more for a policy with a company that has better customer service. After all, the money I spent trying to insure a second driver, is the money I would have saved on my yearly premium. It's no wonder there are over 140 one star reviews for this company on BBB.

I don't even know where to start. God help you if you have an accident with a GEICO insured and you are with GEICO as well. I first thought this would be super easy but it has become very clear they are only worried about their bottom line. Other driver found responsible but doesn't have enough coverage and GEICO expects you to pay out of pocket for fees and damages. After reading the reviews we too will be dropped once they realize the extent of personal injury in this case. Besides surgical recovery, I am having to argue with GEICO to see if they are coordinating the at fault's limits to my damages. As soon as this is resolved we plan to change companies. They are the worst of the worst.

On May 8th, a teen driver hit my car and drove off while I was standing next to my car. I took off on foot and obtained photos of the license plate. After pulling in the police and filing for a hit and run, which the girls was found because of the photos I took when I chased down her car, the police obtained a statement from the girl saying she hit my car and drove off. I then contacted Nationwide to have my car fixed. Nationwide contacted GEICO about getting my car fixed. When they called, GEICO's system was down and they filled out everything on paper.
Fast forward a couple of weeks and no response, I reached out to GEICO. This was the first they had ever heard of my accident. They did say their system was down and that maybe it hadn't been uploaded yet. Now, I am starting the process all over again. Set up a claim, gave my testimony, gave the witness name and number, gave the case number. Called back a few days later and they hadn't received word from the family yet. I was told I had to wait until the 21st to give the family enough time to reply.
Today, on the 21st, I called back out. Now it is going to take 2 weeks because GEICO hasn't filed to obtain the police report. It has already been 6 and a half weeks since the accident. I have photos of the teen's license plate, an eye witness. I have waited and waited to have my car fixed and yet again, GEICO has dropped the ball. Way to waste my time. You guys are literally the worst. My sister has been in two accident since May 8th and has had her car fixed twice in less than 6 and a half weeks. TWO, which neither were her fault, either! Then again, she didn't have to go through GEICO... #nationwide #waytodroptheball

I am appalled at their customer service staff. I was originally going to go with a competitor for my 2 cars and home insurance however the agent I talked to talked me into going with you because the coverage was a tad better. I spent about 20 min on the phone the first time when the 2nd guy confirmed he would call my mortgage lender as soon as we got off the phone to tell him I have insurance. He never did so I called a day or two later to explain I needed someone to call my mortgage guy to confirm I have insurance to move forward with the buying of my home. I was told from their records I never called to finalize and all they have is a quote! Like my first call didn't happen. So I patiently went through it again where I was told I was all set just needed to be transferred to one more person. Well the person I was transferred to thanked me for calling and asked what they could do for me!
I explained I was beginning to fear the staff there didn't know what they were doing as I was not about to start from step one again. She transferred me to another lady who assured me she would call my mortgage lender directly after the call... BIG SURPRISE she never did. So a few days later my mortgage guy kindly told me you guys dropped the ball again. So this time he called this morning just to be jerked around. Told I never called until he had to work his way up to a manager named Tatiyana who listened to the recorded audio and confirmed I had called and I was finished. The staff should be embarrassed and ashamed at how much they suck! I am off today and am going to make it my goal to post this hellish experience on every forum, social media location and search engine I can get my hands on!

Ok so I've been with GEICO for almost 5 years. I have PIP and liability with them... at least I did. So I was paying 105$ a month. I've been calling them every month to lower my payments to save me money. I get the same answers every time "You have the best rates available". I asked why so much. They answered that they count Florida as a whole state blah blah blah which is a scam. Now I called State Farm cause they kept sending me quotes in my mail. Guess how much I'm paying now for the SAME EXACT policy. 46$. No sign on bonus or whatever. State Farm told me they do NOT do that. I was shocked. I should have called months ago. Like dang man.

I have been a customer for 9 years. I received a cancelation notice because my credit card was hacked and payment didn't go through. I didn't get the notice until I got back from vacation. Nobody called me or emailed me to let me know the policy had cancelled. I called to renew it and GEICO required a full payment for the entire policy which is quite a lot of money to pay in one lump sum. The customer service person acted like they didn't care and wouldn't allow me to make payments for the policy... Terrible service. How can you do this to people. What if I couldn't afford it? I will be looking for a better insurance company that will care about me as a customer.

GEICO is a very bad insurance company. Their agents lie. Their agents tell you one thing and sell you something completely different. I bought full coverage. Everything. Even towing comprehensive and collision on my car. GEICO even had me take it for the physical inspection at Maher Chevrolet on US 19 N St. Pete FL. States in my emails and everything comprehensive and collision. Someone at GEICO changed my policy. My deductible... not what I was sold... and waiting on a tow from 627 pm to 945 pm. It's not acceptable for a 52 year old single grandmother in the dark by herself in a dark parking lot. I'm going to hire a lawyer... I'm also changing insurance asap. This company misrepresents, lies, and changes things without authorization from the policyholder. This is a very very very bad insurance company... Scary business. Run fast...

I had very basic car insurance with Geico for less than six months. Luckily, I never actually needed them - just had to shell out my hard-earned money each month to keep my policy going. Unlike all they advertise, they are not cheap and are not great - there are much better insurance companies out there that have affordable premium payment plans and coverage for what you pay for. I'm not longer with Geico, yet they keep sending me bills for insurance I no longer have. They even go so far as to threaten me that they will report me to the credit bureau. I DON'T HAVE INSURANCE WITH GEICO ANYMORE. I broke up with them, but the idiots still think I owe them. Do yourself a favor and take your money elsewhere.

I called GEICO to change my car on my insurance. They took my husband off my policy without my authorizing them to do so and replaced with my cosigner. When I called to ask why they did that they said I asked to, I did NOT! My rate went up almost $200, I was furious!!! They then cracked a PTSD joke about my cosigner not having a license at the age of 26 due to ptsd from being active military! The agents are rude as well as the supervisor who cracked the joke! I demanded a corporate number when they claim they didn't have. I told her she wasn't funny she was "laughing at the situation" the situation was A 26 YEAR OLD SOLDIER WITH PTSD and she found it funny! I however cancelled my policy and took my business elsewhere!
I'm also talking to a lawyer about this all as well! My lawyer said unless they had written permission to take my husband off my policy (which they didn't) they shouldn't of changed anything on it. Avoid this company at all costs! Terrible customer service and listening skills! I'll never go back to them. Thank you USAA for giving me a LOWER rate and great customer service versus this company. They claim care for their customers. GEICO is a joke.

I had been with GEICO for over 10 years, no accidents, 3 vehicles insured, no tickets but somehow they found a reason to raise my rates (over 350) twice. I called them and asked why, their response "It costs more to insure cars since they now come with all this new technology". What a BS excuse being that they've been insuring the same vehicles for over 2.5 years. I haven't added any new technology to the same vehicles so how does that apply to me? They had no answer. Pathetic excuse for greedy company.

I would not recommend buying insurance from this company. After purchasing 6 months of insurance, I went online to get a QUOTE for a bundle. This was a huge mistake. Without my consent they added the person I was getting a quote about to my policy with no notification other than a vague email saying to log into my account (which I think everyone gets these and ignores them). It wasn't until I try to cancel my policy, as I spent weeks talking to customer service reps trying to get my policy back to how it was originally, that they tell me I owe money for the 2 weeks they added this other person because they did not have coverage and lived with me. I feel if a company is going to start charging you more than what you originally agreed, they need to verbally get your consent.
I received so many letters and emails from them saying they were going to cancel my policy, yet to charge me more they send one vague email. Spoke to a supervisor who clearly had no interest in helping me or even in trying to keep me as a customer. This is by far the worst service I have ever received from a company.

I have been a Geico customer for well over 10 years. There was a period of about a year that I left this company due to finding cheaper auto insurance, but I returned to Geico in 2016. During the entire time that I was with Geico and the other company I Never had any at fault accidents. Through these years I have filed a total of about 2 glass claims. One claim involving someone else hitting my vehicle.
Well, on June 5, 2017 I had to file an accident claim. In this case I was in a parked, non-moving vehicle and I was attempting to get out of my car when another driver, who was obviously not paying attention, pulled into the parking space and hit my door. I called the police and then my insurance company. The Geico agent that I spoke with immediately placed me at fault in the accident. Seriously??? Nobody had even reviewed the claim. I was still in the process of filing the claim and she had already made the decision. She basically told me if I had looked then he would not have hit my car. Of course I challenged her decision.
I called Geico later that day to give them more details about the accident and they advised me to file a claim with the other driver's insurance company. I did file a claim with the other insurance company on the same day. His insurance company eventually determined that it was shared liability, meaning that my insurance company is responsible for my damages and his insurance company is responsible for his damages. I still don't agree with this decision.
Afterwards I spoke with the Geico insurance agent, I mentioned arbitration and that idea was basically swept under the rug. The other driver really got off good because 1. He stated in the very beginning that he wasn't claiming any damages (he only had minor scratches to his bumper whereas I had to get my entire door replaced) and 2. He was smart enough to back his car up twice, take pictures and send them to his insurance company. I made my insurance company aware of everything and they still did nothing.
You would think that Geico would have done more to help me in this situation, but they didn't. This was a great way to make even more money off of me because I am sure that there will be a premium increase at some point. Needless to say that I would rather pay a higher premium to another insurance company than continue to be a loyal customer to Geico. Yes, I will be moving my auto and homeowners insurance policies asap.

I had been a customer for about 9 years, using their auto insurance. Automatic payment was set up from the beginning and never missed/never late on a single payment. I never had to file a claim or had a ticket. They dropped my rates really low over the years to $77 a month. Last year, my wife and I went through 3 debit cards apiece, due to expiration and then my bank implementing the chip card. Well in all that madness and other issues, I missed a payment. My fault. I admit it. Here's the issue: I was never notified. Not by text, call, email-NOTHING! I get a letter in the mail telling me that my policy has been canceled.
So I call to get it all sorted out. Nope. My rates would now be $140 a month. The Justification was that I am a new customer and didn't get the loyalty rates. After a couple of weeks of calling and talking to numerous people, I have to bite the bullet and get the $140 policy. Fast-forward 7 months to present day. I called Allstate, explained my troubles and just like that, I'm now only paying $68 a month for full coverage on both my vehicles. There's more: Time to renew my Alabama tags. (I'm military and live in Virginia. 1 car registered in VA, the other in AL, an SUV) Well it seems that since I had a gap in coverage, I now have to pay a $200 dollar fine first - in person. They're willing to work with me, but I have to have Alabama insurance for the SUV. So now, after emails and numerous phone calls, I switch my SUV to an Alabama coverage - costing me $55, and losing my multi car discount on both.
Here's another kicker, all this has a trickling effect and is costing me a little more money in other areas. Not a ton, but some. If they would have just given me a notice I could have saved over $700 - that's not including the price increase from losing my multi-car discount. I got a plan to move forward and to eliminate future costs, but it's time consuming and really frustrating. Allstate, for the 2 weeks I've been with them, have went the extra mile for me, made calls, followed up, and have given advice. The auto rates are cheaper, and I even switch from Geico's 3rd party Home Insurance, Homesite, to Allstate's. I'm paying a little more in home insurance, but the coverage is a lot better! And overall, bundling with Allstate vice bundling with Geico, is saving a ton more monthly. Best of luck!

Guy hits my parked car, gives me his information, says he will cover it. My sister was with me when he admitted he hit my car. Both of us are insured by GEICO. GEICO after two weeks (because hitting a parked car is a really difficult claim to deal with) denied my claim. Lack of evidence. Never contacted my sister. The guy apparently had another accident right after and you can no longer see where he hit my car, and is now saying he does not remember if he hit my car, just that someone told him he had.
At this point, it would just be nice if someone vaguely unbiased could review the evidence, but "My" adjuster, who is supposed to representing me, can't get the other adjuster on the phone or to email her back. Gave me their supervisor's number to call, but won't do it herself. No one answers their phone, emails, etc. All I can think is it's the same company, they lose less money by denying my claim because now I have to pay the deductible. After this, I will be moving my insurance elsewhere. I went with GEICO because they were the least expensive option - I guess I'm getting what I paid for. Only get GEICO if you need insurance by law but never plan to use it.

I totaled my car in a flash flood in Dallas Texas on 2 June 2017... My car was towed to BMW a week later. It was determined that it was totaled. We had not signed any papers, we had not given any permission... But GEICO ordered a Tow to take MY CAR to an auction lot. Between BMW and the auction lot everything was stolen out of my car... A small amount of cash, two necklaces, my prescription sunshades, a couple of CDs... Totaling about $750! GEICO blamed BMW, BMW blamed GEICO and I was out the stuff and seemingly there is nothing I can do about this situation even though it was completely illegal for them to move my car. GEICO doesn't even have a complaint department. I'll be looking for a new auto insurance.

Recently moved to N.C. and needed to switch my insurance because I was no longer a part of the school system thus eliminating from Horace Mann's coverage. Previous 5 years I've had one at fault incident and two violations (not a DWI or anything more serious than speeding) on my record. After calling around and shopping for a few minutes I decide on Geico because of their quote, go thru their entire process over the phone with a rep and then make my initial payment and am put under the impression from their emails and rep this will be the agreed upon price for the rest of the 5 months of my contract.
Roughly two weeks before my next payment is due they email me and inform me my prices will be more than doubled because of violations I failed to inform them about. When I call to ask why these weren't found while I was on the phone with a representative they inform me that they have 30-60 days to look into and change the rate as they see fit. I understand that the initial quote is just that a QUOTE, but once you've received my information (Drivers Lic. #, Social #, Vin #, and everything else about me) why would you make me an offer, accept my payment, then change the amount after we've agreed upon a price.
No big deal. I'll find a company that doesn't screw people over like Nationwide who has gotten all my information and has me locked in 25$ lower than the initial price with Geico. But Geico doesn't stop there, they make sure to tack on another 200$ charge to cancel my policy because I'm not staying the full 6 months... Well I would have stayed had the price we agreed upon and I paid at first was still the true cost. Customer service was poor, customer experience was pathetic, commercials are dumb. Go to Nationwide, unlike Geico they truly are on your side.

Watch out, Geico will take advantage if your autopay payment ever get declined to an expired credit card on file. It will not matter if you have a backup credit card on file it will still not charge the card on file. I have been with Geico for 6 years, with 0 claims and 0 driving issues. One day my card was stolen and the autopay didn't go thru although, I have added another card on file in case this happened. However, they didn't try to bill that card and canceled my policy. When I tried to renew the policy they get me a new quote and added about $1200 a year, the policy was canceled for more than one day. I asked them why they said, "You are no longer a premier customer now. You are a new customer and the rates are accordingly."

Matthew BrodskyInsurance Contributing Editor
Matthew Brodsky is an established expert on insurance, having written hundreds of articles and other pieces of content on the subject, interviewed countless practitioners, and attended dozens of conferences and events. He served as an editor at industry magazine Risk & Insurance for six years. More about Matthew→

Founded in 1926, GEICO is one of America's oldest and largest full-service insurance companies. Today, the company operates their business out of the corporate headquarters in Washington, D.C, and they have insured more than 22 million vehicles to date.
Fast quotes: GEICO can give drivers seeking auto insurance a quote for their insurance policy in less than 15 minutes.
Quote storage: Once customers receive their quote, GEICO stores the information for 90 days, so customers don't have to start over if they take a while to decide how to act.
24-Hour customer service: The company has representatives available to help customers 24 hours per day, 7 days per week.
Discounts offered: GEICO offers customers discounts on auto insurance, including discounts for customer loyalty, driver's education, vehicle equipment additions and more.
Customer service satisfaction: The company is known for providing customers with excellent customer service, and they received the 2014 J.D. Power award for Highest Customer Satisfaction Among Auto Insurers.
Best for New drivers, people who just purchased a car and parents who drive children in their cars.
Company Name:

GEICO

Website:

https://www.geico.com/