Consumer Complaints & Reviews

I called to set up my GEICO policy for me but for my mom to pay for it. I gave GEICO permission to take payment from my mother. My mother gave her credit card information. They said everything went through. Later I come to find out they took it from my credit card when I did not give them permission to take from my credit card. My mother and I called back, very frustrated, talked hours and gave them days to look into the problem. They did not fix the problem. This caused my rent check to bounce, cost me $100 late fee and 2 NSF fees from my bank and the apartment. Very poor customer service and abuse of information.

My wife was in an accident in which the other driver was at fault. GEICO was the other driver's insurance company. I called and spoke with Michael in claims whom I later found out he was the supervisor in this department. He was so disrespectful and inconsiderate. He would not take the time to listen to my concerns. Every time I tried to talk and explain the situation he insisted on trying to over talk me and not allow me to explain the incident. Not sure how he was trained but I'm pretty sure he needs some remedial training. In the future Michael need to learn how to be patient and understand that the people on the other end of the phone just had an accident and that is the reason why he still have a job.

My first accident in 40 years of driving, I was hit from behind by a truck on the expressway. 100% not at fault. My car was destroyed. Geico offered me $3000 less than my car was worth. Said it was best they could offer. My lawyer called the truck company insurance and in two days I had reimbursement for my car, $3800 MORE than Geico offered. I didn't get reimbursed for lost wages for 2 months. They are not covering my medical charges in full. Can't speak to anyone on the phone because I have a lawyer. They are just horrible to deal with. Fortunately my lawyer is handling everything, and the truck company has been great... switching insurance ASAP... Do not, I repeat, do not purchase Geico car insurance.

The adjuster introduced himself to my boyfriend, who had driven up with me to give me a ride home, as I had assumed I would be leaving my car for repairs after a vandalism. The adjuster argued that the damage done to my upper door edge was from me; that I had locked my keys in my car and tried to open it. I told him it wasn't possible but he said I should just admit it. The car has an electronic lock, no "key" so it can only be opened with the locker in your hand. "Mr. Brainy" obviously couldn't grasp that it wouldn't be possible for me to lock my car with the locker in my hand and within the car simultaneously.
Then he said I had prior repairs to both front and back panels since they're a shade or so off color. I explained that I had not, that he could check his computer because I bought the car and the policy at the same time so any claims would show up. I also said it was my belief that those panels are slightly different due to paint aging on plastic differently than on metal and pointed out that both back side mirrors (plastic) were the same color as the front and back panels. Then he said I bought the car used. I told him it was new. During this time, he rarely addressed me, choosing to speak to my boyfriend. It was maddening when he told me the headlight damage was not due to vandalism but rather delaminating.
I told him it didn't seem possible to me that something like that could happen within two days, that I had washed the car two days prior and they were clear and unscratched. He said car washes do that to them and I explained I hand wash and know every nick in the paint. He showed me three vehicles whose headlight were delaminating to prove to me and I pointed out that the patterns he showed me were either crosshatched or cracked mud looking and that the surfaces of those were still smooth. Mine was obvious "swipes" the same direction, lengthwise of the headlight lens, and deeply gouged within the surface of the plastic. He then said all Mazda headlights do this and it happens to all horizontal surfaced lens.
So I showed him the rear lights which have a horizontal portion, crystal clear. I explained to this man that I had the punk on camera but that, at night, there was not enough definition to allow for identification. I offered a copy of the police report. He said it wasn't necessary. He also didn't provide an estimate and told me to leave my car there, they would repair it, and I would find out how much was covered when I came to pick it up! I called the Geico 800 number while he was speaking with my boyfriend and the rep told me I needed to prove it was vandalism. I asked what he suggested I do - should I have gone, by myself, outside in the dark, confront the man, maybe get stabbed, killed - or raped so I'd have a semen sample they could test against. It was demeaning, insulting and ludicrous!
I have no accidents on my driving record - EVER. I have had no tickets for anything since 1992. Forty years of clean driving history. Forty years of paying for insurance. You would think I would be the type of driver they would want to retain. After my second call to Geico's 800 number, I spoke with a supervisor who said she would look into it because my treatment didn't seem right. Now I am to call yet another supervisor. I finally received a quote last night. Headlight damage is not included. The repair to the upper door edge and dented fender, they say, is $500. By the way, did I mention that it's a pearl paint? "Mr. Brainy" lists the interior as cloth. It's leather. He states standard door speaker. It's Bose. According to the adjuster, he has been doing this for many years. Maybe he should sell shoes.

I was crossing an intersection and a guy decides to make a left turn in front of me, he got a citation for failure to yield right of way. He happened to have Geico insurance also. When I called to make my claim Geico told me that I was 30% at fault, that I should be aware of my surroundings and drive more cautiously because I hit the vehicle's rear door. I should have been able to avoid him completely and will only pay 70% of my claim. THIS COMPANY IS A RIP OFF. I guess to them I should have been walking. That way I wouldn't have gotten in an accident.
I am investigating some cases. I believe there are class action suits against them for this same thing. I am dropping them like a hot potato, and word of mouth goes a long way. I am starting here and if anyone knows where else I can write bad reviews on them please let me know **. I have never been so insulted in my life. They should lose their insurance license for ripping consumers off.
How do I know I can trust these reviews about GEICO?
554,940 reviews on ConsumerAffairs are verified.
We require contact information to ensure our reviewers are real.
We use intelligent software that helps us maintain the integrity of reviews.
Our moderators read all reviews to verify quality and helpfulness.
For more information about reviews on ConsumerAffairs.com please visit our FAQ.

Biggest nightmare!!! GEICO has put me and my family through the ringer for an accident that wasn't my fault!! My wife was at a red light and got hit from behind. The other guy's insurance wanted to total it but the guy didn't have enough coverage. I had GEICO and thought they would take care of me. Instead they have put my family and I through the worst experience ever. They are doing a whole new frame, new bed, new front end, moving the cab to a new frame and fixing the damage to the cab. Over $22,000 in work! They over inflated the value of my vehicle so they didn't have to total it. I told them I didn't feel safe having a body shop "build me a truck" because basically that's what they are doing and I was told the safety of my family isn't his job or responsibility. He just determines if it's totaled or not. The body shop said it would take 3 months to fix after they got parts.
GEICO took my rental away before the first part arrived leaving me with a $1,300 a month rental bill. If you're looking for insurance look elsewhere. As soon as my truck is done I am dropping GEICO and telling everyone the biggest nightmare they gave me! They could have totaled it a month ago and my wife could have been in a new truck and this would all be behind us. But no. They wanted to screw the customer and drag it out to try and save a $1! I have been told that I would get a call by end of business 4 days in a row now still no contact. Just got to show the customer service level.

35 year insurance holder with GEICO, one accident claim history and My Very Basic Non-Collision Coverage Auto Policy Premium is still over $500 a year. Customer service is the worst I have ever seen or heard in all businesses. Better everything GEICO to include much lower auto insurance premiums and a lot fewer commercials. Boo hoo for You GEICO, boo hoo for You!

Recently, the local GEICO adjuster totaled my car. The adjuster and his manager were low ballers. They valued my car very less price than the normal market price. I also sent all recent bills of repair with new part replacement but they didn't even consider 4% of total recent repair cost. The repair cost was of all 4 new tire replacement, tuning with all new spark plugs, new radiator assembly etc. Some repair was of just 3 weeks before they totaled car.
The GEICO adjuster don't listen just keep saying our evaluation is good every time. Their evaluation system for total loss was total trash. While adjusting the value of vehicle they also compared with different model. The report shows a listed vehicle with 50 thousand more mileage than my car is almost equivalent to mine, on the other hand the adjusted value comparing with a vehicle with slightly less mileage than mine is almost half.

GEICO insurance has been stalling my claim from auto crash. It takes poor judgment and a lack of caring about others to attempt to cross 3 lanes in extremely heavy traffic. To add insult to injury GEICO insurance is taking a minimum coverage claim and treating it as if the suit was a big deal. I want these people out of my life and would suggest the same for others. Don't be a sucker by choosing GEICO.

My wife was in an accident in our brand new 2015 Jeep Grand Cherokee with less than 3000 miles on it and she wasn't at fault as the vehicle took a side impact. Geico told us to let them take the vehicle to their partner shop Viverette's on Cassat Ave. and we would get the vehicle back in new condition. After 35 days now and 3 attempts by Viverette's the vehicle is still not even close to being back in new condition. Viverette's can't even get the vehicle's paint and body work right much less the mechanical and suspension issues. Aside from the problems with the shop Geico whom is supposed to be our representative through these troubling times and is supposed to be doing quality control on the vehicle to make sure we get our vehicle returned in good working order hasn't even looked at the vehicle to make sure it is right or even safe for that matter.
We have spoken to over half a dozen supervisors with Geico and let them know that the vehicle is unsafe and still needs to be repaired and each one is more dismissive and rude than the other. Geico has dropped the ball on this claim and hasn't even attempted to pick it back up yet and make this right. Not only that but Geico has it in their system as our claim was completed on June 27th and here it is July 14th and the vehicle is still unsafe to drive as the rear end feels like it is going to fall out of the vehicle when you hit any type of bump.
Geico has also authorized their partner shop to use the cheapest means necessary to repair our vehicle. One instance is the vehicle's wheels. The wheels is what took the brunt of the impact in the accident and Geico authorized the shop to recondition the wheels as opposed to purchasing new wheels. After 2 attempts to recondition the wheels they are still not right and you can see visible pitting from them shaving them down so far. This is unacceptable from an insurance company.

Having been a loyal customer of GEICO for six years, I recently moved and went to renew my insurance policy, giving them the new information in the process. As a carpenter, I occasionally go to individual home sites rather than the large neighborhood where we spend the vast majority of our time. Upon hearing this, the representative proceeded to take my information (and subsequently, my money) only to inform me that this would be the last period of coverage under the policy I had had for years.
Why? Because (and I quote here) "You take different routes." I was told I would have to carry COMMERCIAL insurance on my private vehicle because once in a great while I go in a different direction. What if I stop for groceries on the way home? I live in a rural area, that adds about ten miles to my trip and I take different roads. Do I need commercial insurance for that? What if I go into town for a movie one night? Do I need commercial insurance? I mean, I'm taking a different set of roads. Holy mackerel, better call GEICO and let them know, right?
Loyalty means nothing to these clowns. Only your money. If I am going to have my rates doubled as soon as they find out I'm a blue-collar worker, what next? Charge me more because I'm not married? Because I own an older vehicle? Because I once carried some scrap plywood home for a side project? Whatever you do and whoever you know, DO NOT TRUST GEICO FOR ONE INSTANT!!! They have precisely ZERO INTEREST in their customer's well-being or finances, ONLY THEIR MONEY!!! Flee! Flee from GEICO as you would the plague!!!

I exited the parking lot after making sure everything was clear and was waiting for traffic to clear at the intersection, when a car drove really fast, past me (going the same way) and as a result hit my car, which was not badly hurt. However, because of her speed, her car was damaged. I called Geico and spoke to the agent, who was rude from the start. After our conversation, he left me message saying that I had to take care of my car because of He said, she said and they unable to verify the right information.
A month, I received a letter from Geico stating that I was on the wrong because I did not yield to the other driver. Do they know the meaning of YIELD. How can one yield, when one has stopped and waiting for traffic to clear. He kept bullying me into saying that I was in the wrong lane, which is not true. If I was in the wrong lane, so was the other driver. I explained that the other driver, who was also going in the same direction as I was, should have waited till I crossed as I was there before her. Also, the driver who hit my car had a DRIVERS PERMIT and her car was scratched badly because of the speed she was driving at and my car was slightly scratched. I have sent them the pictures of both cars today.
Frustrated at the way I was treated by Geico's agent, I left a message for his manager, who did not even bother to return my call. After 2 weeks, I called back and was dealing with someone worst than Daniel (agent from Geico). When I explained what happened, she told me that it was a DEFAMATION OF CHARACTER when I told her that the other driver was speeding. Seriously, speaking the truth is defamation of character.

We were with Geico for a few years. Then I had 2 accidents. Neither my fault. They didn't have to pay out anything. A few months later they said they were dropping me but they wanted to keep my husband's truck covered. They gave me a lame excuse that they couldn't cover my small business (courier), said they couldn't cover me because I had clients in my car for running errands (which I didn't). We are now cover by Progressive and paying less. We have full coverage on two vehicles and a boat for less than we paid for the two vehicles. And to top that off, they sent a letter a couple of weeks ago wanting us to get insurance with them again. When you pay $1,800 a year and get dropped for a no good reason that is very bad business.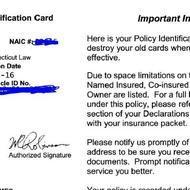 I have started my Car insurance on 12th of April 2016, the monthly premium was $132 but they charged from my CC $198. And again after one month they have increased my monthly premium to $201. And again after one month they have increased up to $267. I have cancel the premium after 4 months and got different company Auto insurance. Furthermore they have charged for cancellation fees $35. I never recommend for anyone this shame company.

GEICO's policies do not explain the details of their intent. They spend thousands against their own clients. My vehicle was hit and run while parked and the policy states they cover hit and runs if a case is filed with police. Geico claims this only applies if they have an ID on the person who hit and ran. In other words when the police investigate and capture the criminal. The police will not pursue hit and runs unless bodily harm is involved. This is a void escape clause that is not presented in the policy document which means get a lawyer so their lawyer and your lawyer can go have lunch on your premiums. It's time to say goodbye to these liars. What makes it worse is it's a mandatory law to have insurance that is laughing their way to the bank. If you have Geico don't wait to hear excuses... Tell they are fired!

I have been with Geico for over 3 years. I never had any problems until I received a letter stating that due to my Red light ticket in 6/2014 and Speeding ticket in 12/2015, I have been excluded from my own policy. That is ridiculous! I haven't cost them any money. I would assume they would ask for more, but they didn't. I will never use them again!

Don't ever use Geico. They cancelled my insurance claiming my license was suspended which never was. It was a clerical error on their part. After PROVING my license was indeed not suspended, they re-quoted me $150 per month more than what I was paying... and all they said was there is nothing they can do!!! I was a loyal customer for over 4 years!!! Horrible!!! YOU'VE BEEN WARNED.

I've been with Geico for over 3 years and my wife was recently in her first accident where she rear ended someone at less than 5 miles per hour. All it did to her car was break the license plate frame, that's it. Easy fix for me luckily! She then had two traffic violations for failure to come to a complete stop at a stop sign. I have no accidents or traffic violations. Geico has dumped her from our policy for this. I'm at a loss for words as it's so minor and everyday stuff that I don't see how they can justify it at all. I expected a rate hike possibly but if we wanted to keep her on, our payment would go from $630 for a half year to $2333!!! Bottom line if you have Geico, you better hope you're a super human and never need to use your insurance even for the most minor incidents and don't ever get a ticket! I'm ashamed to have paid these thieves for as long as I did.

I got flood damage on my car. It took Geico 3 weeks to send adjuster to check the car. I submitted my claim on 05/19/2016. Until today 07/03/2016 they have not paid me what we agreed. Their people are good in one thing - to say we are sorry you are right but they won't help you to solve the problem. 2 weeks without a car is big thing for people want to work. For Geico - so what you have to wait. The worst insurance company when they have to pay you for your loss.

First, I was a faithful customer for over 9 years! When my wife and I added our daughter to our policy, she ended up being involved in 3 accidents within 4 years! After all that, I ended up in a DUI, but absolutely nothing else! When I relocated from California to NC, I notified Geico a month prior! At no point did the representative express any concern for the driving record of my daughter as applied to my own record! Thus, I was issued a SR22, and began full coverage for my wife and me and my DUI! At first the monthly premium was reasonable ($2??.00), per month! After we moved to NC, we received a bill stating that we owed $6??.00 per month from now on as monthly premiums! Utterly ridiculous! When I contacted Geico, I was told that the new rate was because the 3 accidents of my daughter were my accidents, because I was the one calling in to report all three! Regardless of the fact that I wasn't involved nor the cause!

I had a bump in a Home Depot parking lot. The other guy was a serial offender, at least 47 abrasions on his bumper. The mark I made was so small I could have buffed it out with my spit. GEICO rated me $1800 and now my insurance went up 150%, with ALL companies, an accident??? Hahaha, they are criminals, they will put their customers LAST.

Have 2 cars insured and 3 houses with this company!!! When I found that one of the cars had flat tire, I called the car's roadside assistance and learned that it has expired due to the car age. So, I went and add/bought the roadside from Geico to both of my cars. When I called the company, they refused the service due to the fact that I bought the service after the fact. Remembering that the last and the only accident where the other side definitely was at fault did not get resolved and I had to pay for the repair myself - I am changing the insurance company and my recommendations are - do not waste your money on Geico!

Very poor company to do business. This is the worst insurance company in USA. Very poor customer service. This company would not pay you your claim and demand many, many information that are very old and not relevant to the insurance. I don't recommend anyone to use the service. You will regret to use the service for which you paid for. This company has not two of my hit and run accident. You have to be very careful with buying insurance policy with this company. If you are involved in any type of accident this company will keep asking you multiple recorded statement to contradict your previous recorded statement to deny payment. I am taking this company to court in a very near future. As for my rating to this I will rate negative -10.

My daughter was sitting at a stop sign when a driver slammed into the front of her car. Based on witness accounts, the driver of the other vehicle was cited for failure to control speed even though he stated a car had turned in front of him. I viewed the dash cam video from my daughters car, and there was a car the barely pulled into his lane, but he was not paying attention and hit his brakes too late and lost control of his vehicle. Cut and dry, my daughter clearly not at fault. The police officer pulled us in and stated the blame was fully on the other driver due to his failure to control his vehicle. He would not allow us to get the contact information for the driver that pulled into the lane, again, stating that it was solely the responsibility of the driver to control their vehicle.
This is where the story gets strange. The other driver and my daughter are both insured by Geico. I immediately open a claim, but the agent on the phone opened it against my insurance, not the other driver's insurance. It continued to get even stranger as I stated I did not want it opened on my account that it was the other driver's fault.
They then asked me if I wanted my car fixed or not. Uh... Of course I do. So they stated it would be opened on my account, I would pay the $1001 deductible and they would try to get my deductible back. Huh? I uploaded the requested pictures of my car, and the dash cam video showing it was clearly not my daughter's fault, showing the car turning barely into the other drivers lane, then the car slamming into my daughter's car so hard that it lifted the front off the ground and turned 90 degrees (speed limit was 35 in a construction zone). So my claim rep explained that nothing would be shared with the other claim that was finally opened on the other driver's coverage.
I received a call a few days later stating that Geico had determined the other driver was only 45% at fault, and in Texas they do not have to pay if they seem they are not more than 50% responsible. I asked why, and they said the dash cam video showed their driver was avoiding another driver. First of all, the other driver was not far in the lane, second, how did you get the video? She would not state how she had access other than stating it was in your claim. I reiterated the police report, stated the other driver was at fault and he was cited for failure to control speed. Return response from the agent was "prove it." I produced the police report 10 days later. She again stated the police officer was wrong and he could not determine speed, and they still determined they were only 45% at fault.
Well, after over 11 weeks in the shop, my repair shop stated this was the worst damage they had seen on a car that was not totaled. They also complained about Geico's lack of responsiveness to claims. Only about 2 weeks worth of work, but the time was spent waiting on Geico to respond. I will now take it up with the Texas Department of Insurance. Low rates for a reason.

At 10:24 this morning I called Geico's 800 number for roadside assistance. At 10:48 Geico sent me a text that the tow trucks ETA was 12:48. At 1:07pm I called the 800 number again. At 1:18 I received a new text with a new ETA of 2:03, then it was 2:14, then it was 2:45. The tow truck came and took my car home but I'm very dissatisfied that I waited over 4 hrs in 101 degree heat.

BEWARE!!! Is the worst car insurance company!!! It has been a nightmare since we got into our car accident. In November 2015 we were out of state and got rear ended twice! Geico never contacted us and when we did to file the claim they never called back! When we had contacted the insurance they treated us like we were the "the bad guy." I guess by chance we had just gotten the insurance and shortly got in an accident. Before taking action they said they had to verify the accident with the others parties involved!
What the hell! We are the ones who pay the premiums and you are going to take someone else's word over ours... Made no sense!! I said "well one lady got arrested because she got aggressive and the other person can't speak English... So perhaps speak to the policeman who took the report!" I never had heard of that. That is stupidity and made me feel like my account was worthless!
Referred us to the worst auto body shop that when they "fixed our bumper" they failed to connect our break lights and they almost caused us to get rear ended AGAIN!! We never received our deposit back from the shop and the job was done so crappy that the sides of our bumper is now sticking out! So because of their HORRIBLE SERVICE we got a lawyer. So eventually we met with a Geico representative and OMG it felt like I was being interrogated for committing a crime!
We were asked very personal questions. He started probing about our living situation and who owned the property we were in. He demanded we provide a name and number of the person who owned the home we were in! It had nothing to do we OUR ACCIDENT! I ALMOST CRIED BECAUSE I FELT LIKE ANYTHING I SAID WAS BEING TURNED AROUND AGAINST ME! They are our insurance company, we pay their paycheck yet they treated us like the criminals! I will be switching companies asap!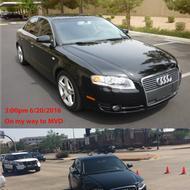 I cannot believe that because I owned an older car, which only had liability, and I bought a newer car that my insurance wouldn't even give me full coverage for the drive home. I was hit by another driver literally within 15 minutes of purchasing the vehicle (which I can prove from my registration print off, and the incident report from the police). The other driver was not cited. It was a "he said she said accident".
I come home only to find out that GEICO will only extend liability to my new car, which doesn't help me. I have been accident-free for over 16 years and haven't received a ticket in over 12 years too. I have been a loyal customer to GEICO for years, and when I need and expect my insurance to at least cover me for the drive home and give me time to call them to add the car and adjust my policy you, GEICO leave me out in the cold. This is a true tale of have little insurance companies care about their customers, and how hard they work to avoid actually covering anyone. I will literally spend the rest of my life telling people to avoid GEICO.

I was hit by another car who failed to merge when his lane ended due to construction, he felt he could just swing over. A fine Geico customer. Police reports and interviews ensue, with the outcome of the Geico rep saying, "Well, even with the evidence presented we feel both accounts could be true. So therefore, we're just going to side with our customer." What??? How do you sleep at night knowing what really happened yet did the wrong thing? I am embarrassed for Geico. What an incredible lack of integrity. Looking forward to my insurance company battling your horrible decision. DO NOT use Geico!!

I called GEICO a week before my payment was due to set up a new billing date. Everything went fine and I was told that I would have to start a new billing cycle that was now higher. Whatever, I left it alone. I received an email that morning stating my new date and the amount of which would be taken that day. A week and a half later I checked my debit card as I often do and found that the only $50.00 I had to my name was gone. After reviewing my account I came to find out that GEICO had taken the payment 2 days earlier than they were supposed to. They took it the 21st not the 25th as per the changes I had made and as my email confirmation had stated. When I called them I was told that it didn't matter what I was told or what my email read, that the payment was already processed before the phone call to change my billing date.
I argued and cussed and was continually told that there was nothing they could do and even if I was right it would take two weeks to put the money back. They also told me for them to put the money back I would have to produce that same payment from another debit card at this time!! How does that even make sense?! GEICO is a fraudulent company and steals from their "customers". They processed a debit payment from my account with no permission to do so just because they could. I then went online and tried to change my information so they wouldn't have my account info and end my automatic payment arrangements. I was then prompted to pick a new billing cycle and since I was no longer enrolled in the auto pay system my payments would now be $200-$300 more!! Wtf???
When I started with GEICO I was warned by others that they are crap and that their coverage is also crap but I chose them anyway because the price was unbeatable. Now I know why. They are thieves. Literally thieves. I will be finding a new company. This just happened about an hour ago and I am literally counting the minutes to get off of work to switch companies. If there is ever a lawyer who takes the massive lawsuit against this company I want in on it. Not for the money but because they need to be stopped immediately. How is what they do legal??

My claim involved the front windshield which started with a chip and ended with a crack a day later. The windshield was scheduled to replace and I was told by the representative to take it to a dealer and I would be responsible on paying for the repairs out of my pocket minus the deductible that's it (recorded conversation). Once the vehicle was repaired and I submitted all the necessary reimbursement paperwork I was told that my claim wouldn't be reimbursed in full due to the fact their labor reimbursement and aftermarket limit was way less than what I paid. I drive a BMW in which you can't just install a simple aftermarket windshield. It's required to have a hud and rain sensors.
I was told that the representative documented on my claim that I was informed that I would be getting reimbursed for an aftermarket windshield and 40 hr labor which was simply not true. A responsible shopper on a fixed income isn't going to waste $1500 on a windshield if there are less expensive options available. If I'm able to have the representative arrested for falsifying documents and willfully misleading me into having me repair my vehicle at the dealership when there were different options available I would be satisfied in pursuing this employee to get reimbursed for my difference in cost that wasn't covered.

Matthew BrodskyInsurance Contributing Editor
Matthew Brodsky is an established expert on insurance, having written hundreds of articles and other pieces of content on the subject, interviewed countless practitioners, and attended dozens of conferences and events. He served as an editor at industry magazine Risk & Insurance for six years. More about Matthew→

Founded in 1926, GEICO is one of America's oldest and largest full-service insurance companies. Today, the company operates their business out of the corporate headquarters in Washington, D.C, and they have insured more than 22 million vehicles to date.
Fast quotes: GEICO can give drivers seeking auto insurance a quote for their insurance policy in less than 15 minutes.
Quote storage: Once customers receive their quote, GEICO stores the information for 90 days, so customers don't have to start over if they take a while to decide how to act.
24-Hour customer service: The company has representatives available to help customers 24 hours per day, 7 days per week.
Discounts offered: GEICO offers customers discounts on auto insurance, including discounts for customer loyalty, driver's education, vehicle equipment additions and more.
Customer service satisfaction: The company is known for providing customers with excellent customer service, and they received the 2014 J.D. Power award for Highest Customer Satisfaction Among Auto Insurers.
Best for New drivers, people who just purchased a car and parents who drive children in their cars.
Basic Information
Company Name:

GEICO

Website:

https://www.geico.com/