Best Walk-In Shower Companies
Walk-in showers offer an alternative to the classic shower-bathtub combination. They can add floor and/or storage space to a small bathroom, or they can offer an oversized, luxury shower experience.
These types of showers come in a wide variety of styles, shapes and sizes to fit every budget. Walk-ins are manufactured and sold by home appliance stores, bathroom fixture suppliers and large retail outlets. They are also a good aging-in-place option for seniors whose mobility and eyesight may have deteriorated.
Compare Reviews for Top Walk-In Shower Companies

Independent Home
Read 533 Reviews

Choose from 8 models with lifetime warranty, known for their aromatherapy and hydrotherapy. Options are wheelchair accessible and can be installed in one day. These custom tubs give you a spa-like feel.

Safe Step Walk-in Tubs
Read 1207 Reviews

Offers walk-in tubs, traditional bathtubs, walk-in showers or combination tubs/showers starting at $9,000. Each includes lifetime warranty, aluminum frames and safety options like grab bars, low step and anti-slip materials.

American Standard Walk-in Baths
Read 419 Reviews

Choose from 5 options, including aerotherapy, soaking, combo massage and whirlpool, for around $3,200-$7,000. Get up to 15-year warranty on tub shells and 10-year warranty on components.

Bathing Safety Walk-in Bathtubs
Read 166 Reviews

Shop a veteran-owned company with 3 options from $2,000-$5,000, each with a lifetime warranty. Tubs are hydrotherapeutic and best for people with limited mobility because they are wheelchair accessible.

Jacuzzi Walk-in Tubs
Read 216 Reviews

Walk-in tubs feature wheelchair accessibility, grab bars and anti-slip materials. Comes with lifetime warranty for shell, jets, blowers and installed pumps. The extra tall design lets bathers relax in water up to their necks.

Hydro Dimensions
Read 205 Reviews

Choose from 16 styles. Models comes with lifetime warranty and safety features like grab bars, hand-held showers and low entries. Basic soaking tubs can be upgraded to massage therapy tubs.

Barrier Free Living
Read Expert Review

Since 2000, Barrier Free Living has provided a wide range of home accessories to help people with limited mobility. Customers can find ADA compliant products for their bathrooms, as well as accessible kitchen products.

Premier Care
Read 224 Reviews
Out of Business

Premier Care in Bathing ended operations in 2018 and is no longer in business.
Thank you, you have successfully subscribed to our newsletter!
Enjoy reading our tips and recommendations.
We value your privacy. Unsubscribe easily.
What features matter most in a walk-in shower?
Size
Walk-in showers are one of the most versatile features of a home when it comes to size. As long as there is space in the bathroom, the walk-in can be as small or large as you like. For particularly small bathrooms, the walk-in can provide more shower space than traditional tub designs.
Single: The single shower is a great space saver. It can be made smaller to better accommodate your space, or it can be made larger to provide more comfort.
Double: Double-sized walk-in showers are designed to fit two people comfortably. These are great for married couples or for anyone who needs assistance showering.
Large: Larger walk-ins are all about luxury. They may or may not be enclosed, and they can feature more than one shower head.
Shower Heads
The shower head is arguably the most important part of the shower system since it is responsible for getting you clean. Many designs are available that have certain water pressure or spray methods. Many shower heads are programmable or multi-functional so you can switch back and forth between certain settings.
Massage spray: This pulsating spray penetrates and soothes the muscles while performing its regular cleaning duties.
High-efficiency spray: This mode feels strong and effective, but it actually uses less water than a straight-on spray.
Adjustable full body spray: This spray pattern widens to cover a large portion of the body at once. It's great for shampooing thick hair and for relaxing.
Design
There are many beautiful and varied designs for walk-in showers that come from a variety of manufacturers. Depending on the space you have to work with, certain designs may fit better than others.
Corner shower: A corner shower occupies one corner of your bathroom. This is a classic and popular placement since it makes the best use of smaller spaces.
Suite shower: The suite shower is attractive and luxurious. Its large enclosed space separates it from the rest of the bathroom, making it appear like an entirely separate room or ensuite.
Round shower: The round shower is a popular modern trend that treats the shower space like the central feature of the bathroom. This is a beautiful way to showcase a large bathroom space.
Materials
As with most home appliances, walk-in showers are available in a wide range of materials. They vary in price, durability and overall aesthetic appeal.
Glass: Durable glass is a popular material for shower enclosures and doors because it is classic and beautiful.
Tile: For open walk-in showers, tile gives a luxurious look to the entire bathroom. It can be installed along the walls and the floor to match.
Plastic: Plastic has a lot to offer in terms of style and durability. Often used for enclosed showers, it is available in clear, colored or frosted styles.
Safety Features
Walk-in showers are ideal for people with certain physical disabilities because they allow entrance and exit without the need to step over a bathtub rim or shower riser.  There are other specific safety features to consider as well.
Bench seat: A bench seat is perfect for times when you'd like to relax or for those who are aging or have a disability. The bench seat also is great for shaving.
Safety bar: Designed to provide support, grab bars can be installed virtually anywhere within the shower space. They are usually inexpensive and highly effective.
Anti-slip floors: Tile, cement and other floorings can be incredibly slippery. Anti-slip floors provide grip for your feet and help keep prevent falls.
Special Additions
These features are not normally included with a basic shower, but they can be useful and can add an air of luxury to your walk-in shower.  Additional features can provide more safety and security as well as aid caregivers who are assisting the bather.
Programmable: Programmable showers allow you to select settings such as temperature and spray type for different members of the household. Simply select your preferences through a digital control.
Steam room: This is an addition that works with enclosed showers to create and trap steam—perfect for anyone who enjoys a sauna experience.
Handheld shower hose: This feature allows you to unfasten the shower head from the wall and move it so you can rinse more effectively.
Foldable and flexible doors: These doors allow extra room for caregivers to assist the bather and can also allow a walker or shower chair into the shower.
What are different types of walk-in showers?
Enclosed
Enclosed showers are completely surrounded and are easy to access through a door.
Open
The open walk-in has no door and a wide expanse of tiled floor. It usually requires a great amount of space so that excess water doesn't pool on the floor of the bathroom.
Surround spray
In this design, multiple shower heads are placed around the walls of the shower so that you are hit from multiple angles by the spray.
Who can benefit from walk-in showers?
Singles
Single people can customize their walk-in shower to meet their particular needs, whether it be a luxurious shower experience or a compact shower to fit in an apartment.
Couples
Couples can opt for a double shower if they choose, and they can customize their walk-in shower based on the size of their bathroom and any extra features they want.
Families
A family that uses one bathroom for bathing needs plenty of space for storage and their shower. In addition, any fixtures need to be durable and safe to use.
Disabled and elderly
Individuals with special physical needs can find it much easier to get in and out of a walk-in shower than a bathtub. Elderly people can benefit from the ease of access as well, particularly when coupled with certain extra features such as benches, safety grab bars and flexible doors.
Caregivers
Caregivers will find these certain features that enable them to more easily help with bathing of their care recipient.
Walk-in shower expert reviews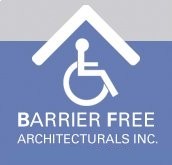 Barrier Free Living focuses on providing a variety of home design elements for people with physical disabilities. You can find accessible kitchen and bathroom appliances and fixtures in their catalog.
Roll-in shower: The large shower entrances designed by Barrier Free Living allow for roll-in access by people using wheelchairs.
Corner shower: This model makes the most of a smaller bathroom space, with all the safety and accessible features expected of a walk-in shower.
Portable showers: These are great for those that want to save money on a remodel. They also work well in a variety of environments, from hospitals to homes.
Easy installation: The one-piece walk-in shower provides low-threshold access with simple installation.
Designer series: For a luxurious touch and total bathroom remodel, the designer series is ideal. A variety of tile and color designs are available to choose from.
Best for: Elderly people and caregivers, singles, couples, families and disabled. The wide range of shower products means that there is a choice for everyone.
Disclaimer
Information in this guide is general in nature and is intended for informational purposes only; it is not legal, health, investment or tax advice. ConsumerAffairs.com makes no representation as to the accuracy of the information provided and assumes no liability for any damages or loss arising from its use.