Consumer Complaints and Reviews

My wife was hit by an Alfa insured driver 10 days ago and the ALFA agent is impossible to get either on email or phone. The other party was clearly charged with "failing to yield the right of way" and all they will say is "responsibility is still in question". Meanwhile we are out of a car since it is not drivable. What is it with this company. I worked for an insurance company for 32 years and I have never seen such unprofessional service. Get on the ball ALFA, and do the right thing.

Alfa is still pretty new to me but they are fair priced. They take the money out of my debit card on the same day every month. I did research before I decided on them and they had a good rating.

My overall experience with Alfa has been positive. For example, I wasn't aware the company had transitioned to an outside provider for towing services. I experienced mechanical failure and paid for 2 tows. Afterwards, when I submitted my receipts for payment the company still honored the receipts and reimbursed me for my expenses. Also, I like the fairness and availability of my agent's office.

I was in an accident with a person who has Alfa Insurance. I wasn't even in the car and she backed into me causing damage to my fender and my rim. Every time I try to call the claims adjuster all I get is voicemail. And they didn't send enough money for my car to be repaired properly. This is the suckiest insurance company I have ever had to deal with.

My neighbor hit my car while he was parking. He has filed a claim for the same. I was waited for quite long to get a call from the Alfa, then I started calling them. I was calling them more than 10 times per day and recorded my concerns. No action on my request, no callback or nothing as of now.
How do I know I can trust these reviews about Alfa?
825,614 reviews on ConsumerAffairs are verified.
We require contact information to ensure our reviewers are real.
We use intelligent software that helps us maintain the integrity of reviews.
Our moderators read all reviews to verify quality and helpfulness.
For more information about reviews on ConsumerAffairs.com please visit our FAQ.

My son's friend jumped in my car last Saturday night and never came back. A deputy sheriff got in touch with me on Sunday morning. Said my vehicle had been found stuck in the mud and the boy that took off in my car the boy was out of the car had been driving on suspended license but he didn't charge him because he was out of the car. So ok it had been wrecked, the belt was off of it and tow truck driver said when he got there the car was hot from where the boy had been trying to get the car out all night of the mud with the belt thrown off.
Long story short the adjuster more or less called me a liar today. Said he called the boy's mother and the mother said "no he was out of town that night" after a sheriff got in touch with me and told me he had this boy and his mother was coming after him. I hate this company. I would not recommend to anyone. I'm changing as soon as this is settled. I do not like being called a liar!!! The theft adjuster Brad was very unprofessional.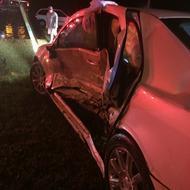 I had an accident on Oct. 27th, 2015. A drunk driver passed me while I was making a left-hand turn. He was running 70 in a 45 zone. My estimated speed was 5 mph. He had no license or insurance. Today is March 17th, 2017. Let's just say all I received from them was a car payoff of 9600 and I owed 13k so I'm stuck with the remaining balance of 4400 hundred bucks and 5000 for medical bills which was on my insurance policy. When I first asked about my medical pay they said, "We don't pay that to you. We pay your bills with that." So then I got a lawyer. It took over a year to receive money for medical pay. That's even with my lawyer.
My lawyer has been calling and calling. He tried contacting Alfa attorney with numerous emails and left countless numbers of voicemails. He only talked to Alfa lawyer twice out of almost 2 years. He sent forms for the lawyer to answer so we can get a trial date since we can't settle because they're trying to lowball me sooooo bad. The lawyer refuse to fill out the forms. We finally got a court order to make him fill out the paperwork and answer questions in front of a judge so we can go forward. DO NOT GET ALFA. THEY TREAT YOU LIKE TRASH. THEY'RE UNPROFESSIONAL AND GIVE ZERO CARES ABOUT YOU OR YOUR PROPERTY. Long as you pay them and don't have any accidents you'll be fine. I give them a negative 6 stars.

I was rear ended on 09/7/16 by an Alfa Specialty Insurance insured. I had to set up my own rental car which I had from 10/6/16-11/2/16. I paid $781.74 out of pocket. Alfa Specialty Insurance is refusing to pay the entire amount stating they only pay 11 days. The adjuster Jason wouldn't return numerous calls or emails made to him. How would I know they only pay 11 days? At no time during the time I had the car rental did Jason contact me. I feel they owe me the entire amount. What was I to drive while my car was being repaired. This was a horrible experience with this company. The adjuster Jason was unprofessional to work with the entire time. He wouldn't return calls or emails.

I have been with Alfa for 8 yrs and I have had road side assistance. I received a call stating, "Oh well we canceled your roadside for excessive use." I have paid and never used roadside until I moved to Atlanta, GA about 5 yrs ago. I got another car to save gas but my tires kept blowing out. Long story short that issue has been resolved, but called and asked how long before I can get roadside back and was told 3 yrs. REALLY!!! My insurance policy keeps going up for no reason, no explanation but you removed roadside. Called, asked, and was told, "Oh it's on $.40 more and it's been removed." How it went from 232.00 to 243.00??? I looking for a new insurance company. I wish I could give zero stars.

We were rear-ended on December 17th by a minor. My wife was sent to the ER via ambulance. The kid was cited for following too close. We were at a dead stop and he pushed us over 2 feet on dry pavement. I obtained a police report which included his insurance company. I filed a claim with his insurance and waited for a call. I got the call, just not the one I wanted. The other driver did not have insurance at all. Their coverage had lapsed and they did not renew. I have called daily since then to notify Alfa about this. No reply. No emails returned. I have called 8 times today and left voicemails each time. I have sent numerous emails. I am now getting an attorney involved. DO NOT USE THIS COMPANY. Even if they are your insurance, they will not follow up, they will not contact you, etc. God forbid you get hit by one of their customers. I am cancelling this crap as soon as I can. If I could give 1/4 star I would do it. They are **!!

We were hit by a driver with Alfa Insurance over 3 months ago. Even though they have admitted their driver was at fault they will not pay us what we are owed, they will not answer calls, and they will not return calls when we leave messages. We have not been able to reach anyone in almost a month now.

Their insured policyholder failed to yield the right away on 10/5/16. It's 10/13/16 and I have yet to speak with Bethany ** the adjuster. I ended up filing the claim with my insurance company and paying my own deductible so that I could get my car fix. I have emailed and called her multiple times. She has only returned my call once and I was at work. Tried calling her right back and nothing. She only responded to one email and nothing else. This is the worst insurance possible. My insurance company will go after them to collect the monies owed. It ridiculous that I have called over 20 times and only receieved 1 callback. Hopefully no one else gets hit by anyone with this trashy insurance. You are for sure going to get the runaround.

My car and my back was slammed into while sitting at a red light by an ALFA insurer who was playing on his cell phone. I was injured pretty bad and car was damaged severely. The adjuster would never return my calls and his supervisor was just as bad. I have been without a car or a rental for 2 weeks now. I am getting a lawyer, hopefully that helps. ALFA insurance are the worst people to deal with. Now their insured driver is stating another car hit him which caused him to slam me... SUCH A LIE... and ALFA is believing this lie. I have witness statements and all. Still nothing. I am in so much back pain and ALFA could care less.

Their customer failed to yield and pulled out in front of me on hwy. This accident happened almost a month ago. I called multi times a day, customer service is very rude and then to be told you will now something by end of day. Well it's the end of day and their office is closed. My car was totaled out and I have nothing to drive. So anyone dealing with this insurance company don't plan on them to settle anytime soon.

An Alfa insurance holder backed into my parked car. It took me 25+ calls and emails to get them to respond to my claim... and over 2 months to finally get it fixed. I did everything I could to work with them... but they were generally unresponsive, slow and in the end stuck me with $50 on the rental car I needed for 5 days while my car was being fixed. I tried to get this rental car thing paid by Alfa... but they would not respond after repeated messages, emails, etc. Eventually Enterprise Car Rental company dropped the $50 charge even though it wasn't their fault.

Their customer crashed into my parked car, and destroyed it. I got a police report, and I had to deal with them to get an estimator out to estimate my damages so they can fix my car. It has been a week, and they have not sent anyone to estimate my car damage, I keep trying to call them but they keep ignoring me, my car is destroyed, I need to go to work, and get things done. But Alfa Insurance does not care! I don't know what I'm going to do now!! How is a fraud company like this operating legally in America? Are there any attorneys suing them for everything they are doing?

My daughter was involved in a car accident 3 weeks ago. I am the insurer. I know what it is like to deal with insurances but my car has not been seen. The adjusters don't call you back. You call their managers...they don't respond. It is torture. My car is wrecked. I have nothing else to drive and my own insurance company will not respond. If you have a choice between this company and another please chose the other.

I was hit by someone insured with Alfa Vision insurance, and which push me hit someone in front of me. Later, they denied, they said I hit someone in front of me, and they hit my car. So they agree to pay half of my medical bills and car repair. But they never pay me a penny for my medical bills, and I did call them couple hundred times already. It is really difficult to contact with some representative from that company. The accident was Dec 22, 2015, and it has been more than half years, and my bill has been collection company for couple months too. I do not know what I should do. Anyone has a idea?

Alpha Insurance is straight garbage. On June 10, 2016, I had a claim to vandalism and needed a tow. I had to search for hours on the internet to find a number for a tow to finally speak to someone and find out that I was lied to about road side service. But I had to pay for my own tow then get reimbursed. That is not what I was told when I got the policy. Therefore my car sit on the side of the highway and was vandalized. I only had a tire blow out and needed just the tow. But since I had to pay for the tow and God knows when I would ever get reimbursed for it I also had to replace a tire. So I had to let the car sit there on side of the road until the next day to get my tire replaced. I also noticed the damage of the vandalism to my vehicle and reported it to the insurance company Alpha. It took them a week of constant phone calls for them to send a man dressed like a woman with a deep voice to address my insurance claim.
Then I had to continue calling Alpha every day for a whole other week to see the status of my claim. No one would ever assist me or call me back. After 10 days I finally talked to someone I contacted and one person said that claim was being paid then another person said that they felt like the damage was not done on side of the road, that it was a prior damage. So of course they don't give a ** and have no intentions of ever paying my claim. If you have Alpha Insurance run now to your local Farm Bureau and get insurance. I will never make this mistake again.

My name is Lisa and I have recently been involved in a minor accident with minimum damage. I had recently switch from GEICO to Alfa Insurance because it was a better choice financial. The customer service that GEICO gave to us as policyholders was exceptional. My husband and I are both business owners and we are sticklers when it comes to common courtesy. My accident was on 6-9-16 and I am writing this because of my settlement from the assigned claims adjuster. I have accepted the decision that was enforced to me, but still have several unanswered questions. I have for two weeks trying to contact my adjuster from TN and have been ignored. He requested for me to fax over the police report which I did and this was to help with getting cost covered. I called today 6-28-16 and left messages, but still nothing.
My adjuster called back later in the day (finally after a week) with a very disturbing attitude. I had ask if he received my fax and he said to me that he gets a lot of faxes that I needed to be more specific with day and time. I let him know that I faxed it yesterday 6-27-16 in the am, but he brushed me off with "well... I didn't receive it." As our conversation carried on I then needed to ask several questions that I had not yet ask, and before I could ask he over talked me like robot (no compassion) to let me know again, I am under my deductible and will have to pay for repairs when I was not at fault. I was the one who was hit by another vehicle and had police come out. The girl that hit me was a teenager and didn't mean to cause the accident, but still did nevertheless. The accident occurred on private property which did not help. By the way... this law stinks.
My adjuster from Alfa Insurance located in TN was extremely rude and cut me off without letting find out some of my rights as my insurance co. and what I thought was going to be there for me and advocate. I was trying to find out why in the world we, he or Alfa did not make any attempts to contact the other parties' insurance. I understand the private property laws, but I also know what Subrogation means too. I am so disappointed in the way I have been treated by Alfa and their employees. It makes me wonder if this people even go through a training process and learn the grievances big or small that their policyholders go through before being pushed off to departments and department recordings especially since I have never been in an accident.
I wanted to write this because I needed to vent, but also to let everyone know that once a policyholder with Alfa that's it you are just that a piece of paper holder for them who pays storage fees to store the paper in wallet or glove box. So, the conclusion to this complaint is I tried calling to speak with a supervisor or corporate and left two messages on two different phone numbers that was in charge of TN claims adjusters, but guess what? NOTHING ALL DAY!!! I am swapping insurance companies first thing in the am and will never return. I will also make sure to let everyone I know to not choose this company for their insurance needs either...

We went to Walmart and we were hit backing out and we have to deal with Alfa. They sent a guy out and he had a car with a lot people in his car. He look at our truck and he did a estimate 215 dollars when I have a bad finder, and the company wants to close my case with no money. And I paid a lot of money every month, because I have a 16 year child driver. Me and the body shop has been going around and around with Alfa and they lie. I'm so tired of Alfa. They are one sorry insurance.

A client with a Alfa Auto Insurance policy holder hit my car front lights on 04/22/2016, called them. No answer for 2 weeks then received a call. They did not have pictures and police report so I got all the information and emailed it on the same day as well as a estimate of how much it will cost to fix my car. Wow no call for another 2 weeks then call me that my file was transferred to someone else in another department. When I asked was told they will called me.. I am still waiting.
I complained to customer service. No luck. I am still waiting. It has been more than a month my car without light and leaking water and broken parts. Wow what a business practice (Bad Faith Statue). I have provided all documents to them and still no feedback from anyone in that company. I have send them multiple emails and messages and document but I am still waiting to get my case solved. If someone can help me please advise me.

Alfa Insurance will not cover an accident I was in. We suffered damage to our vehicle and the claim adjuster told me several times that the other driver was not returning their calls. Now they say they cannot cover because the driver was not listed as an authorized driver on the policy. They will not provide me with a copy of the policy or language from the policy for review. This agency should not be authorized to issue policies. Find another company. And if another driver, who has Alfa, is at fault in an accident you are in you may want to get some cash upfront from the other party, because it seems there is little guarantee that Alfa will pay claim.

My daughter in law suffered damage to her home in Missouri in December of 2015. The Alfa insurance company was the insurer for the young man that ran in on the property and took out yard fence and yard swing. She still has no check or even an adjuster. I took pictures many months after damage and got a quote from Home Depot on fence repair but cannot hear from the company. Local agent said the claim had been closed. No adjuster or their supervisor will return our calls.

I have had Alfa for 19 1/2 years and in 2014 I filed a theft claim on my house and in 2015 I filed a claim on my roof due to a storm. Well now I have received a letter from them saying they will no longer renew my insurance due to claims.

I purchased their insurance in Jan. of 2016. I got into an accident on March 10th of 2016 which it was my fault.. and I told them that I started a new job to make sure I can page my truck payment which was delivered pizzas. Well I got a call from my girlfriend the trainee went on the car so I clocked out to go get her. Well I turn on the wrong road which was a 1 way and tried to correct myself but it was too late. So but the girl that hit me didn't have insurance so the next morning I spent all day trying to talk to the give them my statement and so did the girl that hit me.. Well they asked me proof of clock out which I sent them. Now they're saying they are sending my clamp to investigate because I don't have a ID. Number on my clock out..
So I got a letter in the mail today March 21, 2016 saying I'm being canceled for delivering pizzas which I asked before I started the job if I'm going to be covered and they told me yes. So I have a feeling I'm going to be fighting this company for a while which I'm going to get a lawyer involved. I suggest to anyone not to go through this company at all. I think it's a big scam and don't want to pay out so don't get them.

Been dealing with this company over a wreck for 30 days and because their person cannot speak English so the police could not get his side at the wreck for the police report. They have denied the claim. This company is nowhere near professional by the way they act and talk to people. They never even called the ones in my vehicle to get their statement or check on their condition. This is a horrible company to deal with.

My vehicle was in an accident and Alfa only authorize a rental for 2 days and the work took more 2 days and the rental car company is charging me now. Also, they do not want to pay the body shop for the work after the deductible and I had to pay.

My friend, my son and I were in an auto accident in February 2014. The other driver was at fault and was cited. All three of us were injured. After numerous extremely low-ball offers and more than two years later, we were forced to settle for an amount that barely covered costs and attorney's fees. A court date would have left us with less. And this is after they postponed mediation nine times. In my opinion, an insurance company like this should not be allowed to practice and should be investigated. What a lack of integrity and ethics. During depositions, the other driver didn't even show up. If you're unfortunate enough to be the victim of one of their clients, immediately get an attorney and one who's an absolute bulldog. And good luck.

Called them on Friday 1/22/ 2016 got a quote for a car that my son was buying. The next day we obtained the finances to purchase the car. Everything was approved and we put the down payment. Then when we called ALFA. They said they could not issue new insurance because there was a weather alert in our area. The weather alert was for 15 mph winds. My son could not drive his almost new car home. Because the wind was blowing. Changing insurance as I speak.
Alfa Auto Insurance Company Profile
Company Name:

Alfa

Website:

http://www.alfa.org/alfa/default.asp