Farm Bureau Auto Insurance
Consumer Complaints and Reviews

I had the bare min. car insurance with them for less than a year. Thought about paying $25 a year to be a member of which I was for about 8 years prior. Then stopped being a member. Long story short I took out car insurance with them until I shopped around and found something better. Well found it and my new agent even called them. They handed the amount they say I owe to a collection agency including the $25 member yearly fee, for a total of $57. As a past member of the Farm Bureau, I never received anything to warrant me to stay a member. I am really disappointed in this group. I live in Stewart County, GA. and my agent's name is Elizabeth. I did not receive one phone call from her, but to try to collect a membership fee through a collection agency? Is this legal? Stay away from this company. I am so glad I switched. I am sure it would be a nightmare if I did have a claim.

Farm Bureau is the worst company I have ever dealt with. They first screwed me on repairs to my home then I received a letter stating that they were dropping me. Then I find out that I have been paying them for full coverage on my car and come to find out they only have me as liability only. This company is **! DON'T GET INSURANCE WITH THIS COMPANY!

I was working with this company after their client did a hit and run on my vehicle. Their client's Agent (Dawn) was trying to discourage me through the process of sending info about that accident. Told me "even if, we receive your paperwork about what's wrong with your vehicle from the auto shop. That won't tell us anything." I asked "then why did you give me your fax and email to send it to?" Also told me she never got my information, "it might be in my spam folder. It takes up to 24hr for me to find it."
She also gave me a confirmation # to receive a rental car and to pick up a vehicle at Enterprise. Which the next day she canceled and told me many times she was taking it away from me. Since someone from her company had to look at my vehicle 1st before I could have a rental. I asked "so why did you tell me to go to Enterprise to pick the rental up?" After that I asked for this agent last name. She would not give it to me and said "you don't need to know it. You have my number!" Unorganized, non-professional, complete liars.

The prices are okay but the service is terrible. My Agent never replied to a voice mail or email. About 75% of the time other people I would reach out to did. When we purchased a home no one would contact me back about setting up home insurance so we got a different insurance for that and eventually switched everything over. I finally got the life insurance canceled (cross my fingers) after the third attempt. I never had a claim in the 8 years we had them. So hard today how they would have handled a claim. I was in one auto accident but it was not my fault so the other car's insurance covered it all. I did put a phone call into Farm Bureau claim line then and was told the other company would take care of everything and didn't need to do anything with farm bureau.

As a customer with FB for over 25 years we have had problems with their old fashioned website for years. Often rejecting payments for no apparent reason! Because I didn't make sure I double checked their work. A payment didn't go through and no notice was sent out. They canceled our policy and refused to allow us to back pay for continuous coverage. Now we are being fined $1800 from our note holders on our vehicles. Our agent did not care nor did anyone in Waco. Why pay more to just be an impersonal number? Could never recommend to use this organization which is disheartening because we have been customers for so long!
How do I know I can trust these reviews about Farm Bureau?
762,011 reviews on ConsumerAffairs are verified.
We require contact information to ensure our reviewers are real.
We use intelligent software that helps us maintain the integrity of reviews.
Our moderators read all reviews to verify quality and helpfulness.
For more information about reviews on ConsumerAffairs.com please visit our FAQ.

Made a phone call to report a claim, and was contacted sometime after that to settle. I get prompt and courteous service. I was only expecting the auto repair but received more compensation for broken glasses, rental car, time involved, etc.

One phone call to agent and everything taken cared of in a very timely manner. Been with Farm Bureau Auto Insurance for over 40 years and have yet to have any problem(s) with any claim that was filed.

I was hit by someone on a motorcycle. In my name he hit me. He was coming over a hill. I did not see him. He did not see me. The adjuster is blaming me for the accident that was not my fault. The one on the motorcycle could have gone around has he not been speeding or high on **!

We first started using them in 1999 with our house and our vehicles. Later we moved our vehicles to GEICO because the price was lower and better service. We kept her house at Farm Bureau. 2016 we were told that if we moved our vehicles back to them they would drop our house $1,000 a year. So even though we really like Geico we switched because going to save us $1,000 a year. This was in August. Now start of 2017 we get a bill in the mail and our car insurance is $2,000 per year and our house insurance is $1,000 more year.
I try to work with them and they would not tell me why they raised it that much so we switch back to GEICO, everything including our house. When I call to switch back they lowered everything back down. But I had been trying to get them to lower it for 2 weeks on the phone. They lied to us to get us to switch everything. Once we switched everything then they tried to get more money than what we were paying before we switch. Would never ever go back to Farm Bureau.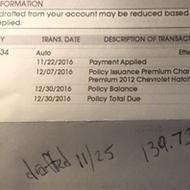 I got their car insurance by the dealer suggestion. They quoted me twenty dollars cheaper than they actually charged me and the agent said I must be mistaken on the quote (my dealer wrote it down in his paperwork fyi) - that's day one. Fast forward 1 month and 8 days, and they just charged me for 3 full months at once. I've been on the phone with them several times today, but they pass me off to other agents and tell me the agent is in a meeting (all day). My final call they said he will get back with me when he gets out of the "meeting" TOMORROW! I will be canceling just after I hear from him if he even returns my call this time. 25 years of driving ZERO accident or tickets in my lifetime and I'm set up for auto draft btw.

Messed up my policy from start to finish. Right now I don't even have a clue what is going on with my policy!!! Because I can never get a call back or speak to whom I am suppose to, because he is never there or is too busy. Lol. Really!!! Too busy to deal with or help or talk to your client that is paying you. The client you told not to worry about anything, you will fix everything. But then you avoid!!! Please. I can't even go into detail about all the mistakes and problems. Because that would take me all day.
To sum it up. What went right??? Would be easier, NOTHING!!! Then you cannot get anyone on the phone to discuss anything!!! To change or fix anything!!! The worst company, the worst Customer service, the worst everything!!! Do not ever use this company, Ever!!! They are a joke!!! You will be paying for insurance you don't even know if you have, and for things you are not supposed to be!!! On top of it all!!! AGAIN WARNING!!! DO NOT USE THIS COMPANY!!!

Since I was out of state I called in and ask if in case of flood is my car protected with my policy? They said "no", I said "thanks glad to know". After 2 years I found out my question was treated as claim. Beware do not give your information to their agent or might as well don't use this insurance company at all. At the moment I am having a hard time finding for a better rate even though I do not have any ticket or any legit auto claim filed.

I was a client for almost 9 years with homeowners and vehicle insurance with Farm Bureau of NC, Buncombe County office. The only time I had an auto claim, my absolutely awful agent Robert ** managed to ignore my calls, call my neighbor's phone and leave personal information related to my claim on their answering machine (how did that even happen??? ), and also when I spoke to him, he said "hey little lady, maybe I should speak with your husband". No apologies for divulging personal information. Gross negligence. Robert ** should be fired. Anytime I had a question about my account.policy, he never had an answer and said he would call back... he never did. Avoid this company at all costs. I closed my accounts with them and got superior coverage for a lower price. Do not use Farm Bureau of NC!

I just wanted to speak up for my mom. She had Blue Cross and Blue Shield Medical Insurance through Farm Bureau. While on this policy she develop colon problems. This was not considered pre-existing because it occurred while on this policy. Farm Bureau decided to switch everyone's policy to United Health Care WITHOUT telling them. Without giving them the option of going elsewhere for insurance if they wanted to stay on a Blue Cross Blue Shield plan.
This may not seem significant to some, however my mother had to have extensive surgeries this past year, one including a colon dissection. Because Farm Bureau was deceitful and uncommunicative to their policy holders, my mom now has to be 100% of her surgery because now the colon problems are PRE-EXISTING with United Healthcare! This surgery is costing her $100,000 out of pocket. She doesn't have that kind of money. All because Farm Bureau changed her policy without her knowledge.

When calling my agent of 39 years this week to make the payments on auto and renters policies, I was informed that my auto insurance had been cancelled two months previously. I provided proof that I had indeed made payments 20 days earlier and that the agent had said NOTHING about cancellation and was informed that they had not accepted the auto payment - without informing me of that!
The agent said she realized the staff member I had talked to was at fault, but there was nothing to be done OTHER than I MIGHT be reinstated only on AutoPay and at a higher rate and that many of their 'long term customers' had also been cancelled. It is an AutoPay scam folks. Once you are cancelled, it is extremely difficult to find another policy and it will be at a much higher rate. Forget remediation from Waco; there is no such thing as Customer Service. This used to be a nice company but seems to have been taken over by former government bureaucrats or Wells Fargo bankers.

I have been with Farm Bureau for 13 years. I had my windshield crack a week ago. Well I called and explained I need a factory windshield. I know my deductible would be 500 dollars. Well my claim has been denied twice for a wind shield really!!! I have never been late on my payments and this is how you treat a loyal customer?? I called twice. No one is telling me why my claim is denied and if I'm paying 500 what more do you need... I am switching insurance companies today if I can this has been a long week and guess what my windshield is still not fixed with full coverage and the only way you can get windshield cover is to lower your deductible so they can charge you more throughout the year a loyal customer gone due to being greedy!

We purchased a home and two weeks later, the roof leaked after a storm. We contacted the adjuster who didn't have time to come out for two to three weeks. We were told to put a tarp on the roof because it was our responsibility to prevent further damage to the home. The adjuster finally went out there and said that the tarp was put on incorrectly; therefore, he was going to decline the claim. It cost us $1,700 to put the tarp on. He said he would look at it again after we took the tarp off, which would cost us another $1,500. He said the people that put the tarp on put holes in the roof. It was Texas Farm Bureau that couldn't come look at our roof. It was Texas Farm Bureau that told us to put it on.
We had several problems in the interior of the home after that and had to take down the sheetrock and insulation. You could see exactly where the damage was and where the steel roof panels had lifted. He still denied our claim saying it was wind blown rain damage not a storm opening. The house is in such bad shape right now that I cannot change insurance companies. I can't wait to change and I want to warn everyone I can that this insurance company is the worst insurance company you could ever have. Don't do it!!!

My grandparents have been with Farm Bureau for 60 years. Their house recently caught on fire caused by electrical fire. The fire burned the whole upstairs and smoke and water damage in the complete downstairs. My grandfather built this house when he got home from World War 2 and being away from his wife and first born son for 3 years to serve our country. This was not a choice he made just like this was not the choice he made that his house burned down. There was a ton of personal antiques and a lot of other things destroyed in this fire. There were a lot of old pictures destroyed. But more than anything they are forced to live with family and my 90 year old grandmother forced to sleep on the couch in very tight quarters.
The Tyler Tx location has treated them so terrible and after paying for insurance as long as they did, it's terrible. The insurance company is not treating them fair at all. I feel they should have provided them a trailer to sleep in on their property. The insurance company (Farm Bureau) and the insurance adjuster is refusing to pay what is owed. The fire was June 28th and there are still 2 or 3 weeks to go. The reason for this is the insurance company is refusing to pay and they do not have the money to get the work finished soon. I only hope that after all this stress and their already bad health that they get to enjoy their home again that they have raised their children, grandchildren, made it through the depression etc, etc. They are the sweetest people anyone could ever meet and it just sickens me the way they are being treated.
I will go further than this review because people at their age don't deserve it. That generation is going away, the best people ever. We now have the younger generations that don't care about people at all. I am just so honestly pissed off. The Farm Bureau adjusters name is Brenda **!!! She is a ** piece of work. Let me just tell you. I would never use Farm Bureau for anything!!!

As a member of the Farm Bureau family for 20+ years, I thought that leaving them for lower rates elsewhere would be difficult. That changed, however, when the competing insurance came back, they found a claim from the previous year that hurt my rates with them. The incident was in a parking lot and filed as a no-fault with the police department. The damage to my vehicle was so minimal that I told the adjuster that I would not pursue a claim, so no need to file one. Farm Bureau apparently decided that I was at fault and filed as such, and paid out $1200 in damages to the other vehicle's owner without ever consulting me, or in any way letting me know of their decision.
When I told them that I wanted the claim re-opened (several months had passed before I found this information out), they generally passed the buck from agent to manager to adjuster, etc. POOREST CUSTOMER SERVICE EVER. As of this writing, I'm still waiting to hear back from Farm Bureau. I'm no longer a member with Farm Bureau, and they've still not responded to my request, but as far as I can tell it wouldn't have made a difference if I was a member. Just keep mindlessly paying their premiums.

I have been with Farm Bureau for all my driving life, 29 years. My daughter had some issues paying and they cancelled her insurance. I offered to pay it and put her on my account to guarantee a consistent monthly payment. I asked what it would cost. They informed me I would have to pay about $400 to make it current then a surcharge of an additional $50 for six months. Apparently this is a penalty. I asked if they could waive this since I have been with them for so long and they wouldn't. I checked with another insurance company that day and ended up getting better insurance and saved over $3000 a year!!! I cancelled right away, still took over a month to get my refunded money back, but worth it.
Then I found out, most insurance companies are publicly traded companies, which mean they care more for profits for their shareholders than helping you. I switched to a private company, saved tons of money, and they have been the best to work with so far! Take my advice. Don't go with Farm Bureau, or find something better if you currently have them. You WILL save tons of money and less headaches.

Claim agent Chelsea **, Coldspring, Texas office. Party barge damaged in jail storm. I got a price from boat dealer in Wylie, Texas. Agent didn't like price and got two lowball bids. I contacted same dealer she got $3000 price from and they told me $6500. She still offered around $3300. I got my agent involved. I got two more bids in high $6000. After doing her job she offered me $6100. I accepted that offer. Beware, hope I don't have to deal with her again. This all took 3 months to complete.

I changed insurance 2 months ago and had full coverage. I had an accident and now they say I only have liability and refuse to pay for the repair. This has to be illegal what they are doing. How can they get away with this??? A day after the accident I got a letter saying there was a policy change and to contact my agent. DON'T WASTE YOUR MONEY, THEY WILL NOT PAY FOR YOUR CAR!!!

Let me make this brief. If you miss one payment on accident, switch bank accounts etc. NOBODY follows up with you even if it is a bank error. NOPE - they just flat out cancel your insurance via postal mail so you better make sure that's correct! They have HORRIBLE customers service... basically only available Monday - Friday. Good luck with towing and any extra packages that is a NIGHTMARE and hard to even access if you don't have it saved somewhere cause it definitely is NOT on their website. LOL.

After being in an accident, a shop (Smith County Motors) was recommended by the Carthage FB office to have the repairs done. The body shop guy, Michael, constantly lied to me about doing the work. He was not only 3 weeks late getting my truck back to me because he had softball and golf lessons for his son, but he never put water in the leaky radiator, never tightened the battery terminals so the truck wouldn't even start.
The passenger door handle wouldn't open the door now, plus the key lock on the driver's door wouldn't work. No way to get in if you locked the doors. Fog lights wouldn't work. Didn't install the rubber air dam. New headlight points down into the ground. Rubbing compound EVERYWHERE, not detailed. Rubber trim over top of door damaged so water leaks in top of door when it rains. Never fastened down air box, or installed boot so unfiltered air was sucking straight into the turbo, not through the filter.
Called the Farm Bureau adjuster, Ben **, who was a arrogant jerk who doesn't listen to a word you tell him. Said FB would only fix it if I took it back to THAT shop. I finally agreed and Michael promised he would only work on my truck and have it done in 2 days. I called in 2 days and it wasn't done because he had to paint another car... really?!
I didn't get it back until Friday. He did replace the radiator, but now, neither door locks work. He broke one of my battery terminals so it won't tighten down. Still no fog lights. Rubber above door not fixed. Headlight not fixed. Air box still not bolted in. Called Ben ** again. Again, he wanted me to bring it to that shop for the inspector M-F, 8-4. I work before and until after those hrs. I kept trying to tell him this until he actually hung up on me. I called back and asked why the hell he hung up on me, and he did it again.
I called Doug **, his supervisor and told him he just lost a customer, and that ** should be fired on the spot. I then called my agent in Carthage, Ben ** and told him what happened. I told him that after 15 yrs with him and FB with 3-4 cars and a homeowners police, I was going to look for another ins company. I was shocked that he was totally apathetic about it and could really care less. Also, with no warning, my rate went up this month. He said it was a rate increase across the board. I asked why was there no warning. He had no good reason. Farm Bureau could really care less about you when it comes time to stand behind you, only when they want their money. Well, they won't get any more from me.

I had a house fire, dealing with Farm Bureau is worst than the fire itself. Never again, customer service is the worst.

I have had auto and homeowners ins with Farm Bureau for over 20 yrs. I have not been in a accident for over 40 yrs. I was in a accident on April 7, 2016. I reported it to FB the next day - no tickets were given to anyone at the time and FB did nothing to help me unless I would agree to pay 500 deductible. After several weeks I agreed. Still my calls were not returned (5 calls) and no help. On May 12 I was informed they had decided it was my fault and paying for all car damage to 3 cars. This accident was not my fault but I had no option but to have this done the way the rude adjuster had decided. They are the worst company I have had to deal with. Even my agent quit working there. Please don't get ins through them you will be sorry.

I am a new Farm Bureau customer recommended by a family member who has had a couple of storm damage claims and said he was satisfied. I am almost a month out from an accident where a young driver pulled out in front of me when I had a straightaway. The adjusters, both mine and the other party involved (both Farm Bureau), will hardly return a phone call let alone take care of business that has to be done so I can get paid for my SUV. I had a phone appointment today set by the adjuster on another call so that she didn't have to deal with me then, to try to provide a statement. That appointment has blown past with, of course, no call. This is very, very, frustrating and very, very, stressful. I DO NOT recommend their services for any reason.

Farm Bureau used to be excellent. I've had no tickets or accidents, no claims in over 20-years. But... last few years they've been playing "musical agents" locally and they just go from bad to worse. Taking DAYS to get a car on a policy and send a card (making me wait in BF nowhere for days for a card to be able to drive a truck back that I had just bought), then making mistakes on forms they send to the main office, taking a month to correct while my policy still shows and bills for four cars, instead of the actual two that I have. They just don't care anymore and can't be "bothered" by customers (I dread the thought of how incompetent they would be if I were to make a claim!).
So, the Farm Bureau of old is not more. Incompetency reigns from the top down in the organization. So after more than 20-years paying them for insurance I haven't used, for the first time I'm looking into other insurers. It's hard to believe that another company could be as slow and incompetent as Farm Bureau has proven to be. And it looks like prices elsewhere have become more competitive, fancy that?

Well to start this off, switched to Farm Bureau in 2015. Purchased a 2015 Camry in July, 2015. Had a 1998 Jeep grand on the policy with just liability. Was happy about the rates I was being charged on the 2015 for full coverage. On my driving record, there are no tickets or claims. Paid policy off for the 6-month period. So around February moved to Dandridge, TN which is in Jefferson county, was sent a letter from the Corporate office that my rates would increase some. Reason was drivers in this county have a high claim rate, I thought this was kind of lame. For this reason when I called the corporate office and given that I had a safe, clean, and clear driving record. The increase was a few dollars and ok with that. I added a listed driver on my policy at the same time and asked a question if I would be charged for them being listed. Answer is "no". Well the driver has their own insurance policy with another company. Driver lives in the home.
Anyway I purchased a 2012 VW Jetta added it to policy and listed with full coverage. Policy went off significantly. The 2015 increased as well and did not drop any at all. At the time I called corporate and asked why my 2015 Camry did not drop, their answer was "driver ratio". Remember I asked about adding a listed driver earlier before purchase. So at the time, I was talking to an underwriter who lied to me at the time the he was an underwriter and did not tell me the truth about being charged for the listed driver, then transferred me back to my agent I purchased the policy from. Then he gets involved and could not get a true answer except "they use this model and they charge everyone different and use a credit scoring system". I said "Hold on. I have a clean driving history, no tickets, and credit report is very clean. So no reason for me to be paying such higher rates and giving me all these excuses."
At the end, all he could figure is that I was charged for a listed driver. So in truth, I was charged for adding a listed driver. That was not fair and they lied about this. I do not think you should be charged for everyone else's bad driving habits. These insurance companies need to be regulated better on customer service and true information. Customers should be able to see total breakdown of what they pay for. GREED!!

September 3, 2015: I was involved in an accident when another driver hit me. The damage they did to my vehicle was substantial, resulting in a total loss claim from FB. They called me in and gave a check for they deemed a fair price for the vehicle. I did not like this option as I could not purchase the same car in equal condition for the same price. They said the only other option was to purchase the car as a salvage (which I learned today was a lie, but is company policy).
When I decided to do the salvage, Farm Bureau made the decision I was on my own. They stopped giving me help and refused to give me a rental. After 12 years of using them for everything and paying over $15,000 in that time, I was astonished that were not willing to go further. I was irate and on my own in doing all the processes. Without help, I found a dealer and gave him their quote for the work.
While doing the work, he discovered the adjustor missed an item that was over $200 and I had to pay for that out of pocket because Farm Bureau said it was in Good Faith. By November, he had finished all the work. I had a lost a couple hundred dollars, but felt like it was still okay because it beat buying a new car and paying premiums, again.
March 14, 2016: I go to the county tax collector's office and they say I must repurchase the vehicle before buying a car tag. I must now pay a 5% sales tax on a car I already own!! Asinine. I am out another $300 because they failed to mention to me this would take place.
I go their office this morning and they said it was on the bottom of the quote, hidden, but included. The manager at the office says I could have avoided this using the option of never selling it to salvage. He said it is an obscure option that not many people use, but is there. I asked him why I was never made aware of this, his repose, "We do not tell people this option because the agents are not going to mention it." He then goes way off tangent saying Farm Bureau did what they were required to do.
So, Farm Bureau's responsibility is not to do the best for the clientele, it is to do the bare minimum. I have now proudly dropped Farm Bureau and now am working on every family member to join. Making one claim in 12 years and withholding information from me shows me exactly what Farm Bureau is concerned with and that is their stockholders as Farm Bureau is numbers based, not quality-based. They want more members, nothing else. They have higher premiums which they say is warranted because they have the best customer service. This is laughable.

Matthew BrodskyInsurance Contributing Editor
Matthew Brodsky is an established expert on insurance, having written hundreds of articles and other pieces of content on the subject, interviewed countless practitioners, and attended dozens of conferences and events. He served as an editor at industry magazine Risk & Insurance for six years. More about Matthew→

Farm Bureau Auto Insurance offers insurance to a wide range of vehicles at competitive prices. The company was founded in Des Moines, IA, in 1939 and has over 1,600 employees.
Great discounts: Farm Bureau offers discounts and benefits for drivers with multiple cars, good students, drivers that are claim-free and more.
Coverage for a variety of vehicles: In addition to cars, they also offer coverage for vans, RVs and motorcycles.
Young driver safety program: They offer a young driver safety program that helps to prepare young drivers for the road while offering a premium insurance discount.
Roadside assistance: Farm Bureau offers emergency roadside assistance in the event of an unexpected accident or breakdown.
Members app: Being a member gives you access to many discounts and perks, and you can manage these through their easy-to-use mobile app.
Best for Drivers with multiple cars and drivers with cars in poor condition.
Farm Bureau Auto Insurance Company Profile
Company Name:

Farm Bureau

Year Founded:

1939

Website:

http://www.fb.org/