American Family Insurance - Auto
Consumer Complaints and Reviews

One agent set up my entire policy. He called me at 5 am to set up autopay a few days before my policy began. All seemed well. First I received a letter my bill was past due? Next I received a letter all 4 discounts were taken off the policy raising it by 785.00 over 6 months. I called customer service and was given the runaround by 2 people and redirected the some person that never ensured the policy was complete to begin with! As for speaking with senior agents... forget that too! They are obviously trying to lose customers!

I called over a few weeks prior to change my automatic deduction date which was only a few days later. I was told it wouldn't be a problem. So next month came along and money was automatically taken out of my account on the regular date, not on the date that was supposed to be changed! I called the agency, they apologized, but I ended up having to borrow money since my account was now negative! So now the next month comes around and my bill is higher because now they changed the date to where I previously wanted it, but they are charging me as if I cancelled, very disappointed!! They should have told me it would be a charge, don't you think??

I started this policy in October set up auto pay every month. There was a issue about my payment, something they did or something I did. Per them I'm a person that don't pay with insurance on my automobiles. They even refunded me money in November saying I overpaid. Then December emailed that I owe $648.00. I contacted them to canceled. Now they want to say I owe them $177.00. For what? I immediately got coverage through another insurance on the same day. They even sent this amount to a collection agency. I went in the office showed prove that I was insured through another insurance and canceled on time. I'm so disgusted. What can I do?

My 18-year-old daughter was involved in an accident cause by an impaired driver insured by American Family Insurance. A driver who had been drinking and possibly under the influence of other substances. This driver ran from the scene but came back before the police arrived. The police report stated his failure to yield and alcohol were the causes of the accident. American Family Insurance has decided that my daughter was partially to blame for the accident. They ask for the police report then when the police report doesn't agree with them they tell me, "We don't go by the police report."
I have never had the pleasure of dealing with a more arrogant pompous bunch of people who think their word is law. Everything he has given me I have given him proof he is wrong. Him looking at a picture is all he needs. It is amazing and shocking how they have fought for an impaired driver who could have killed someone. Physically my daughter is banged up but OK. I am not looking for money. I am just looking for them to stop protecting a person who drinks and drives and get this right. Since they want to continue to fight I am sharing this on every avenue I can find. STAY AWAY FROM AMERICAN FAMILY INSURANCE, unless you like to drink and drive then you are safe with them. I wish I could leave a negative number.

American Family Insurance, this is my second time dealing with this poor quality Insurance Company. Both times they did not pay out enough to fix damage to my vehicle. First time I had go through my Insurance company (State Farm). State Farm a excellent Insurance company by far, to get my vehicle fixed because American Family would not pay full damage costs. Now this second time which going through now loss occurring 10/13/2016. American Family only wants to pay 733.39 their estimate. I had three estimates done from body shops close to me in 46406 area. Their estimates all three business estimates are all over 2,000 dollars.
Their sorry excuses are existing rust prior damage etc. All lies. Sure going be rust, that is what vehicles do. But Here to this day my vehicle is parked and damage because I refuse to cash a 733.00 dollar check from them because this will not anywhere pay the damage bill. As of this writing 03/23/2017 still have this check from them for 733.39. I will not cash it. Just might mail it back, and tell them to keep it because can't repair my vehicle with it.
How do I know I can trust these reviews about American Family Insurance?
766,190 reviews on ConsumerAffairs are verified.
We require contact information to ensure our reviewers are real.
We use intelligent software that helps us maintain the integrity of reviews.
Our moderators read all reviews to verify quality and helpfulness.
For more information about reviews on ConsumerAffairs.com please visit our FAQ.

I too have become one of the many thousands of people that are not happy with American Family scamming practices. I have had and paid my insurance for over 40 years, never late, no claims. I wanted to get quotes so I tried them. I was worried about my agent as he was very unhealthy and had medical conditions that made him forget and quite confused all the time. After several months of confusion and billing errors I asked if they could meet or beat my new rates, William said go with the other company ASAP. We canceled. He forgot and kept billing us for months... I also found that anyone who has American Family can easily very easily find way better rates with better coverage.

Have been insured with company 10+ yrs, own 2 homes, 3 cars currently, a boat and a camper all insured thru AM FAM, plus life insurance. 6 yrs ago one homeowners claim, they paid $800 or so out for roof damage then raised my homeowners rates. 3 yrs ago paid $1500 out on a vandalism claim, and in Oct of 2016 a tree limb fell and landed on my camper, causing a water leak, and it took them until January of 2017 to deny claim. Called agent, then 3 weeks went by or so before anyone ever contacted me. Then they changed adjusters.
Had to leave work and meet the adjuster. He told me there's a clause in policy about having it sealed once a year with documentation and I need to take it to one of their preferred body shops for an estimate. They were all over 60 miles away. It's garaged in the winter, carport stored most of the time during the summer... showed impact damage on roof and water damage directly below it. Camper was parked on my insured property when it happened.
Emails and phone calls for months, with only minimal return contact. Sent pictures of the camper in use and luckily one of the ceiling only couple weeks before damage occurred but no one cared, and they just keep referring to this clause about seams being resealed. I have no issue with my agent, his job is to sell it and collect the money, but from there on up the corporate ladder nothing but thieves! Paid them probably $50,000 dollars over 10 years and are going to lose a good paying customer over a $1000 roof repair that I'm sure after 4 months of weather damage will cost me $5000 to fix on my own. Looking for any suggestions on better insurance companies.

I have never been so agitated and let down by an insurance company. One of their policyholders hit my car on veteran's day Nov. 2016, and tried to take off! She tried to hit and run my car! So thankfully there was a witness who saw her and had her stop and took her information for me. At first they seemed very nice and helpful, my claim agent Tigra ** spoke to me once on the phone, and then one email after having me choose a repair company. That was the last time I heard from her, ever since then I have been given the runaround and had to have other agents help me.
Finally around Christmas I called and told them I was done dealing with them and would rather them cash me out the estimation of damage. A helpful man helped me start that process, told me to call back and check in about a week. A week later I called and they said "okay we will mail your check out, give it TWO business days." Today January 17th it has now been SEVEN business days and no check. I have been dealing with these people for 2 months now. I'm sick and tired of getting excuses and the runaround, there should be no reason it takes a company 3 weeks to send a damn check. How incompetent are these people in this company that they cannot do the one thing they're supposed. I would NEVER get any insurance with American Family.

We have about 10 accounts with AF. So far they have paid for our claims, and that would be 2. Our agent is nice but the letters we received are very nasty. We were moving one time and the payment was a day late. So we got a nasty letter telling us that our insurance would be cancelled; and they have done that more than once. They have raise our rates, periodically and have tried to pour more insurance on us. Who needs terrorist insurance if you're not around any more?!! We will check around for other companies when we have time, because it does take time to know all the tricks they play. Any real good suggestions will be welcome.

One of their clients ran into my car with out looking, she got the ticket, and called her Insurance company right way. This was almost 2 weeks ago. No one had called me yet, well some one tried to get a hold of me but I was out of cell service and did not leave a message. I can not believe that you are still in business, it is pretty sad how you run a Business. At least some one should of called me on the first day of the Accident to let me know that he or she were working on my claim, but nothing happened. I had to call Wednesday a week later to find out some one name Amber was suppose to be assigned to me but never called me. I have left a message on her phone. The Answering machine said "I will call back today." What a joke, called again Friday before Christmas just to find out she is out of the office till Tuesday. Still no call back.
Today I was pissed off, wanted to talk to some one in charge. Instead of talking me I left a message and again no return phone call. At least nothing was on the phone. Just one call but no message. How can you stay in Business when you don't give a ** about any one. I was hit by your client and all I got so far was the run around. Never would I recommend you to anyone. Consumer be aware. This is not a company I would want to do Business with. They don't care about customer Service at all.

My name is Anganic **, and I just so happen to have American Family Insurance. My car was vandalized outside of my home. Someone busted both my front and rear windshield, passenger window, and stole my muffler. I have full coverage insurance, so I called and filed a claim on November, 29th, 2016. My claim handler, Marisa ** out of Wisconsin said she would call me back once she verified my coverages with my agent. Of course, she never called back so I reached out. She tells me that she's still waiting to hear back.
Now at this point, I'm told that I need to speak to Linda ** in the Special Investigation Unit, so I called her. I didn't get an answer the first three times, I left a voicemail, still nothing. I email her about the claim and she responds and say, "Is Tomorrow a good time to talk at 10 am?" I call her the next day and still no response. December 29th, 2016 will make a month since I filed this claim and I still haven't heard anything from them. I had to pay for repairs out of my own pocket and at this point I need reimbursement.

I was involved in an accident 2 days ago. And ever since then I have been getting the run around from AM FAM. I still do not have an adjuster assigned to my case nor has anyone called me to update me on the status of my claim. I am a Supervisor at my job and I HAVE to have a vehicle to get to and from work daily. AM FAM has not put me in a rental (I have rental coverage on my policy) and every time I call them I get the run around on when someone will be contacting me to get my claim rolling. YEAH RIGHT. At this point AM FAM is jeopardizing my job and that ain't gonna fly!!!! (Ebonics. LOL) I am trying to make light of a very serious situation to keep myself from getting even more upset. I am very displeased with the NON service that I have received up to this point. When this is all said and done, I will be switching companies immediately.

I was with American Family Insurance for 12 years and never missed payment and this greedy company just keeps raising the rates and cost for insurance. I left them and tried some other insurance companies and then came back to American Family Insurance and they started repeating the same thing. I even increased my deductibles and when I did that, they raised the rates higher than what it was when I had the lower deductibles. I canceled my insurance with them today and will never return! I am through with American Family Insurance. They also are not a single company anymore. I guess things were not going so well so they had to merge with the General and also another insurance company. It is three companies in one now. Perhaps that is why they try to rip you off – to pay all the executives millions.

American Family Insurance is the worst insurance carrier that I have ever done business with. As a new customer, I was not satisfied with the continued billing issues. This company charged my account multiple times for the same policy all in one month. I called and tried to get the issue resolved and did not get anywhere. After being placed on hold for 20 minutes, I was then randomly transferred to someone's voicemail; not sure if it was a supervisor or not. This insurance is being cancelled effective immediately. Disappointed Customer.

Sammy Oduniyi is the worst insurance agent ever. He lies to get what he wants. He uses his personal relationships with clients for his own professional gain. He told me if I didn't take the vehicle where he said to get repaired then fix it myself. He told the body shop owner where I took the vehicle to be fixed, "if you work on this truck you not getting paid." He went to the body and lied and said he was an adjuster coming to look at the truck and he is just an agent. He involved my 96 year old grandmother and my 77 year old father.
It was a simple ordeal. A deer hit me. No other people or cars involved. He wants me to take my vehicle where he wants it go because I'm sure he gets a cut for every vehicle he sends there. I thought you could have your vehicle repaired anywhere you wanted to. He is very untrustworthy and only out for his own personal gain. Please people don't let the nice American Family commercials fool. Think long and hard before choosing AM Fam. They have a lot of people working for them with no morals or ethics. This particular agent Sammy Oduniyi is one the worst ever insurance agents I have ever seen or heard of. Thanks American Family for nothing. I will be paying the $6,900 repair myself.

So I have been with American Family Insurance for over 5 years. I have paid my insurance every month on time. They insure my home and also two Classic Cars, 3 regular vehicles and a motorcycle. When I started my insurance with American Family Insurance they usually just have you sign paperwork and give them money to start their insurance policy, never feeling the need to go over everything with you when you ask questions. Of course they divert your questions by distracting you with other questions but never really answering your questions. Well about a month ago my fiance, who doesn't drive, doesn't own a car and doesn't see the need to have car insurance of her own, borrowed my car under an emergency situation and a woman ran a dog in the middle of the road and she rear-ended a truck.
The insurance company had no issues. They asked what happened during the accident and said that she needed to be added to my insurance policy. I stated that she doesn't usually drive, it was a one-time thing and they asked if she had car insurance. I said no because she doesn't own a car. They said "ok we will get back to you." Everything went quiet seemed fine. Well as my luck would have it I got in a motorcycle accident three weeks ago. I have full coverage on my Harley and I'm still making payments on it. This is where the insurance policy gets fun. They waited until my Harley accident to threatened me that if I don't add my fiance to my insurance policy they're going to cancel my insurance. Now mind you she doesn't drive and it was an emergency situation which I have explained to them. They waited until my Harley was in a tow yard to tell me "If you don't add her we're going to cancel your policy."
When I asked them what gives them a right to do that and why I needed to add her, they informed me that anybody that lives in the household with me needs to be added to my insurance policy just in case an incident like this happens. I asked them why until now did they wait to tell me that when I started my policy and that I also live with four roommates. I did tell them I was not comfortable with the fact that they were trying to force me to do something that they never informed me I had to do five years ago. When she said cancel my policy I sent her a message asking her what the grounds were, why she was doing it and what she needed. Of course she did not answer my question. She just send back the same question "Does your fiance have her own car insurance?" Of course I stated "no she doesn't own a car, why would she have car insurance."
The agent simply states "Here's the underwriters number. You can contact them." When I asked about my motorcycle she told me the claims guy would be contacting me on Monday. That was two weeks ago. I have not heard anything since. My motorcycle is sitting in a tow yard and the car that my fiance got in an accident, she covered her own medical bills and she paid to get fixed. The only thing that American Family Insurance had to pay for was the other guys truck. What they're telling me now is that he's claiming to be injured. During the accident the guy didn't bother calling the police. He got out of his truck and started calling his insurance company walking around denied any kind of medical help from the fire department and told the police department he was perfectly fine and had no issues. We informed our insurance of this and instead of listening to us they just keep on repeating "You need to add her to your insurance."
When I asked how much my policy it would go up if I added my fiance to my insurance policy, because of my classic cars, motorcycle and other vehicles l will be paying over $800 a month in insurance which is why I'm pretty sure they want her to be added. American Family Insurance is denying and saying that they did explain this to me that it is common knowledge, everyone knows that all occupants in a home need to be added. Also stating that I also neglected to tell them about my 5 roommates and other occupants of my home. Which is weird that they say that considering the fact that I insured my home through them and had to give them the names and number of occupants in my home in order for them to cover the home insurance.
So knowing the agent did not do his job properly, did not inform me of needing to add anyone to my insurance policy and also to the fact I asked them "If my brother wanted to test drive my vehicle and took it out for a spin and got in an accident with it would you also be making me add him to my insurance policy?" She literally said "Well does he live with you." So car insurance companies now hold the right to force you to release all information of your life to them before they cover an accident. But they will wait until they have you in a ruff spot so they can deny it. What is the point of insurance companies if they are going to freak out if you have an accident. So when you add people, if they are non driver of your vehicle, you need to have them send in their own car insurance information, their license and all their personal information SSI number etc... to your insurance company to prove that they are not driving your vehicle.
I don't know how many people would be happy to release so much personal information to another person or company they are not affiliated with. American Family Insurance waited until my motorcycle needed to be fixed, which, is an $8,000 claim, that they will cancel not just the one vehicle on my insurance policy but all of my insurance if I do not put my fiance to my insurance policy and pay over $800 a month. I would have no problem adding just one person who drives on a policy that I know would be driving my car at a decent price but adding her will make it go up to $800 a month not including my roommates.
Worst part is they keep treating my fiance like crap over this accident when it's an accident they happen. She shouldn't have to deal with such harassment and hostility or even being threatened to be sued by them over a small accident that everyone has. Why are they going to sue her for the money when they know it's my money anyway. When we get married I will be just as responsible for the cost as she is so why not just cover it now.

I have been a long-term customer of American Family (Arvada, CO), having both my auto and homeowner's policy with them. 2 1/2 years ago, I had my first claim, a slide on the ice that only damaged my vehicle, no other vehicles or property were involved. Am Fam paid for repairs (less my deductible), and of course raised my rates immediately. I just received another notice of a rate increase, again citing the accident as the cause. The agent would not respond to my questions of why I was being hit twice with rate increases, so I have moved on to another carrier. If this is how my long term business is valued, they have not earned my money or respect.

My daughter is currently on the side of the road, a rural route (2 lane road) with virtually no shoulder waiting for someone to come and change her tire. She has been there for an hour. After her initial call she got another message 30 minutes later saying the first company to assist would not do tire changes. Evidently they just decided that 30 minutes into the wait. So AmFam gets another company who says it will take 90 minutes to get there!! A 2 HOUR WAIT! On the side of the road with cars whizzing past.
The roadside dispatch says that the area she is in, 5 miles out of a major college town in Ohio is a "hard area to get roadside assistance"???!!! A multimillion dollar company can't get somebody in a 30 mile radius out to her to change a tire in a timely manner? Give me a break! Furthermore, if roadside assistance companies commit and then break their commitment THEY SHOULD NOT BE USED ANYMORE AND INSURANCE COMPANIES WHO DO THE SAME SHOULDN'T BE either!

Me & my daughter had purchased used vehicles in July 2016, we both signed up with American Family Insurance for our autos. Everything was going OK until August 2016. For some reason my daughter's auto was added to my policy, she already had an auto policy of her own with American Family. I called my agent Mike **, and asked him why she was added to my policy. He had no answer for the mistake, he said that he would remove her from my policy. I waited a few days and received in the mail a reminder to pay my premium, on the reminder they still had my daughter's car on my policy. So again I called my agent back, he said that her car should have been removed from my policy. He said that they had a new system and that him & his secretary was not familiar with the system yet. I suggested to my agent to call the main office and maybe they could walk him through the process of removing my daughter's car from my policy.
To make a long story short, my policy canceled before he could get her off my, and to make things even worse American Family never offered to reinstate my policy for free, my agent told me that I needed to pay 3- months of premiums in order to reinstate my policy. They also never gave me any time to shop for another insurance company. They notified the financial company that holds the loan to my vehicle, they knew what they cost me and they were taking advantage of the bad situation that they had left me in. I would advise anyone to stay away from this company, they are not honest and they don't take the blame for their mistakes. They don't train their agents when new systems and such are out in place. I don't feel that I trust this company to be there when I need them.

My recent experience with AmFam has been terrible. First off I called them to reissue a policy for a different vehicle (big mistake). I had cancelled a policy on a different vehicle a month before. The agent I was assigned was "out of the country" so I was rerouted to a different agency to reinstate the policy. This was on Sept 17. So I go to register the vehicle and the tag office tells me they don't have proof of insurance. Called the agency and they were unable to electronically send proof of insurance so I paid for 14 days for a car I couldn't even register or drive until the agent decided to come back to the US... Now they're telling me my payment for this month was due 13 days early because my due date was set for the 4th of every month and reinstated my policy on a 17th. WHAT A BUNCH OF CRAP!
They also tried to tell me they refunded me my payment to reinstate my policy I made on the 17th of Sept which was why bill was like the way it was which was a bold face lie. Also turned out they never cancelled my car insurance policy for the month of August up to Sept 17th so they were charging me money for a car that I told them to cancel the policy on I wasn't driving and that I didn't even own anymore. Then tried to tell me I owed for that month when I had already cancelled and paid the balance off. Also let them to talk me into renters insurance which they claim covers anything in the home from damage. Yeah right. I'll be cancelling that policy soon. Bill ** expect another call from me! Also told an agent to hold on for me (he was waiting maybe 15 seconds I kid you not). I get back on the phone and the guy puts me on hold! Long story short they have proved to be unreliable, dishonest, and untrustworthy. This is me giving my HONEST opinion.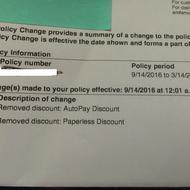 Where do I start. Oh, OK... I am from Colorado. First of all if I could give them "0" or "-100" I would gladly do!!! I am a proud single Mom with 3 kids and finally one of them is driving a car and I am not talking about the car from "Toys R US"... LOL. We had a car insurance with "Geico" and paid $380 (my Son drives with a driver license less than 3 years and he is 18) for both cars covered full liability and full tour with $250 deductible. This was the BEST deal around, not ONLY that I consider Geico the BEST company for Customer service as well (very friendly, willing to work with you), but anyway I am not here to write how good Geico is even though I strongly believe they are. I forgot to mention to you (reader) that my Son's car has a "Salvage" Title.
One day I went to my bank and one of the tellers asked me who is my car insurance company, I told her and she said, "Let's just check and see if American Family Insurance would give you a better rate," so long story make short we got on the phone... and after an hour and a half and I am not joking 1.5 on the phone with them, after I told them that Title was Salvage combining Car and Home insurance together they came up with a quote of $320. I was so happy that my Son could save $60 a month because car insurance and gas for the car it's his responsibility. So I went home and all was good till we got a letter from them saying that our car insurance is going up $168.50, because "AutoPay Discount and Paperless Discount was removed," so I called them and they told me that I did not registered for this discounts... BUT the truth is I was told by their agent that I DO NOT have to do anything else.
I gave them all payment information and it's all taken care off. However I said: That the ONLY registration e-mail that I got was for Home Insurance and I did register! And for God Sake how do you RISE my payment by almost $170 a month!!! Later I said, "Ok, send me a link to register!!!" And that was the time where the whole hell broke loose!!! The TRUTH FINALLY CAME OUT!!! They accused me in NOT telling them that one of the cars had a Salvage Title and because of that my insurance went up that much, not ONLY that they do not insure Salvage cars for full tort ONLY Liability!!! WHAT? Did I hear that right???
I asked for a Manager and they got Him on the phone, his name is "David..." and he told me that all calls are monitored and that he will pull up the call and will personally listen to it!!! Also David said that American Family Insurance DOES NOT cover Salvage Titles Cars and that he cannot believe that if I said that from the beginning I was given the quote!!! But anyhow he will get back to me within 24 Hours!!!
I said OK and it was 10/04/2016. Now 72 hours at least later, I had no phone call from them, no explanation... nothing!!! I talked to about 3-4 other people with regular car titles and they had same story as me with this so called Insurance company, this is just SAD!!! In the end I came back to Geico, but this time it cost us $80 more a month!!! Please do not insure with them. THEY WILL TELL YOU ANYTHING YOU WANT TO HEAR AND THEN WILL STICK YOU WITH A BILL (hoping you will not leave them), but the worst part is that it will most likely it will cost you more to come back to your cheaper insurance!!!

My wife's car was rear-ended by a client of American Family. I filed the claim with them, having been told to do so by my own insurer and by the police officer who wrote the report. They said they needed to talk with my wife and left her one message, which she immediately returned. After hearing nothing else for three weeks, I called in order to move the process along in a friendly way. I reached Dave **, the adjuster, who immediately became defensive and blamed her for not returning any of his many phone calls. He then became adversarial and disrespectful of me, wondering why I would think that his client was responsible. I complained to his supervisor, who defended him as a wonderful person. When ** did reach my wife, he was abusive towards her and told her the "claim was out." When behavior like this is supported by the supervisor, it is clear that there is a culture of disrespect.

American Family Insurance has proven to be a dishonest company with questionable business practices that are not even in alignment with their own stated values. In April, I was hit by a distracted driver insured by AF. I continue to fight for a fair settlement while AF minimizes the impact on my life and well-being. It took me weeks and several manager requests before I even got a call back and was connected to an adjuster. The adjuster proceeded to patronize me and outright lie, stating she did not have my phone number. The rest of the process has been just as disingenuous and infuriating.
I will be fighting for a higher settlement than I might have accepted had American Family behaved with class and fairness. It's unfortunate that in a case where law enforcement, witnesses, drivers and common sense all attest that their driver was 100% at fault, we are headed towards litigation. It's a waste of their customer's money, resources and faith. I think American Family is big enough that they probably get away with bullying the little guy far too often. I won't be among that group, but more importantly I wonder why you would want to give your money to a company that conducts itself in this way.

I canceled my Homeowners with American Family after my roof was the only roof around my home that wasn't totaled in a hail storm. Fast forward 4 year. I was driving straight and the light turned yellow as I got to the intersection The American Family customer that turned left on the yellow in front of me is only 90% at fault for making the illegal move. She was ticketed. I was going straight, didn't run the light or break the law, as a matter of fact, I was within the law as I cleared the intersection. Their customer turned left in front of me.
I had no ability to avoid the accident but I did my best not to allow it to be a T-bone collision and minimized the damage. The man who called to take my recorded statement and is the adjust has been incredibly rude on every call. He has reminded me three times now that just because the other party got the ticket and broke the law and caused the accident, that doesn't mean they are liable for all the damages. They have suggested I pay 10% or engage my insurance to pay the balance. That is not acceptable. I'm seeking an attorney.

I made the mistake of contacting this company after one of its members destroyed my car and her insurance company called me to get a statement. NEVER TALK TO ANOTHER PARTIES INSURANCE COMPANY. American family said I was partly liable for the accident even though a witness contradicted this with a written statement. American Family made an assumption based on what I said - they don't care about the truth. They are also liars and lazy - as they don't even bother to use the white pages to find an address.

Was T boned by a 17 yr. old girl on her cell phone and she ran a red light and admitted it. I have been in intense pain and suffering for 4 months now suffering from severe whiplash, vertigo, and neck and back pain. I can barely work at all and when I do I am miserable. Every time I call they tell me another agent will call me back and I never get any response from anyone. This company should not be allowed to insure anyone. They make you hire an attorney for all claims filed. Everyone I have talked with talks trash on this company for their inability to pay out to suffering people even when their client admits fault, the police report indicates it and all my Dr.S send them bills and they never fess up to anyone. This company can GO ** themselves. Shame on them for doing this.

I am with State Farm for more than 13 years and was solicited by American family to bring my policies over. The first agent canceled the appointment a few minutes before (Rick **, mn). A day wasted. The second agent (Tippie **, MN) never showed up. 2nd day wasted. The 3rd agent did not have manners and brought someone else to the meeting without informing beforehand. As I told him that this was not agreed upon he yelled in front of my house that I should find another insurance. I exactly did that. 3 days wasted. I called their corporate. They don't even think it is necessary to call back. I am glad I am not insured with them. Imagine how they would treat you as a customer.

I have had this insurance for 2 years and in these two years, I have had my policy cancelled twice, without being told. I drove without insurance for months without knowing. Their excuse was, "We sent you letters" and the reason for canceling was non-payment, even though they were supposed to take the money out of my bank account, as originally setup. When I checked with my bank, no attempt had been made to get money out of my account. My account was untouched. This insurance is not only very expensive, but also has people who don't care about their customers. If I had gotten into an accident while I was driving without insurance, I would have had to pay a lot of money out of pocket. If I had been stopped by the police, my car would have been towed. There were no apologies to rectify this and no remorse whatsoever. If you don't want trouble stay away from this insurance company.

My husband and I have had American Family for over 5 years now and never had an issue until this past May. I renewed our policy for a lower rate and was expecting it to start on the date it's always been. The 17th. So after my automatic payment (always been in place) was taken out, I noticed it was double the actual amount. After contacting my agent, I was told it was an error and they'd correct it. After a few days, I was sent a voicemail stating we were good through July. Our first payment won't be due till July.
Then the first week in July I get a notice telling me I'm 3 months behind on my car insurance. Baffled, I called corporate. Found out the double payment they took in May paid my renters insurance in full and they never touched my auto. Now who gave that kind of permission??? Next I find out that my husband is no longer a named insured. And again who gave permission??? I'm at my wits end with this shady company. Don't waste your time or money.

3 months ago my car was hit on the side by their insured driver who made an illegal left turn because she was not paying attention and hit my passenger side. I took pictures and video of the other driver admitting fault. My car was a brand new Subaru so I wanted to get the car fixed ASAP even though it will never be the same since it's been in an accident now. I got the police report and all her insurance info. I waited about 3 weeks and did not hear anything back from there after submitting pictures, police report, and video and all they could say was because the person who hit me hasn't talked to them they can't do anything.
I had to go through my own insurance (Progressive) and pay my $1,000 deductible to repair the damages and pay $230 for a week rental while my vehicle was in the shop for 10 days. My insurance company is currently in the process of getting my deductible back. If they are unable to do so in the next few weeks I will file complaints against the company and the adjuster Jessica ** based in the St Louis area. The company is only good at holding out on paying for their insured's mistakes as long as possible. I will also sue the other driver in a small claims court as well. I have been patient and I'm glad I went through my insurance in the meantime or else I would still be driving a damaged car which was in brand new condition. I do not recommend this company to any friends or family.
American Family Insurance - Auto Company Profile
Company Name:

American Family Insurance

Website:

https://www.amfam.com/