Plymouth Rock Auto Insurance
Consumer Reviews and Complaints

Every time I've contacted Plymouth Rock Auto on an issue their employees have been very helpful and courteous and my issues have always been expediently resolved. This company offers great customer service and affordable insurance. When I have contacted them for information or resolution of a problem they've responded efficiently and positively.

I spoke with Gerry ** representative who took care of my case where their insurer hit other car and the car spun around to hit my parked car in a parking lot. He keeps telling me he cannot pay me until they investigate everything which takes 45 days or so which means since my car was totaled I have no car to drive when it is obviously their fault since my car is parked in a parking lot and no one was inside. Then I spoke with the supervisor he yelled me while we were having conversation. He keeps telling me he does not have any information and he does not know anything when the accident happened more than a week ago. This company has terrible customer service. The supervisor actually yelled at me.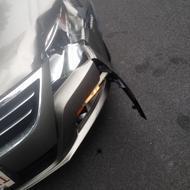 Refer to the picture attached, this is a Volkswagen CC 2012, the right front part was damaged when the car hit a deer. The insurance company PLYMOUTH ROCK said the car was not repairable and could only be totaled for approximately $8500. I did the maintenance with the car dealer. The car is in a great condition and all wheels are new. Totaling a car in good condition at a low price is the way PLYMOUTH ROCK used to avoid its responsibility! The attitude of the contact person in PLYMOUTH ROCK totality Department (A lady) was so poor. She was yelling at me and told me totality at their price was my only choice. Because of her poor attitude, I felt ill and had to ask her to send me email instead of yelling at me. What does insurance mean??? PLYMOUTH ROCK's insurance is to force customers to sell their car at a low price and avoid the insurance responsibility.

I had gotten rid of them years ago when they deemed an accident that was clearly the other person's fault. It just happened to me again. I was clearly at a full stop waiting for another person to park when all of the sudden her alarm of her car goes off and she backed 5 or 6 spaces to my car. As I saw she wasn't stopping I then tried to get in a parking space but it evidently was too late. She hit me on the side of my car as I was going into parking space. I am sick of NJ with this no-fault accident policy. This has to go cause they used it to declare the accident no fault since the officer never took a statement from me. And charged it to me as the person who said I didn't see her when I never said anything.

My car has been deemed totaled a few weeks ago and everytime I call the agent dealing with my case I don't receive an answer. I have to keep calling and calling in order to get a call back. I talked to a CR and she was so useless. Her answers were "uhmm. I don't know. Uhmm I don't see that here. Uhmm I don't know". What kind of help is that? Worst customer service from an insurance provider I've ever received. I shouldn't have to keep chasing them every single day to get answers on my case status! I would give 0 stars if I could. Looking to switch the other cars we have insured with them as well.
How do I know I can trust these reviews about Plymouth Rock Auto Insurance?
883,201 reviews on ConsumerAffairs are verified.
We require contact information to ensure our reviewers are real.
We use intelligent software that helps us maintain the integrity of reviews.
Our moderators read all reviews to verify quality and helpfulness.
For more information about reviews on ConsumerAffairs.com please visit our FAQ.

This company sucks. I'd give them zero stars if possible. I've just gone onto my own insurance this year, and I called multiple Insurances to compare, and this one was the sad winner. After having me give my down payment and first month's pay, the company decided to change my rate. Without even warning me they added an extra $153 to my monthly payments. Then when I asked why, I got some random responses asking about my mother's insurance? And then they credited me $30 for probably complaining about their **-up.
Then a few months later after already receiving my mother's insurance info they decide to tell me that if we live in the same household that one of us has to change our insurance??? It's not (and I quote) "Compatible"?? So I go ahead and try and ask one more time why this obscured instance is occurring, and if this is true why no one had said anything MONTHS ago when first receiving the info, and I get my question completely ignored and they ask for the papers again. This company is truly an awful one. If you're on your own for the first time I HIGHLY recommend you keep looking. This company has truly scammed me.

The representative listened to my details and processed my claim in a professional and timely manner. In my opinion, they are always very helpful and eager to work with me on different issue like payments and financial advice. I have been with this company for 20 years now. They build relationships with their customers. I have had 3 claims in the past and all my medical was paid, my car was repaired quickly and when I was not able to make a payment, they worked with me to ensure that my insurance was not cancelled. Priceless. I have referred several people to them and they are very pleased to this day. In conclusion, I would never leave this company because of their outstanding service.

I never had any problems with Plymouth Rock. They always send me a reminder when payment is due and if I ever have any questions, their friendly service is always able to answer all my questions in a prompt manner.

I have had this insurance for 30 years. It was originally called Prudential. I have not had many issues but when I did I found that they were handled quickly and efficiently. The people are nice when I speak to them. I feel their cost is comparable to other insurance companies.

When I had an accident, they were extremely helpful. I had no trouble reaching someone on the phone. They dealt with the other driver's insurance company for me and ultimately my claim was settled to my satisfaction. I appreciated their help and would definitely recommend them to others.

I have never had one problem with Plymouth Rock. They are a reputable firm and would recommend to anyone. They are always there for me. I have a great insurance agent who is always there for us. We also have car and home insurance.

Good rates, ample coverage. No problems. No claim experience with my insurer. Good discount programs. Have a good reputation in this state. Have been insured for at least five years with my insurer.

Great prices and really helpful customer service. Easy payment options, and they email you to remind you that a payment is due. I haven't had to call them for any other reason, as I haven't had an accident or any kind of claim to open.

I have had a very positive experience with Plymouth Rock. Their customer service has been exceptional and price has been the best I have found over the past several years. Premiums had only slightly increased unlike my previous insurance company. They have always felt promptly with any issue and I would not consider changing insurance companies anytime soon.

The customer service is friendly and helpful and the coverage is very good. Representatives made it easy to sign up for the coverage, make any changes to the coverage, and pay for the premiums. They took the time to explain coverages and answer any questions that I had. Prior to a trip, I called Plymouth Rock to ask questions concerning coverage when leasing a car. The agent carefully and thoroughly explained the procedure and what I needed to do to be covered during my car rental.

I've never never had an actual problem. I'm a pretty good driver, and I haven't been in any sort of accident since I've had this insurance. So never before have I really needed to really work with them on a personal level.

So far I have had a great experience with my auto insurance company. They answer all of my questions in a way that I can understand. They don't leave you on hold for hours. They communicate quickly and efficiently but still take the time to discuss your options and personal needs.

Matthew BrodskyInsurance Contributing Editor
Matthew Brodsky is an established expert on insurance, having written hundreds of articles and other pieces of content on the subject, interviewed countless practitioners, and attended dozens of conferences and events. He served as an editor at industry magazine Risk & Insurance for six years. More about Matthew→

Plymouth Rock Auto Insurance is an insurance provider that serves drivers in Massachusetts, Connecticut and New Hampshire. Policyholders can report claims 24 hours a day, and Plymouth Rock Auto Insurance's customer service line is open Monday through Friday from 8 a.m. until 5 p.m.
Licensed agents: The company's agents are licensed to work in Massachusetts, Connecticut and New Hampshire to meet the concerns of local drivers.
Savings pass: Policyholders in Massachusetts can receive discounts at several auto-related businesses, including those that provide oil changes, car rentals and repairs.
Door-to-door valet claims: Plymouth Rock Auto Insurance will pick up damaged cars for homes, offices and other locations to have them repaired, even when policyholders do not have time to visit their mechanics.
Mobile adjuster services: Plymouth Rock Auto Insurance has a Crashbusters van that can visit accident sites to quickly assess damages and issue checks for vehicle repairs.
Online claims status: The company's website makes it easy for policyholders to check their claim statuses and details.
Best for Drivers who prefer local companies, drivers who want discounts and drivers who want extra services on car insurance policies.
Plymouth Rock Auto Insurance Company Profile
Company Name:

Plymouth Rock Auto Insurance

Year Founded:

1983

Address:

695 Atlantic Ave.

City:

Boston

State/Province:

MA

Postal Code:

02111

Country:

United States

Website:

http://www.prac.com/