Medical Guardian
Medical Guardian offers 24/7 monitoring with a wide range of devices for at-home and mobile use. Its products include family plans, mobile devices, home-based systems and even a medical alert watch. The company offers fall detection with certain devices. It monitors for emergencies and provides an app for caretakers to check in.
Overall Satisfaction Rating
5 stars

4 stars

3 stars

2 stars

1 stars
Pros
Variety of options
Automatic fall detection available
No long-term contract
Caretaker app
Cons
No free trial period
Average pricing
Bottom Line
Medical Guardian provides home and mobile medical alert systems to ensure safety anywhere. There's no free trial, but its prices are decent, installation is easy and you can cancel at any time.
Top Medical Guardian Reviews
How do I know I can trust these reviews about Medical Guardian?
3,299,282 reviews on ConsumerAffairs are verified.
We require contact information to ensure our reviewers are real.
We use intelligent software that helps us maintain the integrity of reviews.
Our moderators read all reviews to verify quality and helpfulness.
For more information about reviews on ConsumerAffairs.com please visit our FAQ.
Elizabeth of Richmond, VA
Verified
I can't get up when I fall. I now have Medical Guardian's device that goes around my neck. It goes when I go. I haven't had to use it, but so far it's easy to handle. The Medical ...
Read full review
Joseph of Wellington, FL
Verified
I'm 82 years old, living alone and I have... a pacemaker. I wanted to make sure I was covered and so I got a medical alert. … During the day, I have my Medical Guardian watch on. ...
Read full review
Medical Guardian products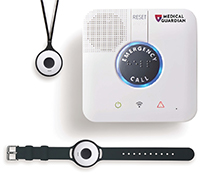 Medical Guardian
Classic Guardian
$0.97 per day as of publishing date
Includes fall detection technology that triggers a call to a monitoring center. Provides 1,300-feet coverage area for movement in any direction. Includes a backup battery. Month-to-month contracts and prorated refunds available.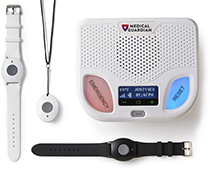 Medical Guardian
Home Guardian
$1.13 per day as of publishing date
Provides technology for fall detection. Movement area coverage is 600 feet. Offers wireless access to on-demand assistance. System is easy to install, water-resistant and compatible with wearable help buttons. Includes a backup battery power supply.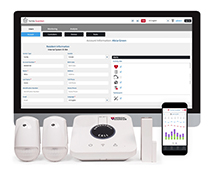 Medical Guardian
Family Guardian
$2.58 per day as of publishing date
Able to identify a fall and trigger a phone call. Provides a 1,300-feet coverage area. Includes activity detection sensors as well as entry sensors to doors and windows. Offers family-care functions that keep caregivers or family members informed of health issues.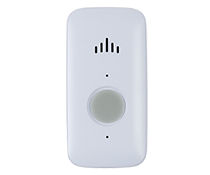 Medical Guardian
Mini Guardian
$1.29 per day as of publishing date
Fall detection can be added to this miniature device. Weighs less than 1.5 pounds. Can fit on your belt or pants or skirt pocket. Easy-to-press button for emergencies. Rechargeable battery lasts for up to five days. Designed to go wherever you go.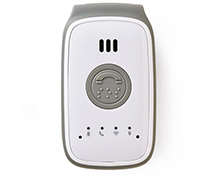 Medical Guardian
Active Guardian
$1.20 per day as of publishing date
Offers GPS and Wi-Fi location technologies. Battery life lasts for up to five days and becomes fully charged after just three hours. Fall-alert capabilities can be activated separately on this device. Can be worn with a pacemaker and is water-resistant.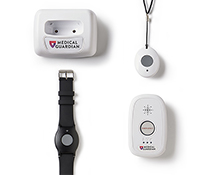 Medical Guardian
Mobile Guardian
$1.35 per day as of publishing date
Built-in GPS technology makes it a personal emergency response device. Perfect for use at home, around the neighborhood or while driving. Cellular connection uses the AT&T network. Can call for emergency assistance from up to 350 feet in every direction.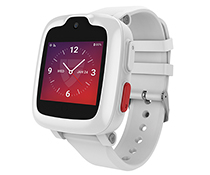 Medical Guardian
Freedom Guardian
$1.45 per day as of publishing date
Battery life extends for up to 48 hours, depending on usage. Includes audible features and a large touchscreen with icons for viewing. Suitable for healthy and active adults. U.S.-based monitoring with GPS and Wi-Fi capabilities.
What is Medical Guardian?
Medical Guardian is a company focused on products that benefit older adults who spend most of their time alone. With services like activity monitoring and fall detection, Medical Guardian alert systems can also be a smart option for anyone with a critical medical condition or who's hard of hearing, at risk of falling or in recovery from a significant health event.
Medical Guardian offers six different service plans that can fit almost any lifestyle or budget, and system options include in-home and on-the-go portable devices. You can add fall detection to any plan for an additional charge.
Although Medical Guardian doesn't offer a free trial period, there's no service cancellation fee, and customers receive full prorated refunds for unused time. Another plus for customers is the flexibility of Medical Guardian's monitoring agreements. The company's monitoring centers provide 24/7 emergency response, and its automatic monthly tests ensure the two-way voice communication technology is always working.
Medical Guardian cost comparison
| | Monthly payment* | Quarterly payment* | Semiannual payment* | Annual payment* |
| --- | --- | --- | --- | --- |
| Classic Guardian | $29.95 | $89.85 | $179.70 | $329.45 |
| Home Guardian | $34.95 | $104.85 | $209.70 | $384.45 |
| Family Guardian | $79.95 | $239.85 | $479.70 | $879.45 |
| Mobile Guardian | $49.95 | $149.85 | $299.70 | $549.45 |
| Active Guardian | $39.95 | $119.85 | $239.70 | $439.45 |
| Freedom Guardian | $44.95 | $134.85 | $269.45 | $494.45 |
| Mini Guardian | $39.95 | $119.85 | $239.70 | $439.45 |
*At the time of publishing
How does Medical Guardian work?
When you press the medical alert button, you are instantly connected to the medical monitoring center staffed with emergency call operators 24/7. The center has access to your medical history and can get you the help you need, whether it's sending an ambulance for crisis care or contacting people you know for help in a non-emergency situation.
If Medical Guardian cannot confirm your safety after the alert system is activated, the operators quickly dispatch emergency medical services to your exact location.
Medical Guardian monitoring centers are FM-approved and UL-listed, which means its emergency dispatch services meet specific safety and reliability standards. Medical Guardian monitoring centers also hold TMA Five Diamond certifications for operator training and ESA certifications for providing excellent emergency services.
Compare Medical Guardian features
With home and mobile medical alert systems, Medical Guardian has many options to choose from when it comes to your safety and well-being. Wearable emergency pendants for in-home and on-the-go use can also be equipped with automatic fall detection technology and more.
| | | | | |
| --- | --- | --- | --- | --- |
| | GPS | Wi-Fi enabled | Activity sensors | Cellular connection |
| Classic Guardian | | | | |
| Home Guardian | | | | |
| Family Guardian | | | | |
| Mobile Guardian | | | | |
| Active Guardian | | | | |
| Freedom Guardian | | | | |
| Mini Guardian | | | | |
| | | | | | | | |
| --- | --- | --- | --- | --- | --- | --- | --- |
| GPS | | | | | | | |
| Wi-Fi enabled | | | | | | | |
| Activity sensors | | | | | | | |
| Cellular connection | | | | | | | |
Medical Guardian products and services
Medical Guardian plans can be upgraded to include in-home safety sensors that monitor activity, fall alert detection, voice-activated wall buttons and the Family Guardian app. The app lets family members or caretakers monitor a loved one's health and activity levels.
Fall detection: Medical Guardian fall detection can be added to any plan for an additional $10 per month. Fall alert pendants automatically detect when the wearer falls and signals for help without the pressing of a button. Please note that fall detection devices don't detect 100% of all falls.
Lockbox: Lockboxes come free with annual subscription plans and can be added to any plan. With a lockbox, emergency responders can gain access to your home without causing any damage to doorways.
Neck pendant: Water-resistant medical alert pendants can be added to Medical Guardian medical alert systems for added protection. They include adjustable lanyards and have depth ranges between 600 and 1,300 feet.
Wrist button: Similar to a watch, the water-resistant help button is worn around your wrist. Wrist buttons come standard with some packages or can be purchased separately.
Mounted wall button: Mounted wall buttons can be strategically placed throughout high-risk areas in your home. Wall buttons have a range of coverage up to 2,000 feet and wirelessly connect to a Medical Guardian monitoring center.
Car charger: Medical Guardian car chargers are a convenient way to ensure the battery never gets low while traveling. The car charger comes standard with the Mobile Guardian plan.
Protection plan: Medical Guardian's protection plan guarantees medical alert systems' expenses if a device is ever lost, stolen or damaged.
Mini Guardian: Portable and wearable device that uses a 4G LTE cellular connection for an unlimited range of coverage.
Medical Guardian FAQ
Do I have to sign a contract to get a Medical Guardian medical alert system?

No, you do not have to sign any contracts to get a Medical Guardian medical alert system.

What is Medical Guardian's return policy?

It doesn't cost anything to cancel, and this can be done by calling Medical Guardian customer service. Medical Guardian's return policy states any equipment provided by Medical Guardian must be returned to the company. Any remaining time left in the service plan period is refunded in up to 30 days. Some Medical Guardian complaints refer to restocking fees that can apply.

Does it cost extra to add my spouse to Medical Guardian's monitoring service?

Multiple people can be protected if the monitoring service has more than one medical help button. A second medical alert necklace or wristband is monitored free when purchased with a Classic Guardian or Home Guardian plan.

Where are Medical Guardian monitoring centers located?

Medical Guardian monitoring centers are located in the United States, and monitoring services are available in all 50 states.

Do Medical Guardian emergency response services require a landline?

The Classic Guardian device plan is the only service that requires a landline. All other Medical Guardian service plans do not require a landline.

Does Medical Guardian offer a warranty on medical alert devices?

The Medical Guardian warranty protects any equipment provided by the company if it's defective or if the battery needs to be replaced. An optional protection plan can be purchased to cover the cost for needed repairs and replacements resulting from loss or theft.

Does Medical Guardian offer a free trial period?

Medical Guardian does not offer a free trial period.

Is Medical Guardian covered by Medicare?

Some Medicare Advantage plans, like Medicare Part C, partially reimburse costs associated with a medical alert system. However, standard Medicare does not cover medical alert devices.
Do we recommend Medical Guardian?
While there are other companies that might be cheaper or offer more products, Medical Guardian remains consistent overall with quality products and a good reputation for service. With the development of multiple long-range, wireless medical alert systems such as the Mini Guardian, the Freedom Guardian and the GPS-enabled Mobile Guardian, this company provides products that are ideal for users who need medical monitoring but value their independence.
A link has directed you to this review. Its location on this page may change next time you visit.
How do I know I can trust these reviews about Medical Guardian?
How do I know I can trust these reviews about Medical Guardian?
3,299,282 reviews on ConsumerAffairs are verified.
We require contact information to ensure our reviewers are real.
We use intelligent software that helps us maintain the integrity of reviews.
Our moderators read all reviews to verify quality and helpfulness.
For more information about reviews on ConsumerAffairs.com please visit our FAQ.
This review is featured by Medical Guardian
L. of Nj, NJ Verified Reviewer Verified Buyer
Original review: May 10, 2019
I'm alone. My husband died. My children had to make sure I had safety. They ordered a Medical Guardian for me and it goes around my neck. When I got it just about three months ago, I fell and I pushed the button. And all the worst things happened very quickly. I got help fast. I went into the hospital. I broke my hip. But I'm safe now.
Medical Guardian response
Lorraine, we're happy that we were able to be there for you in your time of need and that you were able to get help when you needed it. We hope that you are doing well in your recovery. Thanks for the review!
6 people found this review helpful
This review is featured by Medical Guardian
Jai of Tallahassee, FL Verified Reviewer Verified Buyer
Original review: April 16, 2019
I was in the hospital for something that was very physically limiting and when they sent me home, it was with a household caregiver who stayed with me for a couple of weeks. At about the same time, this Medical Guardian came in through the mail and I love it. It has a range of 600 feet so I just use it around the house. But when I'm home is when I need it anyway because I'm alone. In fact, it has come in useful for me twice. When I called them, they sent an ambulance out immediately. I don't think I was alone for more than five minutes. It saved my life. I used it for the second time recently. I kept falling and passing out so they came and got me through the Medical Guardian. It gives me a lot of feelings of security and I would recommend it. I use it at night too because I'm a little nervous about what might happen so it comes in very handy.
Medical Guardian response
Jai, thank you for the review. We're happy to have been there for you when you needed assistance. We hope you are doing well after your most recent incident. Stay safe!
5 people found this review helpful
Page 1 Reviews 0 - 5
Janis of Citrus Springs, FL Verified Reviewer Verified Buyer
Original review: Aug. 26, 2020
My insurance company sent me a medical alert. They sent one of those things that they got to set up a thing in your house and you can only go 500 feet. My mailbox is over 500 feet from my door. My backyard, I have to only go halfway through it. I've never opened it. That was when I went online and got Medical Guardian. I'd rather pay for something that I know is gonna be there when I need it.
I live by myself and I have very bad sleep habits. But for three nights, strange things had been going on around my house. When you live in the woods by yourself, even though you got neighbors, it's still scary. The first two nights, I called my daughter's son-in-law and they came over. This time, I thought they were in my house. I have a big house and it sounded like they were in my garage. I couldn't remember if I locked the door between the hallway and the garage.
I pushed the button and I told the lady, "I don't need an ambulance, but I think I need the sheriff." They were here within two minutes. The rep stayed on that thing. That was another good thing. I might've had a heart attack had she not been on there calming me down. She talked me through a very bad panic attack. That's as scary as having a heart attack. I thought my oxygen wasn't working. I kept checking my oxygen level and making sure the oxygen concentrator was on. Suddenly, I just pushed the button, 'cause my heart rate was up to 135 and my oxygen level was dropping. I know what to do when that happens. But when you're having a panic attack, you can't think. Everything goes crazy.
But I guarantee I wouldn't trade my Medical Guardian for anything because the rep stayed on there and she was like the nerves talking to me. She told me to sit down and to get away from the door. It was just like having her in the room with me. By the time they got here, she had me calmed down. She was very comforting. They checked the property and inside and they made sure I was all right before they left. I've already recommended Medical Guardian to my friend out in California.
Read full review
Be the first one to find this review helpful
Thank you, you have successfully subscribed to our newsletter! Enjoy reading our tips and recommendations.
Tabitha of Waynesville, NC Verified Reviewer Verified Buyer
Original review: Aug. 25, 2020
When my grandmother received her Medical Guardian device, I was the one that was supposed to set it up. But she threw away the box that it came in with the instructions, so we weren't for sure how to set it up. I did save the email, so my husband was kinda sorta messing around with it because we didn't know if the green light was supposed to stay on if it was charged or what was going on. He messed around with it for a few minutes and it ended up calling the help people. When it did, my husband said, "We were just trying to figure it out. We didn't know how to work it, what's going on." The rep talked him through it and told him that everything was set up and it was ready to go.
My grandmother had fallen and broke her hip and we had rotated with her. We kinda had done that before she got her medical alert device. When she fell and broke her hip, we said, "Well, we all work and the majority of us all have to work days. So she's there by herself until one of us gets off or something." So we got to looking around to see what was out there. We called Life Alert. For me, that was too expensive for something that she might use because I don't think she's going to use it that much. It's just going to be for if something happens and nobody's around, then she would use it.
We were trying to find something that was in a price range that was reasonable for what she might end up using it for. I started research and look in and then I found Medical Guardian and read up about it. We called and we asked about it and all of us kinda agree for the price and the service that it would be good. Our grandmother hasn't had to use the device. We're hoping she doesn't, but we wanted that extra layer of protection for us. Nobody is there and if something does happen, she has something. Everybody's very satisfied with it. The price is reasonable.
Read full review
Be the first one to find this review helpful
Doris of Rockaway Township, NJ Verified Reviewer Verified Buyer
Original review: Aug. 24, 2020
I got the virus and my friend called Medical Guardian and ordered a device for me, and she had it sent to my house. I live alone and my kids are in California. They were worried about me being alone with the virus. I fell down the front steps with it on. I hurt my shoulder. I couldn't get off the step. People weren't stopping because everybody's afraid of the virus. They knew I had the virus. They're afraid they're gonna get it. So, all the neighbors that were on the beach walking by does not stop to help me up. I was able to call the ambulance and made a lot of trouble getting me up because of the shoulder and my weight. I'm going to the doctor tomorrow because my shoulder is still in bad shape. I can't use the right arm much at all.
I called Medical Guardian a couple of times because there were a few questions on it. One was the water. The brochure says, it can take the water slightly. Somebody said, "No, don't shower with it." When my friend bought it, they said, "You can shower with it," which is one of the selling spiels that she went by. And then they told me I can't shower with it. Then they told me yes again when I ordered one for my friend's husband who just fell down the stairs. But he doesn't want it. He said he's gonna return it. He's 84 and has Parkinson's. He goes in his workshop for four hours. His wife never hears about him. He was doing some work himself, and he slid down the stairs.
He's a machinist. He's retired but still works on these big machines. His comment was, "I can't hang anything like that around my neck working on these machines." I said, "No, no, no. You put it in your pocket." It's a smaller black one. I bought the fall device, too. If he falls, it kinda had a comment in there that it will always recognize when you fall. When I ordered it, it's $10 for a month. He said it works, but he was concerned about it. We're at the yacht club Friday and he said, "It doesn't say anything. One little brochure doesn't say anything about falling." I said, "It's there, little left hand corner. Not much is said but it's there. You gotta pay extra for it." So, I paid extra for it. I said, "If you fall, it'll be in there."
I find that I'm charging my device more than I expected. When you're charging it, you don't have it on. I have to schedule the charging. I'll put the charging dock next to my recliner where I sleep. Overall, it was so comforting to have my Medical Guardian device the first time living through the virus, not being able to breathe and being alone. I didn't have it when I was in the worst state. But then when I had it, it was like, "Wow," what a nice feeling to have this.
Read full review
2 people found this review helpful
J. of Ct, CT Verified Reviewer Verified Buyer
Original review: Aug. 10, 2020
The trouble was the device worked exactly like it was supposed to. I'm recently widowed and I'm at the far end of a dead end. From here to the entrance is, maybe half a mile winding and wending your way. I wore the device to bed and I accidentally set it off without knowing it. I have it in such a way that I hope it makes it a bit stronger to keep around my neck here. I must have pulled on my lanyard and it pulled the clasp apart. The clasp is a magnet around the thing. And then once it came apart once it was easier for it to come apart again for some reason. I've made a Jerry-built gadget here to kinda keep it from doing that.
When the rep tried to talk to me, just see if I was all right, there was no electricity so I didn't hear a voice. Medical Guardian put in that I needed help, which was perfectly appropriate. They were work like gangbusters and were terrific. They did exactly what was supposed to be and the firemen used the lockbox and came in. I'm not going to wear the device in bed anymore. I'm going to put it right alongside the bed. Because I'm not a false alarm person, and it's annoying that I had to have all these three young, handsome firemen come and rescue me, who did not need to be rescued. I'm a fairly active person despite my age. One false alarm is plenty. But the firemen were very efficient.
And then after the three firemen left, I said to myself, "Oh, let me call you guys and let you know that I'm okay." But I couldn't find any number to call. I tried two or three, but they all were daytime business numbers. It works fine when you're not out of electricity, especially for a whole week. I was wondering if they should have a 24-hour number. But I only gave my house number, never dreaming that in those couple of weeks that we would have this huge power outage. I have now given one of my cell phones. I'm most satisfied with Medical Guardian.
Read full review
Be the first one to find this review helpful
Doug of Columbia, SC Verified Reviewer Verified Buyer
Original review: Aug. 7, 2020
I'm happy about Medical Guardian. I was looking at the TV and then I checked the different ones that looked the best to me and I picked one of them, which happened to be Medical Guardian. They have a few things. I got that little thing that goes around the neck, and then the GPS thing. My granddaughter did most of the setting up for me. She was over here and she tested it out as well. I wear the wristband mainly in the house. Most times during the day, I also put the GPS on 'cause I go out and I never know when I'm gonna go. It stays good within 300 feet of where the GPS is. The way I understand it, if I have to leave it in the house and go farther than 300 feet, it wouldn't be covered.
The main reason I have a Medical Guardian device is that my wife has dementia and her dentist who's a good friend of ours said that I needed the button because I have her full time. I do all service for her 24 hours a day, seven days a week. It's just me and her in the house and our friend said that if I fell or something and couldn't get in touch with anybody, my wife wouldn't be able to shout. She doesn't know how to call out or anything like that and I'd have to do it myself. If I could mash the button, I could get help that way. I haven't had to use the button yet and I look at this like a do life insurance. I don't look to collect on it, but if I have to get the button, I got my daughter as the number one person to contact, and my granddaughter as the second person to contact.
I got two keys in the box on the front door, so that nobody has a problem. However, I need to have a note made some way to make sure that somebody will take my place because if they take me out of the house, my wife would be here unattended. I want to let somebody know that they wouldn't be just contacting my daughter. If she had to be the one to come out, then I'd have to have my granddaughter too. In case they had to take me to the hospital, my wife has to have my granddaughter with her 'cause of the dementia. You couldn't take my wife with me to the hospital 'cause everywhere I go, she has to go. If you asked her anything, she wouldn't know. She wouldn't answer.
Read full review
Be the first one to find this review helpful
Susan of Rothbury, Michigan Verified Reviewer
Original review: April 1, 2021
The device worked very well for my mother the choice of a necklace or a wrist band was very nice to have. It allowed her to stay independent much longer because if she fell help would be on the way immediately. They always called me at home to notify me that her device had been activated. Peace of mind... priceless.
Be the first one to find this review helpful

Stephanie of Saint Paul, MN Verified Reviewer
Original review: Feb. 5, 2021
I was very excited about the Freedom Guardian Watch because it was everything I needed for my mother. I read the reviews and did my research then placed my order. This arrived in about 5 days and I was quick to charge it for the night so I could set it up in the morning. I woke up, made my coffee and called the company to activate it. Now, I live in the suburb of a large city and getting a phone signal is not a problem. This was a problem for the watch so the Tech asked if I could try standing outside to see if this would help. It seems that a metal roof or siding will block the signal (I have neither). Well, there is freezing rain and sub zero but I took one for the team and went outside (really the doorway and held the watch out further) this changed nothing. The watch would not connect to the signal of AT&T.
I was able to test the system and talk to the operator when I pushed the help button. The Tech suggested I power it off and try setting it up at my mother's home. Upon arriving to my mother's I called the Tech back and powered up the watch. Now there is NO signal. The person I was talking to was very nice and easy to work with. She told me the watch is only 3G and lots of areas are weeding this out for the faster 4 and 5G. There is also a "VERY small antenna in the watch that limits its range." Her words. She then told me I was by a lake and around a lot of trees which can also block the signal - really! Well the GPS is working. I asked if they were upgrading this watch and this was a no. I think this could be a great product if they pick a better phone carries and stronger antenna. I'm so sad but I am returning this product. I feel the technology already exists - Guardian please team up with Apple watch and make this work for our seniors.
Read full review
Be the first one to find this review helpful
Paul of Long Beach, NY Verified Reviewer Verified Buyer
Original review: Dec. 3, 2020
My mother has the MiniGuardian, and recently fell (first incident with the unit). The system did in fact summon an ambulance crew (my mother pressed the button). But the crew could not get into the house for 15 minutes -- until I noticed flashing red lights from the window and opened the front door (I was actually home, but was pre-occupied in a different part of the house). What about the lockbox code? The crew was told by the dispatcher there was no such code. But after the incident, I called customer service and inquired about the lockbox code and the rep immediately told it to me! But the dispatcher (called the next day by pressing the button on the device) stated there was no lockbox code.
What about calling emergency contacts? None were called (including myself who is first in the list to be called). The customer service rep said that there were none in the system and that's why no one was called. I told him to pull up the scanned signed doc of the system agreement which he did, and he admitted that yes there were four emergency contacts listed. He could not explain why the info was not in the system. To summarize: The system -- when needed -- only came through for summoning the ambulance, but failed on providing lockbox code, and failed on calling emergency contacts.
Read full review
6 people found this review helpful
Shannon of Wichita, KS Verified Reviewer Verified Buyer
Original review: Oct. 21, 2020
The Medical Guardian equipment was bulky and heavy, and my mom didn't like it; we tried two different products, so we gave it all a shot. I received confirmation that the returned equipment was received on 8/6/2020 and was told to allow a ridiculous 30 days for a refund. I went along, but when I hadn't received a refund my next credit card bill, I called on 9/21/20. Still no refund on 9/24, so I submitted a dispute via my credit card company. On 10/11/2020 the credit card company reversed its refund and told me the dispute was still in play.
On 10/21/2020, I called and talked with Barbara who told me that Medical Guardian hadn't been able to refund my money because of the refund dispute, even though the transaction had been reversed TEN DAYS prior. She said I would be credited within 72 hours. What malarkey. I told her that if the refund weren't posted in that time, I would go ahead and work through my state's district attorney. She said, "OK" without any apology for this poor service.
Read full review
6 people found this review helpful
Sarah of Manchester, ME Verified Reviewer
Original review: Oct. 18, 2020
I order the home medical alert system for my mother end of 2019. I was told when I purchased the system and paid for a year of services that I had 30 days to try the product, and would receive a full refund if I was not satisfied. I made sure the warranty was for 30 days because this was a Christmas gift, and I knew my mother would be leaving for 2 weeks the day after Christmas, so it would be at least 2 weeks before she could try it out. I asked extensive questions about the warranty and return policy, and because of the answers I received I was comfortable paying for a year of services. That was a mistake.
The additional call boxes were not synced with the base unit, nor could I get them to sync. We had issues getting the base unit to work with the cable based phone system, which I was assured would not be problem when I placed the order. When we called to get assistance the call center was either closed (not open on Sundays, but the website said it was when I was researching), too busy to help at that point in time, or the person was completely incompetent and couldn't help at all. We called 4 or 5 times trying to get this system to work.
I decided to return the system, so I packed everything up and paid out of my own pocket for the return shipping and insurance. When I finally received my refund about 6 weeks later, it was $50 short. I called to find out why, and was told the warranty was only 15 days therefore I was being charged for shipping and the 1st month of services. What it comes down to is this company charged me $50 for nothing but lies, deceit, and frustration.
I was going to file a complaint with my State Attorney General's office, but once the pandemic hit I felt there were bigger problems in the world. If this is how they are treating me, I have serious concerns about they are treating the disabled and elderly consumers this service is designed for. I spent hours online doing research on different companies and felt this was the best service for the price. Remember, you get what you pay for, and Medical Guardian will rip you off. Take your business elsewhere.
Read full review
7 people found this review helpful