Home Sweet Home Sale
Call us for 75% Off Home LT use promocode : HOMESWEETHOME
Our promise. We provide a buying advantage with verified reviews and unbiased editorial research.
Home Sweet Home Sale
Call us for 75% Off Home LT use promocode : HOMESWEETHOME
About Medical Guardian
Medical Guardian offers medical alert devices and monitoring services. Its products include wearable mobile devices and home-based systems with optional fall detection. The company was established in 2005 and is based in Philadelphia, Pennsylvania.
Pros & Cons
Pros
24/7 professional monitoring
GPS capabilities
Smartwatch options
Companion app
Cons
Some upfront costs
No free trial period
Bottom Line
You can customize a Medical Guardian system with a range of devices for at-home or on-the-go use. Upfront fees are required for some products, but you can get a discount if you opt into an annual billing cycle.
Featured Reviews
Verified
Appomattox, VA
I was looking for a medical alert pendant for my mom. Called several companies. Medical Guardian offered the best customer service from the very beginning. The device is small and...
Read full review
Verified
Inman, SC
The Mini Medical Guardian that I purchased on Amazon works best for me!!! I tried ADT, MobileHelp, Invisawear and Mini Medical Guardian. ADT's medical alert system and MobileHelp ...
Read full review
Medical Guardian alert systems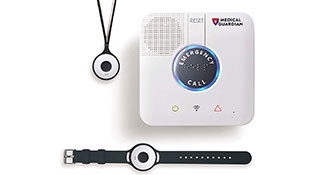 Medical Guardian
Classic Guardian
$29.95 per month as of publishing date
Landline-based medical alert system comes with base unit, wristband, pendant and charger. It has a 1,300-foot range and up to 32 hours of backup battery power.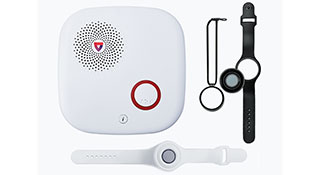 Medical Guardian
Home 2.0
$37.95 per month as of publishing date
Cellular system comes with base unit, wristband, pendant, charger and access to the MyGuardian app. It has a 1,400-foot range and 32-hour backup battery.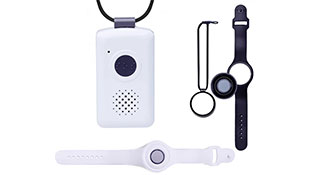 Medical Guardian
Mobile 2.0
$44.95 per month as of publishing date
Designed for on-the-go use. Features advanced location monitoring with 4G LTE, Wi-Fi, GPS and optional fall detection. It's water-resistant with five-day battery life.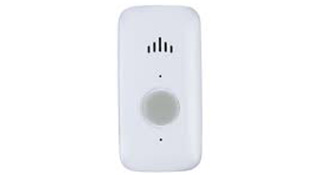 Medical Guardian
MGMini
$39.95 per month as of publishing date
Tiny, light and discreet mobile device with robust protection. Features on-demand GPS, up to five-day battery life, fall detection, water resistance, AT&T access and false alarm cancellation.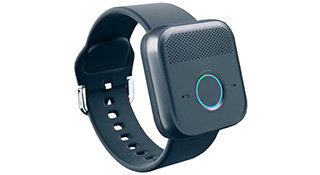 Medical Guardian
MGMini Lite
$44.95 per month as of publishing date
Portable safety device with Verizon 4G LTE, GPS tracking, fall detection, water resistance, real-time location sharing, step tracking and calendar reminders. Works without a phone.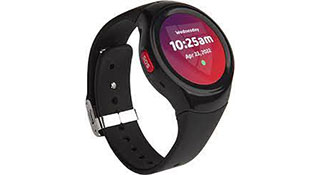 Medical Guardian
MGMove
$39.95 per month as of publishing date
Smartwatch with touch-screen help button for emergencies. Optional Social Circle App lets you connect with loved ones.
How Medical Guardian works
Medical Guardian alert systems are designed for at-home or on-the-go use. With either type of system, when you press the medical alert button, you're connected to a 24/7 medical monitoring center.
Once connected to an operator, you describe your situation. The operator then gets you the appropriate help, whether that means sending an ambulance or contacting people you know for non-emergency support.
If the operator can't confirm your safety after the alert is activated — for example, if you've had a stroke and can't speak — emergency medical services are automatically dispatched to your location.
Medical Guardian costs
As of publishing, Medical Guardian's monthly cost starts between $29.95 and $44.95. If you want fall detection, expect to pay $10 more per month. There's no activation fee, and shipping costs $12.50.
| | Monthly fee | Upfront equipment costs | Fall detection | Includes GPS |
| --- | --- | --- | --- | --- |
| Classic Guardian | $29.95 | $0 | +$10 per month | |
| Home 2.0 | $37.95 | $149.95 | +$10 per month | |
| MGMini | $39.95 | $199.95 | +$10 per month | |
| MGMini Lite | $44.95 | $149.95 | +$10 per month | |
| Mobile 2.0 | $44.95 | $0 | +$10 per month | |
| MG Move | $39.95 | $199.95 | | |
Medical Guardian has two system options: You can lease the equipment (MGMini, Mobile 2.0 and Classic Guardian) or purchase it (Home 2.0 and MG Move).
If you opt for leased equipment, you don't have to pay anything upfront. Instead, you pay a monthly fee that covers the equipment lease and monitoring services. Just keep in mind that the equipment belongs to Medical Guardian, so you'll need to return it at the end of your contract or if you decide to cancel. Failing to do so will result in additional charges.
One thing to be mindful of is the company's cancellation policies and restocking fee. A reviewer in California said: "I would have to wait 30 days from the receipt of the equipment to refund my money, plus [the agent] mentioned I would have to pay a $50 restocking fee."
"Even though I called and canceled, they keep charging $49.95 per month," a reviewer in Ohio said. They disputed the charge with their bank, but the bank "came back saying that [Medical Guardian] proved I agreed to it. I had to cancel the card!"
Additional equipment
Additional equipment — Elite 911, fall detection pendants and wall buttons — are available for purchase. For $6.99 more per month, you can get an MG Protection Plan, which provides extra support and equipment replacement.
Fall detection pendant: For an extra $10 per month, you can get a water-resistant fall detection button. It comes with a lanyard and is worn around the neck.
Elite 911: For an extra $9.99 per month, you can get a one-button speaker box that automatically connects to the 911 operator nearest you. It works on any cell network and has an unlimited range of coverage.
Voice-activated wall button: For an extra $5 per month (per button), you can get a device that automatically calls ADT's monitoring center if you say "Call Medical Guardian" twice. It's water-resistant, making it ideal for bathrooms and kitchens.
Wireless wall button: For an extra $2.99 per month (per button), you can get an extra water-resistant button. It's easy to install and works within 500 feet of the base unit.
How does Medical Guardian compare?
| | Medical Guardian | Medical Alert | ADT Medical Alert | Lifeline | Life Alert Emergency Response |
| --- | --- | --- | --- | --- | --- |
| Monitoring fees | $29.95 to $44.95 per month | $19.95-$47.95 | $29.99 to $39.99 per month | $29.95 to $58.95 per month | $49.95 to $69 per month |
| Equipment cost | $0 to $199.95 | $0 | $0 | $0 | $0 |
| Activation fee | $0 | $79 | $0 | $79 to $99 | $198 |
| Fall detection | Yes | Available | Yes | Yes | No |
| Trial period | No | 30 days | No | No | No |
| | Read Reviews | Read Reviews | Read Reviews | Read Reviews | Read Reviews |
Medical Guardian FAQ
Is Medical Guardian's monitoring center reliable?

Medical Guardian's monitoring centers are FM-approved and UL-listed, which means its emergency dispatch services meet specific safety and reliability standards. Centers also have TMA Five Diamond certifications.
Do I have to sign a contract to get a Medical Guardian system?

You do not have to sign any contracts to get a Medical Guardian medical alert system. The company offers monthly, quarterly and annual payment plans.
What is Medical Guardian's return policy?

Call Medical Guardian and choose the cancellation option. If you haven't purchased the equipment, you must return all equipment and accessories. If you purchased the equipment, the service will be canceled upon receipt of the cancellation letter.

You may be eligible for a prorated refund for any unused prepaid service period, but it's possible you will have to pay a restocking fee. Please note that the refund process may take up to 30 days after Medical Guardian receives your system or cancellation letter.
Do Medical Guardian emergency response services require a landline?

Only the Classic Guardian package requires a landline. All other Medical Guardian plans can run on a cellular network.
Does Medical Guardian offer a warranty?

Medical Guardian provides a warranty against wear and tear. It also offers a Protection Plan that covers any costs related to a lost, stolen or damaged device. This optional plan can be purchased when you buy the system.
Is Medical Guardian worth it?
Medical Guardian alert systems can be a smart option for those who have a critical medical condition, have a high risk of falling or are in recovery from a significant health event. You can select from in-home, mobile and smartwatch devices.
We like that Medical Guardian has a wide range of equipment options, and its straightforward purchase process is helped along by representatives. It's also one of our top picks for systems with fall detection and medical alerts with GPS.
All devices are monitored and can connect you to a dispatch center that can get you the help you need 24/7. The Home 2.0 has a range of 1,400 feet — one of the largest we've seen on a home-based system.
A link has directed you to this review. Its location on this page may change next time you visit.
How do I know I can trust these reviews about Medical Guardian?
4,350,500 reviews on ConsumerAffairs are verified.
We require contact information to ensure our reviewers are real.
We use intelligent software that helps us maintain the integrity of reviews.
Our moderators read all reviews to verify quality and helpfulness.
Review featured by Medical Guardian Reviews
Customer Service
Punctuality & Speed
Staff
Reviewed March 12, 2022
The individuals I dealt with were very kind and answered questions so that I understood. I received the Medical Guardian equipment in a short period of time. I dropped it (in Indiana). One always wonders if there will be an immediate response if needed. I had one. While in Florida, I dropped it (arthritic hands). I received another immediate response. It is a great travel companion. I consider this purchase a success.
Review featured by Medical Guardian Reviews
Reviewed April 1, 2021
The device worked very well for my mother the choice of a necklace or a wrist band was very nice to have. It allowed her to stay independent much longer because if she fell help would be on the way immediately. They always called me at home to notify me that her device had been activated. Peace of mind... priceless.
Page 1 Reviews 0 - 5
Installation & Setup
Delivery & Shipping
Reviewed Aug. 23, 2023
The Alert unit is for my active 91 year old mother who lives with us. I compared two products recommended. While both would have worked, Medical Guardian had clients in our zip code and guaranteed service in our rural area. The product was easy to order, shipped timely and setup was easy. Now my mother doesn't need to worry that her tremors may inhibit her ability to dial her phone for help. Help is just a push of a button away.
Thanks for subscribing.
You have successfully subscribed to our newsletter! Enjoy reading our tips and recommendations.
Reviewed June 17, 2023
I am very pleased with the Medical Guardian watch because it gives me peace of mind when I am not nearby my husband who had developed vertigo and fell in the past. I was pleasantly surprised that he agreed to wear it, but he does every day. My one suggestion is that perhaps a little flip up cover on the red HELP button would help as my husband sometimes hits it by mistake when he is doing chores.
Reviewed Feb. 8, 2023
Medical Guardian offered me a quick turnaround on the services and the product. As far as my mother tells me, her device works properly. It doesn't seem like there's anything wrong with it. It does what it's supposed to do. She has not pressed it for emergency services. Having the device has 100% made us at ease knowing that my mother can get the emergency services that she needs in case of an emergency. So, we're okay with it.
Reviewed Feb. 2, 2023
We got the device for my dad 'cause he falls sometimes. The cost of service is reasonable. We just paid for it for a year and got a discount. One time, we accidentally set the device off and everybody was called within seconds. Also, the wristwatch that was being used was coming off so I called them. They sent another kind that works much better right away free of charge. This is good for seniors and is easy to set up.
Reviewed Jan. 5, 2023
This is the only device I have tried but feel this one is good for me. A couple of times I have dropped it while taking it off and was immediately notified that it picked up a possible fall. I was given immediate instructions of what to do to deactivate a call to authorities. I am thus far happy with my choice.
Reviewed Nov. 25, 2023
Since my purchase was a gift I requested not to be have auto renewal. One year later I get a notice I was being charged a renewal fee. I immediately got on the phone and requested charge to be halted. Verbally the Guardian representative agreed and asked me to send notification on their form. I completed and signed the form. I was still charged and now it has been reported to my Credit agencies. My 800 plus credit rating has fallen to 680. I canceled my card. I highly suggest not using such an unethical company.
Punctuality & Speed
Fall Detection
Reviewed Nov. 6, 2023
Not the fault of the device, but she fell a soft fall out on the porch and didn't remember to use the medical alert pendant button. She was cold and weak when she was found hours later. I wonder if a temperature detection would help, she was so cold. Oddly it show a large amount of steps for the day. Perhaps a watch-type device would have been better, because she kept looking at her watch.
Heather
Port Charlotte, FL
Reviewed Oct. 28, 2023
My grandma has your equipment and no one on emergency contact list was notified when she fell and was on floor for 1 hour. If someone on contact list was notified we could have had someone at her place in 5 mins. My grandma should receive some sort of compensation on her account. Your company is quick to call contact list when bill is due but not when emergency!!!!
Customer Service
Delivery & Shipping
Reviewed Sept. 11, 2023
Got service for my mom and everything was fine until wrist strap broke and had to get new one. New one was of poor quality. Went to cancel service and the service is horrible where wait times are up to 30 minutes for answering calls, and they do not stop charging me until equipment is returned as well as having to pay for shipping. Can understand this to a degree, but seems like I need to cancel debit card in order to get control of what they can charge.
Customer Service
Sales & Marketing
Fall Detection
Staff
Reviewed Sept. 11, 2023
I was in need of a device that was portable to use in case I fell. I called Medical Guardian and a very nice man answered who PROMISED me the watch would work in my area either via AT&T or Verizon. I was told I could send it back for a FULL refund. I received the watch charged it and it would NOT work! I tried calling multiple times and could not get through (over a twenty minute wait or longer). I sent it back and but did not receive a full refund. They charged me $60.45. I fought this for 2 months and ultimately lost.
This company promises the world and is a scam in my opinion! I am a senior on a limited income. I DO NOT have money to throw around over $60 for re-stoking is ABSURD! They took advantage of me and LIED. Buyer beware of this company. A friend bought me an Apple watch which works and has fall detection and connects to emergency services at a much less monthly cost and no one lied or overcharged me for a product that did not work.