Consumer Complaints and Reviews

I have been in accidents before where it has not been my fault. I was told to take my car to the adjuster which I did. At that time the claims department told me I could get a rental car during the time of the repairs. They were also confused as the place I took my car to did not have an appraiser and body shop together, so I had to cancel with Enterprise. At the time I got my car appraised I was given a name of a body shop they constantly used which I did not like the tone of the shop, so I took my car to another one. I dropped my car off on a Friday as this was the way it had been set-up the previous week. It took a week and half to fix it.
I had a rental car through Enterprise during this time. They had been in contact with Allstate. It took longer than expected to get my car repaired. Once I dropped off the rental car they told me that Allstate hadn't agreed to the charges yet. Enterprise called me the previous day due to having contact with Allstate asking about extending and I told them no due to my car being fixed the next day. After that time, it was about two weeks, and Enterprise called me to inform me that Allstate was refusing to pay. Enterprise took out the money in my account that was $190+$50 for deposit. I called Allstate and they informed me that they didn't know where my car was even though they paid the bill to the repair shop and I never received a phone call. They are now trying to say that the repair shop should have to pay for the rental car due to taking longer. If I was an Allstate customer I would switch. I am disgusted with how I have been treated through this process.

Eric Bohman Agency, Allstate Agent, 4938 Monroe Rd, Charlotte, NC 28205. Very poor customer service. Had Allstate policy for 2 years and never heard from them, until auto policy was going to be cancelled. Then, the agency refuses to cancel my insurance, instead request I pay for a full month that I am not using the insurance, then get reimbursed. They are even going as far as threatening to report that I was uninsured for the 7 days I am requesting to pay for the policy. My policy was paid in full up to Sept 30. I am asking to pay thru 10/07 which is the date I am requesting to be cancelled. This agency wants payment in full of $197 and then they will reimburse me to for the over-payment. I still have a home policy that is paid in full with this agency and still they are playing hardball. This broker seems to think only about his commission and not the customer's request to be treated as any other insurance company would.
They continue to state that this is Allstate policy which I have received information from them that they can in fact issue a pro-rated bill and would not report me as uninsured, when I am requesting to pay for the days I was insured by Allstate. DO NOT BUY INSURANCE FROM THIS AGENCY, AS THEY ARE NOT CUSTOMER SERVICE FRIENDLY AND SHADY WITH THEIR ACCOUNTING PRACTICES.

Quoted $220/mo and charged $460/mo after my 2nd month despite them having all of my personal information before quoting me a price. Charged me a late fee when they didn't take my money on time (auto-payment set up). Said they couldn't help me several times when I called because I was a "Titan insurance - Allstate policy". Now receiving harassing letters from PennDOT for leaving my previous insurance company in bad standing. (I cancelled and had new insurance within the hour.) Thank God I never had to file a claim. Treating the troops very well Allstate.

My younger brother was in an accident where the other driver was found at fault for running a red light... The kicker? He was also found at fault and his brand new 2013 Hyundai Sonata in which he pays 300 a month in JUST insurance was hit because "should have seen her coming". So apparently unless you're psychic, you won't get your vehicle fixed. They're a rip off. I recommend any insurance company that isn't them.

Yes, recently a woman hit my bumper of my car. I called her insurance, Allstate, and they said to talk to their adjuster. Well, I went to see him. 3 times I was there, he kept telling me to just keep the cash. I thought this was odd. Well, odd, until I got my estimate. It was like 300.00 he said to fix it. I know from experience, you can't fix a scratch for 300.00. So I took to several other places. Sure enough their estimates were ALL, almost double, or more. So I see now why he wanted me to keep the check and not get fixed. It was a low ball estimate. I tried contacting them, to let's work out a midpoint, and I would agree to that. But was told she couldn't do that. So now, trying to find out how to go to next level, whether small claims, or other route.
How do I know I can trust these reviews about Allstate?
609,317 reviews on ConsumerAffairs are verified.
We require contact information to ensure our reviewers are real.
We use intelligent software that helps us maintain the integrity of reviews.
Our moderators read all reviews to verify quality and helpfulness.
For more information about reviews on ConsumerAffairs.com please visit our FAQ.

My daughter was involved in a wreck with one of their policy holders, who was at fault, almost 20 months ago. This wreck caused over $11,000 in damage to her 3 month old car and caused her minor injuries. She had to go to court to get them to pay for her injuries, time missed from work, and rental car money she had to pay out of pocket because it took them a week to accept liability, which they later took back even though they did pay to fix her car.
The judge make a judgment of a little over $10,500 for personal injury. This has been 2 months ago since the order from the judge and they still have not paid. Her lawyer had to send them a post judgment interrogatories, which gave them yet another 30 days to pay up. I am glad they give their customers cash for good driving and give money for scholarships to colleges but they need to pay for what their customers cause, that's what they are in business for. Apparently they are not there to protect their customers' interest.

Allstate I hope someone had the same issue as I do. I am now looking at losing my car, my husband's, and my son's. Because my car insurance lapsed I did not receive a letter or a notice not even a phone call to tell me. I called in to ask why it was not taken from my account and that's how I found out surprise to me it lapsed. I got other insurance but its 35 day since the lapse so no I get the letter from PennDOT. This hurts my son and husband work. I can't because of my medical problems. I do not know what to do.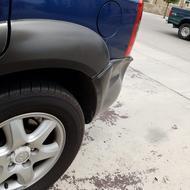 I was rear ended by a driver that had Allstate Insurance and I have Geico Insurance. Allstate took the liability and had my driver rear bumper fixed. My issue at hand is that The Body Shop that went to fix bumper said they had to add Flex Additive 5.00T. They said when they try heat and push out the damaged side of bumper it distorted it more and was why they had to add the Flex Additive to it. Mind you my bumper didn't have any of that. All was original. I am not happy about this with Allstate when The Body Shop was trying to get them to put a new bumper on it and refused cause there is a small dent on the passenger rear bumper. The damage from their driver was worse than that little dent if it can be called a dent.

I have been with Allstate since I was 16. I am now 20. Last week, I noticed that when I went to pay by auto insurance bill that it went up from $140.00 a month to $197.00. For six months it went up $230.00, for no reason. I have a clean driving record. I asked what was going on and they said "We are going up on all of our customers." They tried to put me with a different policy, but since I am not married and haven't had my license for 9 YEARS I couldn't do it. So, I called my mom and her policy just renewed and hers went down. This is ridiculous. So I called around and found that State Farm offered me the SAME plan for $100.00 cheaper. Nationwide was $97.00 cheaper, with the SAME plan. I should've shopped around to begin with. Who knows how much money I have lost all these years!

I would like to begin by saying that the Customer Service representative in the Sands Glendale Dealership for Allstate was very helpful, nice and patient. He gave me an okay quote for a 21 year old $355.00 for two vehicles full coverage. Cool. I did some shopping and State Farm beat them. State Farm gave me DOUBLE the coverage and dropped my coverage from $355.00 to $299.85! Amazing. I had signed up for auto payment with the insurance company, every 9th of the month the monies would be pulled from my account. I called Allstate to see what the process would be to cancel and get a full refund with no BS (life sucks and that's never the case) and unexplained fees. Cool! They advised me that I JUST needed to call the day of the payment due date or before. I called on the 9th of September of 2016, canceled service and moved on with my life.
Then (lo and behold) I was charged $299.85 for State Farm (good...) and $355.00 from Allstate after I has cancelled auto-draft payments and my account. I am a 21 year old ASU undergrad and that was literally my survival money. I had $6.49 in my account. I didn't even have money for gas. Okay! Well, I called and called and you all know how the story goes. "Hello, can I help you?" TRANSFER. "Hello, can I help you?" TRANSFER TRANSFER TRANSFER. Turns out I was with the wrong department. They told me It would take 5-10 days for my refund. LOL. They ended up giving me $283.00 back and not the full $355.00. I was ripped $70.00! REASONS? I received a $50.00 bonus for "good driving". Since I canceled the contract they took it back. Talk about reading between the lines. The other 20 bucks was for 'blah blah blah reasons'. Reasons any business would pay a guy to be on the phone for two hours with you to explain.
Instead of going through the agitating process and waste of time I simply asked the representative, "Am I going to get the rest of the money back?" He stated, "No." I told him, "Okay I will hang up now. Thank you for your time and service." In the end, I was not given what I was promised. Sure take my money, but only give some of it back. YES, it was only $70.00 bucks but that money is really useful for me. I'm a broke college student being screwed by the auto insurance companies. State Farm gave me double the coverage, health coverage FREE for any injury, they gave me AAA coverage road side assistance, AND reduced my cost. Let me be clear, please do not sign up for these auto-draft systems and if you do CANCEL IN ADVANCE. Allstate will never be part of my life ever again, and I will not suggest it to anyone ever in one trillion years.

I was rudely spoken to by Authur with Trevor ** agent. Unacceptable. I have switched to another agent.

We have been faithful customers with Allstate for over 23 years for our auto and home policy. Today I looked at my bank account by luck, and saw an auto payment made to Allstate for $25,780.00!!! I almost had a coronary. I called my Allstate agent, and was told he had "NO IDEA" what the charge was and he would get back to me. 10 minutes later, he called and said, "OH, that is your prepayment for your annual auto policy for this coming year." WHAT??? WTF?? Yes we have 7 cars but seriously? He says, yes "you got a notice of increase and your policy was raised 25% this year." Well, since the year before was $8500 that math did not add up. We canceled our policy IMMEDIATELY. He made NO apologies and then he had the nerve to say how he had jumped thru "hoops to help" us.
To make matters worse, it will now take 7-10 days to get our money back. $28,780. Money we need NOW to pay bills. BEWARE OF CROOKS AND LIES FROM ALLSTATE! I am still so upset, and NO ONE at Allstate has helped us. When you call to file a complaint against the agent, there is a message at their corporate office that they are unavailable! And to "please leave a message". I found another policy through another insurance agent for $7400 a year, for our 6 cars and 5 drivers. Think about that! $25,780 vs $7400. CROOKS!!!

I have been an Allstate customer over 25 years. I am seeing statements like these at the beginning of many of these complaints and warnings. Hmm, it appears that Allstate would rather get new business, allowing them to charge higher rates than maintain their existing customer base. We found out that 2 out of 4 of our proof of insurance cards for our vehicles had the wrong VIN numbers - one being a completely different number. We had to go to court and get our son's license reinstated because they had the wrong number on the card and we didn't notice it until it was too late. It took weeks and several attempts by our insurance agent to straighten it out.
To add insult to injury, they are back charging us for the last year (of which we only have proof of the corrected VIN for 6 months), because the VIN it should have been is somehow more expensive to insure. I find that very interesting, considering the vehicle has always been a 2001 Grand Am and we only have liability insurance. I have been trying to get an explanation for this for 2 weeks with no results. If you have been with Allstate for many years, start shopping now, before they screw you too!

Listen up folks. I was with Allstate for 35 years. I noticed in the last couple of years that my car insurance was going up a lot. SHAME on me for NOT SHOPPING. So last Friday, I called 2 of Allstate's competitors. WOW. They were 1/2 what I pay to Allstate. Allstate was DOUBLE AAA and GEICO. I called my agent Larry ** in Coppell, TX and asked how Allstate can justify being DOUBLE his competitors. He said all car insurance was going up. REALLY! That's it, I dumped Allstate that day, I went with AAA. Because the agent told me about another insurance company (Hagerty) for my old 1964 truck. That alone saved me $1000.00 a year. My Allstate agent would never do that.
Long story short, on a 3 car policy I saved $1,900.00 dollars every 6 months or $3,800.00 dollars a year. My daughter saved $1,200.00 a year by switching to GEICO. That's a lot of money in my pocket that I was giving to Allstate. Loyalty means NOTHING to Allstate. I also canceled my homeowners insurance because I was way underinsured with Allstate. PLEASE PLEASE if you've been with Allstate for any time like me. SHOP SHOP SHOP and SAVE YOUR MONEY. I learned the hard way. Larry did absolutely nothing to help us out to save money but to UP our deductibles. He said all car insurance went up in Texas. Maybe he should shop as well. The agent is nice and will help you with a claim, but at DOUBLE the price. Go ahead, don't take my word for it. Took me 30 minutes to save a ton of money by calling Allstate's competitors!

In August 2016, I called for towing service. After 7 hours of calling for service & receiving several automated service confirmation calls, confirming that the towing service hadn't arrived to service call representatives, I canceled my service & requested & received a full refund. That's after several calls to customer service getting scripted response, being placed on long holds and being hassled by the manager to take a deal to keep the service, which I declined. Don't bother with this outsourced customer service! This week I received a letter stating I used 3/4 service calls and I only used 1, battery jump call, my first call.
If I hadn't canceled this service they would have charged me for 2 tow claims, although the 2 tow companies never showed up. That means the 2 tow companies supposedly dispatched got paid although they didn't provide the service. Leads me to believe the 2 tow companies are included in the fraud. Do as I did, get AAA membership for the same annual price. On the same day I got a membership w/ them. I received great service w/o paying for the service upfront & getting reimbursed, as Allstate AARP Roadside required of me. Also, AAA's customer service isn't outsourced & is professional, informative w/o scripted responses.

I had a not at fault car accident where the other party accepted 100% fault and so did Allstate! Then why did I have to pay for the rental? If you are ever in a car accident one thing is for sure call the police no matter what and make a report! Even though they accepted fault they gave me rental only for 5 days. The car was in the body shop for 2 weeks! Because I didn't file a report I was going back and forth! I even made a complaint to the department of Insurance! Nothing got resolved! Allstate is horrible! This was my second accident with one of their drivers both times their fault! I was stressed out both times! I will not let them get away with it ever again so I am letting everyone know my situation so they can learn from my experience.

My experience with Allstate started out good. Then they started tacking on several fees for things and adding on different stuff that I was never contacted about. The point system is ridiculous because you can't ever win anything unless you are constantly watching the auctions and or sweepstakes. They were very helpful in taking off a vehicle and adding on another vehicle but if you don't have a bank, it's very hard to go and pay your bill. There are different people that I talk to each time about my account, it's never the same person, or at the same location. I would think twice about recommending this company to a friend. They are never on the same page.

Allstate took my money after signing up with an agent by the name of Thomas ** out of the Westerville Ohio location. Thomas ** was a liar, very disrespectful and rude to the point that I canceled my insurance with them. Therefore, the customer solutions decided to keep part of my refund. Beware of Allstate!!! They will have a vendetta against you if you cancel service with them. A guy name Spencer in customer solutions tried to tell me that service was canceled on August 31 but it was August 30, 2016. Not only does Allstate employ thieves but liars as well.

March 27th 2014 was stopped at a stop sign when I was rear ended by a truck doing 40 MPH hit me full force. No skid marks, he was texting. He had the basic minimum policy with State Farm, car damage was $9000. They paid me his policy, I then went to Allstate (had under insured/uninsured policy for $250,000). The impact caused me to sustain severe injury to my Spine C-6-T-1 and L-1-L-5, I had no issues with my back prior to the accident.
My lawyers sent Allstate on 4 separate occasions all of my medical records, MRI's etc. They kept on telling my lawyers they never received the information yet we have them signing for them each time. This now 15 months later we asked for policy limits and they have not even come back with a drop dead letter, my back surgery will be in the $120,000 for the first surgery and I will need one more which will be $125,000. Allstate finally had their lawyer do my deposition (19 months later) and sent me to an IME (independent medical exam). I went to their Doctor, he did his exam, told me he had to get Allstate a letter confirming his exam and his diagnoses, within the next week, that was a few months ago, still have not seen the letter.
I am now going after Allstate for bad faith, and breach of contract. Why have the coverage when they ignore you for 18 months. Still have not heard back from them or their lawyer. You pay your premiums and get squat. Will someday end up in mediation, then trial. Allstate takes every case out of Superior court, and moves it to Federal court, so you have a whole different set of rules. I do not understand why the insurance commissioner does not go after them for not honoring your policy. I have been with them for over 25 years. They treat you like you do not exist

I cancelled my insurance with AllState on 6/29/16, and talked to the Miller Insurance group about it, but they didnt care. The woman on the other side of the phone asked to email her my new insurance card, something I did right away, and called her to confirm she received it. Then I started receiving calls for payment for the insurance. I decided to call AllState directly and they didn't know about the cancellation with Miller group, so I cancelled on 7/27/16. Then I had to renew my tags by August 2016, but the DMV sent me a letter to bring proof of insurance. Then I visited the DMV, showed them the insurance card and everything was fine.
On 9/9/16 I received a letter from the DMV about a Driver license/registration suspension because the Allstate notified them about a no car with insurance or a lapse in coverage, and the letter say that if I don't fix it before 9/21 my license will be suspended and fees will apply. And I was at the DMV on 8/30/16, so just 9 days later, and they continue making trouble for me, but they couldn't cancel the insurance when I called them the first time. This is almost borderline harassment, terrible customer service and they lost a client FOREVER and anybody else I could discourage of using this company. I certainly will.

I purchased the Allstate platinum maintenance plan for my 2015 Dodge truck. After a little over a year of owning the truck I have began to experience tire problems, multiple blowouts on the same trip twice now. The tire shop said they would not repair the tires because they were too worn. Allstate insurance claims adjuster (who is supposed to be third party BS) comes out, takes pics of the 2 damage tires and the other low tread tire. Waits a day to deny the claim for new tires and says the old ones can be repaired and also said the other low tread tire was at 4/32" which by contract can't be replaced till 2/32". I found it ridiculous that we were talking about such minimal difference for justifying replacement.
Anyway after 2 days of having my truck in the shop over tires and multiple phone calls to an Allstate manager I finally got them to approve the 2 tire replacement. I pick up the truck with a tread tire checker in hand and lo and behold nowhere on the tire can I get a measurement of 4/32. The absolute tallest tread on the tire is 2/32 which is in the red. So I call back to Allstate to find out why the adjuster lied about the tread depth and the person on the phone tells me the claim for that tire was denied due to being below the 2/32 tread mark which is stated in the contract that they don't have to replace due to user error. Mind you I was just in this same shop 3 weeks ago trying to get all the tires changed out from the first double blowout incident and was only approved for 1 due to the others not being low enough. Basically we're going around and around 2/32 tread wear and $500 worth of tires and approximately 4-5 days in the shop over tires.
I will never purchase Allstate insurance for my vehicles or business and nor would I recommend or purchase their maintenance plans. I'm beyond frustrated with this company and wish like hell I had never purchased the $2,500.00 platinum maintenance plan with them, I can't even get $500 worth of coverage over a year after the purchase. It would have been so much easier and more effective to be able to just take the truck into the local tire shop and bust out the $500-600 needed to replace all 4 and not had the risk of driving these unsafe tires down the highway where I've had 4 blowouts in the past 3 months. I consider this plan money well wasted!!

My son got in a fender bender. I have a perfect record and they raised my premium from 200 a month to 600 a month. I checked around found another insurer for the 200 and they said if I moved my cars they would increase my home owners by 1300.00!!! CROOKS.

I had cancelled my insurance with FARMERS insurance since they raised the price almost 100.00 Dollars for an accident I had easing out of my parking spot with a large Van on my right. Someone plowed into my back, driving someone else's car, but I got a citation for pulling out incorrect. So I fought the citation and the judge dismissed the case. When I enrolled in Allstate Insurance in Tarpon Springs Florida I was quoted 89.00 Dollars a month so I continued. They said I was at fault so I faxed them the dismissal. They had me talk with my old Insurance and they said I was at Fault, so my price went up, so Insurance Companies are in cahoots with each other. Then my car sitting parked at work, when someone ran into to back, they were insured with Geico, they paid everything decently. That was in April 2014. I almost forgot ALLSTATE dug it up as my Fault.
In the meantime they had send me 6 different prices each with Insurance Cards. They had AutoPay and was taken out of my account. I wanted to change to an agent where I lived, but Tarpon Springs hung on. They cancelled my Policy. After 3 Month Cancellation for Sept.19th, as black and white on Paper but for some Reason they did not take payment out of my account for August. Then I get a Bill for 319.00 Dollars. That means with my other Payments I am being charged 602.00 DOLLARS FOR 3 MONTHS. That would be 1200.04 for 6 Month MORE THAN MY OLD COMPANY CHARGED ME.
The Insurance Commissioner of Florida REALLY SHOULD CHECK OUT THEIR PRACTICES. That was my lesson to learn with ALLSTATE. But then THEY are VINDICTIVE. Also I have Sept.19 as cancellation. When I visited my local agent to complain she looked in her Computer and told me I was cancelled Sept 11th. That means I could have driven FOR ONE WEEK UNINSURED without having a clue if I would not have visited her.

On the morning of July 15, 2016 approximately 6:30 am a driver insured by Allstate, failed to yield a left turn and struck my husband as he was riding his motorcycle to his morning coffee spot. The impact killed him instantly! The driver of the truck was ticketed for failure to yield a left turn. I was devastated and heartbroken. I cannot express the agony and pain I have endured from my loss. I did what was necessary to carry on in planning a life without my husband and loss of income. To add insult to injury, Allstate sent me a check dated August 24, 2016 to cover the property damage for the total loss of his motorcycle which I deposited immediately. On September 2, 2016 an operation personnel from my bank called to report that my account was in serious delinquency and return check status because Allstate cancelled their check.
I telephoned Allstate to find out why they would humiliate and embarrass me this way and they stated they did this due to the fact that an investigation of the accident was pending and they had not accepted liability for the accident. I feel they are just upset that I hired an attorney to advise and oversee the proceedings for me. I am not an attorney and have no legal knowledge about how to proceed with any claim but, I do know that their insured ended the life of my husband with his recklessness and Allstate seems to only care about hurting me more because of the fact I secured an attorney to make certain that I am rewarded justly. I am sixty years of age and no one is digging through applications to get me to work for them although, I would be an excellent employee. I just wanted to make others aware of the "good hands" Allstate offered me after their customer killed my husband.

I had the unpleasant experience of my car being hit by a driver with Allstate Insurance and later totaled. They were completely rude and lied to me several times.
They cut off my rental car without telling me and I had to pay for it myself. I have now been given a date that I must settle by or lose all rights to my vehicle - however they have never sent me the form to sign that they are asking for AND refuse to pay back the car rental bill I got stuck with. Do not use this insurance company. They are crooks.

Allstate is the worst company there is. The government should definitely get involved with car insurance companies more as they are totally ripping people off blind. My wife had Allstate and paid a full 6 months in advance on her homeowners and car insurance. When it came time for renewal she found insurance cheaper and decided to switch. When she informed Allstate they decided then to tell her she owed them 254.00 for no apparent reason. Remind you she paid 6 months in advance and the policy hadn't even expired yet. We will definitely be contacting BBB and filing a complaint and small claims court against them. These people are total thieves and should be put out of business. You actually get someone that pays in advance and then you try to screw them over. Screw you Allstate! We will see you in court.

I approached an Agent in Newark, Delaware a few years ago. Every time he is increasing the premium saying some petty cause for it. As I have no time, and busy with my office work, to contact another Insurance company for a quote. I lost so much amount by that in the form of overpayment. Recently, one Friend who is a State Farm customer took me to the agent. I did this as I took leave for a surgery. The Agent gave me a quote to the half of the amount what I'm paying to AllState. I accepted the quote and informed it to AllState agent. Immediately he renewed it, though I told him that I can talk soon on this. He is trying to hold me saying that I need to pay for my renewal.
I contacted AllState office Supervisor. But there is no change in their approach. How pity it is to give pressure to me when I'm ill-health and going for a surgery and no income during this period, though I have taken another insurance and getting paid for it, informing all this to AllState people. Sucking the blood of Customers in the wrong means to hold them for long time is not a good approach to AllState company. I'm totally frustrated and I'm advising everyone not to be a victim for this company.

After I had an accident Allstate denied my claim based not on the facts of the accident but on lack of a police report... Adjusters make their decision based on what their insured tells them. But their intent is just to deny your claim... Allstate was the worst insurance Company I ever dealt with...

We purchased automobile insurance and renter's insurance in October of 2015. We were on auto deduct for 6 month renewal. Shame on me for not checking the policy update, but effective 5/9/2016 the amount deducted was for $372.82 more than originally billed back in October. No excuses, but we had been traveling, Neither Allstate nor its agent, Mr. **, had the professionalism nor courtesy to inform us of any increases either in writing or by phone. No messages were sent to us on "my account" pages. No explanation was forthcoming by our agent other than Allstate had increased its rates. Please note no status changes or claims had taken place. Not a good way to retain clients.

I've felt with a lot of insurance companies but have never been so dissatisfied as I am with Allstate. The claims adjuster would not return phone calls for over three weeks. My car was damaged and I couldn't use it for work but they refused a rental car for the three weeks it took for them to finally resolve the claim. I will never use Allstate again and would recommend you to find better insurance company as well.
Allstate Auto Insurance Company Profile
Company Name:

Allstate

Website:

https://www.allstate.com/