Find the Best Gold IRA Companies

Label
Accredited Partner
Company name
Logo
Contact
Summary

Accredited Partner

Learn More

Annual fee: $180
Minimum investment: $10,000
Metals accepted: Gold, silver, platinum, palladium

Label
Accredited Partner
Company name
Logo
Contact
Summary

Accredited Partner

Learn More

Annual fee: First year waived
Minimum investment: $9,500
Metals accepted: Gold, silver, platinum, palladium

Label
Accredited Partner
Company name
Logo
Contact
Summary

Accredited Partner

Learn More

Annual fee: $75 - $100
Minimum investment: $5,000
Metals accepted: Gold and silver
​
Compare Top Gold IRA Company Reviews

Lear Capital
Read 1,100 Reviews

Charges $180 annual fee for investments up to $100,000. Requires minimum investment of $10,000. Holds gold, silver, platinum and palladium. Precious metals stored at the Delaware Depository. 30-day price guarantee.

Learn More
Patriot Gold
Read 395 Reviews

Waives first-year fees for new customers; charges $180 per year after. No fees for life on accounts of $100,000+. Requires minimum IRA investment of $9,500. Offers gold, silver, platinum and palladium. 24/7 account setup.

Learn More
Orion Metal Exchange
Read 94 Reviews

Waives annual fees on eligible accounts for up to five years. Requires minimum investment of $5,000. Provides free storage for up to three years through Brinks or Delaware Depository. Specializes in gold and silver.

Learn More
Advantage Gold
Read 363 Reviews

Charges $100 annually for storage and $75 a year for custodial fees. No minimum investment, but typical amount stored is $50,000. Accepts gold, silver, platinum and palladium.

Noble Gold Investments
Read 157 Reviews

Charges annual fee of $225. Requires $2,000 minimum investment. Accepts gold, silver, platinum and palladium. Precious metals stored at International Depository Services. Offers segregated storage.

American Hartford Gold Group
Read 251 Reviews

Charges varying annual fees and no setup or transfer fees. Requires no minimum contribution for gold IRAs. Holds gold, silver and platinum. Precious metals stored at Brinks and Delaware Depository.

Birch Gold Group
Read 105 Reviews

Charges $90 for initial setup fee and varying annual fees. Waives first-year fees for investments over $50,000. Offers up to $10,000 in free gold and silver with qualifying purchases. Holds gold, silver, platinum and palladium.

Goldco
Read 246 Reviews

Charges $175 annually for investments less than $100,000 and $225 annually for those more than $100,000. Storage fees vary based on custodian. Requires $25,000 investment. Specializes in gold and silver.

Red Rock Secured
Read 53 Reviews

Waives first-year fees. Charges no fees for life on qualifying accounts. Provides Price Protection Plan from seven days to 12 months on qualifying accounts. Offers up to 10% in free gold and silver on qualifying accounts.

Bitvest IRA
Read 17 Reviews

Bitvest IRA is a company dedicated to mining Bitcoins for use in an IRA. You buy Bitcoins at a discounted rate for deferred delivery. You can choose among several options for Bitcoin purchases.
Compare our gold IRA reviews
When choosing a gold IRA company to work with, you should consider multiple factors. Some companies appear legitimate but are actually scammers, so it's vital to consider how many years a company has been in business and what reviewers say about it. Make sure the company stores its gold in a legitimate depository, such as Delaware Depository or Brink's. Precious metals for gold IRAs cannot be stored at home. If you're new to gold IRAs, working with a smaller company can help you find your footing before exploring the world of precious metals investments.
When choosing our top picks, we looked at overall rating and number of reviews on ConsumerAffairs, minimum required investments and annual fees. All our picks are accredited by ConsumerAffairs. We recap our top picks below.
Patriot Gold

Annual fees: $180
Minimum investment: $9,500
Standout feature: Customers work directly with owners
Services and fees: Patriot Gold IRA accounts can hold gold, silver, platinum and palladium. First-year fees are typically waived, but customers pay $180 a year after that. Investors with accounts of more than $100,000 don't pay any fees.
What we like: We like that Patriot Gold customers have a chance to work directly with the three founders. Those favoring a small-business feel appreciate the close attention they receive from Patriot Gold. The minimum investment of $9,500 is also slightly below average.
What to consider: Patriot Gold offers certain benefits, such as no fees on some gold IRAs, but this is only for accounts that meet specific requirements, including ones with an investment of at least $100,000. It's worth paying an additional yearly fee if investing $100,000 or more isn't feasible for you, so don't feel pressured to overinvest.
Advantage Gold

Annual fees: $175
Minimum investment: $10,000
Standout feature: First Time Gold Investor Program
Services and fees: Advantage Gold IRAs accept gold, silver, platinum and palladium. The company's one-time startup fee is $50. After that, annual storage fees are $100 and administrative fees are $75, reaching a total cost of $175 a year.
What we like: The company waives first-year fees for customers who invest $50,000 or more. Advantage Gold's First Time Gold Investor Program guides consumers new to gold investment through the process and teaches them how to make smart investment decisions and avoid scams.
What to consider: We've seen gold IRA companies with lower minimum investments than Advantage Gold. American Hartford Gold Group doesn't have a minimum investment, and Red Rock Secured's minimum investment is just $1,500.
Red Rock Secured

Annual fees: $125+
Minimum investment: $1,500
Standout feature: Never Zero Policy
Services and fees: Red Rock Secured IRA accounts hold gold, silver, platinum and palladium. Storage fees for small accounts are $125.
What we like: Red Rock's Never Zero Policy guarantees that no client's portfolio ever reaches $0. Gold is already a stable investment, but this guarantee provides additional assurance. We also like the low minimum investment and minimal fees for smaller accounts.
What to consider: Fees for small accounts can be as low as $125, but larger accounts might pay as much as $300 a year. Make sure you understand all fees before making a decision.
What is a gold IRA?
A gold IRA is different from a traditional individual retirement plan because the money put into the account is backed by actual, physical gold. Other than this crucial difference, a gold-backed IRA is not much different from a traditional IRA and can serve as a stable retirement investment. Proponents of gold IRA investments tout the reliable value of gold as opposed to the inconsistent value of paper currency.
With a gold IRA, you don't hold the gold yourself — it's stored in a secure depository. If you want to buy gold directly and store it yourself, you can buy gold from a gold dealer. It's possible to store other precious metals in an IRA, including silver, platinum and palladium. You can find more information about what's accepted by reading the official gold IRA guidelines from the IRS.
How does a gold IRA work?
A gold or precious metals IRA is a retirement account that includes physical gold or other approved metals. Gold IRAs allow you to diversify your retirement portfolio. They function like traditional IRAs, but gold IRAs let you invest your savings in coins and bars as opposed to paper assets. The steps below spell out the process of setting up and holding a gold IRA account.
Find a brokerage and custodian to manage your gold IRA account. A brokerage buys the gold that backs the funds in your account. The custodian, or trustee, sets up and manages the account. Potential custodians include banks, credit unions, loan associations or other organizations with federal or state approval. If you work with a gold IRA company listed on this guide, you don't need to worry about finding a broker and custodian. The company fills these roles or works with another company that does, which saves you work. If you are less interested in having a gold IRA and more interested in storing gold yourself, you can buy gold directly.
Expect to pay a few upfront fees. There's more involved to setting up a gold IRA account than depositing money into it. There are specific commission fees, and it's worth your time to shop around and compare pricing. Some typical gold IRA fees include:

Account setup: A custodian typically charges a one-time processing fee for setting up your gold IRA account. These usually range from $50 to $100.
Storage fees: The depositories that hold your gold charge a yearly fee, and your gold IRA administrator typically passes this fee onto you. Most depositories charge an annual storage fee of $100 to $150.
Annual maintenance fee: Because your account's custodian continues taking care of various tasks to keep the account running, they usually charge a yearly maintenance fee. Expect to pay $75 to $225 annually for a maintenance fee

Deposit money into the account. Next, you deposit funds into the gold IRA account. Most gold IRA companies have a required initial minimum investment. This can be as high as $15,000 or as low as $100, but it typically ranges from $2,000 to $5,000. Either way, be sure you're aware of a company's account minimum. You can roll over savings into your gold IRA account. There are strict IRS rules to follow with this, but it isn't difficult to do. There are no gold IRA rollover fees, and the rollover is not subject to taxes. Also, be aware of the contribution limits for gold IRA accounts. For 2020, the annual contribution limit set by the IRS is $6,000. If you are 50 or older, the limit is $7,000. You can stay up to date on IRA contribution limits by reading documentation on contribution limits from the IRS.
Withdraw your cash at the appropriate time. If you want to access your money before the age of 59½, you must contact your custodian or trustee and fill out the necessary forms. You are also subject to a 10% penalty for early withdrawal. Whenever you withdraw funds, you must pay taxes on the funds unless you have a gold Roth IRA. Once you reach the age of 70½, you're subject to required minimum distributions, which means you have to withdraw a certain amount from your IRA accounts each year. It can often be less attractive to withdraw from gold IRAs since it might not be a good time to sell the gold backing it, but you can withdraw money from other IRA accounts you have instead.
What is IRA-eligible gold?
Gold must meet specific standards set by the IRS to be eligible for use in a gold IRA account. It must meet minimum purity requirements, not be considered highly collectible and come from a U.S. mint or an approved foreign mint. Other precious metals are eligible for IRA accounts, including silver, platinum and palladium. The following are acceptable precious metals for gold IRA accounts:
Gold: Gold is the most popular investment when it comes to precious metals. For this reason, some brokers focus only on gold stock. Gold might come in the form of bullion or coins, including the American Gold Eagle bullion coins.
Bullion stock: Bullion brokers may deal in a range of precious metals, but they do so only in bullion form. Bullion metals are crafted into pure bars or coins with a specific weight.
Collectible coins: Collectible coins are a popular form of bullion because they are beautiful, sometimes rare and may even rise in value over time more than raw bars of gold, silver or other precious metals. However, investing in collectible coins can result in higher entry costs and questionable long-term value, so be wary of these risks and do your research before investing.
Gold futures and options: There are investment companies that focus on call and put options, which means they sell you the right to buy or sell gold at a specific price at a particular time. Although risky, these options may bring higher returns.
Company investment options: You may wish to invest in mining operations instead of bullion or coins, but not every brokerage company features options for gold mine investors.
Other IRA-approved precious metals
Silver: Silver is the second-most common type of precious metal used in IRA accounts after gold.
Palladium: Palladium was discovered in 1803 and named after Pallas, an asteroid that drew its moniker from the Greek goddess Athena. Palladium, which resembles platinum in appearance, tripled in value between 2016 and 2019.
Platinum: Platinum can be stored in coin or bar form and must meet a 99.95% purity level to qualify for IRA storage. It can be stored in conjunction with gold, silver and other precious metals.
Gold IRA questions
Is a gold IRA a good investment?

Generally speaking, gold prices move in the opposite direction from traditional paper investments. Long-term, having gold in your portfolio is a way of hedging your bets in case inflation devalues your other retirement investments. A perfect example of this was the 2008 financial crisis — the market started favoring gold when other investment returns were dropping.

Another reason to invest in gold is its track record. When looking at gold prices over 10-, 20- or 30-year increments and in the worst economic situations, you'll notice the price has steadily increased. Some investors also see gold as a standard investment in a world of overly complicated money moves. Although most investors agree not to spend too much on a gold IRA, many believe supplementing your portfolio with a modest investment in gold is a wise decision. It won't pay dividends like some other investments, but it's a good choice for those looking for stability.

Is gold a safe investment?

Overall, gold is a safe and stable investment. For those interested in purchasing gold, it's important to remember the risks as well as the rewards. For instance, gold is a wonderful counter to your other market investments — if the stock market is doing poorly, gold has a habit of outperforming. However, the flip-side of this is gold's traditional slump when stocks are doing well. If you are interested in backing your IRA with gold, here are a few things to remember:

Fluctuating gold prices: Like any investment, the price of gold goes through fluctuations associated with other markets. Although more constant, gold prices still go up and down.
It is a physical investment asset: As stated above, gold is a physical investment. Because of this, there is always the chance of theft. Even placing your gold in an insured depository doesn't mean it cannot be taken through burglary or fraud.
Gold storage costs: Unlike paper investments, gold needs to be stored, so consider the associated fees.

What is a gold IRA rollover?

A gold IRA rollover allows investors to move their retirement savings from a 401(k) or profit-sharing plan into a gold IRA that is backed with a physical asset — in this case, gold. The process of rolling over your investment to a gold IRA is very strict and must follow IRS rules. The benefits of a gold IRA rollover include:

It's tax-free: Brokers that facilitate rollovers can do it so that your initial investments remain tax-free.
There are no fees: Most brokers offer no-fee rollovers, so ask if you aren't sure of their rules.
It's simple to do: Investment professionals can make rollovers very simple, quick and easy.

Can I take physical possession of gold in my IRA?

No. During your IRA term, gold must be stored in an IRS-approved facility or bank. You could be subject to high penalties if you store gold from your IRA in your home.

At the end of your IRA term, you can liquidate your gold assets for cash or take possession of your gold without penalty.

Can I use my IRA to buy gold?

You can convert your IRA funds by withdrawing them. Make sure you're familiar with the terms of your IRA before withdrawing funds, though. Some accounts are subject to penalties or taxes for early withdrawals.

Can you hold precious metals in an IRA?

Yes, but not in a traditional IRA. In a gold IRA or other precious metals IRA, you can hold gold, silver, platinum and palladium that meets specific standards.

Can I have more than one IRA?

Yes. You can keep a traditional IRA and also open a gold IRA or other precious metal IRA.

Can I add gold I already have into my gold IRA?

Unfortunately, no. Even if your gold or other precious metal meets purity guidelines determined by the IRS, adding your own gold to your IRA goes against IRS regulations. Like other IRA accounts, gold IRAs require custodians to manage the accounts, including the handling of gold. Other regulations include:

No collectibles are allowed in an IRA. You can purchase collectibles on your own and store them, but not in any relation to a gold IRA.
Gold and other precious metals in your gold IRA must meet IRS guidelines.
The IRS requires that the physical contents of the gold IRA remain separated from the finances and life of the owner until retirement.
Gold investment tips
Purchase high-quality gold assets
Unlike paper assets, gold is a tangible commodity. Because of this, the condition and quality of gold factors into its worth as an investment. Disreputable brokers buy damaged metals and resell them at the price of pristine stock, so check the gold quality before purchasing.
Gold bullion is valued on its weight, so scratched or damaged bars and coins are less valuable than they would be in as-new condition. Only accept the stock if it weighs what the manufacturer intended.
Follow the IRS' gold IRA rules
Rare and collectible gold coins offer unique investment opportunities, but their worth and legitimacy must be checked. The IRS has specific requirements for what types of gold bullion are acceptable to be held in a gold IRA.
Work with an experienced gold IRA investor
When backing your IRA with gold, be sure to choose a qualified advisor. An assigned gold investment advisor is familiar with your existing portfolio or finances and can provide personal advice. Always research the following when searching for gold IRA companies:
Look for a history of transparent transactions: Gold IRA investors should choose companies that complete transactions honestly and transparently.
Read gold IRA reviews: Spend time reading online reviews from clients to learn more about their experience with the company.
Make sure your investors use up-to-date values: The market value of gold, silver, metal and mining companies fluctuates regularly, which means that posted sales prices need to be updated frequently.
Always request detailed receipts: Detailed receipts are necessary to prove or disprove the true value of any precious metals that have been sold or purchased, especially at the date and time of purchase.
Look for a gold IRA company with secure storage
Your gold needs to be stored in a secure location. Brinks and Delaware Depository are two trusted depositories used by several companies listed on our guide. Do your research and ensure that the depository where your precious metals are stored meets your standards. You should be confident your gold is secure.
Thank you, you have successfully subscribed to our newsletter!
We value your privacy. Unsubscribe easily.
Gold IRA reviews

This company helps you invest in a precious metals IRA or buy precious metals directly. It even maintains and administers your account. Setting up an IRA takes less than five minutes. IRA transfers for 401(k), 403(b), Roth, TRA or TSA accounts take about 48 hours.
Read More

This company lets you open up a precious metals IRA or purchase precious metals directly for home storage. You can complete most transactions online.
Read More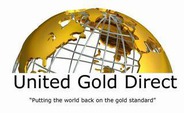 Besides gold IRAs, this company sells precious metals directly, including special gold and silver coins. Its staff inspects the precious metals to make sure they are of high quality.
Storage options: If you buy precious metals directly, you can store them at home. If you have an IRA backed by gold or another precious metal, United Gold Direct stores those precious metals at the Delaware Depository.
Costs: United Gold Direct has no hidden expenses. Its setup fee is $75, its standard annual processing fee is $95 and its annual storage fee is $100.
Minimum investment: To invest in a gold IRA with United Gold Direct, you need to invest at least $5,000.
Additional benefits: If you purchase precious metals directly, you can track your package all the way to your doorstep.

This company lets you roll over or convert your existing retirement account into a gold IRA. It also has shipping for direct investments and a buyback policy. One of its most popular gold investments is 10-ounce, 99.99% pure gold bars from the Swiss National Bank with an embossed finish.
Storage options: Regal Assets has domestic and international storage options. If you're purchasing precious metals directly, you can store them at home.
Costs: Regal Assets charges $80 annually for administration and $110 annually for storage.
Minimum investment: To open a gold IRA with Regal Assets, you need to invest at least $10,000. This is higher than most companies' minimums.
Additional benefits: Seven-day, guaranteed shipping is available for those interested in directly purchasing precious metals. Gold buyback is available on any business day, putting cash back in your pocket in 24 hours.
Compare Top Gold IRA Company Reviews

JM Bullion
Read 138 Reviews

Charges $75 annual fee for investments less than $100,000 and $125 annual fee for investments more than $100,000. $50 setup fee. Requires minimum investment of $100. Storage preferred through A-M Global Logistics.

APMEX
Read 106 Reviews

Charges $75 annually for a gold IRA. Setup fee is $50, and storage fee is $100 a year. Requires minimum investment of $2,000. Stores precious metals in Delaware Depository.

Monex Gold
Read 14 Reviews

Charges varying fees based on affiliated custodians' setup, storage and additional fees. Offers discounts through Atlas account program. Specializes in gold and silver.

Augusta Precious Metals

Costs $50 to open a gold IRA. Charges $180 a year in fees. IRA accounts hold gold or silver coins and bullion. Stores precious metals in depositories across the U.S. Offers seven-day price protection and money-back guarantee.

U.S. Money Reserve

Charges $250 annually for gold IRAs. Waives first-year fee on eligible accounts. Minimum investment of $2,500. Uses gold, silver and platinum coins to back up precious metals IRAs. Stored in IRS-approved depository.

Regal Assets
Read Author Review

Offers transfers and conversions for gold IRAs. Stores precious metals domestically or overseas. Can buy back gold on any business day. Offers gold bullion, gold coin and other precious metals.

United Gold Direct
Read Author Review

Charges $75 setup fee, $95 annual fee and $100 annual storage fee. Requires minimum investment of $5,000. Stores precious metals at Delaware Depository.
Disclaimer
Information in this guide is general in nature and is intended for informational purposes only; it is not legal, health, investment or tax advice. ConsumerAffairs.com makes no representation as to the accuracy of the information provided and assumes no liability for any damages or loss arising from its use.