Find the Best Gold IRA Companies



Gold individual retirement accounts (IRAs) work the same as traditional IRAs but are backed by bullion or coin. Our research team vetted 19 gold IRA companies that are rated by more than 3,460 customers. Read our guide to choose the best gold IRA company for you by comparing minimum investment amounts, annual fees, storage options and customer experiences.
Compare Top Gold IRA Company Reviews

Patriot Gold
Read 559 Reviews

Gold and silver coin dealer that helps investors buy and store precious metals. Facilitates precious metal IRA and 401(k) rollovers. Minimum gold IRA investment is $15,000. No fees on qualifying IRA accounts.

Get Started

Call Now Toll Free

(800) 974-4653

Orion Metal Exchange
Read 139 Reviews

Offers secure vault storage and home delivery options for gold and silver investments. Minimum gold IRA investment is $5,000. Waives annual fees on eligible accounts for up to five years.

Get Started

Call Now Toll Free

(800) 439-2259

Red Rock Secured
Read 88 Reviews

Specializes in gold, silver and platinum investments for retirement. Zero-fee programs available for qualifying clients. All precious metal products are backed and insured by Lloyd's of London.

Get Started

Call Now Toll Free

(424) 396-6319

Monetary Gold
Read 22 Reviews

Specializes in gold IRA rollovers. Minimum investments range from $5,000 to $10,000. Metals are stored at the Delaware Depository Service Company. Annual storage and insurance fees start at $100. Free shipping for new clients.

Get Started

Call Now Toll Free

(818) 462-8052

Oxford Gold Group
Read 52 Reviews

Converts existing IRAs or eligible 401(K)s into gold or other precious metals. Minimum IRA investment is $7,500. Requires $175 annual fee for accounts below $100,000 and $225 fee for accounts over $100,000.

Get Started

Call Now Toll Free

(833) 600-4653

American Hartford Gold
Read 333 Reviews

Offers IRA-eligible gold coins and U.S., Canadian, Swiss, South African and Australian mints. No minimum for self-directed gold IRAs. Orders are shipped free and include insurance. Storage fees vary.

Get Started

Call Now Toll Free

(866) 265-7222

Advantage Gold
Read 394 Reviews

Facilitates precious metal sales for direct delivery and IRAs. No minimum investment requirements. Annual administrative fee of $75. Storage fee is $100 per year. Offers a buyback policy.

Call Now Toll Free

(714) 912-8807

Noble Gold Investments
Read 369 Reviews

Offers investment packages starting at $10,000. Charges $80 annual fee, plus $150 per year if you store gold in Texas or Delaware. Offers clients a buyback program.

Get Started
Birch Gold Group
Read 114 Reviews

Deals in gold, silver and other precious metals. Minimum IRA investment is $10,000. $50 setup fee and $180 total annual fees. Offers storage options through the Delaware Depository and Brink's Global Services.

Augusta Precious Metals
Read 87 Reviews

Specializes in IRAs. Silver IRAs and precious metal purchase options, including bullion, coins and bars. Minimum investments range from $25,000 to $50,000. Charges setup and storage fees. Select from multiple depositories.

Chat with a ConsumerAffairs decision guide

Live agent
Gold and other precious metal IRAs are an investment and carry risk. Consumers should be alert to claims that customers can make a lot of money in these or any investment with little risk. As with any investment, you can lose money and past performance is not a guarantee of future performance results. Consumers should also obtain a clear understanding of the fees associated with any investment before agreeing to invest.
What is a gold IRA?
A gold IRA is a self-directed individual retirement account that holds gold or other approved metals instead of paper assets. Unlike other retirement accounts, a gold IRA is backed by actual, physical gold. Other than this crucial difference, a gold-backed IRA is not much different from a traditional or Roth IRA.
With a gold IRA, you don't hold the gold yourself — it's stored in a secure depository. (If you want to buy gold directly and hold it yourself, you can buy it from a gold dealer.)
For those interested in gold investments, it's essential to research the potential risks and rewards. For instance, gold can be a smart way to diversify your retirement portfolio because it has historically held its value during inflation. The flipside of this is that gold's value tends to slump when stocks are doing well.
How does a gold IRA work?
Gold IRAs function much like traditional retirement accounts, but your investment is backed with gold and other precious metals, including silver, platinum and palladium. Most people start a gold IRA with $10,000 or more, but gold IRA companies also sell physical gold to those who can't afford a large initial investment. The gold is then stored in a secure storage facility managed by the gold IRA company.
There's more involved in setting up a gold IRA account than depositing money into it. A brokerage firm buys the precious metals that back the funds in your IRA. The custodian, or trustee, then sets up and manages the account. Potential custodians include banks, credit unions, trust companies, loan associations or other organizations with federal or state approval. The IRS also lets you hold gold in EFTs or mutual funds.
Transfer funds into the account. Most gold IRA companies have a required initial minimum investment. This can be as high as $15,000 or as low as $100, but it typically ranges from $2,000 to $5,000. Be sure you're aware of a company's account minimum. You have the option to buy precious metals with pre-tax or post-tax dollars.

For 2020, the annual contribution limit set by the IRS is $6,000. If you are 50 or older, the limit is $7,000. If you already have an IRA, you can convert or roll over part of your existing account into bullion or coins. There are no gold IRA rollover fees, and the rollover is not subject to taxes. The IRS also regulates contribution limits for rolling over investments into a gold IRA account.

Pay commissions and fees. Brokerage firms and dealers charge commissions when they sell precious metals. Commission fees are typically between 2% and 5% above the spot price of gold. On average, expect to pay $30 to $50 in commission fees per transaction. Additional fees associated with gold IRAs include:

Setup fees: Gold IRA companies typically charge a one-time processing fee for setting up your gold IRA account. This can range from $50 to $100.
Storage fees: The depositories that hold your gold charge a yearly fee, and your gold IRA administrator passes this expense onto you. Most gold IRA account holders pay $100 to $300 per year for storage and insurance.
Annual maintenance fee: Maintenance fees can be anywhere from $50 to $300 per year. Some gold IRA companies waive the first year of maintenance fees, but not all.
Miscellaneous fees: The company you work with should disclose any additional charges, including wire transfer fees, to you when you open your account.

Withdraw your cash at the appropriate time. When you want to access your money, contact your custodian or trustee and fill out the necessary forms. It can often be less attractive to withdraw from gold IRAs since it might not be a good time to sell the gold backing it, but you can withdraw money from other IRA accounts you have instead.

Once you reach the age of 72 (or 70½ if you reached that age before Jan.1, 2020), you're subject to required minimum distributions, which means you must withdraw a certain amount from your IRA accounts each year. You will have to pay penalty taxes if you withdraw funds before the age of 59½ or if you haven't had the account for a certain amount of time, typically five years.
Gold IRA pros and cons
Investing in a gold IRA has many of the same risks as any retirement accounts. Perhaps the most significant benefit of a gold IRA is it allows you to diversify your retirement portfolio. Proponents of gold IRA investments tout the reliable value of gold compared to the inconsistent value of the paper currency.
How much precious metals are worth on any given day depends on a variety of economic factors, including industrial demand, production supply, the value of the dollar and the overall market health. Historically, gold has increased in value during times of long-term inflation or economic uncertainty.
Opponents of gold IRAs don't like the higher fees and storage costs compared to traditional or Roth IRAs. Gold and silver assets also don't pay dividends or produce income stocks. Plus, there are rules about holding collectible coins, and you can't keep your gold in your house.
Pros
Portfolio diversification
Long-term potential
Liquidity
Inflation hedge.
Cons
Higher fees
No bank guarantee
Minimum deposit requirements
Tax penalties for early distribution
Gold investment tips
If you want to invest in gold as part of your retirement plan, here are some tips for navigating the world of gold IRAs.
Find a reputable gold IRA company
Gold IRA investors should choose companies that complete transactions honestly and transparently. Avoid companies that advertise "special" home storage offers or "collectible" coins that aren't approved by the IRS.
Read gold IRA reviews: Spend time reading online reviews from clients to learn more about their experience with the gold investment company. Some scammers can appear legitimate, so it's vital to consider how many years a company has been in business and what reviewers say about it.
Work with a dedicated advisor: An experienced gold investment advisor is familiar with your existing portfolio and can provide personal advice based on your financial goals. If you're new to gold IRAs, work with a smaller company that can help you find your footing before exploring your precious metal investment options.
Consider the depository: According to IRS regulations, precious metals can be stored in allocated or unallocated depositories. Most gold IRA companies let you choose which kind of vault you prefer, whether domestic or offshore.

Allocated depositories: More like a safety deposit box. In an allocated depository, your precious metal inventory is kept in something like a safety deposit box. The box contains the actual coins or bullion you purchased. Your gold is your gold, and it's all in your box, where it can't touch anybody else's gold.
Unallocated depositories: More like a high-security warehouse. Unallocated depositories store their inventories of precious metals based on size, weight year and refinery. When distributed, investors receive the same type of coin or bar they purchased, but it probably won't be the same physical object.
Purchase high-quality assets
Unlike stocks, bonds and traditional assets, gold is a tangible commodity, and the condition and quality of gold factors into its worth as an investment. Disreputable brokers buy damaged metals and resell them at the price of pristine stock, so check the gold quality before purchasing. Precious metals are valued by their weight, so scratched or damaged bars and coins are less valuable than they would be in as-new condition. You should only accept the stock if it weighs what the manufacturer intended. Gold, silver, platinum and palladium are eligible to be placed in an IRA.
Gold: Gold bullion and coins the most popular investment when it comes to precious metals. The Internal Revenue Code requires gold to have a minimum fineness of .995 to be eligible.
Silver: Silver is the second-most common type of precious metal used in IRA accounts after gold. It needs to have a minimum fineness of .999.
Platinum: Platinum can be stored in coin or bar form and must meet a .9995  purity level to qualify for IRA storage. It can be stored in conjunction with gold, silver and other precious metals.
Palladium: Palladium was discovered in 1803 and named after Pallas, an asteroid that drew its moniker from the Greek goddess Athena. It needs a minimum fineness of .9995. Palladium, which resembles platinum in appearance, tripled in value between 2016 and 2019.
Stay up-to-date on spot prices
Like other commodities, the price of precious metals is determined by the market. The price of gold goes through fluctuations associated with other markets. Although more constant, gold prices still go up and down. The market value of gold, silver and precious metals fluctuates regularly, which means that posted sales prices need to be updated frequently.
It's smart to buy bars over coins when you can. Generally, gold dealers earn higher commissions by selling coins, but bullion bars are a more accurate reflection of the spot price.
Always request detailed receipts
Vault receipts, sometimes called warrant or warehouse receipts, prove the ownership of your precious metal commodities and confirm transfers. Detailed receipts are necessary to prove or disprove the true value of any precious metals that have been sold or purchased, especially at the date and time of purchase.
Follow all IRS gold IRA rules and regulations
Rare and collectible gold coins offer unique investment opportunities, but their worth and legitimacy must be checked. As mentioned above, the IRS has specific requirements for what types of gold bullion are acceptable to be held in a gold IRA. Read about the IRS' rules for individual retirement arrangements and investment regulations for more information.
Gold IRA questions
Are gold IRAs safe?

Gold is a physical asset. Because of this, there is always the chance of theft. Even placing your gold in an insured depository doesn't mean it can't be taken through burglary or fraud. Make sure the company stores its gold in a legitimate depository, such as Delaware Depository or Brinks. Do your research and be sure the depository where your precious metals are stored meets your standards. You should be confident your gold is secure.

Is a gold IRA a good investment?

Supplementing your portfolio with a modest amount of gold can be a good investment for some people. It's a smart way to diversity, but you probably shouldn't put your entire retirement plan into a gold IRA. Gold investments won't pay dividends like stocks, but they're a way to hedge your bets against inflation. Generally speaking, gold prices move in the opposite direction from traditional paper investments.

Some also see gold as a standard investment in a world of overly complicated money moves. You'll see ups and downs when looking at gold prices over the last few decades, but they generally trend up, especially during a recession. A perfect example of this was the 2008 financial crisis — the market started favoring gold when other investment returns were dropping. A financial advisor can help you decide where gold prices are heading at any given time.

What is a gold IRA rollover?

A gold IRA rollover allows investors to move their retirement savings into a gold-backed IRA. Brokers that facilitate rollovers perform the task and keep your initial investments tax-free. Most brokers offer no-fee rollovers, so ask if you aren't sure of their rules. You can roll over the following types of retirement accounts:

Roth IRA
Traditional IRA
SEP or SIMPLE IRA
401(k) or 403(b)
Pension plans
TSP (Thrift Savings Plans)
Annuity plans

Can I take physical possession of gold in my IRA?

No, you can't take physical possession of gold in your IRA. It must be stored in an IRS-approved facility or bank. You could be subject to high penalties if you store gold from your IRA in your home. At the end of your IRA term, you can liquidate your gold assets for cash or take possession of your gold without penalty.

Can I use my IRA to buy gold?

You can convert your IRA funds by withdrawing them. Make sure you're familiar with the terms of your IRA before withdrawing funds, though. Some accounts are subject to penalties or taxes for early withdrawals.

Can I have more than one IRA?

Yes. You can keep a traditional IRA and also open a gold IRA or other precious metal IRA.

Can I add gold I already have into my gold IRA?

Unfortunately, no. Even if your gold or other precious metal meets purity guidelines determined by the IRS, adding gold you currently possess to your IRA goes against IRS regulations. Like other IRA accounts, gold IRAs require custodians to manage the accounts, including the handling of gold.

Gold and other precious metals in your gold IRA must meet IRS guidelines. You can purchase collectibles on your own and store them, but not in relation to a gold IRA.

What is IRA-eligible gold?

Gold must meet specific standards set by the IRS to be eligible for use in a gold IRA account. Eligible gold products meet minimum fineness requirements of 99.5% purity, are not considered highly collectible and come from a U.S. mint or an approved foreign mint. According to the Federal Trade Commission, bullion metals are crafted into pure bars or coins:

Gold bars: IRA-eligible gold comes in pure 24-karat bars that weigh anywhere from an ounce to 400 ounces. It must have a hallmark from a qualified refinery or assayer.
Gold coins: Gold bullion coins are minted for investment purposes. Be aware that proof coins — including rare coins — are for collecting, not investing.
Thank you, you have successfully subscribed to our newsletter!
Compare our gold IRA picks
When choosing a gold IRA company to invest with, you need to consider multiple factors. We compared ConsumerAffairs authorized IRA companies on overall consumer rating and number of reviews, minimum investment requirements and annual fees. Read recaps of our top picks below.
Patriot Gold Group
Annual fees: $180
Minimum investment: $9,500
Standout feature: 24-hour account set up
Precious metals products: Patriot Gold precious metal products include retirement accounts, bullion and coins. IRAs can hold gold, silver, platinum and palladium. New clients can get up to $2,500 in complementary gold coins when they open a new account.
IRA fees: The company charges a one-time setup fee of $225 if you're opening an account with less than $30,000. Patriot Gold Group waives the first year of service fees and reimburses rollover fees. Clients typically pay $180 a year after that. Investors with accounts of more than $250,000 don't have to pay service fees.
Management approach: We like that Patriot Gold customers have a chance to work directly with the owners. Those favoring a small-business feel appreciate the close attention they receive from Patriot Gold.
Advantage Gold
Annual fees: $175
Minimum investment: Varies
Standout feature: First Time Gold Investor Program
Precious metal products: Advantage Gold specializes in gold individual retirement accounts. Approved gold, silver, platinum and palladium coins are also available, as well as basic precious metals IRAs and IRAs for public investments through Strata Trust Company.
IRA fees: The company's one-time startup fee is $50. The annual storage fee is $100. There is also an annual administrative fee of $75." Delete the sentence with the $100 to $140 range. Electronic statements are free, but there's a $30 fee if you want paper statements. Yearly storage fees are between $100 and $140. The company waives first-year fees for customers who invest $50,000 or more. Additional service fees apply.
Management approach: Advantage Gold's First Time Gold Investor Program guides consumers new to gold through the process and teaches them how to make smart investment decisions, avoid scams and meet their retirement goals.
Red Rock Secured
Annual fees: $125 - $300
Minimum investment: $1,500
Standout feature: Never Zero Policy
Precious metal products: Red Rock Secured offers gold and silver IRAs. Qualifying clients can get up to 10% in free gold and silver on their accounts.
Services and fees: Fees for small accounts can be as low as $125, but larger accounts are as much as $300 a year. The company waives all fees for the first year, and most accounts qualify for no fees at all.
Management approach: All new clients get a free one-on-one consultation to learn about diversifying their retirement plans. We also like that Red Rock's Never Zero Policy guarantees that no qualifying client's portfolio ever reaches $0.
Gold IRA reviews

This company helps you invest in a precious metals IRA or buy precious metals directly. It even maintains and administers your account. Setting up an IRA takes less than five minutes. IRA transfers for 401(k), 403(b), Roth, TRA or TSA accounts take about 48 hours.
Storage options: You can back your IRA with gold, silver, platinum or palladium. The company stores all precious metals with International Depository Services. A segregated storage option is also available.
Costs: Noble Gold charges an annual fee of $80, plus $150 per year if you store gold in Texas or Delaware.
Minimum investment: To invest with Noble Gold, you need to invest at least $2,000.
Additional benefits: You can open a precious metal IRA or buy precious metals directly from Noble Gold. It also has a buyback program if you decide to sell your gold and offers a free gold IRA guide with information for investors on how to roll over your existing retirement account into a gold IRA.
Read 369 Reviews

This company lets you open up a precious metals IRA or purchase precious metals directly for home storage. You can complete most transactions online.
Storage options: You can invest in gold, silver, platinum or palladium for your IRA or purchase precious metals directly.
Costs: Storage fees range from $125 to $300 per year, but the company waives fees for most customers.
Minimum investment: You need at least $1,500 in your gold IRA to invest with Red Rock Secured.
Additional benefits: If you opt to purchase precious metals instead of investing in a gold IRA, Red Rock delivers the precious metals directly to your home. Resources on the company's website can help you decide the best path forward.
Read 88 Reviews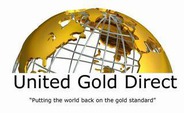 Besides gold IRAs, this company sells precious metals directly, including special gold and silver coins. Its staff inspects the precious metals to make sure they are of high quality.
Storage options: If you buy precious metals directly, you can store them at home. If you have an IRA backed by gold or another precious metal, United Gold Direct stores those precious metals at the Delaware Depository.
Costs: United Gold Direct has no hidden expenses. Its setup fee is $75, its standard annual processing fee is $95 and its annual storage fee is $100.
Minimum investment: To invest in a gold IRA with United Gold Direct, you need to invest at least $5,000.
Additional benefits: If you purchase precious metals directly, you can track your package all the way to your doorstep.

This company lets you roll over or convert your existing retirement account into a gold IRA. It also has shipping for direct investments and a buyback policy. One of its most popular gold investments is 10-ounce, 99.99% pure gold bars from the Swiss National Bank with an embossed finish.
Storage options: Regal Assets has domestic and international storage options. If you're purchasing precious metals directly, you can store them at home.
Costs: Regal Assets charges $150 annually for storage.
Minimum investment: To open a gold IRA with Regal Assets, you need to invest at least $10,000. This is higher than most companies' minimums.
Additional benefits: Seven-day, guaranteed shipping is available for those interested in directly purchasing precious metals. Gold buyback is available on any business day, putting cash back in your pocket in 24 hours.
Compare Top Gold IRA Company Reviews

Goldco
Read 448 Reviews

Specializes in IRAs. Requires $25,000 minimum investment. Annual account maintenance fees are $175 for investments under $100,000 and $225 for investments over $100,000. Storage fees vary.

Lear Capital
Read 1,145 Reviews

Buy gold or silver or invest in precious metals IRAs. Rollover your 401(k), 403(b), 457(b), Thrift Savings Plan, annuity or pension plan to a gold IRA tax-free. Provides guidance through the process.

Chat with a ConsumerAffairs decision guide

Live agent
APMEX
Read 143 Reviews

Specializes in rare coins and IRA-eligible precious metals. Minimum investments range from $1,000 to $2,000. Requires a $50 setup fee. Annual IRA fees are $75. Partners with Citadel to offer secure storage. Storage fees vary.

Chat with a ConsumerAffairs decision guide

Live agent
JM Bullion
Read 201 Reviews

Sells gold, silver and platinum bullion. $100 minimum on all orders. Free shipping on orders over $199. Partners with New Direction to offer precious metal IRAs. All products are shipped directly to your chosen depository.

Chat with a ConsumerAffairs decision guide

Live agent
Monex Gold
Read 15 Reviews

Online dealer for gold, silver, platinum and palladium. Precious metal IRAs available through recommended trustees and custodians. Storage fees vary. Real-time pricing online. Personal reps available.

Chat with a ConsumerAffairs decision guide

Live agent
U.S. Money Reserve

Offers online gold deals and self-directed IRA programs. Requires a minimum $25,000 purchase for IRA rollovers and transfers. Provides a buyback guarantee. Home delivery options available.

Chat with a ConsumerAffairs decision guide

Live agent
Regal Assets
Read Author Review

Specializes in transferring IRA, SEP, 401(k), 403(b) and TSP plans into metals and cryptos. Investment packages start at $5,000. Offers multiple U.S. and offshore storage options. Charges $150 for annual storage.

Chat with a ConsumerAffairs decision guide

Live agent
United Gold Direct
Read Author Review

Offers a variety of precious metal products like IRAs and 401(k) rollovers. Products include bullion, coins, bars, ingots, semi-numismatic, numismatic and rare coins. Minimum order is $1,500 per transaction.

Chat with a ConsumerAffairs decision guide

Live agent
Disclaimer
Information in this guide is general in nature and is intended for informational purposes only; it is not legal, health, investment or tax advice. ConsumerAffairs.com makes no representation as to the accuracy of the information provided and assumes no liability for any damages or loss arising from its use.
You're signed up
We'll start sending you the news you need delivered straight to you. We value your privacy. Unsubscribe easily.
Comparing
×