Best Stair Lift Companies
People who have trouble navigating stairs due to injury or disability, including those who can no longer walk, may be able to take advantage of chair lifts for stairs. Stairlifts allow users to sit in a seat that takes them up and down steps. Use our guide to compare the different types of stairlifts to find a solution that fits your needs.

Compare Top Stair Lift Reviews

Bruno Independent Living Aids
Read 1,180 Reviews

Bruno is a third-generation family business that has created products for people with limited mobility for over 30 years. Bruno stairlifts are manufactured in the United States.

Visit Website
Stannah Stairlifts
Read 649 Reviews

Stannah, a stairlift manufacturer serving the United States and Canada, offers customizable stairlifts, outdoor stairlifts and more. The lifts work in any type of staircase, whether it is straight, wide, narrow or curved.

Visit Website

Toll free number

(617) 855-1809

Handicare
Read 96 Reviews

Handicare's goal is to improve the quality of life for disabled and elderly people. Founded in 1986 as a wheelchair company, Handicare now provides a wide range of mobility products available in more than 40 countries.

Visit Website

Toll free number

(888) 981-0267

Acorn Stairlifts
Read 191 Reviews

Acorn Stairlifts is known for their worldwide presence. Though the headquarters are in Florida, the company has offices in 6 other countries. The Acorn Superglide Stairlift has been a market leader since it's inception.

AmeriGlide
Read 36 Reviews

Ameriglide designs and sells a large variety of accessibility solutions to make getting around easier. Browse their website for things like walk-in tubs, bath lifts, power lift recliners, mobility scooters, stair lifts and more.

101 Mobility
Read 10 Reviews

Founded in 2008, 101 Mobility has the goal to be your local provider and installer of the most trusted accessibility equipment. The company is based in North Carolina, but they do have locations in over 25 states across the US.

Ascent Stairlifts
Read 95 Reviews

Founded in 2008, Ascent Stairlifts strives to provide the best service possible. The company currently provides mobility products and installation services to over 40 states in the US, and they plan to continue expanding.

Look Stairlifts
Read 29 Reviews

Look Stairlifts is located in California, specializing in stairlifts and stair chairs. Look provides both indoor and outdoor lifts complete with top-notch customer service. Southern California only.

Accessible Construction
Read Expert Review

Accessible Construction is a California based company. Their mission is to improve residential homes and commercial buildings for the benefit of people with disabilities.The company will supply and install stair lifts.

Country Home Elevator
Read Expert Review

Headquartered in Missouri, Country Home Elevator serves the states around them including Arkansas, Oklahoma and Kansas. Their mission is to make sure their customers receive the best stairlift for their home and situation.

Look Stairchairs
Read Expert Review

Look Stairchairs is a California-based company that sells, services and installs stair lifts. They have five locations and an experienced team of technicians to provide high quality stair lifts to individuals with mobility issues.

Silver Cross
Read Expert Review

Silver Cross is a healthcare equipment provider that has served over 200,000 clients in the US and Canada. The company is unique because they provide both new and used equipment for seniors and disabled people.
Types of stair lifts
Straight stair lift
Straight stair lifts go straight up and down steps. They are designed for traditional flights of stairs and can be installed on either side of the staircase. Straight stairlifts tend to be the least expensive type of stair lift.
Curved stair lift
Curved stair lifts are for any staircase that has a spiral or goes around a corner. Since this type of stair lift requires more customization, it will cost considerably more than a straight stair lift.
Outdoor stair lift
Some stairlifts are specifically made for the outdoors, they can withstand extreme temperatures and weather conditions. These lifts are attached to a deck or patio staircase so that the user can access their entryway.
Seated stair lifts
Most people think of seated stairlifts when they think of a stairlift. These lifts contain a seat with a back and a footrest, both of which are usually adjustable. The user sits down and presses a button on the lift to raise or lower it.
Standing stair lifts
Users who have difficulty sitting, can't bend their knees easily or prefer to stand may want to use a standing stairlift. This type of platform allows the user to stand up and hold onto the sides of the lift. These lifts are often narrower than full seated lifts.
Stair lift features to consider
Stair lift safety
Stair lifts are equipped with a variety of safety features in order to ensure users don't fall or injure themselves while using the device.
Safety sensors: Most stair lifts contain sensors that search for obstacles in the device's path, such as items left on the steps. The sensors automatically turn off the device and don't allow movement until the obstacles are removed.
Aircraft or other strong cable: Cables are designed to hold up to 4,200 pounds so that they won't snap or break while people are using the device.
Pressure-sensitive controls: Controls on the device itself are sensitive to pressure; if the user stops pressing the button, the lift immediately stops moving.
Remote control
Many stair lifts offer the option of a remote control to access the stair lift from far away.
Call lift to top or bottom of steps: If a user is on one floor and the stair lift is on the other, the user can call the lift to where it is needed by pressing a button on the remote control.
Save power: Users can save the stair lift's power by turning it off via remote control when not in use.
Works in conjunction with device control: The device itself may have a joystick or button that controls the lift. The remote will not override this control and can only be used when the stairlift is not in operation.
Swivel ability
Most stair lifts allow the seat to swivel so that it can be turned by hand or turned while a person is sitting in it. There are several benefits to a stair lift that swivels. There are several benefits to a stair lift that swivels.
Allows users to get in without turning around: Users can simply sit down in the seat and turn it in the direction they want to go.
Allows device to turn at top/bottom of steps: The stair lift can very easily be turned around so that it can go in the other direction.
Allows for conversation while on the device: Users can turn slightly to talk to caregivers or others while riding the device.
Adjustability
Most stair lifts allow users to quickly and easily adjust the seat.
Lever operated: Users might be able to raise or lower the seat by pressing a lever with their foot or hand.
Adjustable back and footrests: Users can adjust both the back of the device and the footrest for maximum comfort.
Folding seat: The seat can be folded back on some units to create a standing platform or a perch seat.
Platform stairlift options
Many stair lifts offer a variety of platform options to make them useful and enjoyable to a wide range of customers.
Sit/stand option: Users can fold the seat back to make a standing platform for those who would rather stand up while being transported up and down steps.
Perch seat: Those consumers who have difficulty with their knees may find it easier to get into a perch seat than into a standard seat.
Hinged platform: Hinged platforms allow the device to attach to stairs that are located inside a doorway or other narrow space.
How much is a stair lift?
A stair lift can cost you anywhere from $2,000 to over $10,000, depending on what type of staircase you have and what add-ons you want to include. A simple straight stairlift for about 12–14 steps will be the least expensive, coming in around $2,000 before installation. If you have a curved staircase, expect to spend at least $10,000. Keep in mind that the cost of a stairlift, no matter what type of staircase you have, will pay for itself if it means you can stay in your home instead of moving or going to an assisted living facility.
Who would benefit from a stair lift?
People who can't walk
People who cannot walk at all can benefit from stairlifts, as these devices allow them to move from floor to floor. Depending on the nature of their disability, these users may need assistance getting in and out of the stairlift. The devices were originally invented for polio sufferers, and people who can't walk are one of the target markets for this type of device.
People who have trouble bending their knees
People who have trouble bending their knees will not be able to walk up and down steps easily. A perch seat or standing platform stairlift can help these people get from floor to floor with no trouble.
People with limited mobility
People who have limited mobility, including needing a cane or walker to keep their balance, can benefit from the use of stairlifts so that they can safely move from floor to floor.
People with heart or lung issues
People with heart conditions, severe asthma or other medical issues that limit their ability to engage in physical activity might want to use a stairlift to minimize health risk when going from floor to floor.
Thank you, you have successfully subscribed to our newsletter!
We value your privacy. Unsubscribe easily.
Stair lift expert reviews

Handicare has healthcare roots going back to the 19th century and has been installing stairlifts since the early 1960s. The company now works with 1300 partners and dealers around the world, about half of which operate in the United States and Canada. Their products provide safe and reliable ways for individuals with physical challenges to get up and down stairs.
They offer multiple types of stair lifts: Handicare has both straight and curved stairlifts to accommodate a variety of layouts. They also offer models for outdoor use, and all stairlifts can be further customized to meet consumers' needs.
They do in-home consultations: Interested consumers can contact Handicare and one of the company's partners will come to their home to do an in-person consultation. They'll take measurements and 3D images to give consumers recommendations and an accurate quote.
Their products have a warranty: All Handicare stairlifts come with a standard two-year warranty and a six-month battery guarantee. Customers who want a longer warranty can purchase an extended service plan.
They make safe products: All of the sharp material on Handicare stairlifts is covered by a metal strip, and the tracks are on the bottom of the lift. Both of these features ensure that users and/or the children who visit them will not accidently hurt themselves or damage the lift.
They educate consumers: Consumer education is a part of the installation process. After the technician installs the stairlift, she or he will make sure the user knows how to operate the system.
Best for: people with limited mobility, joint pain and/or those with heart or lung problems.
Read 96 Reviews

Acorn Stairlifts has been providing quality products since 1992. The company is based in Orlando, Florida, but has distribution centers around the world.
Read More

Bruno has an extensive line of stair lifts designed to fit conventional or curved stairways. The company uses a network of authorized dealers and certified technicians to install its stairlifts, so no self-installation is necessary. The most popular model is the Elan Stair Lift, an economical choice for straight, indoor stairs. The company is a trusted name in the business, and most customers report high satisfaction with the company's installation process and the day-to-day use of the stair lift.
Indoor and outdoor options: Bruno manufactures and installs stair lifts for indoor and outdoor spaces.
Curved and straight lifts: The company works with you whether you need a regular straight stair lift or a custom-made curved stairlift.
30-day labor coverage: Bruno covers any installation issues reported within 30 days.
High weight capacity: The Elan Stair Lift, Bruno's most popular model, has a weight capacity of 300 pounds. The other four models from Bruno have a weight capacity of 400 pounds.
Made in the USA: All of Bruno's stair lifts are manufactured in the U.S.
Rechargeable batteries: Bruno uses rechargeable batteries in its stairlifts to ensure they continue to work during unexpected power outages.
Read 1180 Reviews

Accessible Construction, operating in southern California, specializes in modifying homes so that physically disabled people can live comfortably and perform daily tasks. Stairlifts are just one of the options this company provides.
They offer wheelchair accessible lifts: Users who can't walk can take their wheelchair right into the stairlift so that they won't require any assistance getting up and down steps.
Several models of stairlifts are available: Users can choose the type and design that is most comfortable and safe for them.
They offer home elevators in addition to stairlifts: Users can get whatever product is more comfortable for them to use to travel between floors.
They provide resources and information for seniors online: Users can check out safety checklists, information about common health issues and other info to help them live higher quality lives via this company's website.
Online ordering is available: Users can purchase products directly from this company's website and can take advantage of bundle offers of complementary products.
Best for: people who can't walk, people with limited mobility, and people who have a heart or lung condition.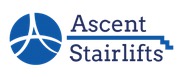 Ascent Stairlifts has been providing stairlift products since 2008. It offers a variety of lifts to meet users' needs and services the entire United States.
Read More

They offer comparison charts: Users can easily compare different models and types of stairlifts so they can get the best device for their needs.
They provide information to help with local funding sources: Users can find out about local funding for stairlifts if it happens to be available in their area.
They sell recycled models: Users who are environmentally conscious or who want to save money on their purchase can get a recycled stairlift that has been safety checked before being resold.
Trade-ins are available: Users can trade in their current model to get a reduced price on their next stairlift.
Other devices are available: In addition to stairlifts, this company sells walk-in bathtubs, wheelchair lifts and other devices to improve the safety of people with special mobility needs.
Best for: people who can't walk, people with limited mobility and people with heart or lung issues.

Ameriglide designs and sells accessibility solutions like home elevators, power lift recliners and stair lifts.
Read More

Country Home Elevator provides stairlifts and other products to assist users in Arkansas, Kansas, Missouri and Oklahoma. It has provided these products for limited mobility customers since 2001.
They offer information to aid in avoiding scams: Users who are not familiar with stairlifts can receive information to help them make a wise choice.
Professional installation: They provide installation and do not recommend DIY.
They offer straight and curved stairlifts for use inside the home: Users can decide which product to install based on their specific needs and preferences.
Online estimates: Enquirers can receive a price estimate by e-mail.
They offer commercial and residential services: Users can get stairlifts in commercial buildings for employee use.
Best for: people who can't walk, people with limited mobility, people with heart or lung issues.

101 Mobility was founded in 2008 by two men who saw there were not a lot of options in their area for seniors and others with mobility issues. It has grown into a national franchise that serves most of the United States.
Read More

Stannah is a stairlift designer and manufacturer founded in 1867. The family-owned company aims to help people stay as independent as possible by providing their customers with high-quality and customizable stairlifts. It also provides safety testing and installation.
Read More

Look Stairchairs is a company that specializes in the sales, installation and servicing of stair lifts. Located in Southern California, they have over 25 years of experience and are known for their expertise in stair lifts as well as their professional attitude.
Variety of products: They offer several brands and models of stair lifts to suit their customers' unique needs.
Punctual delivery: They ensure on-time delivery and even offer next-day installation.
Experienced installation: Their installation is overseen by professionals to make sure that the work is of the highest quality.
Same-day servicing: If a customer is experiencing issues with their stair lift a technician can service their lift the same day if necessary.
Used and new lifts: They offer used as well as new lifts to give a wider range of pricing options.
Best for: aging or disabled individuals, people who can't walk, people with limited mobility and people who have a heart or lung condition.
Disclaimer
Information in this guide is general in nature and is intended for informational purposes only; it is not legal, health, investment or tax advice. ConsumerAffairs.com makes no representation as to the accuracy of the information provided and assumes no liability for any damages or loss arising from its use.
Thank you
Keep an eye on your inbox, the latest consumer news is on its way!