Consumer Reviews and Complaints

This insurance company is horrible. We were hit from a driver covered by this insurance company on Monday 8/28. Today is 09/05 and we are still not in a rental car, my smashed vehicle is still sitting in my carport and for my husband, myself and 2 children under the age of 9 years old, they have only offered us $500 for injury settlement. It's impossible to get in touch with your adjustor or even a supervisor. We have been given the run around from the start. They are horrible.

I was rear ended by one of their insured. All I wanted was my car fixed. You have to speak to different people in different departments (out of state) for every aspect. They have all been unprofessional. They have "regulations" on when and how you get a rental. Mind you, I was hit. They came in very low with estimate to repair my car. Of course it cost a lot more than estimated. The body shop is waiting for the supplement check from Fred Loya insurance. My car has been in the shop for over a week. They are refusing to pay any more of my rental, leaving me to pay out of pocket. This whole ordeal has caused me severe emotional distress and anxiety. I really don't know how they stay in business.

Fred Loya is the worst insurance company I have ever had to deal with. I got into an auto accident on June 19th, 2017, I finally got my car back today. They did a half ass estimate the first time, and the body shop had to call them twice to do a supplemental. My claims adjuster Clarrisa ** lacks customer service skills, just as well as the customer service department, they refused to give me a rental, amen for the body shop they have me one! I hope and pray I never get into another auto accident with a Fred Loya driver!

I been with Fred Loya for couple years now and every time I go to make payment their staff are rude and tend to over charge me in 6 months. Time I went from paying 74 dollars a month to 103 dollars For Liability. Is it me or is this company robbing people blind. Am just tired of dealing with these kind **. I will be searching for another company soon. Go ** yourself Fred Loya insurance. You're nothing but god damn rip off. Don't buy insurance from this ** no good piece of ** company.

I have not one good thing to say about how they are handling my loss. I've been without transportation for two months, I asked for a rental car they declined. Signed over my totaled trucks title a month ago. It's been sold and I'm waiting for my settlement. I've lost $3000 in wages. Horrible business.
How do I know I can trust these reviews about Fred Loya?
882,235 reviews on ConsumerAffairs are verified.
We require contact information to ensure our reviewers are real.
We use intelligent software that helps us maintain the integrity of reviews.
Our moderators read all reviews to verify quality and helpfulness.
For more information about reviews on ConsumerAffairs.com please visit our FAQ.

On May 25 my car was struck by another driver who run the red light. Needless to say that I have been insured by Fred ** Loya. Since the very next day my car has been sitting in the body shop waiting on them to get the repairs paid. My adjuster Eita has the worst customer service etiquette I have ever experienced. The supposed to be investigator Jasson good for nothing. Doesn't even know what's going on even if it hit him on the face. Do yourself a favor and never get insured by this company.

Fred Loya's insured hit my car, she was found at fault and received a ticket, but Fred Loya will only pay 60% of the estimated damages, claiming "Driver Inattention" on my driver. How can you not pay the claim @ 100% when your driver was at fault?

This company is crap, in every aspect. How are you even in business, when you obviously cannot do a job you're supposedly paid to do? My daughter was parked at a restaurant and one of their "insured drivers" hit her car as they were pulling into a parking space. Right away the other party wanted to send my daughter to their own preferred body shop, in another county. My daughter made a claim with Fred Loya, went to the office, they took pics, and never got back to her, until she started calling 24/7. They stated they can't carry on with the claim because their insured driver will not return their calls, to give her statement?? They have bad communication amongst each other, between California and Texas. None of them know **! It's like a revolving door or no one knows **! Your best bet is to just sue for damages because you will get nowhere with these people! HORRIBLE HORRIBLE service, never dealt with a company like this!

My daughter was in an accident with one of Fred Loya's insured customers. He was at fault according to the police report. My daughter has been calling them for months with no results. The claims adjuster stopped answering her emails and her calls. She has been trying to talk to someone for weeks. When she does speak to someone they tell her she needs to speak to someone else. Fred Loya is giving her the runaround. They offered her 250 when her hospital bills were over 3000. The accident occurred in December 2015. These people are unprofessional and lack integrity.

I have had an unbelievably awful experience with this insurance company. I was assigned to someone named Elita ** as a claims representative. I asked her for her license number and she told me she did not have one. Then she laughed at me! I asked for the license of the other claims rep and got the same response. Got most recent correspondence from someone named Priscilla ** also a claims representative and not licensed. This started on April 4th of 2017 and as of today May 23rd they still have not fixed my car. I cannot get to work. The car is unsafe to drive according to everyone who has looked at it that is a professional claims service representative, including Toyota's service manager where I bought the vehicle and independent body shops.
However, Fred Loya did not even ask to see my vehicle which was backed into by their insured. Their same insured driver backed into another vehicle in a similar fashion right before my accident and admitted this to me and admitted fault to multiple people the day of the accident. Now says I have to "prove" that I was not at fault after almost two months of stalling, although she backed into me. This place is a scam insurance company. Just Google them and see for yourself. They do not do any sort of proper claims procedure, where you take your car in to get it looked at by a trained professional mechanic or they come to you. They takes the word of the insured in spite of their record of hitting other cars, photographs of damages and other forensic evidence.
I was backed into by one of their customers who did not even have a current insurance card. She told me she had hit another vehicle the same way recently (backing into them). In spite of her admission of guilt, to others at the scene, after almost two months I was denied repairs Fred Loya Company. Now I have to fight to get my car repaired. This is completely wrong and unfair. My car has been well kept and maintained and I am the second owner. I cannot drive to work and will have to take Uber or public transportation as the hood can fly up and hit the windshield and shatter it while driving on the freeway. They should be heavily fined and put out of business. Since the accident every body shop and repair center I speak to when I mention the name Fred Loya says, "Oh no". Why are they even in business?

One of their policy holder hit my car and he even admitted that it is his fault but still these people are lying to me saying the hitter did not see me in his backup camera. I had call my adjuster ELITA ** and left 6 voicemails on different occasions and she never picked my call. Finally I had to call other customer representative to reach her. Then they are offering 250 dollar for my damage where my damage cost 1000 dollar. And they talk to me like if I'm bothering them by calling at their house. IF ANYONE WANT TO CLAIM THEIR LOSSES PLEASE LET ME KNOW. I'M GOING TO SUE THEM BIG TIME. If anyone want to claim their losses email me your info at **. My lawyer will work with each one of us.

I've read some of these reviews and have come to the conclusion that most people leaving reviews are a bunch of whiny, stuck up **. I had an accident a couple of months ago and the other driver was at fault and was a Loya customer. I am NOT a Loya customer. Because I only carried liability on my car, my insurance company was less than helpful. I called Loya and filed a claim against their customer and was immediately taken care of. An adjuster was assigned to the case, my car was inspected at the tow yard and an offer was made on the car, that was listed as totaled. Because it was a 17-year-old Isuzu Rodeo with over 260,000 miles on it, I wasn't expecting a whole lot of money. I figured that anything over $1000 was going to be gravy.
Their offer was for considerably more than that, so I was pleased. Not pleased that I lost my Rodeo, but that I was able to get more than I expected. I was able to use that money towards a nice Toyota RAV4. Through the whole process I was treated with respect, I was kept in the loop and once the paperwork was filled out and sent back, I had a check within a couple of days. I am nothing, but pleased with my experience with Loya, even though I am not one of their customers and that's why they get five stars from me.

Fred Loya Insurance is a horrible car insurance company. They sold me a policy and presented me with all these great benefits but left out all the fine print. Every time I ran into a problem involving my vehicle they always seemed to come out with an excuse on why they couldn't help me without me having to pay more money. Right before I had about enough of them and decided to cancel my policy they asked me for my month payment and said they couldn't go forward with any actions until I paid for another month. After canceling I immediately demanded a refund for the money I had just paid since I wouldn't be using their services anymore. The manager said there was nothing he could do and that he could not refund me. I was enraged. I can't believe how horrible they treat their customers. Fred Loya is a thief.

Worst company ever!!! They called me saying my account was closed and my payment could not be processed. I paid with the same account immediately on the phone with my agent, only to get notice later that day that they had drafted my account again for the payment. Have been getting nothing but a runaround now for 3 weeks. I changed to a real insurance company. My agent in Mesa, Arizona at the Rodney Young agency has failed to return my calls all week after basically calling me a liar. However, the bank statement does not lie. Never never never do business with this crappy place.

A Fred Loya customer hit two of our parked cars. One was my daily driver (totaled it), the second belonged to my brother in law. After following standard procedure, filing a police report, having their appraiser come out to take pictures, and giving them 3 or 4 statements, it seems like I am already getting the runaround. They wanted to tow away my car "while they investigated" but I refused to let them take it fearing they would use it as leverage to lowball me. I had a bad experience with them back in 2002 when my neighbor backed into my 98 Camry, ruining my read bumper and driver side rear quarter panel. After bullying me, they offered me $600 dollars and nothing more. They told me to take it or leave it, that was all I was going to get. The repair actually cost me much more, so I already know about their predatory practices.
In this case now, they are also asking me personal questions about their client, and myself, such as age, something I thought was a bit out of the norm. I challenged them by asking why they don't already have all that info on file considering that is their client. I am already worried that my loss is going to be great. Reading all these reviews, I am preparing for a long battle with these idiots. Apparently they fail to write down any of the info given, and after asking the same questions 3 or 4 times it almost seems like they are waiting for you to trip up. What the hell is wrong with them? I will update my post when we get more info. Thanks.

There was an accident and Fred Loya is my insurance so now they don't want to pay and told us we was not paid up when we have auto pay we can see what comes out our accounts. So they decided to drop us as a client. These people are fraud and take people's money.

So got my bill taken out of account... 40.00 more... no notice... Go complain. Oh well. They pretty much laugh. Said I will cancel. Then get my notice after about the increase and it's 50 to cancel. Worst company ever!!

Save yourself and do not use this insurance company. They drafted payment from my account three times instead of just one and now my account is overdraft. According to them they only had proof "in the system" of one payment drafted so I had to go out of my way to an office and show them my bank statement for proof. It seemed like they were going to handle the situation and they told me they would have my money refunded by Tuesday December 13th 2016. This is already a stretch for me considering I cannot access my money because my account is overdrawn. (By the way my bank also charged me an overdraft fee). Now it is Tuesday and they still haven't refunded my money. I called customer service to see what the situation is and the lady says it's going to take 3-5 business days to refund my money.
I was lied to twice and told that I was going to get my refund right away and now they are telling me to wait 3-5 business days with no money. And then when I ask if they could take me off the auto pay she says I need to go to an office AGAIN and have them take me off. AND she said they are gonna charge me more for not doing auto-pay. "So you're telling me you messed up my account and now you are gonna charge me more?" I am so upset and I will be leaving Fred Loya as soon as they refund me my money. DO NOT USE FRED LOYA FOR YOUR AUTO INSURANCE. They will steal your money then act like it's an inconvenience for them to give you a refund.

So the other day a Fred Loya customer hits my truck in the front end trashing it. He got the ticket and pled guilty to it. Now Fred Loya says they have to investigate if it was their driver was at fault or not so Ian out of a truck. This happened 3 weeks ago no rental car so I am out of work. This company should not be able to operate or sell insurance to any person since they cannot cover their policy's. I really think someone like the board of insurance should take a closer look into some of these little company like Fred Loya because they are scam artists; would not recommend them to any person and if you're already a customer shame on you.

I went to a locate office during my lunch hour so I could add my new car onto the policy and remove my old vehicle but was not allowed to since the policy is under my husband's and my name. Which I had already called the 1-800 number 3 times before going to a local office so I would know what was needed and to avoid any problems or delays since I was going during my 1 hour lunch time. Well what I got was terrible, rude service and was informed that I could not add another vehicle to the policy without adding another driver when we don't need an additional driver on our policy. The employee was very rude and unhelpful and I was not allowed to remove my old vehicle from the policy either. I was also told in a very rude manner that I was not allowed to take my old car off the policy without my husband being present.
When I had called the 800 number I was informed that I could go in and add the new vehicle to the policy and remove the other vehicle and pay my the prorated amount but I was assured that it would be that simple and that my husband could go at a later time to sign the documents since he is always working. I have always heard horror stories about Fred Loya and never really believed them until now. They are providing a service to the customer and they should be able to assist and help the client as much as possible. The representatives need training on how to be courteous and be able to provide the service that is needed to the clients. It seems like the representatives for the 800 number are better trained than the ones at the local offices. DO NOT GO TO THE EDINBURG, TEXAS location located on West University Drive. The service SUCKS!! I am seriously considering canceling our policy with Fred Loya.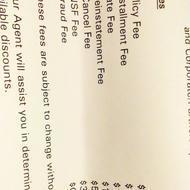 Today I contacted them because I have traded in my vehicle. I had a 2014 Nissan Versa and currently have a 2015 Elantra. I traded in the Nissan for a 2017 Dodge journey. So I went into the Fontana Cardenas branch here in California. I asked to have the Nissan removed and add the new vehicle. First of all they just withdrew 261 from my account Saturday. So the girl there makes me sign a paper stating my agreement to remove the Nissan, yet they mentioned that I would be 20 for adding a vehicle plus the difference. OK so the contract states the charge, so I didn't argue that then she tells me that I have to pay 97 aside from the 261. She said my total each month was estimated to 311.
So I asked if we minus the 52 that has increased in my policy plus the 20 for the change what is the 25 remaining charge for? She didn't know and advised me to call corporate. So then I call the Corona branch where I first started my policy (Magnolia). Here I was provided an exact quote which was 305 but in order to start I had to pay 160 today. Once again I asked what are the charges for? 20 change in policy fee and 44 for the difference. Total of 64 yet once again I couldn't get an answer to extra 96 dollars being charged so I was informed to contact corporate.
When I called 2 representatives couldn't give me an answer so then I spoke to the manager and he said it was a deposit fee. I've been informed that Fred Loya doesn't charge deposit fees especially if I'm just changing vehicles. He said that the initial payment doesn't require one but after that for any add one they charge deposit. Then he said that every month they charge 12 dollar fee for installment. He David ** stated "it was for all the letters mailed to you like bills and policy card," by the way it's not a card it's a piece of paper. Now once again David the c/s manager could not explain charges. He said he would call tomorrow for an answer. So if I canceled today I would expect to be refunded the difference. Out of 261 they should deduct two days of service plus 50 for cancellation fee. Plus a reimbursement for 15 days a total of 130.50 paid the first month.
When I started the policy they charged a month ahead and 15 days later they charged the full amount again (the second payment) they said it was because my first payment, half of it covers 15 days and the other half covers 15 more days after missing a pay if in case I don't pay the last month. The answer I got from David was that he did not know. They are really stealing from people they should be investigated.

I was rear ended in an accident and multiple cars were involved. I called to make a claim and I was told to call back the next day. I called back to make a claim, talked to one rude lady only to be transferred to another rude lady whom tried to twist my words as to if the accident was my fault. I asked if they were going to send someone out for pictures she stated "we don't do that." I called on a Thursday and was promised a call back. No one called. I called back Friday. I was told that my adjuster was changed. Now it's the weekend. I am car less, and keep staring at this part to another vehicle lodged into the front of my car. I wish I would've known about their poor service and concern before now. And yet they want to recruit workers. Never will I work for a company like this!!! Awful but I must admit the locals here in Birmingham are nice. Get a real insurance company. Might be more money but it's worth it!!!

I have family who are current employees with this company, even they advise to not purchase insurance with this company. They are aware of the many frauds this company do to working people. When I was with them I did submitted two claims with this fraudulent insurance company. Both claims we towards my uninsured motorist coverage, which I was supposed to be insured. First claim they came up stating I didn't report to the police so they couldn't do anything. The second claim they stated I had comprehensive and collision so they couldn't help me because it was less than my deductible. Which is unlawful because there is no deductible for uninsured in the state of Colorado. Besides this the treatment they give paying customers is just trash. There is no such thing as customer service whatsoever. I don't recommend this insurance to anyone. It's the worst I've had.

My husband goes through Fred Loya insurance company and they raised my husband's insurance because he's 1 day late. Every time we went from $33.00 to $67.00. How is that possible? I wished they would do payment same time each month but they don't. They are unreliable and unworthy of their position. It's BS what they put people through. They are a rip off company. We're finding someone new.

On October 29th, 2016 at 10:00 a.m., three employees were there. One could help. She was taking a while. I don't know why the others couldn't help. I just needed to make a payment. It was in El Paso, Texas. I was waiting about ten minutes. 9417 Alameda Ave. 79907.

I hate this company! If Marla or Rochelle ever helps you... hang up the phone and run! Worst ** service and accommodations in the world!!! THEIR CLIENTS WILL REAR END YOU AND THEY WILL NOT GIVE A **! I have never been so upset or angry in my entire life. Their client rear ended me and damaged my entire car and they refuse to help because they have "STATE LIMITS". They are rude and disrespectful and have the most unprofessional people working for them. This company should be permanently closed - SERIOUSLY!

Nobody in the San Antonio office knows anything about their job. They were not trained properly to do their jobs especially DILLION. They did not explain to me the process of getting my check here, I am 7 damn days with a rental car that I have to end up paying $400 dollars out of my pocket. I ask for the corporate number and NOBODY knows how to get in contact with corporate... BUNCH OF BS CSR REPS and a BS OWNER.

I received a call today, no message left - I returned their call, it was Fred Loya. I've had insurance through them for 6 months. My rate was set to drop by $20-$30 by the end of the month. My driving record has always been spotless. Instead of dropping my rate, like our signed papers agreed on, they raised it by $15. They said they sent me a letter confirming that CO state has increased ALL insurance companies. I called around, that was complete **. No one knows what they are talking about.
During the conversation, I was "accidentally" hung up on, lied to, the women were rude and just uneducated. They didn't know the percentage that CO supposedly raised any rates to. She didn't understand that my rate was to drop so told me the rate decrease wouldn't go in effect. I said I'd have to switch insurance and she scoffed and told me they don't do credit checks and every insurance was increasing... I'm new here. That's the only reason I even used them. It nearly felt like a threat. I am going to State Farm tomorrow to switch. The ladies there were actually pretty crappy to anyone other than the Hispanic crowd. It's a damn shame.

My husband and I have had a policy with Fred Loya now for over 3 years. We have been covered since we were 16 without a gap. There have been 0 tickets and 0 accidents in the last 8 years and yet they informed me today that my rate will now more than double. They have horrible customer service and provide no reason for my rate doubling other than Texas rules. I call BS. I will be canceling my policy on both vehicles and finding a company who actually respects their clients. All of the employees I have ever dealt with have been rude and seemed to be inconvenienced by doing their job. Complete disappointment!! NEVER GET A POLICY WITH FRED LOYA, WORST INSURANCE COMPANY EVER!!!

7/25/16 a multi car crash resulted in an F150 pick-up crashing into the side of my work shop, I file a claim and Fred Loya accepted liability. They assured me that it would be handled promptly. It took me and some friends 16 total hours to support and secure my structure. It was four days before a contract adjuster showed up. 5 business days later I was informed that they did not have my information yet. On the 17th business day Fred Loya contacted me and demanded that I file a claim on my own insurance due to policy limits, I am unaware of any law that requires an innocent victim to file an insurance claim on their own insurance.
Fred Loya is insisting that they cannot resolve my claim with me directly which makes no sense when I have repeatedly suggested that I would be open to resolving this claim for my fair and equitable share of the policy limits yet they refuse to explore that option. The simple fact here is that Fred Loya owes me my fair share of the policy limits and they 100% responsible for resolving this claim. It is easy to see why Fred Loya has earned its place at the top of the worst Insurance list.
Fred Loya Company Profile
Company Name:

Fred Loya

Website:

https://www.fredloya.com/