Consumer Complaints and Reviews

I have been a member since 2005 and I've had insurance since 2007. It's not common that I've had bad experiences, however, the bad ones really stuck with me. First, my car was totaled last year. The person at fault had an insurance company that was moving slow so I contacted USAA because I needed a rental ASAP so I could get back and forth to the doctor and chiropractor. They set up the rental and completed an appraisal quickly. Once that was done I get notified that I can only keep the rental for 7 days because that's what my policy says.
So I'm sitting there trying to understand the logic. The other insurance company provides a rental for 30 days on a total loss. Considering my police report indicated the other person was 100% at fault. I don't know why USAA, the people I pay every month, would not provide me with the same option. Each person I spoke with was insensitive to the situation disregarding the fact that I was just injured and losing a car that has a lien is not fun.
My most recent incident occurred in December 2016. I was in an accident and when I filed my claim I also filed under my medical payments. This was my first time and what a horrific experience. Now I have medical insurance so I went to the doctor and of course they bill my insurance. I was not made aware that they shouldn't do this. The last time I was in an accident I was told to bill my insurance because it was required. USAA operates differently when it comes to medical payments. The person in charge of this portion of the claim randomly sent an email to me without contacting me first so I didn't know what this was. Then I attempted to call her on multiple occasions only to not receive a response until I complained to the company. Once she called me she told me that their process is not to file under my medical insurance.
At this point I made it clear to her that I work for a bank not an insurance company and had she contacted me in the beginning I would've known. So at this point I have no bills just EOB's. They would not accept those. I didn't know this until I started receiving letters in the mail that were unrecognizable initially. I still have not heard from Deborah **. It's June and this happened 12/10/2016. Then I received a letter from my doctor's office stamped 05/02/2017 that was sent over from Deborah. This has gone on far too long and I'm quick P.O. USAA used to be reputable company but as time goes on the employees lack proper customer service.

I left Wells-Fargo after more than a decade. I just couldn't bank with an institution that preys on people. So, I went to USAA... 'Cos they ostensibly care about veterans. They engage in the same practices as any other large financial institution. I deposited a check from a reputable firm on-line. At no point during the process was I advised they would hold the funds for 8 days. I pleaded with them to release the funds on my birthday and they denied my request.
Again, they at no point was I told this would happen. End result was I ended up sitting on my birthday with my wife and daughter unable to do anything. So tired of impersonal financial institutions who do things like this. I encourage others to go with small, local credit unions and just say no to big institutions like USAA. They don't care about us, not really. We are not people, just numbers and impersonal entities to be gouged, misled, penalized and charged fees while they are never seemingly responsible for much of anything. These entities have ruined our country.

I have been a member of USAA banking and insurance since 2012. I had my father converted as well, and in the beginning, they were Great! Fast response, courteous, and accommodating to one's specific needs and changes financial wise. HOWEVER, now in 2017, they only care about money, their customer service matches the insurance and banking needs (Garbage). My insurance went from 1200 to 1500 without ANY EXPLANATION, except on the auto bill pay where I had budgeted to pay $241/month to $330/month! I told them to stop auto bill pay BEFORE the DUE DATE, and they still tried to pull the amount on that day! And now I have a $30 NSF FEE that I shouldn't have to pay! I had a 3-way call going because I know they were going to pull this B.S. and now I have a witness to prove that I tried to cancel the auto pay!!!
In a nutshell, I am going to discontinue ANY and EVERYTHING I have under USAA until they change how they treat valued customers! IDC if they use a third party (Liberty Insurance Which is trash as of late as well). USAA has lost respect for their customers as well as those who serve the country! They used to ask about your well being, and would understand when life changes would appear! Now they are rude (Customer Service) and they lack empathy towards you, your personal situation and anything else you may have going on in your life! I never thought I would leave USAA a negative review, but they left me no other choice!!! I am officially done with you USAA!!!

They judge on race and age. It has been over a month and they have not made whole. They look for a reason not to pay out. They investigate everything. They have people not properly trained. They treat you like you are a criminal. My car was stolen at my kid's school. They found the car. They are trying to pay me less than what the car is worth... with the extra insurance it is all a trick. They get you with the good rates... but watch when you need them. They will not be in a rush to get things straight.

I filed an auto claim 10 days ago. USAA has not sent an adjuster to the body shop yet. I had to call to get an assignment sent to the body shop. Subsequently, the assignment was cancelled with no notification to me. USAA reps just tell me this is normal. My own insurance is through USAA but the other driver was covered by USAA as well and USAA accepted responsibility. Is this how they treat everyone?
How do I know I can trust these reviews about USAA?
791,967 reviews on ConsumerAffairs are verified.
We require contact information to ensure our reviewers are real.
We use intelligent software that helps us maintain the integrity of reviews.
Our moderators read all reviews to verify quality and helpfulness.
For more information about reviews on ConsumerAffairs.com please visit our FAQ.

Recently hit in an intersection. Called USAA from the scene. Told I did not have collision or rental car reimbursement!!! I have had collision on all my vehicles insured with USAA since 1971. This greatly increased the stress I was experiencing from being hit. USAA said not only was I at fault but also I would receive nothing for totaled car. I disputed their position. After many days and many hours on the phone, I did my own research of my policy online. Two weeks prior to accident I called to change the state for my policy because of a move (USAA was award of the move because of changes in other insurance and contact info).
When policy for new state was issued it did not include collision or rental reimbursement. They still did not accept responsibility. I had to push them to check recording of conversation (I had date and time of call). They finally paid $14k after deductible but never fessed up top what had happened or offered a sincere apology. AVOID USAA. They also have increased their security for accessing account info online. Unfortunately it has made it difficult or impossible to access the info I used to convince them of their error.

I have been a member for 23 years and they have always gone above and beyond for me. I insured my car with them when I was 16 years old and later that year had three major auto accidents that weren't my fault. Each time they responded immediately and had a check to the dealership to repair my vehicle within the week. At the age of 40 now I have my house and all my vehicles insured through them and still receive excellent service. I live at the beach and have had to file claims for storm damages from hurricanes and have never had to wait for an estimate or repairs. I have a credit card through them and have never had any issues with that service, similar I love their banking and investment products. Two weeks ago I had a lady run a stoplight which did major damage to my vehicle.
This happened on a Tuesday... by Friday the lady cut a check to the dealership which included my deductible as the accident wasn't my fault so I wasn't liable. I had my repaired car deliver to my office by Thursday. Aside from the accident happening, I experienced no inconvenience, USAA handled everything. I am leaving a review because I was surprised at the negative reviews on this site, which do not paint an accurate depiction of the standard level of service through this company. One other thing to note, I have never had to wait to speak to a representative, and all of the representatives that I have spoken with are based in the USA so no inconvenient accents to decipher. With respect to insurance, no other company can even come close to their charges, USAA is the absolute lowest you will pay for coverage.

Driving on hwy in SC and rock damaged my window from road construction. Called USAA for assistance after speaking with several folks that informed me of Windshield only clause for free repairs & replacements. USAA reps managed to screw me over by doing one thing and saying another. They want me to pay out of pocket for coverage when I should not have to pay. I have several property and vehicles and their reps screwed up how I am covered and they want to force me to pay for their errors. Not going to happen.
Will bring forth a lawsuit if necessary. I was in an accident at no fault of my own and had payments set up for cc payments which their reps deleted and tried to say that we were not in compliance of paying and when I pointed out their error again they tampered with my acct once again for the payments that were set up again and verified by one of their own reps. USAA has now gone to the extent of threatening to cancel my coverage and treating me as if I have never paid my premiums on time. Paid all the bills to keep things current and I'll start printing out all payments because they lie about what things when they are caught in the act and attempt to make the consumer look bad.

We were rear ended by an USAA member and we are still waiting to hear from their claims department. We left 6 voicemails and no return calls. We have a claims report as I called 911 and the USAA member admitted fault to the cop as she was not paying attention when she was reaching for her soda bottle and when she got it she already had hit our car. We will wait until Memorial Day weekend is over and otherwise call a lawyer as this is ridiculous!

I have never had such a hard time trying to do business with someone in all my life. I spent 4 hours on the phone and still didn't get everything on my policy and after calling back to finish I finally had all I could handle, I was told that because my kids were of a certain age, I could not have them on my policy even though they are driving my cars in my name. I've had 4 insurance companies in my life and I've never had a company try so hard to make doing business with them so hard and they kept telling me it was a state law that they couldn't do it and I called them out on it then it was they said I would be committing fraud and it if my kids got in an accident it would show up on my driving record which I called them out on again and said that's a lie so at that point after talking to 3 people trying to convince me I needed to have 3 different policies and cost me an extra 290 more than I was paying for State Farm.
I finally told the last lady, "I'm done with the lies and ** just send me over to where I can cancel my insurance I had with them for a whole week with my 2 cars and my house." I was trying to get 3 houses and 4 cars and they were so difficult to deal with. It just wasn't worth it especially when I seen how much more I was going to pay because I would have now had 3 auto insurance policies and 3 house policies. Think wisely before you allow these people to lie to you and take your money. I just can't imagine what it would have been like if I had a claim and try getting a straight answer or better a lie. I guess the moral of the story is DON'T DO IT!!!

I was hit by a drunk driver on 5/3/2017 who did not carry enough insurance to cover my car as well as the other car she hit. The claim filed with my insurance has been going on for 3 weeks at the time of this review, I was notified as of today that the estimate of $23,774.98 was deemed repairable based on the value that USAA's appraiser gave the car ($48,712). I received a copy of the appraisal done by USAA showing they used a "new" car to comp it out, I provided 4 comparable "used" car comps along with value reports from KBB and Carfax showing the value to be $30,980 trade-in, private party at $33,770 and retail at 35,520 which would deem the car a total loss.
After I submitted all the proof the car was not worth the value they claimed I was told, "Too bad that's what we feel it's worth". I am now stuck with the lease on a vehicle that reports on Carfax as accident with airbags deployed that I will have to disclose when I trade, sell or turn in the lease and am on the hook for the diminished value of this car. Once the car is repaired I can file a diminished value claim and I was told the same appraiser would re appraise the car and determine what the car is now worth post accident. I have no faith that USAA will be able to make me whole on a car that I have insured with them and have been a customer for over 3 years. Once this mess is sorted out in the next few months if I am lucky I will without a doubt be canceling all insurance policy so have with USAA (homeowners, auto) based on the terrible customer service and basic understanding of real life.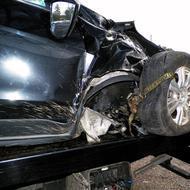 12/29/15 A USAA customer turned left in front of me with no warning. I attempted to miss her, but still hit at 55 mph. Not only was my car totaled, the frame was broken. USAA would not pay for MRI, nor any other diagnostics I needed. I suffered from neck/back/leg injuries. Broken nose, issues with my right leg and hip, for months was sick, nauseous and couldn't eat without severe repercussions. Was dizzy, had slurred speech, short term memory loss, severe pain in chest from chest contusion, swollen liver/spleen (Not sure which or both since they would not pay for the diagnostics... still have the swelling).
Area to left of naval swollen... Still to this day. Was never provided with neck brace, physical therapy, etc. To this date, no settlement made on medical and continuous calls and threats from the various medical charges including hospital, EMS, radiology, etc. Adjuster will NOT return calls to attorney. This has been a life-changing event for me and there has never been any doubt their client was at fault.

I've been a USAA customer for 27 years. In the early days, the agents were very friendly and I truly felt like I had a trusting relationship with the firm. In all these years, I have never once filed a claim. But the vibe has changed dramatically. The front line folks who take the calls are defensive and seem to be focusing on protecting the firm at the expense of helping the customer. It's almost as though they are more interested avoiding any responsibility. I've just dropped all my coverage and moved to another firm more oriented to the customer.

On 4/21/17 I was driving home with my spouse and dog when an 18 year old USAA member ran a stale red and hit my car going 50 mph as I passed into the intersection. My car was totalled and I sustained a 2nd degree burn to my chest and severe seatbelt contusion to my hips, which now have large hematomas and are very uncomfortable. I contacted USAA and have only been treated terribly. In the month since my accident, they've contacted me once, and I've had to get in touch with them every other time. Everyone I speak with is rude and doesn't give the correct information.
The one time someone called me to speak about my claim, I was at work and was unable to answer, so he left a message and I called him back asap and was forwarded to a voicemail. He then called two days later during a time I had specifically asked him not to call during on my message because of work. I then returned his call 1 minute later, only to get a "voicemail box full" tone and promptly hung up on. This happened to me 5 times. He never called me back or answered when I called, and eventually when I was told by the rental car agency that my rental was up in a few days, I had to call his department and start headway on property settlement myself.
I then received a notarized letter on May 19 at 5pm, saying no one had heard from me and they were going to assume I didn't want to move forward with a claim if they didn't hear from me before the following Monday, But everyone I called only had office house during the week and were off weekends. I was then given the wrong name and number for the person handling my pain and suffering settlement and promptly sent back to the rude adjustor who has not contacted me a single time since the accident and I've had to do it all myself. Even today I called the adjuster during her hours and got her voicemail. She never returns my calls, but knows the voicemails leave when I call back multiple times to actually talk to someone, so I know she listens to them but doesn't feel it important enough to get back to me.
I'm a 21 year old college student, working full time with no car now. The way I've been treated you would think I was the one texting and driving and not their client. They are a group of unprofessionals and if you ever have the misfortune of being the victim of an accident caused by one of their clients, I strongly advise you to get a lawyer immediately and have them speak for you. You would think a company who represents our armed forces would act better towards American citizens.

Hailstorm damaged my car. Damage was appraised at $8,264.57 and the value of the car was valued at $15,257. USAA says this is a total loss but in South Carolina a total loss is damage equal to or greater than 75% of the value. The damage is 54% of the value. I am getting a lawyer to clear this up then I will be switching insurance companies.

I'm not a member of this insurance but I'm the victim of an accident by one of their insured. My car was totaled in an accident and USAA agreed to pay off my car. The accident happened in February. It's now May and the email correspondence has been nothing but roundabouts and circles. First, my name wasn't spelled right in the initial claim so I had them change it, then I sent my power of attorney letter but they needed a FedEx receipt, then I sent them the receipt and they said my name on the power of attorney was wrong (it was correct they just switched me to a new representative and he had the old file with the wrong name.) So then I had to resend the letter and a new FedEx receipt and then he emailed me saying they didn't have it after getting an email confirming that they got it. I sent them pictures of both and was met with an email asking if the receipt in the picture matched the paper I sent.
During all this time I've still been paying my car payment which is allowing them to lower their pay off and when they lower their pay off we have to do this whole circus again. They're awful people who just elongate things so they don't have to spend money. I'm getting my lawyer involved now so I don't have to. I'm not even a customer and I would recommend never using them.

I checked 4 days ago on when my insurance was due. Their website said it was due on the 20th. I logged on yesterday to pay the insurance, to pay the bill and it told me they dropped it on the 7th. I received no letter, no e-mail, nothing. Not even a phone call. So not only did they lie about it online when I logged on to USAA they sent me a letter. Checking the "amount due" the first time I logged in they charged me a late fee and sent me an email informing me of all of this when I logged in the second time.
Then when I got on the phone to sort this out, the representative I spoke with began berating me, and saying things like: "We can have the police take your car if you don't pay us. We can call them and you will get in trouble. I mean that's how it works in Kentucky." (It isn't. You have to be physically driving your car to get in trouble.) Whats worse is he started saying, "I need to know what's going on in a man's personal life that he can't pay car insurance." I just said "Yeeaah" and hung up on him. They are telling me that my policy went up in price on the internet from 500 to 700. As someone with no car crashes under their belt, or tickets, and no criminal record I can get cheaper somewhere else. This used to be the best auto insurance. Now it's garbage apparently. Avoid.

My car was front ended by a pick-up truck driver that decided to back up into my car while waiting for a stop light to change. After exchanging information and reporting the accident, I took my car to my auto dealership for repair. They said - "Oh, this is great insurance, you won't have any problems with them!" They were right - the car was repaired good as new; I had a rental vehicle while they waited for the factory parts to be shipped to the repair shop to complete the repair. I have nothing but great things to say about this company. I work for another auto insurance carrier, and I know the quality of service they provide. I'm still switching to USAA and forgoing my employee discount because their claim service is far superior to what I have now.

Your VRS (Voice Reponse System) really needs improvement. I like your company, your insurance is good, and rates good also. BUT today I was FRUSTRATED big time. When I called USAA, I needed a copy of my auto proof of liability insurance. OK--that is pretty simple but I NEVER was able to be directed to a simple link to just get you to send me this document so I can renew my truck registration (in Texas you may know it is required to have proof of liability insurance at time of license renewal for a vehicle). So, I finally got a nice young lady on the phone and she helped me.
My view is that something as simple as posting on your VRS a link which I can input my name and verification i.e. Social Sec. number and you will send a copy to me. This is not complicated but your system makes it so. I had State Farm for 30 years and when I needed help I just called my agent or went to his/her office to discuss. Had it not been for "Chasity" who help (very polite and well trained -- I give her 5 Stars on today's call May 10, 2017), I would have lost respect for your systems engineering and Voice Response support team.

I signed up with these ** 10 months ago. That was my first mistake. The first 14 business days they harassed me by sending me my policy 18 times. Yes I counted, 18 policy documents total. The next issue is try calling them to tell them to stop harassing you, all you hear is every other excuse as to why you're still going to receive your policy another 18 times. Don't sign up for emails, they will send you 3-4 on average per day. One time my radiator cracked and I was in a heavy area of traffic, in downtown Denver. First they sent some ** who spoke only Spanish and didn't know what cross streets were, and never arrived, then I had to call again, almost 2 hours later in fear of being hit on the corner of a major street section, and they still did not come.
What else is worse is don't ever let them con you into signing up for something stupid like "renters insurance" because they force you to keep it. Let alone every time you call these **, 99.999 percent of them are "PC" and if you even say the word "freaking" they automatically threaten to hang up, scream, yell. Banter. Before the election, one stupid liberal, I told them "don't tell me what to do. I'm paying you and I'm not PC at all," started going "HILLARY" all over me.
Yesterday I called to try to cancel my policy, it took me 4 hours. What's so wrong is that they enforce "PC" culture on you but I almost guarantee that 99.999 percent of these retards are the liberals that curse you out worse than sailors do on Facebook. Yesterday I spoke with "BREA" from the cancellation department, she's just a **. I was telling her all the reasons why I'm pissed and hate their company, she replied "ARE YOU DONE?" ** YOU BREA.

I have called USAA six times within the last 24 hours and they have hired a third vendor party for both side assistance and for towing a vehicle. They have sent out three trucks that are not equipped to tow in all-wheel-drive vehicle. They cannot be engaged in automatic to neutral. And now they're telling me that because it takes extra or special equipment that I have to pay another $119 and wait another two hours for someone to show up. So all the money that I've been paying them for all the years that I've been with USAA means absolutely nothing as long as I fall within the $50 fee and because I'm in North Carolina I cannot be serviced accordingly because it takes extra equipment to get a tow truck with a dolly. So for all US AAA members if you're North Carolina and your car is what they call truly disabled which means you can't drive it and you use USAA you may want to look at another vendor.

Anyone searching for auto insurance should stay away from USAA. They will overbill and not provide an explanation. If you ask to speak to a supervisor they say a supervisor is unavailable. If you ask how to file an official complaint they give you the runaround. Not one representative, or "senior specialist" has been able to explain why my auto insurance has doubled ($1,200) and why they refuse to give me a credit for an error made on their part. Save yourself the stress and headache and choose a company who is much more professional and less likely to rob you of your hard earned money. It does not even matter if you are a prior service member. USAA representatives do not care.

2 years and 4 months ago I was rear-ended while stopped in traffic. The vehicle that hit me was an old Suburban towing a 2 horse trailer (empty) and was driven by a 16 year old girl. Her father had a whole $15,000 liability insurance through GEICO who paid off right away but ER bills and Dr's visits ate that up in a week or two. I had my head turned to the right to block my German Shepherd from climbing over the console and my jaw was jammed tight against my right shoulder bone. When I was hit my jaw was torn at the joints and for two years plus I've fought my OWN Insurance company to pay my medical bills and provide for the $30,000 surgery I need to rebuild my jaw joints. USAA tried to say my jaw injury was a pre-existing condition but my personal dentist refuted that emphatically because he had examined me just prior to the accident.
I was finally paid about half of the "Med Pay" part of my policy but only about $2,500 of the $5,000 owed to me. The original adjuster changed positions at USAA and didn't bother to assign my claim to another adjuster until forced to do so. USAA lied about everything from the first contact and treated me like a criminal and finally offered $52,000 to settle. My policy limit was, I thought, $100,000 but after jerking me around they admitted since I took out the policy in New Mexico and had another vehicle insured with them for the same limits, the policy was "Stacked" or double, equaling $200,000.
For the next two years I sought out every competent oral surgeon in the Phx area with options to have the surgery (who has $30 grand laying around?) or living with the constant pain of my jaw floating around in various positions. USAA's twerp Scott ** denied that I could have suffered such injuries from a ten mile an hour impact. I'd be perfectly happy to demonstrate on Scott's jaw what sort of damage such an impact could produce. Their latest response, over two years later, is around $58,000 which they seem to think is a lot of money.
There was another development in Nov 2016 when I finally took opioids (**) after refusing them for years due to my experiences with drug addicts in my work. I was prescribed 2/day but only took 1/2 because I was very sensitive to such drugs. One Saturday I took two whole ** and the following morning, due to increase pain I took one more. After a short period of time I was in my backyard with my dog and started feeling dizzy and disoriented so I started back to the house, tripped, and broke three ribs, my nose and suffered a subdural hematoma with a skull fracture and bleeding in my brain. I'd never taken half that amount of prescription pain medication in my life and it simply overpowered me. I know people with chronic pain who take 6 or more per day but that's not me...
Today I was informed that USAA is going to hire some prostitute specialist in Pennsylvania to refute my 6 doctors and physical therapist. They also have a "Bio-mechanical" expert who will refute the claim that I suffered such an injury at such low speed. If you use the formula for foot pounds of force F=Velocity times Mass, you get a staggering figure... But it's a given that an "Expert Witness" will parrot anything he's instructed to by the people who hire him. I've seen this many times in my career as a homicide detective and SWAT EOD member. I'm going to have my attorney advise USAA that I'm not giving up and I'll see this all the way to a conclusion more in line with the damage done to me. Binding arbitration is the next step.
USAA has a horrible record of denying claims for no good reason. I'd like to look at Scott **'s work records to see just how many times he's been rewarded for claim denials in cases such as mine. My quality of life has descended to the point of depression, constant pain and anger. That's not how I want to live. With the mountain of medical evidence, MRI, CT scans and X-rays and written opinions from my doctors I believe USAA needs to suffer a major loss for their entrenched policy of breach of contract and acting in bad faith.

I have been with USAA for close to 17 years, having banked with them and used them for my auto and renter's insurance. I have enjoyed my experience for the most part, with the exception of some instances where they held larger checks for unreasonable amounts of time, but I've found this to be true of most banks. My auto insurance, though a bit high, has been flawless. I've made several roadside assistance claims and a few claims for fender benders, and I've never had to wait more than 24 hours for insurance payments. Roadside assistance has bailed me out of several "oops I locked my keys in my car" situations. I've never had to file a claim on my renter's insurance, so I can't really speak to that. They reimburse ATM fees and give customers a refund at the end of each year based on the amount they earn above what they need to cover expenses, so that's a great perk.
Recently, I applied for a VA backed mortgage loan and got pre-qualified immediately. I gave them accurate information, though I realized my credit was low and I would be starting a new job soon, both things that would make the process more difficult and things that had discouraged me from applying in the past. They acted as if it was no big deal and even gave me a higher loan pre-approval based on my new salary. My originator and processor were friendly and responsive, but two days before my closing date, my loan was denied because my credit was too low, I didn't have enough time with my current employer, and I didn't have enough liquid assets - (I made sure I had what my originator told me I would need). There was never any mention of a need for more assets above what I would need for closing.
I realize it's the underwriters who make the final decision, but I'm confident there is some common knowledge in the department about what will and will not fly for this company, and I was led to believe there wouldn't be any problems getting the loan and then had the rug pulled out from under me right before closing. Additionally, since homeowner's insurance was required to complete the application and I was loyal to the company, I went ahead and got it with USAA. The premium was absolutely ridiculous, but being a first time home buyer, I didn't realize that until I was advised by another lender to shop around. I've since found comparable insurance for less than half of USAA's premium. To summarize, banking, auto and renter's insurance are great. Stay away from the mortgage department unless you have really good credit and plenty of liquid assets, and get your homeowner's insurance somewhere else no matter who you are.

I was rear ended by a USAA car insurance customer and she refused to acknowledge the accident even though we had photos of the damage and an estimate for $830. USAA denied the claim because she refused to acknowledge the accident. This person is a total fraud and USAA did nothing but protect her. This is total insanity. I called and spoke to Scott in claims and he basically laughed at me saying, "well you have liability don't you?" I didn't rear end my own car and they did nothing to try and get this fraud of a woman to pay. They protect their own customers regardless of dishonesty, guilt, or fraud. What a sham of a company. Terrible unethical people. Zero stars...

I had an incident on 04/17/2017 where one of USAA's clients backed in to my vehicle. We were both parked in front of our community mail boxes at the time, to be fair there is no dedicated parking in this area. The driver admitted that she did not look behind her before backing up. She was very apologetic over the incident and provided her USAA insurance information and immediately filed the claim via her phone application. She told me right at the time of filing that I would be contacted by Robert **. Who was the claims adjuster assigned the claim. I was not contacted until 3 days after the accident occurred. That was after I called, and spoke with one representative to make sure the claim had been filed, and called 2 other times and left voicemails with Robert.
Once he finally contacted me, as per normal procedure, he told me he needed a statement from me. I gave him my account as to what happened and he asked me a number of questions. That was fine, though it seemed to turn in to more of an interrogation rather than just getting a statement. Though the questions may have been customary, it was very frustrating to be asked over and over again for specifics such as how many feet was, I or the other vehicle, from this or that, and how many seconds until impact. When I responded a few seconds, it was a few meaning 1-2, 3-4, 5-6? I did not have a measuring tape or a stop watch at the time, and if those types of details were necessary, he should have contacted me when it was fresh in my mind, rather than 3 days later.
Before ending the 39 minute and 4 second conversation, he said that USAA was not admitting 100% responsibility at the time, even though their client HIT ME, as it was not that "Cut and Dry" of a case, but said he would set up a courtesy inspection for my vehicle as if it was a favor. The body shop contacted me right away to set it up an estimate for the next morning. After the inspection, I was asked if I wanted to schedule the repair. I replied that I hadn't heard back from the adjuster as to the determination of the claim, and asked if he could contact USAA first. He was able to reach another representative of USAA who told him USAA accepted 65% liability, but not an explanation as to why. I then called USAA at to inquire as to why they were only accepting 65% liability. I spoke to a representative, that said there was a Florida Statute noted as to why they considered me partially liable.
I left another voicemail for Robert and wondered if the determination had been made, why I hadn't been contacted immediately to explain the determination. He finally called back and said that the FL Statute noted, was due to the fact that I was parked at an angle and no part of my car should not have been more than 12 inches from the curb, therefore I was 35% liable, and said I could contact my insurance company, if I did not want to accept the determination. He did not offer to assist in scheduling a rental if I needed it, I had to ask, and confirm that it would also only be 65% covered. The whole experience was the worst I have ever had with an insurance company, my own, or other, and I felt that the claims adjuster had been very unprofessional from the start. I asked him how long he had been with the company, to which he replied "that's irrelevant".
I emailed USAA on 04/26/17 to file a complaint regarding the issue, to which I received an automated response saying that they received it and it would be reviewed as quickly as possible. It is now 05/03/2017, and I never received any reply at all from them. The details below are what I included in my complaint to them:
1) Their client admitted that she did not look behind her before starting motion in reverse. 2) My car was parked. The other passenger in my vehicle stepped out of the car to check the mail, saw her backing up and literally tried to stop her by yelling and trying to put his hands on her truck, and then jumped out of the way so he wouldn't be hit. 3) Their client still didn't look in her rear view mirror and admitted her radio was loud, which is why she didn't hear or see anything. 4) Their client was parked parallel to the set of mail boxes, located on the 2 lane road facing east. Once their client put her car in reverse and was in motion, she was literally driving in reverse on the left, therefore, the wrong side of the road prior to impact.
If all the factors above remained the same, it wouldn't have mattered if I was also parked parallel to the mail boxes, in other words not at an angle or incorrectly, their client would have still hit my car, it would have just been a different part of my car. It was not a large claim, less than $1000, therefore, I did not involve my insurance company, but given the facts, I feel as though USAA should have paid 100%, this is literally over just a few hundred dollars. Come on USAA, give me a break. I hope I NEVER have to deal with USAA again.

We called in to inquire about our account. They asked us, as they should, some security questions. They told us we got them wrong. I asked how do we correct that information? They said they couldn't tell us because we got the answers wrong. You can see that this is going nowhere. I spoke to 5 different people over the course of 1 hour and 15 minutes with no end in sight to the circular logic. We finally got a power of attorney who called in on our behalf and they got the information corrected. An unbelievable scenario.

I was in an auto accident back in October of 2016. It is now April of 2017. Because of the injury I was excused from work from my doctor, but my employer fired me because of the time I had to miss. They would not accept my doctors note. I have been going to the doctors for multiple things since the accident has happened. I was not the driver at fault in the accident, but it was my car in the accident. I suffered from a severe concussion, whiplash, and nerve damage. I couldn't feel my fingers or feet for months. I continued to go to the doctor to try to get better and build my strength. USAA will not help me and refuses to help me with my bills. The reason being is because the accident happened in my vehicle but I was not the driver. They are refusing to cover any of my medical bills. I have talked to agent over agent and manager over manager. They won't let me file with the other drivers insurance because it was in my vehicle.
When I reached out to the other drivers insurance (State Farm) they said they would be willing to help cover my bill if USAA would help them with the claim. Do not ever choose this as your insurance. This company is supposed to help our soldiers and family members of them. They are not doing that. It is not stress-free and they do NOT make it easy. Managers and adjusters have removed themselves off the claim. No one is willing to help. I am now stuck in collections with the hospital because I owe over $5,000 from emergency room visits and doctors appointments. The hospital can't help me because USAA declined the bill with the reasoning that these appointments are not regarding the accident. It's a joke if you ask me. They should not be the company that our soldiers have to deal with.

USAA stinks to the max. It is all bait and switch. Just got the renewal on homeowners, went up $200.00 for no reason whatsoever. We are shopping now prior to renewal and leaving USAA in the dust. Horrible horrible company. Auto has already been written with another company and is effective at midnight tonight. New company gave us car rental which we didn't have and lower our deductibles on collision and comprehensive to $250.00 per occurrence. We were at $500 deductible with USAA. Goodbye.
When you need them they are not there for anyone. Everything is email on their website. You never speak to a live representative and make sure you never have to put in a claim on your car. If they can they will total your car immediately. Dealer gave me a price to fix my car, $600.00. Their adjuster who I'm sure is a subcontractor had damages at $2900.00. Are you flipping kidding me?

This company used to be great... Not anymore... Worst service ever. The guy that works in the CEO investment escalation office is a complete ** clown. Very rude and condescending voice message left on my phone. Would never recommend this company to anyone.

Matthew BrodskyInsurance Contributing Editor
Matthew Brodsky is an established expert on insurance, having written hundreds of articles and other pieces of content on the subject, interviewed countless practitioners, and attended dozens of conferences and events. He served as an editor at industry magazine Risk & Insurance for six years. More about Matthew→

Founded by former U.S. Army officers, USAA Auto Insurance is dedicated to providing affordable insurance and financial services to active duty, retired, and honorably discharged military personnel and their eligible family members.
Accident forgiveness: USAA Auto Insurance policyholders can add accident forgiveness, so if they are in an accident, their premiums won't change.
On-base parking discounts: Garaging vehicles on-base ensures vehicle safety, and, with USAA Auto Insurance, customers can get policy discounts for parking at work.
Top customer service: USAA Auto Insurance received the highest possible rating for their customer advocacy, according to a survey hosted by Forrester Research Inc.
All-in-one service: Members can use the USAA Auto Circle to locate, obtain financing and insure their new car. This process can help them save at every step of the way.
No charge flexible payments: Many insurance companies charge policyholders a fee for monthly payment structures, but USAA Auto Insurance offers flexible payments at no charge.
Best for Active duty military, retired military and new drivers.
USAA Auto Insurance Company Profile
Company Name:

USAA

Website:

https://www.usaa.com/