State Farm Auto Insurance
Consumer Complaints and Reviews

Let me start off by saying we have had State Farm insurance for 30+ years and have paid premiums for this insurance for all that time. My daughter was in a car accident on 4/13/2015. She hydroplaned and slid down an embankment to land sideways against a tree. The fire department had to cut our little girl out of the vehicle and rush her to the hospital. After surgery and physical therapy, we expected State Farm to pay their medical portion and our health insurance was supposed to cover the rest. 6,000 was left after our personal insurance covered the bulk of the bill.
It is now Late November of 2016 and we are still fighting the insurance company to pay this bill. We have been told the hospital did not send in the right form. We faxed it twice when the first time they said they did not receive it. I finally thought (in August 2016) they had completed the paperwork and were going to be paid, until our daughter said it is now delinquent and on her credit report as not paid. I am so tired of begging a company to honor their agreement when I have been paying higher premiums for this accident. I am afraid it will affect her ability to obtain student loans or have good credit. I am at the point of seeking an attorney. I hope this deters people from putting their trust in this company.

I received a notice that my car insurance was not going to be renewed due to claims in the past two years, and primarily on from last summer. The accident last summer was not my fault and unfortunately resulted in the company totaling my 2015 Escape (~$17,000 damage). I was on the expressway in a traffic backup, waiting for traffic to move when an elderly woman rear ended me. I am especially upset because I have had State Farm insurance for over 40 years...doesn't say much for loyalty. I would like others to know that this can happen. So even though I paid very high rates and was loyal, my insurance is being cancelled.

I was rear ended by a person that has State Farm insurance. When I took my car to have it estimated, I tried to tell the person that did the estimate on the car that the damage to the trunk was because of the accident. I told the person that my car was hit in the rear from an angle because he was changing lanes. The trunk used to open with the key fob, since the accident it doesn't open without grabbing the trunk or tapping the trunk to get it to open. The key fob is the only thing we use to open the trunk since we bought it. The only damage that was on the trunk was the rusted scratch on the top surface, it was there when I bought the car, it was from something that broke the back window before we owned the car.
The person hit my car in the rear from an angle because he was changing lanes when I stopped because of a Hollywood Police officer stopping traffic to allow a person that he had stopped to give a ticket. Your company is denying the trunk to be fixed/straighten and painted and fixed so that it will open again correctly, with the key fob button or the key. All I want is to have my car fixed correctly. I'm not expecting a new car. I just want it fixed correctly, but for some reason they say that by viewing the pictures that it wasn't caused by the accident. I mean the vehicle that rear ended me was considered totaled. I don't understand how they don't figure this was caused by this accident.
My 2003 Ford Taurus SES should be fixed correctly. My car is in the Body Shop, and they even sent paperwork in stating that this was caused by the accident. Thank you. I'm hoping that someone will help me to get my car fixed correctly. State Farm Insurance has always been considered a great company. That's why I don't understand why I am having a problem. I hope you had a great Thanksgiving Day.

I've been a State Farm's customer for approximately 16 years. Recently I just got into my first fender bender in a crowded parking lot. It was my fault. I filed a claim my deductible was a whopping 1000 dollars which isn't cheap. I got my car fixed but my problem is, that these scam artist raised my insurance over 100 dollars for my first accident in 16 years!! I don't pay them for nothing, I pay them to fix my car not to keep my money for no accidents and when I do have one in 16 years they raise my rates. Where's accidents forgiveness. Really horrible company. They need to do a whole lot better.

Everything was "just OK" but then on renewal month they forgot to take payment out, & I didn't notice. Received in the mail one day a letter from ADOT. It basically said our vehicles don't have insurance so they are cancelling our vehicle registrations & my husband's license since he's a truck driver and has a Commercial driver's license (CDL). I CAN'T GET A HOLD of MY AGENT. He won't return my calls, texts, or emails that I've sent him. I'm wondering if he's still in business or not. How do I find out? Meantime we're up the CREEK without a paddle if you know what I mean. Oh I also received a Thanksgiving card in the mail a couple days before the Motor Veh. Dept. letters. Like everything was fine.
How do I know I can trust these reviews about State Farm?
633,951 reviews on ConsumerAffairs are verified.
We require contact information to ensure our reviewers are real.
We use intelligent software that helps us maintain the integrity of reviews.
Our moderators read all reviews to verify quality and helpfulness.
For more information about reviews on ConsumerAffairs.com please visit our FAQ.

I recently hit a deer which damaged my vehicle on the hood and undercarriage. I foolishly used the iPhone app to submit my claim. I promptly received a very small check that I was pretty sure would not begin to cover the damage. When I had the damage estimated by a body shop it was ten times the amount of the virtual settlement.
I contacted my agent who submitted my estimate and time went by. I checked on my claim and was surprised nothing was being done. State Farm "Claims Department" informed me that the "virtual department" was not under their control and rarely do the virtual people "accept a real world claim". I ended up replacing the car at my own expense and giving my damaged vehicle away for free. I know the new owner of the damaged car is driving an unsafe vehicle that has slipped through the cracks of the real world.

I was a passenger in a vehicle that was T-Boned by a State Farm driver 40 months ago. Yes, that's correct, 40 months ago. I have been to multiple surgeons. All of which have stated that I need two spinal fusion surgeries as a result of the accident. State Farm has yet to give me a dime. They only made me a settlement offer of $11K when I had already accrued over $20K in medical bills. Since that time, the bills have tripled and I cannot afford to be out of work nor pay the $4300.00 plus co-pay for even one of the surgeries. I am a single parent. I am no longer active like I was pre-accident. I have gained 30 lbs. so far. I am now on anti-depressants & blood pressure medications. In fact, my prescriptions cost almost $2K per month. They refuse to pay for my medical expenses even though their driver T-Boned the vehicle that I was in and was cited for the accident.
Prior to the accident, I had no medical conditions nor had I ever filed an injury claim in my life. I was 41 at the time of the accident. I am 45 now. I've had to retain an attorney that charges 40% plus fees & expenses to file suit. If you are ever involved in an auto accident, you better pray that the at fault driver is not insured by State Farm. They accepted liability for the accident but refuse to pay. My UM coverage can't even pay because of State Farm's acceptance of liability. I can't believe this is even legal. It has ruined my life and the lives of my children.

When finished with the call I was satisfied but, I am still dissatisfied with the company itself. The issue I have is with the company being competent on taking payments. I myself have a company and like being paid. Evidently State Farm Insurance does not like being paid but, on the other hand they like sending out, month after month, cancellation notices because they do not know how to follow directions on where to pull the money from. I have heard from other State Farm Insurance customers about them having the same stupid issue. The exact issue is our payment, for around a year, had been coming out of our account through our debit card account.
One day we got a cancellation notice for the past month not being paid. It showed on our account that it had been paid because our card showed the date was expired on our card, which they said it showed that because it was on auto withdraw so we just needed to submit our new card's expiration date and number. We gave them the new information, however the debit card number stayed the same cause it was from the (duh) same account, only difference was it had a new expiration date. We paid the payment during that phone call and the policy never canceled. The next month guess what... The same thing happened!
We received a cancellation notice and guess why. This is where the incompetence part comes in. Because they used the old card's expiration number. So we again called and got it straightened out (or so we thought) and again paid the payment during that phone call. They assured that this would not happen again. Then we talked with other State Farm Customers and they told us that we should not have that problem if we called and submitted our bank account and routing number. They also stated that the same thing happened with them and they were very frustrated with the occurrence.
When we contacted State Farm Insurance about what we found out, they told us we would have to fill out a form stating all the needed information and submit it to our agent. This was done in a timely fashion before our next payment was due so they would have the information in time. Then on November 10, 2016 they sent out another cancellation notice. Mind you our payments are due on the 3-4th of every month. I called 1-800-728-8338 and they even had the information that was submitted on paper to get it to be taken out of our account through our banking and routing number. The number they transferred me to had the same information too. After it was all said and done they took my payment and again was told that this was not going to happen again. We will see.
If it does then I'm done with them being my good neighbor. I will take my House, 2017 Pacifica, 2005 Ram, 2004 Miata, and 2 boats to another company. Also this year we are planning on getting a 2017 Ram and purchasing another house and making one a rental, we are also thinking about opening up a business. All of this will need to be insured and they will lose all that business from us and others that think like we do and we will sure tell them and refer them to another company. So if there are other insurance companies that read these reviews then look on here again around the 10th of December because I will put out contact information for one to contact me and get my business, because obviously this company does not want it. Thank You.

I have a total theft claims and have been trying to receive a call back from a Team Manager for the total loss team in Winterhaven Florida. I missed the last call from the team manager on Monday 11/7 as I was driving in Chicago traffic at the time she called. I have left several phone messages and still no call back. The theft loss was 9/21 and the initial contact from State Farm claims was not timely. The 30-day waiting period in the case of a total theft for contact from the total loss unit was also not timely. An offer was made on 10/31/2016 and it was not based on comparable vehicles. The stolen Utility Vehicle had 20 hours on it and the offer made was approximately $1,400 less than the purchase price. The vehicle has been garaged since purchase and was in excellent shape (the offer was based on average shape).
I am displeased with State Farm claims in this case. The current phone system makes it impossible to ask for another Team Manager to help in the case where Kathryn ** is not calling me back. I am a long-time (39-year) policyholder and have never had difficulties such as this before. The agent is not the problem--they have been very responsive.

I was the victim of a car accident caused by a woman who was insured by State Farm Insurance. She was texting on her cellular and damn near killed me (totaled my car). As I worked through the process of State Farm covering my rental car needs -- they specifically sent me to their "preferred" rental car agency (Hertz). I was assured that everything was taken care of and all that I needed to do was show up, provide my Driver's license and a credit card for any incidentals and/or damages. I was NOT told to bring my insurance (who by the way and ironically is also State Farm Insurance). Instead I was simply instructed by Hertz (and State Farm) to sign Hertz' paperwork and take the car.
When I turned the car back in -- I was charged $336 for Hertz' insurance on the rental. WTF? State Farm specifically sent me to their "preferred" Hertz, under the good faith understanding that I was 100% covered... Hertz deceived me and stole $336... and State Farm went along with it. Collusion and Corruption at its best. I have been loyal customer of State Farm's for 30 years now. However due to this greed and deception -- I am in the process of canceling all of my policies with State Farm Insurance. Remember the catchy tune, "Like a good neighbor -- State Farm is there." Hardly. The tune should be changed to... "Like a Greedy Corporation -- State Farm WASN'T there."

My most recent experience with State Farm policy left me very bitter. State Farm was our insurance company for home and auto mobile coverage for over the past two decades. My husband and I have separate auto mobile insurance policies. Recently, one of my husband's old vehicles covered under his own individual State Farm policy started to break down required towing more than a few times. I was not aware of this towing issue as I never drove the car. Well I received a letter of notice in the mail from State Farm stating my policy would not be renewed. I was shocked and was sure it was a mistake as I've had one claim with State Farm which was the other driver's fault.
After speaking to my agent I learned that all people living in the same house suffer the same consequences for the actions of any drivers in the house regarding insurance coverage. Put it this way I was held responsible and liable for what I believe state farm considered excessive towing regardless of my driving record. State Farm discounted my driving record and now I will have pay higher insurance rates.
Additionally, the towing of a out of commission car should not be a risk comparable to a claim against State Farm involving a moving vehicle. I'm thoroughly disappointed with State Farm and the method of informing me of their decision for nonrenewal using a form letter, when after 25 years of loyalty to State Farm I was not told this information via courtesy of a phone call. My advice to others looking for insurance, ask hard questions when searching for insurance and be aware of terms such as the one I described before choosing your insurance provider. So much for individual driver's record! Unfair!!!

I have been a State Farm Customer for 25 years with no claims. I was rear-ended by a young distracted driver who slammed into my vehicle in a sideways slide and put me in the hospital. This young driver had minimal insurance. His insurance company paid for my vehicle repairs and car rental and as much of my medical as his policy limits allowed. Unfortunately my medical bills exceeded what his insurance could pay so I then tried to file a claim with my own company, State Farm, since I carried under-insured motorist coverage. State Farm would not even respond to this claim. Finally I had my attorney file suit against State Farm to get them to respond. My medical bills were close to $27k. State Farm offered to pay $2k. When I refused to accept that they began all kinds of depositions.
In those depositions I was grilled like I was some type of criminal. Accused of many things and told they would bring up a lot of previous medical conditions at trial all of which had absolutely nothing to do with my injuries from the collision. This was the most absurd and degrading thing I had been through in my entire life. And this was my own insurance company, the Good Neighbor From Hell. I finally settled with State Farm for far less than my medical bills and lost wages in order to avoid the huge stress of going through a trial. I have since found a new insurance company, canceled my 25-year State Farm policy, and will never ever recommend State Farm to anybody again.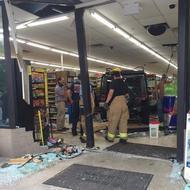 On June 1st a drunk driver insured by State Farm (Tennessee), after being refused service at a liquor store because he was drunk, drove across 4 lanes of traffic and crashed through the store where I worked. He injured myself and a customer. For 6 months I endured physical therapy and pain. I even attempted to make my life normal by trying to return to work.
State Farm maintained their stance on maximum personal injury payout without considering the fact that future medical problems will be forthcoming (due to the impact being behind me) nor taking into consideration the trauma this caused. You see these videos on tv of vehicles crashing through buildings, however nothing compares to actually experiencing it first hand. The driver was so drunk, when he got out the car, he couldn't believe it either. He looked around and said "I messed up". Shame on you State Farm. I'm sure your policyholder is happy. His life went on as usual while I continue to try and put my life back together.

Going on over 4 months of avoidance and refusal to return phone calls. Briefly, they 1st accused us of insurance fraud and said this was our totaled Jeep because it had the identical frame damage. I hit black ice in February on I-90 and my son and I spun into the center cement median and my first Jeep was totaled. I had 2 back surgeries in March and April so my mother flew in to help. My mom and my daughter were going to visit relatives and she was rear-ended in my new Jeep and slammed into the vehicle in front of her. We purchased this Jeep March 17, 2016 from a dealer and it was in perfect condition. Now after I proved that I updated my info and that they were entirely incorrect, State Farm is claiming that there was previous frame damage before we bought it. Another appraiser was supposed to be here a week ago today. I have left countless messages with Patrice ** with not one return phone call.
I now have a bungee cord holding down my front hood so it doesn't fly into the windshield. It's only a matter of time before a disaster happens. The Jeep is all over the road and I have to hold on with a death grip to avoid going out of control. I have no other means of transportation so I have no choice but to use my Jeep. State Farm has broken promise after promise. Defamed us with their accusations. I have no means of contacting State Farm because every other person I call says that I have to speak to Patrice **. State Farm is playing games with our lives and yet they keep collecting the premium. State Farm is doing everything possible to avoid us and I am left with no choice but to find another means to rectify this.

On November 25 I was driving on the 395 in Virgina when I was struck by a woman who have State Farm insurance. I called State Farm on the spot so as to make sure this person is insured by them and the policy in good standing and I was told yes and was given a number to the claims department and I did. I was told I would get a call back within an hour however that never happen. The next day at 5:00 pm I got a call back informing the claim denied because they could not find anyone with the policy number. So I call her agent and pretend I was interested in getting a policy so I ask the agent if they know this person is and I was told yes so I break the news to them. I was calling because I was struck by her and the claims department could not find the policy number for this person. I was placed on hold and after the agent return I was told the policy number I had is just temporary number and was given a different number.
I call back the claims office and give them the updated information. I was told again they will call be back. They had to speak with the client. I said ok and they did and they are going to take full responsibility. And was given list of shops so I ask to please email the list and was told sure but that never happen. After a week I took it to Caliber Collision for estimate. I was ask if I had some kind of number. I told them no I though since I have the title to the car they would pay me and then I would pay the shop but because it is one of their choice shop they refuse to accept the estimate for the repair.
After spending 20 minutes with one of their agents I ask to speak with a manager. I was put on hold again. When the Manager got on the phone I ask why they would accept the estimate and was told it is because that is what get because that is what you get when you come off the street and I have to have to be seen by one of their adjuster. I was furious because this is one of the approved shops. I then threaten to sue. I was then told if the shop would let State Farm Adjuster look at my estimate and would work with his adjustment I told them that was between them. So I thought about what was going on. So I decided to have State Farm adjuster take a look at it and have an independent shop take a look at my car.

My vehicle was in an accident over a month ago. The driver who stroke my vehicle was insured through State Farm. The claim handler for her insurance is Nancy **. She is very rude and negligent in doing her job. I have many other things to do. I don't need to wait over a month to get resolution on my car which I'm still paying ins for. I understand she may have a lot of work to do but when you work in customer service you should always be warm and inviting to customers which she is not. I'm very frustrated and can guarantee I will never do business with State Farm.

So my husband had several accidents in the past few years. He had two no fault accidents but they preceded to cancel my grown son's insurance policy as well as ours! The last accident was due to passing out from a rare drug injection reaction that never to happened before or after. In that accident he drove into the corner of a porch of an old house and hit the outer corner post.
The women said that they were canceling my son's insurance because they agreed to replace the entire porch that his dad drove into. He did not damage the entire front porch though it was old and the homeowner herself said it had been in need of work. I have pictures from the incident. To the point and most importantly, it should not affect other family members!!! DO NOT BUY INSURANCE FROM THIS UNCONSCIONABLE BUSINESS!!!

I signed up with State Farm Insurance in October of 2016 for my home and informed them I also would switch my car insurance due to the bundle discount. Big mistake on both. They added my daughter to my insurance without my approval. Sent me a letter telling me my car insurance would be cancelled due to too many credit cards. Yet the day I signed up there was no problem. Then this week I received another letter stating I would be paying $108.90 instead of $66. I have been going back and forth with this company for about a week. If nothing is resolved this week I am going to cancel and go back with my old company.

Had an accident and waited 2 weeks for someone. State they will be totaling my vehicle. I returned the phone call and took 7 days for a return call. Several calls from me to get in touch with someone took weeks. My last promise was a return call the same day until I tried to contact again 10 days later and still no resolve. After all the runaround and no response I finally had my first offer on the last day of week 6 and the settlement check will take more days into week 7. So I have been continuing my rental and State Farm is not going to cover this added time. They think the delay is only 2 weeks. NOT on week 7. So now I am to get another truck from out of state and be on the road while the mail time is not part of their coverage. Never received anything in writing.
Apparently they have not reviewed their own mission. DIRECTLY from State Farm website/ company overview; "A mutual company focused on their Policyholders. Mecherle's original vision for State Farm to operate fairly and do the right thing for our customers. While his vision still guides us today, our continued mission is to be the first and best choice." Apparently they need to have a team meeting to get back on track or change their mission to cheat policyholders. All while Mecherle turns over in his grave. Still waiting.

I had been having problems with my previous insurance company so I called State Farm for a quote. For liability, PIP and UIM on my primary vehicle and storage insurance on my other two vehicles I was quoted $354 for six months. I agreed to this and paid it. When I called for the quote I told the agent I had a 2-year-old ticket and he said it was not affecting my rate. One month later I got a bill saying I owed another $78. I called the agent and he said it was because of that ticket and started saying I told him I have never had a ticket. After arguing with him and the company directly I finally paid it and notified them I would not be renewing with them when it comes due and filed complaints with BBB and my state's insurance commission. Now they are saying I owe another $3.28.

I called to get car insurance. I spent 40 min on the phone with someone for them to tell me I wasn't eligible to get car insurance from them? I have a almost perfect driving record. I got a ticket when I was 19 for speeding under 10 over. When I asked why she said, "Maybe it was your credit score." Now I do not have excellent but it is average and yes I am to date with my credit score. Then she said "well your husband has had two accidents maybe that is why." Ok my husband already has State Farm which is why I was going to switch with them and he wouldn't even be on my policy for insurance just as a maybe driver because we are married. So I asked how could my husband's driving record go against me if he already has State Farm and he's isn't under my policy? So pretty much I got turned down for nothing and they could not tell me why. Useless crap of a company.

I was rear ended on 9/27/16 by a lady insured with State Farm that's her own stupidity. There was at least a 4 car length gap between us and she still couldn't stop. I got an appointment with my chiropractor to have him do x-rays. Sure enough my collar bone was twisted and out of alignment, spine and skull out of alignment and he had trouble keeping hips in place. I took my truck to highly recommended auto repair shop, got estimate of 1550. State Farm then dictates to me that I have to take it to one of their preferred auto body shops and have their inspector look at it. Well he does his estate and proceeds to say that some of the damage was done in a previous wreck. I told him no, the truck has not been wrecked. Then he gives me the estimate and says that he going to go to his big screen to make sure he hadn't missed anything. This was lie number 2.
He comes back and tries to give me a check!! I said "no I'm not accepting that check or this estimate. It is crock of crap." And I left. I figured I would get a phone call from State Farm but I didn't. But a few days later I get something in the mail from State Farm. It was the estimate and a check. Now if I didn't accept the check the first time what made them think I would take it the second time. All State Farm thinks about is settling the property damage case and keep their claims low dollar wise in order to keep their bonuses high. It does Matter to them that their inspector lied on the estimate but he is now saying he has to put it on the rack. I said no he doesn't. The other could plainly see all the damage was done by this one accident.
I have been in contact with the local news media to try and get them to investigate State Farm. I am also filing complaints with the BBB and the attorney generals office. I haven't done anything with the check. I get furious every time I think about this BS. Does the victim no longer have any rights when they are involved in a wreck especially when it's not their fault? I have the right to take it wherever I want to and also have the right to have new parts put on instead of "recycled parts". I would not have or recommend State Farm to my worst enemy!!!

You should probably choose a different car insurance company. Maybe all insurance companies are like this but State Farm treated me like I was lying during my personal injury protection PIP claim. They always wanted more and more information every time I called them and they eventually hired their own doctor to evaluate me even though I provided them with disability slips. They demanded I sign up for SSDI, and treated me like garbage whenever I called.

State Farm is the WORLD'S largest insurance company. One thing consumers do not think about is how State Farm insures the rich and the famous, movie companies, production companies. They drive cars, have businesses, so they need insurance also! That said, I had a business policy with State Farm Insurance and like most on this page, I was a State Farm customer for 20+ years. I sued a celebrity for a minimal amount, a counter suit was filed and I depended on State Farm to provide me with defense.
The claim was originally in small claims court. The State Farm appointed attorney tried to convince me to move the case from small claims to civil court, with no benefit to me. But a huge benefit to the countersuit as the damages would increase from 10K to (Are you ready) 4 Million Dollars! If I were stupid, but no I'm not. SO I kept the case in small claims court. (The State Farm attorney by the way, told me that they were not taking me seriously.) Too bad!
That said, State Farm stole my information related to my initial claim, (because State Farm was not defending me on my initial claim, State Farm was defending me on the counterclaim). The State Farm appointed attorney took information from me on my initial claim and gave it to the defendant's attorney, (The person I was suing). State Farm did nothing to help me on the counterclaim and instead, just wrote a check to them. Paid them. No problem, no proof, it was fraud. Did not matter.
How hard is it for you to get your car fixed, a rental, a tow? Yeah! State Farm stopped communicating with me. I was NOT Included in the settlement negotiations. I had no say over my own policy. The Director of Claims told me he was NOT going to defend me and I fired the State Farm appointed attorney. The State Farm appointed attorney simply stopped gathering information from me and continued to work on the case with them. Yes. So why am I telling you this. This insurance giant, State Farm does not give a damn about you, your years of paying for a policy, which after you keep an insurance policy for more than 1 year, your premium becomes PURE PROFIT for any insurance company.
WHY is it this way...Because we as consumers and customers let companies like State Farm get away with treating you like the unimportant person that you are! We let companies get away with treating your neighbor like crap, your son like crap, your wife, mom, sister, brother, friend and then you...yes you get treated like crap! What can I do. Heck let's be honest, no one can beat State Farm's rates, no one! I added my home to my auto insurance policy and I pay $62.00 a month for auto insurance, down from $119 per month, for two cars! Who can beat that! WHO? Yeah, I kept State Farm for my car and home. I dropped them for my business. I use to work in the insurance industry and I know that no one, no one, can beat State Farm's rates if you meet the qualifications for their preferred company.
I've learned a thing or two about insurance companies over the last 20 years. You have to know your rights, if you can get an attorney or seek help through your state OAG (Office of Attorney General), do so. To be honest, at the end of the day, it's about the money I save. I've learned to accept racist and sexist behavior and being treated like I'm less than from State Farm Insurance. State Farm tells you on the phone how much they appreciate your business, but...when you need them, you see how low on the pole you really are! After all, they are the world's largest insurance company...and who the hell are we! To State Farm...we are NOBODY!

State Farm's Local Agent, Brandon Warren, as well as their Claims Department provided excellent coverage and customer service regarding the recent flood AND fire incident involving my brand new vehicle! I have to mention Rita ** at Brandon Warren's Agency in Louisville, KY by name because she deserves special recognition! She has been our contact person for homeowners and automobile insurance since we moved to Louisville, and we couldn't be happier with her. She's incredibly responsive and helpful whenever we call. I highly recommend both State Farm and this agency.

State Farm was my first auto insurer and I had an auto-renewed policy with them for two years. However, in April 2016 they claimed to have received incorrect mileage and annual usage information about my vehicle from an unidentified source, and charged me with inflated insurance premium quoted from this information. The information they received has inflated my car's mileage by 22,000 miles and my annual vehicle usage by 11,000 miles per year. They agreed to cancel my policy after my request but did not refund me the overcharged premiums.

While I was in the process of purchasing a home in Palmdale, CA I was contacted by the local State Farm office (40015 Sierra Highway Suite B290 Palmdale, CA, 93550) about getting homeowners insurance. The woman that contacted me provided me with a quote and I agreed to the coverage with an effective date of September 30, 2016 (day of closing). She also provide me an auto policy quote and I bond the coverage and paid the 6 months upfront. Due to complications in the closing process I did not move forward on the purchase of the home and subsequently contacted the State Farm agency to cancel the policies (effective immediately).
I was awaiting the refund for the auto policy to be credited back to my credit card account and when it never was credited I contacted the State Farm Customer Service who informed me that the auto policy was still active. I immediately contact the State Farm office and was not able to get hold of anyone. I continued to call to no avail. I finally got hold to the representative the following day and she stated she would cancel the policy. I received the refund in the mail yesterday and it shows the auto policy was canceled effective (Oct 4) the day after I contacted her for the second time to cancel ALL policies. Got on the phone with her today and she had the nerve to say that I only requested to cancel the homeowners policy and not the auto. She goes on to say that she changed the auto policy to my current address for which I already have insurance through another carrier. In my opinion this is some shady business practice.

TN 2015 my car was in an accident. On 9 2016 my car went down a ravine. State Farms denied me coverage for car rental for personal injury. Also State Farm has not kill the pool agreement on the policy to protect my rights.

I realize that when I call for roadside assistance that at that time the information is put into the computer and the computer has some sort of program that decides on which tow company to choose to put out and dispatch on the call. However every time that I have called roadside assistance they have dispatched the wrong tow company for the area of where I need to tow. So after waiting a half an hour and then to get a new text message stating that a new tow company or whatever will be arriving at a new ETA making the total wait jump from the initial 1 hour to two hours. Is just so frustrating and throws my whole day off making me later for appointments or work or whatever I was going to be late for due to the emergency roadside issue. It's not only once in a while. It's EVERY TIME!!
I hate to get frustrated with the operator when I have to call back because the first tow truck didn't show up. And then be told that they will just send another one. Why can't they send the dispatch to the right tow truck company in the first place. I can't be the ONLY one this happens to. And yeah never get the same person who assisted you in the beginning. So having to explain that you have been waiting an hour for the tow and that you called back before to let them know that they had dispatched to a company that doesn't service the area. Only to find out that the last person you talked to didn't even do anything or note the call that you were still waiting and needing a different tow- truck. Well it's horrible and shouldn't be an added stress to have to not really have help on the way right away the first time you asked for it. Turning half the day into trying to get a tow truck to show up through roadside assistance.
But usually all the operators that I speak to when calling act very pleasant and reassuring that things will be taken care of. Sadly she the call ends and yet you know you'll have to call back 3-4 times in effort to actually get the assistance you requested. Makes it more of a headache than a convenience to pay for road side assistance instead of just calling a tow truck yourself.

I had State Farm insurance for more than twenty-five years. My car was rear-ended on May 1st, 2016 in front of my house by a man that was high on PCP. My car stayed at the side of the street for one month before it could be removed. The car stayed in the shop for two months before I could get it back. After getting the car back the stereo will not stay on. It continuously shut off. I took the car back to the shop and after a diagnosis was done it was found that the amplifier was defective because it was installed to the back of the car and because of the impact the device became defective.
I call State Farm and told them about the car. I was told that a State Farm adjuster had to go and take a look at the car. The adjuster did go to the shop and looked at the car and he deemed that State Farm will be responsible because there was no physical damages done. That was such a DUMB remark because common sense alone will tell you that if a car got rear-ended of course there will be damages done to anything was installed at back of vehicle. I am also had a shaking of my steering wheel when I drive in excess of 40 miles per hour. They denied that stating that my tires were different size.
Before my car was rear ended, I played my stereo continuously and nothing was wrong with it. I also drove in excess of 40 miles and had no shaking of my steering wheel. I ever expected to be treated like this after more than twenty-five years of coverage, but I guess the only time you will know is when something happens, and the hurtful part is the accident was not my fault.

Matthew BrodskyInsurance Contributing Editor
Matthew Brodsky is an established expert on insurance, having written hundreds of articles and other pieces of content on the subject, interviewed countless practitioners, and attended dozens of conferences and events. He served as an editor at industry magazine Risk & Insurance for six years. More about Matthew→

State Farm is one of America's largest and most popular full-service insurance companies. The company was founded in 1922 by retired farmer George Jacob Mecherle, and it has since grown to become the No. 41 ranked company on the Fortune 500 list of the largest companies.
Teenage driver discounts: State Farm offers a unique program called the Steer Clear Safe Driving program, which affords families with teenage drivers insurance discounts if they complete State Farm's course on safe driving.
Emergency roadside service: The company offers policyholders emergency roadside assistance should drivers run out of gas or oil, have a flat tire or lock their keys in their car (in addition to a myriad of other auto emergencies.)
Rental reimbursement program: Drivers who get in a collision and have to rent a car while theirs is being repaired are reimbursed for the cost of the rental car by State Farm.
Educational resources: The company offers customers and potential customers tons of helpful educational resources via their website, including helpful tips for purchasing the right car and equipment for the lowest insurance prices possible.
Specialized insurance offerings: State Farm offers a selection of specialized auto insurance, including not only classic car insurance, but also antique car insurance, for cars that are older than classic cars.
Best for New drivers, drivers who just purchased a car, and drivers who have teenage children who are learning to drive.
State Farm Auto Insurance Company Profile
Company Name:

State Farm

Website:

https://www.statefarm.com/