State Farm Auto Insurance
Consumer Reviews and Complaints

This company has canceled two policies on me in the past year. One auto policy and most recently on my motorcycle after 3 days of having the policy open. The auto policy was canceled due to a three year old speeding ticket. They have low rates but apparently you have to be a A+ driver to be insured with these con artist.

My sister, Pamela **, had a 1973 Mercedes. She lives in San Francisco. Over a year ago, someone hit her car. State Farm has been her insurance company for the more than 30 years that Pam owned the car. After the accident, they tried to fix the car but couldn't get the parts for a reasonable price. But they wouldn't total it either. I got KPIX consumer help involved and State Farm finally totaled the car and offered her $13,000. She accepted. But they will not give her the money because they say she must prove that there is no lien on the car from B of A. I tried several times to retrieve proof from the DMV online, but because the car is so old, the dmv doesn't seem to have information on it. I used the VIN and then the license plate number.
I am doing this for her because she is 70 years old and is caring for her partner who is 75 and he has heart problems and the beginnings of dementia. And she does not have the time or the energy to take care of the car matter too. So she has been without a car for a year. This means that she walks to the grocery store unless she can talk a friend into driving her. And the other day she bought too many groceries and wrenched her back while lugging them back to her condo. Her insurance policy allows $16 per day for a rental car, but she is unable to rent a car in San Francisco for less than $24 per day. State Farm has now taken her car without giving her any money for it.

I have been with State Farm for 6 years. I had one accident involving me and a curb about 2 years ago. I expected my rate to go up after that but happily it did not. Then all of a sudden the renewal about 2 years later they increased by $600 a year! The only thing I can think is my credit. I have been very ill and my credit has gotten worse but I have auto debit with them and never missed a payment. I'm in my 50s and disabled so I hardly drive. It is not fair to judge my driving by my credit! I saw on here someone put in a $5000 claim for silverware stolen from their car!
Poor people like me AVOID making claims on the small stuff and we don't have expensive items to be stolen! We can't afford the deductible so we don't do it. It's the great credit people that seem to make more claims. Not middle aged women on social security. I loved this company until this happened. I say shame on you for bleeding people like me because you can. Where can I go with bad credit right?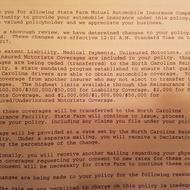 I was with State Farm for about 25 years only changing when dire financial crisis happened a few years ago. As soon as I was able I called my local agent back and signed up again. Rate was a little higher, but coverage was excellent and I felt a trust with my local agent I'd known for years. I have 2 vehicles insured. I've had no accidents, no claims, no tickets. I'm the only driver in the home for both vehicles. I pay by automatic draft monthly, never late. Imagine my surprise when I get a letter last week stating ONE of my vehicles is being "transferred to the North Carolina Reinsurance Facility".
Immediately I called my agent who claimed she knew nothing and could explain nothing - didn't even see where State Farm had generated the letter and could not advise of what new premium would be. She did explain that I would continue to pay State Farm only at a higher rate for the same coverage! I cancelled the policy the day I received the letter. Exactly 7 days from the receipt of the notice I received the new premium notice going from $399 to $615 for LESS coverage. BEWARE of this company!

As Hurricane Harvey prepares to land in Texas I have to remind people of the way State Farm reacted after Hurricane Katrina. First, clients were sent a check for app $3,000, and those poor souls who cashed in were told that was it, they had no more rights to ask for more. The rest of us foolish enough to have State Farm had to go to court, which took me four years to get just a little bit of money. This process was so upsetting I hold the company indirectly responsible for the death of my partner. There should be a special circle in hell for those who do this sort of thing.
How do I know I can trust these reviews about State Farm?
882,235 reviews on ConsumerAffairs are verified.
We require contact information to ensure our reviewers are real.
We use intelligent software that helps us maintain the integrity of reviews.
Our moderators read all reviews to verify quality and helpfulness.
For more information about reviews on ConsumerAffairs.com please visit our FAQ.

Last month I was sideswiped by a drunk driver, since that moment dealing with State Farm has been a total nightmare to say the least. Unfortunately because the person who hit me did not provide any information I was forced to file a claim with our insurance, State Farm. They did nothing, from the Agent CF to the Claims people. I had to go to the Police department and get the name of the guy who hit me (he was arrested and had no insurance information in his vehicle), then Google his name and all his personal information, obtain a copy of the accident report from the police, fax it to the State Farm Claims department people, and so on and so forth. All of that was their job which they neglected to do. They are a bunch of inefficient and inept group!
We moved to CF agency because of his claims of "providing great customer service"... All talk and no action. I have had to do all the leg work and all the follow up. They moved my claim to another department and never notified me, then they tell you that they are going to "look into it and call you back" but they never do. The worst, worst of service if lack of we have ever seen. We have been with State Farm for years but our previous agent retired and we had to find another office. It was a case of complete lack of service from the Agent's part and one screw up after another from the Claims department.
I highly recommend that anyone looking for insurance look elsewhere. We have been a multiple-line customers and we are switching insurance companies. This claim became a "job" for me with all the follow up calls and information that I had to provide due to their lack of due diligence. The other insurance company involved proved to be more helpful and efficient in the handling of the claim than my own insurance Agent!

I like my insurance agent because it is a local agency. They are very accommodating, polite. I like to keep my busy local & they are right around the corner from my residence. They also came very highly recommended.

Happily with Geico for 4 years. State Farm agent called me and said "If you go with multi line policy you will get good discount." So I changed my auto policy over to State Farm. They provided me quote for 135 but after 15 days when I checked my policy I found premium has increased from 135 to 240. So I called my agent who has provided my quote and started my policy with premium 135. He said "Underwriter has found driving history which impact your premium." Before that I was paying 155 with Geico then suddenly it has increase to 240 and now if I chose any other provider premium has increased. State Farm Agent is too worst and rude. They just want people to come and stuck with them. I highly disappointed with State Farm.

They have responded to all my requests in a professional and timely way. This included adding a new car. Their rates are kind of high but they give a discount for multiple cars. I also have my homeowner's with them so that helps with the discount.

Only gave one star because couldn't give no stars. We paid our insurance up for 6 months back in March. We received the renewal packet with our new cards and the premium for our vehicles. We expected to receive our bill in the mail around the first of August, our payment due date was to be the 28th of each month. Yesterday we received a cancellation notice instead. When I pulled my information up online the BILLING PREPARATION DATE was 08/11/2017 and the PAY BEFORE DATE is 08/01/2017. If the preparation date is after the due date how can they cancel my insurance?

I was in an accident and State Farm without getting all the evidence went ahead and paid 20,000 to the other driver. My case got dismissed and tickets dropped, yet they still are raising my insurance even though it was proven I was not at fault. This company is a scam, stay away!

We have been a customer since 1993. Needed a new roof after 11 years, everything was taken care of. We use State Farm for house and car insurance. For 3 vehicles, only 2 have full coverage. Every few months the premium rises, almost 300$ a month now. Never had a claim for vehicles, only the roof.

Cheaper than All State and Progressive. Still charge more than what seems reasonable to me for me being single and stacking two vehicles and homeowners with them. I (knock on wood/thank God) have never been in an accident. I have been victim of theft and vandalism, however, I have been curious enough to reach out to the competition. All state and Progressive to be exact and ran by them equivalent coverage only to find that I would even pay more. Significantly more. I have been with State Farm for over 30 years. Wish I could find cheaper insurance, not better.

I've been with State Farm almost 30 years. They increase your premium every time you renew it. Called them asked for why? Because the high price will help other small insurance companies to survive. You pay the most expensive premium and get the worst service.

Have been with State Farm for 43 years. Customer service has always been great. Claims handled in a timely manner and with complete satisfaction. They go over our policies periodically to make sure we are satisfied with our coverage. Rates have always been very reasonable. User friendly website. Can pay premiums and check all policies online. Hit and run in parking lot. Called State Farm. Was able to take it into my choice of body shop. Was fixed in a couple of days. Paid my deductible. Quick and easy.

I have been a multi-line customer of State Farm for over 4 years. I actually added an additional auto to my policy this year. In 2016 I was side-swiped by a fellow State Farm policy holder. She lied to the attending officer and said it was my fault despite the physical evidence supporting that it was impossible. I was cited and took it to court. In the meantime, I contacted SF claims to tell them the real story and provide legitimate proof it was the other driver's fault and was only met with an extreme lack of due diligence and disrespect.
The claims person refused to take the accident off my policy. After going to court and obtaining the transcript of the proceedings and witness testimony I reached out to claims yet again. I was given a different claims person that took the time to examine the facts and photos and listen to the transcripts. She ruled in my favor and said that the other policy holder committed insurance fraud by lying and said that the ruling would be taken off my policy and placed on hers.
Everything seemed well until I filed what I thought was my only claim on my policy this year for a minor accident involving only my car. I received a letter in the mail from SF saying they were going to cancel my policy because underwriting deemed I had too many claims in a short period of time. They said that the accident from 2016 was still on my policy against me, very different from what I had been told before. I pushed back and said to read all the notes from the Claims department and then they came back to say that they could not remove a claim against someone once it was placed on their policy. Total BS.
I am a 51-year-old man with a clean driving record, never had a DWI and the last speeding ticket I received was over 11 years ago. I forgot to mention that they wanted to include a time I called claims to report my car had been broken into over 2 years ago but I never filed for any reimbursement. SF said that they would put me into one of their subprime companies, which would increase my rates by 200+%. Never again will I trust them with my insurance needs. Stay away from them.

They're slow and they made it like you never paid in and were asking for free money. Insurance is a scam that government is supporting. We insure each car, instead we should insure the drivers. Cars don't cause accidents people do! Insurance companies and government demanded safer and better mileage cars and now besides the increased cost of a new car you pay twice just for the insurance. A bumper cost of 1200.00 plus. Nothing will change.

Car was totaled by young driver, he was 100% at fault. State Farm paid blue book value. I secured the required police report on the theft of silver from the car - State Farm then paid to the maximum the policy allowed immediately with no hassle.

I had been with State Farm for 11 years, never had a problem until this last year. They are rude when you call to talk about your policy, they hang up on you if you raise your voice in the slightest, they are way over priced. I had full coverage. One accident (not my fault) many years ago, tried to talk to them as I'm not working to try & reduce my coverage, was quoted a price of $95.00 if I went down in coverage to PLPD. I had to do it due to money issues. When I called to give them my new address which I had already done because I had to change tenant insurance because I moved from upstairs to downstairs I asked what the next month of insurance would be & was told $133.00 $6 less than what I was paying for full coverage.
I would NOT have changed to PLPD for a savings of a whole $6 dollars. When I tried to talk to the person who gave the quote of $95.00 she said I did agree to this (no way in the world am I that stupid, she hung up on me because I raised my voice slightly). I called & cancelled my insurance after taking the whole $133.00. I was given a HUGE refund of $22.00 dollars. Nasty, rude, UNCARING insurance company ever. Care NOTHING about their clients just the money. Would advise everyone to stay far, far away unless you like throwing your money away & having no coverage for a lot of money. Also must like talking with snooty, uppity people. STAY FAR FAR AWAY FROM State Farm!!!

My vehicle was damaged by a towing company that State Farm contracts with and they required my car to be towed to their 'secure' facility. The towing company damaged my car and the tire which they deny any liability and State Farm will not cover the cost of damages. They require me to submit a new claim and pay another deductible for damage that no one will accept liability for. Their other option was to let me try to fight it out with the towing company on my own. I pay my premiums for my insurance company to represent me if I am a victim of damages but at this point I am a victim of State Farm and they will not cover any damages that were incurred while my vehicle was in their possession.

Happily with Geico for 14 years. I got a phone call from State Farm Auto. "We will save you $500 every 6 months" he says. So I changed my auto policy over to State Farm. The agent had a great detailed conversation of what the vehicle would be used for. During this conversation I explained I'm going to be a UBER driver. Only reason we got the vehicle (a 2014 SUV) After about 45 mins we hung up and I thought I was good to go.
I went on to drive Uber for 27 days when I was hit by a speeding kid who said "I'm having a bad day." So I called to get my claim. They started the process. Then I was told I don't have coverage on this accident because my AGENT forgot to put a TNC clause on my account ($58 every 6 months). When I told the claims this wasn't my fault and it's the agent's fault they didn't believe me. Told me I'm stuck with the $2600 in damages to my vehicle.
How can this be? So now a vehicle I owe $14,000 on needs $2600 in repairs in a accident I didn't cause. I had full coverage insurance and AM NOT COVERED. State Farm Agent lied. Then the claims team lied saying they were trying to contact me for the past 7 days but my mailbox is full (another lie) This company is full of liars. I need help to expose this company. Please if you know a lawyer or anyone who can help email **. What happened to me is so wrong. Lies.

We had a hail storm and my car got a lot of damage a lot of dings. State Farm Auto Insurance had set up a place to inspect the car because I wasn't the only one with damage. Within a couple of weeks even less I had a check in the mail. I would recommend State Farm Auto to anyone who is looking for an insurance Co. I also have insurance for my rental apt in case of fire or any other thing and I get a discount on my car insurance for having both with the company.

Purchased a new car, was quoted one thing, billed for another, charged another. Been going on the past 3 months. I called several times. They tell me someone is looking into it. They will call me back... They never do. After 3 months of dealing with the lack of concern on why my policy kept changing, I submitted a negative a review. Once I do that then the customer service manager Craig wants to call me saying they figured out the issue and it has been fixed.
Then he proceeded to say I need to learn how to control my emotions because writing a bad review won't solve anything... Apparently it did because you called me back, who is he to tell me what kind of review I should write and last I know the situation wasn't his fault but him being the customer service manager should've followed up with me letting me know the status of my issues but instead left me the customer in the dark so I had to call several times throughout the day looking like a crazy person all because they are incompetent of picking up a phone a getting the issues solved.

Last year I was rear ended by a State Farm insured person who gave me an insurance card that was not valid. Finally he came up with State Farm as his insurance. I submitted my estimate for repairs and hired an attorney. After several months State Farm decided that I was 51% at fault even though I was rear ended. I had never heard of an insurance CO. saying the other driver was 51% at fault If it was a rear end. Now after months of my lawyers pointing out the obvious still not settled. STAY AWAY. THESE ARE THE WORST INSURANCE PEOPLE ON EARTH. Ps my lawyers confirmed State Farm was the worst to deal with.

I've been insured with State Farm for almost 2 years. I have home, life, commercial, and I bank with them. I've always felt that State Farm was the best until July 17th. My food trailer hitch snapped which caused a significant amount of damage to the trailer. I was assigned the worst claims adjuster that state farm has to offer Melissa ** out of Tulsa, Ok. She lied and said my policy wasn't showing in the system. After 12 days of being out of commission she told me not to call her phone so many times because she's on the other line and it's annoying to keep hearing the buzz in sound, she yelled at the top of her lungs and said "I HAVE BEEN VERY PATIENT WITH YOU!!!" Well I told her. "Isn't that's what customer service consist of, PATIENCE?"
I ask her if I can be assigned to another claims adjuster who I can call whenever and can be patient. I was told NO!! I've always thought of state farm as the absolute best but after meeting Melissa ** I'm leaving. And my claim still isn't done after every document she have ask me to submit and have done so I'm still getting the run around. Thanks, A loyal customer.

I've been a State Farm customer since 1987 with auto, and have insured my home with them since 1994. I also had an umbrella policy with them. Over the 30 years as a State Farm customer, I have had only two automobile claims for a total of approximately $4,500. As a homeowner, I have never had a claim in 23 years. Unfortunately, I had an at-fault accident two years ago, followed by a speeding ticket in Hawaii about a year later. Hawaii doesn't have traffic school, and my last ticket prior to that was well over 10 years ago. If the ticket had been in CA, I would have gone to traffic school, but Hawaii wouldn't allow it. With respect to the accident, I unknowingly grazed a parked car in a parking lot, causing a $1,500 claim to the other owner of the car, with no damage to mine.
Once I realized what had happened, I admitted fault, and made sure the other driver was made whole. I met with the police within an hour of the incident, there was no alcohol involved, rather it was just an honest mistake. The owner of the other car was vindictive, so I had to go to court and accepted a 0-point violation for not exchanging insurance documents. I could have fought the issue as I had a solid defense, but was assured by my lawyer that a 0-point violation wouldn't adversely affect me. This was resolved before my ticket in HI.
State Farm appropriately raised my rates after the accident as well as made an adjustment after my ticket in HI. The two rate increases doubled my premium, but I was assured by my agent that if my driving record remained clean, the rates would eventually decrease. However, with my most recent renewal, State Farm underwriting department reclassified the incident as a major traffic violation and raised my auto rates an additional 300%. I shopped rates, and State Farm was $1,500 to $2,000 more than all other insurance companies for comparable coverage, so instead of $4,000 with State Farm per year, I obtained the same coverage for $2,400 with another very reputable company.
The reason I'm now so upset, is that I was given misinformation by my agent with respect to my homeowner's policy as well as my umbrella. I spoke with them in advance to make appropriate financial decisions, and I was assured that I moved my auto, that my homeowner's wouldn't be raised until the following renewal. When I called to cancel, I was given a totally different answer by the agent's staff. I was now told that my homeowners would increase immediately and substantially, and that my umbrella was not renewable. I then called their customer escalation department, to discuss the issue as well as voice my dissatisfaction.
At first, they appeared to be compassionate and helpful, but then did not follow up as promised. I had to call back to get an answer. The response of the escalation department was that they must have not noticed the violation, but it happened before the ticket in HI which had increased my rates in my last renewal. Clearly it was an alternative decision by a different underwriter with the exact same information. Net, net, State Farm is now planning to raise my homeowner's policy mid-term even though I was told by my agent that it wouldn't happen. I will be changing insurance companies for my remaining polices tomorrow, and I will never conduct business with State Farm again. I would caution anyone from doing business with State Farm as I feel they are unethical and provide very poor service. I'm just happy to move my policies to more reputable insurance companies.

We have been insured with State Farm since 2004, at some point we even had our home insurance with them as well. Last year (2016) I was involved in 2 unfortunate car accidents which I was not at fault. 100% was the other driver's fault and this year they have dropped me because of my 2 personal injury claims. They dropped me as uninsurable and I have exhausted all the options to insure myself and no insurance company will do it. At this point since I live in Florida. Can't drive anymore as if I was a criminal with a criminal background and repeated traffic offenses. I have been put in this predicament by State Farm because they are greedy and they don't care. My driving records are the cleanest you can ever think, I have never been ticketed in my life yet, I have to sit In House arrest because of the way they cancelled my insurance.
At this point I don't know how am I going to be able to work (I'm a realtor) and take care of my 2 children and produce an income to sustain myself and my household. They have definitely ruined my life in a minute after 13 years of paying my premiums religiously. I have been put in a situation of legal counseling to best deal with this situation. The attorney said this is one of the first cases from State Farm's new way to punish their customers, beware and find yourself another company. I don't wish this to anyone, therefore I hope people read this complaint and make better decisions.

Words cannot express just how disappointed I am with the State Farm - Mike McKeown Agency! I did an online quote in June and was guaranteed that my account was set up for auto draft and the agreed rate. I was told my assigned agency would contact me the very next day to confirm my coverage, etc. Of course that didn't happen. Instead I contacted them for my coverage documentation. Never once did they ask me about signing any forms. I noticed a month passed and they never obtained another payment, I therefore contacted them and they told me I wasn't set up but I could call in and get that taken care of.
I called them the next day (Friday) and no one answered or returned my call. Since they were closed on the weekend I called that Monday, again no one answered or returned my call! So I went ahead and sent all information via email. I get a call Tuesday from another woman in the office telling me that since I did originally do auto pay I have to pay two months to keep my coverage! When I express to her it's their fault and that if they do not fix the error I'm leaving the company the woman simply said, "Ok, well there's nothing I can do". I'm left mouth open thinking, wow!!! I've left the company and will be taking my homeowner's policy from them as well. You guys are a horrible piece of work! Worst customer service EVER!

I called state farm after office hours to cancel my policy. It was a Friday night and I had already purchased insurance from another company. The person I talked to did not help me and suggested me to call my agent's office Monday to cancel my insurance. He mentioned he can help me if I am purchasing a new policy. When I asked him, "Why can't I cancel my policy but I can purchase a new State Farm Policy?" He mentioned he is going to transfer my call to someone that I should talk to and he hung up the phone. The employees are so disrespectful and do not help you. They can only help if you are paying not the other way around. In general, they are not the best company for getting your car insurance. There are a lot of other companies offering insurances.

Horrible experience! I had an accident in January 2017 wherein my car was totaled and I sustained broken ribs and contusions. Rather than being concerned about me and my injuries, State Farm was concerned ONLY with getting me to sign a document to release my car to the tow company. They wanted me to drive over 40 miles to the tow yard to claim my items from my car immediately, and continued to harass me with phone calls and emails regarding this, even though I explained that I was under doctor's care and not released to drive due to my injuries. State Farm insisted that I was the only person who could go claim my items, and demanded that I do so immediately or they would not be responsible. I also was not permitted to retrieve the brand new battery I JUST GOT from my car. If my car is totaled, why would they need my new battery???
I left several messages for my agent Mike **, because although I thought I had full coverage on my Honda, he never offered me personal medical coverage, which I did not find out until after the accident when I went to the ER and subsequent doctor visits. I had to turn to my private health insurance to help me. My agent NEVER returned my calls and claimed he never received them. It wasn't until I got sick of leaving him messages and turned to another source at State Farm for help that he finally called me back. During the time of my recovery from my injuries (10 weeks before I could drive) my agent never called to see how I was feeling, if I needed any assistance from State Farm, nothing but grief. Due to being out of work all that time and covering medical expenses, I fell behind on my payments and my agent didn't do a thing to explain to the underwriters what was going on, although I kept him very well informed.
Additionally, due to this accident and two uninsured motorist claims the previous year, my insurance premiums were raised. And due to the three late payments (although they WERE PAID) I got a phone call from my agent on THE DAY THEY DECIDED TO CANCEL MY COVERAGE! After he asked me how I was doing, and asked how I wanted to handle the concerns I had been raising, and I offered him an Olive Branch of peace, He informed me that my coverage had been cancelled at midnight that morning. So now, I'm driving a rental car UNINSURED! He had the nerve to tell me that if I needed help finding another company to let him know. He would be happy to help me.
I was furious about the whole ball of wax. Worst company EVER! I love my new company, and they love me. When I told them the State Farm horror stories they couldn't believe it, and told me that they agree that SF did not offer me a premier customer service experience. I've received more customer service in two months with my new company than I received in almost three years of State Farm coverage. State Farm is prime example of my favorite quote: "What is the difference between genius and stupidity? Genius has limits." - Albert Einstein.
State Farm Auto Insurance Company Profile
Company Name:

State Farm

Website:

https://www.statefarm.com/