State Farm Auto Insurance
Consumer Complaints & Reviews

My husband and I have State Farm and have had them for years. I was in an accident in May (not my fault) that involved several cars. My husband called State Farm day (Thursday) and notified them. He was assigned a case manager and was told they would be in contact with him. A week later we still had not heard back from them and my husband tried calling several times to speak with the case manager. He was told she is on vacation and no one else would be able to assist with our case.
After almost two more weeks he finally reached her by calling twice a day, everyday, and she stated that yes, she had been on vacation but in the week and a half that she had been back she "had not touched our case". She was very rude every time he has spoken to her. My case involved extensive damage to my car and injuries that I sustained. They did not want to total my car even though the damage was 65% of the car's value causing me to need a rental to get to doctors' appointments. They said that I would only receive $500 of their money for the rental, but I would have to pay the taxes and 20% of the charges which was almost $200.00. My car was in the shop for over a month and they expected me to "figure it out" once my rental car "allowance" was reached by the 25th day. I was without a car for almost two weeks.
They also refused to use OEM parts and when my husband said that is all he wanted on my new car & they told him, "Then you pay for the parts. We will use what we see fit." We are supposed to be reimbursed for the 20% and taxes we paid for the rental and they told us WE had to contact the other car's insurance to get the reimbursement. They are not responsible to get that money back for us for some reason. They also took over four weeks to "determine" that I was not at fault in the accident. We hired an attorney who had the report twice as fast.
State Farm has been a nightmare to work with and it seems like they are sending my husband on a wild goose chase. We were also notified yesterday that it could be a YEAR before we are reimbursed for our deductible that we paid and that they are "working on it". It appears they do not care about their customers and drag their feet about everything. Meanwhile I am out of work with injuries and have to pay all of this money out of pocket miraculously.

Yes I have been with State Farm a couple of years. I was paying our auto insurance thinking we had insurance. Come to find didn't have any for 3 months with no notification. Be careful with State Farm Insurance taking our hard earned money that's dirty???

My vehicle was stolen last year and I had total loss coverage with State Farm Automobile insurance. To make a very long story short, the vehicle comparables State Farm sent to me to justify a lowball offer were performed in violation of California Department of Insurance regulations. After many discussions with the total loss claims department and CDI, State Farm still has refused to settle for the Actual Cash Value which was very easy to determine in my case. If you have had a similar situation within the last couple years please write to me with your name and contact information at this e-mail address: **

My car was hit by my neighbors drunk brother while it was parked on the easement outside my fence. My car is old however it's a luxury model, intact, with low mileage until this guy crushed the door and took out my side view mirror. His insurance is State Farm and I took my car to a body shop where I was told the next day that they couldn't find parts for it. I called State Farm and asked them to put after market parts on it because I want my car fixed. They said they didn't do that and that they would cut me a check for the cost to repair it. I told the lady I don't want the money I want my car fixed. I don't even have a side view mirror. She got huffy and said "If you don't want the money, you don't have to take it and you can get your insurance involved to see what they can do for you."
Anytime I would try to say something she would talk over me and drown me out. So now I have to drive my car without a side view mirror, a crushed door or I can do the leg work myself and try to find a door for it. Which I'm doing anyway because in addition the body shop they recommended was subpar. The lady who took care of me was a total flake couldn't even remember the names of simple objects, I had to fill in the blanks for her when she was talking. She only had my car for a day before she said she couldn't find the part. Which is total baloney because I called Jeep Corporation and they're getting back with me on what other jeep doors are compatible with mine. I was the victim here but ended up losing in the long run any way you look at it. Worthless people.

My son who is on my automobile insurance (not State Farm) was involved in an auto accident through no fault of his own where the other driver (State Farm insured) was cited for improper lane change which caused my son's vehicle to be declared a total loss by State Farm. The driver of the other vehicle was not the insured and didn't have proof of insurance on him. It took State Farm a week to locate their insured and during that time my son was without a car, then they argued about the amount of the loss. I provided documentation that substantiated our claim that the car had a newly rebuilt motor to which their expert responded that State Farm considers an invoice from a local machine shop that showed testing, surfacing heads, etc. routine maintenance. Finally after giving up and trying to cut our losses we were two weeks ago that if we sent them our title by UPS next day that we would have our check in 48 hours.
They received it a week ago and we still have no check. I called yesterday and was told it was sent out by UPS at 4 pm the day before but they could not provide a tracking number. Who trains these people and why would anyone in their right mind utilize them? My auto insurer has been very quick and thorough settling every claim I have ever had and I've been their customer for 33 years. I am so glad when my wife and I got married that I switched her from State Farm to our current company.
How do I know I can trust these reviews about State Farm?
551,956 reviews on ConsumerAffairs are verified.
We require contact information to ensure our reviewers are real.
We use intelligent software that helps us maintain the integrity of reviews.
Our moderators read all reviews to verify quality and helpfulness.
For more information about reviews on ConsumerAffairs.com please visit our FAQ.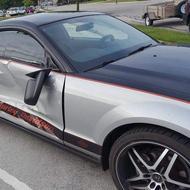 My husband was t-boned by a State Farm customer 6/16/2016 just two days before our wedding. We got a rental car because we work different shifts and need two cars. After two weeks of not hearing anything from State Farm we figured we better hire an attorney. Their customer was found at fault the day of the wreck when she ran a stop sign and smashed in the side of our customized Mustang. Yesterday we got a call from the rental car place saying they needed the car back or a call from State Farm saying they would cover it. My lawyers and insurance have heard nothing at all from State Farm a month later... So I called them. They are investigating coverage and will not pay for anything at this point in time... Leaving us with a 500 dollar rental car bill that we cannot afford and we are back down to one car. No clue how we are going to work this one out. Stay away from State Farm. Nothing but aggravation.

My daughter was in a 3 car accident that was no fault of hers as was verified by the Ohio State Highway Patrol, however State Farm assigned her 20% liability which also reduced the payout on her 2007 Ford Mustang that they totaled. After two months of being abused by their adjusters and my agent I called an attorney who threatened to sue them over their subjective practices. Lo and behold they FINALLY accepted full liability. Thanks to this site I was ready for their **. Don't settle, sue.

I was stopped when a driver with State Farm insurance hit me. This happened over 3 months ago. State Farm had yet to reimburse me for medical expenses and lost work time. Getting my car repaired was a challenge. Finally after a month I got it back. The repair shop said State Farm was the problem and State Farm said it was the car repair shop.
I spoke with rep, who said all inquiries should be directed to her. She then went on vacation and I had to speak to 2 other reps. They are so pleasant on the phone which they tell I upfront they record. Getting them to follow through is impossible. I got a notice in the mail that someone else was handling claim. His favorite trick is to call and leave number and extension. When I call I cannot get through to his extension. Even if I return his call shortly after I get his message.
I just got a letter from him today saying he left me a message and the number and extension to call him back are same!!! If you are ever in an accident and the person that hits you has State Farm understand that they will be pleasant in conversations on phone to you but getting reimbursed for money you have paid will be a lengthy process. As I said it has been over 3 months!

I had an accident on 6/29/16 because a lady insured by them ran a red light. My vehicle is undrivable because both airbags deployed. A business located where it happened has video of this accident showing everything I've said. I have a copy of this video too. I was assigned a claims person on the first of July and still haven't been contacted at all for anything. I keep calling and all they'll say is liability hasn't been determined. They won't tell me if they've received my video proof or anything. I have 3 kids, 2 of whom have asthma and need transportation. They act like it doesn't matter to them.
I've reported it to the nc insurance commission and they were supposed to call state farm, but I still have heard nothing. When I called today the lady tried to say the claims lady was just reassigned to my case yesterday! It says online assigned on July 1st and that's the day I called and received her name etc. I feel like they are saying reassigned because of me calling the insurance commission and it's covering their butts. I'm extremely frustrated and without a vehicle because of their customer.

This is regarding an incident that happen today July 5, to my daughter. She called for road service assistance and explained that she was in a parking garage and waited for 2 hours. When the tower arrive the tower is not for garage parking. The dispatcher did it wrong, so a next tower was sent for another 2 hours but the tower did not look for my daughter and left and picked up another one. All in all my daughter waited 4 hours under the heat of the parking lot. I think this service is unacceptable.

I filed a claim recently and just wanted my car repaired. I have never filed a claim before. They never explained to me properly on how the repair process works. I said I would do their select service where I can drop off my vehicle and repair at the same time, or so I believed. I was never told to contact the body shop on their list myself and schedule the appointment not until I had called the 4th time on trying to schedule a repair. I was able to call and schedule an appointment with one of the body shops on their select service list but I am still unsure if what I'm doing is correct. It's just been a very frustrating experience.

Almost 2 months ago I was in an accident. Not my fault. Was rear ended by a State Farm customer. I was sent to pick my car up 3 times of which when I got the first time my front two tires was throwing me off the road due to sliding during wreck. State farm said they weren't replacing them. The second time my tail lights weren't hooked up! The third time I got home just to notice the paint job was not good! 3 trips as well and a deposit to enterprise. Then was told they do not reimburse you for any of it! Now diminished value of my car is 5,050$$$. I of course was sent to do the leg work of finding this out at the dealership after an 8,000$$ wreck.
State farm ate 1 1/2 month. Called to settle for 500$-ummm negative. So 3 weeks later I'm waiting on another offer on my diminished value and waiting to see what they are going to do about my paint job. State farm has yet to even come close to closing this out. There should be a set time allowed to finish these claims in simple wrecks so people can move on with their families, work, & etc. It's not like they care. They only make things worse and hard on you. Ohhh and used junkyard parts to repair my 4 yr old car! Can't forget that! I believe their commercial states they use new parts??? This has been so stressful. I can't believe such a huge named business can be allowed to operate this way. They also do not return emails or phone calls! ~~ One mad woman ~~

Was with State Farm for 18 years (policies included home, and 4-5 vehicles at various times), no claims ever filed on any policy. Roof was damaged in a large hail storm, and over the course of 4 years was verified by 3 roofers, one brought in by State Farm to insure no bias. Photos were taken showing all the damage, and the claim was denied. Shame on you State Farm!! You take people's hard earned money, do nothing for it, and find any reason you can possibly pull out of the thin air to deny their claim. Do not trust them like I did!!
I am now with Farmers's, using the same coverage only better than I had with State Farm and they saved me enough money to cover my Home Owner's Policy each year compared to what I was paying with State Farm!! Run from this company as fast as you can. Just Google State Farm Sucks and see how many people have been taken advantage of by this company. Even the industry ranks them as the top company to refuse to pay out claims.

I have had State Farm regrettably for a year now and up until this year I have had a problem with them increasing my payment every single month. They have also been drafting money from my account every month without my authorization... This is by far the very worse insurance company I've had in my life. The road side assistance is garbage. It takes 2 hours for someone to get to you and when they finally do they don't try to help you with simple things such as a boost. They're in a rush to get to their next dispatch to make money. Smh.

I'm really disappointed with State Farm. Since I got my policy every time it's my due date they raise my payment. I call my agency every time and every time there is something new. This last payment I pay more than I was supposed to because I didn't want to loose coverage. The person I spoke with told me that he was going to see what was going on. He told me he was calling me Monday (I spoke to him Saturday). I got the call Tuesday. He claim that State Farm put a form that I already sign that I didn't want it like 3 weeks ago. So that they put it anyways even tho I said no. So what is this game that they are playing with me. I absolutely will not recommend this agency and also State Farm. And also they are not going to recognize the money that I put extra in this payment.

First I was in a wreck with a State Farm customer, she was at fault. The tow company that State Farm sent took everything out of my vehicle. My accident was on June 6. I still have nothing settled. No one does anything until you call. There is no assigned agent to your claim. I don't think anyone even looks at it unless you call them. That really sucks. I have to run around to get everything they want and call them all the time for something that wasn't my fault. It have become a job!

I was taken to hospital during the day. Temperatures were very hot this day and I was looking for item in trunk of my car. I happened to be parked close to a firehouse and apparently I looked like I needed some assistance. Police come and then paramedics. I was asked to let them check my vitals and then I realize I'm on my way to hospital. My car was locked and I was told that my car would be fine. When I get to hospital I called about my car to make sure all was good. I was told by State Farm that they knew nothing about the car. I reported to them exactly what happened. My car was left sitting right on Memphis side of Mississippi State line. When dealing with the officials I was getting the runaround. Memphis said it was a matter for Mississippi and vise versa.
I am very angry because I had worked very hard and paid $25,000.00 over three years for my green 1999 Toyota Camry. Now I'm being told not anyone knows where my car is. I had to just accept it was gone. Three months later I get a called from the impound lot of Memphis. They had my car. They said I could come get it. "No I can't" I said. This is now a State Farm matter. Lot of what happened was so mixed up. Dealing with folks that really acted liked they were not telling me the truth. However I did have full coverage on my car.
The vehicle was loaded with leather seats. I got my insurance refund of $5,700 for my 1999 model. I was told it was not wrecked then was told it was. State farm paid me my money and I was glad to close that deal. I really wanted my car. State farm did the best they could under what information they were given. I think most of the situation can be resolved when all involved tell the truth and do the job to its detailed description. Thank God I lived through this ordeal, I just wish I had a car to go to the grocery or so I could feel the road move under my seat. Ha ha!

I have had my auto insurance with State Farm since 1980 but now I am not good enough for them. They cancelled my homeowner's insurance so I cancelled my auto insurance with them because I lost all the benefit of having both with them. I found out how much cheaper and more reliable other agencies are. What a terrible turn for what used to be a great company.

First claim 15 years ago my car was stolen. I was treated like a criminal. 2nd claim last year for $2,000 due to water damage... A month later they tried to drop me... Insurance sucks!!!

Do not buy insurance from State Farm! I was hit by someone with State Farm insurance, and they refuse to fix parts of my truck that was damaged and stopped working. Tasha (Team 16) even said that it was possible that the item in question could have been damaged by the incident, and then when I called her on it, she retracted and said that the inspector said it was not their fault and they would not fix it... there are many options for insurance, pick someone else. #statefarm #statefarmripoff

Have been a State Farm customer for over 10 years. Here is a list of products I currently have through State Farm. Auto Insurance x 2 $250,000 each person / $500,000 each accident. $100,000 each accident, 80/20 coverage on rental. Condominium Unit Owners Policy. Whole Life policy for my daughter. Select Term Life for myself.
My daughter was in a accident on 6/9/2016. Her brand new 2016 Kia, which I had paid off has front end damage to the grill otherwise no one was hurt. This is what I would consider a minor accident but State Farm has treated us very poorly. I, myself, the primary on the policy have not had a ticket or an accident in a long time. My daughter, as well, no accidents, but has had tickets on her record.
We took the car to our preferred shop locally, Leif's Auto Body, which is not on State Farm's approved shop list. I like Leif's - they've always been good to us and done great work on our vehicles. Before we took the car in, we contacted State Farm and were told, "just have the shop send us an estimate, nothing else needed". So we did that, a few days later, on the day of the appointment, State Farm reached out and we were told no, the State Farm adjuster has to inspect the vehicle first. The adjuster could not make it out that day to look at the vehicle so we had to wait and bring the vehicle back.
Once the vehicle got to the shop the adjuster told us that their estimate was $200.00 lower than Leif's and that they wanted us to get used parts to save money. Um, no, this is a paid for 2016 vehicle and the majority of the parts are plastic. The other thing that the adjuster said was that we should drop off the car only after the repair shop received the parts because it would "save them money" on rental insurance. Hello, why am I paying for rental coverage, albeit 20% paid by me if I can't use it? State Farm cut the check to Leif's on the spot for damage (they paid $825, my daughter paid the deductible).
I was told by State Farm today, 6/17, the claim was closed. What? The repair isn't done yet? How is the claim closed and what if there is more damage? Also, State Farm's website says the claim is still active. I called up and said I've been a customer forever, the agent told me "I know." Seriously, we are $200.00 apart on a new vehicle and you're going to try to talk me into used parts and not using my rental on a vehicle I just paid off?
All told, this experience has soured me on State Farm. As a loyal customer I expect more from a company I've had a relationship with for over a decade. As a consistently good driver with a good credit score I don't imagine I'll have a challenge getting covered on all the above products by another insurance company. Imagine if you were a new customer how you'd get treated by State Farm.

On June 4, 2016 my car broke down, so I called State Farm and was text back tow truck will be 45min. It was around 11:45am. The temperature was about 80 so sitting in car 20 min. I call tow company. They tell me that they don't have a truck! And they just got the order 3 min prior. So I called State Farm. They try to call another company. In the meantime my friend who was with me called me a different local tow. They arrived in 10 min. I get home at about 12:45 and burning up. It had to be 120 degrees inside my car.
Well, it cost me $90.00. So I called State Farm for reimbursement. Now I am poor on a set income, and that money is grocery money. They cut the check and at my request popped it in the mail. Well I'm still waiting, waiting and the check was sent out last Thursday. It's a week later and nothing. I called yesterday and my agent Ms. Sunny says "oh well, we need to wait the 7-10 days." DO YOU FOLKS THINK I HAVE WAITED ENOUGH? I'm 64 years old that's til next Monday!!! Well that's fine and they can keep waiting too. I changed insurance companies, went with #1GEICO and will be saving about $100 a year and getting thousands more in coverage!! They probably don't care about poor old people like me anyway!!

I had an accident with a State Farm insurer. State Farm rep calls to ask questions about the incident that happened in May 2016. Not knowing the nature of the event the Rep (Arnold **) rudely laughs and contradict what was said. This is very offensive and unprofessional. I am very disappointed WITH THIS COMPANY. State Farm Auto Insurance needs to do a better job in training their employees.

So, I got married recently and am on a search for an auto insurance company for my husband and I as we were both on our parents' policies and will now be needing to get one together. I had Liberty Mutual and he had State Farm. I got a quote from mine and deemed it too expensive, then I got a quote from Geico (super cheap! Woot!) but he wanted me to check with State Farm as well given that that's what he's a part of already. So, I called the Customer Service line and went through the long process of sharing all of his/my information and yadda yadda, then she tells me that since he already has a policy, that she can't give me a quote and I'll have to call his agent personally.
I inform her that that agent is in Dallas, TX, but we now live in Tulsa, OK. So she says that that's a different situation entirely, and instead I need to call the local agent to my area to get a quote... Annoying that she can't even give me a quote given that she has all of his information, but okay. So I waited until my location was open, and I called in to chat with that person. His assistant answered, so we started the whole process all over again. Then she says she can't give me a quote (are you serious??) because I have to call HIS agent so he'll release my husband's information to her. THEN I'll have to call MY agent back and do everything all over again!
What the heck is wrong with this company!!! I just wanted a simple quote to even establish if State Farm is the direction we want to go. They make the process so much of a pain that I'm done with my curiosity. If it's this difficult to get a basic quote, I can't imagine how difficult it'd be if I were to get in an accident or something and need their assistance. Their system needs some adjustments, because this is just ridiculous.

One of State Farm's insurer came into the side of my car on a Saturday in a busy town that always has a lot of people walking around. The parking spaces are pull in, not parallel. He was in the left lane and had stopped for some people to cross. I had slowed to let them get across my lane and was slowly coming up beside him in the right lane. He saw the one and only parking space and was cutting across my lane to get to it. He never saw me, came into my front side panel and down the side of my car. I tried to get away from his vehicle but had parked cars on the other side. He was ticketed for unsafe movement. I got a ticket for my tag being out. The policeman told him that he was at fault after talking to a number of witnesses. I called to report this accident to State Farm, they already had it. I was told I would be taken care of because it was totally their insurer's fault. Their adjuster came out and did the estimate.
Took my car to the shop today, called Enterprise to come get me to go get my rental car that State Farm was paying for. Enterprise had called me right after the accident so I know everything was OK'ed. No car! Called State Farm and some rude, I'll just say LADY, told me the accident was under investigation because if they could prove I was 1% at fault, even though I did not get a ticket for the accident, they didn't have to pay anything. She said my tag ticket had that I was speeding on a highway. I was on a Main Street in the center of town. The police has on my paper that I was doing 20, because that is the speed limit, but I wasn't even doing that.
The people at Enterprise were very nice, they took me back to the shop to get my car back until I find out if they are going to pay. Lost 3 hours of work because they couldn't call me and tell me that "we're canceling everything"! There should be something done about these crooks! Think they should be made to take their commercials off TV, very misleading! Contacting Insurance Commissioner and a Lawyer!

We recently moved to FL from IL where we had a State Farm Agent. State Farm assigned us to an agent in FL. We transferred our 4 car policies to the new agent. We also tried to transfer our boat policy but were told they no longer insure boats in FL, I asked if I had to go with another company and they said yes. I then discovered that they were still auto-billing me for boat insurance which they can't provide. It has been 2 YEARS and it's still not corrected - the situation has been escalated but nothing has been corrected.
My driver's license has been suspended by the state TWICE with this explanation from the state of FL, "The insurance coverage you provided this office has been denied by State Farm." When I call State Farm to ask for help I was told "There is nothing we can do, you have car insurance, if you didn't have it we could issue you a policy." My head is pounding after another 2 hours and 48 minutes of being on hold and transferred with no resolution. State Farm doesn't understand the meaning of customer service. Lastly their ads make you believe you can get help anytime by calling them - that's only for new customers. Once you are a customer they can't help you, only your agent can help. If you have an agent like mine you are out of luck. Beware once they have your money they won't help you!!

My car was hit by a State Farm insured person and I have had nothing but garbage dealing with this so called reputable "good" company. I swear, they teach them nothing but rudeness. From their claims adjusters to their supervisors, they are nothing but rude and I don't know how people think this is a good insurance. They were supposed to give me a rental car when I took my car to their repairer and when I asked my claims adjuster about the car she yelled, "Am I supposed to make a car appear?" If anyone thinks this is a good company then I feel sorry for you that you don't have USAA.

I had an accident in 2012 that wasn't my fault. Car was in the middle of the road. 2 o'clock at night. State Police witnessed it. Said it wasn't my fault. State Farm charge me for the last four years for an accident that wasn't my fault. I didn't do it and they continue to charge me to change insurance companies and they're charging me now. State Farm Insurance - terrible insurance company and does not look up for the look out for their customers and are non-responsive.

We were hit back in February 2016. State Farm highly recommended that we go with one of their "Select Service" providers. Well that translates into "Cheap, Poor Quality Service" providers. It is now June 2016 and I have a vehicle that continues to leak fluid. Let me say it is a brand NEW vehicle. We took it to Service King and they said they had to order a part and would get back with us. It has been 3 weeks and not ONE peep from Service King. I contacted State Farm and they contacted Service King and just slapped them on the hand. Those State Farm representatives pushed me so far off the phone. Shame on them and shame on Service King. I have been left with a car that has significantly depreciated in value and State Farm is sitting back with their millions laughing. Service King is sitting back laughing and the useless DOCTOR whose 16-year-old son hit us is sitting back laughing.

I was hit by a State Farm Policy holder and when I called to get a claim number they told me the adjustor would call me back. 6 hours later the adjustor still hasn't called me. However the person who hit me has already gotten a rental car and her vehicle is in the shop. They told me to file it on my insurance and they would deal with it in that manner... I am so upset and now I am on an eternal hold waiting on another adjustor to be assigned... The service is horrible and I would not insure a dog house with this company... Before using them look at the reviews. They underway claims to customers who were loyal for more than 25 years... Do your homework. The service this company gives sucks!!!

Matthew BrodskyInsurance Contributing Editor
Matthew Brodsky is an established expert on insurance, having written hundreds of articles and other pieces of content on the subject, interviewed countless practitioners, and attended dozens of conferences and events. He served as an editor at industry magazine Risk & Insurance for six years. More about Matthew→

State Farm is one of America's largest and most popular full-service insurance companies. The company was founded in 1922 by retired farmer George Jacob Mecherle, and it has since grown to become the No. 41 ranked company on the Fortune 500 list of the largest companies.
Teenage driver discounts: State Farm offers a unique program called the Steer Clear Safe Driving program, which affords families with teenage drivers insurance discounts if they complete State Farm's course on safe driving.
Emergency roadside service: The company offers policyholders emergency roadside assistance should drivers run out of gas or oil, have a flat tire or lock their keys in their car (in addition to a myriad of other auto emergencies.)
Rental reimbursement program: Drivers who get in a collision and have to rent a car while theirs is being repaired are reimbursed for the cost of the rental car by State Farm.
Educational resources: The company offers customers and potential customers tons of helpful educational resources via their website, including helpful tips for purchasing the right car and equipment for the lowest insurance prices possible.
Specialized insurance offerings: State Farm offers a selection of specialized auto insurance, including not only classic car insurance, but also antique car insurance, for cars that are older than classic cars.
Best for New drivers, drivers who just purchased a car, and drivers who have teenage children who are learning to drive.
State Farm Auto Insurance Profile
Basic Information
Company Name:

State Farm

Website:

https://www.statefarm.com/