Walk-in tub benefits for veterans
Does your service qualify you for a walk-in tub?



Written by

Edited by
Find Walk-In Bathtubs near you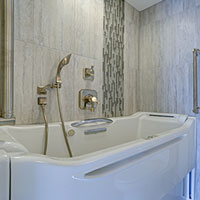 If you sustained injuries during service and are facing physical limitations that make tasks like bathing challenging or unsafe, there's some good news: You might qualify for veteran walk-in tub benefits.
Walk-in tubs are designed for those with mobility challenges and equipped with safety features that assist users throughout the bathing process. If you think a walk-in tub might be right for you, read on to see the various grants and resources available.
---
Key insights
Walk-in tubs offer several benefits for veterans, including enhanced safety, improved accessibility, independence, hydrotherapy for relaxation and pain relief, improved quality of life and a potential increase in home value.
Some veterans are eligible for VA housing grants — including the SAH, SHA, HISA and TRA grants — to assist with home modifications, including installing a walk-in tub.
To qualify for some of these VA housing grants, you may need proof of a service-connected disability, though eligibility requirements vary by grant type.
VA disability housing allowance
A Veterans Affairs (VA) disability housing allowance is designed for veterans with severe illnesses or injuries in need of remodeling, building or purchasing an adapted home to better cater to their medical needs. The grant can be used to make medically necessary improvements (like adding a walk-in tub) and structural alterations to a veteran's primary residence.
» MORE: What is a walk-in tub and how does it work?
The amount VA awards for these grants is based on the veteran's particular disability and current living situation. These housing grants are usually reserved for veterans with 100% disabling conditions or other combinations of disabilities.
If you have a qualifying condition and want to modify your home for improved disability accommodations, you can apply for one of the following VA housing grants.
VA Specially Adapted Housing (SAH)
If you're a veteran with a qualifying service-connected disability and considering a walk-in tub as part of your home modification, you may be eligible for a Specially Adapted Housing (SAH) grant.
The SAH grant assists veterans in purchasing, building or modifying a permanent home to accommodate their specific needs. If eligible for a SAH grant, you can get up to $109,986 for the 2023 fiscal year (as of publishing).
SAH grant eligibility requirements
To qualify for the SAH grant, you must currently own or plan to own a permanent home and have a qualifying service-connected disability, including:
Loss or loss of use of more than one limb
Loss or loss of use of a lower leg along with residuals (lasting effects) of an organic disease or injury
Blindness in both eyes (with 20/200 visual acuity or lower)
Certain severe burns
Loss or loss of use of one lower extremity (foot or leg) after Sept. 11, 2001, resulting in the inability to balance or walk without the assistance of braces, crutches, canes or a wheelchair.
There's a limit of 120 grants per fiscal year for veterans and service members who qualify based on the loss of one extremity after Sept. 11, 2001. If you are eligible but can't receive the grant in the current fiscal year due to the limit, you may be eligible to receive this benefit in future years.
» MORE: Beneficial walk-in tub features
VA Special Home Adaptation (SHA)
The Special Home Adaptation (SHA) grant is focused on veterans who have lost the use of their hands or have certain severe burns or respiratory injuries. As with the SAH grant, veterans who qualify for SHA can use the funds to adapt, build or buy their home to suit the needs of their disability.
The VA currently offers up to $22,036 for the SHA grant in the 2023 fiscal year. You can apply for both SAH and SHA if you're eligible; you can also use SHA benefits in future years if you don't need the full amount right away.
SHA grant eligibility requirements
To be eligible for the SHA grant, veterans must own or intend to own a permanent home and have at least one of the following service-connected conditions:
Severe burn injuries
Certain respiratory conditions
Loss or loss of use of both hands
Home Improvements and Structural Alterations (HISA)
Unlike other VA housing allowances, the Home Improvements and Structural Alterations (HISA) grant doesn't require that your disabling condition be a result of active military duty, but you must have a condition rated at least 50% disabling by the VA.
For veterans with a service-connected condition, a lifetime HISA benefit of up to $6,800 is available, while veterans with a non-service-connected condition may receive a lifetime benefit of $2,000.
HISA grants can be used to improve various areas of your primary residence — e.g., entrances and exits, lavatory and sanitary facilities, kitchen or bathroom sinks and counters, paths and driveways and plumbing or electrical systems for installing home medical equipment — to meet your medical needs.
However, there are certain improvements HISA will not cover, such as walkways to exterior buildings, hot tubs or whirlpool spas, exterior decks, home security systems and removable equipment and appliances.
VA Temporary Residence Adaptation (TRA)
Veterans who qualify for SAH or SHA grants but don't live or plan to live in a permanent home may apply for a Temporary Residence Adaptation (TRA) grant. This grant can be used to modify a temporary residence or family member's home to meet the needs of the specified disabilities.
For 2023, veterans who qualify for SAH can receive up to $44,299 through a TRA grant, and veterans who qualify for SHA can collect up to $7,910.
How to apply for VA benefits
Begin the application process on the official VA website or reach out to your nearby VA regional office, where you can get all the information and paperwork required for your application.
Collect all relevant documentation from your military career, such as discharge papers and service records. Also, obtain medical paperwork that confirms your disability status and service-related conditions. These documents will support your application for walk-in tub benefits.
Other ways to pay for a walk-in tub
As a veteran, you can explore various state and local programs offering financial assistance for home modifications. Some nonprofit organizations and charities also have support for veterans seeking walk-in tubs and other essential amenities.
» CALCULATE: The costs of aging in place remodeling
Some mortgage lenders offer veterans special financing options for home modifications, including walk-in tubs. This type of financing can help veterans pay for the cost of a tub over time while avoiding a large upfront payment.
You can also get a personal loan to finance the cost of a walk-in tub. However, it's important to compare interest rates and terms before taking out a personal loan, as these can vary widely — and interest can add up quickly.
» MORE: Best Personal Loan Companies
FAQ
How do I know if I'm eligible for VA grants for walk-in tubs?

To determine your eligibility for VA grants for walk-in tubs, you need to consult the official VA guidelines. Eligibility criteria may vary depending on factors such as your military service, disability status and specific grant programs.

Contact your local VA regional office or visit the official VA website for detailed information and assistance in assessing your eligibility.
Are there any restrictions on the types or brands of walk-in tubs covered by grants?

VA grants generally don't impose restrictions on specific brands or types of walk-in tubs. However, it is important to note that the tub must meet the necessary accessibility and safety requirements to qualify for coverage under the grants.

Before making a purchase, it's smart to consult with the VA or review the specific guidelines associated with the grant programs to ensure compliance.
Can I combine multiple grants to cover the cost of a walk-in tub?

Yes, it is possible to combine multiple grants to cover the cost of a walk-in tub, depending on your eligibility and the specific requirements of each grant. However, consulting with the VA and discussing your specific situation is essential to determine the best approach and available options.
Did you find this article helpful?
|
You're signed up
We'll start sending you the news you need delivered straight to you. We value your privacy. Unsubscribe easily.