Find the Best Payday and Title Loan Companies

Label
Accredited Partner
Company name
Logo
Contact
Summary

Accredited Partner

Get Pricing

Label
Accredited Partner
Company name
Logo
Contact
Summary

Accredited Partner

Get Pricing

Label
Accredited Partner
Company name
Logo
Contact
Summary

Accredited Partner

Get Pricing
Compare Reviews for Top Payday and Title Loan Companies

Accredited Partner

TitleMax
Read 2,424 Reviews

Consumers can get approved for car and motorcycle title loans up to $10,000 in about 30 minutes with no prepayment penalty. The company has been in business 15 years, has over 1,000 locations and offers competitive interest rates.

Get Pricing

Accredited Partner

Speedy Cash
Read 1,831 Reviews

Obtain payday and title loans with maximum amounts that vary by state. Payday loans range from $255-$2,500 and title loans range from $300-$25,000. Check cashing and money orders also available.

Get Pricing

Accredited Partner

CashNetUSA
Read 3,670 Reviews

Online lender offering payday loans, installment loans, and line of credit products. Can lend up to $800 with loan terms anywhere between 8 and 31 days. Borrowers apply online and receive an instant lending decision.

Get Pricing

Accredited Partner

LoanMart
Read 659 Reviews

Provides auto title loans with max amounts that vary by state, vehicle value and ability to repay. Also offers an Emergency Cash option with your auto title of up to $2,500, which is typically available in 24 hours or less.

Accredited Partner

Uprova
Read 341 Reviews

This company offers tribal loans for people who need access to a short-term loan due to an emergency or financial hardship. Loans range from $300-$1,000. Apply online and get your funds the next business day.

Check Into Cash
Read 2,067 Reviews

Lender with 25 years in business offers payday loans up to $1,000 and title loans up to $25,000 with easy application process. Consumers can get funds the next business day. Installment loans and lines of credit also available.

TMG Loan Processing
Read 83 Reviews

Apply online or by phone for an auto title loan. Max amounts vary by individual and vehicle equity, but could be up to $50,000. Same-day approval possible with funds available the next business day. Also offers business loans.

Finova Financial
Read 182 Reviews

Offers title loans with max amounts that vary by state and vehicle make, model, year, and mileage. Max 30% APR. Find fast pre-qualification, same-day approval and easy online and mobile access. Also find prepaid cards here.

Fast Access Financial
Read 6 Reviews

Offers borrowers in Ontario, Saskatchewan and Alberta, Canada vehicle title loans of up to $10,000 CAD. Applications can be done online with approval within 24 hours and funds available within two business days.

EZPayDayCash.com
Read 16 Reviews

Easy online and mobile process. Payday loans up to $500 for first time borrowers and up to $1,000 for repeat customers. Cash advances available in as little as one hour (next business day for weekend transactions).
Payday lending is illegal and unavailable to consumers in some states. Payday loans usually have very high interest rates and carry risk. As with any loan, consumers should have a clear understanding of the fees, terms and conditions of any payday loan before borrowing.
What is a quick loan?

A quick loan comes from a company that approves you and disburses funding within a few days of completing the application. Many quick loans provide access to same-day cash, while traditional loans can take at least a week or longer to approve and fund. Quick loans are sought after by individuals facing an emergency financial hardship who need fast access to cash to cover pressing bills or expenses. There are a few different types of quick loans.
Payday loans
Payday loans are short-term, high-interest loans issued for small dollar amounts, typically less than $1,000. They are meant to be a short-term solution to help borrowers get a quick and easy cash advance that they can repay after receiving their next paycheck.
Car title loans
Title loans are secured by the borrower's car title, so the lender has a right to take possession of the vehicle if the borrower fails to repay the loan. With a typical car title loan, borrowers pay off the entire loan, interest and any fees within a specified amount of time — usually 15 or 30 days.
Interest-only payment title loans
These loans work similarly to traditional title loans, but their repayment strategy is different. With interest-only payments, borrowers first pay off the amount of interest on the loan. They are then required to pay off the amount of the loan in full. Interest-only title loans usually last for a longer period than traditional title loans. Be careful with this type of loan — you may end up paying more than you borrowed and still not pay off the loan.
Pawnshop loans
With a pawnshop loan, you take a loan out against an asset you own outright, such as jewelry, electronics, instruments, antiques or collectibles. The pawnshop gives you cash and holds on to the item until you pay back the entirety of the loan. If you cannot pay it back within the agreed-upon terms, the pawn shop sells your item to recoup its losses. A pawnshop loan is a quick way to get a cash loan without a lengthy application process or credit check.
Personal loans
A personal loan from a bank, credit union or online lender can often take longer to be funded than other quick loan options. However, some personal loans can be funded with a quick turnaround time, sometimes with money hitting your bank account within a few days. If you qualify, many personal loans have lower interest rates and better terms than traditional quick or fast-cash loans. Typically, the higher your credit score, the better your loan terms are.
Title loans vs. payday loans: Which is right for you?

Both payday loans and car title loans offer a temporary solution to an urgent financial need. Payday loans are unsecured cash advance loans that are typically issued in amounts of $300 to $1,000. Title loans go as high as $10,000 or more and must be secured by a vehicle.
Payday and title loans have different loan terms and restrictions, and it's essential to understand the scope of the loan for which you're applying. When deciding between a payday loan and a title loan, keep in mind that both come with high interest rates and fees and are only recommended to cover emergencies or surprise expenses when no other options are available.
Both also come with significant consequences for failure to repay. Defaulting on a payday loan can result in a lawsuit and wage garnishment, and defaulting on a title loan can result in your vehicle being repossessed.
Use the chart below to compare payday and title loans. Interest rates for payday loans vary based on state laws, and many states have maximum rates lenders are allowed to charge.
| | Payday Loans | Car Title Loans |
| --- | --- | --- |
| Type of debt | Unsecured | Secured with vehicle |
| Average loan amount | $300 - $1000 | $1,000+ |
| Fees | $15 - $30 per $100 borrowed | Varies by lender |
| Repayment timeline | 1 - 2 weeks | 15 or 30 days |
| Common APR (interest rate + fees) | 400% APR, but varies by state | 300% APR |
| Extended repayment options | Payday loan rollover or extended payment plans in some states | Not usually available |
| Default consequences | Account sold to collectors, civil lawsuit, wage garnishment | Vehicle repossession |
Applying for a payday loan or title loan

Loan qualifications
One benefit of getting a quick loan like a payday or title loan is that you don't need to have a good credit score or a long credit history. However, there are some standard requirements you must meet to qualify for these loans, like having a steady income and proof of address.
You need proof of income and residency to qualify for a payday or title loan.
For title loan qualification, you also need to provide a clear title in your name. If you've ever had a lien on your vehicle, a lien release may be required with the title to process the loan.
Additional fees
Lending companies often charge additional fees for payday and title loans, which can add up quickly. It's crucial to read the fine print before deciding which payday or title lender to use. Get multiple quotes before deciding on a lender, and ask what additional costs or fees you're expected to pay. Some common fees include:
Processing and document fees: Lenders may charge fees for the paperwork required to get the title or payday loan.
Late fees: Expect late fees and penalties for missed or late payments. Be sure to ask how much late fees are and on what date your payment is considered late.
Lien fees: Many lenders charge fees for processing and placing a lien on your vehicle.
Finance fees: Payday loan fees typically include a finance fee, which you include on your postdated check. If you roll your loan over for an extended period, you're charged an additional finance fee. The fee continues to grow until you pay the full amount of the loan.
Interest rates: Payday loan interest rates vary by state. The APR on payday loans can be more than 600%, and title loans often have an APR of 300% or more. Lenders are required to tell borrowers the exact annual percentage rate (APR) before the borrower agrees to the terms of the loan.
Maximum loan amount
Title and payday loans are a quick way to get money, but the amount of money you can access is usually very limited. Lenders often have a strict cap on the amount of money they can lend for both types of loans.
Maximum loan amounts are typically one paycheck or 50% of your car's value.
Maximum title loan: The maximum title loan amount varies by state. Most title loan amounts are between 25% and 50% of the vehicle's value, or from $100 to $5,000. Some lenders offer title loans of $10,000 or higher.
Maximum payday loan: Payday loans can be for any amount, but they are traditionally only written in the amount of one full paycheck (or less) so borrowers have the money in their account to repay the loan when their next check is cashed. Some states have a strict dollar limit on payday loans — these limits are typically between $500 and $1000.
Length of loan
Title and payday loans are short-term loans, which means borrowers get money fast but also have to pay back the amount they owe (with finance charges) in a limited amount of time. The length of time a borrower has to pay back their loan varies from lender to lender, but there are some industry standards.
Payday loan terms: A payday loan usually has a term lasting from two to four weeks and a maturity date that aligns with your pay date. Some states let you enter an extended payment plan or roll over a payday loan into a new loan if you can't repay the original loan by the due date.
Title loan terms: A common amount of time allowed for title loan repayment is 15 or 30 days. Some lenders will give borrowers more time to repay their title loan. Often, these repayments are structured as interest-only payments.
Payday loans questions
Can you go to jail for not paying back a payday loan?

No, you won't go to jail for defaulting on a payday loan. Debt collection is a civil matter, not a criminal one, and it's illegal for lenders to threaten borrowers with arrest or jail. However, if you're sued for not paying back your loan and ignore a court order to appear, the judge can issue a warrant for your arrest.

If you can't pay back your loan in full, work with your lender by offering to pay a percentage of what you owe to settle your debt.

Can you get payday loans online?

There are many online payday loan companies that can get you funds in less than a day. You can compare payday loan companies and read consumer reviews at the top of this page to find the best payday loans online or in person.

How much can I get for a title loan?

The amount of money you can get from a title loan depends on the value of your car and the state you live in. Most lenders won't give you the full value of your vehicle, but you can expect to receive around 25% to 50% of your car's value. Be aware that title loans have a short turnaround time, so only borrow what you can afford to pay back.

How do I know if a loan company is legitimate?

Here are a few ways to ensure that your loan company is legitimate and safe to do business with:

There's no upfront loan payment required
It has positive consumer reviews
It's in good standing with the Better Business Bureau
It's licensed by a state regulator
It clearly describes fee and conditions
The employees do not pressure you into borrowing

What are some alternatives to payday loans?

Payday loans are not the right choice for every circumstance. We recommend exploring all options available to you before pursuing a payday loan.

There are alternatives worth considering, including credit cards and personal installment loans, which have lower interest rates. You can also look for extra streams of income, such as working overtime at your job or holding a yard sale.

If you want to learn more, we've compiled a full list of payday loan alternatives for you to explore.

If you find yourself regularly struggling with debt, you may want to consider getting advice from a credit counselor or certified consumer debt specialist.

Are there any guaranteed payday loans?

Some payday loan companies promise guaranteed loans for people with bad credit history, but these loans are often accompanied by high interest rates and fees. If you need cash but have less-than-ideal credit, there may be other options available.

Are payday loans illegal?

Payday loans are illegal in some states, including Arizona, Arkansas, Connecticut, Georgia, Maryland, Massachusetts, New Jersey, New York, North Carolina, Pennsylvania, Vermont and West Virginia.

These restrictions are in place to protect consumers — loans with short terms and high-interest rates can easily get someone stuck in a cycle of debt that is difficult to get out from under.
What are the best payday loans near me?
We compared payday loan companies across the country to help you find lenders in your city.
What are the best title loans near me?
Find quality lenders based on our research and consumer reviews with these guides to local title loan companies.
Thank you, you have successfully subscribed to our newsletter!
Payday and title loan company reviews

Tradition Media Group provides a free online lending platform that helps consumers match with title loan companies for loans up to $50,000. It offers fast turnaround times and an easy online application so you can quickly access the cash you need.
Read more about TMG Loan Processing
Accredited Partner

This company offers fast payday and title loans in eight states and has an average turnaround time of 24 hours. Its loans come with a Three Day Peace of Mind Guarantee — if you decide a title loan isn't right for you, just return the loan amount to have LoanMart waive the application fee and any other associated charges.
Loan amounts: This company offers payday loans up to $300 and title loans from $2,600 to $50,000, depending on your eligibility.
Interest rates: LoanMart's interest rates vary depending on the type of loan and your qualifications. APRs on auto title loans range from 30% to 199%, and APRs on payday loans range from 390% to 780%.
Availability: Its services are available in Alabama, Arizona, California, Georgia, Missouri, New Mexico, South Carolina and Utah.
Funds: You can choose how you want to receive your funds: electronically, with a check or by visiting your local store.
Read 659 Reviews
Accredited Partner

Speedy Cash is a lender that offers payday, cash advance, installment and title loans. To apply, visit its website and fill out the online loan application. You should receive a loan decision in as few as 10 minutes.
Loan amounts: Speedy Cash offers online and in-store loans from $50 to $26,000, although its payday loans tend to be lower amounts. Loan amounts and availability vary by state.
Interest rates: Rates and APRs also vary by state. For example, Louisiana residents who want a $350 payday loan would pay a 409.69% APR on a 14-day loan term and a $10 origination fee.
Availability: Speedy Cash has stores and services available in 28 states, including Alabama, Alaska, Arizona, California, Colorado, Delaware, Hawaii, Idaho, Illinois, Kansas, Louisiana, Mississippi, Missouri, Nevada, New Mexico, North Dakota, Ohio, Oklahoma, Oregon, Rhode Island, South Carolina, Tennessee, Texas, Utah, Virginia, Washington, Wisconsin and Wyoming.
Apply online: This company deposits cash into your account in as few as 15 minutes.
Read 1831 Reviews

Finova offers an alternative to title loans by providing consumers with a car equity line of credit. It has repayment plans that last up to 12 months with no early repayment penalties. Find out how much you can borrow by visiting the company's website and filling out the line of credit application.
Read more about Finova Financial
Accredited Partner

TitleMax is a lender that offers title loans, title pawns and personal loans. Its simple process allows borrowers to apply, get approval and receive funding on the same day.
Loan amounts: The company offers title loans up to $10,000. Your qualifications, the value of your vehicle and state regulations all affect how much cash you receive.
Interest rates: Interest rates for TitleMax's loans vary depending on the state you live in and the amount you need to borrow. Its website encourages you to apply if you want more information on interest rates and fees.
Availability: TitleMax has locations and services in 16 states: Alabama, Arizona, California, Delaware, Georgia, Illinois, Mississippi, Missouri, Nevada, New Mexico, South Carolina, Tennessee, Texas, Utah, Virginia and Wisconsin.
Funds: Once you're approved, you can get same-day funding.
Read 2424 Reviews

Advance Financial is a lender specializing in short-term FLEX loans. It has an easy online application, but it also offers in-store services in 13 states.
Read 88 Reviews
Accredited Partner

CashNetUSA is a payday lender that offers loans, savings programs and financial education tools. Apply for a payday loan from CashNetUSA by visiting its website and finding out how much you qualify for.
Loan amounts: CashNetUSA's payday loans go up to $500. It also offers other types of loans for higher amounts.
Interest rates: APRs range from 163% to 439%, depending on the loan repayment term.
Availability: CashNetUSA has services in 29 states, including Alabama, Alaska, California, Delaware, Florida, Hawaii, Idaho, Illinois, Kansas, Louisiana, Maine, Michigan, Minnesota, Mississippi, Missouri, Nevada, New Mexico, North Dakota, Ohio, Oklahoma, Oregon, Rhode Island, South Carolina, Tennessee, Texas, Utah, Virginia, Wisconsin and Wyoming. However, each state may have restrictions on certain loan products.
Funds: CashNetUSA offers same-day and next-day funding.
Read 3670 Reviews

MoneyLend researches lenders for consumers by comparing interest rates, types of lenders and fees. It works with lenders that offer short-term, installment, personal and business loans.
Loan amounts: Its payday loan amounts start at $100 and go up to $5,000.
Interest rates: MoneyLend is a lending platform, so the lender you choose works with you to determine interest rates and fees.
Availability: This company can match consumers to the right lender in all 50 states.
Funds: How quickly you receive your funds varies based on the lender you choose to work with.
Accredited Partner

Silver Cloud Financial offers short term installment loans, also called tribal loans. The company has no hidden fees, no prepayment penalties and multiple payment options. The company offers rate discounts to qualified returning customers. 
Read more about Uprova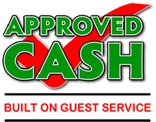 Approved Cash is a payday and title loan company that offers in-store loans.
Read more about Approved Cash Advance
Compare Reviews for Top Payday and Title Loan Companies

MoneyMutual
Read 39 Reviews

Online loan marketplace. Offers payday, installment and bad-credit loans. Easy online application takes five minutes. Free to use. Get paired with lenders that meet your criteria.

Approved Cash Advance
Read 15 Reviews

Offers payday and title loans with immediate access to cash in store locations in Alabama, Michigan, Oklahoma, Louisiana, Mississippi, South Carolina and Virginia. Payday loans range $50-$500. Title loans range $100-$5,000.

Advance Financial
Read 88 Reviews

Offers flex and installment loans. No collateral necessary. High-interest rates and APRs. Apply and get approved for funds online. Only available in certain states.

Advance America Cash Advance
Read 241 Reviews

Supplies both payday and title loans online or at over 2,000 store locations. Amounts vary by state and vehicle specifics. Max payday loans range $100-$1,100 and max title loans range $300-$10,000.

Allied Cash Advance
Read 51 Reviews

Get payday advances in-store or with an online application in 5 states. Max loan amounts vary by state and range from $50-$1,500. Get instant access to funds in-store or next business day with online approval.

AmeriCash Loans
Read 21 Reviews

Supplies cash advances via installment loans up to $4,000 in 12 states, either online or in-store. Max amount varies by state. The money is deposited through a secure transfer, usually within 24 hours.

MyCashNow.com
Read 96 Reviews

Offers paperless application process available 24/7 online for payday advances between $100 and $5,000. Funds may be available as soon as the next business day.

Ace Cash Express
Read 407 Reviews

Payday loans in 8 states with max loan amounts $255-$1,500 and title loans in 7 states with max amounts $200-$5,000. Get cash instantly in-store or overnight with online applications. Offers 72-hour guarantee.

Check n' Go
Read 206 Reviews

Supplies payday loans and installment loans in 17 states that are typically available the next business day. Max payday loan amounts vary by state and range from $50-$1,500.

Money Mart
Read 93 Reviews

Offers in-store payday loans in 10 states and online loans in Hawaii, California, Louisiana and Kansas. Max loan amounts range from $255-$700 depending on the state. Approved in-store applicants can get funds within one hour.

PLS Payday Loan Store
Read 95 Reviews

This company no longer services loans. They offer other services, including check cashing, money order, bill pay and prepaid cards and phones.

Cash Advance USA
Read 263 Reviews

Get payday loans up to $2,500 with an approved online application. Offers instant approval and fast cash options with no credit check required. Free financial education also available on the company's website.

California Check Cashing Stores
Read 23 Reviews

Loan products and max amounts vary by state. Choose your state to see whether payday or title loans or both are available. Over 500 locations available nationwide with online applications accepted in some states.

MyPayDayLoan.com
Read 25 Reviews

Apply online for payday advances between $200 and $700 for first time customers. Repeat customers may be eligible for advances up to $1,000. Applications approved by 6:00pm EST receive funds the following business day.

500FastCash
Read 23 Reviews

Provides short term loans with flexible repayment terms and an easy online process. Individual applicant factors determine max loan amounts. Customers approved before 2:30pm CST, will have the money the next business day.

Amscot - The Money Superstore
Read 35 Reviews

Find simple payday loans up to $500 with no credit check and possible same-day funds access. Other services include check cashing, prepaid MasterCards, bill pay services, free money orders and a free budgeting guide.

MoneyLend.net
Read Author Review

Refers borrowers to providers for payday loans and lets you compare different options at a glance. Loan amounts vary by state and applicant credit score. Can also connect customers with lenders for business loans and more.

Instant Cash USA
Read 92 Reviews
Out Of Business

This company has gone out of business.

Fast Cash
Read 208 Reviews
Out Of Business

Connects loan seekers with lenders offering payday advances up to $1,000. Apply using a secure online process. Funds are typically available the next business day. Free financial education is also available on the website.
Disclaimer
Information in this guide is general in nature and is intended for informational purposes only; it is not legal, health, investment or tax advice. ConsumerAffairs.com makes no representation as to the accuracy of the information provided and assumes no liability for any damages or loss arising from its use.
You're signed up
We'll start sending you the news you need delivered straight to you. We value your privacy. Unsubscribe easily.