Find the Best Payday Loans in Houston, TX

Top 11 Houston Payday Loan Companies

Accredited Partner

Speedy Cash
Read 1,827 Reviews

Obtain payday and title loans with maximum amounts that vary by state. Payday loans range from $255-$2,500 and title loans range from $300-$25,000. Check cashing and money orders also available.

Get Pricing

Accredited Partner

CashNetUSA
Read 3,603 Reviews

Online lender offering payday loans, installment loans, and line of credit products. Can lend up to $800 with loan terms anywhere between 8 and 31 days. Borrowers apply online and receive an instant lending decision.

Accredited Partner

Silver Cloud Financial
Read 337 Reviews

This company offers tribal loans for people who need access to a short-term loan due to an emergency or financial hardship. Loans range from $300-$1,000. Apply online and get your funds the next business day.

Check Into Cash
Read 2,066 Reviews

Lender with 25 years in business offers payday loans up to $1,000 and title loans up to $25,000 with easy application process. Consumers can get funds the next business day. Installment loans and lines of credit also available.

Advance America Cash Advance
Read 241 Reviews

Supplies both payday and title loans online or at over 2,000 store locations. Amounts vary by state and vehicle specifics. Max payday loans range $100-$1,100 and max title loans range $300-$10,000.

Check n' Go
Read 205 Reviews

Supplies payday loans and installment loans in 17 states that are typically available the next business day. Max payday loan amounts vary by state and range from $50-$1,500.

Houston Payday Loans
Read Author Review

Offers in-store or online payday loans in Houston with no credit check. Approves applications in seconds. Typically makes funds available in less than an hour for in-store applicants.

Power Finance Texas Houston
Read Author Review

Offers installment loans as an alternative to payday loans. Direct deposit not needed to apply. No credit history required.

Texas Car Title & Payday Loan
Read Author Review

Offers payday loans of up to $1,200 to Houston residents. Approves and delivers funds to customers on the same or next day. Gives quick approvals in store or over the phone.

TX Title Loans
Read Author Review

Provides online and in-person payday loans at several Houston storefronts. Offers early payoff discount. Meets or beats any Texas competitor's rate.

Your Loan Depot
Read Author Review

Provides payday loans at several locations throughout Houston. Multiple repayment options available with terms of up to six months. Offers online applications.

Many Texans struggle to pay unexpected expenses. About 21% of Houston's population live on income below the federal poverty line. When money is tight, residents may consider payday loans — in fact, about 8% of Texans have taken out a payday loan. While payday loans have high interest rates and fees, they can provide quick cash during a crisis.
Payday loan laws in Houston, TX
There is a legal limit on how many times the company can refinance the loan.
Lenders in Texas are limited to charging 10% interest, but there is no statutory cap on APR and credit access business (CAB) fees in Texas. Therefore, most payday loan companies in Houston charge about $25 to $30 per $100 borrowed. Lenders generally combine these fees into a finance charge.
For example, if you borrow $500, at the end of the two-week term, the finance charge is the CAB fee ($125), plus 10% interest for 14 days ($1.64), which totals $626.64.
Loan repayment terms are limited to 180 days, and most payday loans having terms of 14 or 30 days. Late fees are limited to $7.50 or 5% of the loan amount, whichever is greater, and lenders generally assess late fees after your payment is 10 days overdue. There is a legal limit on how many times the company can refinance the loan.
Payday loan requirements in Houston, TX
Payday lenders in Houston usually require you to be 18 and over for a payday loan, and some only approve people who are 21 and older. To apply for a loan, you typically need:
Government-issued photo ID (out-of-state ID generally accepted)
Proof of income (most recent bank statement or pay stub)
Active checking account to process your repayment on your payday
Some applicants might also need to provide a Social Security number for in-person and online payday loans. A few Houston cash advance companies also ask for proof of address. For a full guide on how to pick a payday lender, check out our list of considerations when choosing a payday lender.
Houston payday loan FAQ
Can I go to jail for not paying back a payday loan in Houston?

No. The Texas Debt Collection Act protects consumers from being criminally prosecuted and sent to jail for not paying debts, including payday loans. It is also illegal for lenders or credit access businesses to threaten arrest if you do not pay your loan.

What kind of loan can I get in Houston with bad credit?

Some Houston banks and credit unions might have loan options for borrowers with bad credit, but the APR, requirements and other specifics vary among lenders.

Should I get a payday loan or a signature loan in Houston?

A payday loan often requires no credit check because your paycheck is your collateral. A signature loan requires no collateral, but borrowers typically need a solid credit history. A payday loan is often a more feasible option for people with bad credit but has much higher fees. A signature loan also has high interest, but the loan amount is more than a payday loan. Signature loans often have longer repayment terms.

What are some alternatives to payday loans in Houston?

Before taking out a payday loan, residents who need speedy cash in Houston should think about alternatives. Some companies purchase gift cards for cash. You might have jewelry or electronics you can sell. Consider cutting out fast food or dining at restaurants to save money. Finally, some employers may help with payday advances.
Thank you, you have successfully subscribed to our newsletter!
Houston payday loan company information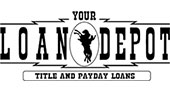 Your Loan Depot offers payday advance loans of up to $1,000 at several locations in the Houston area. It accepts online or in-person applications. You can pay back the loan in one lump sum in 14 or 30 days or make multiple payments for up to 168 days. For a single-payment loan, the fee is $30 per $100 borrowed (approximately 370% APR for a $300 loan) and 10% lender interest. If you choose to make multiple payments, the APR on a $300 loan is about 653%. Every loan comes with a 72-hour cancellation period. Services are available in Spanish.
Address: 7418 Airline Drive, Ste. Y, Houston, TX 77076; Multiple locations
Phone: (713) 692-5200
Hours: M - F: 9am - 6pm; Sat: 10am - 4pm
Website: loandepotdollars.com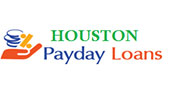 Houston Payday Loans offers payday loans with no credit check. Houston Payday Loans compiles loan offers from hundreds of payday lenders, so you might be eligible to choose from different options. You can apply online, by phone or in person. Funds are typically available in less than one hour.
Address: 4225 North Freeway, Ste. 345, Houston, TX 77022; Multiple locations
Phone: (508) 213-9969
Hours: 24/7
Website: houstonpaydayloans.net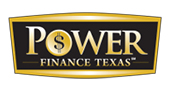 Power Finance Texas provides installment loans in amounts from $100 up to $1,250 with up to six-month repayment terms. You do not need direct deposit or credit history to qualify, but you need a checking account, proof of income, most recent bank statement, valid phone number and proof of current address. Online or in-person application options are available. APRs range from 684% to 766%, depending on the amount of a loan and repayment schedule.
Address: 6300 W. Loop South, Ste. 555, Bellaire, TX 77401; Multiple locations
Phone: (713) 523-2274
Hours: M - F: 9am - 6pm; Sat: 9am - 12pm
Website: powerfinancetexas.com
TX Title Loans offers an early payoff discount if you pay your loan in full before the due date. You can apply online or in person. The company does not report to credit bureaus. It offers a 72-hour loan buyback guarantee in case you change your mind or secure other funding. On a 14-day loan, fees are $24.62 per $100 borrowed. APR is 643%.
Address: 3222 Spencer Highway, Pasadena, TX 77504; Multiple locations
Phone: (281) 506-0008
Hours: M - F: 8:30am; Sat: 9am - 3pm
Website: txtitleloans.net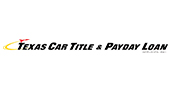 Texas Car Title & Payday Loan offers payday loans of up to $1,200 to Houston residents. Customers can begin the application process over the phone and receive their payment within 24 hours. Texas Car Title & Payday Loan requires that customers are at least 18 years old and have an active checking account and a current pay stub. Terms, fees and APR are determined upon approval.
Address: 12817 Aldine Westfield Road, Houston, TX 77039
Phone: (281) 444-9997
Hours: M & F: 10am - 7pm; T & Th: 10am - 6pm; Sat: 9am - 4pm
You're signed up
We'll start sending you the news you need delivered straight to you. We value your privacy. Unsubscribe easily.