Advance America Cash Advance
Consumer Complaints and Reviews

Got the offer for $5000 from SC and TX from Advance America, did not apply with them but did applications for loans online. They had all my info, ssn, banking info. Anyway Alex ** lol because his accent was Indian said I didn't have mobile deposit so I would need to put $175 on prepaid cards at Walmart. Alex also asked if I could use someone else's bank account! I told him no. He was so adamant about when I would be going to Walmart and assured me it wasn't a scam even though I didn't ask. He also asked if I was single and wanted to know my social media accounts. He placed me on hold several times and at this point I had an idea of what was up and knew it was a scam. I'm still receiving text messages from various numbers. Googled the company for reviews and behold! Go with your gut people, don't let these ** take you for a fool in desperate times!

I applied online for a loan, I received a call on 7/26/2017 from Mr. Daniel ** from Advance America in New York, saying Congratulation I was approved for $1000.00 and I said I needed less than that and he said minimum $500.00 but he ask me for something weird, online username and password and since my credit is low he said they needed to increase it first, what he did was deposit two checks one of $881.00 and told me that I had to refunded to make sure I will pay back, and the way was buying iTunes cards with the amount of $880.00 and give the password of the cards then another check of $1921.00 and that I have to return it or else would have legal problem, so I purchase another iTunes cards and took pictures and send it to the following #** and the company fraud Advance America number is **.
It was a text mobile to the Wells Fargo bank in North Miami. It was deposited and the check was under United States Treasury and it was a false and got in trouble with the bank and they closed my account for suspicious of fraud and they said they were going to fix it but never did since yesterday 7/28/17, and don't pick up the phone. Is totally a scam. Please don't fall for it.

On July 13, 2017, I was contacted by a man with an accent, who identified himself as Nick **, loan officer, with Advance America, responding to my request for an application for an installment loan. He had all my personal and financial information as he read it off to me. During our conversation, he advised me that I had been approved for a $2,000 installment loan with monthly payments of $197.00 for a 12-month term. However, in order to get the loan, I had to go through a verification process, which he said was in accordance with the rules governing the Federal Trade Commission. He stated the $100.00 verification costs was not a fee and that he was only looking for a code reflecting the purchase of a pre-paid card to prove I had $100.00 on the card. This really peaked my suspicions.
Furthermore, he stated that I should purchase this pre-paid card from either Office Max, Rite Aid, Walgreens, CVS, Family Dollar, Dollar General and Krogers. Even redder flag! The first email he sent me was on what looked like $Advance America, Cash Advance stationary. On this official looking stationary was a huge watermark that read "Seal of the State of Illinois", with a logo to the right that read "Department of Consumer & Business Services" and to the right of that was a BBB accredited business logo. This pdf document was a dummy mockup of what appears to be an authentic loan servicing documents. It did not reflect anything we discussed.
The first page of the 5-page PDF ** read, "Only customer have to prove himself/herself in front of the FTC (Federal Trade Commission of US Gov) that she/he is financially strong and capable person and after getting this loan will not miss any payment on installment date". This is exactly what was on the form spelling, grammatical errors and all. What a croc! Nick also said that the loan documents requiring my signature would not be sent until I verified the purchase of the pre-paid card for $100. Legitimate loan companies will always send you documents to look over and read before committing yourself.
In order to confirm my suspicion about this company, Advance America just so happens to have an office in my hometown. I called them and explained to them about this so-called loan, the loan number, the amount and how to retrieve it. I was told that in no uncertain terms, THIS IS A SCAM! When Nick call me back, I told him they were running a scam. He then threatened me by saying if I did not take the loan, he would flag my credit report. That was the last straw, I hung up the phone in his face and I had no further conversation with this scammer.
I found a couple of addresses claiming to be Advance America Loans. The loan servicing phone number on the pdf is **. The address is **. The address on my approval email is **. A man by the name of Paul **, is the Sr. Manager, Advance America, **. DON'T BE FOOLED! PROTECT YOURSELF BY CHECKING TWO AND THREE TIMES THAT A COMPANY IS LEGIT. No lender is going to send you to Rite Aid, CVS or any other retailer to have you purchase a pre-paid card.

Applied for a payday loan. I was contacted by email saying I was pre-qualified for up to $5000. But first my credit score needed to be raised. Manager Ray ** said the accounting department would deposit $950 into my account and that I would have to pay back via a MoneyGram and that would raise my credit score. Sounded odd but I was desperate so I did it. No loan & $950 negative in my bank account. The money they deposited was a ghost check and came back as unpaid so my bank charged me. Now I am in more debt thanks to Advance America Cash Advance. DO NOT DO ANY BUSINESS WITH THESE LOW LIVES. It is all A SCAM.

Sometimes, during these tough economic times, hard working and honest people will attempt to erase financial debt out of sheer desperation and hope that someone will help them. Cash Advance America will make false promises, give you their word and rob you blind without any remorse for doing so or any heart. These heartless individuals will make you go to Walmart, Walgreens or 7/11 stores, make you purchase iTunes cards, put money on them and give them the code on the back of the card with the promise (no paperwork to sign in advance) of putting $money$ into your checking account or debit card.
I've heard of some people giving as much as $2,000. They have accents like they're from India but their names are American names. Like Tom ** and Brian **. They are based out of New York. DO NOT answer their texts either. Somehow, they are tied into the same informational page as the payday loan companies, access your information and they'll call or text you promising cash loans up to $10,000!!! And with no paperwork to review and/or sign. Too good to be true.
So please don't go through the same pain and heartbreak that others I've seen and spoken to have experienced. They prey on the weak, tired, overworked and those with little or no education (no pun intended). Remember, they have accents like they're from India or Sri Lanka. Our government should have stricter laws against lazy and heartless individuals such as these. Good luck and God Bless.
How do I know I can trust these reviews about Advance America Cash Advance?
850,588 reviews on ConsumerAffairs are verified.
We require contact information to ensure our reviewers are real.
We use intelligent software that helps us maintain the integrity of reviews.
Our moderators read all reviews to verify quality and helpfulness.
For more information about reviews on ConsumerAffairs.com please visit our FAQ.

I had a need to get a payday loan, and got $400.00 from Advance America in Evanston Wyoming. So two months later I thought the blooming thing was paid, since they dinged my bank account for it. What came next was a disaster. First they kept on trying to get more money reproducing my check, so I told my bank to no longer honor the withdrawal. Thinking this was over, came the 1st of May, 2017 I went to get money from my account. Hey I only get $800.00 a month from Social Security Disability and found that Advance America had withdrew $500.00 out of my account.
Of course the bank (Wells Fargo of Evanston Wyoming) sided with Advance America. So there I was, no way to pay my rent, or utilities. What I did next was hit them back the way they hit me. I snagged the same amount through them ($500.00) on my bank account at Wells Fargo. What I did next was open another account at another bank, bad ethics on my part? Maybe but they bit the wrong paw of the wrong wolf.

This company is a total scam. I got email notifying me I had been approved for a loan for 5k. I called the number on the document. The person I spoke to was ** (he said so). He went over the doc they sent, then went over my info. Odd because I could not recall contacting the company. Assuring me that I had the loan he just needed to verify my account info, which he apparently already had, but then told me they needed "insurance" that I would repay, so they would deposit 1K into the account & then remove it to make sure my account was valid. Then he would call me let me know I was verify & in 20 minutes there would be 5k in the account. Then he asked for the online ID & password to my bank account-yes RED flag. I told him NO he didn't need that & I would not be giving it out. He then tried for 5 minutes to "convince" me that all was good & I was being stupid, that this is the way to improve my credit score instantly. I hung up.

Advance America called me and said I was approved for up to 5000 cash loan. I had to Western Union them 75 dollars then they said they needed to get my credit report fixed which still isn't. They ripped me off another 450 dollars, now they are demanding another 450 for verification and still no loan. I told them I wanted and they still fail to give, numbers are from Missouri and California. If any attorney can help with no fees please call **. The number that keeps calling me is a 209 number, his name is Johnny. If anyone could be of help no fees call me.

I initially took a payday loan in December, 2016 in Bealeton VA. My first payment of 65.00 was made in cash. Around 1-28-2017 Elaina sent a card via mail stating that she was going to deposit the check for the remaining balance. I wasn't concerned because I knew it would clear. I did not receive any notices or phone calls of any missed payments during the months of Feb-April 2017. The first week of April 2017 I received a receipt for the check payment along with an refund for a 65.00 for over payment for the cash payment. I had spoken to Elaina the same day I received refund and receipt. Elaina gave me a phone number to call for a date I would be able to take out another loan if I wanted.
April 14, 2017 a letter from AA stating that check didn't clear. I called Elaina as soon I got that letter and asked her "What's going on?" Then I started explaining the letter. Elaina then said that ADVANCE AMERICA, Treasury Department lost my check along with 6 or 7 other customers. I said "Ummm? OK? So what does that have to do with me?" Elaina apologized and told me NOT to do ANYTHING until she and the TREASURY dept has a chance to figure it out. Elaina told me to ignore the letters as they are auto generated in corporate office.
The following week I receive another letter from AA about payment arrangements. I called AA and asked for a manager & corporate number to get some answers. Elaina says she's the manager of this store, so I telling her I got a 2nd message from her AA store, she again told me to ignore the letters, and she kept apologizing. I asked Elaina "Why would corporate send a letter to me as if this was my mistake, when this is clearly an internal issue?" Elaina then told me that the checks were lost when Advance America switched banks. My response to that was "How is that my fault?" She apologizes, says do nothing now, Elaina said she was willing work a affordable payment plan/rewrite out the loan if need be or bring her a copy of the cleared check. Elaina said "I will definitely keep you posted," with anything she found out.
When I got off the phone with Elaina, I then called another AA to ask how long does it take for AA checks to clear. I was told up to 60 days. I did explain this situation hypothetically to this AA manager. She said it was strange, I then told her this is what I'm experiencing in Bealeton's store. She couldn't pull up my account info in that store, but she gave me the store #480- to Bealeton and a 800 number and option to use. I called the number, left message, no return call.
The second week in May I received a VM from AA about payment arrangements because my check didn't clear. I was fed up at this point. I called Elaina back She answered the phone with greeting. I said this is (name). Elaina hesitated for about 5 seconds. I then said "I'm listening." She then states how my check didn't clear, I borrowed money from them and I need to pay them back. My politeness went out the window. I told Elaina she made no sense. How is it my fault that your company lost mine and others' checks and then you expect us the consumer to pay for your Business mistake. I then told Elaina "You admit that it was a company issue but yet you are calling me as if I just blatantly disregarded making payments." I told Elaina that I was doing my own research because she sounded as if she was being deceptive.
I then told Elaina "Whatever you or your company did with the check is not my concern. I do not work for AA. I put the check in your hands. You give me different reason for what happened to the check every time I speak to you. I have a receipt and I will take your ** to court for any violation of my consumer rights." I told Elaina she could have someone else call me. I told her I didn't believe anything she was saying, I was driving and I had to go and I hung up.
As of today I have not received any payment notices or phone call from Bealeton AA. May 31, 2017 I receive a phone call from 888 -705-5685, I missed call. No VM was left. I called back and IT'S AA corporate asking had I had papers served on me. I said "for what!" The rep was telling me about a delinquent debt and I went ballistic. I explained everything to her. The representative said that she was going to void this out and send it back to Elaina. I then told the rep I've had it with Elaina and this issue this was not my fault and she's holding me accountable for her mistake. The rep also did not know that I had already received a receipt of paid in full and that a company error had occurred, but information was given to corporate as if I just chose to ignore a loan.
Once I get off the phone I call the other AA and ask to speak to a manager. Her name was Lisa. I explained everything to her again. She took some information from me and said she would have the DM for the Bealeton office call me back. Lisa called me back 13 minutes later and told me that she spoke with the Bealeton Office. Lisa states that Brinks Bank had checks in lingo while AA switched banks. Once the system went up red flags started going off in their new system. I ask her "how is that my fault?" I then ask her "how is it fair to me". She said "I know it's not your fault and it doesn't seem fair, but it has to be fixed." She also stated that Elaina deposited my check on May 1 2017. I had no prior knowledge of that at all until Lisa told me today. Lisa told me that technically they didn't have to. I disagree.
I'm in hopes of filing damages against AA for violation of consumer rights and breach of contract. Two verified managers stated this was an internal issue through no fault of my own. Elaina sent receipt first week of April stating acct was paid in full and closed meaning she does not have permission to access my account without my consent. Third being that the contract is legally null and void based on the pay dates on the original loan, the issue AA claims they were dealing and my receipt. The loan contract would have to be written over. Is it legal for AA to come after consumer for business mistakes? Is it legal for AA to use consumer's bank account for a "closed" account without consumer's prior knowledge. There was no notification to the consumers about the issue that Bealeton office was experiencing about the bank glitch. I pray someone reads this and contact me.

I have been searching online for several days to get an emergency cash loan. I thought I hit the jackpot when I got a email with long documents stating that I was going to have $5,000 monthly payments of $120, etc... the loan documents looked just like any other loan document. Something just didn't feel right after I tried to call the number which was +1-786-378-6675 from a guy named Daniel **. It just rang busy. So then I Googled Advance America and Ashley called their 800 number and they proved it was a scam. He goes with **. Had I notice he had a Gmail account from the beginning I would have never even thought that was real but of course I tried to email it and there's no such an email address so all of you if you're going through Advance America there is no such thing as Advance America Cash Advance. Please be careful.

I received an email stating I could get a loan from $1000 to $10000. I decided to go for 5000. They verified information for personal as well as banking. I thought Advance America was a reputable company. So went along. So when they said they would deposit 1000 and then I would send it back I thought it sounded strange. Then they asked me for my banking info on my phone app. I said it would not work since I bought another phone. That is true but what kind of idiot did they take me for. I said I would have to find the info in my password book. The 2 people I spoke to had a thick Indian accent. I hope they don't try and get money from my account. I don't have much and I am retired. If you see an email from Advance America, call your local company. These people I spoke with are scammers and lowlifes.

I was contacted by people claiming to be Advanced America. I never heard of them before but they said I was approved for a 5000 dollar loan which I thought was great since my credit is so low. The guy Jerry spoke with an accent which you could hardly understand. He told me that he was going to deposit 1000 in my bank account and I had to send it back and he would deposit my 5000 because my credit was low. Well they for reason couldn't get into my account at my bank and I was at work so I couldn't talk. They called me 26 times at work until I picked up and they would tell me to hold on while they get the manager. A few days ago I Googled the company name and got a different number. I called it and they said I wasn't in the system and if the person I spoke with had an accent, I said yes, they told me it's a scam because they don't give payday loans in New York State.
The people called me back asking if I had another bank account set up I could use and I told them "No I am done with you." They asked why and I said, "You are a scam", them and said, "We are not a scam." I told them I reported them to the FBI and they said, "Good we are not scared" and I hung up. These people are disgusting individuals who need to do their own thing in their own country and leave America alone. People who have nothing see help when things like this happen and these people who aren't even in this country scam them!!! Do not believe anyone who calls you unless you are positive it's the real deal.

This Advance America is a fraud people. This guy had this woman call from South Carolina she sounded foreign. I was talking to her for about 15 min she began to quote back to me my bank info, home address, my name and so on .The number they called me from was **. She then asked me to hold on and she put me on the phone with a man with a middle eastern accent. I began to be suspicious, not because of the accent but the method I had to do to get the loan for 5000.00 dollars. He asked that I put up 230.00 to begin the transaction of 5000.00 to be deposited. Anytime someone is asking you to put money up to get money there's fraud going. His last name was. Told me how much my monthly payments were going to be, 238.88 a month.
Needless to say I didn't follow through because of the suspicions. That Saturday morning I went to my KeyBank branch account had that account restricted and closed!! I opened up a new account, new number, new routing number they took all the money out of the old account put it in new account. I guess these fraudulent people figured out I've figured them out, because that Monday morning they began calling me again. I disclosed them. If this occur to you just change your whole account info people. There's a chance they can still access your money because they have your bank info. Beware!!!

I was desperate for money, and my husband filled out for payday loan online and was declined. The next day a text came saying we pre approved for 1500$ loan, so we be thought it was God answers our prayers. We called the number from South Carolina and talked to a Jeffrey **, he had a heavy Indian accent. He said we are going to have 1500$ put in our account but because our credit score was low we needed to show we can make the 1st payment. He said they would not touch it. They just need to see it in there. We didn't have any money so he said he would wait until Friday when my husband got paid. I didn't like the sound of that, so next day I called them and asked for their website because he said he was Advance America. So I looked up the website and it didn't say Advance America it said, instantgetpaydayloan.com, and at bottom I looked at their address.
When I called the address, it was a mortgage company. They said they were the only company in the building, I told them someone was using their address. When I called Jeffrey back and confronted him he refused to tell me why I couldn't confirm where his company was, he argued with me awhile then finally said, "ma'am this is a scam", omg I couldn't believe people can be this evil. Please watch out, we are all in situations that people like to take advantage of.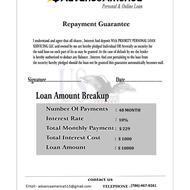 I how to receive several loan applications with PDF files attached and sent to me saying I was approved for a loan. I forwarded all this information. Jay paid the information and websites to verify that this was all fraudulent. Made the extra mile and call Dad America and reported to their comments fraud department. Nothing was done. There's no file case or number or anything was given to me. In fact, the lady made me send it all to comments email instead of a fraud dept. Seems like this company doesn't give a ** about any of it. I sent the name of the person and up address all PDF files to them from criminals and they didn't even report any of it... What a shame. I spent money to get info for them. For nothing.

I don't generally check my email, but for some reason I decided to check it. There was an email from Advance America saying I was approved for a cash loan. I never applied for one. So I checked the email and it had someone else name with my email address. Not really sure what they actually did, but I'm sure it's illegal. Try to call the number on the form. No answer of course. American government needs to do something about these foreigners scamming American people.

I have read other reviews about this company... First off, I know this company is legit. Everything that I have read on here about this company isn't actually this company you dealt with, but scammers posing as representatives for this company. I got caught up in this scam myself, before researching and finding out what was going on. The real company? They were awesome when I called them to report the fraud. They were very helpful in pointing me in the right direction. They started a case for me, and had me give the local police department my case number with them.
My story... I filled out an application for a loan, on what looked to be a legitimate website. It was not, it was a copycat website. Today, while I was at work, I received several voicemails from Glenn, all from the same number. When I got home, I returned the phone call. He told me that I was approved for a loan up to $5000. I chose $1000, but he said minimum is $2000, so I went with that. Then he went over my terms and monthly payment amount.
Then he transferred me to Mary who told me that they needed to verify my identity and verify that I could make the payments. She told me that I needed to purchase $150 in iTunes cards to verify this. So I did. Then gave them the information on the back of those cards. Then she transferred me to Samuel. After he had me on hold for 15 minutes, he came back and told me that since my credit score was so low, I would need to pay $100 to insure the loan and that I need to do it by purchasing another $100 worth of iTunes cards and give him the information on the back.
At this point I started getting suspicious and questioned him about it. But he told me that it was completely legit, because I would be getting my money right back with the loan amount. So I purchased the additional $100 in iTunes cards and gave him the information. Then he put me on hold again, for another 15 minutes or so. While I was on hold this time, I started researching and read something about people posing as representatives for Advance America, and that if they ask for funds for a processing fee, that it is a scam. Sure enough, when he came back on the line he said I would receive a text with information on how to receive my money.
The text came in shortly with 2 MoneyGram reference numbers, one for $1200 and one for @1250, but before I could pick up the wire transfers I would first have to purchase another $200 in iTunes cards for activation fee. I did not purchase the last $200. Instead I called the actual Advance America and reported fraudulent activity, then filed a police report. Plus Advance America set me up with Apple store customer service number, and I called them and reported the fraudulent behavior, contacted my bank, who wants me to go in during business hours tomorrow to close this account and open a new one, and I got a case going with the FTC.
The kicker... After I already started reporting the fraudulent activities of these scammers, they called me back and asked me if I was going to pick up my loan tonight or not. All I told them was I'm already back home for the night. So they told me that they would give me until tomorrow to send the processing fee and pick up my money.

Consumers should be aware of this company. They called me and said I was approved for a loan and only after they verified my information he informed me in order to do the loan I would have to pay a processing fee in the amount of $200.00 and I would have to buy itunes cards to pay for it. After realizing this was a scam and their company having my banking information I changed my banking information.

I applied for a personal loan. I was contacted by Advance America stating that I had been approved for $1000.00 to $5000.00. When I spoke to them they advised that I would need to show that I could pay my loans faithfully based on my fico score being less than a 700. I went and got the Itunes cards and repeatedly kept asking if this was a scam, I was advised by Jennifer that this was a legit. After I did the $200.00 in cards and they stated they verified all funds they had me on hold for about 7 minutes and then came back on the line to advise me that about $300.00 for necessary for documents. I advised that I did not have it and they told me that I had to pay it or I would not get the loan.
We went round and round on the phone. I advised them numerous times that the additional $300.00 was never disclosed and had they disclosed it before purchasing the 2 Itune cards I would have never tried to get a loan with their company. I was hung up on several times. I would call back and the number would ring and that disconnect. I called from my office phone where they picked up and was told if I am not going to pay the additional $300.00 then DONT CALL BACK! I have an email where the documents are not signed with an email requesting $300.00 more.

This place is a total scam. Luckily I found this website in time to realize the mistake I had made and get my account closed out. I got a call saying I was approved for a 5k loan I had been applying for (not through this company). I really needed the money for debt consolidation. So I called back and talked to a man with a very thick accent. Everything sounded normal at first we went over payments, interest rate, loan term. Then when he asked me about my credit score. I started getting a bad feeling. I told him my score and he said I needed loan insurance. I asked how much this insurance was going to cost me. He said nothing. That they would include it on the loan but that it would have to be deposited into my account and then I would have to pay the company myself and then my loan would be transferred once the payment was confirmed. I knew something was wrong but my brain didn't fully connect the dots until it was too late.
I gave them my online banking information and they deposited 1500 into my account. The guy then told me to go to Walmart right that second and he would tell me how to pay the insurance and do stay on the phone with him. I told him that I would have to call him back because I had to drive and he started getting rude but said okay. I knew something was wrong so I went straight to my bank. Apparently they had logged on to my account on a mobile device and deposited a bad looking check. When they called me because I never called back I told them I wanted no part of what they were doing and I was closing my account. The guy wouldn't take no for an answer and kept asking who called me and told me they were a scam. They called me off of multiple numbers in the next 10 minutes a total of 17 times.
Lucky I realized the scam before it was too late and was able to complete freeze my online banking and cancel out my account. They would have had me send out the 1500 and then left me with a bounced check. Please be aware always check online reviews before you give out any information to places. My situation was not as bad as it could have been. I didn't lose any money but some people on here got scammed out of hundreds of dollars. BE AWARE OF WHO YOU TALK TO!

I received an email with a loan approval contract attached yesterday. The loan was for $5,000 with payments of $225 for 24 months. I called number on contract; Mark **, Sr Loan Officer. Ask me to purchase $200 worth of Itunes gift cards for verification. Being stressed because my medical dog was attacked by a pit bull and had to be put down I was excited because my Doctor said I needed to get a new medical emotion companion dog as soon as possible. I gave Mark pin numbers on cards. He said my money would be deposited within 20 minutes in my bank. It wasn't.
I called Mark again. He said CEO Bob said needed wire transfer routing number from Bank. I gave it to him, still NO MONEY! Six hours later my daughter speaks to Mark on phone for scamming money from me and me being on disability. Mark promised her my $200 would be returned to me today, March 11, 2017. So-called company will not answer phone today. The company is supposedly in Texas but address is not on loan contract and Mark will not answer phone or emails now.

I received a text from a David ** from Advance America stating I was approved for a 5,000.00 loan and to call (803)-403-2354. I called the number and spoke to a man with an Indian accent who went by the name, Jeffery **. He had all my information. Bank account and routing number also. He explained to me about the loan and told me what I had to do to have the 5,000.00 deposited directly into my account.
Jeffery ** told me that my monthly payments would be 250.00 a month for 22 months starting in April the 25th and every 25th of each and every month. I asked him when will the funds be deposited. He told me I first had to go to a store and pick out iTunes Apple gift cards. So I took 250.00 out my account and headed down to CVS. He told me l needed 250.00, to get 2-100.00 and one 50.00 gift cards. I did. Then he asked me to rub off the back of the cards and read him the numbers. I did. He always stayed on the phone on my every move. He told me by doing this, it would show that I would be able to make the monthly payments and that the Federal gov. needed this information to grant me the loan.
After doing all this he told me that the funds would be put into my account no more than 10 to 15 minutes and to call him right away when I receive the 5,000.00 into my account. I waited 30mins then checked my account. Nothing was deposited. So I called Jeffery ** back and told him no funds were put into my account. He then put me on hold to find out what the problem was. 3 mins later he came back on the phone talking about they needed me to send 249.00 to wire the 5,000.00 into my account because it's an out of state bank. I went ballistic over the phone because I knew then I been scammed. I really needed that money to get into a place because me & my girlfriend is practically homeless. Funny thing is I had an idea it was a scam but was praying it wasn't. Be careful what you wish for.

At first this loan was free of charge. Advance America deposited $200+ into my account. They then asked me to buy 2 iTunes GC's and send it back. The second installment was for nearly $800. They asked me to send them 7, $100 iTunes GC's and they would deposit the $5000 into my savings account. I couldn't make it to Rite Aid though, so they deposited $900+ into my account and withdrew it causing my account to become overdrawn.

Initially, I had used this company before and with not many problems at two locations. Today, I was contacted by an customer service rep who did state their name and that they were from Advance America. First, she called my mobile phone and then home number and could not state what the call was in regards to cause she talked to someone else in my house. Her demeanor, at times was not professional. I was pressured by another person several months prior who called me and forced me into signing this loan for upfront money for a service fee. I was scared. They said they would pay the interest fee and loan back, but never did. Now, Advance America is telling me to pay the 240 dollars by so and so date or else the loan will be a write off. There are so many loan scams and tax scams going on. Please stay safe.

If anyone gets a call from 904 584 2089 says Advance America. DO NOT ANSWER THAT CALLS. THEY ARE LYING SCAMS. They have your email saying you are approved for loans say up to $5000. It's crock. They stole emails, phone numbers, your birth date etc. They want to look in your bank account to see if you have at least $150-$200 in there. They are stealing your money.
CALL THE NATIONAL FRAUD LINE IN WASHINGTON DC AND REPORT THEM. THEY WILL RAID AND BUST THIS PEOPLE. They go to jail. Again do not answer those calls. It's scams even from that number say Florida. These people do not speak English hardly at all. They are stealing money from American people. I warn you if you do you will get your bank account dried up by these fraudulent people. Thank you for your attention to this warning.

I have had several automated calls from a Texas number, as well as a New York number, telling me that I was 100% approved for a loan. When I tried to call the Texas number back, Monday (02/13/16), I got a buzzing sound on the line. So, I called the New York number back. I spoke with an Iranian/Indian gentleman who said that I was approved for a loan, and asked how much I wanted to borrow. I told him, "$300-400." He said, "This isn't a payday loan, it's an installment loan. The minimum is $2,500." So, I agreed to borrow that. I was talked in to purchasing $250 in iTunes cards, and was told that the money would be deposited immediately afterward. Well, all of a sudden, the so-called, "Insurance Department" decided to tell me that I needed another $400 in iTunes cards, and that I will get $3200 deposited. I explained that I had spent the last money that I had to buy the $250; and have no way to get the $400.
Now, they want me to go to the bank Tuesday (02/14/17), and tell them I need to overdraft my account for $300 for a medical emergency (they paid the other $100). - After reading about someone else getting scammed, I am NOT going to do it! I am going to call them and tell them that the bank is refusing to let me overdraft for any reason; and that they HAVE to refund my $250, no matter how long it takes (which when I was complaining and asking for a refund, I was told it would take 93 business days, because the "Federal Government" has my money). --- Folks, please remember the warning that I should have remembered: YOU SHOULD NEVER HAVE TO PAY TO BORROW MONEY!!! Good luck to me, and everyone else affected by these bastards! And God bless us all!

I have done business with AA for a year now. Always paid my payday advance loans on time. Today I walked in to talk to the Manager of the Store on Vermont Ave in Los Angeles. I said "if you could please work with me to set up a payment plan as I need some time." (Keep in mind have always paid on time consecutively over the last year.) She lied and said there is nothing she can do until my check bounces and then she will work with me. I call their customer service number to see if what she is saying is the truth and she lied, she could have helped me and chose not to. Why? I do not know as the price I pay for the advance you would think she would accommodate me, not to mention I have never defaulted on a loan. I notified Corporate. Just want some accountability for the Manager lying to me in addition to smiling like it's a joke!!

Well I got an email stating I'm approved for a 5000 loan and of course I called it and the gentlemen was Indian stating I was approved. They had all my information so he ask me for my banking mobile access in order to deposit the money so I did, not thinking they deposited 990 in my account. I had to go buy 900 in iTunes cards, call them and send them pictures of cards front and back and the numbers. Then he said that it was late that the funding department was close.
So in the middle of night got a text from bank saying a large deposit was in my account for 2500. So the very next day they started calling me at the crack of dawn, told me to go to bank and take all the money out and send it MoneyGram that they would deposit the loan for 5000. Well I sent it but as of today no money. My bank account is negative 3300. My work check was deposited, the bank took it because it's negative. I had to call the bank and explain everything, called FTA and BBB and had to put fraud on my social for ninety days.
And to this day they call me and text me and harass me. I told them how do they live with themselves scamming people out of money. Also the checks that were deposited from a Juan **, ask them who that is. Also the guy said his name was Brandon ** manager from Advance America. Never again will I apply online for a loan. These people ought to be caught and shut down and go to jail. And the checks were fraud that's why my account is negative. I called everyone on this. People please don't be scam by Advance America.

This payday loan business like all of them are regulated by state laws to not give a loan to a customer any loans that exceed 300.00 in total. Each company that I loaned from was fully disclosed by me that I had several payday loans before I got a loan from them. I'm in California and it's the loan companies responsibilities to look at the other loans in each customers name. Legally they are at fault as a business by not informing us or turning us down. I spent 3 years in the vicious cycle paying interest rate that itself should be a crime.
They even loaned my friend who's a veteran into the trap. Instead of reporting it to the courts or bureaus they report it to a different companies that are considered Teletrax. Ruining your credit by posting it to everyone of the loan companies before you can gain a loan to pay them all off at once. I live on under 900 a month and they told me they'd give me at least a month and they didn't. I'm ruined. They gave me over a thousand in the payday loans. Plus online loan companies too.
They should be held accountable and never give a loan unless they check you credit and only to consolidate your loans. The debt relief and consolation both don't cover all your debt or loans. They either do just what you have on you report or just your instore loans. None give the option to include a title loan. I'm disabled paying 840 rent and 272 loan payments. I need to get a loan to cover all debt and not a 50 to 200 percent interest. If they loan us, making us victims because they don't care if we're being taken for hundreds of dollars. We are dependent on the State laws and companies informing us and not just keep lending up until we're homeless, no car, food, clothes or credit.

These mf think they're smart. I've got something for that **. They try to pull that same okey dokey on me. Go to Walmart. Western Union me the cash. What. That sounds about as dumb as his Hobbes accent. They're in for more than they could ever start to even want. They have been trying to get me for I'd have to say at least six years. But they haven't pulled one off on me yet besides they got all my info like my SSN and my address and phone number. Hell I've had bad credit for as long as I can remember. So ** those false India mf. They can eat a **.
Advance America Cash Advance Company Profile
Company Name:

Advance America Cash Advance

Website:

https://www.advanceamerica.net/