Consumer Complaints and Reviews

So I was in need of a loan fast. Kept applying places and eventually Cashnet called me. Said I was approved for anything between 1,000 to 15,000. I chose 1,500 because that's all I needed. They kept asking if I wanted to raise the loan amount. I didn't. They asked me everything from my bank info to my bank login info including security question answers. Me being naive and desperate I gave it to them. A day later the loan was in my account. I used about $800 of it and almost a week later the loan was REVERSED! Leaving me $700 overdrafted in my bank account.
I called them up and they put the blame on me telling me that I was attempting to commit fraud with their company. And that apparently wasn't even my loan. It was a verification deposit that was suppose to be returned. But nobody told me about that!! Then to top it all off, they changed my password to be bank login!! Gotta close my account and open a whole new one now. DO NOT TRUST THESE PEOPLE!

I was told I could have a personal loan for 7000 dollars and they wanted 49 for insurance through Iphone gift card then they told me after that they wanted another 50 for low credit score. Then after that they wanted another 50 for processing documents. Now I have been sacked out of 175 dollars. They wanted another 100 for gov hold on money which I'm not doing. They want all money on iTunes card. I was stupid so watch out and don't fall for this scam. They're totally dishonest with you. They will keep trying to get more money out of you and call you, text you till you fall victim to them. Once you pay they have hooked you. Get out. Do not send any money through gift Cards. Go to your bank and get loans. Build your credit up and then get loan.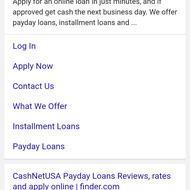 In times of hardship, we seek instant solutions. This scam is very clever. David ** or Chris ** with a foreign accent with customer ID number ** and call backs seem legitimate. They will ask you for your user name and password to get into your online banking account to so called wire you verification deposits of $700 to $900. Then, they will ask you to Moneygram this verification money back to them in 24 hrs. Well, red flags were waving the moment the representative asked for user name and password. They will never need this to deposit money in your account or verify it. They will only need checking and routing number.
When I mentioned to rep that this sounds like a scam and I would report him to police, he sounded convincing and assured me this was the process because of all the real scams nowadays. Well, luckily I bank with a smart credit union and they locked my account. When I called them, rep reset user name and password and alerted me of this FRAUD from Cashnet.usa. Please don't fall for it. They will deposit funds as a so called credit, you would withdraw money, spend it or send it back to Cashnet.usa as a so called verification... only to realize that the deposit didn't clear and it was fraud. Now you owe bank that money plus fees and this criminal just beat ya outta hundreds of dollars.

I get an e-mail from a Lewis ** with The Franklin Law Group stating I have an outstanding debt and I need to pay it or they will take legal action. The same law firm sent an e-mail about 2 months ago and it was sent by Terry **. I have never had an account with CashNet USA. They continue to harass people by sending e-mails like the ones I received. I will be contacting the BBB, Consumer Protection of the AG office, the trade commission.

I never had an account with this company yet they continue to call me and now email me telling me I owe them money and I'm going to be prosecuted if I don't pay them over $800 and if prosecuted I will then owe them over $13,000. When they call they want me to give them personal info that need to verify. I've told them if I owe them money they can send me something in the mail and they refuse to do so.
How do I know I can trust these reviews about Cashnet?
720,415 reviews on ConsumerAffairs are verified.
We require contact information to ensure our reviewers are real.
We use intelligent software that helps us maintain the integrity of reviews.
Our moderators read all reviews to verify quality and helpfulness.
For more information about reviews on ConsumerAffairs.com please visit our FAQ.

I've been receiving phone calls from a Houston, Tx phone number. Finally I decided to call back after getting a voicemail. I spoke to a Lesely **, who had a strong accent like she was from Pakistan or India. Lesely proceeded on telling me that a loan I applied for has now been approved and I was approved for $3,000.00. All I had to do was give her my email address so she could send over documents for me to review and once I reviewed them to call her back to continue the loan process. I did give her my email as I was curious so read these documents. The documents I received seemed legit and I called her back to advise her I was ready to continue the loan process. Here's where it started to not make sense...
I could hardly understand her. She kept interrupting me when I had questions about what she was telling me or about the loan in general and lastly when she was telling me how I needed to pay my first month "installment" or my first time narrowing from them fee, which was to purchase a reloadable iTunes card (because all they need was the zip code on the back) and to put exactly $139.00 on it and to do it right now so she could start the process. Or I could use MoneyGram and to go to a local Walmart to do either of these two things. She kept going on and on about how it was so important to get this done now! I finally told her I would have to get the iTunes card the following day and call her back. She proceeded to ramble on. After hanging up the phone with her I did some online research and seen all these reviews and comments!
This place is a total scam! Not only do they sound very sketchy but you can't understand a dang word they say! Plus, the email she sent me does not come from her direct email but from a cash net return email and her signature on the email gives very little detail as to who or what she is for cash net! I have yet to call back but I plan to call (tomorrow) and let her know I have read all about the cash net scams and if I continue receiving phone calls from them I will be enforcing my right as an American and reporting them! Please! Please! People be careful. Do not give them any minute of your time!

They had me get a $200 iTunes card... then call back with the numbers with card. Then later on I got a call saying to pay another $350 to get my loan! UNBELIEVABLE! WHEN I TRY TO CALL BACK THEY FORWARD MY CALLS OR hang up on me. SCAMMED!

I have had a loan with CashNetUSA recently and have ask them to wait until Monday to debit the payment amount from my bank account because this is when my direct deposit comes in and they said "Yes that's fine. Just send us proof that your direct deposit is on Mondays." So I did but they still hit my account on Fridays causing my bank account to go overdrawn. This is the third time in a row they have done that and it cost me $34 each time so over $100 in overdraft fees. I sent them an email about this and they will not respond, so now my account is overdrawn, I have no money until Monday to eat off of and I'm out of town. Would not do business with them again ever. Plus the high interest rates on the loan are a ripoff.

Don't use them. When you call them they lie about how much it is to pay off the loan early. They took money out of my bank account one day early 2 times in a row. Now they claim that my latest payment was late even though I paid it through their system one day early. Luckily I only have one more payment left and that's getting paid off early and I'm done with this company. It is horrible.

Can you or someone please explain to me what "YOU'RE PRE-QUALIFIED" actually means??? I am sick of receiving your ** in the mail saying that I am pre-qualified based off of my credit history and no additional credit checks are needed. I found that to be a lie and I did have to complete additional paperwork only to be denied and given a ding against my credit. This is complete BS and what I consider to false advertisement!! If I were already pre-qualified there should be nothing else to do other than submitting my offer code! Please take me off of your mailing list and reconsider how offers are made. Thanks for saving me the heartache of repaying at a 299% interest rate!! Being denied was probably more of a blessing than being approved!

I have borrowed money from several different cash advance places including Speedy Cash and Ace. These 2 were GREAT and money was in my account within a FEW hours. Now with these clowns, they will approve you for a loan then TWO days later they will send an email saying your money has been sent to your account and should be in there the next morning. Next morning comes, NO MONEY. Log in to my Cash USA account and EVERYTHING has disappeared. No trace of my loan.
So I call and they say the lender CHANGED THEIR MIND at the last second. Never heard of such thing. Very poor business practices, and NO this was not a SCAM. I dealt with the actual company and an american voice over the phone. This is just how they actually do business. They tease you, kind of like if you win prizes on the Price is Right and the day you are supposed to get your winnings they say "NAH, we changed our mind." I have NEVER in my 56 years heard of a business doing this.

This loan agency is fraudulent. They sent money to the wrong account and try to hold me responsible for sending money to the wrong account. After talking to customer service for almost 2 weeks when money was supposed to be in my account the very next day and talking to the bank come to find out they did receive the money back from the bank and want to investigate the bank which makes no sense because CashNetUSA are the ones who sent the money in the wrong account, after making the mistake they made they try to treat me with a nasty neglectful uncaring attitude as if it was my fault.
CashNetUSA needs to be investigated for not giving people the money they say they are approved for and after retrieving people's personal information name address and Social Security numbers trying to hold people responsible for things they did not receive and taking money out of people's bank accounts after not receiving anything they were approved for. This is stealing regardless of the fact they are licensed loan officers. They are still committing a crime of theft. I encourage anyone to rethink giving up your personal information to these people. You will regret it and I also hope the FBI look into the fraudulent acts that are being committed through CashNetUSA. People are taking out loans to start businesses, feed their families and pay the bills. We do not have extra money to be paying out for something that we have not received.
This is not right. This is totally wrong and they should pay for it and I hope and pray that people will get together and lawyer up because that's something that needs to be done and that is something that I will look into. Keep a eye on your identity because if they can try to steal money out of your account they definitely will try to take your identity as well. Something is definitely not right with CashNetUSA and they also need to take down the commercial on TV leading people to think that they can receive assistance so that they can take money out of people's account when they are already struggling or looking for outlet to start something new financially. Good luck folks and I wish you the best.
Do not use CashNetUSA and to you CashNetUSA you need to do better and you need to get better customer service and you need not to steal people's money. What you are doing is wrong and there will be a day that you will be investigated and stopped and will have to pay back every dime that you have stole from people. And to the workers of CashNetUSA how can you work for a company that you know is doing fraudulent business? How can you promise people on the phone that everything will be taken care of when you know what this company is doing? How can you sleep at night knowing the company that you are working for is stealing people's money? How would you feel if it was you? How would you feel if someone was stealing money out of your account that you worked really hard for, money that you never received but steals money out of your account just to make their pockets rich? How would you feel when you know you are already struggling and trying to make it that money is being stolen from you? How would you feel?

I have used cash payday loans before but Cashnet is the worst company I have ever dealt with in my life. Before applying for the loan I called and asked many questions because I know how companies are about their "small print". The representative advised me it would be 37.00 per paycheck. I agreed that would be fine. I get the first bill and it is for over 100.00. I called and explained this is not what I agreed to and they basically called me a liar. Next I tried to make some sort of payment arrangements and was told that there were none available. They have been taking varying amounts out of my checking account every payday always more than 100.00. Granted this is my fault for trusting any online company such as this. I have learned my lesson but I would warn anyone that might be thinking about help from Cashnet. They will make your situation worse than what it already is!
When I called today after 3 payments my balance is more than what I borrowed in the first place and I have already paid them over 350.00. I think dishonest companies like this should be put out of business, because they prey on poor people and people stuck in hardship situations and offer them no help but more problems. That is not the kind of people I want to do business with.

I am very upset by these people. For starters, They are trying to tell me I RECEIVED a loan Which, I never did receive. Now, they started my day by insisting I pay $890. For an unpaid loan, which I never RECEIVED. Or, they are sending a summons to my doorstep! I managed to talk the payment down, to the amount of supposed loan - Which, I cannot afford to pay - But, agreed to pay in an order to get information about this, supposed loan. Now, they tell me I must go to a MoneyGram place, to pay it! Here is the kicker of it, They refuse to give me any documentation on this, situation! Basically, telling me "We will see you in court!" Today, is the first time I ever, even heard about this!!!

On Oct. 21 someone applied for a loan in my name with a account that didn't even exist. I called to let them know that this was not me. When I really needed a loan and I faxed them all the correct information and they denied me. How can you approve a loan that was fraud and deny me with the correct information. This company is FRAUD.

When I applied for the loan I asked about paying more than monthly payment. I was told that would help lower my payment.. That was a lie. I paid 150.00 of 263. And they still took out 130.00 which equals 280.00 more than 263.00. Next time they took 263 for payment and 3 or 4 days later my pay off 719.00. Over 900. For 800 dollars.. after 3 months at paying 263. Plus 280. Plus 263.. So I say thieves and litters. Terrible business to use for a loan.

This company overcharge more than other companies I've used. Your payment is never the same. They won't let you pay it off online if you're from Tn. is what I was told. The website is awful. Run from them if you can...

Do Not Trust This Crazy fraud company. I can't even call them company, unprofessional and unacceptable. I was approved for a loan $750.00. Payment would be $65 to $75 a month. Then later I find they're taking huge amount $ from my account every week and that's not what I was been told when I spoke with fraud customer service. The only solution you must do - close your account immediately. This is scam. DO NOT TRUST THIS FRAUD. CASHNET MY **.

Scammed out of 200.00. Applied for cash loan 2000.00. Was told to purchase 200.00 itunes gift card apple. I did. Stupid. Called back Calvin ** and he's been telling me "yes it will be deposited into your checking account". Well called back, he belittled me, began screaming and calling me poor and stupid. Sorry if my husband passed away from cancer and left me a widow. Been scammed for 200.00. I contacted apple escalation department gave them gift cards numbers and info. Contacted corporate family dollar where purchased, and attorney general PA and NY. This outfit needs to be stopped and fined. Thank you. I would like my 200 credited, that was my bill money.

First of all we got an email from a guy named Johnnie **. He stated that we were approved for $8000. Then asked to make a MoneyGram to a guy named Phillip ** it didn't work. Then to do a Western Union to a Leon ** in the CT for the amount of $323.00. I tried to stop the Western Union but it had gone through. That was to be the first payment, but I told my hubby to get a loan, "you don't pay for a loan, not this way." Western Union couldn't do anything for me. Sent him a cursed email lol **. Tried to tell my hubby it was a scam. But it was done and we had been scammed. Lesson learned. Take care, I trust no one ever again.

I received a phone call yesterday from a man name John. Claimed that I owe for a loan back in 2011, that I haven't paid. Said if I don't pay $1200.00 now, someone is coming to either my place of employment or my home to arrest me, and I should go to the local court right now. When I told him that this is the 1st I've heard of this and that I don't believe I owe anything, his reply was, "They looking for you now." Later that same day I get a call from a lady named Jessica ** that just reads out a reference number and says, "Consider this your notice. They out right now looking for you to arrest you."
Today I received a call from John again. I asked him to send me copies of the documents, his reply was, "What documents. You owe us and are going to be arrested for fraud." When I tried to explain to him that I have already spoken to an attorney, he started yelling, "Give me his number. I want to talk to your attorney. Give me his number now." This is totally a scam. I have been told that no one is coming for me, and they just want information so they can take money out of your account. The statute of limitation in CA is 4 years for breach of contract, and there is no fraud. Now these scammers are trying to call my family members. I was told I can sue this company for $1000.00 per violation of the Fair Debt Collection Practices Act. And calling family or friends, saying you're going to jail for a debt, are all violations. Please people don't do business with this company. They are scam artists!

Please out there that are trying to get a personal loan do not go to this Cashnet usa company. They are the worst company ever. They charge 300% of interest that instead of helping out they will sink you more. Stay away. The worst personal loan company EVER.

My foray into the risky business of online loans began in May, 2016 as I became re-homed after living homelessly for over a year. While writing a business plan to provide suitable and sustainable shelter for homeless seniors, I looked for ways to leverage my meager Social Security payment into enough money to stay standing financially as the project funding process proceeded. CashNetUSA was one of the early payday loan providers I found and I successfully paid off three payday loans with them in June, July and August. In their follow-up emails they began promoting their installment loans, which was what I really needed, so I applied and began getting calls from David **, whose name rhymes with pooper, which more aptly describes my ultimate experience with him and his "senior" (read "cohort in crime") Eric **.
David told me I had qualified for a $10,000 loan with CashNetUSA - a miracle! Exactly what I needed, so I eagerly began going through their puzzling qualification process. After all, it's CashNetUSA and I'd had successful experience with the company. What could go wrong? Indeed, what could go wrong soon became evident but not nearly soon enough for me to avoid getting all caught up in their fraud. In both June and July I went through the hoops that David and Eric gently and carefully led me through - until they asked for the username and password on my bank account. I knew better than to give them direct access to my account so I ended the conversation - twice - telling them that giving out that information was simply not done.
Then in August I reapplied for another 30 day online payday loan with CashNetUSA but this time I was only given until the 19th to pay it back. It cost the same $45 fee for a $255 loan (the maximum allowed in California for a payday loan), but there was no way to modify the term to the usual 4 weeks instead of just two. Since I needed the money to pay necessary expenses, I accepted the early payoff date and set about looking for another loan to cover it... Can you see it? Yeah, CashNetUSA had me right where they wanted me, desperate to find another loan by the 19th.
So it will come to no one's surprise when David ** called me again earlier that week with a "different" kind of offer. They understood that I didn't want to give them access to my account, so because I had been such a good customer with their company, and because they were actually a development team for CashNetUSA working on a mobile app for depositing checks directly into a checking account with one's smart phone, they offered to send me a check via email attachment to deposit with my smart phone as a preliminary test for the real deal when they would deposit $10,000 into my account. The hitch? Oh yeah, I would need to return that original deposit to them by funding an iTunes card and giving them the key code to pick it up from where they said they were in Chicago - but who really knows where in the world they really are? I certainly don't.
So they sent me a check via pdf attachment made out to me but from another type of business, a boutique, which they explained was part of their testing process as they're developing this mobile phone app. It didn't matter though because as it happens, I have a Windows phone, not an Android or an iPhone, just a little Nokia Lumia for which Wells Fargo had not developed a mobile deposit app. Figuring all of this out took quite a lot of time and effort that ended up thwarting this "work around" to their process. By this time (looking back on how the whole thing unfolded), I was seeing myself as part of their "development team" (Stockholm Syndrome?), and being a project manager (in my pre-recession career) I am accustomed to doing whatever it takes to get the job done...and that $10,000 loan was the job that needed to get done.
So I said okay, and gave them my username and password... BIG MISTAKE - WATCH AND LEARN. First they deposited $1,300 into my account. Wells Fargo sent me an email with an image of the check they had deposited. This check they deposited this time was not from CashNetUSA, it was from Check 'n Go, the first company to lend me $3,000 in June and for which I am paying nosebleed rates of $641 a month and with a current pay off amount of about $5500. Yeah - that's the price of desperation when one is trying to stay standing financially while working toward a remedy to end homelessness altogether. See ** for that endeavor.
But Check 'n Go? Well, I've already figured out that this is a very incestuous industry. When you apply for a loan through any of the lender aggregators that are out there, they are all rolling your application through the same database of lenders as everyone else. They all get a spiff when they get you to go get your credit score by enrolling in a free trial of a credit monitoring company, and I'm sure they get a spiff when anyone fills out a loan application from their affiliate link so they'll keep churning you through over and over again to maximize their return. That's just the way it works. So I didn't pay a lot of attention to the anomaly, nor did I catch at first that there was no banking information (routing number or account number) appearing on the image of the check.
When they instructed me to now go to a Walgreens or CVS to purchase iTune cards with the deposit the very next morning, I knew (or thought I knew) that Wells Fargo would only give credit for $200 until the deposited check had cleared. In fact, I was counting on that security measure to limit my loss if anything went sideways which it inevitably did, of course. But Wells Fargo was not properly secured either.
For the first time in my entire history of experience with this bank, I was able to withdraw the entire amount the very next morning. Now, why is that? Wells Fargo has no comment on that but they did inform me that they would close my account because those checks (the first one for $1300 and the second one deposited immediately after I took out the $1300 was for $2,000) were both counterfeit checks, and they maintain no accountability for the lapse in their own security system that failed to trigger when I withdrew the original amount.
I don't remember just now who said it, but it's true nonetheless: The only ones who will fail as the banking industry protects its own are the customers of the bank. The bank will not fail, (or so they think), the partners of the bank will not fail. The only ones who will lose their homes or their livelihoods, or access to whatever meager little funds we can accumulate - are we, the people, the customers who have no where else to turn. So that's where it's at. Wells Fargo will scoop up my $1344 Social Security check tomorrow to pay that back plus fees no doubt. And then they want to close my account. They generously say, per their policy, that no other bank will know why I am no longer welcome at Wells Fargo, but it doesn't matter. I can't open another checking account if I have no money.
Social Security goes to this account, automatic payments to support my services - phone, insurance, Google email storage (now no longer free ;-}) all are tied to that account, so all are now at risk. I've escalated my case to management and we'll see how that turns out. But my exploration into the risky business of online lending has come to a crashing and final end. Oh, and those payments to existing online loans outstanding? Well, now they get to reap the benefit of their nosebleed rates because my capacity to pay them has also come to an end.
So what happened with David ** and Eric **? Oh yeah, they went through all their gyrations like others have described in this thread of reviews, trying to get me to send them money for the "insurance" on this risky loan, for assigned fees that they say are coming out of "their pocket" LOL! When my account was suspended after their counterfeit deposit, David was crying that he was afraid he'd lose his job. You know, it became so comical, but the amusement was short-lived; I finally just stopped answering their calls.
At the conclusion of any project, successful or unsuccessful, there is always, or should be, an examination of Lessons Learned. Here are some of mine in hope that the reader will be forearmed and forewarned should they be enticed to enter this relatively new landscape that has emerged from the banking industry's fraudulent playbook of the last decade at least:
There is NO justifiable reason to give your username and password to ANYONE, no matter how plausible the reasons presented, no matter how desperate you think you may be. Looking for loans after having long ago fallen out of the prevailing credit model that the banking industry has us gripped in by the short hairs is a slippery slope at best. Tread very, very carefully keeping your wits and discernment well about you. Take heed of others' stories reported here who stepped back from the lure to find needed cash before it was too late and avoided the losses I've reported. In a way, I suppose, I was fortunate that I couldn't send in the money they kept me asking to send them to "qualify" for the amount I was hoping for. You can be even more fortunate if you'll just say no when David ** (or anyone of his ilk) comes calling with an offer that really is too good to be true.
What we need in this era of banking/credit model dominance in our financial affairs is a community-based credit union that in no way subscribes to the incredibly deficient business model of corporate control over irrelevant credit scores. That need will be fulfilled as we create the new enlightened business model described in the report available for download at **. Thank you for reading my tale and thanks to this website for giving us a platform from which to tell our stories about this issue. May all our paths going forward be bathed in radiant light and may we be fully grounded and supported along our way. I'm the Dragonfly Coalition Lady and I wish you all Peace and Blessings.

I have done business with them several times. No problems at all. As of the last week or so, I feel something has happened with the company. I call, no one ever gets on the phone. Chat is never available, and emails are not being answered. I asked to payoff my loan early as I do sometimes, they did not do. I cannot get through to anyone anywhere. Anyone else have this problem.

I got a loan for $950. As today they discount $2990 from my bank account. They taking advantage of the people. I called many times to make a payment to cancel the account and they told me the date pass and I have to wait more time. In the meantime they withdraw every months from my account. Some government agency has to be aware and regulate and investigate the business.

I applied for some loans online. Cashnet USA was one of them. I called them on 8/26/2016 and they told me I had been denied cause of outstanding debts. ON 8/27/2016 I get an e-mail with documents saying I was approved for $10,000 loan with 10% interest for 54 months with payments of $203.30 a month. I called the number on the loan and spoke with a Steve ** badge# **. Right there my red flag went up - I knew this was a scam. He had an India talk. He had ask for my online bank info, gave him the info and completed the rest of the call.
AFTER the call I WENT TO MY ONLINE BANK AND CHANGED ALL MY INFO. So come Monday they will not be able to do anything to my account. This Cashnet USA states they are in California. I Heard nobody else in the background. Their end kept breaking up so I Knew this wasn't a call center. IT IS A SCAM. BEING a former Deputy Sheriff and a Security Officer, I changed all my bank info so they can't scam me. I was only trying for $500.00 loan.

We applied for a loan on June 29, 2016. They called and said we were approved for 3000.00. I feel so stupid I fell for this. They said they needed ten percent of the loan and since I did have mobile banking to put it on iTunes cards, so I did. Then they said they needed five hundred dollars for a credit bureau report to pay off before they could release the money so I did 500 more. They said my loan would be 3800 now and even told me what the payments were going to be and that they were depositing the money.
I was relieved until about a half hour later, they called and said that the money wouldn't go through so they wanted to MoneyGram it to me but I had to pay the processing fee which was 400. By now I just wanted my money back so I paid it then they call and said there was additional processing fee. I had to pay 200 to get the reference number to pick up the MoneyGram. I gave it to them, 1400.00 and guess what, they called back and the first questions was "why didn't you pay that credit bureau off so we can release this money?" I knew then I was scammed for money I didn't have. I filed reports at the police station and card company and Walmart. Nothing's happened. Don't trust this, it is so wrong. We are still paying for it.

Was approved for loan of 950.00, was not put in my bank account. The idiots used my routing number as my account number. You guess it - they made the mistake and when told they have done NOTHING!!! What a rip off - if they think I owe them anything they are crazy. The Federal Trade Commission says this falls under a fundamental breach of contract and I have the right to sue. Guess what? I've got the proof - someone needs to bring them down to earth may as well be me!!!

I received 3-emails saying my 300 dollar loan was approved and money would deposited into my account. The problem is I didn't apply for a loan. So I called them and they said the money was deposited into my account. The account number didn't match mine. The only way to not be responsible for it was to file a report with police. So I tried but the police said they thought this company was a scam and they probably would try to collect money - don't give them any information. I didn't give them my actual account number but they already had my social.

Dave ** text me and said I was approved for a loan. He ask "how much". I said "600.00". He said I was approved. Payment would be 110 a month. He ask for my banking information so he could deposit my funds and then he ask for 50 for insurance. I told him "I never heard of paying money to get money". This is when my scam alarm came on and when I refuse to pay he said he was going to put me in jail. They are a scam for real. Please be careful. Don't be pull in by them.
Company Name:

Cashnet

Website:

https://www.cashnetusa.com/