What is a title loan?
Title loans are short-term, secured loans that use a vehicle's title as collateral

Written by

Edited by

A title loan is a secured loan that uses the borrower's vehicle as collateral. Title loan lenders will place a lien on the vehicle for the duration of the loan, which is typically 30 days. Title loans are typically small dollar loans with high interest rates. If a title loan is not paid back, the loan company can take ownership of the borrower's vehicle.
Title loan laws by state
Loan requirements differ by state. In some states, such as Tennessee, the actual vehicle must be examined by a lending agent. In Alabama, those looking for a loan must be at least 19 years old.
The process of repaying a title loan varies depending on the size of the loan and the terms of the loan agreement, but generally, payments are made monthly until the principal and interest are paid in full. Interest rates range from 29 percent up to 300 percent.
High interest rates from title loan companies have made headlines in recent years, leading several states, including Colorado and Oregon, to outlaw title loans. Other states have special restrictions on who can qualify for a title loan. Check the chart below to see if title laws are legal in your state.
In some states, companies can only offer title loans through loopholes that characterize the loan the same as any other type of loan. Lenders do so by having minimum loan amounts or extending the loan repayment period in order to meet state requirements. Others allow payday loans to owners of small businesses, but not to the general public.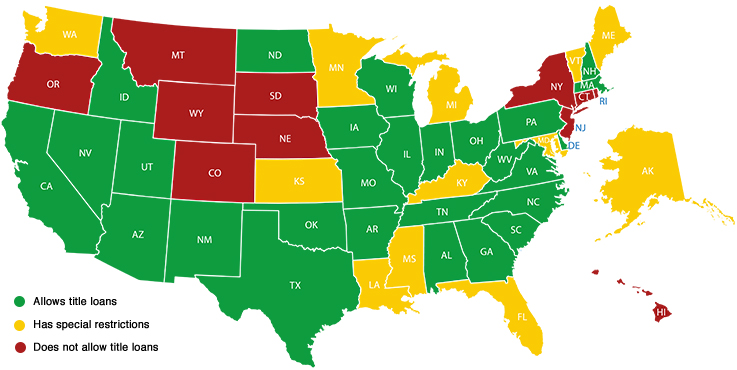 States that allow title loans:

Alabama, Arizona, California, Delaware, Georgia, Iowa, Idaho, Illinois, Indiana, Massachusetts, Missouri, Nevada, New Hampshire, New Mexico, North Carolina, North Dakota, Ohio, Oklahoma, Pennsylvania, South Carolina, Tennessee, Texas, Utah, Wisconsin, West Virginia

States that have special restrictions:

Alaska, Florida, Kansas, Kentucky, Louisiana, Maryland, Maine, Michigan, Minnesota, Mississippi, Vermont, Washington

States that do not allow title loans:

Colorado, Connecticut, Hawaii, Oregon, Rhode Island, South Dakota, Wyoming
Alternatives to title loans
A title loan is not the only way to get extra cash in a financial emergency. While a payday loan may seem like a comparable alternative for those who don't own their car outright, they also come with high interest rates and penalties. You might want to consider other title and payday loan alternatives like:
Personal loan: Funds borrowed from a bank or individual and paid back over a set period of time at interest rates from 6–36 percent.
Home equity loan: A loan taken on the difference between the worth of a customer's home and the amount left on a mortgage.
Additional work: Side jobs, such as driving for ridesharing companies such as Uber or Lyft, can provide additional income outside of traditional employment.
Downgrade your vehicle: If your car has significant value, consider selling it and downgrading to a cheaper model. You'll have a cash profit and you won't have to deal with lenders or interest rates.
Are title loans worth it?
There are times when you may be cash-strapped and looking for a short-term solution. Title loans are a popular option, but it's important to understand the loan you are signing and how it works. Make a plan to pay off the loan as soon as possible to avoid penalties and punitive consequences.
Did you find this article helpful?
|
You're signed up
We'll start sending you the news you need delivered straight to you. We value your privacy. Unsubscribe easily.