Best home security systems in Chicago
Compare our Chicago home security company reviews

The Windy City has a reputation for its high crime rate. With a 1 in 91 chance of being the victim of a violent crime, the city ranks 57 on NeighborhoodScout's 100 Most Dangerous Cities of 2019 list. When you factor in property crime, your chance of being a victim grows exponentially, with a tripled rate of 1 in 30. If you live in Chicago, a home security system offers additional protection for your home and can give you peace of mind about your family's safety.
Top 5 best home alarm companies in Chicago
When it comes to home alarm systems in Chicago, residents have quite a few options. To make it easy, we did the research and paired it down to our top Chicago home security picks. We spent 32 hours researching the services, cost and reputation of a variety of home security systems in Chicago and read hundreds of reviews for home alarm companies to gather our top choices. Compare our top picks below!
Best national home security systems
Best local home security systems
Best national home security companies in Chicago
Selecting a national provider for your home alarm monitoring service has a few notable benefits, including being able to move your service with you wherever you go—even if you move outside of your current service area. Most of the major national home security companies serve the Chicago area, our top picks were selected for availability, price, reputation, equipment and monitoring options.
Best for landline connection
Protect America
| Company name | Contact |
| --- | --- |
| | Available in Chicago |

Logo
Summary

Installation: DIY
Cellular monitoring: $41.99 per month
Typical contract: 36 months
What we like: Protect America's free home security system is an ideal choice if you want a basic burglar alarm, and their landline monitoring is one of the cheapest alarm monitoring options at around $19.99 per month. If you want high-tech features or need lots of door or window sensors, it's worth shopping around to compare prices. The basic system is free when you sign a contract with Protect America and includes a standard control panel, motion detector and entry sensor as well as a yard sign and window stickers.
What to consider: You'll pay extra for any additional sensors, smoke and fire monitoring, smart features (like smart locks and smart lighting) or live video monitoring.
What customers say:
Courteous and informative customer service reps
Step-by-step instructions make self-installation easy
Good systems at a fair price
Best for no-contract options
Vivint
| Company name | Contact |
| --- | --- |
| | Available in Chicago |

Logo
Summary

Installation: Professional
Cellular monitoring: $39.99 per month
Typical contract: 42 months; No contract required with upfront equipment purchase
What we like: If you're looking for professional home alarm and security camera installation, Vivint is an excellent choice. You can get home automation features like smart thermostats, Amazon Echo integration and smart lights that connect to your Vivint home alarm system. If you want a fully customizable system that comes with professional installation, then Vivint is an ideal home alarm company in Chicago.
What to consider: No contract is required if you buy your equipment up-front, which can be an attractive option to those who can afford the cost all at once. However, you'll get a lower cost on whatever system you choose if you sign a 42-month contract.
What customers say:
Patient, knowledgeable and helpful team
Smart home features with remote access capabilities, like turning lights on and off
Professional installation is quick and neat
Best for renters
Frontpoint
| Company name | Contact |
| --- | --- |
| | Available in Chicago |

Logo
Summary

Installation: DIY
Cellular monitoring: $34.99 per month
Typical contract: 12 months
What we like: Frontpoint offers a solid, portable alarm system with DIY installation. We love that Frontpoint's equipment can be taken from home to home if a customer moves during their contract, making it ideal for renters. Frontpoint offers discounts on upfront costs for those who opt to sign a longer contract, with a basic system costing about $200. This system includes a keypad, control panel, three door/window sensors, one motion sensor, one glass break sensor and a keychain. Camera systems with Frontpoint range from $600 to $975, depending on contract length. We like that Frontpoint's DIY security system won't cost you too much up front, and it comes with more features than most free home security systems. Even the most expensive system is less than $1,000 without a long contract, making it a relatively affordable option. It's a great choice if you're somewhat comfortable with technology and want to be able to take your system with you if you move.
What to consider: Frontpoint's cellular alarm monitoring begins at $34.99 per month, but a more typical monitoring package with surveillance camera features is likely to come in around $49.99 per month. Make sure you understand all costs and fees up front.
What customers say:
Easy self-installation with on-call customer service team available to walk customers through troubleshooting
Portable, wireless system makes moving easy
User-friendly smartphone features
Best local home security companies in Chicago
Local home security providers provide certain advantages over national providers. Working with a local company that knows your area inside and out can be a major advantage and help you get a system customized for not only your home, but your neighborhood. The best local security companies will still be able to provide top of the line equipment, as many of them partner with systems like Honeywell or Brinks, so you don't have to sacrifice quality for local service.
Best local provider for price matching
Security Doctors
| Company name | Contact |
| --- | --- |
| | 939 W North Ave Suite 750, Chicago, IL 60642 |

Logo
Summary

Installation: Professional
Cellular monitoring: $39.95 per month
Typical contract: 36 months
What we like: Security Doctors is a Chicago-based, family-owned business that offers home security and home automation services, with packages to protect against burglary, home invasion, fire, carbon monoxide, flooding and medical emergencies. They have a selection of wireless security cameras with remote monitoring and video storage capabilities, which are great for when you're away from home or to capture footage for the police in the unfortunate event you need it. Their home automation features can integrate with thermostats, lighting, locks and cameras. Security Doctors' installation fee starts at $99. Equipment costs will depend on what kind of security system features you want. T Cellular monitoring costs $39.95 per month, and landline alarm monitoring is offered at a reduced rate of $29.95 per month. We love Security Doctors' price match guarantee. If you bring them a competitor's price they will match the total cost of ownership, meaning you can be confident you'll always get the best price with Security Doctors.
What to consider: If you plan on leaving the Chicagoland area, you'll have to find another home security provider, which is why some Chicago residents opt to go with a national provider.
What customers say:
Sophisticated security systems and cameras
Knowledgeable staff provides custom recommendations for your needs
Reliable service with competitive pricing
Best local provider for seniors
Forest Security
| Company name | Contact |
| --- | --- |
| | 2720 Thatcher Ave, River Grove, IL 60171 |

Logo
Summary

Installation: Professional
Cellular monitoring: $39.95 per month
Typical contract: 60 months
What we like: Forest Security is a locally owned and operated business with 50 years of service as a home security provider. They offer customized security packages, including energy management and home automation packages, as well as video surveillance options. They also offer a wellness service geared toward seniors that includes a wearable emergency call "panic" button. We love that Forest Security offers rate guarantees, meaning they won't raise your monthly rate during your contract term unless you opt to add new features. Cellular monitoring costs $39.95 per month, and landline alarm monitoring is offered at a reduced rate of $29.95 per month.
What to consider: If you choose cellular monitoring, installation is free. The installation will cost you $149 if you want landline monitoring. Standard equipment is included.
What customers say:
Solid customer service from pre-sale through installation and beyond
Intuitive, easy to use system with monitoring for break-ins and environmental dangers
Modern wireless equipment with mobile access via a smartphone or computer
How safe is Chicago?
So, what is the crime rate in Chicago? According to NeighborhoodScout, per 1,000 residents, the property crime rate for Chicago is 32.56, while the violent crime rate is 11.15. These crime rates are higher than both the Illinois state average and the nationwide average, making Chicago one of the more dangerous places to live, statistically.
Like any city, the Chicago metro area has both low crime and high crime areas. You'll see a higher concentration of crime occurring in West Side and Central Chicago neighborhoods and communities like Austin, Near North Side, Loop, Near West Side and North Lawndale. Lower occurrences of crime are seen in the North Side community of Edison Park and Forest Glen on the Northwest Side. You may also see reduced crime rates if you opt to take up residence in one of Chicago's surrounding communities, like Naperville, which is about 30 miles outside of Chicago.
Chicago crime rates
| Location | Burglary Odds | Crime Rate/1k | Property Crime/1k | Violent Crime/1k |
| --- | --- | --- | --- | --- |
| Chicago, IL | 1 in 204 | 43.83 | 32.87 | 10.96 |
| Aurora, IL | 1 in 546 | 15.94 | 13.36 | 2.58 |
| Elgin, IL | 1 in 578 | 16.20 | 14.21 | 1.99 |
| Joliet, IL | 1 in 333 | 21.41 | 17.77 | 3.64 |
| Naperville, IL | 1 in 1,136 | 12.67 | 11.75 | 0.92 |
| Waukegan, IL | 1 in 198 | 26.84 | 22.73 | 4.11 |
How to choose a home security system in Chicago
Understanding the crime rates for your specific city can help you determine what kind of features you should add to your home security system. Even if you live in one of the safest neighborhoods in Chicago, you can benefit from a home security system and security cameras.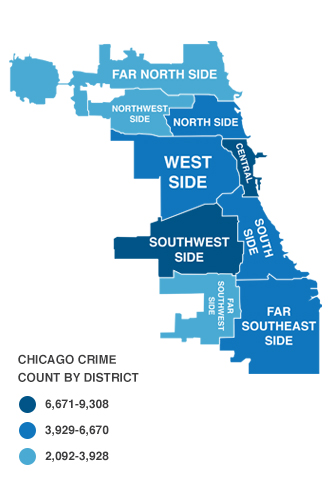 Burglar alarms and property crime in Chicago
If you live in an area with a lot of property crime, like Chicago, Waukegan or Joliet, consider investing in wireless security cameras and motion detectors. Motion detectors that are connected to your security cameras ensure that the cameras will start recording whenever movement is detected. These recordings can make it easier for the police to catch anyone who tries to break into your house.
Home security cameras often have the option of two-way communication, so you can hear whatever is happening and speak to anyone there. You can use these systems to tell a potential criminal they've been seen and that you're calling the police. This might make them go away, preventing all kinds of criminal activity.
Burglar alarms and violent crime in Chicago
Security cameras are also a good investment if you're worried about violent crime. You can place wireless cameras with motion detectors that alert you to activity both inside and outside your home. Security cameras like this will help ensure no one gets into your house without your knowledge.
Smart home security features can also help keep you safe. For example, you can get a Wi-Fi connected garage door, so you can open your garage before you pull up to the door or check to make sure it's closed after you've left the house. Try to look for a system with a panic button feature that notifies the police or your alarm system of an emergency in the event you're unable to make a phone call.
Chicago home alarm registration and fines
Some cities require you to get an alarm permit for any monitored home security system. Police respond to thousands of false alarm calls each year, and the cost of those adds up. Cities and counties charge an alarm registration fee and false alarm fees to offset that cost.
There is no Chicago alarm permit, but police could write you a ticket if they respond to a false alarm. Many suburbs do have an alarm ordinance or false alarm program.
False alarm fines in Chicago suburbs
|   | Alarm Permit Registration Required | Free False Alarms per Year | Fine for Additional False Alarms |
| --- | --- | --- | --- |
| Aurora | Yes | 2 | $100–$400 |
| Elgin | Yes | 4 | $100–$300 |
| Joliet | Yes | not specified | not specified |
| Naperville | No | 2 | $100–$350 |
| Waukegan | Yes | 2 | $50–$100 |
Bottom line: Which Chicago home alarm system should I buy?
Installing a home alarm system can help keep you and your family feeling more secure. From our research, Chicagoans have a few solid options when it comes to home security companies that serve the area. We looked into several locally-owned home security companies in Chicago, and if you're sure you won't be moving anytime soon, Forest Security and Security Doctors are good choices. If you choose a local company, be prepared to give them your contact information before they'll give you a quote. Most local companies only offer professional installation, so if you're looking for a cheap security system that you can DIY install, a national provider like Frontpoint may be better.
Did you find this article helpful?
|