Written by

Edited by
Our promise. We provide a buying advantage with verified reviews and unbiased editorial research.
About Link Interactive
Link Interactive offers cellular-based, automated security systems. The app-based control system allows users to lock their doors, adjust thermostats, monitor cameras and open and close the garage door from their cellular device. Plans begin at $30.99 per month, with no installation or activation fees. The company offers a 30-day money-back guarantee.
Pros & Cons
Pros
Crash and Smash technology
DIY installation
Add-on products available
Cellular system
Cons
Upfront equipment cost
Contract required
Bottom Line
Link Interactive offers a simple DIY installation with three straightforward plans. Although the equipment costs money upfront, the contracts are flexible and discounts are available.
Featured Reviews
Verified
Gretna, NE
I called them up on the phone and told them what equipment I wanted. They ordered it and I received it about seven days later as promised. I set it up myself. There were instructi...
Read full review
Verified
Elk Grove, CA
I looked at two companies then I decided to set up myself with Link... The representative explained everything that they had to offer and I liked everything I heard. So far, it's ...
Read full review
How does Link Interactive work?
Link Interactive is a home security firm that offers three plans for consumers wishing to keep their family, home and belongings safe. The company offers one-, two- and three-year contracts. Link Interactive has "Crash and Smash" technology that keeps everything operational, even if an outside force attempts to cripple the system. Link Interactive installation is do-it-yourself and shouldn't take more than an hour to install.
The steps for getting set up with Link Interactive are simple.
Choose your equipment: First, pick equipment like the control panel, cameras, home automation devices and more.
Give Link Interactive your information: You then provide Link Interactive with vital details, like where you want your system installed and a list of emergency contacts.
Choose what plan and additional services you want: Link Interactive has three plans to choose from, and you can add other services like professional monitoring if needed.
Review and agree to a new contract: Once you've agreed to the contract, you're all set up with Link Interactive.
Link Interactive plans and price
The Standard Plan from Link Interactive is its primary plan, which provides professional monitoring. The Gold Plan adds home automation, allowing you to control elements like lights, heating and air conditioning either online or from an app. The Elite package has everything in the Gold and Standard plans, as well as high-definition video monitoring capabilities.
Link Interactive Standard Plan: For $30.99 per month, you get professional monitoring services and life safety alerts in case of smoke, fire or carbon monoxide.
Link Interactive Gold Plan: For $39.99 per month, you get 100% cellular services with two-way voice-to-monitoring station technology. Home automation features include remote controls through the website or app for energy management, smart lights, locks and thermostats.
Link Interactive Elite Plan: For $47.99 per month, you get everything included in the Gold Plan plus on-demand, scheduled and object-activated HD video monitoring and recording.
Standard

Gold

Elite

Professional monitoring
Remote control online or via app
Energy management
Automated lights, locks and thermostats
Video recordings and analytics
Link Interactive equipment
Every Link Interactive plan comes with standard home security equipment, including a control panel, entry sensors and a high-decibel siren.
You can add a Link Interactive doorbell camera, a Link security camera or a Link Interactive thermostat. Additional equipment options include the following:
Temperature change monitor
Smoke detector
Indoor and outdoor cameras
Garage door sensors
Motion sensors
Door and window sensors
Link Interactive products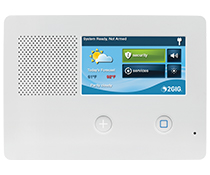 Link Interactive
Smart Home Panel
$335 as of publishing date
The Smart Home Panel, also called the 2GIG Go!Control panel, allows users to control the system from anywhere, even outside the home, by using a smartphone or web-enabled device. The panel itself has two-way voice, emergency buttons and multiple alarm options in addition to home automation and remote control.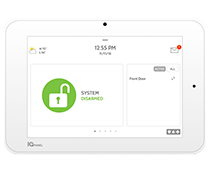 Link Interactive
IQ4 Premium Smart Home Panel
$404 as of publishing date
This Premium Smart Home Panel, also called the IQ4 Premium Smart Panel, has a 7-inch HD touch screen and a 5-megapixel camera built into the panel. The company promises a clean user interface. It connects to all smart devices in your Link Interactive system and allows users to disarm the system without touching the panel. It also has a built-in camera that can send disarm photos to your phone.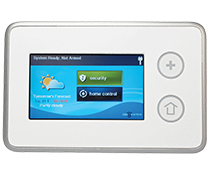 Link Interactive
Secondary Touchpad
$241 as of publishing date
This touchpad is an add-on to any 2GIG system. It allows you to access your system anywhere in your house. The system has a touch screen and can play or display chimes and alerts. The screen can darken completely and lighten back up with one touch, so users can keep it in their bedroom without the intrusion of light.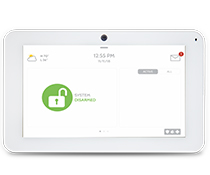 Link Interactive
IQ Remote
$215 as of publishing date
This product is a secondary tablet that you can combine with the IQ Panel 2 Plus. It allows you to arm and disarm your system and check the status of sensors from anywhere in the house. The IQ Remote has additional functionality that can't be found in the app, such as emergency alarms, chimes and a siren.
Link Interactive FAQ
How do I cancel Link Interactive?

You can cancel Link Interactive whenever you want; but, you'll still have to pay the remaining balance of cour contract. It's probably best to explore a month-to-month agreement if you're unsure of your decision.
What is Link Interactive Takeover?

Link Interactive Takeover is a plan that lets you work with Link Interactive to help transfer you from your current home alarm security system to the Link Interactive security system.
Is there a Link Interactive app?

Yes. Link Interactive offers an app through Alarm.com. With the app, you can control and monitor your security system remotely.
Is Link Interactive worth it?
With flexible plans and a solid line of equipment, Link Interactive is a good choice for a reliable home security system. The company does require a contract and requires an initial investment, but the services offered are worth the cost. Overall, Link Interactive alarm systems are an excellent choice for your home.
For more, see how Link Interactive compares against our top picks for home security systems.
A link has directed you to this review. Its location on this page may change next time you visit.
How do I know I can trust these reviews about Link Interactive?
4,306,858 reviews on ConsumerAffairs are verified.
We require contact information to ensure our reviewers are real.
We use intelligent software that helps us maintain the integrity of reviews.
Our moderators read all reviews to verify quality and helpfulness.
Page 1 Reviews 0 - 10
Reviewed Sept. 4, 2020
We looked at Vivint and what that would cost, and then looked at the Link and decided that it was a better way to go. I called them up on the phone and told them what equipment I wanted. They ordered it and I received it about seven days later as promised. I set it up myself. There were instructions in the box on what to do and when to do what. I like what I got. It's a two or three panel and I also have the recessed door sensors, which are nice. Then the camera is good out front.
Reviewed Aug. 26, 2020
I have trashy neighbors. Then I was gonna be out of town for a while, and my wife is pregnant. Signing up for Link Interactive was easy. I just chose a generic package and their system was a do-it-yourself kinda thing. I set it up before I left. And my wife is the one that has been using it. It seems to be working fine.
Thanks for subscribing.
You have successfully subscribed to our newsletter! Enjoy reading our tips and recommendations.
Reviewed Aug. 25, 2020
We just moved into a new home about eight weeks ago and the system that the builder had installed was antiquated. It was an old ADT kind of a system and I wanted a touchscreen all kinds of bells and whistles and to be able to control it from my phone. So, I had to purchase a new one. I have a couple of different properties and I've had Vivint as well as Frontpoint. Link Interactive's service is comparable but it's a little less expensive so I'm happy with that. A lot of times, the salesperson would talk to you about all the great benefits, levels of service and tech support. But more often than not, that ends up being a little bit over promised and you have to end up figuring it out or doing it yourself. In this case, sales was informative, consultative and very helpful. It was backed up by always being there when I had questions. The tech team and the support team were there when I needed to do my install. So, I couldn't be happier.
The system's features were great because the builder installed a wired system to a number of things in my new home and that was put into the control box all wired but I wanted to control everything wirelessly. So, they helped me with the solution to install the necessary hardware to communicate with their new screen so that I could make use of the existing system that the builder installed but also add the features that I wanted to. They were a little more involved than just coming to my house, installing a screen and a cup of glass break protectors. I got the support and knowledge that I needed. Everybody seemed to know exactly what they were talking about. So, it was impressive.
The only thing that didn't go supremely is that I had ordered some hardware, which I received, but the doorbell camera was too wide for the space I had available on my house. So I had to return that camera. Link has contacted me a couple of times about the replacement but I've not had time to take a look at it. But that wasn't their fault nor mine. That was just one of the crazy things in life. They've made this easy and the return was managed well.
Reviewed Aug. 24, 2020
The Link system was offered through Costco, originally, and I'm a big fan of Costco. Secondarily, it allows for home automation without any added fees to be able to use the full home automation features. Many of their competitors charge extra fees to use home automation. Recently, I upgraded my system and I had a tremendous experience. I got somewhat lucky and ended up with the sales manager on my call. He was extremely helpful. It was a complicated transaction and he made sure that it went perfectly smoothly.
The systems are very intuitive. There are parts that most of it you can do on your own. But there are some things that you have to call tech support for. Most times, unless they have a really high call demand, usually you're able to get through pretty quickly. The technicians are very knowledgeable to be able to walk you through any troubleshooting or do any of the steps that they have to do on their end. It's been very reliable. I've only had one kind of unexplained false alarm in five years. Overall, I'm very pleased. Link Interactive is easy to deal with, responsive, and overall high quality.
Reviewed Aug. 23, 2020
I moved to a new state. The customer service representative at Link was pretty attentive and I picked what I wanted. The functionality of the system was pretty easy. Mine won't connect to WiFi currently, but other than that, it works. The smartphones feature is helpful as well. I'd recommend it to somebody.
Reviewed Aug. 22, 2020
In the beginning, I was told that Link Interactive had the most flexibility with I could connect whatever kind of devices that I wanted to it. But I wish more things would've been included. Everything has to be bought up upfront. I wanted more cameras, but I didn't feel like buying them. I don't really know much about smart home stuff, so I don't know what to pick out. I'm to the point of where I've done nothing. I almost actually cancelled. Another company was offering to buy out my contract for me to switch. I didn't end up going with them 'cause I didn't want to do a five-year contract with them. They had a lot of good smart home options, but the sales guy got on my bad side.
We tried to DIY the Link system. We did the panel setup and all the sensors, but we didn't install the smoke detector yet or the doorbell. It was kinda hard to figure out when I actually didn't set up the system as my roommate was doing it. We couldn't get ahold of anybody, but they helped us, and we got the instruction for the wrong model.
Reviewed Aug. 21, 2020
Link Interactive was referred to us. We had a different system before and the technology is the same. We're actually using our old sensors from the prior company with our Link system. Overall, they both seemed to have really good customer service and service. Link's price was just much more competitive. Link gave us the same rate that the friends we got referred to Link by had, which was really a good rate. it's significantly less money per month.
Link's rep was awesome. He wasn't pushy. He was super nice, helpful and knowledgeable. He was a good guy. I did the installation myself. It was fine. We had problems with one sensor, but that sensor was old and needs to be replaced. So, I think it was malfunctioning. But other than that, the installation was pretty straightforward. As far as the system, the app's what I like the most. Overall, my experience has been great.
Reviewed Aug. 20, 2020
Going through Link Interactive's process is simple for someone who is tech-savvy. I work in technology but I had to get on Google for a couple of things on how to set up my garage door opener with their system. I called them one time and the reps I got were helpful. It was easy to do things myself. However, the touchpad they have is not as advanced as I would think. It looks like an outdated Galaxy tablet that has a thick border. I work with cell phones and I like a no-border type of thing. Regardless, Link's customer service has been good. If there's a problem, I can call. Overall, I've had a good experience with the company. The system I got has been working well. Sometimes the system goes off like when my garage door went offline but those issues are probably router-related. I just reset my router, went back to Link Interactive's website and saved my garage door thing.
Reviewed Aug. 15, 2020
Link had the most reasonable price and what we're looking for. We did the installation ourselves. The motion sensors are not working though. I contacted Link and they did nothing.
Reviewed Aug. 14, 2020
I was trying to do everything remotely, and out of the companies that I called, Link Interactive was knowledgeable enough to do everything just by me giving them information and everything running right from their systems. Nobody has to come over to the house. We had to cancel on our first month because I didn't know that the property that we just moved in already had contracted another security system that installed everything inside. When I went ahead and did the installation of Link Interactive, they were saying that if I was gonna use Link Interactive, then I was gonna get charged the equipment that was already installed. So, we had to go ahead and cancel Link Interactive. Everything was good with Link. They helped out with everything and on the first call, we were able to ready everything. As far as service is concerned, they provided it.
Link Interactive Company Information
Company Name:

Link Interactive

Company Type:

Private

Year Founded:

1952

Formerly Named:

Link Home Security

Address:

3293 Harrison Blvd

City:

Ogden

State/Province:

UT

Postal Code:

84403

Country:

United States

Website:

www.linkinteractive.com
You're signed up
We'll start sending you the news you need delivered straight to you. We value your privacy. Unsubscribe easily.