Find Home Alarm and Security Systems near you
Our promise. We provide a buying advantage with verified reviews and unbiased editorial research.
About Ring
This profile has not been claimed by the company. See reviews below to learn more or submit your own review.
Ring's home security devices include its popular video doorbell system, security cameras and smart lighting. Its equipment is easy to install, and its plans are available with or without monitoring. All products work with Alexa-enabled devices, but that's the extent of its smart-home automation features. While the products are fairly affordable, the additional accessories and DIY monitoring may be expensive for some.
Pros & Cons
Pros
High-quality video surveillance
No long-term contracts
DIY installation
Optional monitoring plans
Cons
Few home automation features
Expensive accessories
Bottom Line
Ring is a solid security system for those who want to monitor their homes remotely. Additional Ring security products can get pricey, but customers enjoy not having to sign a long-term contract.
Top Ring Reviews
The overall security system is great because it allows you the ability to connect between different devices. I am able to connect my outdoor floodlight camera with the Ring mobile...
Read full review
The Ring system was very easy to set up. I installed three ring floodlights, a doorbell and a chime pro. I can view all sides of my house and the doorbell notifies me, even if the...
Read full review
What is Ring?
Ring is a DIY security system that helps you protect your house, apartment or commercial business property. Ring's video doorbells let you see and communicate with people on your doorstep from your phone, tablet or compatible Amazon Echo device. Its 1080p, high-definition outdoor spotlight cameras have a 140-degree horizontal field of view and a 78-degree vertical field of view.
Through Ring's Neighbors app, customers also get real-time safety alerts from their local law enforcement, homeowners associations and community groups. Ring is compatible with most Dome Sirens, Ecolink sensors, First Alert alarms, GE and Leviton lights and smart locks from Schlage, Yale and Kwikset.
How does Ring work?
Ring security systems require Wi-Fi to send push notifications to your smartphone or tablet. Its video doorbells operate on battery power and use Wi-Fi to alert you when someone presses the button or when they detect motion, and its contact sensors send instant mobile alerts when doors or windows open on your property. You can pair these sensors with an Alexa device and hub to add voice control capability. The sensors are also compatible with iOS and Android devices.
Most connection processes for Ring products take place through the Neighbors app, which is available for Apple, Android and Windows 10 devices. With the Neighbors app, you can stream video and communicate through two-way audio with anyone on your doorstep. You can also control a few home automation functions from the app, including smart lights and locks.
Ring equipment and security accessories
The Ring alarm home security kit comes with a base station, motion detector, contact sensor, keypad and range extender. Once you have the alarm base kit, you can customize your home protection with video doorbells, surveillance cameras, alarm contact sensors and other Ring security products.
Ring products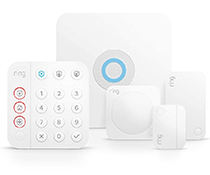 Ring
Alarm 5-piece kit
$199.99 as of publishing date
DIY installation. Includes one base station, one keypad, one contact sensor, one motion detector and one range extender. Optional 24/7 professional monitoring. Works with Amazon Alexa.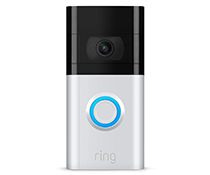 Ring
Video Doorbell 3
$179.99 as of publishing date
1080p HD video. Two-way audio. Dual-band Wi-Fi connectivity. Receive mobile notifications when doorbell rings or motion is detected. Includes a quick-release rechargeable battery pack or hardwire for constant power. Works with Amazon Alexa.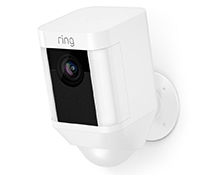 Ring
Spotlight Cam
$199.99 as of publishing date
1080p HD video. Infrared night vision. Built-in two-way talk. Includes a rechargeable battery pack. Lifetime theft protection. Works with Amazon Alexa.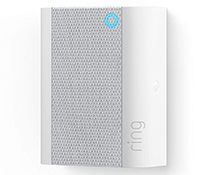 Ring
Chime
$29.99 as of publishing date
Easy set-up. Plugs into standard outlets to provide notifications for Ring cameras and doorbells. Connects to existing Ring devices via Wi-Fi. Easily adjust chime tones, volume and alerts.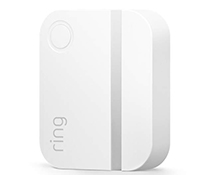 Ring
Contact Sensor 2-Pack
$39.98 as of publishing date
Easily mounts to door or window frames with no tools. Small design for increased placement options. Includes two 3-volt lithium batteries. Requires Ring Alarm Base Station.
How much does Ring cost?
Upfront costs for Ring equipment range $60 to $1,010. Ring Protect plans cost between $0 and $10 per month. All Ring plans — Free, Basic and Plus —  include motion notifications, real-time video streaming, two-way talk features and lifetime theft protection.
The company only charges monthly subscription fees if you want video saving and sharing or a professional Ring monitoring plan.
Ring alarm kits start between $200 and $300. Total costs are higher if you customize the system with more cameras and smart accessories. Those who qualify can take up to 12 months to pay without interest.
All packages come with access to the Ring app and the option for professional monitoring for an extra $10 per month. Some of the best-selling Ring kits are:
5-Piece Security Kit: For $199.99, this base kit comes with a base station, keypad, contact sensor, motion detector and range extender.
8-Piece Security Kit: For $249.99, this package comes with everything in the base kit plus three extra contact sensors.
10-Piece Security Kit: For $259.99, this package comes with everything in the base kit plus four extra contact sensors and an extra motion sensor.
14-Piece Security Kit: For $329.99, this package comes with everything in the base kit plus one extra keypad, seven additional contact sensors and another motion detector.
Ring installation
Ring designed its security systems for easy installation. Once you unpack the equipment, all you have to do is sign up for the app and register your Ring Alarm Base Station. You then complete the setup by placing the sensors and motion detectors around your home or business.
You can install a Ring doorbell yourself. Simply mount the video doorbell in the desired location, and it will automatically connect to the Ring app via Wi-Fi.
If you opt for a Ring professional monitoring plan, you get a seven-day "practice mode" period to get to know your new system without triggering false alarms.
Ring security FAQ
Is there a monthly fee for Ring?

Sometimes. Ring only requires monthly subscription fees if you want premium features or professional monitoring. These plans cost between $3 and $10 per month.
Does Ring require a subscription?

No, Ring only requires a subscription if you want optional features or professional monitoring services. You can monitor your Ring home security system in real time through your phone for free.
How long does a Ring battery last?

The Ring video doorbell battery lasts between six months and a year, but the battery may run out more quickly in colder climates.

The battery life of other Ring devices depends on their usage.

Ring Base Station: Internal rechargeable battery with up to 24 hours of backup
Ring Contact Sensor: 3-volt lithium battery; lasts up to three years
Ring Alarm Keypad: Internal rechargeable battery; lasts up to seven months
Ring Alarm Motion Detector: 3-volt lithium battery; lasts up to three years
Ring Alarm Range Extender: Internal rechargeable battery with up to 22 hours of backup
Ring Panic Button: 3-volt lithium battery; lasts up to three years
Are Ring doorbells waterproof?

Ring doorbells are resistant to rain and freezing temperatures. However, you should not submerge them in water.
Can you have multiple Ring doorbells?

Yes, you can have multiple Ring doorbells on the same property.
Is Ring owned by Amazon?

Yes, Amazon acquired Ring in 2018. Ring works with Google Assistant, Amazon Alexa and Apple HomeKit. Alexa has the most thorough integration of the three.
Is Ring worth it?
Ring is a smart option for homeowners, business owners and renters who want to monitor their property from their phones. Ring video doorbells come equipped with infrared night vision, automatic motion detection and recording capabilities.
Professional monitoring plans are optional, and there are a variety of Ring alarm accessories that make it easy to customize your protection level. With professional monitoring, Ring calls your local police department if the system detects a security threat.
For more, compare how Ring stacks up against other popular DIY options:
A link has directed you to this review. Its location on this page may change next time you visit.
How do I know I can trust these reviews about Ring?
4,244,871 reviews on ConsumerAffairs are verified.
We require contact information to ensure our reviewers are real.
We use intelligent software that helps us maintain the integrity of reviews.
Our moderators read all reviews to verify quality and helpfulness.
Page 1 Reviews 0 - 10
Nom of Paoli, PA

Verified Reviewer
Original review: June 5, 2023
I have several Ring cameras that I installed to monitor my visitation. While the sound and quality of the videos was okay, the real value to me was recording: It was important that I could preserve recordings so I subscribed to Ring Pro that would let you save unlimited videos (which are all very, very short--another problem). They offer short term storage and tell you that you can download the videos. But the download feature never worked and I could not save them unless I did so one at a time. And support was nonexistent. So I quickly became disillusioned.
I also had problems connecting one of the cameras and with a missing cord, and dealing with their support was like pulling teeth. I actually told them I would pack up and return the cameras and pulled the boxes but tried them one last time and they were able to resolve the issue (the replacement cord took about two weeks to arrive and I live in a very accessible area with lots of Amazon trucks around).
Then, after about a year, when I no longer needed the useless recording saving, I unsubscribed and used the cameras just to check in on the dog or to let me know if anyone entered the house. I set it to Away (armed) but not long after, Ring locked me out of the app and told me that if I wanted to change any settings, I had to subscribe to a plan. Screw that, subscribe for crappy service and support? Nope. So I had to delete the app on my phone and now I will sell the cameras on the aftermarket to the next fool willing to give Bezos more money. I am done.
Be the first one to find this review helpful
Lorena of Cambridge, Other

Verified Reviewer
Original review: May 17, 2023
If I could leave no stars, I would. I thought this was going to be a great thing to have, WRONG!! I have a Ring Video Doorbell 3. It was not easy to install. When it was installed, it did NOT ring inside the house, and it still does not. If I am not within hearing distance of my phone, I have no idea if someone is at the door ringing the doorbell. Their "customer service" is a joke. I have called them repeatedly, and they are no help. Every time I call, they send me info on how to pick a door chime. USELESS. DO NOT BUY ANYTHING FROM Ring. There are better and cheaper options out there.
Be the first one to find this review helpful
Thank you, you have successfully subscribed to our newsletter! Enjoy reading our tips and recommendations.
amanda of Calgary, Other

Verified Reviewer Verified Buyer
Original review: April 14, 2023
I bought Ring battery and solar panel from Ring Website. I paid in US DOLLAR, but they return it to me in CAD DOLLAR! I phoned Ring customer 4 times but I still didn't get return label yet. Every agent said "I will send it to you 24-48 hours" but after 5 days, NOTHING in my mailbox. Ring Team used this way to stop me to return the product. DON'T BUY RING! DON'T TRUST THE RING CUSTOMER OR SUPPORT TEAM!
Be the first one to find this review helpful
Susie of Union City, CA

Verified Reviewer
Original review: April 5, 2023
I bought IRing and it works ok. I paid extra for recorded video. The problem is it starts recording after the person left the video feed. So sometimes I get to see who was in front of my house and many times I don't. Sometimes it even missed the front door deliveries. I called the support line to see if this had a fix (hopefully here) and they said they could help me after 20 minutes with them. I had to call another number. It's just a waste of money and time. Going back to my regular alarm company.
4 people found this review helpful
manal of Menifee, CA

Verified Reviewer
Original review: March 26, 2023
This company doesn't tell the truth when it talks about safety and security, it is about money and only money. I am at 3 months and still didn't get access to the Doorbell. The Doorbell device comes with the house I bought (smart home). After talking to customer service representatives over the 3 months' time, they still want me to wait for 15 days and more until I get access, that is if the previous owner (or whoever has access) released it. I don't feel safe or secure in my own house.
Ring as a company should thrive to provide security, especially to customers who are ready to provide all documentation needed to prove ownership of the device. I believe I own the device because it comes with the house, which Ring as a company, already signed the deal with the builder. Waiting 15 days when ownership of the house is transferred is unacceptable. Maybe take note of the Solar company, and have the device linked to the house you are installing them in, and be responsible for your actions. I reached into a deal with a Ring supervisor after 2 hours phone call, and hope the company will work on implementing a better plan for future homeowners.
Be the first one to find this review helpful
Jim of New Hill, NC

Verified Reviewer
Original review: March 23, 2023
The Ring cameras are very good. But technical support/customer service is terrible. A family member updated his security system and he gave me cameras inside and outside. One of the outside cameras did not have a QR code because it came off in the weather. They stated you have to have a QR code to transfer it and set up. They told me I needed to purchase a new camera. LOl. If the QR code is that important then it should be placed in a protected place the weather won't get it. Very disappointed.
Be the first one to find this review helpful
Shane of Edmonton,

Verified Reviewer
Original review: March 16, 2023
Once again, the Ring alarm system has failed me. My motion light goes off and so I go to click Live View to see what's happening and it fails to give me Live View. So I log online to see if I can connect there and I get the same thing. There are so many times that I can't arm it because it fails to connect. And no, it's not my wi-fi. I have the most reliable and the fastest wi-fi available because I need it for business. I really wish I would have gotten a better system, as this alarm system cannot be relied on to protect me and my family. And of course there is never any Support to call after hours. Like all burglaries happen between office hours!
2 people found this review helpful
Ernest of South Windsor, CT

Verified Reviewer
Original review: March 10, 2023
I like the Ring basic product. It is good and reliable. However, I received an email offer for a Stick Up Cam Battery, which is just a battery operated satellite cam for $50 off. I went through the clicks and only $40 was discounted. Finally got in touch with customer support. After an hour, I was referred to another department. Was promised connection would be two minutes. After 5 minutes, I hung up. All for a lousy 10 bucks. Ring, you should get your act together. I question your act.
Be the first one to find this review helpful
Anum of Springfield Gardens, NY

Verified Reviewer
Original review: Feb. 10, 2023
This company has some of the worst customer service I have ever come across, they lie about sending verification codes to your phone number & email that connected to the Ring app, the automated system verified my account but they still don't even know in their system that show how dumb their system is. They are obsessed with the Amazon linked device's email, which isn't even the device I contacted them about, they still are stuck on sending a verification code to an email that's not even connected to the RING DEVICE, but an amazon device, I'm contacting them about RING device and they want me to verify my account using the email connected to a completely different device and application.
4 people found this review helpful
Larry of Winthrop Harbor, IL

Verified Reviewer
Original review: Feb. 10, 2023
Have talked to three different representatives over the last several days.... None of them have truly helped me.... Two of them refused to transfer me to a US representative....and after a week I still don't have a clue as to when my replacement doorbell camera will be coming.... Very frustrating experience to say the least. Larry
Be the first one to find this review helpful
Ring Company Information
Company Name:

Ring

Website:

ring.com
You're signed up
We'll start sending you the news you need delivered straight to you. We value your privacy. Unsubscribe easily.