Written by

Edited by
Our promise. We provide a buying advantage with verified reviews and unbiased editorial research.
About Wyze Reviews
This profile has not been claimed by the company. See reviews below to learn more or submit your own review.
Wyze is a tech company that aims to make advanced technology more accessible for everyone. It's known for its smart home systems, but it sells a variety of other products — like smart scales, lighting systems and vacuums. The company offers both professional and self-monitoring options.
Pros & Cons
Pros
Affordable starting price
Customizable
Free DIY option
Cons
Confusing pricing
Cam Plus required for most camera features
Bottom Line
Wyze sells customizable security equipment and monitoring plans. While some may find the features and pricing confusing, others will appreciate the range of solutions available to match their needs and budget.
What is Wyze?
Wyze is a smart home technology company that sells everything from smart home cameras and lighting to smart scales and robot vacuums. Other companies have huge markups for this type of technology, but Wyze offers relatively affordable and accessible options. It offers a free do-it-yourself monitoring option, which is ideal for customers who want a basic security system. There is also a professional monitoring option and a wide variety of equipment that can create a customized security system for any home.
Wyze products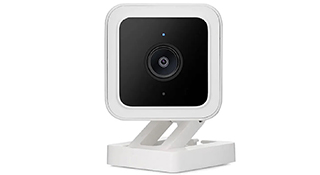 Wyze
Cam v3
$35.98 as of publishing date
Water-resistant camera that includes 1080p color night vision and certain types of environmental monitoring. Users can set motion detection zones and receive sound alerts.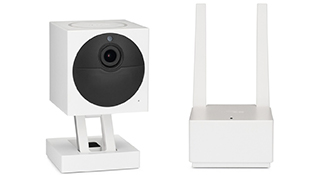 Wyze
Cam Outdoor v2
$73.99 as of publishing date
Wireless outdoor camera that can be mounted to a tree or on the outside of the home. Runs on two 2,600-mAh integrated rechargeable batteries that last three to six months with normal usage.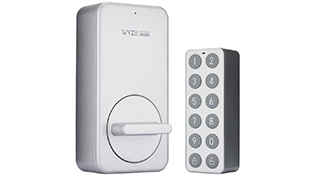 Wyze
Lock
$123.99 as of publishing date
Device that lets you lock and unlock your home from anywhere. Fits into an existing deadbolt, so there's no need to change your keys when installing the lock. Can also automatically unlock when you approach your door.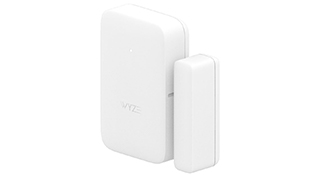 Wyze
Sense Entry Sensor v2
$23.99 as of publishing date
Sensor that can be placed on doors and ground-floor windows to notify you if one is forced open or left ajar. Comes in a three-pack. Requires the Wyze Home Monitoring Core Starter Kit.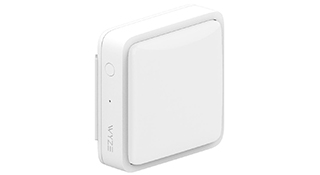 Wyze
Sense Motion Sensor v2
$9.99 as of publishing date
Motion sensor that notifies users when motion is detected up to 25 feet away. Sensitivity can be adjusted for pets and children. Requires the Wyze Home Monitoring Core Starter Kit. This product requires Wyze Sense Hub and will not function as an individual stand-alone product or with Wyze Sense v1.
Wyze monitoring
Wyze offers several types of security monitoring: an unmonitored plan, Cam Plus, Cam Protect and Home Monitoring.
Let's cover the differences between the unmonitored plan and Cam Plus first. The unmonitored plan is free and includes real-time DIY monitoring, but that's about it. The Cam Plus plan is for individuals and families who want more out of their security system — its features include unlimited video recording and environmental monitoring.
| | No Cam Plus Plan | Cam Plus |
| --- | --- | --- |
| Cost | Free | $2.99/month per camera or $9.99/month for unlimited cameras |
| Motion-alert delay | 5 minutes | Back-to-back recordings |
| Motion alerts | | |
| Sound alerts | | |
| Smoke and CO alerts | | |
| Cloud video recording | | |
| Wyze web view | | |
| Human detection | | |
| Delivery detection | | |
| Car detection | | |
| Animal detection | | |
| 2x and 4x event fast forwarding | | |
Cam Protect is a step up from Cam Plus. It includes everything in Cam Plus as well as facial recognition technology and 24/7 professional video monitoring backed by live agents. This plan costs $3.33 per month per camera.
Finally, there's Home Monitoring. This plan features 24/7 professional monitoring in partnership with Noonlight. It costs $8.33 per month and comes with some free equipment and a discount for purchasing additional products for your system.
Wyze price
Wyze is extremely customizable in terms of cost. The starting price is affordable for most — a minimalist system including a Wyze sense hub and entry sensors costs $53.98 at the time of publishing.
Another option is to sign up for Home Monitoring. In this case, $99.99/year gets you professional monitoring, with a Wyze sense hub, motion sensor and keypad thrown in for free. That price also includes 40% off additional items purchased for your system.
Creating a customized system, even with 40% off, can increase the cost of your security system pretty fast. That said, Wyze is likely still more affordable than many competitors for what you get.
Wyze FAQ
What's the difference between the Wyze app and Wyze home monitoring service?

The Wyze app is how you'll access the Wyze monitoring service. It's pretty limited in scope and doesn't offer many additional features unless you pay for add-on services like Cam Plus or professional monitoring.
Does Wyze have a contract?

No, and you can cancel at any time. If you pay yearly rather than monthly, you'll continue to receive service until the pay period is complete. There are no refunds if you choose this option, though.
What is Wyze's cancellation policy?

After your first purchase, you have 30 days to get a full refund. After this point, you can cancel at any time. Your plan will stay active until the end of the pay period, meaning you won't get a refund and will have service until the end of the paid period if you pay yearly.
Who monitors Wyze?

Wyze partners with Noonlight, a professional monitoring company, to monitor its systems. Its dispatchers are on standby 24/7 to route vital information to 911 call-takers and first responders.
Does Wyze work with Google products?

Yes. You can control your system with Google Assistant and watch footage through Google Chromecast or your smart-home hub. Wyze also offers integrations with Amazon Alexa and IFTTT.
Is wyze good?
Wyze is a good option for those who need simple security solutions. The company offers a wide variety of products and makes it easy to customize your home security system. If you have a big house or want a lot of cameras, then its plans and pricing will get more expensive. We recommend first identifying what you want from your security system — if your needs are fairly simple, Wyze is likely a solid choice.
A link has directed you to this review. Its location on this page may change next time you visit.
How do I know I can trust these reviews about Wyze?
4,312,903 reviews on ConsumerAffairs are verified.
We require contact information to ensure our reviewers are real.
We use intelligent software that helps us maintain the integrity of reviews.
Our moderators read all reviews to verify quality and helpfulness.
Page 1 Reviews 0 - 10
Customer Service
Monitoring
Camera & Video
Online & App
Reviewed Sept. 27, 2023
I have used Wyze for two years. The first year was just the Wyze Home Monitoring Bundle and while that did the job, I have been less than impressed with everything Wyze. After getting the Cam Pan V2 camera, it completely stopped working in less than a year of having it. Upon reaching out to customer service, I discover exactly how terribly executed their app is and how poor their customer service is. The chat window wouldn't let me see my keyboard while I was typing and wouldn't let me attach any attachments. My customer service agent asked for a screenshot of the error and a screenshot of proof of purchase, neither of which I could provide due to Wyze's app.
I went to use the chat on my laptop, only to find that the desktop version of the app would not even let you use the chat function. To make matters worse, after all of this, this customer service rep said there was nothing they could do for me. I canceled all my subscriptions from Wyze and have removed all products from my home. I would never recommend this company or any of their products to anyone. A company should stand behind their products and have a functional customer service feature.
Customer Service
Camera & Video
Tech
Reviewed Sept. 26, 2023
These guys are nothing short of crooks in my opinion. They will take your funds even without you being aware of it. I had to go out and change my credit card, despite calling them 6 times to discontinue my Cam Plus program for Sept 25th, for my coverage that isn't scheduled to start until Oct 13, 2023. They have illegally taken funds from our account despite not using the coverage because it doesn't kick in for another 3 weeks. They will not issue refunds. Their camera in my opinion or JUNK! Complete TRASH.
Good luck acquiring any skilled help to assist in ongoing problems associated with many of their cameras. Their techs are in Manilla, and could really care less about you. They are all programmed and conditioned to say the same thing and put you through the same ropes. They don't care. Often you can hear them laughing in the background while you're struggling to get one of their cameras to operate and function normally. These cameras are cheap, but they are made cheap as well. SO; you get what you pay for.
They are not easy people to work with. They will come up with any excuse to screw you over. Money is everything to them and while you will hear a lot of "So sorrys" from them it means nothing. Sometimes the operator that you're speaking to will simply wander off from the phone without saying anything and not come back. No one will call you either. They are basically kids that are running the show there. So; save your money and go elsewhere. The cameras and the people are a bad mix in my opinion.
Thanks for subscribing.
You have successfully subscribed to our newsletter! Enjoy reading our tips and recommendations.
Reviewed Sept. 19, 2023
Don't purchase the subscription for any of their Cam Plus service. Once they have your credit card they will double charge it and then tell you they don't have a refund policy. This has happened twice now and they don't care. The policy is for a license to steal. It's shameful!
Customer Service
Reliability
Reviewed June 22, 2023
I had a change on my account for the outside wireless camera and my phone number changed and it caused me not to be able get into my account. I made numerous call and text and emails. They just nope can't help you as they lack the ability to unlock the devices. As far as quality overall I would highly recommend finding a company that can actually support their product. Issues such as continued software updates and they lack knowledge and skilled programming is an issue as well. Just whatever you do stay away from Wyze and if you do have cameras with them make sure you do not get locked out of your account. As Wyze has zero customer support and they act like ooh will help blah blah blah... I am out 100's of dollars and they could care less about customers but more about providing a substandard product that they cannot even support. Just taking folks' money. Do not buy from the Wyze!
Customer Service
Delivery & Shipping
Reviewed May 13, 2023
2 of 6 cameras failed. Spent 2 1/2 hours in chats and emails with multiple reps over a warranty replacement for a $34 camera. Ended up with a gift card so I had to pay tax and shipping for a replacement UNDER WARRANTY. I am DONE with this company.
Reviewed April 2, 2023
I ordered two cameras from them and paid for shipping for 7 to 10 business days. They took my money and after 14 days the item still didn't arrived. When I reached out to support they claimed the item was "lost". I tried to be understanding and request that they send me the item and expedite the shipping. Which they initially agreed. Then 2 days later I was told that they can't expedited the shipping but it was going to take even longer 10 to 14 businesses days to Maybe receive the items. Request refund so I can get something. Definitely order something more reliable.
Susan increased rating by 4 stars.
After a positive interaction with Wyze, Susan increased their star rating on March 21, 2023.
Updated review: March 21, 2023
Although I had to jump through some hoops to get my complaint resolved, the company came through with their promise and issued my refund. I'm pleased with the result.
Original Review: March 17, 2023
I have been dealing with Wyze's auto-renewal that I did not authorize and was promised a credit card refund. When I became aware of the charge, I contacted Wyze support and spoke to Russell who told me that I would be refunded the charge in 3-5 days. When the time for the credit passed with no refund, I contacted them again and was told that I was not going to receive the refund due to their "Terms of Service". We have never used the Wyze-cam Plus because it was too hard to understand. Now we're stuck with the charge and reneged promise that we would receive the credit. Beware of giving out credit card information to companies that take advantage of people. I was not notified that my renewal was coming up or that my card would be charged.
The following is my response from Wyze which promised a refund of my credit card charge that I never received. "Hey Susan, It was a pleasure talking to you on the phone today. Hope you're doing okay. I know that you are looking to cancel the cam plus subscription. Again it is me Russell and I'm happy to assist you. This message is a confirmation that the Cam Plus Yearly subscription was canceled. I also credited the account in full for $59.96 and the credit will post in the next 3-5 days. I can guarantee you that there will be no future charges. Thank you and keep safe! Russell | Wyze Wizard"
Customer Service
Online & App
Reviewed March 17, 2023
Ordered home security system and paid through PayPal. Received an email that they cancelled the order as they deemed it fraudulent. I have never received such a reply, have not had any issues like this before and verified that my PayPal account was not compromised. I then tried to go to their website to contact them Totally disturbing for a so called tech company. Their chat system was impossible to navigate. Then tried to email them and had a glitch that would not allow me to do that and absolutely no contact phone number. This is the way they operate? No way to contact them for any issue or service whatsoever. Good luck if you ever need any help with any product issues. Guess I am glad I found out before actually getting their product so I guess they did me a favor by cancelling my order for no good reason.
Reviewed March 4, 2023
First customer service agent in almost 3 years, yes 3 years, who has actually followed through to replace the charging cords for my cameras. Only 1 of the 4 worked for the first few months after purchase. Answers to my questions were a run around. One of the last answers before this current ticket was well "you're out of warranty". Be reminded I've been calling within the warranty when they were new over 2 years ago! Many answers they gave, which had no bearing on my questions.
The last person I spoke with weeks ago, took up an hour of my time creating a ticket. I never heard back, not once or any reply to replace these cords. I believe the cords are less than $1 a piece and it would've been more beneficial for the company to back up their product when asked two years ago. I have been contacting them for two years to replace these cords. This company is not about customer service. To add, the person I spoke with which asked for a rating, said the cords weren't available and obsolete, and new cameras took their place, which is not correct. This company has failed it's customers over and over. Especially this one!
Reviewed Jan. 30, 2023
We have been using Wyze for about 4 years now. Started with just a front door camera and now we have 6 around the house. These are easy to set up and for the basic services can be free. You can access all the camera from your phone app. Share cameras so other household members can get access. You can pay a little extra (from a few dollars a month up) for additional services, like alerts if you need that. Or just pop in a SD card and self record and review your events. I have recommended them to friends who want a simple low cost system to keep an eye on things in this crazy world.
Wyze Company Information
Company Name:

Wyze

Website:

wyze.com
You're signed up
We'll start sending you the news you need delivered straight to you. We value your privacy. Unsubscribe easily.