Wyze
Find Home Alarm and Security Systems near you
This profile has not been claimed by the company. See reviews below to learn more or submit your own review.
Wyze is a tech company that aims to make advanced technology more accessible for everyone. It's known for its smart-home systems, but it sells a variety of other products — like smart scales, lighting systems and vacuums. Customers with one camera can take advantage of its free DIY monitoring program, although adding more cameras and pro monitoring can get a little confusing in terms of pricing and packages.
Find Home Alarm and Security Systems near you
Overall Satisfaction Rating
5 stars

4 stars

3 stars

2 stars

1 stars
Pros
Affordable starting price
Customizable
Free DIY option
Cons
Confusing pricing
Cam Plus required for more than one camera
Bottom Line
Wyze sells customizable security equipment and monitoring plans. While some may find the features and pricing confusing, others will appreciate the range of solutions available to match their needs and budget.
Wyze products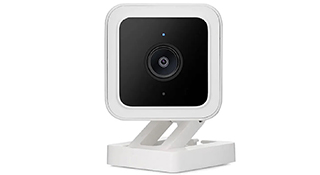 Wyze
Cam v3
$35.98 as of publishing date
Water-resistant camera that includes 1080p color night vision and certain types of environmental monitoring. Users can set motion detection zones and receive sound alerts.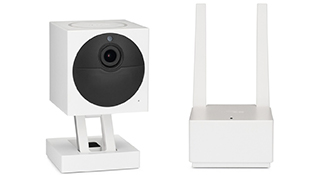 Wyze
Cam Outdoor
$59.98 as of publishing date
Wireless outdoor camera that can be mounted to a tree or on the outside of the home. Runs on two 2,600-mAh integrated rechargeable batteries that last 3 to 6 months with normal usage.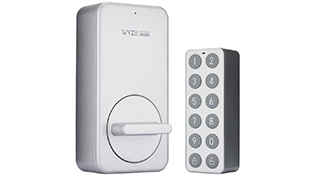 Wyze
Lock
$107.98 as of publishing date
Device that lets you lock and unlock your home from anywhere. Fits into an existing deadbolt, so there's no need to change your keys when installing the lock. Can also automatically unlock when you approach your door.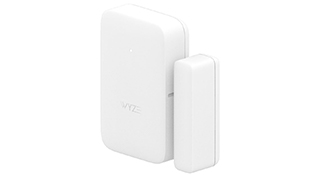 Wyze
Sense Entry Sensor v2
$29.98 as of publishing date
Sensor that can be placed on doors and ground-floor windows to notify you if one is forced open or left ajar. Comes in a 3-pack. Requires the Wyze Home Monitoring Core Starter Kit.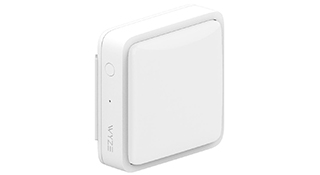 Wyze
Sense Motion Sensor v2
$14.98 as of publishing date
Motion sensor that notifies users when motion is detected up to 25 feet away. Sensitivity can be adjusted for pets and children. Requires the Wyze Home Monitoring Core Starter Kit.
What is Wyze?
Wyze is a smart-home technology company that sells everything from smart-home cameras and lighting to smart scales and robot vacuums. Other companies have huge markups for this type of technology, but Wyze offers relatively affordable and accessible options. It offers a free DIY monitoring option, which is ideal for customers who want a basic security system with just one camera.
Wyze monitoring
Wyze offers two types of security monitoring: Basic and Cam Plus. The Basic plan is free and includes real-time DIY monitoring, but that's about it. The Cam Plus plan is for individuals and families who want more out of their security system — its features include unlimited video recording and environmental monitoring. This plan is required if you have more than one security camera.
| | | |
| --- | --- | --- |
| | Basic Plan | Cam Plus |
| Cost | Free | $1.99/month per camera |
| Video length (per event) | 12 seconds | Unlimited |
| DIY monitoring | | |
| Motion alerts | — | |
| Sound alerts | — | |
| Smoke and CO alerts | — | |
| Human detection | — | |
| Delivery detection | — | |
| Car detection | — | |
| Animal detection | — | |
| | | | | | | | | | | |
| --- | --- | --- | --- | --- | --- | --- | --- | --- | --- | --- |
| Basic Plan | Free | 12 seconds | | — | — | — | — | — | — | — |
| Basic Plan | Free | 12 seconds | | | | | | | | |
Neither of these plans includes professional monitoring, which requires an added fee of $4.99 per month. You can package the price of monitoring with the cost of equipment to simplify your bill.
Wyze price
Wyze is extremely customizable in terms of cost. The starting price is affordable for most — it's about $80 for a core system. Those who choose to pay annually for a system and professional monitoring receive a 50% discount on the equipment and can pay just about $100 the first year. This price includes professional monitoring, the Core Starter Kit (two entry sensors, two decals, one sense hub, one keypad, one motion sensor) and one cycle of the Cam Plus plan.
The price increases if you want to monitor more than one camera, in which case you'll also need the Cam Plus plan to cover each camera. As a result, the price can get high pretty fast, though Wyze is likely still more affordable than many competitors.
Wyze FAQ
What's the difference between the Wyze app and Wyze home monitoring service?

The Wyze app is how you'll access the Wyze monitoring service. It's pretty limited in scope and doesn't offer many additional features unless you pay for add-on services like Cam Plus or professional monitoring.
Does Wyze have a contract?

No, and you can cancel at any time. If you pay yearly rather than monthly, you'll continue to receive service until the pay period is complete. There are no refunds if you choose this option, though.
What is Wyze's cancellation policy?

After your first purchase, you have 30 days to get a full refund. After this point, you can cancel at any time. Your plan will stay active until the end of the pay period, meaning you won't get a refund and will have service until the end of the paid period if you pay yearly.
Who monitors Wyze?

Wyze partners with Noonlight, a professional monitoring company, to monitor its systems. Its dispatchers are on standby 24/7 to route vital information to 911 call-takers and first responders.
Does Wyze work with Google?

Yes. You can control your system with Google Assistant and watch footage through Google Chromecast or your smart-home hub. Wyze also offers integrations with Amazon Alexa and IFTTT.
Do we recommend Wyze?
Wyze is a good option for those who need simple security solutions. If you have a big house or want a lot of cameras, its plans and pricing can get confusing — and more expensive — pretty fast. With Wyze, you have to pay per camera for viewing, but you also have a limit on how many cameras (four) you can have per base station. So, while the starting price is affordable and attractive to many, it isn't applicable to every home and every security need. We recommend first identifying what you want from your security system — if your needs are fairly simple, Wyze is likely a solid choice.
A link has directed you to this review. Its location on this page may change next time you visit.
How do I know I can trust these reviews about Wyze?
4,211,347 reviews on ConsumerAffairs are verified.
We require contact information to ensure our reviewers are real.
We use intelligent software that helps us maintain the integrity of reviews.
Our moderators read all reviews to verify quality and helpfulness.
For more information about reviews on ConsumerAffairs.com please visit our FAQ.
Page 1 Reviews 0 - 10
Customer increased Rating by 4 stars!
Susan of Krum, TX

Verified Reviewer
Resolution response: March 21, 2023
Although I had to jump through some hoops to get my complaint resolved, the company came through with their promise and issued my refund. I'm pleased with the result.
Original review: March 17, 2023
I have been dealing with Wyze's auto-renewal that I did not authorize and was promised a credit card refund. When I became aware of the charge, I contacted Wyze support and spoke to Russell who told me that I would be refunded the charge in 3-5 days. When the time for the credit passed with no refund, I contacted them again and was told that I was not going to receive the refund due to their "Terms of Service". We have never used the Wyze-cam Plus because it was too hard to understand. Now we're stuck with the charge and reneged promise that we would receive the credit. Beware of giving out credit card information to companies that take advantage of people. I was not notified that my renewal was coming up or that my card would be charged.
The following is my response from Wyze which promised a refund of my credit card charge that I never received. "Hey Susan, It was a pleasure talking to you on the phone today. Hope you're doing okay. I know that you are looking to cancel the cam plus subscription. Again it is me Russell and I'm happy to assist you. This message is a confirmation that the Cam Plus Yearly subscription was canceled. I also credited the account in full for $59.96 and the credit will post in the next 3-5 days. I can guarantee you that there will be no future charges. Thank you and keep safe! Russell | Wyze Wizard"
Be the first one to find this review helpful
Pauline of Homerville, OH

Verified Reviewer
Original review: March 17, 2023
Ordered home security system and paid through PayPal. Received an email that they cancelled the order as they deemed it fraudulent. I have never received such a reply, have not had any issues like this before and verified that my PayPal account was not compromised. I then tried to go to their website to contact them Totally disturbing for a so called tech company. Their chat system was impossible to navigate. Then tried to email them and had a glitch that would not allow me to do that and absolutely no contact phone number. This is the way they operate? No way to contact them for any issue or service whatsoever. Good luck if you ever need any help with any product issues. Guess I am glad I found out before actually getting their product so I guess they did me a favor by cancelling my order for no good reason.
Be the first one to find this review helpful
Thank you, you have successfully subscribed to our newsletter! Enjoy reading our tips and recommendations.
Ben of Eugene, OR

Verified Reviewer
Original review: Jan. 30, 2023
We have been using Wyze for about 4 years now. Started with just a front door camera and now we have 6 around the house. These are easy to set up and for the basic services can be free. You can access all the camera from your phone app. Share cameras so other household members can get access. You can pay a little extra (from a few dollars a month up) for additional services, like alerts if you need that. Or just pop in a SD card and self record and review your events. I have recommended them to friends who want a simple low cost system to keep an eye on things in this crazy world.
Be the first one to find this review helpful
Edward of Fredericksburg, VA

Verified Reviewer
Original review: Jan. 12, 2023
Items in my order were canceled unilaterally by Wyze without an explanation; however the shipping was not refunded or partially refunded. Recently I have had an issue with another Wyze order and spent over 2 hours on the phone with an offshore service center whose purpose it seems is to give NO SERVICE. Years ago this was a great company to deal with; based on my current recent experiences, I would now have to say it is a terrible company to deal with. The product still seems to work well. Costco now sells some of their line and does have great customer service; that is where I'll buy any Wyze equipment in the future.
4 people found this review helpful
Glen of Calgary, Other

Verified Reviewer
Original review: Jan. 2, 2023
It's a great little camera when it is working, but good luck with that. I have 2 cameras and both are not working right now. When you call their customer service department, you will likely speak to a young boy or girl, and their attention span isn't great so...just a warning. If you ask to speak to a " supervisor" then good luck with that. He's likely going to be "away" that day. The problem is, many of the " WIZARDS" as they like to be referred to, are not well schooled on their own products. So when you report a problem, they will be probably just as confused as you are. It wasn't always like this, but seems to be now. Some of them, their English is good or good enough, and others you may spend some time repeating yourself. The service is poor. One of my cameras is now just going on 4 months old, and it's given me all kinds of grief and strife. Just not a device you can rely on or trust. I will likely go out and shop for a better unit soon.
8 people found this review helpful
Phil of Round Rock, TX

Verified Reviewer
Original review: Nov. 21, 2022
I too am having the same issues with their AI and I sadly have 9 Wyze V3 cameras. All were working perfectly until about 3 weeks ago. Caused by an update? I tried speaking with a CS rep ... but she was no help. She suggested I send in a few logs. I did ... crickets for the last two weeks. Not sure what's going on with Wyze, but I have been a loyal customer for the last five or so years, but I am extremely disappointed in their lack of communication and service. They seem to want to sell you their products but don't appear to care after the sale is done.
10 people found this review helpful
Seb of Culver City, CA

Verified Reviewer Verified Buyer
Original review: Nov. 9, 2022
I've had the full Wyze monitoring system (hub, sensors, cameras, etc.) for over a year, and it's been a very frustrating experience. TL;DR: go with another service. This one is pretty poor. Let me itemize the good and the bad.
Good:
- It's cheap. Both the gizmos and the annual fee for the monitoring service.
- When it works, it works just fine. A sensor is triggered, the alarm goes off, you get a call from the monitoring company to check in on you. Pretty standard.
- The cameras also work alright. They're far from great but they do the job.
Bad:
- The monitoring hub goes offline regularly, which is a terrible thing for an alarm system.
- There are regular downtimes in the service. Also a terrible thing for an alarm system.
- The loudness of the alarm is laughably low. This pretty much renders the whole system pointless. If someone breaks in, the alarm is supposed to wake everyone up (if it's at night) and scare away the intruders. We have literally slept through the alarm two doors away. There is no way to increase the decibels or to connect a Bluetooth speaker to get more meaningful output. It's dumbfounding.
- The monitoring hub glitches out from time to time, forcing you to factory-reset the device and manually reconnect every single sensor in the house back to the hub. I've had to do this 3-4 times in a year and it's really frustrating.
- The rules in the app have been awfully buggy since day 1. For instance, a rule can be something like: don't trigger the motion sensor in the family room from 5am to 10pm. Broken and consistently unreliable.
- Customer services is a crapshoot. People are friendly alright, but they've been positively useless every time I needed to talk to them.
- The monitoring service from the Noonlight is kind of stupid. If the alarm goes off in the middle of the night, they call you and ask you if everything is OK. If you say yes, they wish you a good night and move on. The problem is that they're supposed to ask you for a safe word, in case someone is forcing you to say that everything is OK when it's not, but they just don't ask you for the safe word. That damn safe word was one of the reasons why I chose Wyze over other companies...
The problem with Wyze is that it's not a security or camera company. It's a "whatever tech" company, meaning that they make vacuum cleaners, earbuds, security systems, light bulbs, watches, toys, etc. They're so aggressively diversified that they're understandably not focused on developing a top-notch security system. I regret this purchase and I do intend to upgrade to a more legit service, like SimpliSafe or Ring.
12 people found this review helpful
Elizabeth of Burlington, WA

Verified Reviewer
Original review: Oct. 31, 2022
This is 10/10 the worst customer experience I have ever had! I ordered over $400 worth of security materials. I called because their promotion for a free video doorbell wasn't working and I wanted to redeem the offer. After being on the phone for an hour with them I was told I would get a refund. I checked my email a few days later and found an email stating that I would be refunded $0 of the $400 I spent and that my order had been cancelled.
When I called back into customer service they refused to get a manager on the phone with me and asked me to send them the emails they had sent me because they don't keep notes on the accounts. Then they told me not to worry because they would send me an email letting me know the full amount I would be refunded. I told them that I had already received one for $0 and I wanted to receive one with the accurate number before I hung up. The rep said he couldn't send it and that it would have to come from another department. When I asked the rep why he couldn't send me the email after he verbally confirmed the amount and since he had already sent me an email earlier he again said he couldn't and I would just have to wait. I am on hour 2 and am down $400, have no equipment, and still do not have an answer as to what is going on.
9 people found this review helpful
phillip of Andalusia, AL

Verified Reviewer
Original review: March 16, 2022
When I first got the Wyze cameras—I was very satisfied—-cameras recorded events for 12 sec. Not long after —-Wyze stopped recording events and wanted you to subscribe to get the events. This is very disappointing——I think this is a scam. I would definitely not recommend these cameras.
19 people found this review helpful
Jay of Beverly Hills, CA

Verified Reviewer
Original review: Feb. 9, 2022
Today my Visa was billed $14.99 for Cam Plus service I did not request. This is not the first time Wyze has taken the liberty to bill me for services I did not request. Wyze makes it difficult to reach a live person as others have noted. Their automated system foists the burden of wasting time upon the customer while minimizing their effort and time. WYZE, Must You resort to this low level behavior? This is unacceptable. I'm exhausted asking nicely to cancel the recurring $1.99 service to no avail. It appears I must be more dynamic in what I expect from Wyze. I'm filing a complaint with Visa, the FTC, BBB and California state Attorney General.
I called to STOP the $1.99 per month for service I did not request 6 months ago, 4 months ago and again two months ago, yet it continues. I e-mailed, and still it continues. But today was the last straw- $14.99? I don't think so. This stops now. What happened to this company? They are becoming duplicitous and disingenuous. This erodes credibility ESPECIALLY for Security Service(s) and cameras. TRUST is an essential part of the equation. Erode customer trust and you have assured your demise.
18 people found this review helpful
Wyze Company Information
Company Name:

Wyze

Website:

wyze.com
You're signed up
We'll start sending you the news you need delivered straight to you. We value your privacy. Unsubscribe easily.