Best Pet Insurance Companies
When it comes to pet insurance, many pet owners aren't sure if they really need it. We created this simple quiz to help consumers learn if pet insurance could be right for them.
Pet insurance helps pet owners pay the cost of medical expenses if the pet becomes ill or has an accident. Some pet insurance plans cover routine checkups and wellness procedures, such as annual exams, spaying, neutering, etc. Veterinary bills can be very high and pet insurance can help to offset the cost. However, in some cases pet insurance can cost more than it pays out so it's important to consider your own unique situation and various factors before deciding whether or not to purchase pet insurance.
Compare Reviews for Top Pet Insurance Companies

ASPCA Pet Health Insurance
Read 349 Reviews

This pet insurance company offers complete coverage and accident-only coverage options for dogs and cats. It also offers reimbursement for many preventative care services. Receive a 10% discount when you insure multiple pets.

AKC Pet Insurance
Read 429 Reviews

AKC Pet Insurance, provided by PetPartners Inc, has customizable policies designed to ease your worries about affording pet health care.

Trupanion
Read 125 Reviews

Trupanion's single, easy to understand plan option with 90% reimbursement and no payout limitations make them a quick shop for pet insurance. Their prices are determined by pet demographics, not care quality.

Petplan
Read 61 Reviews

Offering everything from vacation cancellation protection to lost pet recovery reimbursement, Petplan takes a holistic view of animal welfare and health care. Their policies are easy to understand with listed annual maximums.

Nationwide Pet Insurance
Read 325 Reviews

Nationwide includes 24/7 access to trained veterinary professionals and reimbursements for covered medical costs. They offer both routine and comprehensive care options to keep care costs affordable.

Embrace Pet Insurance
Read 118 Reviews

With head-to-head comparisons available on their website, Embrace Pet Insurance demonstrates their coverage value. Their high annual limits, along with the lack of per incident maximums, makes them highly competitive.

Healthy Paws Pet Insurance & Foundation
Read 28 Reviews

Covering everything from cancer to emergency care, Healthy Paws Pet Insurance & Foundation offers top-rated pet insurance policies. Their easy claims process makes getting reimbursements quick and painless.

24PetWatch Pet Insurance
Read 169 Reviews

With a combination of lost pet recovery and pet insurance products, 24PetWatch offers a complete range of features designed to protect the health and wellness of furry family members.

Figo Pet Insurance
Read Reviews

Figo is a cloud-based pet insurance company, which makes it easy for pet owners to keep track of their veterinary visits and claim submissions. Figo offers three flexible pet insurance plans.

Pet Assure
Read Reviews

PetAssure is a membership club that offers discounts on veterinary services and supplies. Using this company, members can take advantage of discounts at the vet's office rather than waiting for reimbursement from insurance.
Thank you, you have successfully subscribed to our newsletter!
Enjoy reading our tips and recommendations.
We value your privacy. Unsubscribe easily.
Considerations for choosing a pet insurance provider
What's covered?
The most important thing to understand about pet insurance is what is covered and what is not. Some policyholders think that pet insurance automatically covers all medical expenses but every policy has different limits and exclusions.
Read the plan: Before purchasing pet insurance, read the plan carefully so you have an understanding of what illnesses, medical visits, medication, etc. are covered and what are not. For example, surgery could be covered, but spaying/neutering might not. Emergency visits because of an accidental injury may be covered, but routine wellness visits may not. And in many cases, cosmetic procedures, boarding and grooming, and supplements will not be covered.
Limits and deductibles: All insurance policies stipulate limits of their coverage. Typically, pet insurance will have limits per accident or illness, as well as a limit for the policy term. Out-of-pocket deductibles can be based on both a per-inside and per-policy term basis. Find out what the limits of coverage are, and if they could cover a reasonable portion of expensive procedures.
Extra costs: Pets with existing conditions or advanced age may be refused coverage or might require higher premiums to cover their medical insurance. Be sure to read carefully to determine if your pet will incur any extra costs.
Can coverage be denied?
If you have pet insurance, you might assume that it will cover all medical issues and expenses, but many times coverage can be denied.
Negligence: Some insurance policies won't cover expenses if it has been deemed that the owner was at fault.
Accidental: Accidents happen, but if you haven't purchased comprehensive coverage or another form of accident insurance, you might end up paying out of pocket.
Age range: Most pet insurance policies have a low end and a high end to sign up for a new policy. Make sure the plan covers the current age of your pet.
Healthcare providers
Insurance companies may work with and cover different medical providers, which takes the pressure off you to find one. The disadvantage of this is that some medical providers won't be as good as the ones you might want to visit and you won't be reimbursed for using vets that the policy doesn't cover.
Do the service providers have good reviews?: Check out the fine print to find out if service providers are prescribed by the insurance network, and if so, do a little investigative research to find out how reputable they are.
Can you use providers out of network?: Such policies may cover both in and out-of-network providers, but the latter can sometimes cost more. Find out which vets your policy allows and if the coverage is the same for out-of-network vets.
Cost
The cost of pet insurance varies according to your location, what type of pet you have, your pet's age and what type of coverage you choose. Similar to human health insurance, pet insurance also has premiums, deductibles, co-pays and maximum payouts.
Premium: The premium is the amount you pay monthly, quarterly or annually for your insurance policy.
Deductible: The deductible is the amount of the vet bills you have to reach before the insurance company starts to pay. Higher deductibles usually mean a lower premium, but more of your money is invested over the initial medical expenses.
Co-pay: Most insurance policies will cover only a portion of medical expenses even after you've met your deductible and expect you to cover a portion. For example, your policy might stipulate that you pay 20 percent and the insurance company pays 80 percent. Higher co-pays will lower your premium as well but will increase your out-of-pocket payments for each expense. When determining reimbursement, also keep in mind that some pet insurance policies pay out as a percentage of the invoice while others pay out on certain amounts for certain conditions or operations, no matter what the bill was.
Maximum payout: Most insurance policies will determine a maximum amount of money they will give you, whether it is a certain amount each year, per event or during the lifetime of your policy. Once it is reached, you will not receive any more money.
Health expenses
In deciding whether or not to purchase insurance, try to estimate what your average veterinary health expenses are and will be in the future.
Current pet health: How old are your pets? Are they in fairly good shape, or do they require medication or have a chronic illness?
Environment: Do you live in a safe, quiet environment, or is the pet exposed to things like other pets, cars on the road, ticks, etc. — anything that could cause accidents or health problems requiring medical attention?
Breed: Certain breeds or animals are at higher risk for health issues than others (and some may even be excluded from certain insurance policies).
Insurance company reputation
Pet insurance providers should have a good reputation for helpful customer service, reliable coverage and good value.
Coverage options: Insurance companies should offer different plans and extensive coverage options for different conditions.
Reviews and complaints: Find out as much as possible about what kind of experience other customers have had with the insurance company and be aware of any complaints people have made about them.
Filing a claim: Find out what the process is to file a claim. Is it simple and hassle-free, or will you be on the phone with customer service for hours at a time? Does the insurance company typically fight claims or do they reimburse expenses? If so, how long does it typically take for the company to reimburse you? Some insurance plans will pay the vet directly, so that you don't have to pay out of pocket initially.
Types of pet insurance coverage
Basic coverage
This traditional form of pet insurance coverage mirrors your typical human health insurance plan. It generally covers anything accidental, such as unforeseen injuries or illnesses—even poisonings. Basic coverages typically include deductibles and caps on total payouts per policy term.
Comprehensive coverage
While covering most everything that a traditional basic plan would cover, comprehensive takes pet insurance one step further by including preventive care (such as vet visits, X-rays and vaccinations) and prescription medicines.
Wellness plans
Want coverage to help finance for routine care? Then a pet wellness plan is for you, to help pay for annual exams, teeth cleanings, vaccinations and other similar preventative treatments.
Vet packages and network plans
Additional pet insurance-like pet products are often sponsored by veterinarians themselves or in conjunction with pet stores. For instance, certain vets will offer their customers essentially what are package deals, which provide discounts on care and checkups. Or vets and pet stores may team up to offer plans that give discounts on surgeries and care, as well as on pet food and other supplies.
Other coverage
For pets that are exotic or worth a lot to their owners, life and theft insurance can be bought as a separate plan. Pet owners can also consider liability coverage to protect them should their pet bite or harm another person. Typically, homeowners or renter's insurance provides enough protection, but for certain more aggressive breeds, additional insurance may be needed.
People who should consider buying pet insurance
First-time pet owners
People getting pets for the first time will want the security of pet insurance, especially if the pet is young, like a puppy. Puppies are more likely to get sick and having pet insurance can help a new owner get through a stressful time without having to also worry too much about expenses.
Pet owners with older pets
Owners with aging pets need insurance to cover any diseases that may arise and to continue any treatments for existing conditions.
Owners with multiple pets
People with more than one pet can potentially save a lot of money with pet insurance. Paying for services individually is sure to add up over time, and having insurance will keep out-of-pocket expenses low.
Owners of young pets
Owners with young pets will find that trips to the vet during the first year is routine. From vaccinations to checkups, pet health insurance can help off set the cost of those visits. Insuring younger pets is usually more cost-effective and can save the owner money over the pet's lifetime.
Expert reviews for pet insurance providers

AKC Pet insurance was founded in 2003 by John Spurling, who first offered pet insurance to the Kennel Club of Great Britain in the 1980s. The company's headquarters are now located in Seattle, Washington.
Read More

With options for dogs and cats, this pet insurance company allows pet owners to visit any veterinarian in the U.S. and Canada. They have complete coverage and accident-only coverage options.
Read More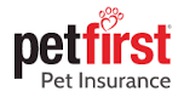 PetFirst is a pet insurance company that offers inclusive coverage for both dogs and cats. Founded in 2005, the company offers typically less restrictive pet insurance plans.
Customizable plans: PetFirst is able to work with pet owners to create the best plan for their type of pet, family size, budget and more.
Senior coverage: There is no upper age restriction for pets covered by PetFirst, which means even older pets can get coverage.
No breed restrictions: PetFirst does not restrict what breeds of dogs or cats it will cover.
Routine care provision: Pet owners who choose to add this feature to their policy can receive financial assistance for routine care coverage, including vaccines, teeth cleaning, routine exams and more.
Family plans offered: The company offers discounted family plans to families with multiple pets; for up to three pets under the age of 10.
Best for: Pet owners with dogs and cats, pet owners with older pets, and pet owners with multiple pets.

Drawing on more than 35 years of experience in the pet insurance industry, through their relationship with sister company Petplan UK, Petplan offers policies in all 50 states and the District of Columbia. As the insurer of choice for rescues and animal shelters nationwide, they are an industry leader in the pet insurance space.
Read More

Pets Best is a pet insurance company for dogs and cats that was founded in 2005. The company was founded by the person often considered the "father" of pet insurance in North America, Jack Stephens.
Free online quote: Pet owners can receive a fast and convenient quote for their pet online, hassle-free.
Discounts offered: Customers who choose Pets Best can take advantage of discounts for covering multiple pets with the company.
Dog and cat insurance: Pet owners who have both cats and dogs can cover them with one company, since Pets Best offers plans for both.
Insurance levels offered: The company offers three different levels of insurance at different prices, so pet owners can choose the proper amount of coverage they thing is necessary for their pet.
Specialized plans for special situations: Pets Best offers specialized only plans, like Cancer Only Coverage, for pet owners with pets in specific health situations.
Best for: Pet owners with multiple pets, pet owners with both cats and dogs , and pet owners with pets who have cancer.

Trupanion is a pet medical insurance company founded by CEO Darryl Rawlings. The company is a founding member of the North American Pet Health Insurance Association (NAPHIA) and has been publicly traded since July of 2014.
Read More

24Petwatch is a company that specializes in pet protection services. The company is headquartered in Buffalo, New York.
Read More

Embrace Pet Insurance is a pet insurance company that has been in operation since 2006, focusing on sustainability and providing expert pet care.
Read More

Since its inception in 2009, Healthy Paws Pet Insurance & Foundation has been improving the health of domestic animals. They offer insurance policies and fund a foundation dedicated to providing vet care to animal rescue organizations.
Read More

Founded in 1982, when Veterinary Pet Insurance issued their first policy on TV star Lassie, this company has insured more than 1 million pets. Their commitment to making quality vet care affordable is backed by the financial stability of one of the world's largest insurance companies, Nationwide.
Read More

Pet Assure is a membership program that allows users to receive discounts on health care for their pets. It has been offering these discounts since 1995.
Read More

Figo Pet Insurance, created in 2012, is a company that provides health insurance for cats and dogs. It's the first cloud-based insurance company that offers personal Web-based tools and applications for pets and pet owners.
Read More

Based in Indiana, HappiPets Insurance is dedicated to providing the best health care available to furry family members. The company's staff is made up of pet lovers who understand the stress that comes with vet visits, which is part of the reason for its award-winning customer service.
Multi-pet discounts: When furry family members are a big part of the household, it pays to get coverage for every four-legged member. HappiPets Insurance covers up to three pets under 10 years old on a single policy.
No incident limits: While there are annual benefit limits, there are no maximums for a specific issue. So if an accident happens, your pet can use the entire annual maximum to get the quickest possible recovery.
Routine care coverage: With this add-on, pets can enjoy annual preventive vet visits, flea and tick repellents, heartworm medication and behavior training.
No heredity exclusions: Given particular breeds are prone to developing certain illnesses, some pet insurance companies exclude coverage for things like dysplasia or cancer. With HappiPets, there are no exclusions for hereditary conditions, breed-specific diseases or chronic and congenital illnesses.
No exam required: Pets can enjoy coverage immediately, no matter when their last vet visit took place.
Best for: Dog owners, cat owners and pet rescuers.
Compare Reviews for Top Pet Insurance Companies

PetFirst
Read Expert Review

PetFirst plans cost an average of $25 per month and puts pet owners firmly in control of their pet's health. Their Lifelong Coverage guarantee even protects pets with congenital conditions.

PetPremium
Read Expert Review

PetPremium Wellness coverage starts the day after it is purchased, so pets can see the vet when they need to. Tiered pricing and low incident limits helps keep these plans affordable, along with several deductible options.

Pets Best
Read Expert Review

Pets Best offers plans that pay reimbursements of up to 100%, allowing pet owners to tackle any illness/injury with confidence. Short waiting periods means pet owners can start using their coverage in days.

HappiPets Insurance
Read Expert Review
Out of Business

HappiPets Insurance is an award-winning pet insurance provider. The company helps pet parents defray the cost of unexpected veterinary visits by offering reimbursements in the event of a covered illness or injury.
Disclaimer
Information in this guide is general in nature and is intended for informational purposes only; it is not legal, health, investment or tax advice. ConsumerAffairs.com makes no representation as to the accuracy of the information provided and assumes no liability for any damages or loss arising from its use.