Consumer Complaints and Reviews

I've had Trupanion pet insurance for my Pug since he was just a little guy, still a puppy. He's now 3 years old and doing great, thankfully. The reason I thought it was important to leave a review for Trupanion at this time is that my company recently started offering Pet insurance (wow, what a great benefit!) through another provider that presented a very compelling presentation at my office last week. I know that of course price is always a compelling factor, it certainly was for me since my family has now grown to 3 dogs. So I started looking into it today, doing my comparison and looking at the total out of pocket, what's covered, etc, etc.
After looking at the total cost of the "wellness" package, it turns out that based on my last year's preventative expenses I'd still be paying more through the new company, Nationwide, than I have been paying out of pocket. (Trupanion doesn't offer preventative care policies). I've been pretty lucky that my dogs are very healthy, but we do have emergencies that come up, so I decided that perhaps I'd just stay with the more traditional "Catastrophe Insurance" as they call it. Nationwide's insurance premium for "emergencies only" coverage is indeed less than Trupanion. Which would mean I could cover all 3 of my dogs pretty easily.
But then I started looking at reviews for Nationwide... not good. Seems a lot of people are having trouble with "pre-existing conditions" getting covered despite some things never having come up in the past. I don't know, I've never tried to file a claim with Nationwide, but I kept remembering the one and only time I had to use Trupanion, last October, and file a claim it was a total breeze. They were so super helpful. I paid the vet out of pocket ($1200) and I think they reimbursed me the full 90% within a week. (after my $100 deductible).
So, let's be honest, pet insurance isn't cheap. I was somewhat attracted to lower premiums, but having a sick pet is stressful. This is your family. I don't want to add fighting with some stupid insurance agent about why they aren't going to pay for something they said they would during the 'sales pitch'. Something else I remember about every time I've spoken with Trupanion agents on the phone..... they ALWAYS ask about my dog. I honestly think they are animal lovers and that makes a difference to me. Anyway, most people write negative reviews (I think that's important too) but on this occasion I wanted to write a positive one. I am staying with Trupanion. A bit more expensive, but in the end my piece of mind and my dog's health are worth it.

I was offered free enrollment during a visit with my vet for one of my fur babies Gracie. I called to gather information, did some research, called again and then decided to purchase a policy. First off the rep was working from home, told me Trupanion actually "looks for reasons to pay". He then went on to tell me about ** pills he and his wife use on their cats. I let him know I had 3 other babies, including my senior German Shep that I would be calling back to also enroll. He told me I shouldn't bother with my dog due to her age. What an unprofessional response.
Because Gracie sneezed and it was in her record they refuse to cover a single thing, she was diagnosed with nasal cancer and I have spent thousands. I didn't even want to submit the remaining claims because I may have well thrown them in the trash. THIS COMPANY IS A SCAM!! I am cancelling my policy and enrolling everybody else where. They just lost a fur family of 4 spoiled babies. BUYER BEWARE!!!

I adopted my dog in October 2016. Within days I took him in for his first vet appointment. In December 2016, after much research I decided to purchase pet insurance for him since he was in good health and young at just 2 years, 2 months. I chose Trupanion. In January 2017, my dog started to get a skin rash. The vet called it dermatitis. My dog has had 3 appointments now in treatment for the dermatitis and now has a referral appointment to a vet specializing in dermatology. I had requested my regular vet to submit claims for the first 2 appointments.
Today I received notice from Trupanion that my claim was denied because the vet had record from the very first appointment that I advised my dog was a "little itchy." This simple statement resulted in my dog's dermatitis being ruled a pre-existing condition. Even though no rash was evident until the following January. Trupanion tells me my only recourse is to submit a claim to the California Dept. of Insurance. I know in my heart that my statement in October 2016 to a question about fleas has no relevance to my dog's current skin condition, however, given the record, I don't feel I can fight it.
I have now cancelled my Trupanion account because I feel they will find an excuse to deny any claim I submit. Or perhaps they only routinely deny any claim within 18 months of having their insurance since that is the stated time limit for pre-existing conditions. What's most hurtful is the unspoken inference that I lied on my insurance application and only signed up because of this skin condition, which is all lies and furthest from the truth.

After spending thousands in premiums, I finally put a claim in. It's been 3 months and they reached out to 2 different vets asking for my dog's lifetime of vet bills. This is a diversion to not pay. My dog was being tested for skin cancer - A condition he's never had. Before they pay on the claim they're looking for his entire medical history - So 3 months in - I haven't been reimbursed and they keep on looking for reasons to decline. Money better spent is to put the premium in a bank account and use that for vet bills. This is a big Ponzi scheme. You'll pay a lot of money only to realize that you'll get little reimbursement for your vet bills.

We were told that our pet qualified for Trupanion insurance by a Florida vet practice and we signed up for it. No waiting period and we could cancel in 30 days. After many tests, xrays and special food, the diagnosis was gastroenteritis. Yes insurance would cover some of it. We are now out $2000.00 after 2 denials from Trupanion. They have denials for everything. We were told that Trupanion had partnered with this vet practice and was excellent insurance to have. The whole thing is a scam to get pet owners to sign up. I wish there was a way to recover some of our money. Buyer beware of Trupanion. They are unsuitable as insurance carriers and DO NOT STAND FOR WHAT THEY CLAIM TO BE.
How do I know I can trust these reviews about Trupanion?
824,696 reviews on ConsumerAffairs are verified.
We require contact information to ensure our reviewers are real.
We use intelligent software that helps us maintain the integrity of reviews.
Our moderators read all reviews to verify quality and helpfulness.
For more information about reviews on ConsumerAffairs.com please visit our FAQ.

I've been with Trupanion for 4 years. Up until now, I've never had an issue. I have 2 policies. My cats have no health problems, I have had one small claim during my years as a customer. My premiums went up at a reasonable rate the last 3 years. Today however, I received an email, stating that my premiums would increase by 95%. Upon investigating further, I was given a multitude of unsatisfactory answers: 1) The advancements of medical technology in my area has increased (so much so in one year!) that it necessitated a 95% spike. 2) While Trupanion "locks in your pet at the age they signed up", the rates for that specific age may (without the customer service department knowing why) suddenly skyrocket (as I've come to learn, by as much as 95%!
After many phone calls and attempts on social media, I've reached no one that can help, or provide a satisfactory answer as to why my policy suddenly jumped 95%. I had noticed other reviewers saying similar things when I first signed up, but attributed it to disgruntled customers, because the plan came so highly recommended. All I can say, is at the end of 4 years, Trupanion's customer service was good, so long as I didn't have an actual problem to deal with. I have literally paid them to do nothing.

I changed my a day after enrollment. Called the next day to cancel, was told another specialist had to cancel membership and that those specialists were all busy. I was told they'd call me back. I waited didn't get the call so I called back the same day, the next and a few days later. Never got a call from them and they remained unavailable. Finally on the 9th day, I called them again and got a hold of the special cancellation specialist. Got a email back confirming cancelling but stating that my refund was less than 100% within 30 days as I was told it would be in my policy. I actually only got back less than the monthly premium and no enrollment fee back.
Spoke to a manager. Completely unhelpful. They decided not to honor their 30 day cancellation 100% money back policy, kept my enrollment fee and refused to pay me a day's worth of monthly coverage which is why I got refunded less than my monthly premium. Mind you, I had to pull teeth to get someone to discontinue my membership. Was promised a call that I never got. And then got cheated out of money. And by the way, the whole day of coverage that they penalized me for is not even coverage because there is a 3 day waiting period for the insurance to kick in! Unbelievable. UNACCEPTABLE. STAY AWAY!

Paid over $75 a month and when my dog had to get a mass removed from his chest and a tooth removed, I filed a claim. Nothing happened until I began to follow-up and they told me they never received the information from the Vet, which was a lie, since I saw the successful fax transmission receipt. The vet faxed and emailed two more times (which I witnessed) and yet Trupanion still said they did not get the information. They also told me that even if they accepted the claim I would get $100 for a $800 procedure. These people are nothing but con artists.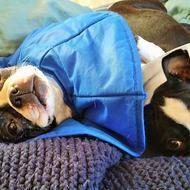 I have had Trupanion since 2010. In that time I have submitted claims for a knee surgery, teeth extractions, multiple mass removals, a foreign body (rock), cataracts, glaucoma and allergies. All of those conditions but the latter received coverage due to the allergies being a pre-existing condition. My Boston Terrier is scheduled for cataract surgery next month and she will be getting her vision back thanks to Trupanion!!! The estimate for the surgery is $3,000. We met the deductible 2 years ago so our part will be just 10%. The customer service is terrific. The bottom line is, without Trupanion I do not know what we would have done. We are well over $23,000 in claims. It has not just allowed us to have the surgery for her knee but opt for the overnight care, laser therapy and a $1,600 rehab package. Today she is a very healthy 11 year old who has a lot of life yet to live full of chasing balls and taking care of our family.

Trupanion claims that they pay 90% of medical costs? BS! My cat was rushed to the hospital and we had to put her down because she could not breathe. Trupanion told me that they will not pay for any of the cost because my cat has a "pre-existing" condition. Will someone please explain to me how is a sudden sickness is considered "pre-existing?" I was furious so I called and canceled my insurance with them. And now they are sorry for "the loss my cat". It makes me wonder if Trupanion really does care about animals because with the experience I went through, it's complete bull! Never ever ever do business with them! Save your time and money!

I've never been so absolutely disgusted with a company more than Trupanion. After paying through the nose for years, they decided to deny my claims for my dog's allergies. Years and years of bilking me because I put 3 pets on the policy and because my dog was diagnosed with a skin allergy for the first time ever THIS YEAR (2016). Had policy since 2011. They are saying he has a Pre Existing condition. They said his ear infections all 4 since 2009... that's all... for a dog... are considered "allergies" as well. Meanwhile they've been cleaning out my account consistently to the tune of 108.00 a month since 2011. This is complete fraud on their behalf. Do yourself a favor and DO NOT USE THIS COMPANY!!!

While I only had my kitten for a few months, the coverage offered was a very appealing deal. I would recommend this company and the cost of the insurance is low. They offer many different types of insurance so you find the coverage that's right for you and your pet. I wasn't offered any discounts, however I only purchased the base policy. If I would have bought a more expensive one I probably would have saved a great deal of money. I never had to file a claim. Nothing happened to my pet. But I'm sure that if I would have needed to file a claim it would've been a short waiting period.

It covered shots, sickness, spay and bit of important things my dog needed like checkups and such. It have me free meds and pest control of like fleas and ticks and heartworms. It was not as expensive as some of the other companies I looked around. It was actually pretty affordable. I would spend more if I paid my vet care. I did receive some discounts on the meds that keep my pet healthy look like vitamins meds for their skin and fur and also antibiotics. There are bits of discounts I haven't used yet but do intend to. It didn't take very long to get reimbursement, maybe a week at the most. I felt very comfortable in completion in filing my claims and I loved the people on the phone.

Great coverage for my pet and my pet's medications, also for the stay my pet had that lasted a week. I was very happy I had the coverage. It allowed me to save my puppy. As with any costs of anything it's sometimes hard to see the advantages but it is reasonable and makes the medication affordable luckily. The discounts on the vet stay and the medication is what makes it all worth it. Don't know what I would have done if I didn't have it. I would have lost my puppy to parvo. Very quick. I didn't have any problems. They knew right away and handled the claims as they came along. No dispute of any kind. Great customer service and very friendly.

I purchased coverage for both of my late dogs. It covered an emergency visit or two and really helped offset costs when I discovered one was very ill. The premiums were about one hundred dollars per year and I paid thirty or so dollars each time I took them in for a visit. I had coverage for three years and my premium went up each year but the increase was manageable. I did not receive many discounts. I recall getting one for signing up multiple animals, as well as consolidating their visits and veterinary offices. The claims I had were resolved within 30 days, if not less, and the claims office was very communicative and helpful. I was able to quickly file a claim and the tracking system when I called was helpful.

I would recommend due to good experience with them. They were nice and helpful in helping me choose the coverage I wanted for my pet. The cost was fair enough. But, if you love your pet as much as I do mine, then the cost is not a factor unless it's just ridiculously high!!

Very comprehensive benefits with a lot of coverage. Have my pet well covered. Love the benefits of my policy with extensive benefits. Love their coverage. Great value for the price. Very inexpensive for the benefits. Well more valuable than the price states. Great company. Love them all the way around. They have a few discounts that offer great value to their company and involving with the needs of the customers. Very caring and offer extensive discounts in a few areas. Very quick processing of claims. Never exceeds the allotted time that is provided by the company. Overall excellence.

Coverage seems to be sufficient for most cases. Many situations and instances covered that protect your pet in almost any situation. Variable costs as well. Cost is very fair, as installments are broken into monthly payments and a bonus is given at the end of the statement period if your deductible hasn't been reached. Agents were very thorough and efficiently walked me through the process. I was very pleased with the results and have lower payments now.

The coverage is remarkable and they have outstanding service to provide for any pet in need. They do their best to help out every single pet that needs. The cost is one of the best. It has been a privilege to been involved in the cost of the services and I get a chance to keep a lot of my income because of the cost. I get a lot of discounts from them. They treat me with the utmost respect. If I'm unable to pay they help me to pay in installments to help pay the fee. The claim processing is clear and up front. They told me from the start of the services provided and the necessary treatment they do if they need to do it.

I'd definitely recommend this to anyone who wants it. If I ever needed to use it again I would. The cost wasn't bad. I was happy to pay what I paid. They were right in line with other places I looked. I didn't get too many discounts with this but still I was very happy - us in this service. The process was quick, efficient, no complaints. Everything happened in a timely manner.

Great ease of use. Great service all the time. I love everything about what they do for my pets. They are the best at what they do and stand for. Great prices on everything you and your pets need. I love the things they stand for. Great in every way. They always make sure you get the best discounts possible. I have nothing but great good things to say about them. They know what they stand for and are great at what they do. Great easy to see and understand what they stand for. They are always at the best prices and discounts around.

We have had Trupanion since we purchase our French bulldog almost five years ago. We cannot say enough good things about them! The rate has stayed the same for as long as we have had our policy. They are prompt in responding and processing our claims and we love the lifetime deductible per issue as our dog has two lifelong illnesses. I have referred multiple people to them and everyone is thrilled with our service.

Purchased this insurance back in January thinking it would cover our 7-year old Maltese. Tried to submit a claim for routine check-up. Was only informed THEN that the insurance didn't cover anything preventative. So this product PENALIZES the owner for taking care of your pet. Lost 700.00 bucks in monthly premiums for a total scam that won't cover basic medical care for a pet. PET INSURANCE IS A SCAM.

I signed up with Trupanion for my cat. The policy cost $25 per month. Every year, they raise it by 20%. When I called to ask why, they said it was because they could. They do NOT cover preventive care, which could find a condition like cancer before it gets VERY expensive. In other words, they NEVER pay for anything that could keep my cat healthy, but raise the premium 20% every year.

Matthew BrodskyInsurance Contributing Editor
Matthew Brodsky is an established expert on insurance, having written hundreds of articles and other pieces of content on the subject, interviewed countless practitioners, and attended dozens of conferences and events. He served as an editor at industry magazine Risk & Insurance for six years. More about Matthew→

Trupanion is a pet medical insurance company founded by CEO Darryl Rawlings. The company is a founding member of the North American Pet Health Insurance Association (NAPHIA) and has been publicly traded since July of 2014.
Dog and cat coverage: With Trupanion, pet owners can get pet medical insurance for both dogs and their cats.
90% coverage: The company offers pet owners 90% coverage of actual veterinary costs for all approved pet accidents and illnesses.
Unlimited lifetime coverage: Trupanion has no limit on the number of accidents, illnesses or years a pet can be covered for.
Educational information: The company offers pet owners educational information via its website and print materials, which helps give tips for health, nutrition and warning signs for illness.
Community focused: In addition to providing pet insurance, the company also contributes a lot to community organizations, contributing more than $200,000 to animal welfare programs across the country.
Best for Pet owners with dogs and cats, new pet owners and pet owners with rambunctious pets.
Trupanion Company Profile
Company Name:

Trupanion

Year Founded:

2003

Address:

907 NW Ballard Way

City:

Seattle

State/Province:

WA

Postal Code:

98107

Country:

United States

Website:

http://trupanion.com/pet-insurance