How much do solar batteries cost?
Expect to pay $7,000 to $18,000 for a home solar battery



Written by

Edited by
Find Solar Energy Companies near you
Kia, Hyundai and SunPower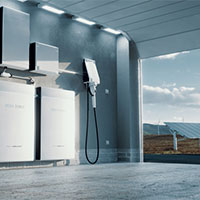 If you're looking to buy battery storage for your solar panels, you can probably expect to pay between $7,000 and $18,000. Just know that the overall price range for a solar battery is even wider, with prices anywhere from a few hundred dollars to $30,000+, depending on what you buy, who you buy it from and how you plan to use it.
We'll break down the costs of some popular solar batteries and detail everything you need to know to determine whether adding storage to your renewable energy system is worth it.
---
Key insights
Solar batteries are expensive, but financial incentives are available to lower the cost.
Prices often depend on the battery's storage capacity, expected life span, brand and other factors.
Homeowners often find that solar batteries are worth it for energy security — even if they're not worth it financially.
Battery

Total capacity in kilowatt-hours

Price before incentives*

Cost after 30% solar tax credit

Renogy REGO
10kWh
$7,327.99
$5,129.59
Tesla Powerwall (includes Gateway and accessories)
13.5kWh
~$8,700
~$6,090
BLUETTI EP900 + B500 Home Battery Backup (includes inverter)
9.92kWh, 14.88kWh or 19.84kWh
$12,298, $13,798 or $17,298
$8,608.60, $9,658 or $12,108
SunPower SunVault (includes installation)
52kWh
$12,000 to $18,000
$8,400 to $12,600
Generac PWRcell system (includes solar panels, inverter and installation)
9kWh
~$18,000
~$12,600
*At the time of publishing
FAQ
How many solar batteries are needed to power a house?

While some homes may need two to four solar batteries (or more), the number of solar batteries needed to power a house depends on the size of the batteries as well as the house's electricity consumption.

As Rhino Voltz founder Steven Zook explained to us, you could power a house "with one battery if you had a big enough battery."
How much does solar battery maintenance cost?

Most modern, lithium-based storage systems have minimal, if not nonexistent, maintenance costs.

(Solar battery terminals should still be routinely cleaned to get rid of buildup and debris, but lithium solar batteries incur less maintenance than traditional lead-acid devices.)
Can you use your electric vehicle as a solar battery?

You can use your electric vehicle as a solar battery, but only if you have the right system and vehicle. Nissan, Ford, Hyundai, Kia and Mitsubishi have all produced vehicles with bidirectional charging capabilities, and Tesla has confirmed that bidirectional charging is on the horizon for its vehicles.
Did you find this article helpful?
|
You're signed up
We'll start sending you the news you need delivered straight to you. We value your privacy. Unsubscribe easily.