Colorado solar incentives, tax credits and rebates
Resources for going solar in 2023



Written by

Edited by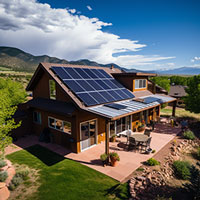 After tax credits, the average residential solar panel system costs $14,123 in Colorado, which is cheaper than in many other states. The national average is $16,715.
Not only is it more affordable to go solar in Colorado than elsewhere, but there are also plenty of incentives to make the switch even easier. The Centennial State has low-interest loans, grants, rebates and tax breaks. All these incentives can substantially lower the cost of installing solar panels.
---
Key insights
You can take advantage of solar tax breaks, rebates and loan programs.
The average solar federal tax credit value is $$6,053 in Colorado.
The estimated 25-year savings are $14,479 with solar panels in Colorado.
Solar incentives in Colorado
The ITC drops to 26% in 2033 and 22% in 2034.
The federal solar investment tax credit (ITC) is the biggest factor in reducing the cost of going solar in Colorado. If you install a residential solar panel system by the end of 2032, you can get a tax credit equal to 30% of the system's total cost — including equipment, labor and permits — on your federal taxes.
For example, the typical system in Colorado costs $20,176. With the ITC, you'd get a $$6,053 credit when you file your taxes.
The solar tax credit is not a rebate or refund — you must claim it when you file federal taxes in the year your solar panel system becomes operational. To do this, you have to complete Form 5695.
Residential solar incentives in Colorado
There's no shortage of solar incentives in Colorado. Residents can benefit from tax breaks, rebates and low-cost loan programs.
Tax breaks
Colorado has property tax exemptions on the value your solar system adds to your house, sales tax exemptions when purchasing solar equipment and tax rebates to encourage residents to go solar. Depending on where you live, you may score some extra tax incentives. For example, Boulder offers residents a 15% tax refund on the sales and use tax for their solar installations.
» MUST-KNOW: The tax benefits of owning a home: must-know deductions and secrets
Rebates
There are plenty of rebates you can take advantage of in Colorado:
The Renewable Energy Mitigation Program offers residents of Eagle, Lake, Gunnison and Summit counties a rebate of 25% on the cost of their solar water heater or solar photovoltaic (PV) system. If you're interested in cashing in, contact your county government for more information.
The San Miguel Power Association (SMPA) has rebates for PV systems. If you qualify, you could get 10 cents per watt, with a cap of $300.
EnergySmart for Boulder County offers residents a rebate of 25% of their solar project costs up to $200.
Aspen residents can get up to $250 per kilowatt on systems up to 25 kW.
EnergySmart Colorado offers residents of southwest Colorado, the Roaring Fork Valley, the Yampa Valley, and Boulder, Gunnison, Lake, Eagle, Pueblo, Summit, Park, Routt and Moffat counties rebates on solar projects.
Loan programs
If you can't pay for your solar system out of pocket, there are many property-assessed clean energy (PACE) financing and solar loan programs across the state you can use to pay for your system:
Fort Collins Utilities customers are in luck. The utility offers low-interest loans that can cover the whole cost of solar projects for your home. You can get this financing without putting any money down, and you have up to 15 years to pay it back.
The Solar Grant Program for the city of Boulder gives income-qualified homes grants for installing PV and solar water heaters. How much you get is decided on an individual basis, but usually the grant won't cover more than half the cost after you've used any rebates, tax credits or other perks.
Elevations Credit Union customers in the Boulder and Denver areas can get solar loans through the EnergySmart and Denver Energy Challenge programs.
The Colorado RENU loan program offers residents of the state low-interest, fixed-rate loans with no money down. The loans cover 100% of systems with terms of up to 20 years.
Xcel Energy connects residential customers with loans of up to $50,000 for their solar projects, with terms of three to 15 years.
What to know about net metering in Colorado
Net metering is when you sell excess energy generated by your solar system to your local power company. Then, on days when your panels don't generate enough energy, you can tap into the power grid and still turn your lights on. The alternative to net metering is storing energy in a battery for future use.
In Colorado, excess electricity is compensated with a bill credit. Each kilowatt-hour (kWh) credit offsets 1 kWh of electricity consumption on a future bill. If you end up with credits you don't use, at the end of the year you can cash out the credits or donate them to the energy bills of low-income residents.
Getting enrolled in net metering shouldn't be too difficult. "There was a little bit of confusion with our power company on how they were modifying the process," Donald in Colorado Springs told us. "Other than that, I'm really happy with my decision to go solar, and I've been tracking my system's performance carefully."
Xcel Energy's Solar Rewards program offers customers $1 per watt on their systems up to 7 kilowatts (kW). Another incentive offers monthly or annual payments to residents in exchange for renewable energy credits (RECs).
Gunnison County Electric Association (GCEA) follows Colorado's net metering statutes. Customers who generate excess energy through solar panels can receive credits on their electric bills.
Holy Cross Energy offers net metering incentives to its customers. You can get $250 per kW for the first 6 kW of a system and $100 per kW for the next 19 kW.
» GREENEST STATES: Colorado ranks No. 25 
Solar resources in Colorado
Below are some additional resources that can guide you through transitioning to solar in Colorado.
» GUIDE: Solar panel installation guide
Find solar companies in Colorado
Compare popular solar companies available in Colorado below. Read our guide to finding the best solar companies for more.
FAQ
Can I get solar panels for free in Colorado?
How much can I save with solar panels in Colorado?

In Colorado, the average savings is $14,479 over 25 years. Even if you don't generate 100% of your energy needs, you can still save a lot of money compared with paying traditional utility bills.

» EXPLORE: Where your solar savings go the furthest
Are there any commercial solar incentives in Colorado?

Yes, you can get commercial solar loans, grants, performance-based benefits and tax incentives in Colorado.

» MORE: Commercial solar panels
Are there any disadvantages to going solar in Colorado?

It typically takes around 12 years to pay off a system in Colorado, which is similar to timelines in surrounding states. Also, if you live in the shadow of mountains, your system may not be able to generate enough electricity for your home.

» MORE: Solar energy pros and cons
Is my HOA allowed to restrict solar panels in Colorado?

Colorado House Bill 21-1229 prevents HOAs (homeowners associations) from putting "unreasonable restrictions on renewable energy generation devices," which includes solar panels.
How can I pay for solar panels?
Bottom line: How much are solar panels in Colorado?
Going solar in Colorado can be an affordable choice for almost anyone. After the ITC, Coloradans can expect to pay around $14,000 for solar. With the addition of low-interest loans, grants, rebates and tax breaks, residents can expect that number to be even lower.
The ConsumerAffairs Research Team conducted an in-depth analysis to determine how much it costs to go solar in Colorado and the average solar costs in other states.
Solar costs: Colorado vs. nearby states
| | Upfront cost* | ITC value (30%) | Typical system size | Average cost per watt | Payback period** | Estimated net savings |
| --- | --- | --- | --- | --- | --- | --- |
| Colorado | $20,176 | $6,053 | 7.5 kW | $2.69 | 12 years | $14,479 |
| Utah | $21,440 | $6,432 | 8 kW | $2.68 | 14 years | $10,202 |
| New Mexico | $18,760 | $5,628 | 7 kW | $2.68 | 12 years | $15,413 |
| Texas | $30,934 | $9,280 | 8.5 kW | $2.69 | 13 years | $21,350 |
| Kansas | $23,310 | $6,993 | 9 kW | $2.59 | 11 years | $21,455 |
| Nebraska | $29,716 | $8,915 | 10.5 kW | $2.83 | 14 years | $13,421 |
| Wyoming | $23,130 | $6,939 | 9 kW | $2.57 | 13 years | $14,959 |
| Arizona | $30,015 | $9,004 | 11.5 kW | $2.61 | 12 years | $23,891 |
*Before the federal solar investment tax credit (ITC); **When you pay in full upfront
---
Article sources

ConsumerAffairs writers primarily rely on government data, industry experts and original research from other reputable publications to inform their work. Specific sources for this article include:
Did you find this article helpful?
|
You're signed up
We'll start sending you the news you need delivered straight to you. We value your privacy. Unsubscribe easily.