Kentucky solar incentives and tax credits
Resources for going solar in 2023



Written by

Edited by
Find Solar Energy Companies near you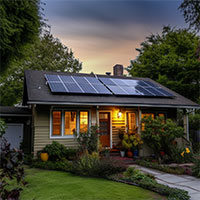 After the federal tax credit, the average cost to install solar panels is $18,018 in Kentucky, which is a little more expensive than the national average.
Compared with other states, Kentucky homeowners don't have access to as many financial incentives for going solar. There are, however, a few incentives for commercial and agricultural renewable energy projects.
---
Key insights
You can take advantage of the federal solar tax credit and net metering in Kentucky.
The average federal tax credit value is $7,722 in Kentucky.
When you pay cash, the estimated 25-year savings equal $20,247 with solar panels.
Solar incentives in Kentucky
The federal solar investment tax credit (ITC) is the biggest factor in reducing the cost of going solar in Kentucky. If you install a residential solar panel system by the end of 2032, you can deduct 30% of the system's total cost — including equipment, labor and permits — from your federal taxes. For example, for a $20,000 system, you can get a $6,000 credit when you file your taxes.
The ITC drops to 26% in 2033 and 22% in 2034.
The solar tax credit is not a rebate or refund — you must claim it when you file federal taxes in the year that your solar panel system becomes operational. To do this, you have to complete Form 5695.
If you live in Lexington-Fayette County, you can take advantage of the Solarize Lexington program. The program helps you navigate the solar installation process and gives you access to discounted wholesale rates (up to 20% off).
Commercial solar incentives in Kentucky
Kentucky has some financial incentives for businesses to invest in renewable energy.
Incentives for Energy Independence Act
In 2007, Kentucky introduced the Incentives for Energy Independence Act to boost renewable energy and other energy initiatives. The act offers incentives for companies that use renewable energy.
Companies must apply to the Kentucky Economic Development Finance Authority before starting. The application requires a $1,000 nonrefundable fee and a subsequent 0.25% administrative fee (up to $50,000).
Maximum incentives
All tax credits combined may not exceed 50% of the capital investment in the project:
100% of the corporate income tax
100% of limited liability entity tax
4% of gross wages of each employee
Terms
$1,000,000 minimum capital investment
Solar power facilities must generate at least 50 kW
Other energy facilities must generate at least 1 MW
Negotiated incentive package may not exceed 25 years
Tax exemption for large-scale renewable energy projects
The IEIA also includes a tax exemption for large renewable energy projects. Qualifying facilities must generate at least 50 kilowatts (kW) from solar or 1 megawatt (MW) from other renewables and must sell their electricity. Companies can get up to a 100% sales tax incentive on project materials and equipment.
Before investing, companies apply (with a $1,000 fee) to the Kentucky Economic Development Finance Authority. Each contract lasts up to 25 years.
Incentive amount: Up to 100% of sales and use tax
Maximum incentive: 50% of capital investment in the eligible project
What to know about net metering in Kentucky
Net metering lets you make money off any excess power your solar panels produce.
All Kentucky investor-owned utilities and electric co-ops, except TVA utilities, offer net metering. In 2021, the Kentucky Public Service Commission decided that the Kentucky Power Company must maintain its one-month net metering period with an export credit rate of 9.746 cents/kilowatt-hour (kWh).
Keep in mind that net metering requires some coordination between your solar company and local utilities to get started.
"My electric company told me that they have not received the documents that they needed to get my system turned on and swap out my meter," Toriano in Bowling Green said. "Though I'm glad I went solar, this last leg of the process was really aggravating to me."
» SOLAR PANELS: Solar panels: lease vs. buy
Solar resources in Kentucky
Below are some additional resources that can guide you through transitioning to solar in Kentucky.
» GUIDE: Solar panel installation guide
Find solar companies in Kentucky
Compare popular solar companies available in Kentucky below. Read our guide about finding the best solar companies for more.
Customize
Choose what information you want to see across each brand. At least one option must be selected.
FAQ
Can I get free solar panels in Kentucky?

You can lease or enter a PPA with little to no upfront costs for solar panels. Still, neither is totally free. Solar leases generally require a flat monthly fee; PPAs make you pay per unit of electricity.
How can I pay for solar panels?

You can pay cash, but most people finance solar panels. A solar loan works a lot like any other type of loan — there's an application and approval process, and you pay it back over time (with interest).

If you're considering a solar loan, lease or PPA (power purchase agreement), always ask:

Is there a down payment?
How much will I pay per month?
When will monthly payments increase, and by how much?
How much can I save with solar panels?

When you pay cash upfront, the average 25-year savings with solar is $20,247 in Kentucky, which is less than in many other states. Historically, Kentucky has had relatively low electricity rates. As utility rates increase over time, however, the savings from solar become more pronounced.
Bottom line: How much are solar panels in Kentucky?
You can get a 6-kW home solar system for a little less than $10,000, but many households need a bigger system to cover all their energy needs. In Kentucky, the overall cost to install solar panels averages $25,740 before the federal tax credit ($18,018 after the tax credit).
The ConsumerAffairs research team conducted an in-depth analysis to determine how much it costs to go solar in Kentucky and the average solar costs in other states.
Solar costs: Kentucky vs. nearby states
| | Average cost per watt | Typical system size | Average upfront cost* | Payback period** | 25-year savings** |
| --- | --- | --- | --- | --- | --- |
| Kentucky | $2.34 | 11 kW | $18,018 | 12 years | $20,247 |
| Tennessee | $2.49 | 12 kW | $20,916 | 13 years | $19,688 |
| Ohio | $2.56 | 9.5 kW | $16,128 | 12 years | $19,272 |
| Virginia | $2.75 | 11 kW | $21,175 | 12 years | $21,692 |
| West Virginia | $2.64 | 11 kW | $20,328 | 13 years | $19,893 |
| Indiana | $2.68 | 9.5 kW | $17,822 | 12 years | $21,994 |
| North Carolina | $2.54 | 6 kW | 13,815 | 13 years | $20,035 |
* Before ITC federal tax credit; ** When you pay cash
---
Article sources

ConsumerAffairs writers primarily rely on government data, industry experts and original research from other reputable publications to inform their work. Specific sources for this article include:
Did you find this article helpful?
|
You're signed up
We'll start sending you the news you need delivered straight to you. We value your privacy. Unsubscribe easily.