Cost of solar panels in Nevada
How much is it to go solar in 2023?



Written by

Edited by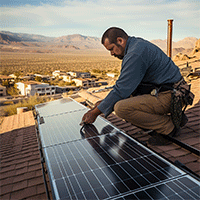 The average cost to install solar panels is $25,200 in Nevada before taking into account the federal solar investment tax credit (ITC). The price drops to $17,640 after the tax credit.
Going solar in Nevada is about 6% more expensive than the national average. The out-of-pocket investment might be higher than in other states, but the many hours of sunlight make the Silver State ideal for solar.
---
Key insights
The average cost per watt is $2.52 in Nevada
The average payback period in Nevada is 12 years if you pay for your system in full upfront.
Nevada residents who go solar receive an estimated net savings average of $18,319 over 25 years.
How much do solar panels cost in Nevada?
Installing residential solar panels can cost between $10,000 to $30,000 or more. The average Nevada resident pays $25,200 before tax credits for their system. On the higher end, Matt in Las Vegas said he paid $42,000, and Joshua in North Las Vegas spent $50,000.
Are solar panels worth it in Nevada?
We've talked to dozens of homeowners in Nevada who switched to solar. For a lot of them, it ends up being worth it for the savings on their monthly energy bills.
Even if you still have your utility company after going solar, your electricity bill should go down significantly. For instance, Ann in Pahrump told us her bill went from $300 each month to $100 after going solar.
"My bill is only 10 to 15 bucks, and I'm gladly taking that," William in Las Vegas said. "As far as the process for getting the solar panels, I was pretty annoyed with the paperwork I had to do with the HOA, but it was all worth it in the end."
Not everyone says they're saving enough to justify the investment, though. "I paid $20,000 and it's not worth it to install solar panels when they're gonna save me $30 a month," Manuel in West Wendover told us. "And it's going to be another $20,000 for the batteries."
For Ronald in Las Vegas, the long-term cost benefit makes it worth it. "The amount I'm paying now will stay the same over the next 20 years," he said. "If I was continuing with the energy company, it would continue to be more expensive over time."
When you pay cash, the average 25-year net savings with solar panels is $18,319 in Nevada.
» STILL NOT SURE? Solar energy pros and cons
Cost factors of going solar in Nevada
The cost of your solar panel system can vary widely depending on many factors. Let's dive into some of the key cost factors you should consider if you're thinking about going solar in Nevada.
Size of your system
The size of your system plays a big factor in how much you pay overall. Not surprisingly, systems with more power generation tend to come with higher equipment and labor costs.
You can easily determine what size system you need for your home. First, find out the amount of electricity you used in the last year in kilowatt-hours (kWh). You can find this information through your electric account dashboard online. Then divide your annual kWh by 1,200 to find the system size you need.
For example, the typical Nevada household uses 11,508 kWh per year. Using this formula, the typical household would need a 10-kilowatt (kW) system.
» WATT'S THE DIFFERENCE? kW vs. kWh
Average cost by system size in Nevada
| | 7 kW | 8 kW | 9 kW | 10 kW | 11 kW | 12 kW | 13 kW |
| --- | --- | --- | --- | --- | --- | --- | --- |
| Before federal tax credit | $17,640 | $20,160 | $22,680 | $25,200 | $27,720 | $30,240 | $32,760 |
| After federal tax credit | $12,348 | $14,112 | $15,876 | $17,640 | $19,404 | $21,168 | $22,932 |
Source: EcoWatch
Solar equipment costs
The first thing you need to consider is the cost of the solar panels themselves and any additional equipment, like inverters ($1,000 to $3,000), solar batteries ($7,000 to $18,000) and monitoring systems ($80 to $400).
High-quality panels come with a higher price tag, but they often pay off in the long run with better performance and durability. One of the factors that makes higher-quality panels pay off is solar panel efficiency. The more efficient your panels are, the more electricity they produce and the less space they take up on your roof.
Higher efficiency usually means a higher initial cost, though. The size and weight of your panels also matter, especially if your roof has weight restrictions.
Labor and installation costs
A good installation company will make sure your system is set up for optimal performance, but this expertise comes at a price. Sometimes the labor and installation costs are folded into the overall price of your system, so be sure to check with your solar company.
» GUIDE: Solar panel installation 
Condition of your roof
Your roof's condition is important, so make sure to get an inspection. Quality solar panels can last 25 to 30 years, so you want your roof to last just as long. If not, you'll end up paying extra to remove the panels, fix the roof and reinstall everything.
» MORE: Should you replace your roof before going solar?
How you pay
You have options when it comes to paying for your solar system. You can pay cash upfront, take out a solar loan, lease your system or get a power purchase agreement (PPA).
Each option has pros and cons, and your choice affects your overall cost to go solar. With a loan, you pay more because of interest, but you own your system. With leasing or a PPA, you get the benefits of solar, but you don't own the system. Paying upfront will help you avoid interest charges, but many people don't have the savings to buy solar panels without financing.
» SOLAR PANELS: Lease vs. buy
Other cost factors
Local permits and fees should be considered, especially if you're installing a larger system that might require additional permits or inspections.
Solar panels require minimal maintenance, but there's still an associated cost there. Think about potential repairs and periodic cleaning. These all add to the lifetime cost of your solar panel system.
Solar incentives, tax credits and rebates in Nevada
The average ITC value in Nevada is $7,560 in 2023.
The federal solar investment tax credit (ITC) is the biggest factor in reducing the cost of going solar in Nevada. If you install a solar panel system by the end of 2032, you will receive a federal income tax credit equal to 30% of the system's total cost. That includes equipment, labor and permits. The credit drops to 26% in 2033 and 22% in 2034.
Other than net metering, Nevada doesn't have any statewide financial incentives for solar panels. "I have no government incentives," William in Las Vegas told us, "but that's fine with me as long as I get a reduced power bill."
» EXPLORE:Nevada solar incentives
Compare solar installation companies in Nevada
Compare popular solar companies available in Nevada below. Read our guide to the best solar companies for more.
SunPower
Elevation
Tesla Energy
Palmetto Solar
Sunrun

Primary

SunPower
Learn more

Customer Rating

2,192 reviews2,192 reviews

Free consultation

Payment options

Cash, loan, lease

Warranty

25 years

Primary

Elevation
Learn more

Customer Rating

110 reviews110 reviews

Free consultation

Payment options

Not disclosed

Warranty

10 to 25 years

Primary

Tesla Energy
Learn more

Customer Rating

514 reviews514 reviews

Free consultation

Payment options

Cash, lease, loan

Warranty

25 years (system)

Primary

Palmetto Solar
Learn more

Customer Rating

3 reviews3 reviews

Free consultation

Payment options

Cash, lease, loan, PPA

Warranty

25 years (product and performance)

Primary

Sunrun
Learn more

Customer Rating

2,691 reviews2,691 reviews

Free consultation

Payment options

Cash, loan, lease

Warranty

25 years
Customize
Choose what information you want to see across each brand. At least one option must be selected.
FAQ
Can I get free solar panels in Nevada?

There are no programs for free solar panels in Nevada at this time.

» FREE SOLAR PANELS: Are they really free?
How are solar costs trending in Nevada?

The cost to go solar in Nevada has fallen 43% over the last 10 years, according to the Solar Energy Industries Association.

» TIPS: Getting the best solar quotes
How does net metering work in Nevada?

When your solar setup generates more power than you need, the extra energy gets sent to the grid and your power company pays you for it. This whole process is known as net metering. In Nevada, utility companies buy solar energy from homes and compensate homeowners with credits on their power bills.

» COMPARE: Best solar monitoring systems
Bottom line
Since the state has plenty of peak sun hours, Nevada is a great location to replace your current power with solar. While the state has few solar incentives and a higher cost for solar, homeowners can still save more than $18,000 over 25 years with a new solar power system.
Solar costs: Nevada vs. nearby states
| | Upfront cost* | ITC value (30%) | Typical system size | Average cost per watt | Payback period** | Estimated net savings |
| --- | --- | --- | --- | --- | --- | --- |
| Nevada | $25,200 | $7,560 | 10 kW | $2.52 | 12 years | $18,319 |
| Utah | $21,440 | $6,432 | 8 kW | $2.68 | 14 years | $10,202 |
| California | $16,380 | $4,914 | 4.5 kW | $2.73 | 8 years | $30,000 |
| Arizona | $30,015 | $9,004 | 11.5 kW | $2.61 | 12 years | $23,891 |
| Oregon | $24,700 | $7,410 | 9.5 kW | $2.60 | 14 years | $23,058 |
| Idaho | $26,000 | $7,800 | 10 kW | $2.60 | 14 years | $11,478 |
*Before the federal solar investment tax credit (ITC) **When you pay in full upfront
---
Article sources

ConsumerAffairs writers primarily rely on government data, industry experts and original research from other reputable publications to inform their work. Specific sources for this article include:
Did you find this article helpful?
|
You're signed up
We'll start sending you the news you need delivered straight to you. We value your privacy. Unsubscribe easily.