Cost of solar panels in New Mexico
How much is it to go solar in 2023?



Written by

Edited by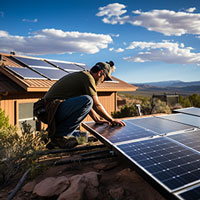 The average upfront cost to install solar panels is $18,760 in New Mexico. That price drops to $13,132 after the full federal solar investment tax credit (ITC).
Going solar in the Land of Enchantment is about 21% cheaper than the national average. The investment is around $3,000 lower than in other states after the tax credit, and the state offers some great incentives to make the costs even more affordable.
---
Key insights
The average cost per watt is $2.68 in New Mexico.
The average payback period in New Mexico is 12 years if you pay for your system upfront.
New Mexico residents who go solar save an estimated $15,413 over 25 years.
How much do solar panels cost in New Mexico?
Installing residential solar panels can cost between $10,000 to $30,000 or more, though individual costs vary. Your system size is one of the biggest factors in how much you pay.
The typical system size in New Mexico is 7 kW (kilowatts). To determine the size you need for your home, find the amount of electricity you used in the last year in kilowatt-hours (kWh) by going to your electric bill account dashboard online. Divide your annual kWh by 1,200 to find the system size you need.
For example, the typical New Mexico home uses around 7,752 kWh per year. So, you would need a 6-kW or 7-kW system to provide enough power.
» WATT'S THE DIFFERENCE? kW vs. kWh
Average cost by system size in New Mexico 
| | 4 kW | 5 kW | 6 kW | 7 kW | 8 kW | 9 kW | 10 kW |
| --- | --- | --- | --- | --- | --- | --- | --- |
| Before federal tax credit | $10,720 | $13,400 | $16,080 | $18,760 | $21,440 | $24,120 | $26,800 |
| After federal tax credit | $7,504 | $9,380 | $11,256 | $13,132 | $15,008 | $16,884 | $18,760 |
Source: EcoWatch
Are solar panels worth it in New Mexico?
Solar panels are worth it for the financial and environmental benefits for many homeowners in New Mexico.
Like a lot of residents, Douglas in Albuquerque went solar to lower his electric bills. Since making the switch, their monthly bills went from $300 or $400 to just $8 or $9.
Another solar customer, Larry in Albuquerque, told us he went solar to save on rising electricity costs, particularly because there is only one commercial utility in their area.
"The solar system will pay for itself in about 11 years from the date of initial install," Larry said. "The remaining 14 years of warranted solar production made the investment worth the price."
New Mexico receives an average of 6 to 7 peak sun hours each day.
"We like solar, and because we live in New Mexico and there's so much sunshine here, it made sense for us to go solar," Betsy in Albuquerque told us. "We just got hooked up on the first week in July, but our first bill was almost $100 lower."
Others we've talked to emphasize the savings, too. "We have been turned on for about a year and a half and couldn't be happier," Kali in Rio Ranch told us. "We have saved thousands of dollars to what we would have paid on."
One of the only downsides, according to Benjamin in Albuquerque, is "getting all the permits." Apparently, it was "a giant pain in the butt, and waiting on PNM to do anything was like pulling teeth. The process took eight months," Benjamin said. "But if you're patient with it, it's worth it."
Many solar panel installation companies handle the permitting process for you, so be sure to ask any installer you're considering working with who is responsible for permit applications and scheduling required inspections.
» STILL NOT SURE? Solar energy pros and cons
Cost factors of going solar in New Mexico
The ultimate cost of your solar setup can vary based on several factors. These include the system size, panel quality, the company you pick, permit fees and your roof's condition. Here's what to keep in mind.
Solar equipment costs
Your equipment costs can fluctuate based on a couple of things: the size of your setup and how efficient your chosen panels are at converting sunlight to electricity. The more efficient the panels, the fewer you'll need, which can reduce your total cost.
» COMPARE: Most efficient solar panels
Another consideration is batteries. Solar batteries are optional, and choosing to include them can add an extra $7,000 to $18,000 to your bill.
You might also want to consider a monitoring system for your solar gear. These systems can give you a heads-up if something's not right with your panels and help you keep track of your net metering. They usually cost between $80 and $400, but some companies may provide one for free with your solar energy system.
Condition of your roof
The size of your solar panels is substantial, so make sure your roof can handle the load. A pre-installation roof check is a smart move.
You'll want a roof that's strong and durable. Solar panels usually have a life span of 25 to 30 years, and you want your roof to last just as long. If it doesn't, you'll end up paying more to take the panels down when it's time for a roof makeover.
» SHOULD YOU: Replace your roof before going solar?
How you pay
There are several options for financing your solar panel system, each with its benefits and drawbacks.
When you pay upfront, you receive full ownership and potentially lower costs because you won't need to pay interest on a solar loan. However, the hefty initial investment isn't feasible for everyone.
Solar loans let you borrow the needed funds from a lender and pay them back over time. While you'll end up paying more because of loan interest, the savings on your power bill from solar energy might help balance it out.
You can also lease your equipment or enter a power purchase agreement (PPA). Solar leasing lets you essentially rent the equipment. This usually requires little to no upfront payment, but you won't own the system.
"The upside of not owning is that I don't have to maintain the system so if something breaks or something needs to be replaced, that's [the solar company's] responsibility," Thomas in Albuquerque said, "and I didn't have to go out-of-pocket whatever it costs to own the system."
PPAs are an agreement between you and a third-party company that owns and installs the panels on your home. You agree to buy the electricity they produce at a set rate, which helps you lower your utility bills.
If you choose to lease or enter a PPA, keep in mind you won't own the equipment and will not be eligible for the federal solar tax credit.
» WHICH IS RIGHT FOR YOU? Solar panels: lease vs. buy
Other cost factors
There are various other costs to watch out for:
Maintenance: Though solar panels require minimal maintenance, you may run into some added costs for potential repair or replacement of components and periodic cleaning.
Installation and labor: Typically, solar companies fold the cost of solar installation and labor into the total solar system price, but be sure to check before signing a contract.
Permits: Most towns require permits for installing solar, which can also add to the overall cost of your system. It can also take a long time, according to Mary in Albuquerque: "The only real delay in the whole process was the government, the county and the city inspections, and that just dragged on and on."
Solar incentives, tax credits and rebates in New Mexico
The federal solar investment tax credit (ITC) will save you a lot of money when going solar in New Mexico. If you install a residential solar panel system by the end of 2032, you will receive a federal income tax credit equal to 30% of the system's total cost. The credit drops to 26% in 2033 and 22% in 2034.
The average ITC value in New Mexico is $5,628 in 2023.
New Mexico also offers other incentives to save you on solar. For homeowners, you can get a 100% property tax exemption for the value your solar system adds to your home and a gross receipts tax exemption on all your solar equipment. The state also offers tax credits to homes that use solar.
If you can't pay upfront, you can apply for the New Mexico Property-Assessed Clean Energy (PACE) financing program. Homeowners can get a low-interest, fixed-rate loan that is paid back through a fee added to their property taxes.
» EXPLORE: New Mexico solar incentives
SunPower
Sunrun
ShopSolar
Sunnova
Green Home Systems

Primary

READ REVIEWS

Customer Rating

2,192 reviews2,192 reviews

Free quote

Payment options

Cash, loan, lease

Warranty

25 years

Primary

READ REVIEWS

Customer Rating

2,691 reviews2,691 reviews

Free quote

Payment options

Cash, loan, lease

Warranty

25 years

Primary

READ REVIEWS

Customer Rating

106 reviews106 reviews

Free quote

Payment options

Cash, loan

Warranty

Varies

Primary

READ REVIEWS

Customer Rating

105 reviews105 reviews

Free quote

Payment options

Cash, loan

Warranty

25-year system warranty

Primary

READ REVIEWS

Customer Rating

48 reviews48 reviews

Free quote

Payment options

Cash, loan

Warranty

Varies by system
Customize
Choose what information you want to see across each brand. At least one option must be selected.
FAQ
How are solar costs trending in New Mexico?

The cost to go solar in New Mexico has fallen 43% over the last 10 years, according to the Solar Energy Industries Association.
How much can I save with solar panels?

When you pay upfront, the average 25-year savings with solar is $15,413 in New Mexico. While you may not cover your electricity bill 100% with solar, you can expect to offset it by 82% to 111%, according to EnergySage.

» EXPLORE: Where solar savings go the furthest
How does net metering work in New Mexico?

If your solar setup generates more power than your home needs and you don't have a solar battery to store it, you can send the excess energy back to the grid and get paid for it. This is known as net metering.

In New Mexico, it's up to the electric companies to set the rate they'll pay you for your home-generated solar energy. To participate, you'll need to apply for interconnection with your utility provider.

» COMPARE: Best solar monitoring systems
How many solar panels do I need for my house?

The number of solar panels you need depends on how much electricity your household uses. In New Mexico, the average monthly energy consumption is 646 kWh. A 2,500-square-foot home typically requires around 24 solar panels.
What are the different kinds of solar inverters?

Solar inverters come in two main types: string inverters and microinverters. String inverters connect various panels and route the electricity to a point where it is converted to current that your home can use. Microinverters are small inverters that are added to each panel. They are better at avoiding power capacity loss than string inverters.

» EXPLORE: What are grid-tied solar systems?
Can I get free solar panels in New Mexico?

There are currently no programs for free solar panels in New Mexico. You can lease or enter a PPA with little to no upfront costs, though.

» FREE SOLAR PANELS: Are they really free?
Bottom line
While cheaper than in other states, the overall price of your solar system in New Mexico will vary depending on the equipment you purchase, labor costs, permit fees, maintenance fees and the cost of prepping your roof for panels. Thanks to tax breaks and credits in the state, you could save a lot of money on solar, though.
Solar costs: New Mexico vs. nearby states
| | Upfront cost* | ITC value (30%) | Typical system size | Average cost per watt | Payback period** | Estimated net savings |
| --- | --- | --- | --- | --- | --- | --- |
| New Mexico | $18,760 | $5,628 | 7 kW | $2.68 | 12 years | $15,413 |
| Arizona | $30,015 | $9,004 | 11.5 kW | $2.61 | 12 years | $23,891 |
| Utah | $21,440 | $6,432 | 8 kW | $2.68 | 14 years | $10,202 |
| Colorado | $20,176 | $6,053 | 7.5 kW | $2.69 | 12 years | $14,479 |
| Texas | $30,934 | $9,280 | 8.5 kW | $2.69 | 13 years | $21,350 |
| Oklahoma | $28,820 | $8,646 | 11 kW | $2.62 | 14 years | $14,190 |
*Before the federal solar investment tax credit (ITC); **When you pay in full upfront
---
Article sources

ConsumerAffairs writers primarily rely on government data, industry experts and original research from other reputable publications to inform their work. Specific sources for this article include:
Did you find this article helpful?
|
You're signed up
We'll start sending you the news you need delivered straight to you. We value your privacy. Unsubscribe easily.