Florida solar incentives, tax credits and rebates
Resources for going solar in 2023



Written by

Edited by
Find Solar Energy Companies near you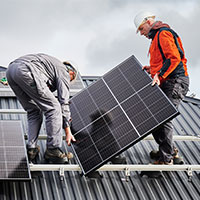 Florida's tax breaks make paying for solar panel installation easier: The state exempts solar equipment from sales and property taxes. But The Sunshine State's net metering policies cast a shadow on the potential to earn money back from any surplus power that your panels generate.
Solar policies here are less generous than in many other states (there are no renewable portfolio standards or power purchase agreements), although recent utility investments in clean energy point toward significant growth in the future.
---
Key insights
You can take advantage of solar tax breaks, rebates, loans and grant programs.
The average federal tax credit value is $4,644 in Florida.
Estimated lifetime savings are $21,500 with solar panels.
Solar incentives in Florida
The solar investment tax credit (ITC) is the biggest factor in reducing the cost of going solar in Florida. If you install a residential solar panel system by the end of 2032, you can deduct 30% of the system's total cost — including equipment, labor and permits — from your federal taxes. For example, for a $20,000 system, you can get a $6,000 credit when you file.
The ITC drops to 26% in 2033 and 22% in 2034.
This tax credit is not a rebate or refund — you must claim it when you file federal taxes for the year that your solar panel system becomes operational. To do this, you have to complete Form 5695.
Keep in mind the federal solar tax credit is not refundable: If the credit is more than you owe, the remaining credit will be applied to future years.
"I bought a big system worth over $70,000, and the government [tax credit] was supposed to be something like $18,000 that's broken up between three years," Noberto, a solar panel reviewer from St. Cloud, told us.
The credit does not work the same as a rebate. Ben in Miami was under the impression that the federal government would send a check reimbursing them for 30% of their solar installation costs, around $12,000, but a tax credit is subtracted from the amount you owe the federal government in taxes.
Tax credits are also more complicated if you're on a fixed income.
"I would only receive a tax credit if I owed taxes," Ben told us. "Living on a fixed income you don't have any tax credits because I don't owe any money to the IRS."
Statewide solar incentives in Florida
In addition to the federal tax credit, residents can take advantage of sales and property tax exemptions when they install solar panels. Some local solar companies in Florida offer promotional rebates.
Florida solar incentive details
| | Incentive type | Incentive amount | Applicable sectors | Frequency | Administrator |
| --- | --- | --- | --- | --- | --- |
| Solar and CHP Sales Tax Exemption | Sales Tax exemption | No limit | Residential, commercial, agricultural | One time | Florida Department of Revenue |
| Property Tax Abatement for Renewable Energy Property | Property Tax exemption | 80% to 100% of the added value | Residential, commercial, agricultural,industrial, multifamily residential | Ongoing | Florida Department of Revenue |
Solar state sales tax exemption
In Florida, you don't have to pay sales tax on solar energy systems or certain machinery related to energy production. This rule was made permanent in 2005. The exemption also applies to machinery used for green hydrogen production and related processes.
Maximum incentive amount: No limit
Eligible renewable technology: Solar photovoltaics, solar water heat, solar space heat and solar pool heating
Expiration date: None
Solar property tax exemption
In Florida, homes with renewable energy systems like solar or wind don't have to pay extra property taxes for these systems. Businesses get an 80% discount on property taxes for these systems. This rule applies to systems installed from 2013 onwards. However, some conditions apply for nonresidential properties.
In addition to solar panels (solar photovoltaics), solar water heaters and geothermal heat pumps are also eligible. When assessing your home's value, any increase "attributable to the installation of this equipment should be ignored," according to the Database of State Incentives for Renewables & Efficiency (DSIRE).
Residential incentive amount: 100% of the added value
Non-Residential incentive amount: 80% of the added value
Eligible storage technology: Lithium-ion
Expiration date: Dec. 31, 2037
» MUST-KNOW: The tax benefits of owning a home: must-know deductions and secrets
What to know about net metering in Florida
It's possible to install renewable energy systems and sell excess power back to the grid in Florida. This process, called net metering, is regulated by the Florida Public Service Commission.
Recent changes to the state's net metering policies have left some solar customers unhappy.
For example, Michael in Jacksonville, a JEA customer for decades, switched to JEA's SolarSmart program in 2021, "but due to the changes in the net-metering rates it didn't make financial sense."
Michael said that JEA "led me to believe that I would be paying a slightly higher energy cost per kWh (kilowatt-hour), but I wouldn't be paying any fuel cost. What really happened is that they charge me the regular energy cost per kWh of $0.069 PLUS (in addition to) the slightly higher SolarSmart rate of $0.075 per kWh."
There has been a total of $16.3 billion invested in solar energy technology in Florida
JEA does credit the fuel charge (approximately $0.039 per kWh), but it still doesn't save Michael on monthly expenses: "My bill went up $169 after I started using this program."
Ronald in St. Augustine had a similar experience: "I incorrectly assumed the base rate would stay the same."
At first, they were breaking even when Florida Power and Light was charging around $26 per month.
"However, the following year, FPL increased the basic rate (including surge protection) to $44.81, which is what I am paying now," Ronald said. "The difference between the two rates is about what I am losing monthly, when all is considered."
» LEARN: What is an off-grid solar system?
Solar resources in Florida
Here are some additional state, city and county resources that can guide you through transitioning to solar in Florida.
State resources
City and county solar incentives
SunPower
Sunrun
Freedom Solar Power
ShopSolar

Primary

SunPower
Read reviews

Customer Ratings

2,179 reviews2,179 reviews

Free quote

Payment options

Cash, lease, loan

Warranty

25 years (system)

Primary

Sunrun
Read reviews

Customer Ratings

2,632 reviews2,632 reviews

Free quote

Payment options

Cash, lease, loan

Warranty

Varies by system

Primary

Freedom Solar Power
Read reviews

Customer Ratings

128 reviews128 reviews

Free quote

Payment options

Cash, lease, loan

Warranty

25-year product and performance warranty

Primary

ShopSolar
Read reviews

Customer Ratings

86 reviews86 reviews

Free quote

Payment options

Cash, loan

Warranty

Varies
Customize
Choose what information you want to see across each brand. At least one option must be selected.
FAQ
How many solar panels do I need for my house?

The number of solar panels you need depends on how much electricity your household uses. The average monthly energy consumption is 1,096 kWh in Florida, according to the Energy Information Administration. Depending on efficiency, it takes about 20 to 30 solar panels to generate approximately 1,000 kWh per month.
Are there any disadvantages to going solar?

Going solar has many benefits — in Florida and elsewhere — such as lowering your carbon footprint and reducing your energy bills, but there are also some potential disadvantages, including:

Installation costs: Even though the cost of solar panels has significantly decreased over the years, it's still a big upfront investment.
Long-term value: A Zillow study suggests that solar panels increase property values, but not all buyers agree, particularly if the panels are aging or if they'd have to take over a solar lease.
Dependence on net metering: Net metering lets you sell excess electricity produced by your solar panels back to the grid. However, changes to net metering policies or rates can affect the economics of your solar system.

» MORE: Solar energy pros and cons
Is my HOA allowed to restrict solar panels?

In Florida, the Solar Rights Act protects the rights of property owners to install solar panels. Homeowner associations (HOAs) can require approval of plans but cannot prevent functioning installations. They can request panels be placed in a specific area, so long as it's within 45 degrees of due south and doesn't interfere with the panels' optimal effectiveness.
How many solar installations are in Florida?

There are a total of 188,599 solar installations in Florida, providing enough energy to power 1,399,415 homes, according to the Solar Energy Industries Association.
Bottom line: How much are solar panels in Florida?
The average cost to install solar panels is $20,367 in Florida after the solar investment tax credit, according to data from EcoWatch and the Energy Information Administration.
The ConsumerAffairs research team also conducted an in-depth analysis to determine how much it costs to go solar in Florida and the average solar costs in other states.
Average cost by system size in Florida
| | 3 kW | 5 kW | 6 kW | 8 kW | 10 kW |
| --- | --- | --- | --- | --- | --- |
| Before federal tax credits | $7,800 | $13,000 | $15,600 | $20,800 | $26,000 |
| After federal tax credits | $5,772 | $9,620 | $11,544 | $15,392 | $19,240 |
---
Article sources

ConsumerAffairs writers primarily rely on government data, industry experts and original research from other reputable publications to inform their work. Specific sources for this article include:
Did you find this article helpful?
|
You're signed up
We'll start sending you the news you need delivered straight to you. We value your privacy. Unsubscribe easily.