Cost of solar panels in Pennsylvania
How much is it to go solar in 2023?



Written by

Edited by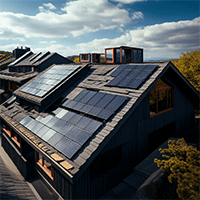 The average cost to install solar panels is $15,173 in Pennsylvania after the federal solar investment tax credit ($21,676 before the tax credit).
Going solar in the Keystone State is about 9% cheaper than the national average. The investment might be lower than in other states, but there are only a few local rebates and a loan program to further incentivize making the switch.
---
Key insights
The average cost per watt is $2.55 in Pennsylvania.
The average payback period for a solar power system is 10 years for Pennsylvania residents who pay in full upfront.
Pennsylvania residents who pay in full upfront receive an average estimated net savings of $23,634 with solar panels over 25 years.
How much do solar panels cost in Pennsylvania?
Costs for installing residential solar panels can span a wide range, but they typically fall between $10,000 to $30,000. On the high end, we've talked to solar customers in Pennsylvania who spent $70,000 or $100,000 on their systems (including batteries).
Your solar panel system's final price primarily depends on your system's power output, local installation labor rates and specific solar incentives available in your area. A typical residential solar system in Pennsylvania is around 8.5 kW.
» WHAT'S THE DIFFERENCE? kW vs. kWh
Average cost by system size in Pennsylvania
| | 6 kW | 7 kW | 8 kW | 9 kW | 10 kW | 11 kW | 12 kW |
| --- | --- | --- | --- | --- | --- | --- | --- |
| After federal tax credits | $10,710 | $12,495 | $14,280 | $16,065 | $17,850 | $19,635 | $21,420 |
| Before federal tax credits | $15,300 | $17,850 | $20,400 | $22,950 | $25,500 | $28,050 | $30,600 |
| Average size home the system can support | 1,200 sq. ft. | 1,400 sq. ft. | 1,600 sq. ft. | 1,800 sq. ft. | 2,000 sq. ft. | 2,200 sq. ft. | 2,400 sq. ft. |
Source: EcoWatch
Are solar panels worth it in Pennsylvania?
Solar panels are worth it for many people in Pennsylvania. We've talked to dozens of solar panel customers there, and the majority are happy with their decision to make the switch.
After a year with solar panels, Stephanie in Philadelphia said their electric bill is $0 in the summer and about half what it used to be in the winter.
 "It's definitely a good deal," she said. "On cloudy days or rainy days, you're not getting a heck of a lot of generation. But the way the summers have been around here, and warmer weather stretching out for longer in the seasons than they used to, you're crazy not to try and recoup some of that."
Over 25 years, the estimated average net savings for going solar in Pennsylvania equals $23,634.
Saving on energy costs seems to be the biggest benefit for people going solar in Pennsylvania. For example, Barry in Blandon said their electric bill is only $7 each month, and Ted in Huntingdon hasn't had one in over a year.
The environmental benefits are secondary for residents like George in Homestead. "The whole process was great. I'm not here to save the planet, though," George said. "I wanted to get money away from Duquesne Light. They were robbing me blind and I detested paying them so much."
People who are dissatisfied with going solar often tell us about slow installations, faulty equipment and hidden costs. These problems are usually more specific to a particular solar company, though.
» STILL NOT SURE? Solar energy pros and cons
Cost factors of going solar in Pennsylvania
How much you actually pay for your solar panels in Pennsylvania depends on a range of factors, including the size of your system and the quality of your panels. Labor and installation costs vary from company to company. Usually, these fees are baked into the overall cost of the system if you purchase your solar equipment from the same company that installs it.
To get a precise estimate of what you need for your home, compare a few quotes from local solar installers, which can provide you with tailored pricing based on your unique circumstances.
Equipment costs
The highest cost of your solar installation will be for the solar panels. While the size and weight of your panels play a role in their cost, you'll also pay more for systems that have better solar panel efficiency.
More efficient panels produce more electricity for your home, and systems with a higher efficiency rating may take fewer panels to produce the power you need, so you may find the extra cost is canceled out by the savings of buying fewer panels.
» COMPARE: Most efficient solar panels
Other than panels, the biggest equipment costs are solar batteries. You need a battery if you want to store your system's excess energy rather than sell it back to the grid. Solar batteries can add an extra cost of $7,000 to $18,000.
» GUIDE: Solar panel installation guide
Condition of your roof
When it comes to solar panels, durability is key. Quality solar panels are designed to last for 25 to 30 years. To ensure a seamless and cost-effective solar journey, it's important for your roof to match the system's longevity.
Solar panels typically last 25 years.
If your roof fails while panels are installed, you may find yourself in the position of having to foot the bill for panel removal, roof repairs and reinstallation. This can be both an annoying and costly endeavor. So, whenever possible, make sure your roof is inspected, fixed or replaced before you get a solar energy system.
» MORE: Should you replace your roof before going solar?
How you pay
You have multiple options if you choose not to pay for your panels upfront. Solar loans are available to finance solar panels, and Pennsylvania has a solar loan program for homeowners that offers a fixed interest rate.
If you don't want to go into debt, you could choose to lease solar equipment or get a PPA (power purchase agreement). You won't end up owning the equipment with a lease or PPA, but you will get the benefit of solar.
» SOLAR PANELS: Lease vs. buy
Local permits and fees
Like any other state, Pennsylvania requires permits and fees for installing solar. If you live in Philadelphia, you can get a permit fee break through the solar incentive program.
Solar incentives, tax credits and rebates in Pennsylvania
The federal solar investment tax credit (ITC) is the primary driver in making solar adoption affordable in Pennsylvania. If you choose to install a residential solar panel system before the end of 2032, you can enjoy a substantial benefit: a 30% tax credit on your federal taxes, calculated on the total system cost, encompassing equipment, labor and permits.
This credit gradually decreases to 26% in 2033 and further reduces to 22% in 2034.
The average ITC value in Pennsylvania is $6,503 in 2023.
The ITC is a nonrefundable tax credit, meaning it only helps cover your tax liability. If you don't use the entire credit, it rolls over to the next tax year.
On top of the ITC, Pennsylvania offers rebates on solar water heaters through your local electric company. You may also qualify for a fixed-rate loan of up to $100,000 through the state's High Performance Building Program.
» EXPLORE: Pennsylvania solar incentives
Compare solar installation companies in Pennsylvania
Compare popular solar companies available in Pennsylvania below and read our guide to finding the best solar companies for more.
Sunrun
Palmetto Solar
SunPower
Green Home Systems
Sunnova

Primary

Sunrun
Read reviews

Customer Rating

2,691 reviews2,691 reviews

Free consultation

Payment options

Cash, loan, lease, PPA

Warranty

25 years

Primary

Palmetto Solar
Read reviews

Customer Rating

3 reviews3 reviews

Free consultation

Payment options

Cash, lease, loan or PPA

Warranty

25 years (product and performance)

Primary

SunPower
Read reviews

Customer Rating

2,192 reviews2,192 reviews

Free consultation

Payment options

Cash, loan, lease

Warranty

25 years

Primary

Green Home Systems
Read reviews

Customer Rating

48 reviews48 reviews

Free consultation

Payment options

Cash, loan

Warranty

Varies by system

Primary

Sunnova
Read reviews

Customer Rating

105 reviews105 reviews

Free consultation

Payment options

Cash, loan

Warranty

25-year system warranty
Customize
Choose what information you want to see across each brand. At least one option must be selected.
FAQ
How are solar costs trending in Pennsylvania?

The cost to go solar in Pennsylvania has fallen 43% over the last 10 years, according to the Solar Energy Industries Association.
How much can I save with solar panels?

When you pay upfront, the average 25-year savings with solar is $23,634 in Pennsylvania. Since the state doesn't get as much sun as other states, you may be unable to replace all your electricity with solar. You can expect to offset your electricity bill by 80% to 108%, according to EnergySage.
How does net metering work in Pennsylvania?

When you make more energy than you need with your solar panels and you don't store that energy in a battery, the extra electricity is sent to the power grid. You are then paid for the energy your system produces. This is called net metering.

In Pennsylvania, residents with solar systems up to 50 kW can benefit from net metering (selling excess electricity to the grid). Homeowners are compensated from $30 to $47 per megawatt-hour (MWh) of surplus energy generated through the Pennsylvania solar alternative energy credits program.

» COMPARE: Best solar monitoring systems
How many solar panels do I need for my house?

The number of solar panels you need depends on how much electricity your household uses. In Pennsylvania, the average monthly energy consumption is 867 kilowatt-hours, according to the Energy Information Administration.
Can you live off-grid with solar panels in Pennsylvania?
Can I get free solar panels in Pennsylvania?
Bottom line
In Pennsylvania, the average cost of installing solar panels comes to approximately $21,676 before factoring in the federal solar investment tax credit (ITC).
It's more affordable to go solar in Pennsylvania than in some other states. Residential solar panel system costs typically fall between $10,000 to $30,000 or higher, depending on factors like the system's size, local labor rates and available incentives.
Additional incentives from the state can make your setup even more affordable. The potential net savings overall is approximately $23,634 over 25 years, making going solar in Pennsylvania pretty enticing.
Solar costs: Pennsylvania vs. nearby states
| | Upfront cost* | Typical system size | Average cost per watt | ITC value (30%) | Payback period** | Estimated net savings |
| --- | --- | --- | --- | --- | --- | --- |
| Pennsylvania | $21,676 | 8.5 kW | $2.55 | $6,503 | 10 years | $23,634 |
| New York | $19,183 | 6.5 kW | $2.94 | $5,760 | 10 years | $24,387 |
| West Virginia | $29,040 | 11 kW | $2.64 | $8,712 | 13 years | $19,893 |
| Virginia | $30,250 | 11 kW | $2.75 | $9,075 | 12 years | $21,692 |
| Ohio | $23,040 | 9.5 kW | $2.56 | $6,912 | 12 years | $19,272 |
| Connecticut | $21,000 | 7.5 kW | $2.80 | $6,300 | 8 years | $42,705 |
*Before the federal solar investment tax credit (ITC); **When you pay in full upfront
---
Article sources

ConsumerAffairs writers primarily rely on government data, industry experts and original research from other reputable publications to inform their work. Specific sources for this article include:
Did you find this article helpful?
|
You're signed up
We'll start sending you the news you need delivered straight to you. We value your privacy. Unsubscribe easily.