Utah solar incentives, tax credits and rebates
Resources for going solar in 2023



Written by

Edited by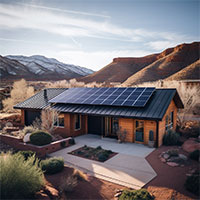 State tax breaks for home solar panel installations are decreasing in Utah. You can get back 25% of the cost up to $400 for installations done in 2023, but the state's residential tax credit amount for solar photovoltaic (PV) systems expires at the end of the year. The state's utilities don't offer incentives for rooftop solar. However, you can get rebates for getting a solar water heater.
---
Key insights
The average federal investment tax credit (ITC) value is $6,432 in Utah.
On average, a solar panel system costs $15,008 in Utah after the ITC.
Utah residents receive an estimated savings of $10,202 over 25 years with solar panels.
Solar incentives in Utah
The federal solar investment tax credit (ITC) is the most significant factor in reducing the cost of solar panels in Utah. If you install a residential system by the end of 2032, you get a tax credit of 30% of the total cost on your federal taxes. That includes equipment, labor and permits.
The ITC drops to 26% in 2033 and 22% in 2034.
For example, a system averages $21,440 in Utah. With the ITC, you would get a tax credit of $6,432. The credit is not an instant rebate, however. You must fill out Form 5695 when filing your federal income taxes for the year you install your solar system. If your tax liability is less than the amount of your credit, the excess rolls over into the next tax year.
Another important thing to note: Your solar panels have to be operational before you can claim the ITC, as Jennifer in Salt Lake City found out.
Statewide residential solar incentives in Utah
Utah doesn't offer as many solar incentives as other states, but there are a few that you can take advantage of. Residents can get a 25% state tax credit on the cost of installing a solar system, but there's a cap of $400 for every year you apply for the credit.
» MUST-KNOW: The tax benefits of owning a home: must-know deductions and secrets
Dominion Energy customers can also get a rebate on solar water heaters and solar pool heaters. The incentive varies depending on what type of heater you buy, but you could rack up several hundred dollars in rebates.
What to know about net metering in Utah
Net metering is when you send excess electricity created by your solar panels to the grid and get compensated. Utah no longer has net metering laws to govern policies, so power companies have different guidelines.
For example, Rocky Mountain Power offers net metering to its customers in Utah, Idaho and Wyoming. To qualify, your system must be no more than 25 kilowatts (kW), and you can expect to receive around 6 cents per kilowatt-hour (kWh).
In 2023, the Utah Supreme Court said Utah's primary utility company, Rocky Mountain Power, is allowed to let leftover credits expire each year. So, customers lose any credits they don't use by Dec. 31.
The court also said utility companies can change the rate paid for solar power fed into the grid annually, which means the amount customers get as a credit can go up or down year to year based on what the utility decides.
Advocates argued these changes discourage people from installing rooftop solar. The court sided with the utility, however, deciding the ruling prevents customers without solar from having to subsidize those who do go solar.
An alternative to net metering is to store excess energy in a battery. That way, you keep your excess power to use when your panels aren't generating enough for your needs and don't have to worry about selling and buying it from the grid.
» GREENEST STATES: Utah ranks No. 37
Solar resources in Utah
Below are additional resources that can guide you through transitioning to solar in Utah.
» GUIDE: Solar panel installation
Find solar companies in Utah
Compare popular solar companies available in Utah below. Read our guide to finding the best solar companies for more.
Customize
Choose what information you want to see across each brand. At least one option must be selected.
FAQ
Can I get solar panels for free in Utah?
How much can I save with solar panels in Utah?

In Utah, the average savings for those who go solar is $10,202 over 25 years. Even if your system doesn't generate 100% of your energy needs, you can still save a lot of money compared with traditional utility bills.

» EXPLORE: Where your solar savings go the furthest
Are there any commercial solar incentives in Utah?

There are multiple commercial solar incentives in Utah, including tax, loan and building incentives for businesses in Utah.

» MORE: Commercial solar panels
Are there any disadvantages to going solar in Utah?

Going solar in Utah has some disadvantages. First, the state offers very few solar incentives. Second, it has no laws governing how electric companies compensate you for net metering. Third, there are few large solar companies that will install panels in Utah.

Still, you save a lot of money over time by going solar, and you can take advantage of the federal solar investment tax credit to save even more.

» MORE: Solar energy pros and cons
Is my HOA allowed to restrict solar panels in Utah?

In Utah, homeowners associations (HOAs) can no longer completely ban solar panels. A new law says HOAs must allow residents to install solar panels on their property. But HOAs can still put some limits in place. They can have rules about where panels can go or how they should look. These rules cannot block solar totally — just restrict it.

Each HOA may have different requirements for solar panels in their neighborhood. Check your HOA agreement to see the specific guidelines for your community. Talk to a lawyer or expert if your HOA seems too restrictive on solar. They can advise if the limits follow the new law. The goal is to allow solar but give HOAs some say in placement and appearance.
How can I pay for solar panels?
Bottom line: How much are solar panels in Utah?
While Utah only offers two state incentives to residents going solar, investing in solar panels isn't a bad idea. You can save thousands of dollars over the years, and the ITC can hack 30% of the system's cost off of your federal taxes.
The ConsumerAffairs Research Team conducted an in-depth analysis to determine how much it costs to go solar in Utah and the average solar costs in other states. After the federal investment tax credit (ITC), the average system is $15,008 in Utah, which is still cheaper than in many other states despite the lack of state incentives. The national average is $16,715.
Solar costs: Utah vs. nearby states
| | Average cost per watt | Typical system size | Upfront cost* | ITC value (30%) | Payback period** | Estimated net savings |
| --- | --- | --- | --- | --- | --- | --- |
| Utah | $2.68 | 8 kW | $21,440 | $6,432 | 14 years | $10,202 |
| New Mexico | $2.68 | 7 kW | $18,760 | $5,628 | 12 years | $15,413 |
| Nevada | $2.52 | 10 kW | $25,200 | $7,560 | 12 years | $18,319 |
| Texas | $2.69 | 8.5 kW | $30,934 | $9,280 | 13 years | $21,350 |
| Colorado | $2.69 | 7.5 kW | $20,176 | $6,053 | 12 years | $14,479 |
| Idaho | $2.60 | 10 kW | $26,000 | $7,800 | 14 years | $11,478 |
*Before the federal solar investment tax credit (ITC); **When you pay in full upfront
---
Article sources

ConsumerAffairs writers primarily rely on government data, industry experts and original research from other reputable publications to inform their work. Specific sources for this article include:
Did you find this article helpful?
|
You're signed up
We'll start sending you the news you need delivered straight to you. We value your privacy. Unsubscribe easily.