Georgia solar incentives, tax credits and rebates
Resources for going solar in 2023



Written by

Edited by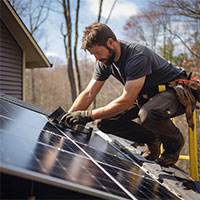 After the federal solar investment tax credit (ITC), the average solar energy system costs $19,635 in Georgia, which is more expensive than in many other states. The national average is $16,715.
Georgia doesn't have many local tax breaks and rebates to incentivize residents to go solar compared with many other states, but there are solar loan programs. Federal tax incentives can take a substantial amount off your system's overall cost.
---
Key insights
You can take advantage of a solar loan program in Georgia.
The average federal ITC value is $8,415 in Georgia.
Georgia residents save an estimated $23,182 over 25 years with solar panels.
Solar incentives in Georgia
The best way to save money on solar in Georgia is the federal solar investment tax credit (ITC). You receive a federal income tax credit equal to 30% of your solar system's total cost, including equipment, labor and permits.
The ITC drops to 26% in 2033 and 22% in 2034.
For example, a typical system in Georgia costs around $28,050. With the ITC, you can get a $8,415 credit when you file your income taxes. All you have to do is complete Form 5695 and submit it when you file your taxes.
Some residents may be able to finance solar equipment through Central Georgia EMC or Walton EMC. The electric co-ops offer a loan program called HomePlus Loan. Customers with a good payment record and good credit may qualify.
Local solar incentives in Georgia
| | Incentive amount | Eligible equipment | Applicable sectors | Administrator | Available statewide |
| --- | --- | --- | --- | --- | --- |
| Central Georgia EMC - HomePlus loan for energy efficiency upgrades | Up to $25,000 | Solar panels, solar water heaters, geothermal heat pumps | Residential | Central Georgia Electric Membership Corporation | |
| Walton EMC - HomePlus Loan program | Up to $25,000 | Solar water heaters | Residential, commercial | Walton Electric Membership Corporation | |
| Georgia Interfaith Power & Light - energy improvement grant program | Up to $10,000 | Solar water heaters | Nonprofit, education, institutional | Georgia Interfaith Power & Light | |
What to know about net metering in Georgia
Georgia homeowners with solar panels can get credit for the extra electricity they generate and send back to the power grid. This is called net metering.
Net metering compensates you for sending your solar system's excess power to the power grid to help power other homes and businesses. You're typically compensated with a credit on your electricity bill or a yearly payment.
Homeowners with a solar array with a capacity of 10 kilowatts (kW) or less can participate. Reimbursements are capped at 0.2% of a utility's peak electricity demand from the previous year.
It's a great way to offset your power bill, but your power company may not participate in this type of program. For example, Georgia Power doesn't offer net metering, but it does offer a buyback program that uses the same concept: Your excess power is credited to your next month's bill. The alternative to net metering is storing excess energy in a solar battery to use later.
» GREENEST STATES: Georgia ranks No. 35
Solar resources in Georgia
Below are some additional resources to help guide you through transitioning to solar in Georgia.
» GUIDE: Solar panel installation
Find solar companies in Georgia
Compare popular solar companies available in Georgia below. Read our guide to finding the best solar companies for more.
Customize
Choose what information you want to see across each brand. At least one option must be selected.
FAQ
Can I get solar panels for free in Georgia?
How much can I save with solar panels in Georgia?

In Georgia, the average savings is $23,182 over 25 years. Even if you don't generate 100% of your energy needs, you can still save a lot of money compared with traditional utility bills.

» EXPLORE: Where solar savings go the furthest
Are there any commercial solar incentives in Georgia?

If you own a business in Georgia, you may qualify for a solar loan through Walton Electric Membership Corporation or a corporate tax credit.

» MORE: Commercial solar panels
Are there any disadvantages to going solar in Georgia?

The biggest disadvantage of going solar in Georgia is the lack of incentives the state offers. It is also more expensive to buy a solar energy system in Georgia than in some other states.

» MORE: Solar energy pros and cons
Is my HOA allowed to restrict solar panels?

Many states have laws that prevent homeowners associations (HOAs) from making rules against solar panels, but Georgia does not. There's no active solar rights law in the state, so your HOA may try to prevent you from putting up panels.
How can I pay for solar panels?

Paying upfront saves you the most money, but there are other options if you don't have much cash. Solar loans can help you finance solar panels, but be sure to look for ones with low interest rates to save the most money. Other options include leasing solar equipment or entering a power purchase agreement (PPA).

» SOLAR PANELS: Lease vs. buy
Bottom line: How much are solar panels in Georgia?
Overall, it's expensive to go solar in Georgia. You can save a lot of money with the federal ITC, though, and certain electric membership cooperative customers may qualify for a solar loan to make paying for solar easier.
The ConsumerAffairs Research Team conducted an in-depth analysis to determine how much it costs to go solar in Georgia and the average solar costs in other states.
Solar costs: Georgia vs. nearby states
| | Upfront cost* | ITC value (30%) | Typical system size | Average cost per watt | Payback period** | Estimated net savings |
| --- | --- | --- | --- | --- | --- | --- |
| Georgia | $28,050 | $8,415 | 11 kW | $2.55 | 12 years | $23,182 |
| Alabama | $28,176 | $8,453 | 11.5 kW | $2.45 | 11 years | $28,590 |
| Florida | $29,095 | $8,728 | 11.5 kW | $2.53 | 12 years | $21,500 |
| Kentucky | $25,740 | $7,722 | 11 kW | $2.34 | 12 years | $20,247 |
| Tennessee | $29,880 | $8,964 | 12 kW | $2.49 | 13 years | $19,688 |
*Before the federal solar investment tax credit(ITC); **When you pay in full upfront
---
Article sources

ConsumerAffairs writers primarily rely on government data, industry experts and original research from other reputable publications to inform their work. Specific sources for this article include:
Did you find this article helpful?
|
You're signed up
We'll start sending you the news you need delivered straight to you. We value your privacy. Unsubscribe easily.