Cost of solar panels in Georgia
How much is it to go solar in 2023?



Written by

Edited by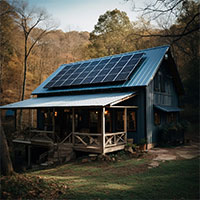 The average upfront cost to install solar panels is $28,050 in Georgia. That price drops to $19,635 after you will receive the full federal solar investment tax credit (ITC).
Going solar in the Peach State is about 17% more expensive than the national average. The out-of-pocket investment might be higher compared with other states, but net metering and other factors can make the cost substantially lower.
---
Key insights
The average cost per watt is $2.55 in Georgia.
The average payback period in Georgia is 12 years if you pay for your system upfront.
Georgia residents who go solar save an estimated $23,182 over 25 years.
How much do solar panels cost in Georgia?
Installing a residential solar panel system — also called a photovoltaic or PV system — can cost between $10,000 to $30,000 or more. Individual costs vary significantly. On the high end, Brad in Bogart said he was quoted $40,000 to go solar, including battery backup.
The size of your system plays a big factor in the cost. The typical system size for solar systems in Georgia is 11 kilowatts (kW).
To determine what system size you need, find the amount of electricity you used in the last year in kilowatt-hours (kWh) by going to your old bills or your local utility's online dashboard. Then, divide your annual number of kWh by 1,200. For example, if your home used 13,000 kWh (the average for a home in Georgia) last year, you would need an 11-kW system.
» WHAT'S THE DIFFERENCE? kW vs. kWh
Average cost by system size in Georgia
| | 8 kW | 9 kW | 10 kW | 11 kW | 12 kW | 13 kW | 14 kW |
| --- | --- | --- | --- | --- | --- | --- | --- |
| Before federal tax credits | $20,400 | $22,950 | $25,500 | $28,050 | $30,600 | $33,150 | $35,700 |
| After federal tax credits | $14,280 | $16,065 | $17,850 | $19,635 | $21,420 | $23,205 | $24,990 |
| Approximate house size | 1,600 square feet | 1,800 square feet | 2,000 square feet | 2,200 square feet | 2,400 square feet | 2,600 square feet | 2,800 square feet |
Source: EcoWatch
Are solar panels worth it in Georgia?
Solar panels end up being worth it for many homeowners in Georgia. Happy solar customers, like Brenda in Crawford, told us her electricity bills have gone down tremendously.
For others, the environmental benefits alone are enough to make it worth it. For instance, Noah in Kings Bay said he was "proud to go green" and "more than happy to make the change in a positive direction."
We've also talked to Georgia residents who regret going solar, like Cory in Grovetown. Cory is "completely dissatisfied" because sales reps exaggerated how much he would save. "Between my electric bill now and my solar panel payment, I am losing $80 a month," Cory said. This is why it's so important to compare a few solar quotes before making a decision.
Georgia residents who go solar receive an estimated average net savings of $23,182 over 25 years.
There's no way around it: Buying solar equipment is expensive. On the bright side, Georgia state law has a 30-day cancellation right for sales that include payments above $10,000, involve a lease longer than 120 months or are eligible for federal tax credits, according to the state's attorney general.
Not all states have these protections — this makes it a little less daunting to commit to such a large investment.
» MORE: Are solar panels worth it?
Cost factors of going solar in Georgia
How much you pay for your solar system depends on a range of factors, like the type of panels, the size of the panels, your roof's life span and more. Here are a few things to think about.
Solar equipment costs
There are three major costs when it comes to solar equipment: solar panels, solar batteries and monitoring systems.
Your solar panel costs can change based on system size and the mounting. Another factor is how good your panels are at turning sunshine into power. This is referred to as the solar panel's efficiency. The better your panels are at this, the fewer you'll need, which saves you cash.
Consider adding solar batteries. They're not a must-have, but if you go for it, you're looking at shelling out an extra $7,000 to $18,000 each.
Don't forget about monitoring systems. These handy gadgets can give you a heads-up if something's off with your panels, keep tabs on your net metering and more. They'll set you back anywhere from $80 to $400, but some installers may include a monitoring system with your system for no charge.
Labor, permits and installation costs
If you're going with a solar company to install your solar panels, the labor, permit and installation costs are typically included in your quote. Be sure to ask for an itemized estimate so you can compare these costs from different companies.
Condition of your roof
It's essential to get a roof inspection before getting your new solar energy system. Solar panels last around 25 to 30 years, and you want your roof to last just as long. If it doesn't, you'll need to pay to have panels removed while your roof is repaired or replaced and then pay again to have them reinstalled.
» SHOULD YOU: Replace your roof before going solar?
How you pay
There are multiple options for financing a solar panel system, each with its own advantages and disadvantages.
Upfront purchase: Buying the solar panels outright requires an upfront payment that covers the entire cost of the system. This gives you full ownership and potentially lower costs because there's no interest to pay back, but it's a significant financial commitment many people can't afford.
Solar loans: These loans let you finance your solar panel system through a lending institution. You borrow the needed funds and pay them back over time. While interest will be added to your payments, the savings from your solar energy might help offset this cost.
Solar leasing: This option involves renting solar equipment from a provider. The benefit is that there's usually little to no initial payment required. However, you won't own the system and won't be eligible for the federal solar investment tax credit.
Power purchase agreements (PPAs): In this arrangement, a third-party company owns and installs the solar panels on your property. You agree to buy the electricity they produce at a set rate for a specified period. This lets you save on electricity bills, but you won't own the system.
» SOLAR PANELS: Lease vs. buy
Solar incentives, tax credits and rebates in Georgia
The federal solar investment tax credit (ITC) is the biggest factor reducing the cost of going solar in Georgia. If you install a residential solar panel system by the end of 2032, you receive a federal income tax credit equal to 30% of the system's total cost. That includes equipment, labor and permits. The credit drops to 26% in 2033 and 22% in 2034.
The average ITC value in Georgia is $8,415 in 2023
Georgia also has solar loans through the Go Energy Financial Credit Union's HomePlus loan program. Customers who receive electrical service through Walton Electric Membership Corporation with good credit scores and payment histories may qualify.
» EXPLORE: Georgia solar incentives
Compare solar installation companies in Georgia
Compare popular solar companies available in Georgia below. Read our guide to finding the best solar companies for more.
Customize
Choose what information you want to see across each brand. At least one option must be selected.
FAQ
How are solar costs trending in Georgia?

The cost to go solar in Georgia has fallen 43% over the last 10 years, according to the Solar Energy Industries Association.

» STILL NOT SURE? Solar energy pros and cons
How much can I save with solar panels?

When you pay upfront, the average 25-year savings with solar is $23,182 in Georgia. Even if your system doesn't completely offset your electricity bill, you can expect to offset your electricity bill by 69% to 94%, according to EnergySage.

» EXPLORE: Where solar savings go the furthest
How does net metering work in Georgia?

Net metering is a process where you get paid or credited for the extra energy your solar setup sends back to the electrical grid. In Georgia, there are specific rules for net metering. Your system has to be 10 kilowatts (kW) or smaller to be eligible. Also, the amount you can get back is limited to a fraction of the utility company's peak demand from the previous year.

It's worth noting that not all power companies offer net metering. Take Georgia Power, for example — it doesn't have a net metering program, but it does have a buyback plan. It's pretty much the same deal: The extra energy you produce gets credited to your next month's bill.

» COMPARE: Best solar monitoring systems
How many solar panels do I need for my house?

The number of solar panels you need depends on how much electricity your household uses and the type of panels you have. In Georgia, the average monthly energy consumption is 1,081 kWh. A 2,500-square-foot home typically requires about 24 solar panels.

» GUIDE: Solar panel installation
What are the different kinds of solar inverters?

There are two main types of solar inverters. Microinverters are smaller inverters that are installed on each solar panel, making them more efficient. String inverters are less efficient and connect an entire "string" of solar panels to a central point to convert their DC output to AC power.

» EXPLORE: What are grid-tied solar systems?
Can I get free solar panels in Georgia?
Bottom line
On average, installing solar panels in Georgia costs about $19,635 after taking into account the federal solar investment tax credit. That's roughly 17% more than the U.S. average of $16,715. While solar panels in Georgia are relatively pricey, the savings over 25 years can add up to $23,182. That can make it well worth going solar.
Solar costs: Georgia vs. nearby states
| | Upfront cost* | ITC value (30%) | Typical system size | Average cost per watt | Payback period** | Estimated net savings |
| --- | --- | --- | --- | --- | --- | --- |
| Georgia | $28,050 | $8,415 | 11 kW | $2.55 | 12 years | $23,182 |
| Alabama | $28,176 | $8,453 | 11.5 kW | $2.45 | 11 years | $28,590 |
| Florida | $29,095 | $8,728 | 11.5 kW | $2.53 | 12 years | $21,500 |
| Kentucky | $25,740 | $7,722 | 11 kW | $2.34 | 12 years | $20,247 |
| Tennessee | $29,880 | $8,964 | 12 kW | $2.49 | 13 years | $19,688 |
*Before the federal solar investment tax credit(ITC); **When you pay in full upfront
---
Article sources

ConsumerAffairs writers primarily rely on government data, industry experts and original research from other reputable publications to inform their work. Specific sources for this article include:
Did you find this article helpful?
|
You're signed up
We'll start sending you the news you need delivered straight to you. We value your privacy. Unsubscribe easily.