Alaska solar incentives, tax credits & rebates
Financial resources for going solar in 2023



Written by

Edited by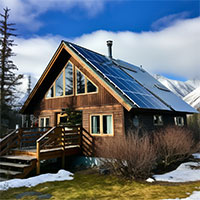 Alaska doesn't have many solar incentives. Still, the federal solar tax credit, statewide net metering mandate and local property tax exemptions make installing solar panels more affordable in the Last Frontier.
After the federal solar investment tax credit (ITC), the average system is $10,122 in Alaska, which is cheaper than in many other states. The national average is $16,715.
---
Key insights
You can take advantage of the solar tax breaks, grants and rebates in Alaska.
The average federal tax credit value is $$4,338 in Alaska.
Alaska residents who go solar receive an estimated average net savings of $34,500 over 25 years.
Solar incentives in Alaska
The federal solar investment tax credit (ITC) is the biggest factor reducing the cost of going solar in Alaska. If you install a residential solar panel system by the end of 2032, you will receive a federal income tax credit equal to 30% of the system's total cost, which includes equipment, labor and permits.
The federal solar investment tax credit drops to 26% in 2033 and 22% in 2034.
For example, in Alaska, the average cost of a system is $14,460. With the ITC, you can get a $$4,338 credit on a system with this cost when you file your taxes. The solar tax credit is not a rebate or refund, though. You have to claim it when you file federal taxes with Form 5695.
» MUST-KNOW: The tax benefits of owning a home
Residential solar incentives in Alaska
In some areas, homeowners can get a property tax exemption when they go solar. Golden Valley Electric Association also has the Sustainable Natural Alternative Power (SNAP) program, which is a performance-based incentive for going solar.
Property tax exemption: This amount is set by the local government, so how much of an exemption you get may vary depending on where you live in Alaska.
SNAP program: Amounts are determined by the kilowatt-hour (kWh) produced and contributions from supporting members. The maximum incentive amount is $1.50 per kWh. Systems of 25 kilowatts (kW) or less are eligible.
More solar incentives in Alaska
| | Incentive type | Incentive amount | Applicable sectors | Administrator | Available statewide |
| --- | --- | --- | --- | --- | --- |
| Power Project Loan Fund | Loan program | Varies | Local government, municipal utilities, cooperative utilities | Alaska Industrial Development and Export Authority | |
| Renewable Energy Grant Program | Grant program | Varies | Investor-owned utility, local government, municipal utilities, cooperative utilities, schools, state government, tribal government, retail supplier | Alaska Energy Authority | |
What to know about net metering in Alaska
Net metering is when you produce more electricity with your solar system than you can use (and you don't store it in a solar battery), so you send it to the power grid for compensation. In Alaska, large utilities are required to purchase up to 1.5% of the utility's average load from customers with solar. Customers must have systems with a capacity of 25 kW or less to qualify.
Some utilities have compensation programs that are basically net metering. For example, Golden Valley Electric Association's (GVEA) SNAP program pays customers for solar. Customers signed up with this program get monthly credits on their bills and yearly payouts.
The utility pays up to $1.50 per kilowatt-hour (kWh). To qualify, your system must be 25 kW or less.
» GREENEST STATES: Alaska ranks No. 30
Solar resources in Alaska
Below are some additional resources that can guide you through transitioning to solar in Alaska.
» GUIDE: Solar panel installation
Find solar companies in Alaska
Compare popular solar companies available in Alaska below. Read our guide to the best solar companies for more information.
Customize
Choose what information you want to see across each brand. At least one option must be selected.
FAQ
Can I get solar panels for free in Alaska?
How much can I save with solar panels in Alaska?

In Alaska, the average savings is $34,500 over 25 years. Even if you don't generate 100% of your energy needs, you can still save a lot of money versus paying traditional utility bills.
Are there any commercial solar incentives in Alaska?

There is a commercial loan and grant program for solar in Alaska. You can also get paid for sending power to the grid through a performance-based incentive.

» MORE: Commercial solar panels
Is my HOA allowed to restrict solar panels?

It's possible your homeowners association may place restrictions on installing solar panels. There are no laws in Alaska that prevent HOAs from regulating solar installation.
How can I pay for solar panels?
Bottom line: How much are solar panels in Alaska?
Once you take the federal tax credit into account, the average solar setup in Alaska costs you $10,122. That's a steal compared with the national average of $16,715. Alaska keeps it simple with just property tax incentives and net metering. Still, over 25 years, you could save $34,500 by going solar, which is a whole lot more than you'd save in most states.
---
Article sources

ConsumerAffairs writers primarily rely on government data, industry experts and original research from other reputable publications to inform their work. Specific sources for this article include:
Did you find this article helpful?
|
You're signed up
We'll start sending you the news you need delivered straight to you. We value your privacy. Unsubscribe easily.