Cost of solar panels in Utah
How much is it to go solar in 2023?



Written by

Edited by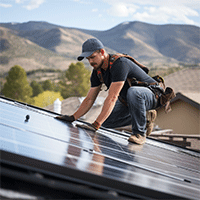 The average cost to install solar panels is $21,440 in Utah before the federal solar investment tax credit (ITC). The price drops to $15,008 after the ITC.
Going solar in the Beehive State is about 10% cheaper than the national average. The out-of-pocket investment might be lower than in other states, but the estimated average net savings are also lower than in many other states.
---
Key insights
The average cost per watt in Utah is $2.68.
If you pay cash, the average payback period is 14 years.
Over 25 years, Utah residents who go solar receive an estimated average net savings of $10,202.
How much do solar panels cost in Utah?
Installing residential solar panels can cost between $10,000 to $30,000 or more, though individual costs vary. On the high end, Brett in West Jordan told us he spent $44,000.
Your system's size plays a big factor in how much you pay overall. Not surprisingly, systems that produce less power tend to cost less. The average size of solar energy systems in Utah is 8 kW.
It's simple to determine what size system you need. First, find out the amount of electricity you used in the last year in kilowatt-hours (kWh). This information should be on your electric account dashboard online. Then divide your annual kWh by 1,200 to find the system size you need. The typical Utah household uses 9,300 kWh per year.
» WATT'S THE DIFFERENCE? kW vs. kWh
Average cost by system size in Utah
| | 5 kW | 6 kW | 7 kW | 8 kW | 9 kW | 10 kW | 11 kW |
| --- | --- | --- | --- | --- | --- | --- | --- |
| After federal tax credits | $9,380 | $11,256 | $13,132 | $15,008 | $16,884 | $18,760 | $20,636 |
| Before federal tax credits | $13,400 | $16,080 | $18,760 | $21,440 | $24,120 | $26,800 | $29,480 |
| House size (in square feet) | 2,200 | 2,400 | 2,600 | 2,800 | 3,000 | 3,200 | 3,400 |
Source: EcoWatch
Are solar panels worth it in Utah?
Solar panels are worth it for many people in Utah. We've talked to dozens of solar panel customers there, and most of them seem satisfied with their decision.
For example, Luke in Herriman is happy with solar panels because his electric bill has dropped to $10. David in Herriman told us it "was very simple, straightforward and painless setting it up."
"There were two things that we were working through," Chad in Kaysville told us. "One of them was trying to get the installation done in the previous calendar year so I could apply for the rebates this year."
The other hurdle was the cost. "There wasn't any negotiation to coming down on cost," Chad said. "Very few people, myself included, have that sort of cash just lying around."
Chad worked it out with solar financing. "I've only gotten one bill so far where the solar has been on it," he said, "and with the net metering, it's saving money. In case it goes up, I feel comfortable with how the power is coming through the panels and supplying it to my house."
With energy costs getting more expensive, it's nice to have a more predictable (and lower) monthly bill. Ultimately, whether or not it's worth it financially comes down to how much you pay compared with how much you save. It's always worth it to get a few quotes and compare to make sure you're getting the best deal.
» STILL NOT SURE? Solar energy pros and cons
Cost factors of going solar in Utah
The final price tag of your solar system in Utah can vary based on things like the size of your system, how well your panels work, the solar company you choose to go with, permit costs and the condition of your roof. Here are some things to consider.
Equipment costs
There are four equipment costs that you can run into when installing a solar system. A large portion of your solar system's price will be your solar panels. The prices for these vary depending on the solar panel's efficiency and the size and weight of your panels.
» COMPARE: Most efficient solar panels
Solar inverters make the energy coming from your panels usable for your home's electrical system. Inverters can cost $1,000 to $3,000.
Another major cost is solar batteries. You can go without solar batteries if you're planning on participating in net metering, but they're a must-have if you want to go off-grid. Generally, batteries can add another $7,000 to $18,000 to your bill.
An optional equipment fee is for a monitoring system. These keep track of how much energy your system is producing (some can track how much energy each of your appliances uses). Expect to pay anywhere from $80 to $400 for a good monitoring system, although some installers provide monitoring systems free of charge.
» GUIDE: Solar panel installation 
Condition of your roof
Your solar panels are pretty hefty — both in size and weight — so your roof needs to be up for the challenge. That's why a roof check is crucial before you think about going solar. Solar panels usually last around for 25 to 30 years, and you don't want to be shelling out extra cash to take them down for a roof redo halfway through.
Getting your roof ready for solar isn't just about durability; it's also about the dollars. An inspection will cost you, and if your roof needs any fixes or a full-on replacement, that's more money out of your pocket.
» MORE: Should you replace your roof before going solar?
Solar panels typically last 25 years.
How you pay
There are four ways to pay for your new solar system. Which you choose depends on your priorities. Purchasing them upfront is the cheapest way to go since you don't have to pay any interest.
If you don't have the money on hand, you could go with a solar loan, which works a lot like other types of loans. You pay it out over time with interest. With solar leasing and power purchase agreements (PPAs), there is little to no upfront cost. The downside is you don't own your solar panels and aren't eligible for the federal solar tax credit.
» SOLAR PANELS: Lease vs. buy
Other cost factors
Keep an eye out for some other expenses that might sneak up on you:
Getting it set up: Most of the time, the cost of installing the solar system and the labor involved is already in the price tag. Still, confirm that with your installer before you put pen to paper on any contract.
Paperwork: In many places, you must have permits to go solar. That adds to your total bill.
Upkeep: Solar panels are pretty low-maintenance, but you might still face some extra charges for the occasional repair or part replacement or just a good cleaning.
Solar incentives, tax credits and rebates in Utah
The federal solar investment tax credit (ITC) is the biggest way to reduce the cost of going solar in Utah. If you install a residential solar panel system by the end of 2032, you can get a credit of 30% of the system's total cost — including equipment, labor and permits — on your federal taxes. The credit drops to 26% in 2033 and 22% in 2034.
The credit is not a rebate or refund. You must apply for it when filing your federal income tax forms for the year you install the system. If your credit is more than your total federal tax liability, the credit rolls over into the next tax year.
The average ITC value in Utah is $6,432 in 2023.
Utah also offers a tax credit of up to 25% of your system's price. This is capped at $400 each year. Other than that, there aren't many solar incentives for residents. There are also no laws on net metering compensation, so check with your utility to see what programs are available.
» EXPLORE: Utah solar incentives
Customize
Choose what information you want to see across each brand. At least one option must be selected.
FAQ
How are solar costs trending in Utah?

The cost to go solar in Utah has fallen 43% over the last 10 years, according to the Solar Energy Industries Association.
Can I get free solar panels in Utah?

You can lease or enter a PPA with little to no upfront costs. Still, neither is totally free. Solar leases generally require a flat monthly fee, while PPAs make you pay per unit of electricity.

» FREE SOLAR PANELS: Are they really free?
How much can I save with solar panels?

When you pay cash, the average 25-year savings with solar is $10,202 in Utah. While you may not be able to go 100% solar, the good news is people who still have a bill after going solar are paying significantly less than they were before. You can expect to offset your electricity bill by 84% to 114%, according to EnergySage.
How does net metering work in Utah?

Utah has no laws governing net metering, the process of selling your excess solar energy to the grid. The electric companies in the state set their own rates and terms.

» COMPARE: Best solar monitoring systems
How many solar panels do I need for my house?

The number of solar panels you need depends on how much electricity your household uses. In Utah, the average monthly energy consumption is 775 kWh. On average, a 2,000-square-foot home needs about 19 solar panels.
Bottom line
In Utah, you're looking at an average upfront cost of $21,440 to get your solar panels up and running. With the federal solar investment tax credit, the cost drops to $15,008. Offsetting your electricity bill adds savings too. Over 25 years, you could save more than $10,000, making solar a good choice if you're looking to cut your energy costs.
Solar costs: Utah vs. nearby states
| | Average cost per watt | Typical system size | Upfront cost* | ITC value (30%) | Payback period** | Estimated net savings |
| --- | --- | --- | --- | --- | --- | --- |
| Utah | $2.68 | 8 kW | $21,440 | $6,432 | 14 years | $10,202 |
| New Mexico | $2.68 | 7 kW | $18,760 | $5,628 | 12 years | $15,413 |
| Nevada | $2.52 | 10 kW | $25,200 | $7,560 | 12 years | $18,319 |
| Texas | $2.69 | 8.5 kW | $30,934 | $9,280 | 13 years | $21,350 |
| Colorado | $2.69 | 7.5 kW | $20,176 | $6,053 | 12 years | $14,479 |
| Idaho | $2.60 | 10 kW | $26,000 | $7,800 | 14 years | $11,478 |
*Before the federal solar investment tax credit (ITC); **When you pay in full upfront
---
Article sources

ConsumerAffairs writers primarily rely on government data, industry experts and original research from other reputable publications to inform their work. Specific sources for this article include:
Did you find this article helpful?
|
You're signed up
We'll start sending you the news you need delivered straight to you. We value your privacy. Unsubscribe easily.