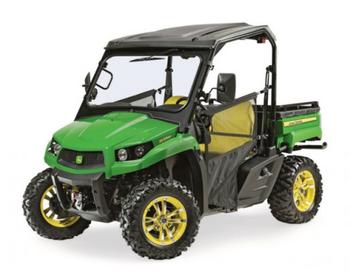 Deere & Company of Moline, Ill., is recalling about 4,900 John Deere XUV590 and XUV590 S4 Gator utility vehicles sold in the U.S and Canada.
The powertrain hardware can come loose, causing the throttle to stick. This could result in the operator not being able to stop the vehicle, posing a crash hazard.
The company has received two reports of the throttle cable sticking. No injuries have been reported.
This recall involves John Deere Gator utility vehicles with model number "XUV590" or "XUV590 S4" printed on the hood. "John Deere" and "Gator" are printed on the cargo box.
The serial number is located on the frame on the rear of the machine above the hitch and begins with 1M0590 and falls within the ranges on the chart below.
The recalled utility vehicles were sold in green and yellow, olive drab and camouflage and have four-wheel suspension with side-by-side seating for two or four people.
Serial Number Range
1M0590EAxxM010001 - 1M0590EAxxM020029
1M0590EBxxM010001 - 1M0590EBxxM020004
1M0590EDxxM010001 - 1M0590EDxxM010014
1M0590EExxM010001 - 1M0590EExxM010008
1M0590MAxxM010001 - 1M0590MAxxM020071
1M0590MBxxM010001 - 1M0590MBxxM020025
1M0590MDxxM010001 - 1M0590MDxxM010018
1M0590MExxM010001 - 1M0590MExxM010012
1M0590MFxxM010001 - 1M0590MFxxM020004
1M0590MGxxM010001 - 1M0590MGxxM010049
The utility vehicles, manufactured in the U.S., were sold at John Deere dealers nationwide from September 2017, through August 2018, for between $10,000 and $13,000.
What to do
Owners should immediately stop using the recalled vehicles and contact an authorized John Deere dealer for a free inspection and repair. John Deere is contacting all known purchasers directly.
Consumers may contact Deere & Company at (800) 537-8233 from 8 a.m. to 6 p.m. (ET) Monday through Friday, 9 a.m. to 3 p.m. (ET) on Saturday, or online at www.deere.com and click on "Recalls" on the drop-down menu under "Products & Service" at the top of the page for more information.