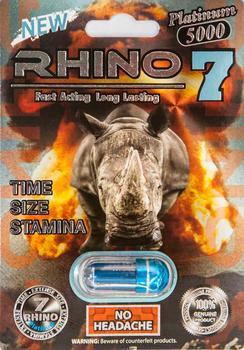 Gear Isle is recalling Rhino 7 Platinum 5000, Papa Zen 3300, Fifty Shades and Grande X 5800 capsules.
The products are tainted with sildenafil and tadalafil, which are the active ingredients in two FDA-approved prescription drugs used for the treatment of erectile dysfunction (ED), as well as desmethyl carbodenafil which is structurally similar to sildenafil.
The presence of sildenafil, tadalafil and or desmethyl carbodenafil in the recalled products renders them unapproved drugs for which safety and efficacy have not been established and, therefore, subject to recall.
The company says it has not received any reports of adverse events related to this recall.
The following products, marketed as dietary supplements for male sexual enhancement, are being recalled:
Product
Package size
UPC
Lot # and EXP. date
Rhino 7 Platinum 5000
1 capsule in blister pack
6 17135 86122 4
All Lots
Papa Zen 3300
1 capsule in blister pack
7 18122 03258 7
NSS050888 
EXP: May 2018
Fifty Shades 6000
1 capsule in blister pack
4 026666 146056
All Lots
Grande X 5800
1 capsule in blister pack
6 40793 55544 0
All Lots
The recalled products were sold nationwide via the internet.
What to do
Customers who purchased the recalled products can contact Gear Isle customer service at 888-387-4753 Monday – Friday from 10am – 4pm (PST), or by email at info@gearisle.com