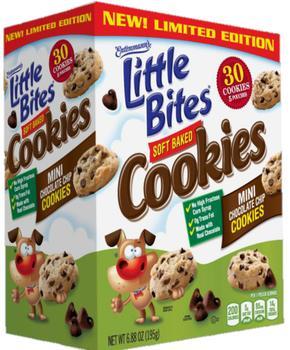 Bimbo Bakeries USA is recalling Entenmann's Little Bites Soft Baked Cookies.
The product may contain visible, blue plastic pieces in the individual packaging pouch introduced during the packaging process.
There are no reports of injury to date.
The following product with the Best By Date on the top of the box, the Lot Code to the left of the top of the box under the price/lb, and the UPC Code in the lower right hand corner on the back of the box, is being recalled:
Product Name/Description:Entenmann's Little Bites Soft Baked Chocolate Chip Cookies (5pk)
Best By Dates:

August 31, 2019 & September 7, 2019

UPC Code:7203002378
Lot Code​:1350
States: AL, AR, CT, DC, DE, FL, GA, IA, IL, IN, KS, KY, LA, MA, MD, ME, MI, MN, MO, MS, NC, ND, NE, NH, NJ, NY, OH, OK, PA, RI, SC, SD, TN, VA, VT, WI, WV
What to do
Customers who purchased the recalled product should not consume it, but return it to the place of purchase for a full refund.
Consumers with questions may contact the company at (800) 984-0989 24 hours a day, seven days a week.