Best Wheelchair Lifts for Cars

Written by
Read our guide to research and choose the best wheelchair lift company for you. Handicap lifts come in interior, exterior and hybrid models and can attach to vans, sedans and other vehicles. We looked at scooters and wheelchair lifts by considering price, accessibility, availability, weight capacity and transferability.
Why trust ConsumerAffairs?
Our recommendations are based on what reviewers say.
4,246,788 reviews on ConsumerAffairs are verified.
We require contact information to ensure our reviewers are real.
We use intelligent software that helps us maintain the integrity of reviews.
Our moderators read all reviews to verify quality and helpfulness.
Our 3 favorite wheelchair lifts
When considering which lift is right for you, think in the long-term. What will be the easiest for you to operate every day? Do you need an interior lift, exterior lift or a hybrid lift? What is your budget? If possible, the price should be a secondary issue when considering the best wheelchair or scooter lift.
All prices are correct as of the time of publishing.
Great wheelchair lift for vans
Millennium Series by BraunAbility
Starting price: $6,093
Type of lift: Side or rear entry platform
Weight capacity: 750 lbs
Features: Quiet-Ride system for quiet travel, leasing options available
Read reviews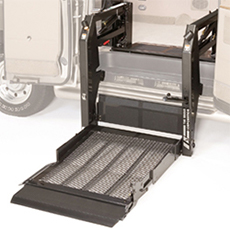 What we like: The Millennium Series is BraunAbility's most popular wheelchair lift. Lifts can be installed in the side or rear of vans and are available in three sizes — 43, 47 and 51 inches — so it can accommodate a range of wheelchair sizes. The platform lifts weigh 332–354 pounds, depending on their size. The Millennium Series is VA-approved and compliant with the NHTSA (National Highway Traffic Safety Administration).
The Millennium Series is operated by handheld control, on-lift control or remote control. Color-coded rocker switches provide an easy way to control the wheelchair lift, even for those with limited dexterity. If anything goes wrong, the Millennium Series has a built-in diagnostic system that makes troubleshooting easy. Your local BraunAbility dealer can also provide services and repairs after purchasing and installing the Millennium Series. BraunAbility provides leasing options on its website — approvals take about two minutes.
What to consider: The Millennium Series is intended for vans. It won't work for smaller vehicles like sedans because of its large size. Also, if you choose a platform length of 47 or 51 inches, the top and doors of the van will need to be raised.
Bottom line: If you have a van, the Millennium Series by BraunAbility is a solid choice that comes in a variety of sizes. It's good for those who need to lift a heavy mobility device, but also want a quiet ride.
Great wheelchair lift for trucks
Bruno Curb-Sider by Bruno Independent Living Aids
Starting price: $2,699
Type of lift: Hoist-style interior
Weight capacity: 400 lbs
Features: Can reinstall on other vehicles, no modifications needed, rear or curbside option
Read reviews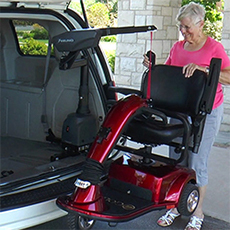 What we like: The Curb-Sider is Bruno's most popular classic hoist-style lift, which means the wheelchair or scooter is lifted up and into the car via a docking device. Hoist-style lifts like the Curb-Sider are compact, so it's ideal for trucks and even leaves room for the third row of seats in vans. When the Curb-Sider isn't in use, it can be folded down. That way, you can easily see out the rear of the car while driving. The Curb-Sider doesn't require vehicle modification in any way, so it can be transferred from car to car. It is available both for side entry and rear entry and is compatible with a wide variety of vehicles, including trucks, SUVs, vans, minivans and crossover vehicles. We also like that the Curb-Sider comes with a three-year limited warranty and that the hand control is weather resistant.
The VSL-6900 model of the Curb-Sider has an extra extension to help with larger mobility devices and vehicles with large bumpers. Simply attach the docking device to the wheelchair or scooter, then push a button and the Curb-Sider will lift the scooter into the vehicle. Some gentle guidance could be required to help it move in smoothly—then push the docking button to lower the wheelchair to the floor.
What to consider: Make sure you are physically able to operate this wheelchair lift before purchasing, as it does require some effort. The operator needs to be able to walk a few feet, operate the docking device, bend over and use the buttons on the handheld control. The best way to know if you're able to do this is to try out the wheelchair lift in person.
Bottom line: The Curb-Sider is an affordable option for those with the dexterity to operate it. If you aren't able to operate it, you will need someone to help you. The Curb-Sider is also a good choice for pickup trucks.
Great wheelchair lift for the value
Harmar AL350 by Harmar
Starting price: $1,295
Type of lift: Exterior power lift platform
Weight capacity: 350 lbs
Features: Good for midsized mobility devices, customizable power supply options, 27.5"-by-39" platform
Read reviews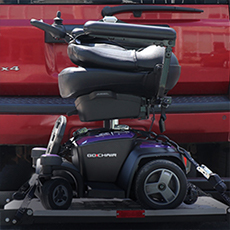 What we like: The Harmar AL350 by Harmar is compatible with both scooters and wheelchairs. The platform measures 27.5 inches by 39 inches and can accommodate most midsized mobility devices. Four adjustable straps are used to tie down the mobility device and keep it stable. A simple switch makes it easy to raise or lower it, a convenient feature for users with limited dexterity. The switch also has a key for added security. Customizable features on this model include the hitch type, power supply and swing away option. Professional lift installation is available for an additional fee.
The Harmar AL350 comes with a three-year limited warranty. The warranty is transferable, meaning the warranty comes with the lift if you decide to sell it, which increases the value of the lift and the car it's associated with. If you are dissatisfied with the Harmar AL350, you can return the product within 30 days. Certain terms and conditions apply.
What to consider: This particular model by Harmar is only sold through Spinlife dealers, so make sure to narrow your search to nearby Spinlife locations. This model can lift 350 pounds, so it cannot accommodate the heaviest mobility devices. A small percentage of reviewers also mention the tie-down straps as being a bit difficult to use, though these can be replaced with better ones.
Bottom line: The Harmar AL350 is good for those looking for an affordable, convenient power lift for their mobility device. However, those looking for the latest technology or a lift capable of carrying a wheelchair or scooter on the heavier end of the spectrum have better options.
Compare Scooter and Wheelchair Lift Companies

Read 1,958 Reviews

Manufactures stair lifts for both indoor and outdoor spaces. Most products can hold up to 400 pounds. Provides a limited lifetime warranty on select components. Products are made in the U.S. Pricing available through vendors.

Read 58 Reviews

Offers a variety of product options including stair lifts, platform lifts, vehicle lifts and ramps. Provides measuring tools for product matching. Prices start at $2,000. Includes warranties with most products.

Chat with a ConsumerAffairs decision guide

Live agent

Read 150 Reviews

New and pre-owned wheelchair accessible vehicles start at $29,900. Available with a variety of configurations and price points for all lifestyles and budgets. Wheelchair lifts available for installation on full-sized van or RVs.

Chat with a ConsumerAffairs decision guide

Live agent

Read 77 Reviews

One of the largest designers and manufacturers of mobility solutions in the United States, their products include lift recliners, scooters and electric wheelchairs outfitted with the latest technology. Prices start around $1,699.

Chat with a ConsumerAffairs decision guide

Live agent
Read Author Review

Discount Ramps offers a convenient one-stop site for someone looking for an accessibility ramp or lift. With a steady churn of new inventory, deals rotate almost daily.

Chat with a ConsumerAffairs decision guide

Live agent
Read Author Review

MobilityWorks has been providing the county with wheelchair accessible vehicles since 1997. The company emphasizes face-to-face dealings and comprehensive consultations with their customers.

Chat with a ConsumerAffairs decision guide

Live agent
Read Author Review

Since 1999, SpinLife is an online retailer of durable medical equipment with an extensive stock of scooter lifts and ramps. Buying in bulk allows them to keep prices low and inventory in stock.

Chat with a ConsumerAffairs decision guide

Live agent
Types of wheelchair lifts

There are several factors to consider when choosing a wheelchair lift for a car, truck or van. One such factor is the type of wheelchair lift you want. The type that's best for you will depend on your vehicle, whether you have a wheelchair or a scooter and your mobility capabilities. In general, smaller vehicles benefit from an exterior lift and interior lifts work well with larger vehicles. Users with limited mobility often prefer hybrid lift options, as these are the easiest to operate. If in doubt, an affordable exterior lift is a good option because of its ease of use and ability to be easily transferred to another vehicle.
Exterior wheelchair lifts
An exterior scooter lift for cars is a platform mounted on the outside of the vehicle. They are popular because they are affordable and compatible with almost any vehicle. Wheelchair hitch lifts take up no space within the car and can easily be transferred from one vehicle to another. To operate this type of lift, the user needs to be able to walk a few feet comfortably, stand for a few minutes, maneuver the mobility device onto the platform and operate buttons on a power lift. The mobility device is strapped to the lift using tie-down straps that keep the mobility device in place.
One drawback of exterior lifts is that they leave the mobility device exposed to the elements. Exterior wheelchair lifts are best for smaller cars like sedans that don't have room inside and for people who don't have someone to help them with getting a wheelchair into a car.
Interior wheelchair lifts
Interior wheelchair lifts are mounted inside the vehicle, and the device lifts the wheelchair into the car. Most interior lifts are docking devices that lift the mobility device using attachments. Interior wheelchair lifts work when raising into a truck bed, rear cargo area or side-entry of a van. It typically can be collapsed so it doesn't take up too much space when not in use.
Interior lifts are more difficult to operate than exterior lifts. To lift the wheelchair or scooter, the user has to attach the docking device to the wheelchair. The device lifts the scooter up and into the vehicle. People using this form of lift will need to be able to walk comfortably a few feet, stand for a few minutes, hook the docking device to the wheelchair and guide the mobility device into the car. Those with physical help from another might like this best, as will those with available space in their vehicle.
Hybrid wheelchair lifts
A hybrid lift accepts a drive-on platform, like exterior lifts do, but also takes the wheelchair inside the car, like interior lifts. A hybrid lift does not require extensive remodeling of a vehicle — it will attach to your vehicle seating and extend out of the car to allow the placement of the mobility device. Hybrid lifts require the user to walk a few feet, stand a few minutes, move the mobility device on and off the platform and use buttons to operate the lift.
One drawback is that you still need tie-downs, even though the mobility device is stored within the car. Hybrid lifts are best for vans, SUVS and other large vehicles since the lift platform needs to fit inside the vehicle. Hybrid lifts provide the ease of exterior lifts with the added protection of interior lifts.
Wheelchair lift costs
How much does a wheelchair lift for a van cost?
An interior wheelchair lift that can be detached from the car costs between $1,000 and $3,000; simple exterior lift costs range from $200 to $1,000. Manual exterior lifts fall toward the lower end of this range, and powered lifts fall toward the higher end. More complex exterior wheelchair lifts for cars can cost more, between $5,000 and $10,000. Wheelchair lift prices also depend on factors such as equipment quality, ease of use, size and lift type.
Does Medicare cover wheelchair lifts?
No. Under Medicare Part B, durable medical equipment (DME) can be covered — this includes wheelchairs and scooters themselves, but not wheelchair lifts or scooter lifts. Although many people think a wheelchair lift should fall under the DME category, Medicare does not classify it as such. For that reason, Medicare will not cover a wheelchair lift.
Wheelchair lifts FAQ
How does a scooter lift work?

A platform-style

scooter

lift works in three easy steps:

The scooter platform is level to the ground.
You load your scooter on the platform.
When you press a button, an arm comes down to secure the scooter and raises the platform off the ground.
How do you transport a mobility scooter?

Most mobility scooters are far too large to transport directly into your vehicle, so you must

install

a scooter carrier to a hitch on your car. There are two types of scooter carriers:

Manual scooter carriers: The manual scooter carrier works by having an individual manually loading the scooter onto the carrier via a mounted ramp.
Electric scooter carriers: Electric scooter carriers are powered, so they rise and lower with the press of a button. These carriers are great for people who need assistance loading and unloading their scooters.
How does a wheelchair lift work?

Platform lifts work with electricity. They are user-controlled, meaning that the user pushes a button to bring them up and down as well as secure the

wheelchair

in place.
How much does it cost to make a van wheelchair accessible?

It can cost $10,000 or more to make a van wheelchair accessible. The process to make a van wheelchair accessible involves:

Removing seats
Installing wraps
Adding wheelchair tie-downs

Ultimately, the cost varies on several factors, including:

Whether you choose a manual or electric ramp
If there is removable seating
If you want a keyless remote

In some instances, it may be more cost-effective to purchase a wheelchair-accessible van.
Can you rent a van with a wheelchair lift?

Yes, you can

rent a van

with a wheelchair lift. Rental companies usually charge about 30 cents per mile, $125 a day or $700 for a week. Pricing will vary for extended trips or the additional rental of a wheelchair or electric scooter.
Thank you, you have successfully subscribed to our newsletter!
Wheelchair lift reviews

BraunAbility's lifts are specifically designed for campers, RVs and full-sized vans. Their models work well for families and users with larger wheelchairs. All lifts are installed by a BraunAbility technician. You can schedule a consultation with a local BraunAbility dealer to see which wheelchair or scooter lift is best for you and your vehicle. Every BraunAbility lift has a 1,000-pound weight capacity and comes with a remote control.
Read 150 Reviews

DiscountRamps.com is a wheelchair and scooter lifts dealer. This means they sell a variety of products from different manufacturers, including Apex, Great Day, Harmar, Silver Spring and Tilt-A-Rack. Despite their name, they sell more than just ramps, although some of their lifts do come with ramps. Most products come with a one-year warranty. Not all warranties are transferable, so it's important to ask before buying, especially if you think you might sell your car.
Silver Spring Universal Power Chair: This exterior platform lift is made of lightweight aluminum and can carry up to 350 pounds. The platform is 39 inches by 27 inches and can fold up when not in use.
Tilt-A-Rack Full-Size Carrier: This exterior platform model comes in two variations; one can carry 350 pounds, and the other can carry 500 pounds. Both come with one-year warranties and can fold up and out of the way when not in use.
Apex Premium Cargo Carrier: This exterior lift by Apex comes equipped with a ramp and can carry up to 500 pounds. The platform measures 60 ¼ inches by 31 ⅞ inches. Additional ratchet straps and hooks are available as add-ons.
Great Day Mighty Lite: This exterior lift fits easily onto your hitch and looks great; it's made of lightweight aluminum but is coated with black powder enamel finish. The 48-inch-by-28-inch platform can accommodate most mobility devices.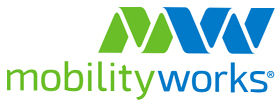 MobilityWorks is a dealer for wheelchair lifts, scooter lifts and other mobility devices. This means they help consumers find the best model for them from a wide variety of manufacturers. They sell models from Bruno Independent Living Aids, Harmar, Pride Mobility and others. MobilityWorks has 70 dealer locations in 24 states. If you are a veteran, MobilityWorks can work with you to get the correct forms from the Veterans Administration and help you with other VA issues.
Bruno Out-Sider: This exterior platform lift from Bruno Independent Living Aids can lift mobility devices weighing up to 350 pounds. The platform conveniently folds up when not in use and can be driven on or off from either side.
ScootaTrailer: The ScootaTrailer is a trailer capable of carrying up to 600 pounds. The ScootaTrailer is low to the ground and therefore works best with compact cars. Straps and tie-downs keep the mobility device in place while the vehicle is moving.
Harmar Axis: The Axis is a series of interior lifts from Harmar. They can lift 400 pounds and are compatible with most trucks, SUVs, minivans and full-sized vans. Wireless controls are available.
Pride Olympian Autolift: This series of interior lifts from Pride Mobility comes in two models capable of carrying 260 pounds or 440 pounds. Both models are easy to remove and transfer to another vehicle if necessary.

SpinLife is a dealer that sells wheelchair lifts and scooter lifts from several different manufacturers. Some of their partners include Harmar, Rage Powersports, E-Z Carrier, Great Day, WheelChair Carrier and Pride Mobility. Most of their lifts can be installed without professional help. Most models come with a one- or three-year warranty. You can return a lift if you are dissatisfied.
E-Z Carrier 3: This durable exterior platform lift comes with a 42-inch ramp and can lift devices weighing up to 400 pounds. The three-inch security rail adds peace of mind. The model comes with a one-year limited warranty.
SC500-AF: This model comes with a 59.25 inch ramp and a one-year warranty. It can lift up to 500 pounds and can accommodate full-sized scooters and power wheelchairs.
Lift 'n' Go: The Lift 'n' Go from WheelChair Carrier is an exterior lift capable of carrying and lifting 350 pounds. The Lift 'n' Go comes with two retractable ratchets, a hardware kit and a three-year limited warranty.
AL003 Tilt n Tote: This exterior hoist lift can work well for manual wheelchairs with its lifting capacity of 100 pounds. Its tilting feature makes it easy to roll a wheelchair on and off.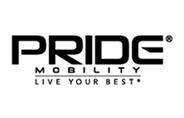 Pride Mobility has wheelchair and scooter lift solutions for minivans, SUVs and full-size vans. Some Pride Mobility lift systems are eligible for rebates under certain auto manufacturers' mobility programs. These can range from $500 to $1200. Additional features from Pride Mobility include the Swing-Away Adaptor, battery packs to eliminate the need for a complex wiring system, in-house chargers, hitch extensions and weather covers.
Read more about Pride Mobility
Disclaimer
Information in this guide is general in nature and is intended for informational purposes only; it is not legal, health, investment or tax advice. ConsumerAffairs.com makes no representation as to the accuracy of the information provided and assumes no liability for any damages or loss arising from its use.
Comparing
×
You're signed up
We'll start sending you the news you need delivered straight to you. We value your privacy. Unsubscribe easily.