Best Scooter Lift Companies
Just because someone needs a scooter or other mobility assistance, that does not mean they cannot still be on the move. Scooter lifts attach to an owner's automobile, allowing the user to hoist their mobility device in and out of their vehicle with ease.
Consumers who need the assistance of a scooter or power chair and plan to keep an active lifestyle should consider the merits of a vehicle-mounted scooter lift.
Compare Reviews for Top Scooter Lift Companies

Bruno Independent Living Aids
Read 640 Reviews

Bruno is a third-generation family business that has created products for people with limited mobility for over 30 years. Bruno stairlifts are manufactured in the United States.

Pride Mobility
Read 35 Reviews

One of the largest designers and manufacturers of mobility solutions in the United States, their products include lift recliners, scooters and electric wheelchairs outfitted with the latest technology. Prices start around $1,699.

DiscountRamps.com
Read Expert Review

Discount Ramps offers a convenient one-stop site for someone looking for an accessibility ramp or lift. With a steady churn of new inventory, deals rotate almost daily.

Harmar
Read Expert Review

Harmar boasts a variety of lifts for both vehicle and residential platforms. They design, manufacture and market their products in North America with a growing influence in South America, Europe, Asia, Africa and Australia.

MobilityWorks
Read Expert Review

MobilityWorks has been providing the county with wheelchair accessible vehicles since 1997. The company emphasizes face-to-face dealings and comprehensive consultations with their customers.

SpinLife.com
Read Expert Review

Since 1999, SpinLife is an online retailer of durable medical equipment with an extensive stock of scooter lifts and ramps. Buying in bulk allows them to keep prices low and inventory in stock.
Thank you, you have successfully subscribed to our newsletter!
Enjoy reading our tips and recommendations.
We value your privacy. Unsubscribe easily.
What scooter lift features should you look for?
Vehicle fit
Scooter lifts can outfit most any vehicle, but some types are better suited to particular automobiles.
Pickup Trucks: Most pickup trucks can be outfitted with hoist lifts. These lifts rest in the bed of the truck and can be set to load/unload the user's scooter on the driver's or passenger's side.
SUV/crossovers: Hoist lifts will work with some SUVs and crossovers, though some models can also be outfitted with either internal or external platform lifts.
Vans: Vans and minivans can accommodate either platform or hoist lifts. Some companies even manufacture vans with scooter lifts pre-built into the vehicle.
Sedans: Because sedans lack the storage space of trucks, SUVs and Vans, they are best suited for external lifts. Many sedans require a trailer hitch to be attached before being outfitted with an external scooter lift.
Accessibility
Most lifts come with factory-settings, but some allow for adjustable speed or extra space to better accommodate the type of vehicle or allow for quick, simple user maintenance.
Adjustability: Some platform lifts can be adjusted to fit into smaller vehicles like crossover SUVs.
Removable panels: For users who like to service their own products, some lifts have removable panels for easier access to components.
Manual override: Because most lifts function automatically, many are outfitted with manual overrides in case the device loses power.
Remote control: For some users, remote control is a must. Many higher-end lift models include a remote for more convenient control.
Space considerations: Internal lifts for SUVs and vans as well as hoist lifts for trucks need to be adjusted to fit inside their respective vehicles. External lifts, however, remain outside the vehicle, and some can be folded up when not in use.
Durability
Scooter lifts can be expensive investments, so making sure the product can carry the right weight or can shake off a few bumps is a must. If the consumer wants an external lift, there are other environmental factors to consider as well.
Capacity: Scooters and power chairs can vary in weight and dimensions. Make sure the lift's maximum carrying capacity exceeds the weight of the scooter.
Weather resistance: Some external lifts come with weather-resistant coating. Knowing which lifts are best suited for a customer's climate can increase longevity of the investment.
Frame material: Most external lifts are made of steel or aluminum, allowing for more durability in environmental conditions or a lighter weight, respectively. Sites will often disclose their testing standards for their lifts.
Product support and community resources
Scooter lifts can be expensive investments, and many companies offer support and resources to keep the consumer's lift working. Perhaps just as important is finding a community of satisfied customers to share ideas and stories about how mobility aids have improved their lives.
Online community: Because a number of customers are first-time users, companies sometimes have community blogs, discussion forums, links to community events and apps to connect users.
Service station: While some customers may wish to repair their own lifts, dealers often have on-site serviceability for lifts in need of serious repair.
Schematics and manuals: Most lift manuals can be found online at company websites. Schematics and technical documents can help with installation and repair.
Installation
Most lifts are designed to be installed by the customer with relative ease. However, some dealers offer installation, though fees may apply.
Customer installation: External lifts that connect to trailer hitches and hoist lifts for trucks are designed with easy installation in mind. Installation may require drilling or other small modifications to the vehicle.
Professional installer: Some retailers offer on-site installation, though such installations are subject to fees.
Pre-installed lifts: Customers looking for a new vehicle as well as a lift can purchase or a rent a vehicle with the lift pre-installed.
Price and financing
Because high-end scooter lifts can cost a lot of money, many sites offer finance options, and some vehicle brands offer reimbursement programs for users.
Financing: Companies will often provide options to finance customer purchases through services like PayPal. When ordering online or purchasing from a dealer, a customer should inquire about financing options.
Reimbursement program: Automobile manufacturers offer reimbursement for installing adaptive equipment on new vehicle purchases. Customers looking for new vehicles along with lifts should ask the dealer about available mobility programs.
Online flash sales and deals: Customers looking to purchase a lift online should monitor websites for daily deals and flash sales. Some sites offer discounts on used or cosmetically damaged products.
What are different types of scooter lifts?
Hoist lift
Hoist scooter lifts, or boom lifts, are crane-like lifts that raise and lower scooters with an extension arm and security straps for the scooter. They are most commonly used in trucks, minivans and SUVs, fitting either in the bed of the truck or the rear of the van or SUV.
Platform stowage lifts
Platform lifts use a platform to raise and lower the scooter for storage inside the vehicle. The user lowers the platform to the ground and simply drives the scooter onto the platform and secures it with a strap. An arm raises the platform that slides into the back of the vehicle. It is a good fit for vans and hybrid SUVs.
Exterior platform carriers
Some vehicles, sedans for instance, cannot accommodate an interior lift. Exterior scooter carriers attach to towing hitches and transport the scooter outside the vehicle. Most exterior lifts are platform lifts or ramps.
Ramps
Though not technically lifts, ramps are relatively inexpensive options for users who do not want to invest in the high-end, automated scooter lifts. Ramps can extend from inside the vehicle, or they can be part of external carriers.
Who uses scooter lifts?
Elderly people
Elderly people who like to be on-the-go and need the assistance of a scooter can benefit from the accessibility afforded by scooter lifts.
People with active lifestyles
Users who enjoy the outdoors or who like to travel can use a scooter lift to take their scooters to their favorite camping spots or travel destinations.
Commuters
A person who needs to commute to work and needs the aid of a scooter could use a lift to transport their scooter to and from their place of work.
People who are moving
Scooter users who are moving need to transport their scooter to their new place of residence.
People purchasing a new vehicle
A person in the market for a new vehicle and who uses a scooter should take lifts into consideration when making an automobile purchase.
What do the experts have to say about different scooter lift companies?

Harmar is a leading manufacturer of mobility products specializing in chair lifts for automobiles, stair lifts for residences and other vertical platform lifts.
Variety: Harmar provides an extensive variety of products for all types of vehicle and residential lifts, ranging from standard automobile lifts to cargo lifts and dumbwaiters.
Compatibility calculator: Harmar's compatibility calculator allows the customer to enter their vehicle information and then provides suggestions, ranking the lifts in terms of ease of use and price levels.
Swing-Away option: Most scooter lifts raise and lower the scooters or platforms right next to the car. A few of Harmar's lifts can pivot further away from the vehicle with an extension arm. This feature, however, is only compatible with certain models.
Technical documents: Harmar offers easy-to-read schematics and manuals for their products, as well as a link to AutoDesign, free software that may be required to view more detailed product images.
Architectural resources: For customers needing residential lifts, Harmar provides a link to ARCAT, which has specifications and instructional advice for setting up their residential products.
Best for: Harmar products are best for customers in North America. The company caters to both new adopters and customers familiar with mobility products.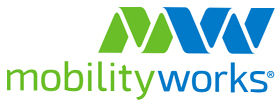 Mobility Works is one of the leading providers of wheelchair-accessible vans, and they also sell a range of hoist, exterior, and platform scooter lifts. They have 61 showrooms in 22 states.
Consultations: MobilityWorks provides consultations either in person or on the phone. These consultations are tailored to the customer's needs whether they are looking for a vehicle or a lift.
Vehicle trade-in: Should the customer wish to purchase a vehicle with a built-in lift, MobilityWorks offers trade-in options for the customer's current vehicle.
Online resources: MobilityWorks offers numerous customer resources such as a blog and customer forums. There is also a starting guide for new customers seeking advice on making smart purchases that fit their needs.
MobilityWorks App: The MobilityWorks App connects the user to news and inventory information regarding lifts and vehicles for sale. Other features include Fuel Call, which allows the user to call nearby service stations for customer assistance as well as access to Accessible Vans of America should they need to rent a van.
Mobility Alliance: MobilityWorks has partnered with many like-minded dealers such as Better Life Mobility, Performance Mobility, Soderholm Mobility and United Access. These companies have added 29 additional locations that carry products from MobilityWorks.
Best for: MobilityWorks is most helpful for customers looking to invest in a vehicle with a built-in scooter lift.

SpinLife is an online-only store for mobility vehicles, lifts and accessories. SpinLife carries products from established brands at low prices.
Free shipping: SpinLife offers free standard shipping on orders that total at least $50.00 that are shipped anywhere in the continental United States. Additional delivery options may require fees.
Low price guarantee: SpinLife guarantees the lowest price on any product they sell. If the customer finds any product on their store for a cheaper price elsewhere, SpinLife will discount their price for 110 percent the price difference.
Innovation in Motion scholarship: SpinLife's annual Innovation in Motion Scholarship programs awards one $1,000 scholarship and two $500 gift cards to SpinLiffe.com to deserving applicants. It is open to any student enrolled at an accredited four-year university who uses a manual or power wheelchair.
Financing options: Because lifts can be quite expensive, SpinLife offers customers the option to finance their purchases through GetFinancing or PayPal, both of which are established, trusted companies.
Newsletter discounts: Signing up for SpinLife's newsletter grants the customer access to exclusive deals. With such a large inventory, deals on SpinLife change on a daily basis.
Best for: SpinLife is a marketplace for customers who are searching for a particular brand of lift or other home medical equipment.

Discount Ramps is an online retailer with a large selection of ramps and accessories, and scooter lifts compromise one section of their inventory.
Free shipping: Discount Ramps offers free shipping on their entire selection of wheelchair and scooter lifts.
Rotating sales: With such an extensive inventory, sales come and go rather quickly on Discount Ramps. Regularly checking the website for sales can save consumers money.
Add-on accessories recommended: Many lifts require trailer hitch accessories, adapters, extra wiring or other accessories depending on the customer's vehicle. Discount Ramps' extensive stock provides quick access to any accessories the customer may need.
Scratch and dent discounts: When moving or shipping inventory, items can get a few scuffs or cosmetic blemishes. Discount Ramps offers a 15 percent discount on items that have a bit of wear.
How-to guides: Discount Ramps has a few guides explaining the differences among they hitch-mounted lifts they carry and links to those products they have for sale. There are also guides for home safety modifications and reimbursement plans.
Best for: Discount Ramps is best for consumers looking for a low priced scooter lift.
Disclaimer
Information in this guide is general in nature and is intended for informational purposes only; it is not legal, health, investment or tax advice. ConsumerAffairs.com makes no representation as to the accuracy of the information provided and assumes no liability for any damages or loss arising from its use.