How to protect your aging parents at home
Caregivers' guide to keeping the elderly safe within their homes



Written by

Edited by

Key takeaways
The most common injuries among respondents included a bone fracture, accounting for 26% of elderly injuries.
Professional caregivers have spent an average of $225 of their own money on devices to improve the safety of their elderly patients.
58% of professional caregivers plan to change careers within the next six months.
Caring for loved ones
Senior citizens have a higher risk of injury due to declining health and decreased mobility. According to the Centers for Disease Control, millions of people over 65 fall each year, with one in five falls causing severe harm. Seniors living on their own may be at greater risk for accidental injuries than those who live with others, which is why caregivers can make a big difference in the quality and safety of older adults' lives.
For advice on caring for our elders, we analyzed data from the National Electronic Injury Surveillance System (NEISS) to learn about seniors' most common injuries and the causes. Then, to find out how to best prevent these injuries and ensure the safety of elders living at home, we surveyed 1,001 American caregivers — both professionals and those caring for a loved one — about their experiences.
Dangers in the home
Even homes that seem safe to the untrained eye can pose risks to seniors. We examined what some of those hidden dangers might be.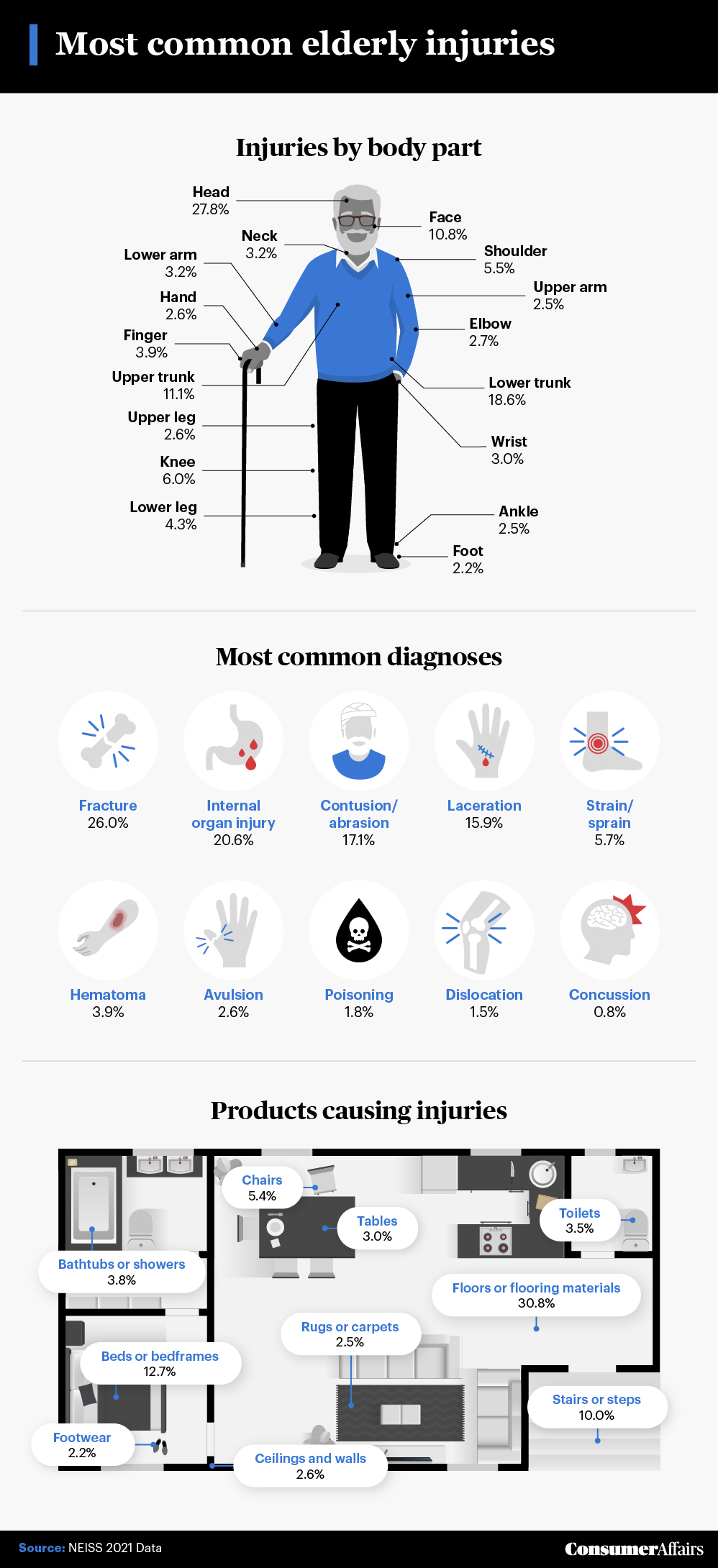 The household products that caused the most harm to senior citizens were floors and flooring materials, accounting for just over 30% of injuries. Uneven or slick flooring can easily lead to slips, trips and falls.
Beds and bedframes were the next most common danger, accounting for nearly 13% of elder injuries. Getting in and out of bed can be risky for seniors, especially if the mattress is too low or high. Steps and stairs can also be difficult for them to use, which is why they're responsible for 10% of injuries.
Overall, seniors' most common injuries are fractures (26%), followed by internal organ damage, lacerations and contusions or abrasions. When combined, these account for nearly 80% of reported injuries. More than a quarter of injuries were to the head, which can have serious repercussions for older adults.
Concussions only accounted for 0.8% of cases, but they're easy for doctors to miss; the symptoms are similar to other signs of aging, such as dizziness and memory problems.
Creating a safer home
Caregivers (both professionals and those taking care of family members) spend a lot of time and money to keep their seniors safe. But simple acts like removing or relocating risky household items and even just keeping them company can be just as important.

Clearing walkways throughout the home was the most common action caregivers took to prevent injuries. They rearranged furniture, installed slip-resistant rugs and moved power cords out of the way. Other strategies included keeping frequently used items within reach and adding night lights around the home to increase visibility. Disposing of expired medicines and keeping meds in their original containers were also helpful ways to avoid mix-ups.
Some rely on technology to help keep seniors safe. While plenty of high-tech gadgets are available, professional caregivers are 31% more likely to use them than family members caring for an elder. Smart clothing was the most popular item, followed by emergency alert and response systems.
Emergency alert systems were the item insurance was most likely to cover, according to 74% of respondents. On the other hand, chairlifts were least likely to be covered, with insurance covering chairlift purchases for only 35% of respondents.
It would certainly help caregivers if more of these items were eligible for insurance coverage, especially because so many have to pay from their own pockets. Unsurprisingly, this is more common among family caregivers, who've spent an average of nearly $547 on devices to help them care for an aging family member. But the out-of-pocket cost for professionals is also high: almost $225 on average.
Caregiver stress
Like any lifesaving job, caregiving can come with a lot of responsibility and stress. That's likely why over half of the caregivers we surveyed plan to leave the profession within six months. Their reasons for a career change are twofold — 54% of caregivers said they're struggling emotionally, while 51% confessed they're struggling financially.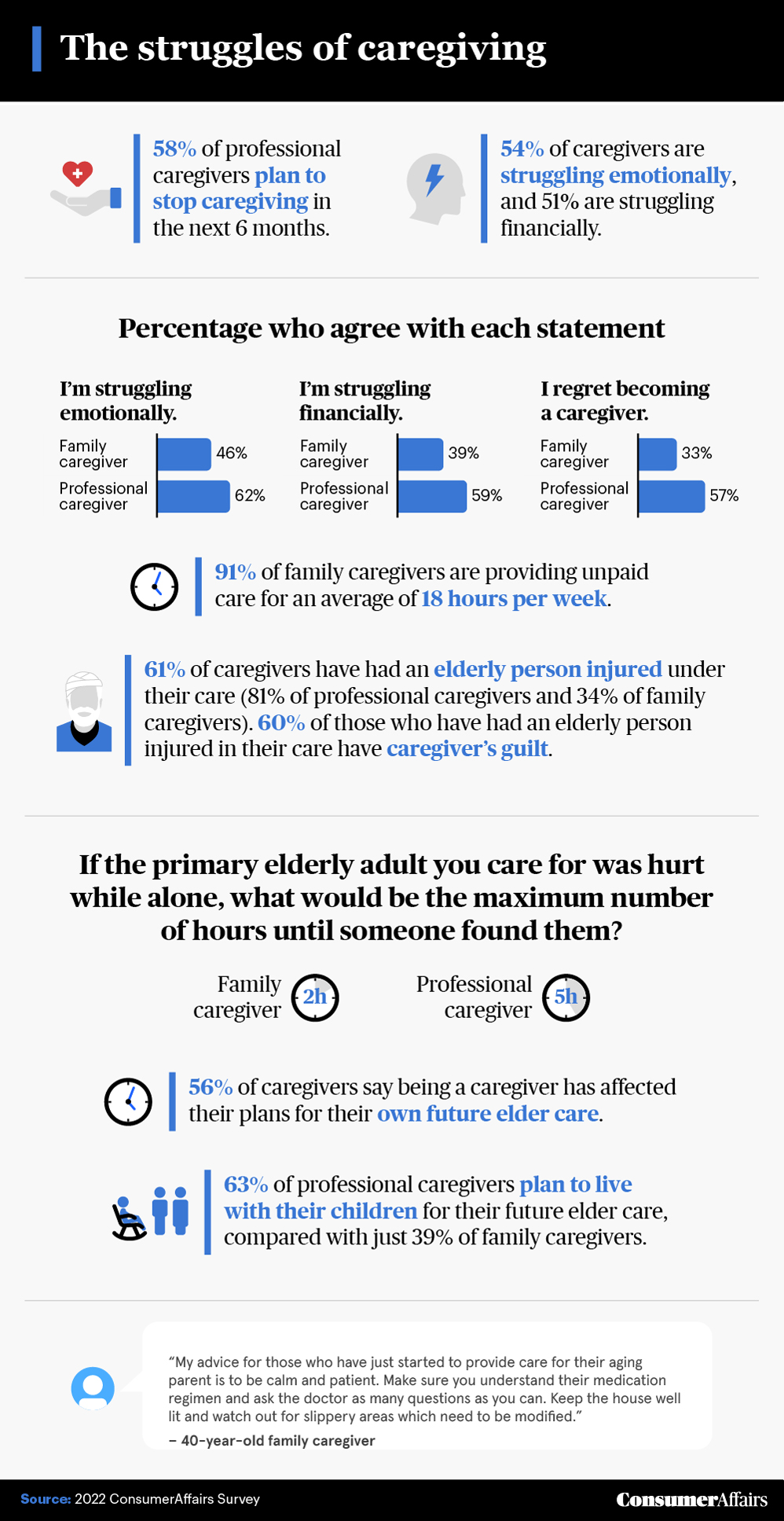 Professional caregivers were more likely to experience these struggles than family caregivers, with 62% of professional caregivers saying they struggle emotionally (compared with only 46% of family caregivers).
Professionals are also 24% more likely than family caretakers to regret accepting the job, even though family is more likely to go unpaid — 91% of family members in this study provide unpaid care for an average of 18 hours a week. Caregiving responsibilities can make it hard to work full-time, leading to lost wages or low income.
While caregivers help the elderly avoid accidents, emergencies still happen. Witnessing such an event can cause added stress and feelings of guilt — of the caregivers surveyed, 61% have had an older adult injured under their care, and 60% of those respondents have experienced caregiver's guilt.
Even when they're not around, caregivers can help make sure seniors get the help they need by checking in frequently. Most family caregivers said it would take no more than two hours before someone found an elder after an injury, while professional caregivers said it might take up to five hours.
All in all, it's not an easy decision to become a caregiver, whether professionally or for a family member. The experience can affect how caregivers plan for their own golden years, according to 56% of those surveyed. Professional caregivers were 24% more likely than family caregivers to plan to live with their children when they reach the age of necessary care.
A 40-year-old family caregiver we surveyed shared some advice for new family caregivers: "My advice for those who have just started to provide care for their aging parent is to be calm and patient. Make sure you understand their medication regimen and ask the doctor as many questions as you can. Keep the house well-lit and watch out for slippery areas which need to be modified."
Are your elders protected?
Watching your parents or other loved ones age can be difficult and stressful, but you can help protect them from accidents and injuries by adjusting their home and adding new technology designed to improve and ease elder care. Whether you decide to care for them yourself or hire a professional caregiver, your parent or aging loved one will be safer for it.
Methodology
ConsumerAffairs surveyed 1,001 American caregivers about their job. Of these, 51% were professional caregivers, 33% were family and the remaining 16% were both family and professional caregivers. For short, open-ended questions, outliers were removed. Survey data has certain limitations related to self-reporting. These limitations include telescoping, exaggeration and selective memory.
The National Electronic Injury Surveillance System (NEISS) 2021 data set was used to determine the most common injuries for the elderly (classified as individuals aged 65 years and older).
About ConsumerAffairs
Whether you're choosing a mortgage lender or buying a medical alert system, ConsumerAffairs makes significant decisions easier. Check out our buying guides, how-to articles and company profiles to find the info you need for life's biggest purchases.
Fair use statement
If you enjoyed our study, please feel free to share it. We just ask that you link back to this page and that your purposes are noncommercial in nature.
Did you find this article helpful?
|
You're signed up
We'll start sending you the news you need delivered straight to you. We value your privacy. Unsubscribe easily.