Consumer Complaints and Reviews

My parents purchased the stairlift several years ago. Part of the sales pitch is that when you no longer need they will help you resell it to a customer. My parents have since passed away and we have been trying to get their assistance with a resale. Parents only used it for 2-3 years. Every time we call they give us a different answer. First it is that they don't do resales anymore. Then someone else says to leave a voicemail for a certain individual; no one ever returns a call. Very unprofessional. So a $10,000 stairlift that was used for 2 years is going to be tossed. I have called every Vets charity to donate but no one can pick up. Acorn totally misleads and their customer service is horrible. You can call back and each different person will give you a different answer. Go with someone locally.

Only problem with this company, the salesman cannot be reached once he got the order. The technician did a bad job. The chair is rumbling, stopping on its way up or down. The bottom plastic head falls off. The chair is stuck downstairs after 3 weeks of use. No support from the company. The technician has no phone number!!! The company said you can only contact him by "wire" and 411 has no listing of him. The remotes came with very old batteries, made in China, that worked only intermittently. I will have to call the fire dept to get my husband upstairs to bed tonight. Our recommendation is not to deal with Acorn. You will save yourself a lot of frustrations.

Purchased Acorn stairlift about 6 years + ago. Has worked great since then. Had one service call about 2 years ago which was taken care of day after I called. Has been working great since, Very professional and reliable. I use the chair almost daily sometimes 2-3 times a day. Purchased from Acorn in the Boston, Ma area.

I have left multiple message with people to call me back but they never call back. They will say I will speak to my Manager or Engineering department but never call back. Very poor service - DON'T BUY from these people. Installation and design is very poorly done.

Need new toggle switch, but have been informed by some guy who represents Acorn that they do not sell parts to anyone anymore! Must get a technician from Acorn to change the toggle for a 250 dollar service call plus price of new switch!! A few years back I replaced the switch because the lever had been broken. They sold me a switch then, so why not now. I hope I don't have a serious problem later on. I have bought a switch locally. If I cannot repair the one that is not working in one direction, I will replace it.
How do I know I can trust these reviews about Acorn Stairlifts?
697,993 reviews on ConsumerAffairs are verified.
We require contact information to ensure our reviewers are real.
We use intelligent software that helps us maintain the integrity of reviews.
Our moderators read all reviews to verify quality and helpfulness.
For more information about reviews on ConsumerAffairs.com please visit our FAQ.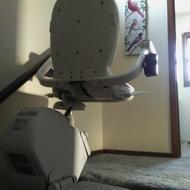 As soon as we purchased the chairlift we had problems. Trying to get a hold of them is awful. My mom is afraid to use it but needs to. It constantly beeps on its own. The first problem was the circuit board... batteries. Now I can't even read the error message. That disappeared... may be the batteries again. Ok I fixed it myself. If the chair beeps repeatedly after using it then stops and beeps when no one is on it... unplug from wall... it will reset.

Have had several issues since the 2014 purchase. Had lift service several times since. In March 2016, tech claimed a defect and put in a loaner. Issues again in August and still can't get a tech or someone to return a phone call. Lift failed and my Mom was stuck until someone came home from work as she's unable to use the stairs. Yesterday, the lift jerked and she almost fell off, same issue again today. Spoke with at least 5 people today and told the earliest they can send a tech is Nov 29. WTF??? Not acceptable!!! Service manager then says the 24. Was told they had a lot of turnovers in staff so is that supposed to explain the atrocious service. Service manager didn't seem too interested in getting a tech here today. No such thing as "emergency service". Strongly DO NOT recommend this company. Issues with quality and a huge lack of customer service.

Installed at end of August. For M-in-L who had just had a hip replacement and wasn't allowed to do stairs. At installation no one had arranged for power to be sorted as needed, I had to rewrite a socket myself! 1st day hinge failed, continued to temporarily fail for several days. Service came out: 1st the excuse was that there is a known fault with some hinge control boards so would need replacing. Quoted 5 days for part, in meantime no lift - meaning bed needed to be relocated etc. So they know the boards need replacing but they don't carry them? 10 days still no contact and no boards. 2nd serviceman came out - did a 'fix' (move the chair rail as actually it was catching on door frame it passed! And they had originally located hinge control box in airing cupboard which meant it overheated!). Was the original installer trained how to do this?
24 hours later it stopped halfway (with complete loss of all power) with immobile mother in law on, who subsequently hurt hip trying to get down. Took nearly an hour to wind hinge up to allow her to access toilet it blocked. CService response was "Would you like me to call the Fire Brigade?" 2 day wait for engineer who just came and disconnected it and stomp mud through house. CService agreed to full replacement of chair when we asked for refund, and restart of 14 day trial. New chair and circuit boards installed, and apparently operational again however within 24 hours it had stopped again, this time at the top leaving her at the top!
Enough was enough so requested full refund and removal. 2.5 weeks later after many non returned calls still installed and no refund yet. Next step Trading Standards if not removed/refunded in next few days! Warranty not worth paper. 24 hr line does not mean 24 hr solution - just someone fobbing you off. There's a reason that Councils won't touch anyone other than Stannah, and ACORN must bring Stannah so much business.

Horrible Experience With This Company. DO NOT GET THIS SERVICE!!! Find alternative. Equipment Breaks Down Very easily and they con you into getting an extended warranty... Nothing but a bunch of crooks. Tried calling their customer service to deal with an issue. Got the run around, dropped calls etc. My father just got purchased an extended warranty and then right after passed away... These people would not even return the funds of that extended warranty. Caused my mother undue aggravation dealing with a funeral and these crooks.

I had the lift for 2 months. During the 2 months I had to have a serviceman over 27 times. Bad motor 3 times, the bolts stripped out from the stairs and multiple other problems. One time the tech came back and said he left a part off and didn't notice it until he was cleaning out his van. But the main reason I'm mad is at 97 years of age I was going up the stairs on the lift, it stopped and wouldn't move. I had an upset stomach and needed to use the bathroom. It's embarrassing to mention this but I feel consumers need to know. I broke wind and accidentally messed myself. God bless.

Purchased Acorn Stairlift to aid my wife in getting to second floor. Unit was used very sparingly and had a "Fatal Failure-F1" code. Since the unit was beyond the one year warranty (by one month), Acorn said the repair would cost $850.00! The cost for an extended warranty would be $750.00 a year. In three years I'll have paid for the chair twice! I have since removed the chair and installed another brand and have had no problems. Do NOT buy Acorn unless you like a lot of company from service people.

Chair has not worked properly since it was installed. The chair is junk, the warranty is junk. $250.00 for a service call because the chair they sold me is junk, absolutely ridiculous! Never do business with this company!

It was the labor day weekend and my husband got stuck at the highest point of the stair lift. This is only after using the device after several times. We called Acorn and as others have stated. The person at customer service didn't even ask who we were. We were on speaker phone as I am a slight woman and didn't know how to get my husband off the lift without an emergency situation happening as he has only one leg. She was unconcerned and scripted, I however shouted that we need a technician to help us to get him to a safe place and she said just turn the key and wait 30 seconds. The lift was tilted and being inexperienced was not sure how to do remedy the problem.
I had the fire dept number handy as this was my last resort. Luckily I calmed myself down enough to read the online as the manual was worthless and found the crank which took over an hour to use to get him to a lower position. No one called back and this is a Saturday long weekend. I was told, "Well, everyone is off for the weekend and you will have to wait until Tuesday." I shouted, "What the hell. He can die here from Sat till Tues as your employees are off duty". And yes, if I read the online web page, it stated continuous care whenever the need. BS marketing as long as the money is there and the commissions are flowing. It was three days of my husband living in the dining room and kitchen, sleeping on a small cot before any Tuesday calls came and then they flowed.
Too late and the trust is gone. Everyone wanted to help. PLEASE, this is 3 days later and the damage is done. This company has lots of people across Canada and not one tech on call?? The young fellow that installed us didn't even know that 24-hour calls weren't in place. It took him all of 10 mins to evaluate and then correct the problem within an hour. HELLO, 'acorn', small lettering as this is an insult. An on duty tech to walk you through takes little money as this seems to be the issue. Bottom line, such a sad world when the bottom line is more important than a little call of comfort and expertise would have helped rather than days of waiting and waiting. Yes Tuesday was a revelation as they all had helpful suggestions. Excuse me, where the heck were you on Sat? Oh yes, no overtime or weekend work. Acorn what is life valued at? The money or the care?

I purchased an Acorn stairlift to assist my wife getting up and down the stairs. On one occasion a shirt got caught under the stairlift and of course it stopped. After clearing the obstruction I called the customer support number and they assisted me in clearing the stairlift error message. I then attempted to move the chair and the chair just stopped, no power, no nothing. The customer support told me that to get a technician out to my house, two days later, would cost a minimum of $250.00 plus any parts needed to fix the chair because this was a non-warranty problem...
Since, I now had a couple of hundred pounds of boat anchor I had to agree. The technician came to my home, took five minutes to replace a blown fuse and left after doing some diagnostics to make sure the lift was working properly. He was unable to determine why the fuse had blown. I called Acorn the next day to discuss the fee. $250.00 for 5 minutes seemed excessive. The response was, "sorry that's the fee and that's that." BEWARE when you purchase an Acorn stairlift! These service calls are extremely high and excessive and unless you need a boat anchor you will be stuck paying them.

My father purchased this so he could get my paralyzed mother downstairs during emergencies. Thank goodness, he doesn't have to use it very often. Went to use it and the battery is dead or so he's told. I thought it ran on electricity since it is plugged in. He called to get someone to service it and was told there is no one in SW KS to do so. However, they boast about their aftercare and customer support, but won't send anyone out to change the battery or charge it. DO NOT BUY FROM THEM!!! Unless you are in FLA.

My elderly neighbour purchased a stairlift from Acorn about 1 month ago. But it broke down with her on it - she was in the middle of the stairs. We rang the Customer Service and spoke to a woman who said that an engineer would be with her in 24 hours. This is a 90 year old woman who is stuck on her stairlift which won't move in the middle of the stairs. THIS IS DISGRACEFUL! HOW CAN THEY BE HAPPY TO LEAVE A 90 YEAR OLD LADY WHO IS DISTRESSED AND STUCK FOR SO LONG. The woman we spoke to was so unconcerned about it. In the end, we had to call the fire brigade who were here within 5 minutes. I would never recommend this company.

My father is now 81. He bought a stairlift 20 months ago from Acorn. It has now broken down and needs a new unit. He bought this for himself as he has severe arthritis, also my mum who died last year. He cannot get up and down the stairs. Acorn want him to buy a warranty or obviously he will have to pay for a new unit. Not built to last. Would not recommend the company to anyone.

My mother purchased an Acorn Stairlift for my father who was confined to a wheelchair after his leg was amputated. When we called about purchasing the stairlift everyone was so helpful. We explained my father's situation and the Acorn representative and installer said everything would be fine with him getting out of the wheelchair and into the stair lift. First, the salesman told my mother it would cost $350 for an estimate. That was never told to my mother. We told the salesman and installer the height of the wheelchair and asked if it was the same height as the stair lift. They both said "yes, of course". Unfortunately, it wasn't and the stairlift was too high and my father was unable to get from the wheelchair into the stairlift.
We made numerous calls to Acorn and their only solution was to give us $500 for our problem, a minimal amount of the $10,000 that we spent on this stairlift. We didn't want to remove it because we were hoping that my father would get stronger and he would be able to lift himself into the stair lift. Unfortunately my father passed away and was never able to use the stairlift. We continued to call Acorn and when we finally got in touch with someone they offered to take the stairlift out and take it and not give my mother any money for it. Wow, what a great deal. Now my mother is stuck with a stairlift and out $9,500 which is very tough on an elderly people living alone. Acorn never cared and that's what really bothered us.

I have severe degenerative arthritis, most prominently in my left hip. I walk with a cane. Recently I have filled out paperwork to various health care providers which indicated my mobility issues and the arthritis. Shortly after that I started receiving phone calls from Acorn. One went to my voicemail. The woman claimed she was "returning my call regarding MY recent inquiry into purchasing a stairlift for myself or a loved one." They also used my name in the message, so it wasn't a random mistake. I never called them. The timing is exceedingly suspicious considering the recent paperwork I filled out. I must have gotten on some list as a target for a possible sale.
If you don't talk to a live person the phone menu has an option to press 1 to be removed from their call list. It doesn't work. All that happened the two times I allegedly removed myself from their list was receipt of more sales calls in less than five minutes after my phone number showed up on their caller ID. I would much prefer to find out exactly who provided my contact info to Acorn, but of course nobody is going to admit that. Still, shame on them for preying on someone who has a problem and pretending that I was the one that first contacted them. I find this marketing tactic to be borderline criminal. If I ever should get a stairlift it certainly will not be from Acorn.

We installed this stairlift in June of 2013. We needed it as we are older and each of us was to receive a total knee replacement. Our house has three floors, basement, first and second; the stairway has four short flights and two landings. The initial cost was US$12,500. This seemed high but was in line with the few other companies offering curved stairlifts. The initial installation was done in one day. The technician was personable and easy to talk to. Other techs have also been easy to deal with. Most services cost US$250 plus parts.
The stairlift worked OK but was very slow. The remotes had a very limited range and the receiver in the chair tended to lose the signal very easily. The company had no fix for this at the time, so I installed a shielded cable to extend the chair's antenna away from the metal enclosure below the chair. I also modified the remotes to have a toggle switch rather than a push button so we did not have to hold the button down for several minutes waiting for the chair to arrive. A week after installation, we called the tech to slow the chair down as my wife was uncomfortable with the speed, especially around corners. No charge for this call.
In December 2013, the chair had become noisy. The tech tightened some of the support legs and adjusted the programming. US$250. In November of 2014 chair was issuing error codes on its display that indicated that the batteries were not being charged. It appeared not to be connecting properly to the charge point on the second floor. The tech adjusted the charging pick up points, replaced the chair's batteries and reprogrammed the chair. US$250. In April of 2015, the chair was noisy and not stopping at the floor correctly. Some internal cables were preventing the over speed governor from operating correctly. No charge. The next day, the tech replaced the batteries again and replaced the over speed governor. US$722.
In January of 2016, the chair was making clunking sounds. An improved version of the circuit board and remotes has become available. The tech replaced the circuit board, some wiring, the charging power supply, the batteries and provided three remotes. US$1000. He had to return the next day to replace a damaged guide roller that he did not have in his service truck. He once again had to reprogram the chair. The remotes now use Bluetooth to communicate with the chair and have a range of at least 30 ft. (10 meters). My external antenna is no longer needed. The new circuit also outputs a much larger range of error codes, which helpful.
In May of 2016 the internal connector for the levelling mechanism became partially disconnected and the levelling function of the chair failed. The tech reconnected this, moved some internal cables out of the way and reprogrammed the chair. US$250. In July of 2016 on Saturday evening, the levelling function failed once again. This time, having watched and talked with the techs in the past, I examined the circuit board and found that one of the power connectors for the levelling motor had broken off the board as a result of some cable pushing against it. I soldered a new connector in place, levelled the chair manually, moved the chair manually to its charge point and then was able to run the chair up to the beginning of the track on the second floor. This enabled the chair controller to "find" the beginning of the track. The chair then worked correctly. My repair took an hour or so.
It's clear to us that while the Acorn stairlift has some clever features, it is poorly engineered for long use. Our US$12,500 stairlift has cost us US$2472 in service calls in about 3 years of use. Lately, Acorn has been calling us and sending literature for a yearly service agreement for US$750 per year. That's US$2250 over three years. They obviously know that these stairlifts are expensive to maintain. Acorn is advertised heavily in the print media. One would hope these stairlifts were built to a standard at least close to medical equipment as they serve a similar purpose. My wife uses the stairlift daily. If it dies, we may be in a very bad situation. We're lucky in that I have some technical knowledge and can diagnose and fix simple problems with the chair. An unresolved problem so far is that the seat bottom has partially broken, causing it to tilt forward more than is comfortable. I can't in good conscience recommend an Acorn stairlift to anyone.

Do not buy a chair from this company. We have purchased a chair lift for my father-in-law in August 2015. It was NOT a refurbished chair but a brand new one for which we paid US$9100. It has been 11 months and the chair has malfunctioned 5 times. Each time my father-in-law was stuck upstairs or had to be taken upstairs with great difficulty and spend at least 3 days there each time since the company on top of having continuous issues with their product also does not have sufficient technicians to provide service within a day or 2 but takes 4-5 days before they can even come and diagnose the problem.
We have had to take time off each time from our work which is an additional burden. Now that the 1 year mark is coming up we have received a service contract which will cost us over US$700 a year which we will HAVE TO purchase since the chair does not last 2 months without something breaking. I am writing this review after having had to call them back for yet another failure only 6 days after the last service.

I've purchased my stairlift which they gave me a price of 2800. When he got here they charge me a service agreement that bring it up to about 4000. Now the chair is broken. It's the one year $400 service agreement I paid and they want me to pay it again and I called the local company called Mr. Wheelchair and they came out and diagnosed it for $90 and they took the $90 off the repair once I got it done. The $90 losing keys I didn't get the repair done which was much more affordable than Acorn plus I was very happy with Mr. Wheelchair and I would recommend them. Call Mike at 215-333-7303. He sells new and used on this also.

I purchased an Acorn Stairlift which was installed March of 2015. It has hardly been used. We had an error code in July of 2015 and the company sent a tech who said there were two fixes and he went with the cheaper fix. The stairlift worked for about a year, although we didn't use it very much and now they want mega bucks just to show up. I asked about returning it and they said no. I asked about selling it back and they said no. Do not buy an Acorn Stairlift. Ours is unreliable and their service is expensive.

I have tried for almost a year to sell or donate a Acorn stairlift (I spent $10K used for 3 months only, still under warranty!) to a multiplicity of charities or to a family in need. No one will take it on and even third party resellers will not deal with Acorn as they will not support their product. Even when I agreed to pay a removal fee, Acorn refused to take back what they had manufactured. The company has no interest in taking it back as clearly it is easier and more profitable to sell new lifts. They have no program to support charitable redirection or recycling of its products, even though their brochure says they promote recycling. (I am confident that in Europe - where Acorns international headquarters is - this would not be allowed).
I cannot bear to look at this thing any longer in my home. The company leaves the consumer with no alternative but to contribute pounds of metal to landfill. I tried calling the company president (does one exist) numerous times with no response. Customer service was absolutely terrible in terms of trying to assist me. Do not buy this unless you are planning on keeping it forever!!

We purchased an Acorn stairlift for my mother who had a massive stroke and had fallen and broken her hip. She was still in the nursing home when we had it install. The next day after installation it totally stopped working. So they had to come and work on it - they got it working. We used it once to get her into the house. Then we used it several times just by experimenting with it me and my husband. Everything seem to be working good the battery was lit up. I would guess to say we might have used it maybe 3x at the most. But then all of a sudden a year after we purchased it the light went out and we absolutely cannot get it working.
I called the company and of course it was two weeks after the warranty have ended possibly three. This product is absolutely worthless. I wouldn't purchase one of these ever again in my life. I have never seen such poor quality and service. There is something wrong with the way these are made that the connections come loose. I just don't know what to do then all this money for something that doesn't work. I recommend do not buy this product - you will be definitely sorry. All I want is it fixed.

I purchased the Acorn Stairlift for my mother. She has passed and I did not use the chairlift. I tried to use it in March and it would not turn on. I had the technician come out on March 10, 2016. He said that the battery was dead and I needed a new battery at the tune of $277.96. I have been out of the country for almost two months. I return try to start the chairlift and again it will not turn on. I can't see how a battery has died again. Please tell me what is my next step to reach a solution.

We had an Acorn Stair Lift installed in April 2015 and we were assured that if something goes wrong that they will send a technician immediately. They gave us the impression that their customer service was great and we would not have to worry about the lift. What they didn't tell us that there is only a one year warranty nor did they tell us as part of the warranty that we could have a technician come once during the year to check the unit and make sure everything is running as it should.
In late April after the warranty expired they sent us a letter advising us that the warranty expired and it would cost $800 for another year plus tax and the letter pretty much indicated that if you didn't purchase the warranty you would not get the best service. It was when reading the warranty information that we found out that we could have and probably should have the annual check up before the warranty expired. Had they sent us this letter before it expired, we would have taken advantage of the annual check up. Obviously they send the letter out after it expires so the buyer didn't have a chance to get the annual check up.
Being afraid that we would be stranded for God knows how long before a technician would come to repair the unit, we felt pressured to purchase this warranty and sent payment to them only to have them call us today to inform us that we have to pay tax on the warranty and we have to pay them another $55. Fortunately we haven't really had any issues and hopefully this will continue to be the case. We have a curved staircase and the unit goes so slowly that it takes about 4 minutes to go up 13 steps which seems to be ridiculous. We should have done more research on this company before we purchased the stair lift.

My Acorn Model 180 Stair-Lift has not worked correctly for 24 hours since it was installed on 02-15-2016. I am now waiting for my 3rd Service Appointment scheduled for 04/27/2016. In addition, their accounting department does not return phone calls in order to provide the detailed invoice documentation required for tax purposes. Even though, the lift is NOT covered by insurance, there are some tax deductions that are eligible with proper documentation. If it does not work properly after this service call I will have it removed and pursue a full refund.

I have been trying to have a service tech come and reinstall and service a lift for 2 months. It took 3 weeks just to get a confirmed service date. Two days prior to this date I received a call saying the service tech had "broken his back" and would have to reschedule for two weeks. I felt bad for the tech that I did not question the chances that two weeks would cure a broken back or why was there not another tech available. The morning of the second date I received a call that he still would not be able to come.
I asked if there were someone else and I was informed he was the only tech available for the area. This is not acceptable. We live in a large service area (Greater Vancouver) and only 1 tech available! I have a lady with a disability who can not access her whole house. Acorn cares not for this issue. I am unable to speak to anyone. I have and will continue to recommend people seek a stairlift from other companies. I just wish we weren't stuck having to deal with Acorn ourself. Their service call fee is also the highest I have heard of.

I have never been so upset and disrespected from a salesman before. My mother and father-in-law were getting a quote from Acorn Stairlifts company in Ohio yesterday. I don't feel like she needs one but this is not the point. I am sitting in the room and listening to this male being ignorant. My mother-in-law was trying to write down a number and he was getting irritated that she was having trouble and just kept repeating "let me just do it" in a loud tone. That upset me a little bit but not nearly as bad as what was coming next. My fiance and I help his mother and father because they are elderly and are having some health issues. This man "Dave" has the nerve to tell my mother-in-law that we should pay her 800$ in rent to live in the basement, and that this is her money, she does not need to take our advice. Which may I add is about 4000$ investment that we do not need. We are able to do it and help (the reason why we are there).
He then goes on and asks what my fiance does and his age and says about his son is grown and not living at home. (I am furious but I am respectful so I just sat there and kept listening). He then goes on, not knowing her health, tell her to get prescribed this steroid from the doctor have it by the time it's installed and she will not pay tax!!! What!! This is tax evasion (the illegal nonpayment or underpayment of tax) which is Fraud!!! And because of some issues she should not be taking anymore medication than she already is... He had her call her bank and see how much money... She had enough and he asked for her card and got all the paperwork. My mother-in-law and father-in-law asked how much a month and were worried about getting the money on time. The man kept saying "it's ok just talk to them." which he has no idea he just wants his sale.
I couldn't hold it anymore. I walked out, slammed the door, and went into the bathroom still trying to be respectful but knowing I am there, he rushes out and says "have a good day." I know as a salesman you are to sell things but you do not push and disrespect someone's family under any circumstance!!! I have called this company twice and left messages and I will do so a couple times a day until Monday then I will be taking the next steps. This company is terrible and I would not go through them if you are in need of their product.

Shelley WebbSenior Products Contributing Editor
Shelley Webb is a registered nurse, geriatric care manager and freelance writer who concentrates on the subjects of eldercare and health. More about Shelley→

Acorn Stairlifts has been providing quality products since 1992. The company is based in Orlando, Florida, but has distribution centers around the world.
They offer a large variety of stairlifts: Users can purchase a stairlift meant for indoor or outdoor use and the company can work with both curved and straight stairways.
They offer perched seats: Users who have trouble bending their knees may benefit from the use of a perched seat to transport them from floor to floor.
Outdoor stairlifts are also available: Users can purchase and have stairlifts installed outdoors so that they can enjoy their deck, patio or yard or get out of the house more easily.
They offer rapid installation: Stairlifts can be installed within 24 hours of purchase.
They provide a 12-month guarantee: All products are covered for the first 12 months of use, so if they fail to work or don't meet users' needs, they can be returned. The registration card needs to be returned within the first 30 days in order to qualify.
Best for people who can't walk, people with limited mobility, people who have a heart or lung condition, and people who have trouble bending their knees.
Acorn Stairlifts Company Profile
Company Name:

Acorn Stairlifts

Year Founded:

1992

Address:

7335 Lake Ellenor Drive

City:

Orlando

State/Province:

FL

Postal Code:

32809

Country:

United States

Website:

http://www.acornstairlifts.com/